Things To Do in Airlie Beach
Airlie Beach is located in the Whitsundays, in the heart of the Great Barrier Reef. It is the gateway to the Whitsunday Islands and the launch point for all boat trips out to the islands and marine park. As a flourishing town located on the coast, visitors to the area will find a beachy vibe and friendly locals. Within the town itself, everything can be found for both locals and visitors to enjoy in the region. Restaurants, bars, pubs, shops, doctors offices, accommodation and more are available right in the heart of Airlie Beach itself. Most amenities and shops in Airlie Beach are conveniently located on the main street, making everything easily accessible by foot. Both marinas in Airlie Beach are also located within walking distance, making boat trips even easier to get to!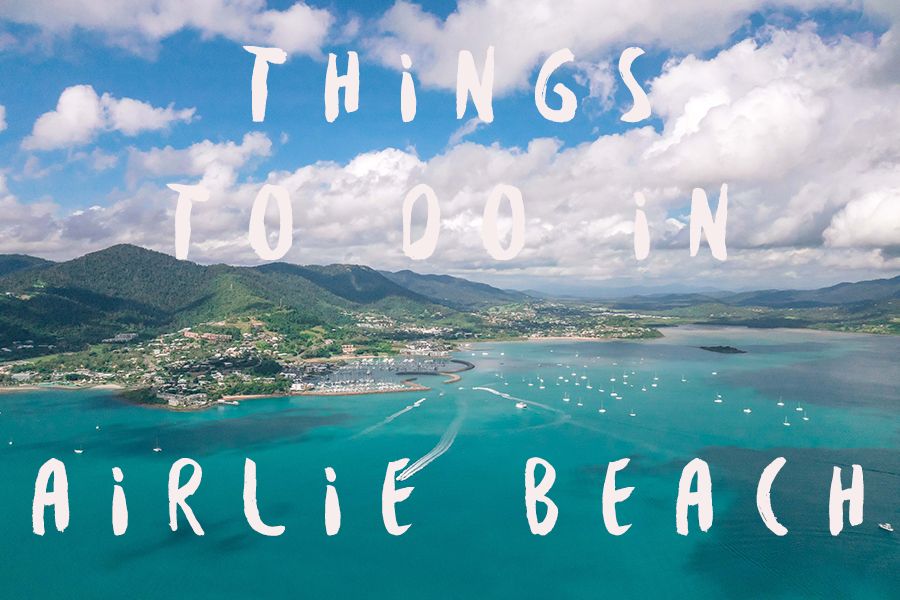 If you are in the Whitsundays for a boat trip but are spending a few days in Airlie Beach, there is plenty to see and do while you are on the mainland. It's advised to spend at least one night in Airlie Beach before leaving for any trip to ensure you do not meet any delays in travel and are able to make your boat trip. However, we always recommend staying longer as there are so many fun things on offer in Airlie Beach for visitors to take advantage of!
We have listed some of our favourite must-do experiences in the surrounding Whitsundays.
---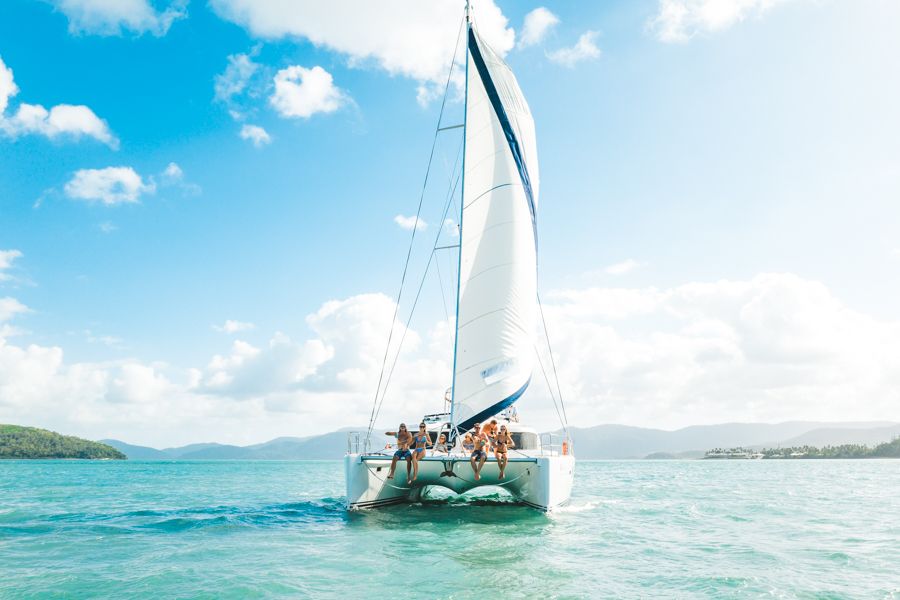 1. Overnight Sailing Tour
Airlie Beach is known as the "Heart of the Reef" and truly is the gateway to the Whitsunday Islands! The 74 Island chain is home to vast fringing reefs, beautiful beaches, sheltered bays and coves for calm overnight anchorages, making it one of the best places in the world to sail. No trip to Airlie Beach would be complete without a sail around the Islands, to save you time we've built a list of our favourite boats that are currently on sale here.
---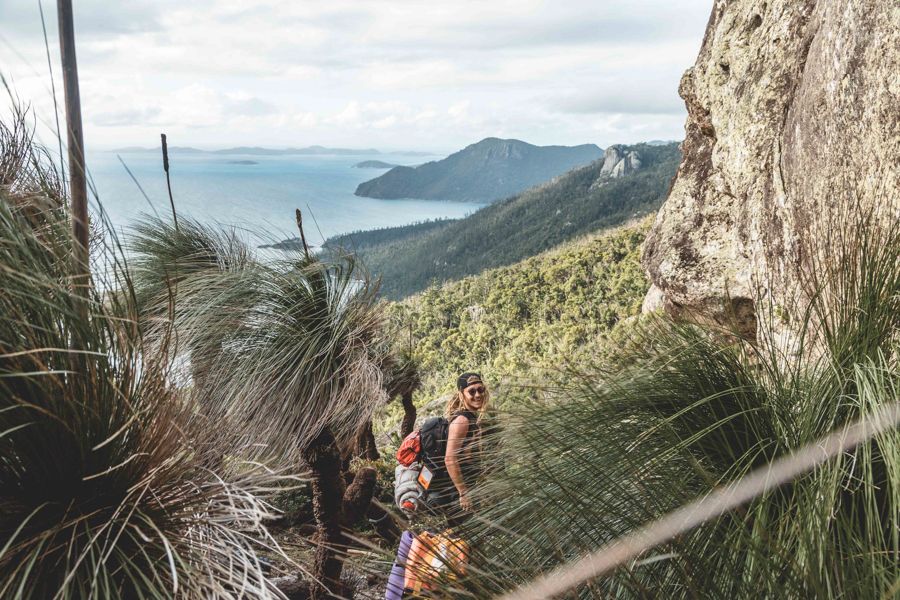 2. Take A Hike (Or Two)
Looking to get the blood pumping? Lucky there is a wealth of phenomenal hiking on the Islands as well as the mainland; Honeyeater Lookout, Mount Rooper, Whitsunday Peak and Whitsunday Cairn just to name a few. Click here for the comprehensive hiking guide.
---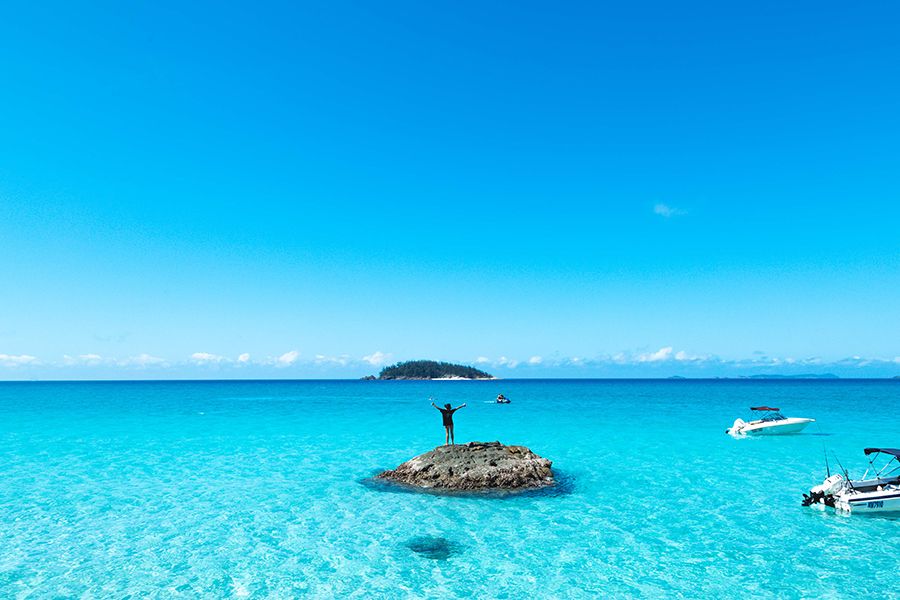 3. Find Betty's Beach
This little gem is one of the most underrated beaches in The Whitsundays. Despite being only a short walk from Whitehaven Beach, it is not uncommon to get this little slice of paradise to yourself even when the rest of Whitehaven is quite busy. Here's a clue on how to get there (Just don't tell anyone).
---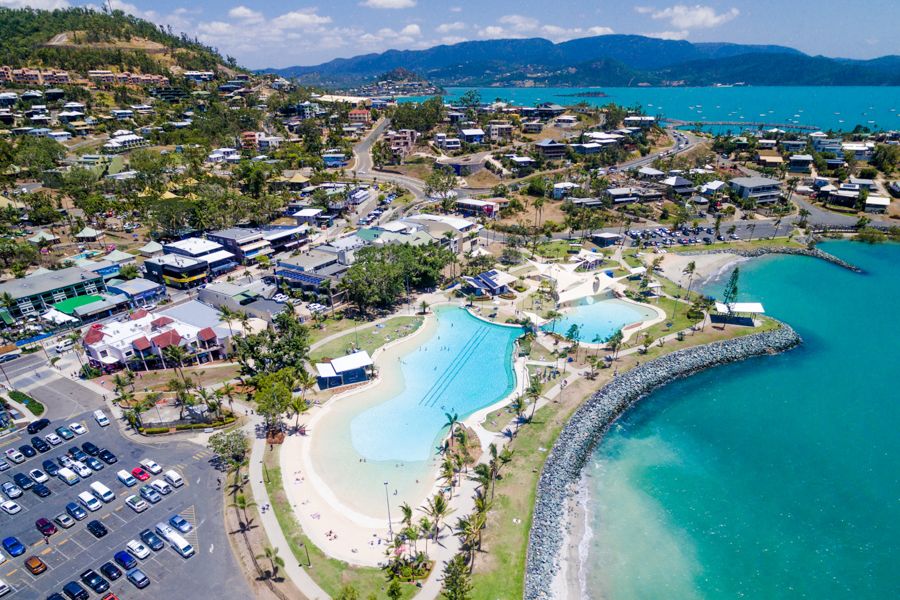 4. Relax at the Lagoon
Sunbake or swim at the Airlie Beach Lagoon - a local favourite! Nestled in the centre of town, the Airlie Beach Lagoon is considered the jewel of Airlie Beach and makes for a great way to spend some time while on the mainland. Recently revamped, it is better than ever and a great place to meet new people and relax in the Whitsundays sun.
---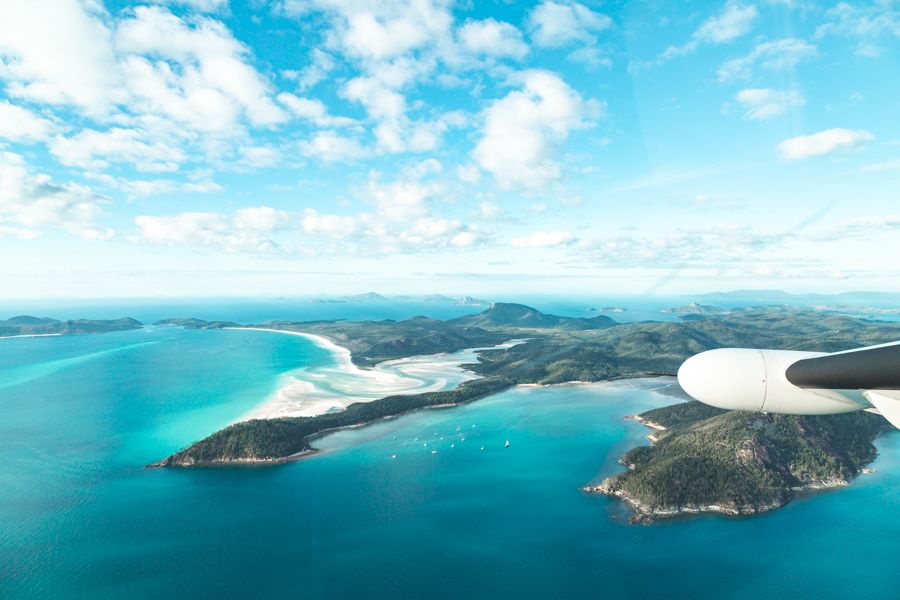 5. Soar Like a Bird
A bird's eye view of The Whitsundays is something all to itself, and the vibrancy of the 74 islands is an experience that will stay with you forever. We almost guarantee you will struggle to put your camera down the entire time (Pro tip: bring a second SD card)
To compare the best options to see the Whitsundays from the sky follow this link.
---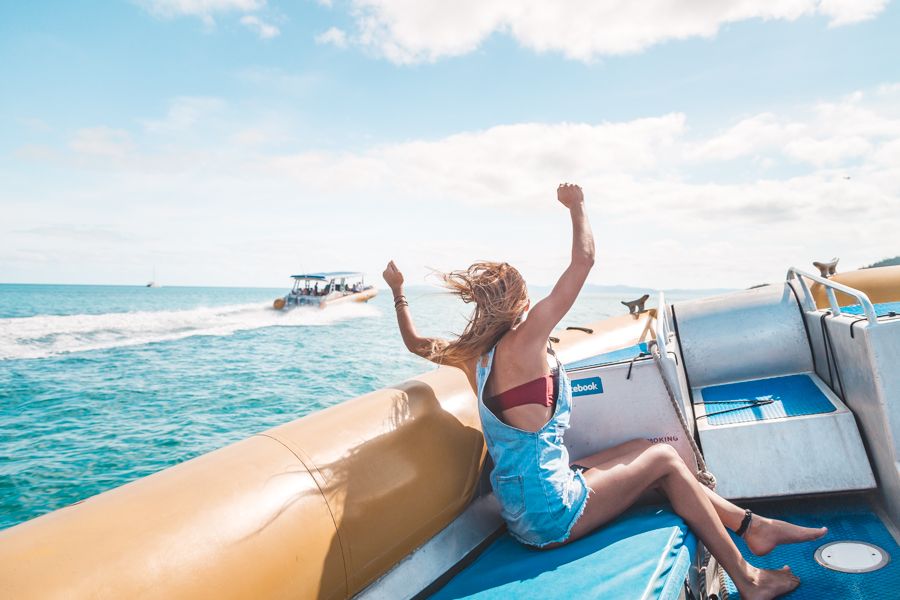 6. Fast Boat Tour
For those short on time or seeking a boost of adrenaline, then a Whitsundays fast boat is going to be right up your alley. Combining turbocharged speeds with a fully stacked itinerary, means you cover more ground in a single day. To compare the best click here.
---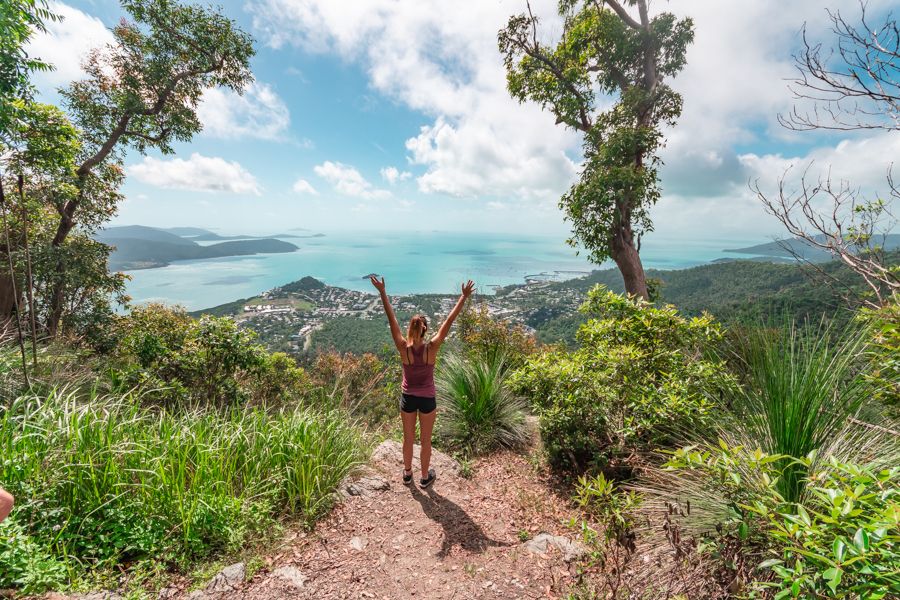 7. Honeyeater Lookout
Honeyeater is easily the most accessible and well-loved bushwalks in the Whitsundays, due to the fact the trailhead is just a short walk from the main street (Kara Crescent). We suggest bringing a light snack and plenty of water as the trail is 8.2km, grade 4 hiking trail (meaning you will feel it in the legs) takes roughly 3 hours to complete. Once you reach the top though, it is all worth it, with panoramic views over the entirety of Airlie Beach and The Islands. We highly recommend this trail, more information can be found here.
---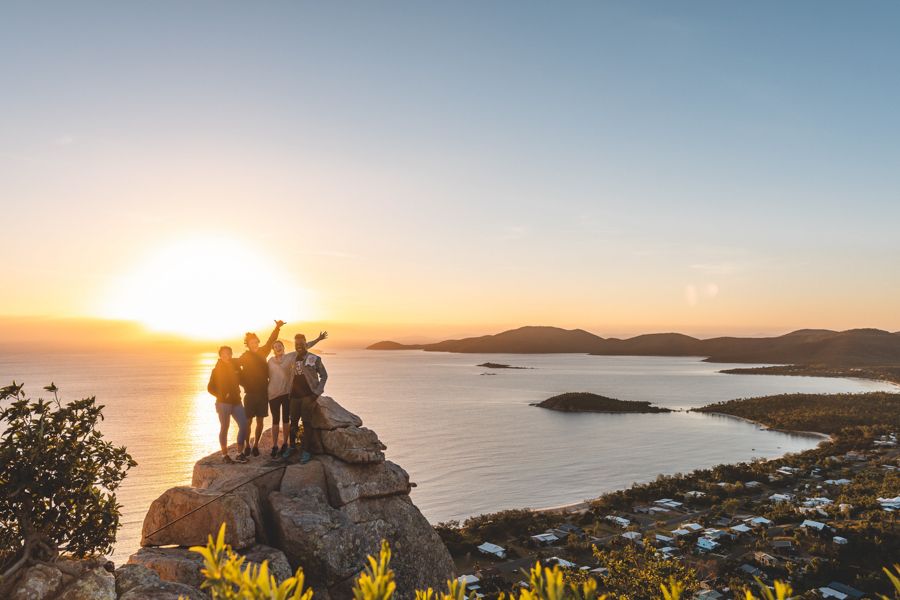 8. Hydeaway Bay Sunrise
If you're wanting to greet the sun as soon as it crests over the horizon, Hydeaway Bay is one of the few spots (on the mainland) that will deliver, as the Islands do not block the first rays of light here. This place could not be more aptly named, the sheltered beach is usually dead calm, tranquil and deserted. For the more adventurous there are a number of rock scrambles that will allow for a better vantage point to welcome the day.
---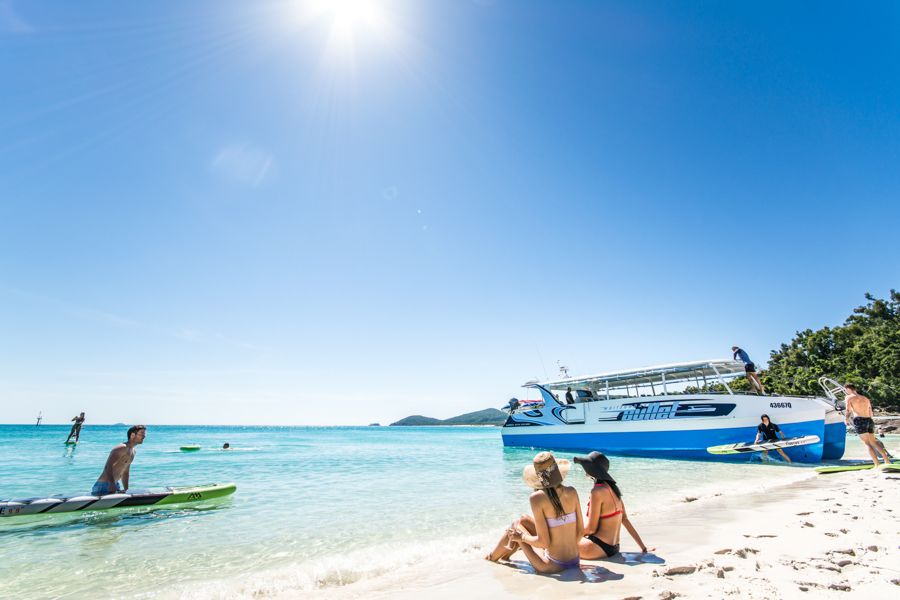 9. Lounge on South Whitehaven
Because who doesn't want to drink champagne with your toes in the sand, on one of the world's best beaches? Most tours visit Hill Inlet Lookout, however, only select tours visit both ends of Whitehaven. For more information on which tours go where, chat to our team.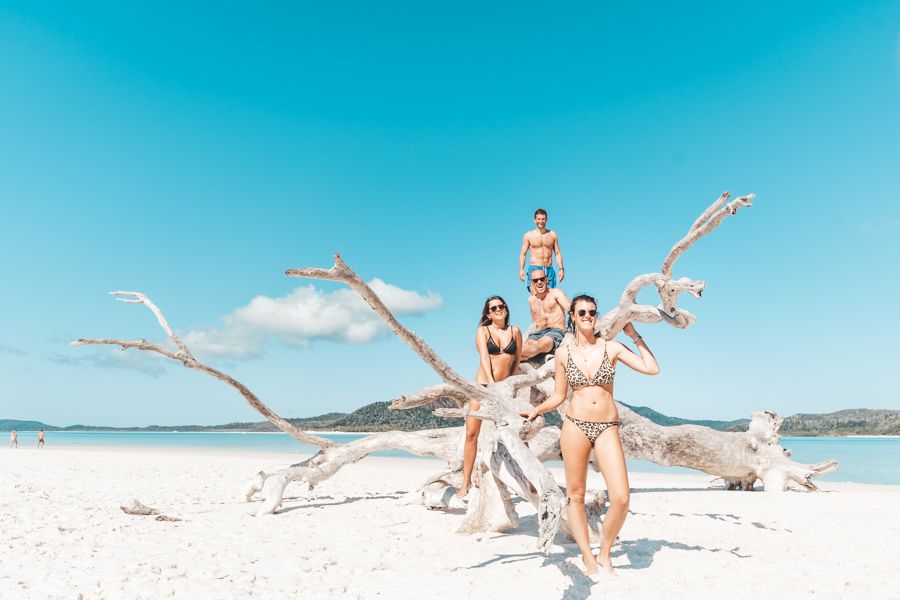 10. Hang out by the North Whitehaven Tree
Without a doubt, the most famous tree in the Whitsundays, this North Whitehaven icon doubles as the perfect photo opp and the world's best towel rack…. Just think of the Gram. There is a great debate about which end of the beach is better, to see why just follow this link.
---
You've almost reached halfway, here's a video to keep you going!
---

11. Cocktails at Northerlies
One of Airlie Beach's hidden gems, located a short drive to the north of town, Northerlies actually looks back at the vista of Airlie across the bay! Some of the best cocktails in town combined with a Bali-ish vibe of open plan eating, live music and endless sunbeds make this a must for those seeking a day of indulgence. (Local tip: Thier Courtesy bus is Free, check the daily schedule here)
---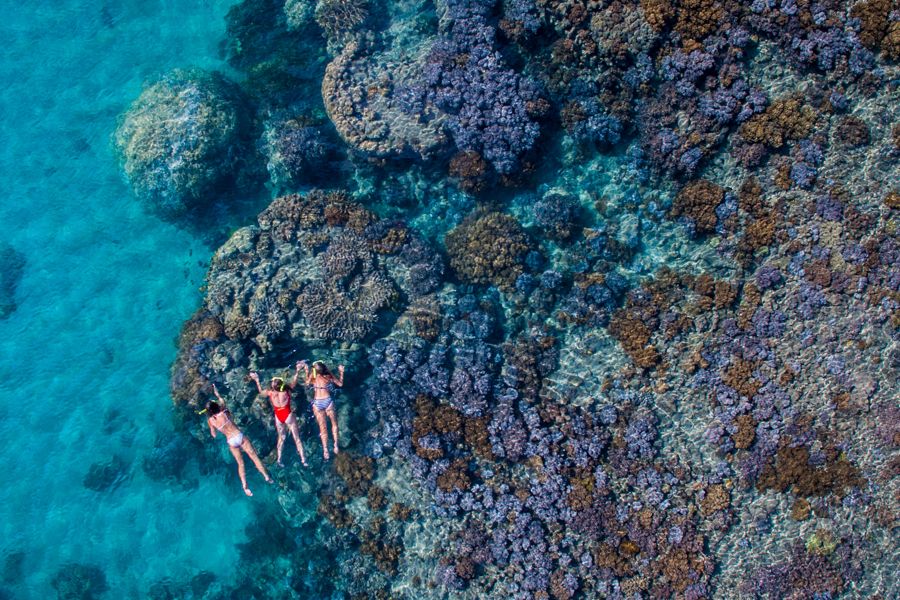 12. Snorkel Fringing Reef
The Whitsundays are home to a vibrant underwater wonderland, it would be a shame not to dive right in. Most Islands in the chain support their own fringing reef ecosystem, bustling with life and colour. The calm bays these fringing reefs form in making them a favourite shelter for a huge variety of marine life, some regulars include Green sea turtles, Maori Wrasse, Manta Rays and Small Reef Sharks. These are your cheapest options.
---
13. Visit the Outer Reef
For those seeking total immersion with the reef, a trip to the outer reef is probably essential. The longer journey makes these trips a little bit more expensive, though it makes up for it with a huge variety of hard corals, big fish species and better visibility. While both the fringing and the outer reef are incredible experiences there are a few differences laid out here. We cannot recommend a dive on the reef strongly enough, here are our favourite boats that visit the outer reef.
---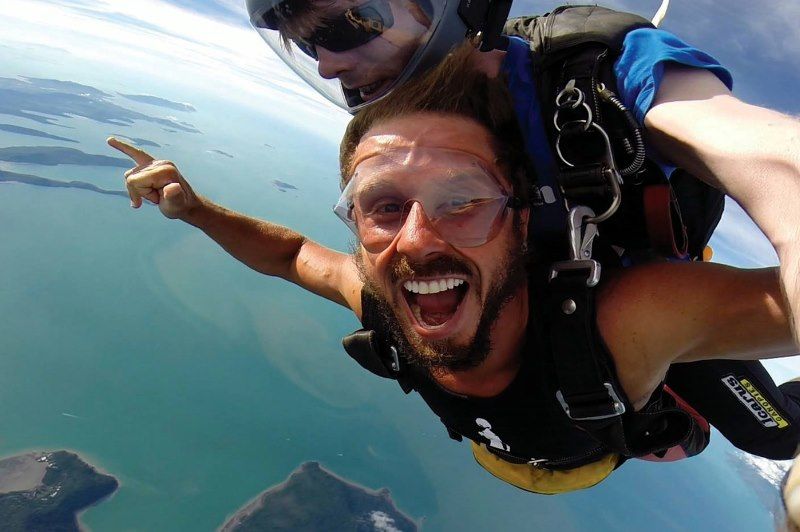 14. Skydive Over the Islands
If jumping from a plane is on your bucket list, The Whitsundays is the perfect place to tick that box. Skydive Australia describes Airlie Beach as "Australia's most beautiful drop zone" and they don't throw that term around lightly.
Skydive Airlie Beach offers two fantastic jump options to suit all confidence levels and budgets. Choose to 'Go High' and take the thrilling leap at 15'000ft, or 'Go Low' and skydive at 8'500ft. Check out your options here.
---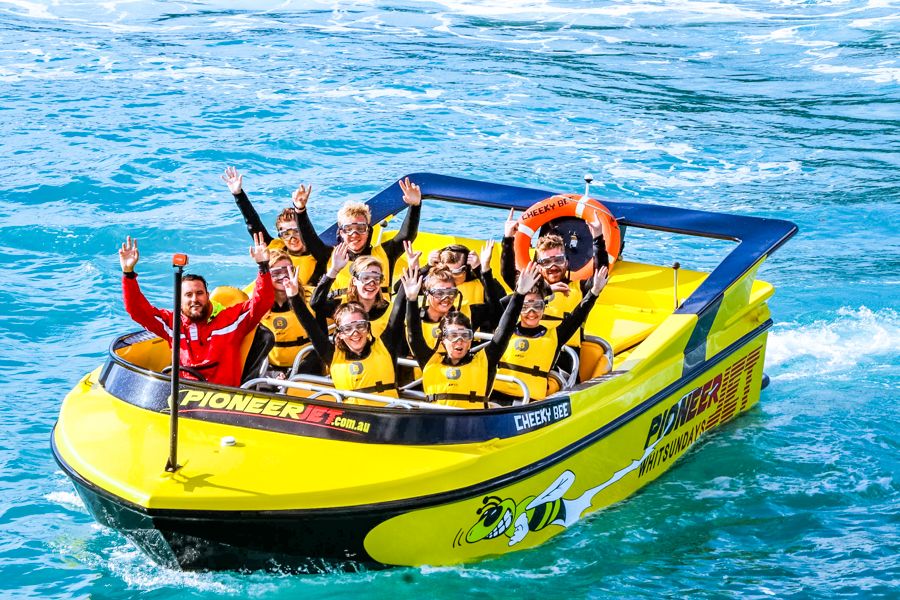 15. Jet Boat Around the Harbour
Take a full-on action-packed you on a 380hp ride to remember around Airlie Beach. Spitting out an incredible 600 Litres of water per second, you will be amazed at the speed you will reach with Pioneer Jet Whitsundays.
---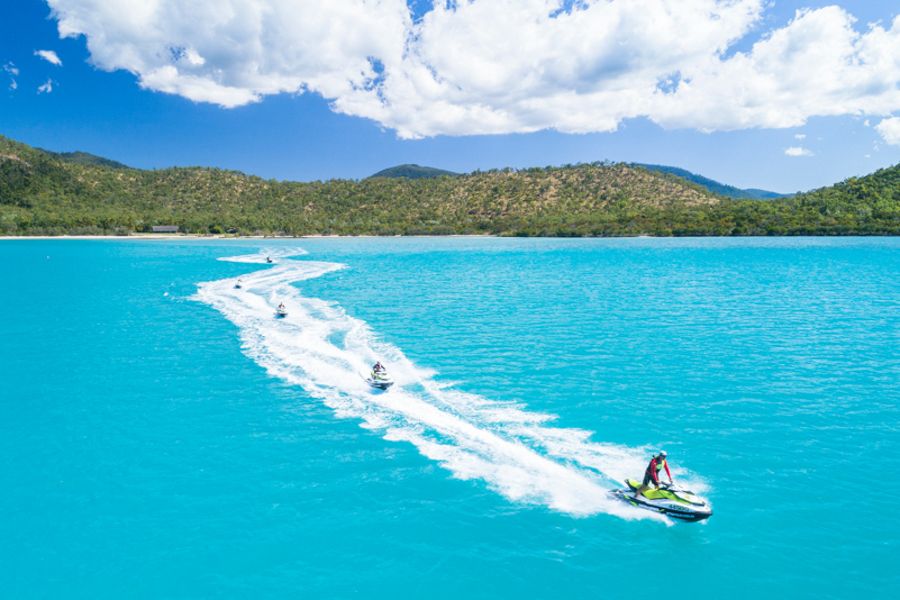 16. Jet Ski Tour to the Islands
Feel like playing James Bond for the day? Lucky for you, there are many different adventure packages to choose from. Contact us to discuss them.
---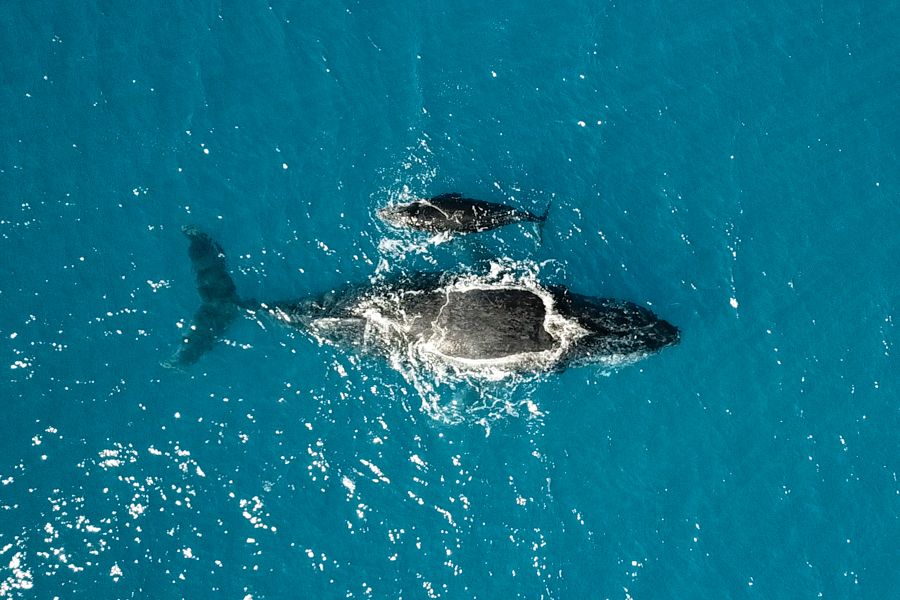 17. Catch New Whale Families on their Annual Migration
In the Whitsundays, we are truly blessed to witness the annual migration of the majestic humpback whale, not once, but twice. On their journey back down the East Coast, new calves are joining their mothers on their first migration back to the nutrient-rich waters off the south of Australia. During whale season it is rare not to see one of these marine giants on any Whitsunday tour, though to maximise your chances of a sighting we suggest spending as much time on the water as possible with an overnight tour.
---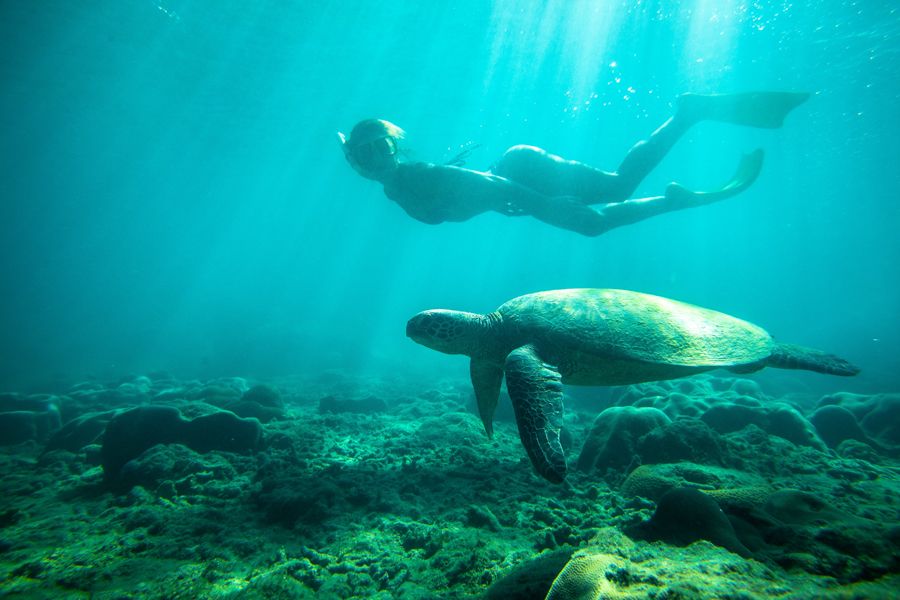 18. Make friends with a Turtle
Luckily in the Whitsundays turtle season is all year long, meaning the once in a lifetime opportunity of swimming alongside one of these placid creatures is possible at any time of the year. Turtles in the Whitsundays are generally not too bothered by humans, we hope it stays this way, the best practice is to let them do their thing and swim as calmly as possible - the curiosity of the turtle should get the better of them and they will approach you.
---
19. Find Nemo
A bucket list item made incredibly popular by the Pixar Film, for good reason! Despite it being quite common to stumble across a clown/ anemonefish, there are actually 30 different species so finding a True Clown Fish (Nemo) is actually an adventure in itself. To be sure you truly found Nemo, here is a species comparison.
---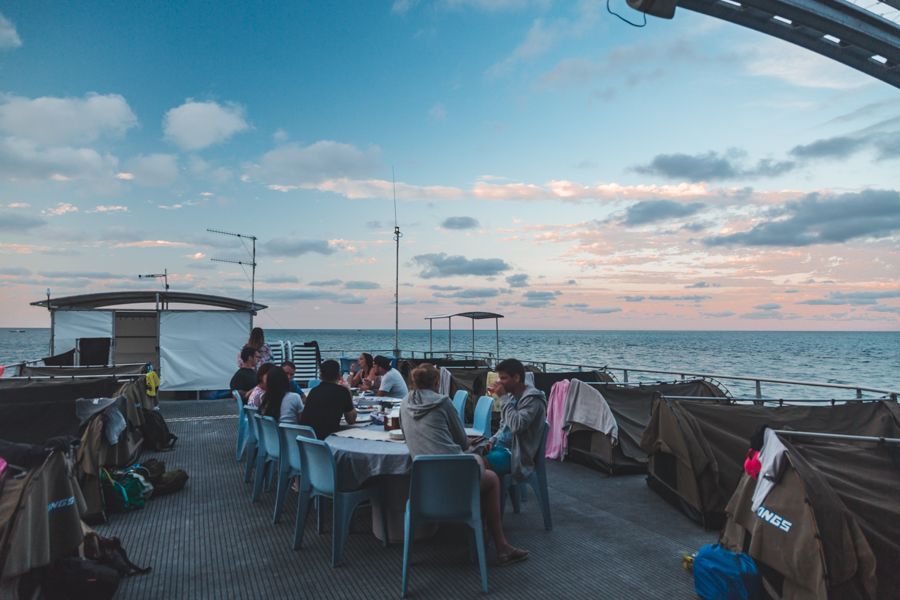 20. Sleep Under the Stars on the Great Barrier Reef
That's right, you can stay there overnight - 40 nautical miles from shore! Reefsleep allows 30 guests the opportunity to experience the magic of the world-famous Great Barrier Reef by day and by night. It's a truly unique experience sleeping under the stars and a menu to satisfy any foodie featuring; Char-Grilled Eye Fillet Steak, Spinach and Ricotta Ravioli, Slow Braised Lamb Shank, Chilled local tiger prawns, coffin bay oysters, smoked salmon, marinated green lip mussels. Just to name a few……
---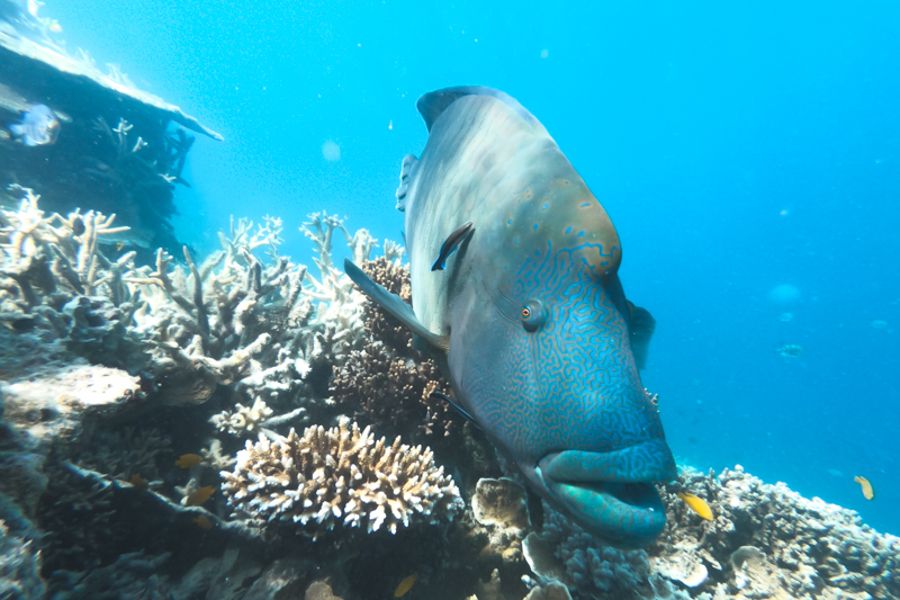 21. Meet George
This is George the Maori Wrasse, one of the most popular fish on the reef. While George is absolutely huge (Wrasse can reach up to 7 feet) he is just one of the friendly fish you'll meet here in The Whitsundays Islands, even occasionally posing for a selfie with some lucky snorkelers. For more info on Whitsundays Marine life, click here.
---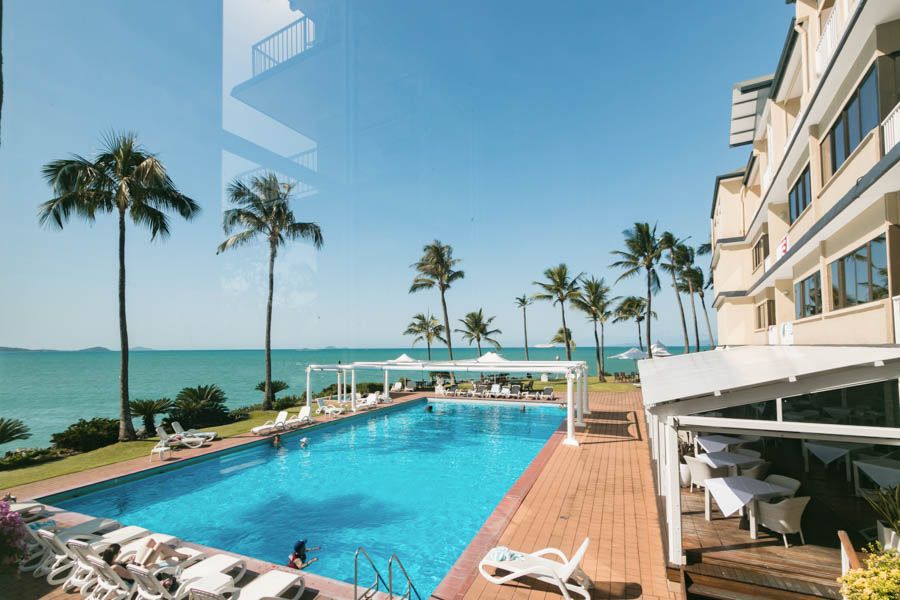 22. Cocktails in the Pool at Coral Sea Resort
There always comes a time in every trip when you just need to take the pace off and treat yourself. We're not sure about you, but cocktails in a pool overlooking the Coral Sea sounds like exactly what the doctor ordered.
---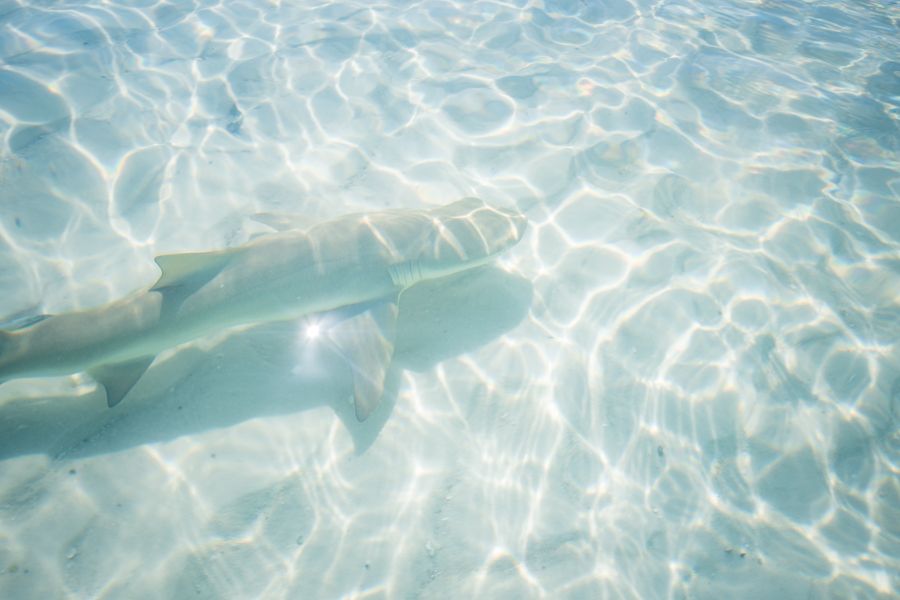 23. Find Baby Lemon Sharks
These harmless baby sharks (do, do do do) are often found in the calm waters of Hill Inlet. These baby lemon sharks make the most of the pristine conditions of the inlet and use it as a nursery, before taking on the Great Barrier Reef in their adult years, joining a variety of other reef species.
---

24. Learn to Scuba-Dive
Scuba diving is a ticket to another world, a world that everyone should visit at least once. Under the surface everything is calm, your movements are slow and your senses are alight. The real magic happens when the wildlife becomes accustomed to your presence and will surround you like you're a part of their ecosystem. You're two options to get deep are a Day Scuba Tour or an Overnight Tour with Scuba diving available on board.
---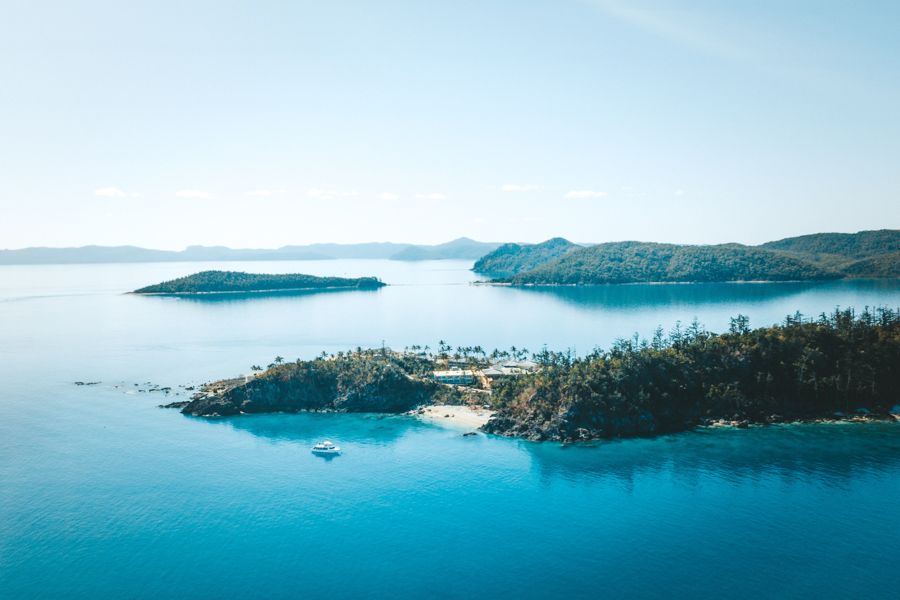 25. Lounge at an Island Resort
There's something special about being disconnected from the mainland, and there is a reason they call them Island retreats. For those looking to add a splash of luxury to a Whitsundays trip, a night on one of the islands may be the perfect fit, this guide should help you decide which Whitsunday Island is right for you!
---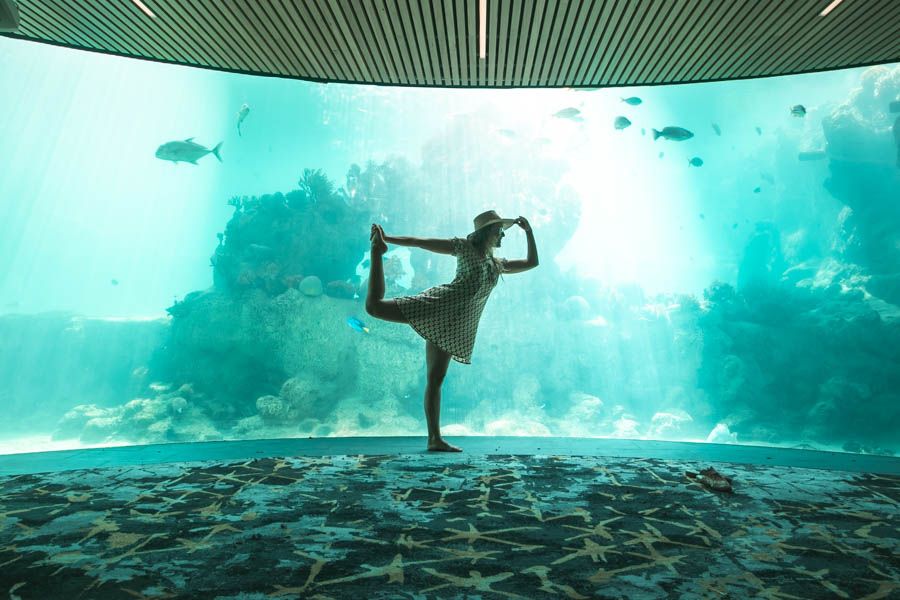 26. Underwater Observatory Daydream Island
Brand new and bigger than ever, the 200m, 1.5 million litre tank is packed with baby sting-rays, sharks, starfish and over 100 unique species of reef fish. There are interactive sessions with a variety of marine life, though we think the downstairs underwater viewing room is the jewel in the crown of Daydream's re-opening!
---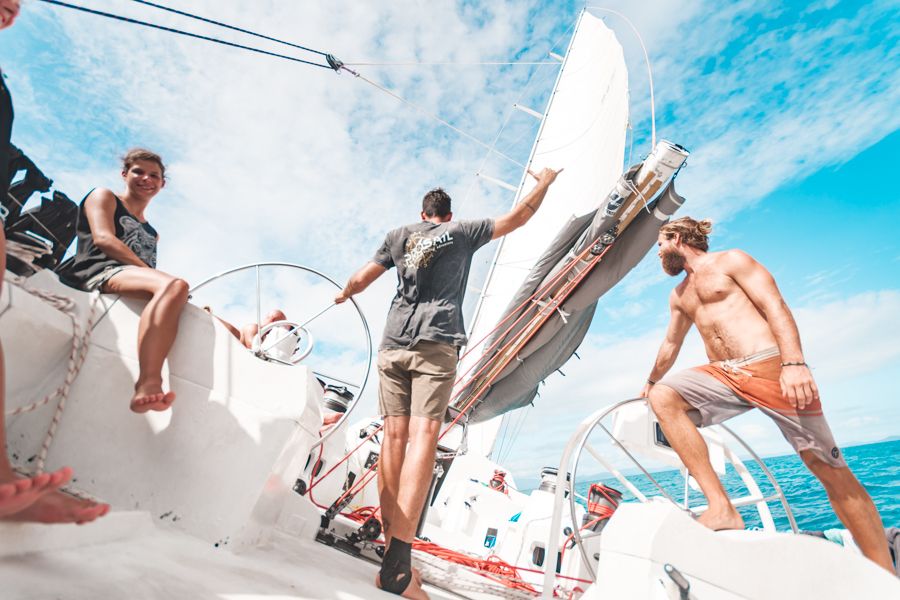 27. Adventure sail on a Maxi Yacht
The best place to enjoy performance sailing in the Whitsundays is without a doubt on a Maxi Yacht. If you have never been sailing, then this is the place to start. There's no better feeling than harnessing the power of the wind as you send it full tilt to some of the most beautiful and iconic places in the Whitsundays. Here are 11 reasons Adventure Sailing on a Maxi Yacht, might be for you.
---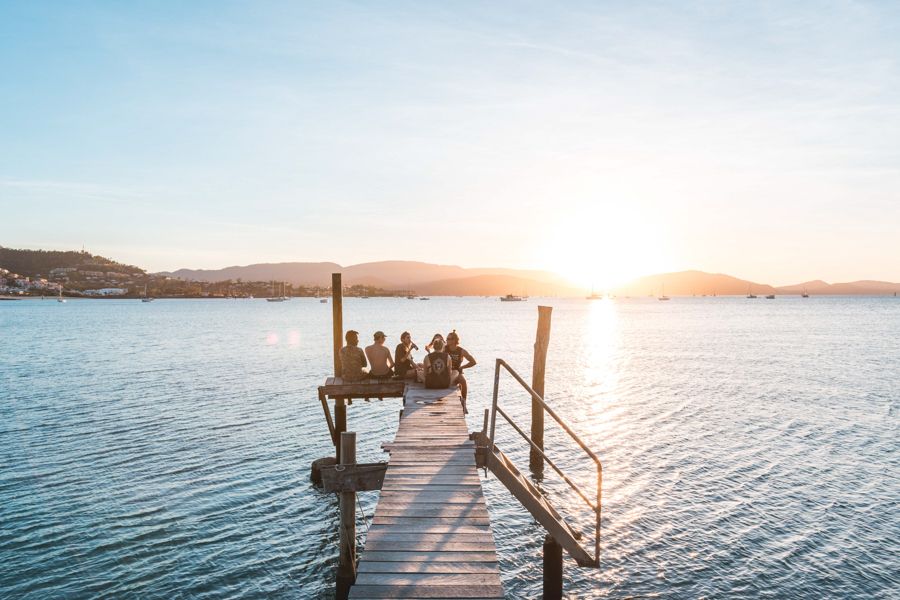 28. Mandalay Bay Sunset
A true local hidden gem and one of the best places to catch the last few sun rays of the day as it sets over the harbour. There are a few little sandy bays along Mandalay Road, as well as a small fishing pier (use at your own risk) to take in the vista. It's hard to describe how beautiful golden hour is here, oh, and not to mention it is commonly frequented by sea turtles.
---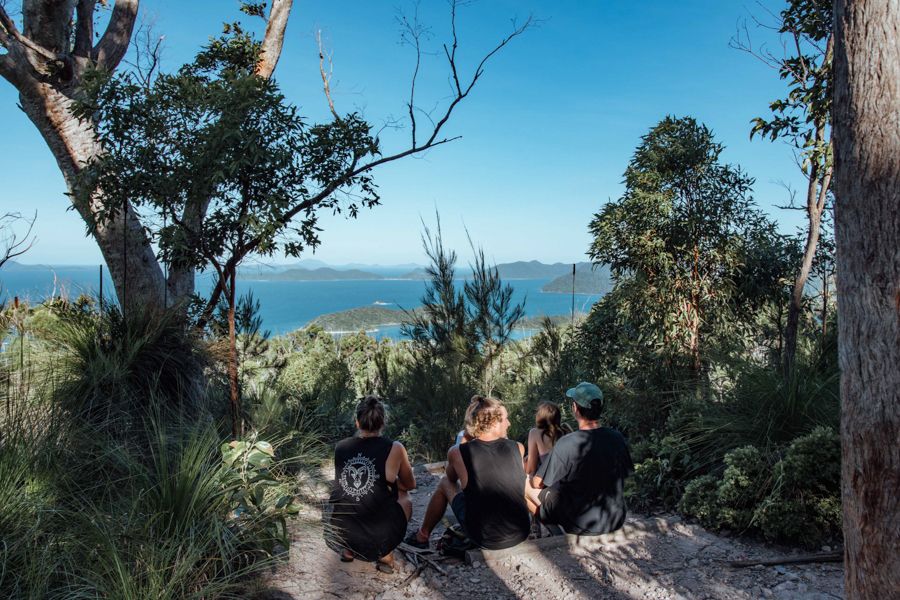 29. Mount Rooper
The Mount Rooper and Swamp Bay is a grade 2 circuit trail in the Conway National Park, rewarding hikers with a beautiful 180-degree view of Shute Harbour and Daydream Island at its summit. Mount Rooper is a true local favourite and is a great deal more relaxed than the Honeyeater Trail, plus you have the option to break away and include Coral Beach into your bushwalk (more on this later).
---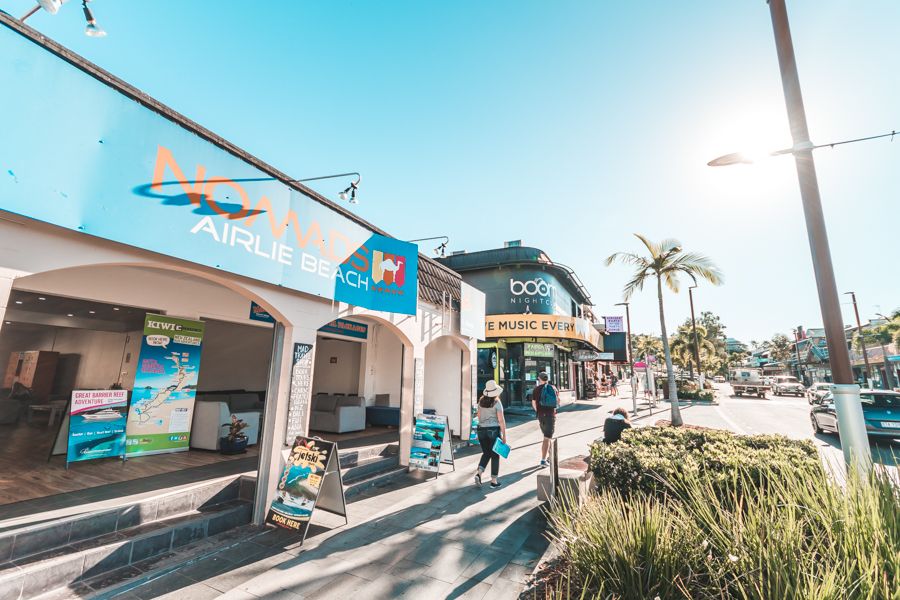 30. Main Street Pub Crawl
There's a bit of a local saying that "Airlie Beach is a drinking town, with a sailing problem", some could argue the opposite. Regardless, having a drink at each of the famous pubs on the main street is a favourite all-weather activity. Our itinerary would look something like this;
---

31. Cedar Creek Falls
Some call it the hidden oasis of Airlie Beach, located halfway between Airlie Beach and Proserpine, this stunning three-tier waterfall cascades into a perfectly formed natural rock amphitheatre, making it a stunning backdrop for a refreshing swim. There is a hidden little track to the top of the falls, click here for the inside scoop.
---


32. Paddleboard Over the Reef
This is a truly special experience! There is no better way to explore a serene Whitsunday bay or reef than on a stand-up paddleboard. With a high vantage point, you increase the likelihood of seeing fish, rays, turtles and the contours of the reef all while staying completely dry (Hopefully). Most of the best overnight tours include paddle-boards as standard, if you're unsure, just ask one of our travel experts which vessel is right for you.
---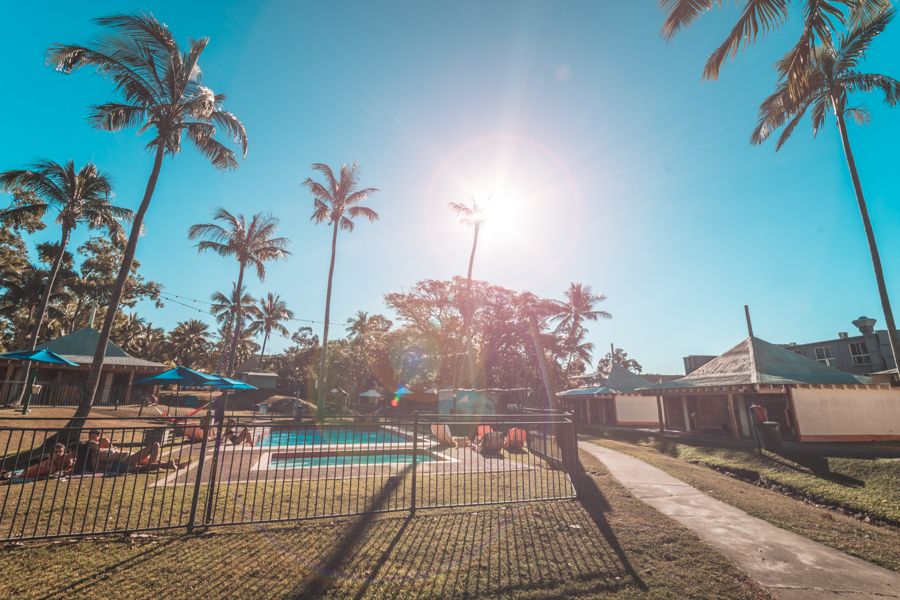 33. Shed Bar Sunday Session
Bit of an Airlie Beach tradition, if you want to have a drink where the locals in the tourism industry drink, this is it, Shed Bar Sundays.
---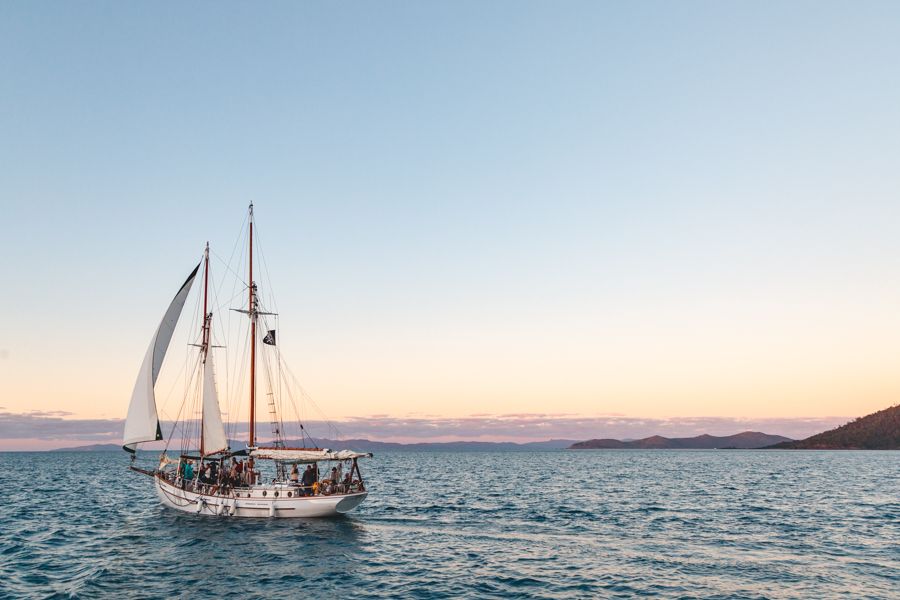 34. Sail into the Sunset
For those short on time, yet still itching to catch the breeze and set sail as the sun sets on the horizon, Providence V is here to save the day.
Complimentary glass of bubbles and Nibbles included as you sail into the night and the day fades away.
---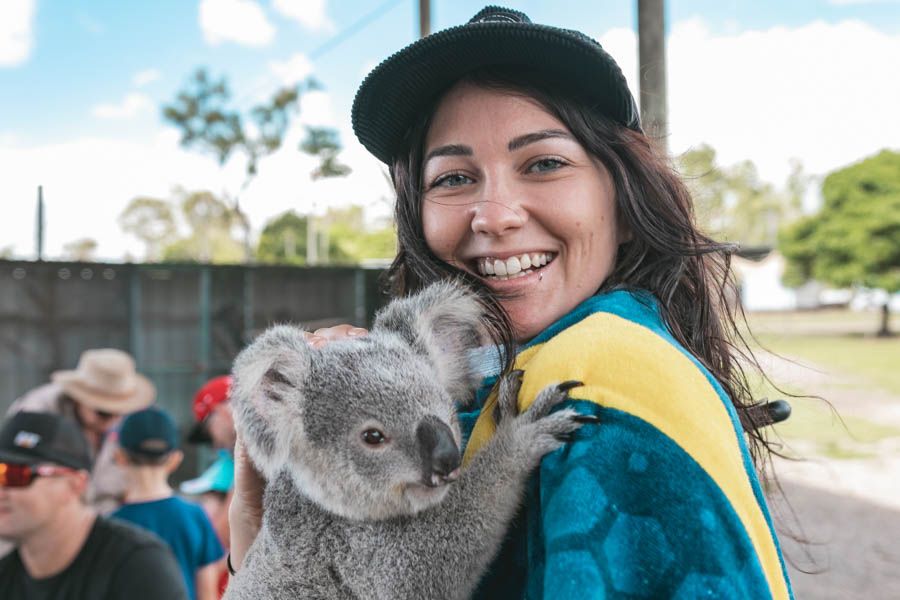 35. Get the Essential Koala Pic
A little bit cheesy, yes. A little bit touristy, definitely. A little bit overrated? Not even a little bit.
Did you even go to Australia if you didn't get a photo hugging a koala?
---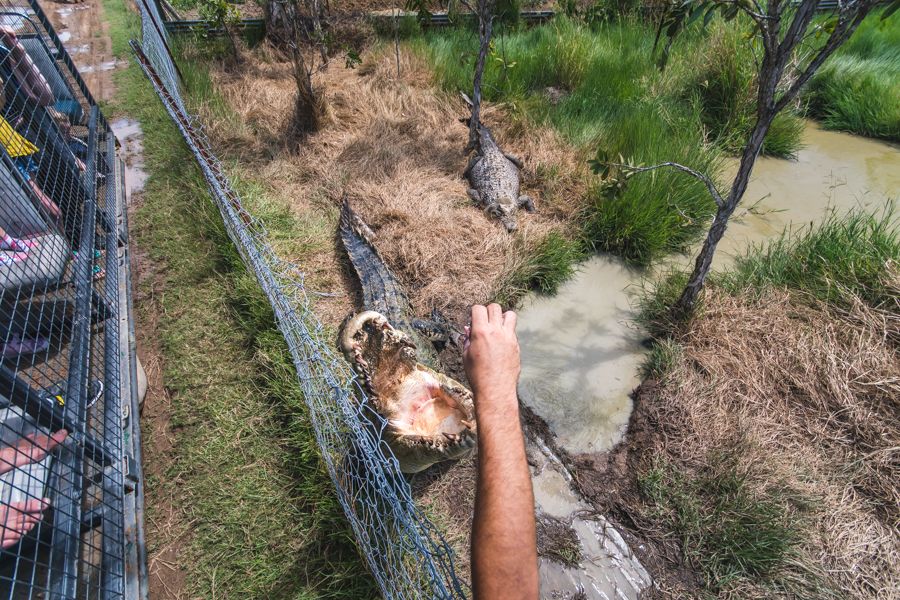 36. See Massive Crocodiles in Action
This one is a cracker, our mates at Bredl's Wild Farm is the ultimate bush experience with plenty of bite! See Australian wildlife up close, for way cheaper than you think!
---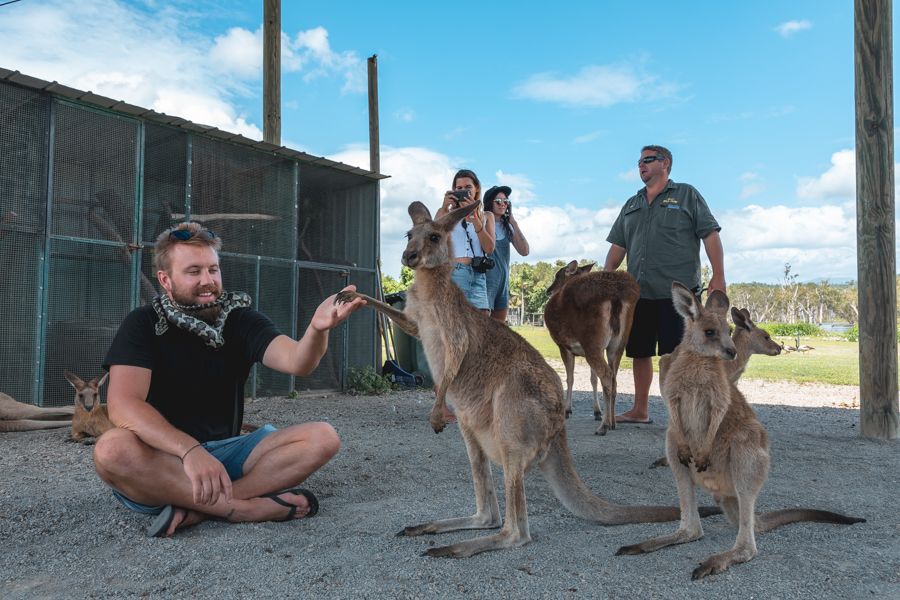 37. High-5 a Kangaroo while holding a snake.
We challenge you to take a more Australian Photo….. We will wait.
---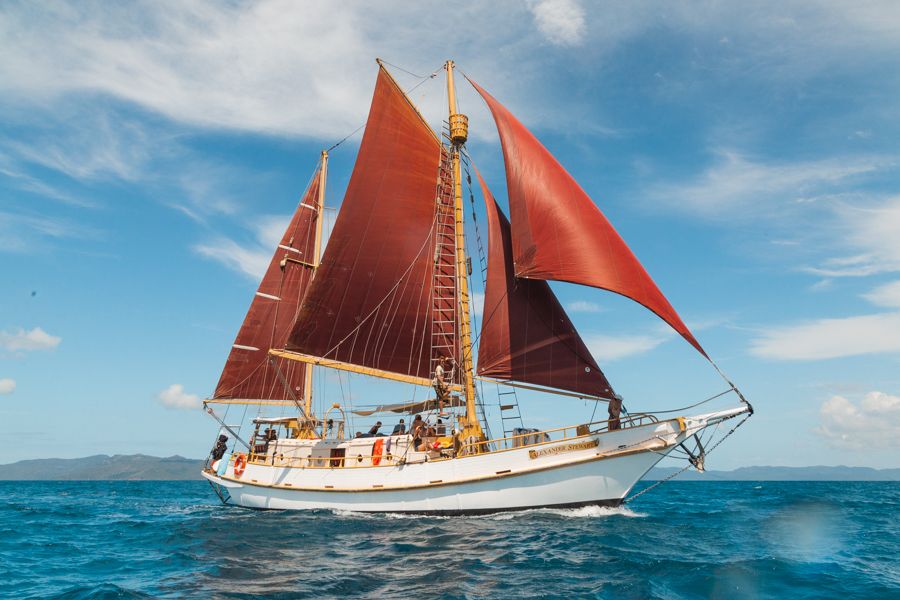 38. Sail on a Tall Ship
We're lucky to have some of the most beautiful Tall Ships that call The Whitsundays home. It is a completely unique experience under full sail and a throwback to the magic of a bygone era. If stunning photographs are what you're after, the stability and photogenic-ness of The Whitsundays Tall Ship Fleet, make it an absolute must.
---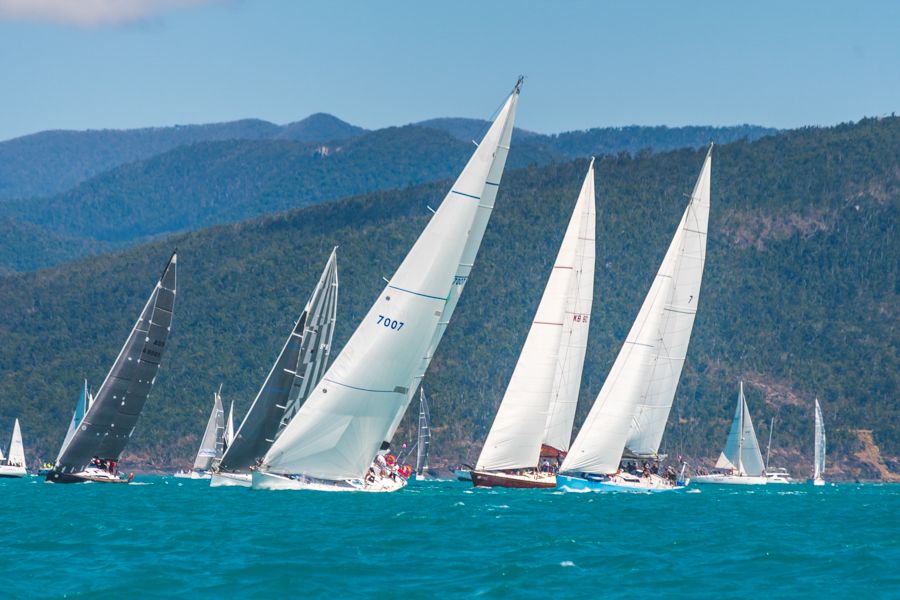 39. Get Involved in Race Week
An Airlie Beach Tradition over 30 years old, without a doubt, is a highlight of the year. If you want to compete in Airlie Beach Race Week 2020, you can visit their official site for more information. If you want to arrange a trip for yourself to come to spectate and enjoy all the fun activities of the week, just ask your agent about ensuring your own spot in August 2020.
Check out how fun Airlie Beach Race Week was in 2019 here!
---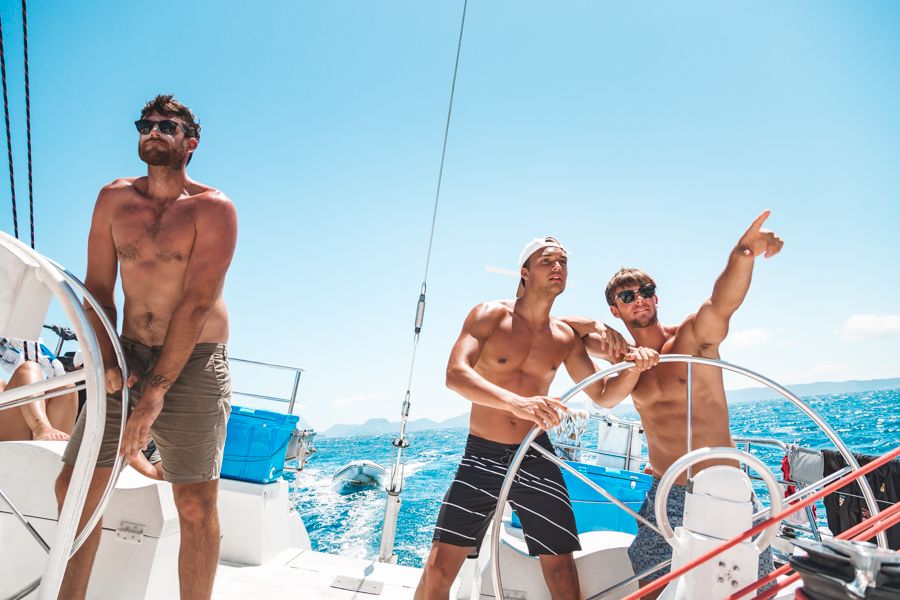 40. Learn to Sail
Renowned as a sailing mecca, The Whitsundays is one of the best places on earth to learn the ropes of harnessing the wind. This Introduction to Sailing course is great for beginners who have an interest in yachts and want to develop this further. For those interested in taking their introduction to Sailing a little further, check out the 5 day/4 night Commerical Crew Certificate for a more in-depth course and sailing experience.
For a free option, The Whitsundays Sailing Club hosts a twilight social race on most Wednesday afternoons during the year, walk-ins are welcome, for full details click here.
---
For the latest deals on any of the above products, check out our Current Deals page! Or chat with our friendly travel experts online by clicking on the chat button!