36 Best Things To Do In Airlie Beach
Updated Wed 30 Aug 2023
Airlie Beach is a tropical paradise located near the Whitsundays and the Great Barrier Reef. It is the gateway to the Whitsunday Islands and the launch point for the best boat trips out to the islands and reef. As a flourishing coastal town, visitors to the area will find a beachy vibe, friendly locals, and plenty of fun things to do!
Within the heart of Airlie Beach, you can find restaurants, bars, pubs, shops, hostels, hotels, and anything else you may need for an epic Queensland holiday. Most amenities and shops in Airlie Beach are conveniently located on the main street, making everything easily accessible by foot. The Port of Airlie and Coral Sea Marina are both right near the town centre as well, making it super easy to book excursions to the islands and reef sites offshore!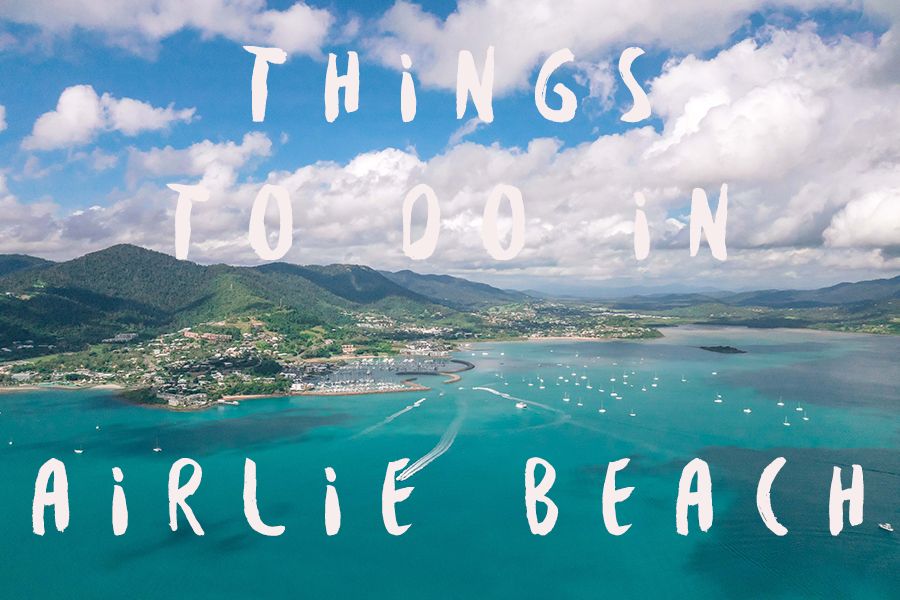 ---
The Best Things To Do In Airlie Beach, Queensland
There are so many amazing things to do in Airlie Beach, from taking day trips to the surrounding natural wonders to just exploring the quaint town centre. You can easily spend a few days soaking in all that Airlie Beach has to offer. Boat trips are the main draw for visitors, and it's smart to spend at least a day in Airlie Beach before your trip to ensure you don't encounter any delays! However, we always recommend staying longer as there are so many fun things to do in Airlie Beach.
---
1. Try An Overnight Sailing Tour
Airlie Beach is known as the "Heart of the Reef" and truly is the gateway to the Whitsunday Islands! The 74 Island chain is home to vast fringing reefs, beautiful beaches, sheltered bays, and coves for calm overnight anchorages, making it one of the best places in the world to sail. Multiday sailing tours are the best way to experience the vast natural beauty! You get to sleep overnight on the ocean in cozy cabins, watch the sunrise, and immerse yourself in the serenity. A sailing tour is truly the main reason why most travellers visit Airlie Beach!
---
2. Go For A Hike
Hiking is a great way to get some exercise and sightsee in Airlie Beach. Between Conway National Park on the mainland and the various trails on the islands, there are tons of epic hikes you can do while visiting Airlie Beach. The Honeyeater Lookout and Mount Rooper are popular trails on the mainland, the former of which you can walk to from downtown Airlie! Whitsunday Peak and Whitsunday Cairn are some of the best hikes out on Whitsunday Island, and Passage Peak on Hamilton Island is another top trail.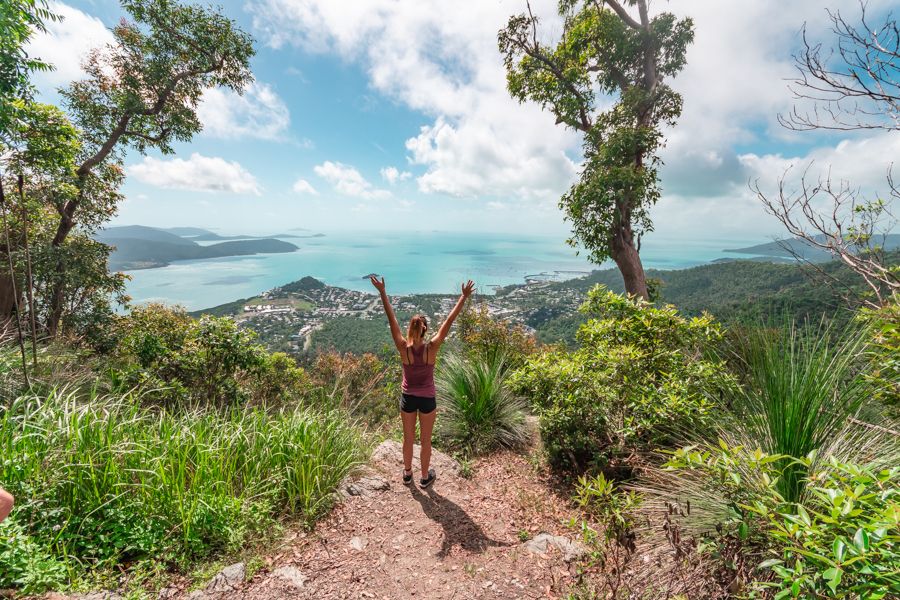 ---
3. Find Betty's Beach
This little gem is one of the most underrated beaches in The Whitsundays. Despite being only a short walk from the famous Whitehaven Beach, it is not uncommon to get this little slice of paradise to yourself even when the rest of Whitehaven is quite busy. Betty's Beach is just a short walk away from North Whitehaven, and most day trips or overnight tours give you plenty of free time to explore!
---
4. Relax at the Airlie Beach Lagoon
One of the best things to do in Airlie Beach on a hot day is sunbake or swim in the Airlie Beach Lagoon! Nestled in the centre of town, the Airlie Beach Lagoon is considered the jewel of Airlie Beach. This spacious public swimming pool has grassy areas, sandy areas, and picnic tables as well as toilet facilities and drinking water. There is even a kids splash area if you're visiting Airlie Beach with kids!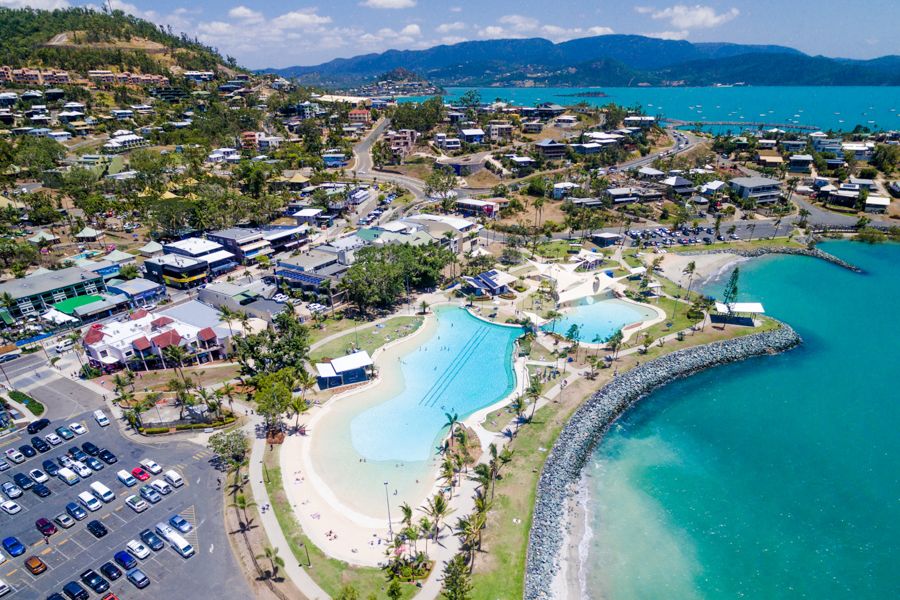 ---
5. Go On A Scenic Flight
One of the most incredible things you may ever do in your life is a scenic flight over the Whitsunday Islands and Great Barrier Reef. Whether you opt for a seaplane or a helicopter, a birds-eye view of this stunning part of Australia will blow your mind. From the swirling Hill Inlet, to the iconic Heart Reef, the views are so beautiful you'll never want to come down!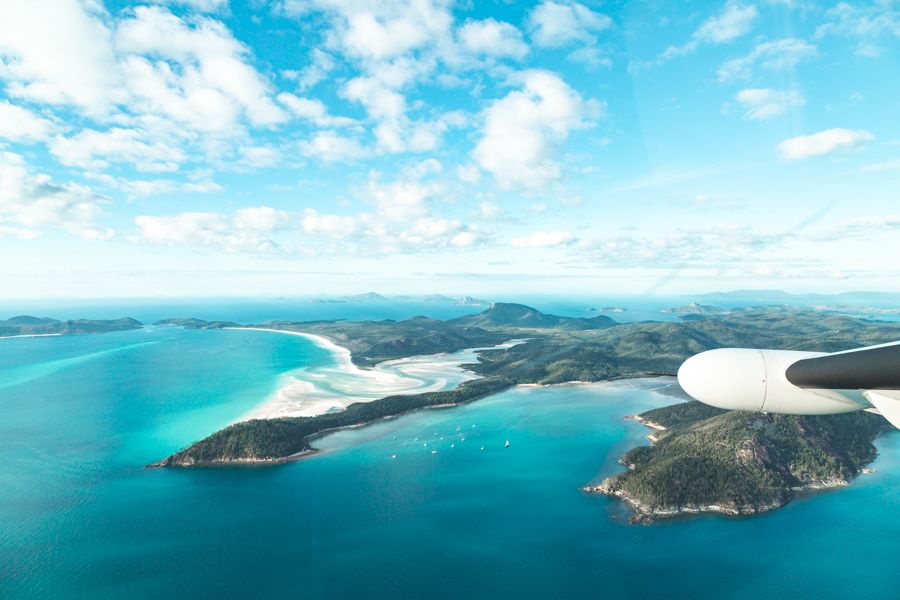 ---
6. Take A Day Trip To Whitehaven Beach
No trip to the Whitsundays is complete without seeing Whitehaven Beach! This famous location has dreamy white silica sand and is often ranking as one of the best beaches in the world. If you don't have time for an overnight sailing tour, you can jump on a day trip to Whitehaven from Airlie Beach. Popular day boats include Ocean Rafting, Whitsunday Bullet, Camira, and Big Fury.
---
---
7. Grab A Morning Coffee From An Airlie Beach Cafe
Start your day in Airlie Beach like an Aussie local and grab a coffee! Australians love their coffee, and there are some amazing cafes in town where you can get brekky and a delicious coffee. If you're not into caffeine, get your vitamins with a smoothie!
---
8. Watch The Sunrise In Hydeaway Bay
If you want to greet the sun as soon as it crests over the horizon, Hydeaway Bay is one of the few spots on the mainland that will deliver. This place could not be more aptly named - the sheltered beach is usually dead calm, tranquil, and deserted. For the more adventurous there are a number of rock scrambles that will allow for a better vantage point to welcome the day.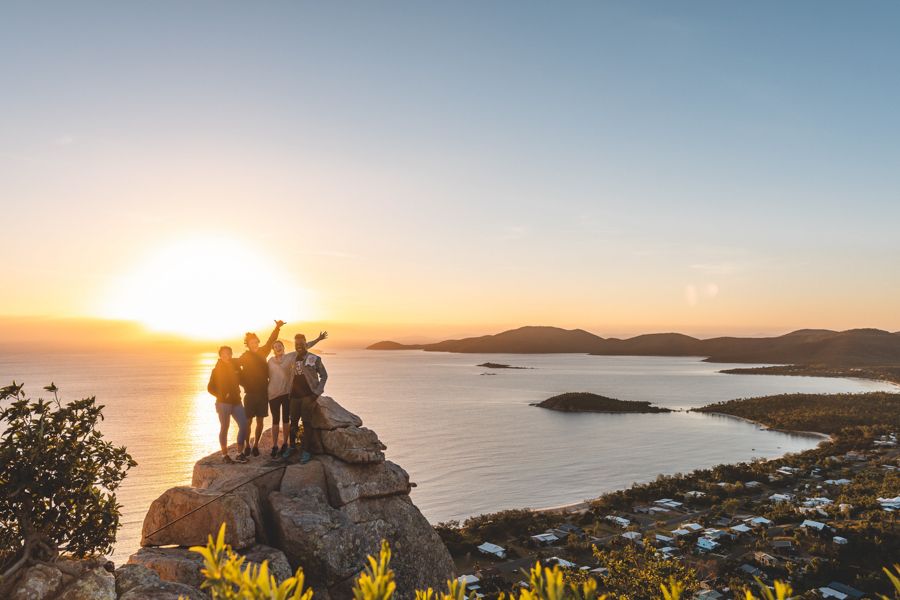 ---
9. Lounge on South Whitehaven Beach
Because who doesn't want to drink champagne with your toes in the sand, on one of the world's best beaches? Whether you're on a day trip or an overnight trip, time spent on South Whitehaven Beach is always worth it. Bring sunscreen and a towel, and pack drinking water as well because Whitehaven is 7km long! Stroll on the silica sand that doesn't retain heat, swim in the crystal clear waters, and cherish every moment.
---
10. Hang out by the North Whitehaven Tree
Without a doubt the most famous tree in the Whitsundays, this North Whitehaven icon doubles as the perfect photo opp and the world's best towel rack. This massive, washed up tree trunk creates interesting shapes and is a staple of North Whitehaven Beach. You may not be able to walk to it at high tide, but it always makes for great photos! And be sure to visit the famous Hill Inlet Lookout while you're over there!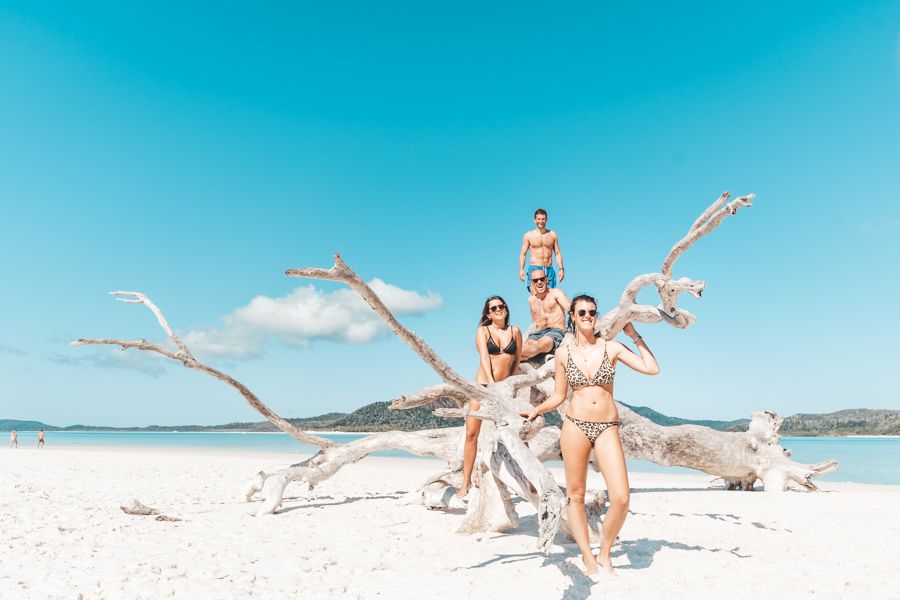 ---
11. Go For Cocktails At Northerlies
One of Airlie Beach's hidden gems, located a short drive to the north of town, Northerlies actually looks back at the vista of Airlie across the bay! Some of the best cocktails in town combined with a Bali-ish vibe of open-plan eating, live music, and endless sunbeds make this a must for those seeking a day of indulgence. (Local tip: Their courtesy bus is free! Check the daily schedule here)

---
12. Go Snorkelling
The Whitsundays are home to a vibrant underwater wonderland full of breathtaking snorkel spots. Most islands support their own fringing reef ecosystem, bustling with life and colour. The calm bays create the perfect shelter for a huge variety of marine life, some regulars include Green sea turtles, Maori Wrasse, Manta Rays, and Small Reef Sharks.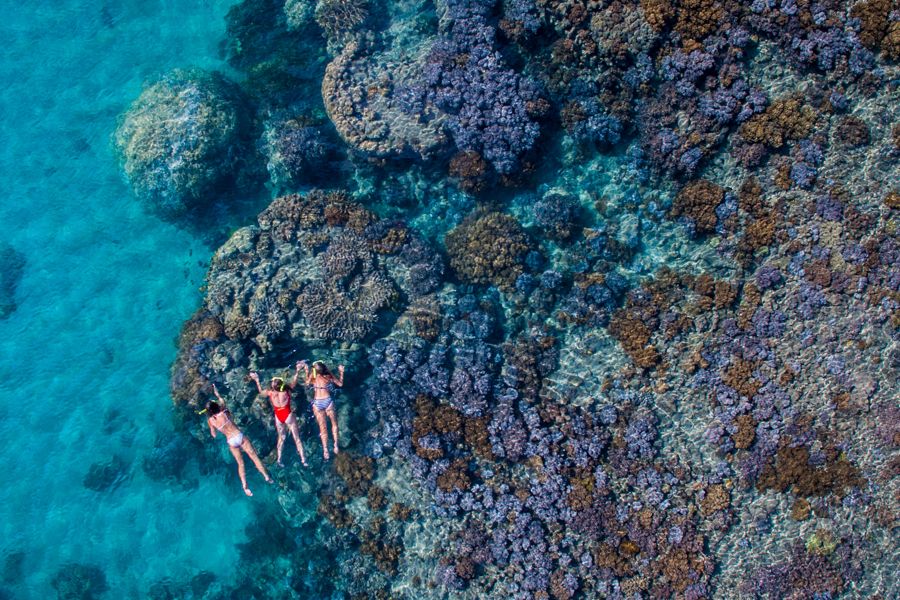 ---
13. Visit the Outer Reef
For an even more immersive Great Barrier Reef experience, head to the Outer Reef. Located a few hours offshore from Airlie Beach, the Outer Reef has larger coral networks than the fringing reefs. Spend a day snorkelling or scuba diving in the world's largest coral reef system, spotting marine life and frolicking through this UNESCO World Heritage Site.
---
14. Skydive Over the Islands
If jumping from a plane is on your bucket list, The Whitsundays is the perfect place to tick that box. Skydive Australia describes Airlie Beach as "Australia's most beautiful drop zone" and they don't throw that term around lightly. You can choose to jump over Airlie Beach on the mainland, or consider skydiving over Whitehaven Beach for an extra special view!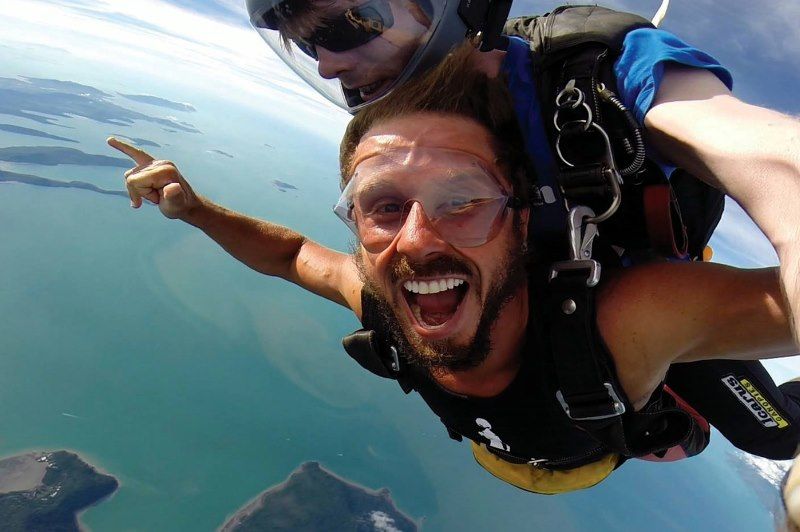 ---
15. Tour The Airlie Beach Markets
Another one of the best things to do in Airlie Beach is explore the local markets! Every Saturday from 7am to 1pm, local vendors set up their stalls right in the town centre. The Airlie Beach Markets are a great place to shop for souvenirs, mingle with locals, and grab a bite to eat.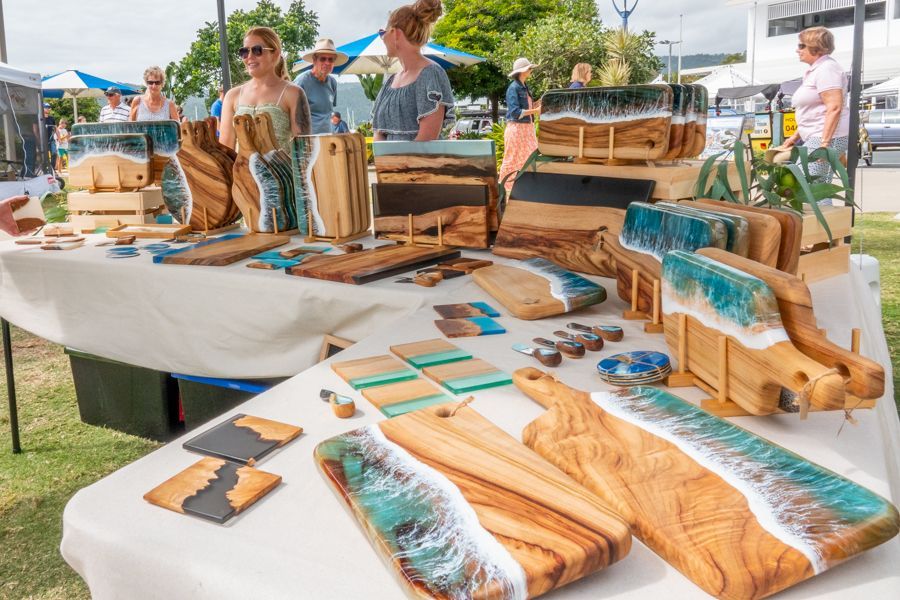 ---
16. Ride A Jet Ski
Feel like playing James Bond for the day? Lucky for you, there are some thrilling jet ski tours that you can book during your visit to Airlie Beach. Jet skis offer an exciting way to sightsee around town, with gorgeous views from the water. Spot marine life, feel the ocean breeze, and learn about local flora and fauna from your guide.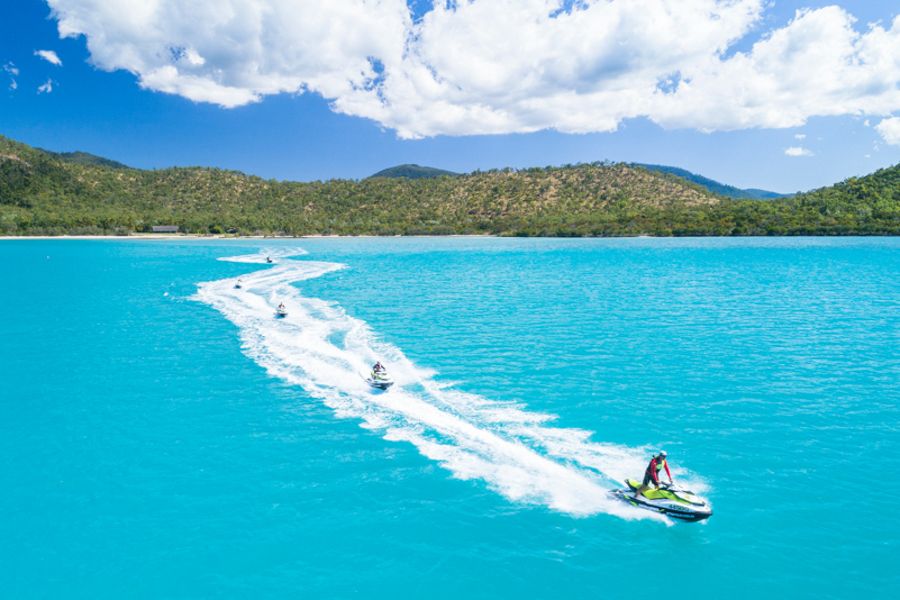 ---
17. Catch New Whale Families on their Annual Migration
In the Whitsundays, we are truly blessed to witness the annual migration of the majestic humpback whales. Every winter, whales migrate to Tropical North Queensland from the cold waters of Antarctica. From July to October, you can see these majestic giants roaming the warm waters of the Whitsundays as they mate, calve, and raise their young. On any boat tour during whale season, you have a high chance of spotting whales and bay whales in the ocean. To maximise your chances of a whale sighting, we suggest spending as much time on the water as possible with an overnight tour.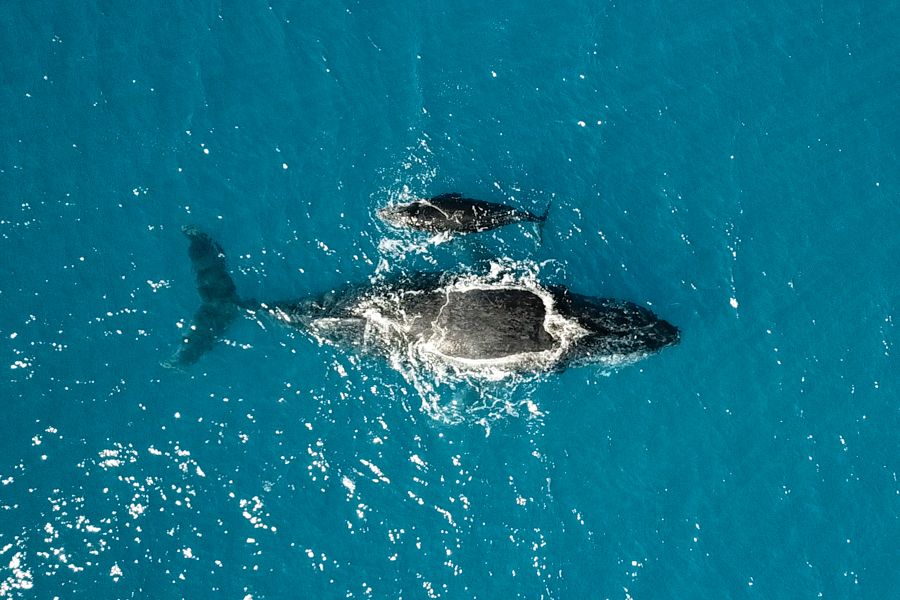 ---
18. Sleep Under the Stars on the Great Barrier Reef
That's right, you can stay on the Great Barrier Reef overnight! Reefsleep allows 30 guests the opportunity to experience the magic of the world-famous Great Barrier Reef by spending the night in an outdoor reefbed located on a stable pontoon. This is a once in a lifetime experience! Or you can opt for the luxurious underwater hotel, Reefsuites. Either way, you can spend your days snorkelling and diving and spend your nights eating delicious food and watching the sunset over the reef.
---
19. Explore Hamilton Island
Hamilton Island is one of the most famous locations in the Whitsundays! You can easily visit this stunning island on a day trip from Airlie Beach. Go golfing, visit the wildlife park, try a hiking trail, sip cocktails by the pool, lounge on Catseye Beach, or try water sports - there are so many things to do on Hamilton Island! You can even stay there overnight as there are lots of excellent resorts on the island.
---
20. Learn to Scuba Dive
Scuba diving is the most immersive way to explore the wonders of the Great Barrier Reef. Under the surface everything is calm, your movements are slow, and your senses are alight. The real magic happens when the wildlife becomes accustomed to your presence and will surround you like you're a part of their ecosystem. Join a sailing tour with scuba diving on board or opt for the scuba diving option on an Outer Reef trip! For a deeper level of education, sign up for a dive course!
---
21. Lounge At An Island Resort
There's something special about being disconnected from the mainland, and the Whitsundays are home to some of the most exclusive and luxurious island resorts. From the famous Qualia on Hamilton Island, to the 100% solar-powered Elysian Retreat on Long Island, there is no better place to escape the stress of daily life than a Whitsundays resort.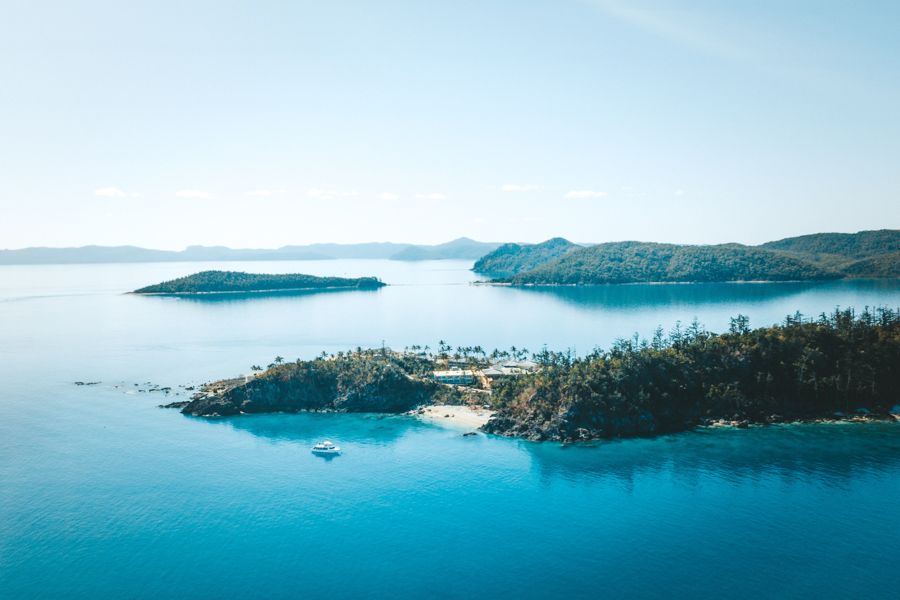 ---
22. See The Underwater Observatory On Daydream Island
Brand new and bigger than ever, Daydream Island's Underwater Observatory is the coolest way to observe the Great Barrier Reef's ecosystem without getting in the water. The 200m, 1.5 million litre tank is packed with baby sting rays, sharks, starfish, and over 100 unique species of reef fish. Known as the Living Reef, this amazing attraction is the perfect safe, family-friendly way to learn about the local marine life.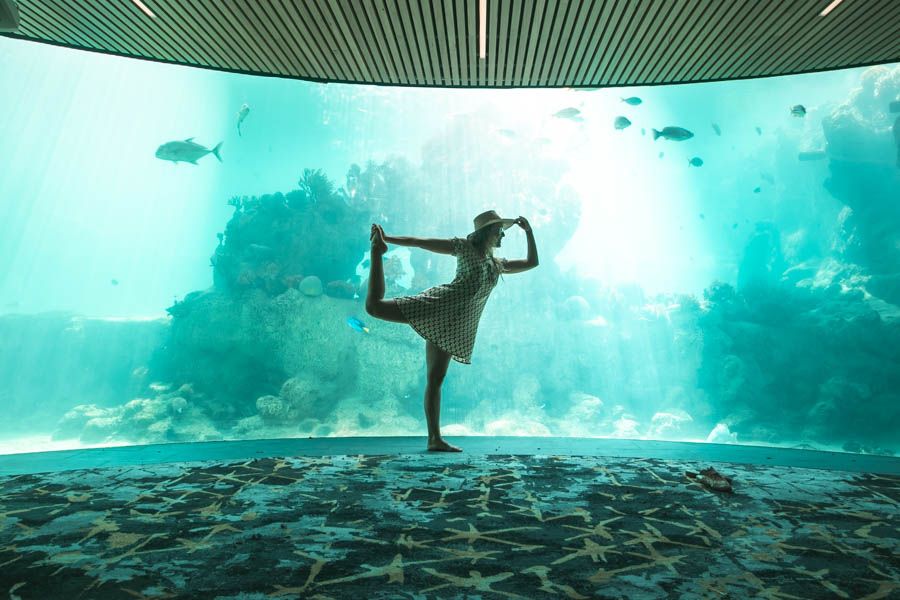 ---
23. Try Adventure Sailing On A Maxi Yacht
The best place to enjoy performance sailing in the Whitsundays is without a doubt on a maxi yacht. If you have never been sailing, then this is the place to start! Ideal for backpackers and the young at heart who are aged 18-35, maxi yachts in the Whitsundays offer a fun, social, adventurous experience. Most of them are BYO and have fun add-ons like scuba diving, waterslides, paddleboards, and more. They are also affordable and perfect for budget travellers in Airlie Beach!
---
24. Watch The Sunset From Mandalay Bay
Another one of the best things to do in Airlie Beach for free is watch the sunset from Mandalay Bay. There are a few little sandy bays along Mandalay Road, as well as a small fishing pier (use at your own risk) to take in the vista. It's hard to describe how beautiful Golden Hour is here, and you can often spot sea turtles in the calm waters.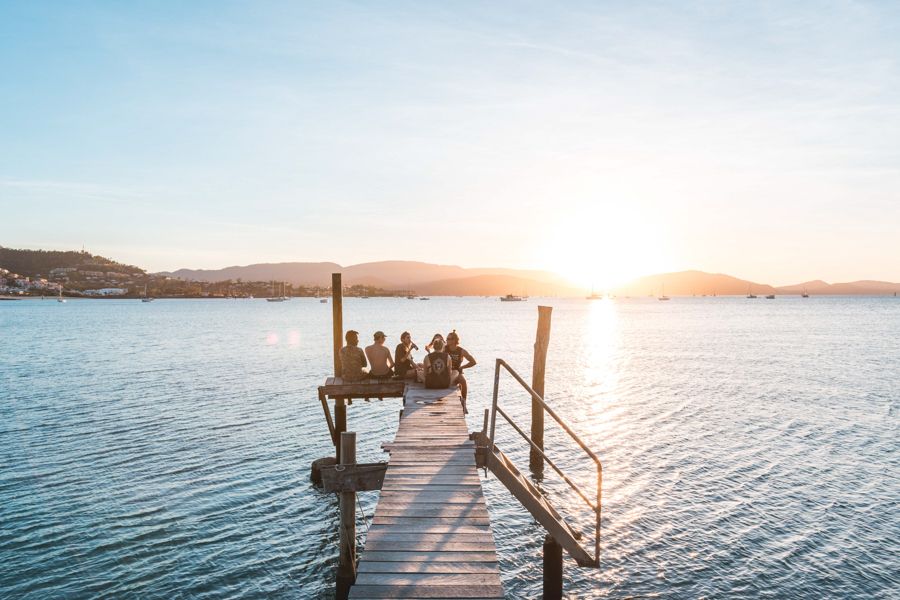 ---
25. Enjoy The Airlie Beach Nightlife
Airlie Beach has incredible nightlife! There's a bit of a local saying that "Airlie Beach is a drinking town, with a sailing problem", some could argue the opposite. Regardless, having a drink at each of the famous pubs on the main street is a favourite all-weather activity. From cocktail bars to nightclubs, Airlie Beach has it all. Our self-guided pub crawl itinerary would look something like this;
Boatys deck for some afternoon beers in the sun

Shed Bar for much of the same (option for a dip in the pool)

A few games of pool at Beaches

Live music in the afternoon at Magnums

A meal at The New Pub

9 pm live music at Paddy Shenanigans

Boom or Mama Africa's to cut some late-night shapes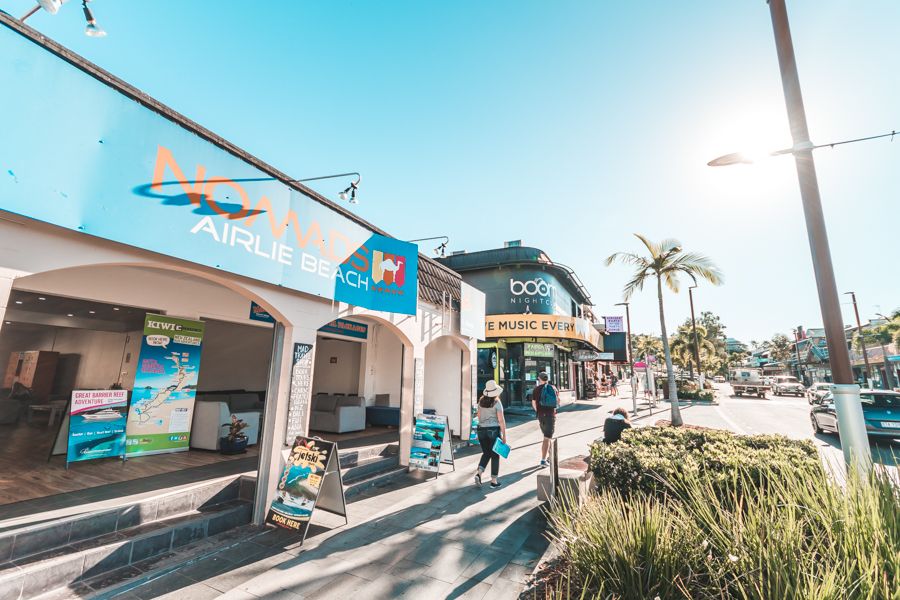 ---
26. Go For A Dip In Cedar Creek Falls
Visiting the secluded and tranquil Cedar Creek Falls is one of the best things to do in Airlie Beach! Located halfway between Airlie Beach and Proserpine, this stunning three-tier waterfall cascades into a perfectly formed natural rock amphitheatre, making it a stunning backdrop for a refreshing swim. If you don't have a car, you can jump on a guided tour that will take you to the falls on a day trip.
---
27. Go Paddleboarding
This is a truly special experience! There is no better way to explore a serene Whitsunday bay or reef than on a stand-up paddleboard. With a high vantage point, you increase the likelihood of seeing fish, rays, turtles, and the contours of the reef all while staying completely dry (hopefully). Most of the best overnight tours include paddle-boards in their collection of water sport accessories, and you can also rent them in downtown Airlie Beach near Shingley Beach and go for a paddle on your own.
---
28. Sail into the Sunset
The best way to wind down a day in Airlie Beach is with a sunset sail. Cruise around Pioneer Bay for a few hours and watch the sun dip below the horizon. Many sunset sails include a glass of bubbles and some light snacks as well. Top sunset sails include Derwent Hunter, Domino, and Providence!
---
29. Mingle With Aussie Wildlife
A little bit cheesy, yes. A little bit touristy, definitely. A little bit overrated? Not even a little bit. Seeing some classic Australian animals is a must, and Airlie Beach has some awesome activities where you can admire and mingle with the local creatures. Bredl's Wild Farm has lots of interactive animal experiences, or you can go on a Proserpine River Cruise to see saltwater crocodiles in their natural habitat. Did you even go to Australia if you didn't get a photo hugging a koala?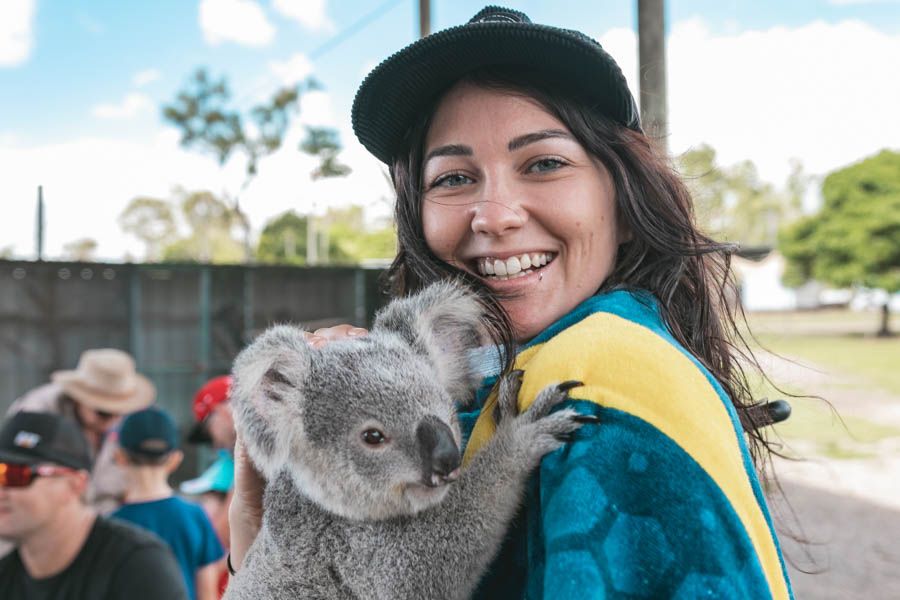 ---
30. Get Involved In Airlie Beach Race Week
This Airlie Beach Tradition over 30 years old is, without a doubt, a highlight of the year. If you want to compete in Airlie Beach Race Week, you can visit their official site for more information. The 2023 Race Week just finished, but you can start planning your moves for 2024 now!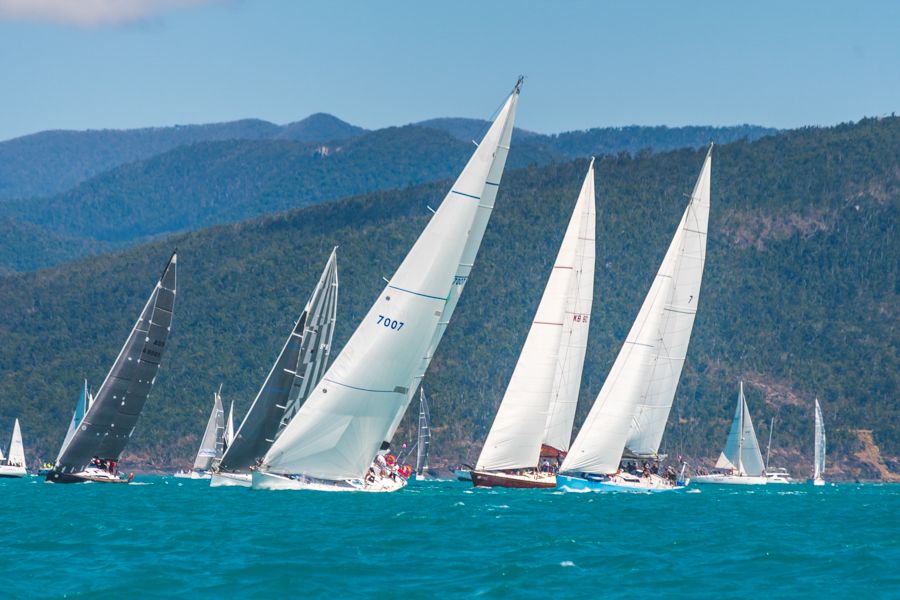 ---
31. Learn to Sail
Renowned as a sailing mecca, the Whitsundays is one of the best places on earth to learn the ropes of harnessing the wind. This Introduction to Sailing course is great for beginners who have an interest in yachts and want to develop this further. In addition to sailing courses, you can also just ask your crew for some tips while you're on a sailing tour. Most skippers are happy to give you a little lesson and let you get involved!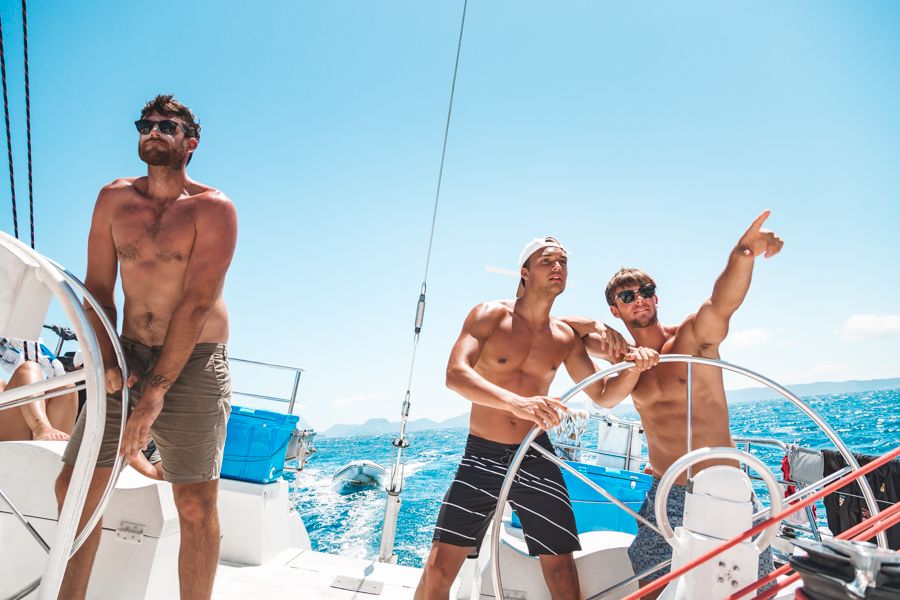 ---
32. Book A Private Charter
If you're visiting Airlie Beach with a small group and you're looking for an intimate, top-notch experience, consider a private charter! Tours are always fun, but a private charter allows you to fill a vessel with just your group. A skipper and tour guide will join you to take care of all the navigation, food prep, and cleaning. All you have to do is design your dream itinerary and enjoy the ride! From overnight charters, to sunset charters, to big group celebration charters, the holiday of your dreams awaits you in Airlie Beach.
---
33. Soak In The Sun At Boathaven Beach
Another one of the best things to do in Airlie Beach for free is have a beach day at Boathaven Beach! Also called New Beach by the locals, Boathaven Beach is the best place to swim in the salt water near the town centre of Airlie. There is a stinger net to keep you safe during stinger season, and there is plenty of soft white sand for lounging.
---
34. Jet Boat Around the Harbour
For a boost of adrenaline, hop on a jet boat and enjoy an action-packed ride around Airlie Beach. Spitting out an incredible 600 Litres of water per second, you will be amazed at the speed you will reach with Pioneer Jet Whitsundays. This family-friendly adventure is like a roller coaster on the water!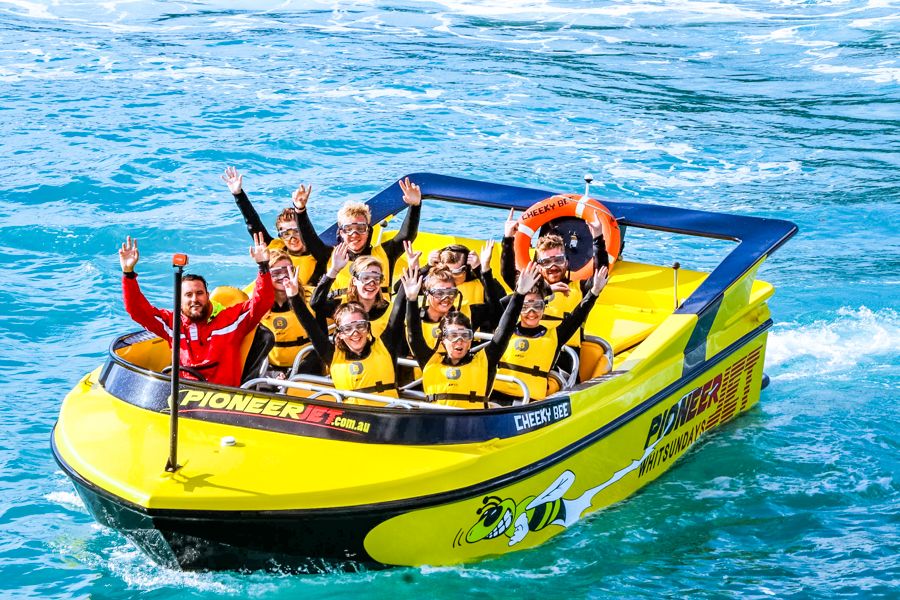 ---
35. Ride A Helicopter To Whitehaven Beach
You may have realised that many of the best things to do in Airlie Beach involve Whitehaven Beach. It is truly a highlight of the area! If you want to take your Whitehaven experience to the next level, consider a helicopter tour to the beach! Not only can you view the natural wonder from the sky, you can land right on the beach and spend some time sipping champagne and enjoying the sun, sand, and salt before getting a helicopter ride back to Airlie Beach.
---
36. Watch The Sunrise With Kangaroos
Last but not least on our list of the best things to do in Airlie Beach is sunrise with kangaroos! Head down to Cape Hillsborough National Park to see adorable kangaroos frolicking on the beach at sunrise. It's a magical way to start the day while exploring Australia!
---
Looking for even more things to do in Airlie Beach?
Check out our full collection of articles, or live chat with our travel experts online and we'll help you plan your trip!