Best Snorkelling Spots in the Whitsundays
Updated Fri 16 Jun 2023
The Whitsundays, a picturesque archipelago beholding 74 tropical islands is located in the centre of the renowned Great Barrier Reef Marine Park! Boasting crystal-clear waters as far as the eye can see, a sea of underwater playgrounds is at your fingertips within the Whitsunday Islands - all you need to do is put on a snorkel mask and make a splash into the big blue!
From the silica sand lagoons of Whitehaven Beach in the south to the hidden coves of Hook Island in the north, the Whitsundays are home to an abundance of individual fringing reefs laden with a plethora of hard and soft corals, and unique marine species. Featuring some of the world's most biodiverse reef systems, the Whitsunday reefs are easily accessed from the mainland of Airlie Beach.
From snorkelling day tours to overnight sailing trips that offer tailored itineraries of the best Great Barrier Reef snorkelling and diving sites, there is a Whitsundays tour laden with snorkelling adventures for every type of traveller and budget!
---
Reefs In The Whitsunday Islands
As the largest living organism in the world, the Great Barrier Reef consists of 2,900 individual reef systems that stretch along Australia's East Coast from Bundaberg to Cape York. The biodiverse range of reef ecosystems are found on inner fringing reefs and the outer reefs, both of which can be found in the Whitsundays and accessed from Airlie Beach.
The most common reef system within the Whitsundays, which are easily reached on day and overnight tours, are the range of inner fringing reefs that flourish off the tropical island foreshores. Fringing reefs are generally laden with soft corals and small juvenile fish. On the other hand, the outer reefs grow from the ocean floor up and are located a few hours from the Whitsundays mainland. Featuring a wider variety of hard corals and larger marine species, the Outer Great Barrier Reef is completely isolated, creating a serene atmosphere unlike any other.
We recommend you explore both the pristine solitude of the outer reef and lush, coral-lined lagoons of the islands for a Whitsundays snorkelling experience unlike any other!
---
10 Best Snorkelling Spots in the Whitsundays
Depending on the seasons' wind direction, daily tides, and weather conditions the top snorkelling spots in the Whitsundays can differ. Rest assured that your knowledgeable boat captain and crew will source the best snorkelling location according to the day's conditions. Now, it's time to picture yourself exploring the flourishing coral walls of the Best Snorkelling Spots in the Whitsundays!
1. Langford Island Reef
Despite being smaller in size, the spit reef running adjacent to the picturesque Langford Island is brimming with marine species such as gentle Sea Turtles and baby Stingrays. Ideal for snorkelling, the Langford Reef can be accessed straight from the beach by simply wading along the long sand spit that disappears at high tide.
With easily accessible coral reefs and an island lookout that beholds some of the best tropical views in the Whitsundays, it's no wonder why Langford Reef is a must-visit Whitsundays destination. Found in the north-western corner of the Whitsunday Islands National Park, across from Hayman Island, Langford Island is best visited on an overnight sailing tour!
---
2. Mantaray Bay, Hook Island
Ever dreamed of swimming inside a real-life aquarium? Located on the northern side of Hook Island, Mantaray Bay is laden with hundreds of curious and unique fish that love to say hello! From the colourful Maori Wrasse, Giant Trevally, vibrant Batfish, and large schools of Yellow-tail Fusiliers Mantaray Bay is the perfect location to put on a snorkel and rub shoulders with friendly locals!
A majority of overnight tours visit Hook Island and include a visit to the renowned Mantaray Bay if the sea conditions permit. Just remember you can't experience the fun if you don't jump right in!
---
3. Blue Pearl Bay, Hayman Island
With coral-lined shores, gleaming sapphire waters, and vivid coral gardens that can be accessed straight from the beach, Blue Pearl Bay fulfils all of our blue lagoon daydreams!
Popular amongst snorkellers and divers alike, Blue Pearl Bay is located on the northern end of the luxurious Hayman Island, offering exciting underwater caves, bommies, drop-offs and swim-throughs. Accessible by tender, this sheltered bay is home to some of the Whitsundays most colourful corals and resident humphead Maori Wrasse 'Priscilla' - make sure to say hello for us!
---
4. Cateran Bay, Border Island
A lesser-known locals favourite, Border Island is located to the east of Hook Island in the Whitsunday Islands National Park, featuring stunning plate coral in the shallow waters of Cateran Bay. Best visited during northerly winds, Cateran Bay is the perfect location to enjoy the sun's rays and explore abundant coral formations straight from the sandy beach. Thriving under Marine National Park Green Zone protection since the 1930s, this secluded island haven offers rich marine life and pristine waters that are largely uninterrupted by day tours.
---
5. Butterfly Bay, Hook Island
Nestled just next door to the Mantaray Bay on Hook Island is the serene waters of Butterfly Bay, a destination that has walked straight out of a dream! Best explored by tender, the towering rocky outcrops of the bay's perimeter are home to wild mountain goats and fringing reefs aplenty! Dive deep into wide gardens of soft corals and emerge to seasonal butterflies fluttering on the surface - a dreamy destination to moor for the day!
---
6. Chalkies Beach, Haslewood Island
Whilst Chalkies neighbour Whitehaven Beach remains the most visited destination within the Whitsunday Islands (and for good reason), many travellers forget that Chalkies Beach boasts the same soft silica sands - just with half the crowds! A popular snorkelling site amongst Whitsundays day tours, the northern end of the stretching beach on Haslewood Island is a brilliant sanctuary for soft corals and smaller reef fish. Best accessed on low tide, make sure to keep your eyes peeled for Green Turtles who are regularly sited feeding in the area!
---
7. Luncheon Bay, Hook Island
A crowd favourite! Luncheon Bay is perched perfectly on the northern side of Hook Island and is a popular bay amongst avid snorkellers and divers alike. With an easy beach entry option, Luncheon Bay is well suited for beginner divers who can gradually enter the water and get used to their dive gear with ease.
With swim-throughs around every corner, abundant Clownfish 'Nemo' populations, and an underwater canyon known as the 'tunnel of love' Luncheon Bay is a must-visit. To explore your options of Whitsunday Islands overnight tours that offer scuba diving onboard click here.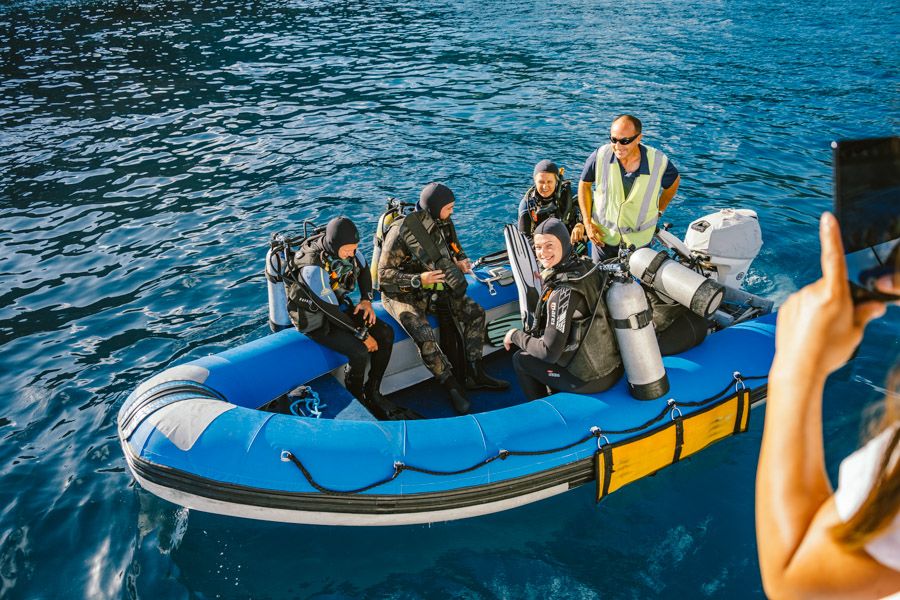 ---
8. Black Island (Bali Hai)
A Balinese escape in the Whitsundays - welcome to Black Island, also known as Bali Hai! A tiny island compared to others in the Whitsundays, Black Island is a mariner's oasis, perched amongst Langford, Stonehaven, and Hayman Island.
Home to sea turtles, unique giant clams, fascinating coral formations and schools of reef fish. Black Island is the perfect snorkelling and diving destination to escape the northern crowds and find your ultimate island zen underneath the aqua surface!
---
9. Hardy Reef, Outer Reef
Okay, so we've covered the best fringing reefs in the Whitsundays - now time for the outer reefs!
Easily accessed on a Reefworld day tour from Airlie Beach or on the unforgettable Reefsleep experience, Hardy Reef is an exotic stretch of biodiverse coral reef that sits adjacent to the Reefworld Pontoon. With an average visibility of 15 metres, incredible marine species such as giant Maori Wrasse, Trevally, Coral Trout, and giant Queensland Groper can be spotted within plain site during an exciting snorkel or dive!
For those daydreaming of the ultimate Outer Great Barrier Reef experience, we recommend falling asleep under the stars and waking to the solitude of the reef on Reefsleep!
---
10. Bait Reef, Outer Reef
To feast your eyes on a true taste of the outer reef magic, a boating adventure to Bait Reef is a must! Located on the edge of the Coral Sea, Bait Reef is situated 65 kilometres from Airlie Beach within the Great Barrier Reef Marine Park. Featuring a variety of shallow and deep snorkelling and diving locations, Bait Reef is a popular bucket list item amongst global budding divers.
Whilst a majority of overnight vessels only sail within the Whitsunday Islands, Kiana's 5-day and 4-night Outer Reef Expedition sails smoothly to the edges of the outer reef and cruises amongst the island hot spots. If you're searching for an adventurous itinerary brimming with snorkelling and diving opportunities, Kiana's sleek decks are made for you!
---
Things To Know Before Snorkelling In The Whitsundays
Before you set off on your Whitsunday snorkelling adventure, we recommend you hire a stinger suit during stinger season and remember to always snorkel or dive with a buddy! To keep your snorkelling adventures stress-free, a large majority of day and overnight tours in the Whitsundays include snorkelling equipment and stinger suits within their rates, or for a small additional fee.
Our knowledgeable team of Whitsundays adventure-seekers and dive experts can't wait to find you your ideal snorkelling-filled day tour or overnight sailing trip.
---
Searching for a Whitsundays itinerary filled with Great Barrier Reef snorkelling adventures?
Call us on +61 7 4914 2425 or live chat with a travel expert for the best of local advice and deals!