Reefsleep Great Barrier Reef Experience
CLOSE
View More Thumbnails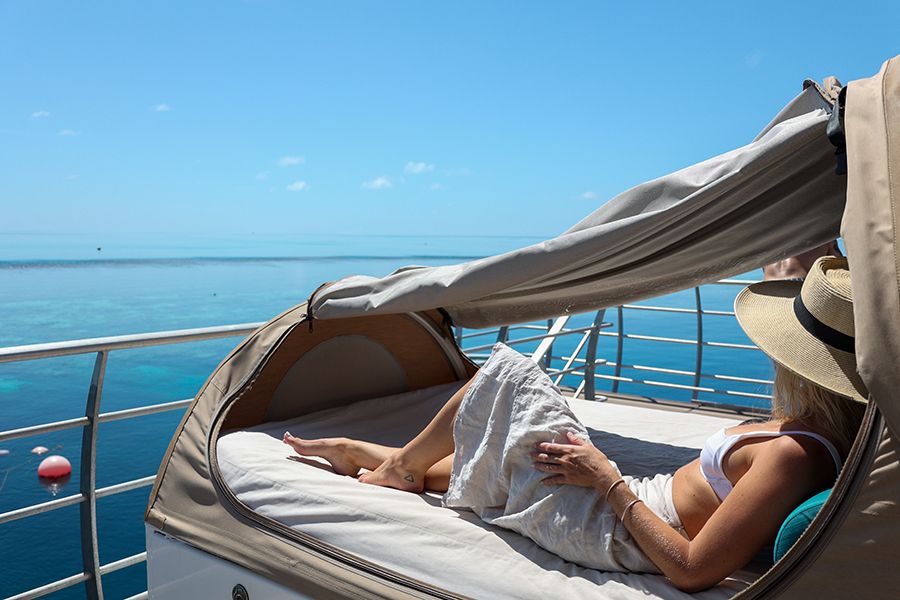 Loading...
Departure Times
Departs: Check Location For Times
Returns:
Between 5:10pm - 6:05pm
Departure Points & Times: Daydream Island: 7:35am - Airlie Beach: 8am - Hamilton Island: 9am
Pricing Options
$650 AUD / Person
- Double Reefbed (requires 2 persons) ($1300 Total)
(Between: 31 Dec 2022 and 31 Dec 2023)
$39 AUD / Person
- Guided Snorkel Tour (Child)
(Between: 13 Jan 2023 and 31 Dec 2023)
$69 AUD / Person
- Guided Snorkel Tour (Adult)
(Between: 13 Jan 2023 and 31 Dec 2023)
$120 AUD / Person
- 1 Certified Dive (12+)
(Between: 13 Jan 2023 and 31 Dec 2023)
$165 AUD / Person
- 1 Introductory Dive (12+)
(Between: 13 Jan 2023 and 31 Dec 2023)
$189 AUD / Person
- 2 Certified Dives (12+)
(Between: 13 Jan 2023 and 31 Dec 2023)
$234 AUD / Person
- 2 Introductory Dives (12+)
(Between: 13 Jan 2023 and 31 Dec 2023)
$900 AUD / Bed
- Single Reefbed
(Between: 31 Dec 2022 and 31 Dec 2023)
Highlights
| | | |
| --- | --- | --- |
| Whitsunday Island Cruise | Outer Great Barrier Reef | Scuba Diving |
| Guided Snorkelling | | Scenic Flights |
| | | |
| | | |
This is the new Reefsleep which everyone is talking about! A spectacular and unique overnight tour where you sleep on the Outer Great Barrier Reef!
Sleep under the stars on the Outer Great Barrier Reef on a unique, modern pontoon!
Snorkel and scuba dive to rub shoulders with vibrant corals and marine life
Experience the sunrise, sunset and starlight out on the Great Barrier Reef
The only tour of its kind in the Whitsundays, offering both luxurious and adventurous itineraries!
Beer, wine and soft drinks included
Introductory and certified divers welcome - booking in advance recommended
---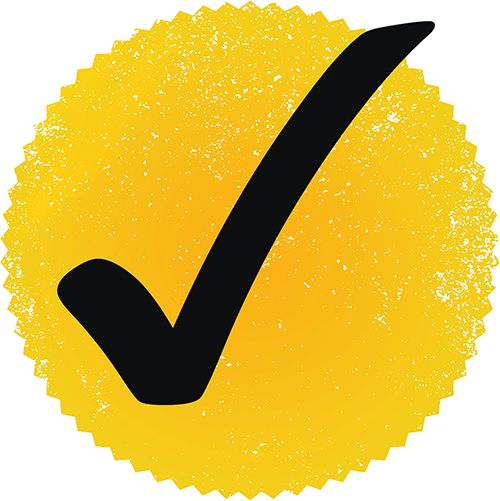 No Fee Date Change up to 72 hours prior to departure
---
Soak up the wonder of Reefsleep as you embark on sun-soaked days and starlit nights in the heart of the Great Barrier Reef. A unique outdoor sleeping experience will immerse you in the magic of the tropical haven known as Hardy Reef, a spectacular stretch of biodiverse, flourishing reef.

Highlights & Features:
2 days on Reefworld pontoon
Overnight stay on a luxury outdoor Reefbed
Drinks included (wine, beer, cider and soft drink)
Delicious, all-inclusive catering provided
Maximum 24 guests
Tea and coffee included
Access to Reefworld snorkelling, sun lounges, underwater observatory and more
Add ons such as scuba diving and scenic flights available at extra costs

Sample Itinerary
Show Less
Snorkelling
The Cruise Whitsundays Reefworld pontoon is adjacent to coral walls, the length of which you can explore by snorkelling as much as you like during the day! It has its own ecosystem with magnificent corals and a diversity of marine life found only in sheltered areas. The Hardy Reef is a unique world for you to explore and the prolific fish life will surprise and delight you especial...
Read More
Snorkelling
The Cruise Whitsundays Reefworld pontoon is adjacent to coral walls, the length of which you can explore by snorkelling as much as you like during the day! It has its own ecosystem with magnificent corals and a diversity of marine life found only in sheltered areas. The Hardy Reef is a unique world for you to explore and the prolific fish life will surprise and delight you especially… the Giant Groper!

Guided Snorkelling Tours - Add On
Available when booked in advance, Cruise Whitsunday's experienced guides will take you and a small group to special hotspots where Giant Maori Wrasse, rainbow coral formations, tropical fish, sea turtles and reef sharks are seen. Book your guided snorkelling tour here to dig a little deeper into the wonderful world of the Great Barrier Reef.

Scuba Diving - Add On
There is no better place to experience the magic of your first scuba dive than at the outer Great Barrier Reef, with no experience necessary! Experienced divers can enjoy spectacular dives at specially selected sites with a variety of coral formations and marine life. So whether you're an introductory or certified diver, book your scuba dive here to enjoy an adventurous, breathtaking underwater exploration with Reefsleep!

Starlit Alfresco Reefbeds
The only outdoor sleeping vessel in the Whitsundays, Reefsleep offers guests their very own alfresco, luxury Reefbed! With a clear viewing panel, soft linen and a super comfy mattress, fall asleep under a clear starry sky while enjoying the gentle sea breeze! Bugs and mosquitos aren't a problem when you're 40 nautical miles at sea, so leave the cover open to immerse yourself in the Reef charm like never before… just you, the sea breeze and the brightest stars for a true glamping experience!

Underwater Observatory
Discover the wonders of the reef and stay dry with Reefsleep's underwater aquarium observatory! An educational and delightful view from below allows guests to spot colourful fish, magnificent mammals and more from a completely new angle!

Scenic Flights - Add On
With additional add-ons such as a scenic flight over the Great Barrier Reef for spectacular outlooks, there really is something for everybody aboard the Reefworld pontoon. Fly high over crystalline views of vibrant reefs for an adventurous experience perfect for all kinds of reef lovers! Book your scenic flight upon your arrival at the pontoon.

Semi-submersible Glass Bottom Boat
Explore the depths of the reef like never before with this immersive and educational experience! Where fun and reef learning meets, the Reefsleep glass-bottom semi-submersible will take you through a spectacular reef that is home to vibrant creatures big and small. Learn something new about these extraordinary ecosystems with the educational commentary (interpreters available).

Reefworld Pontoon
Spend your day aboard the Reefworld pontoon with access to an abundance of things to do, whatever your style! Grab a good book and champagne and hit the day beds for a sunbake chill-out session. With all the delicious meals provided, enjoy a scrumptious buffet lunch and dinner with good company too! Don't forget to keep an eye out for sea turtles that come to nibble at the seaweed around the pontoon as dusk falls… pure magic!

Time Guide
DAY 1
8:00 am Depart Port of Airlie
9:00 am Hamilton Island Guests Join
Morning Tea
11:00 am Arrive at Reefworld Swimming, snorkelling and fun
12:00 pm - lunch and beverages to be served on the boat
2:00-3:00pm Check-In to Reefsleep/Reefsuites
From 6:00 pm Canapes & Evening Meal
8:30 pm Bar closes
DAY 2 - (Plenty of in-water time throughout the day)
7-8:00 am Breakfast
10-10:30 am Morning Tea
11:00 am Check-out
12:00 pm Lunch
2:00 pm Reefsleep check-out
3:00 pm Depart Reefworld
5:10 pm Return to Hamilton Island
6:10 pm Arrive Airlie Beach
Departs/Returns
Show Less
Airlie Beach - Port of Airlie Marina
Departs: 8:00am
Returns: 6:05pm (the next day)
Hamilton Island - Hamilton Island Marina
Departs: 9:00am
Returns: 5:10pm (the next day)
Daydream Island - Day...
Read More
Airlie Beach - Port of Airlie Marina
Departs: 8:00am
Returns: 6:05pm (the next day)
Hamilton Island - Hamilton Island Marina
Departs: 9:00am
Returns: 5:10pm (the next day)
Daydream Island - Daydream Island Jetty
Departs: 7:35am
Returns: 5:40pm (the next day)
*All timings are approximates only. Please allow space in your itinerary for slight schedule changes and amendments.
More Information
Show Less
What To Bring
Please bring only a small bag with:
Photo identification
Change of clothes
Sun protection (hat, sunscreen, sunglasses etc)
Swimwear
Beach towel
Camera
Toiletries
Jumper or jacket (seasonal)
Cash or credit cards for onboard purchases
In need of somewhere to store your luggage while you're away? We've got you covered! Come down to The Travel Shop (344 Shute Harbour Road, Airlie Beach) anytime between 7am and 7pm to drop...
Read More
What To Bring
Please bring only a small bag with:
Photo identification
Change of clothes
Sun protection (hat, sunscreen, sunglasses etc)
Swimwear
Beach towel
Camera
Toiletries
Jumper or jacket (seasonal)
Cash or credit cards for onboard purchases
In need of somewhere to store your luggage while you're away? We've got you covered! Come down to The Travel Shop (344 Shute Harbour Road, Airlie Beach) anytime between 7am and 7pm to drop your bags at our secure luggage store.
What's Included
Snorkelling equipment
Wet/stinger suit
Access to underwater observatory
Semi-submarine guided tour
Overnight accommodation in Reefbeds under the stars
All meals including lunches, breakfast, morning and afternoon teas and dinner
All beverages including beer, wine and soft drink (cocktails and spirits at an additional cost)
What's Extra
Cocktails and spirits
Snacks
Photographs
Souvenirs
Scenic flights
Luggage Storage in Airlie Beach
Guided snorkelling tours - book here.
Scuba diving (subject to age and medical conditions) - book here.
If you would like to add scuba diving or a guided snorkel to your booking, please book here. Please provide your "SW" booking reference from your Reefsleep tour when making your scuba diving payment/booking.
Terms and Conditions
Important Information:
Minimum travel age for Reefsleep is 6. Travellers under the age of 18 must be accompanied by an adult carer.
---
Your Responsibilities:
Please advise us before booking if any passengers are under 18 years old to ensure this is the appropriate trip.
You must reconfirm all booked tours prior to travel as specified on your voucher. If applicable, notes such as dietary requirements, pick-up locations and additional fees should also be confirmed at this time. Reconfirmations cannot be actioned through Sailing Whitsundays/Mr Travel, and must be done so directly through the Service Operator as specified on each ticket.
It is your responsibility to notify us of ticket discrepancies. Please read through the details on your voucher thoroughly to ensure all details such as passenger names, ages and dates of travel on vouchers are correct.
It is the responsibility of all passengers travelling to advise both your travel agent at the time of booking and vessel check-in agent before boarding of any medical conditions including food allergies you may suffer from.
You need to allow adequate time to check-in prior to the specified departure time.
---
Prices/Extra Costs:
All prices are stated in Australian dollars and include GST. Surcharges over peak holiday seasons may apply.
The Service Operator reserves the right to alter prices and extra costs. Extra costs may include EMC fees, Stingersuit/Wetsuit Hire, Luggage Storage, Insurance, Linen Hire, National Park Fees, Fuel Levies, Dietary Fees, etc. Bonds may also apply.
We will also endeavour to communicate these extra costs with you at the time of booking, and on your ticket. However, it is your responsibility to confirm which (if any) additional costs apply with each Service Operator upon reconfirming your trip.
---
Scuba Diving/Medical Disclosure:
Age and medical restrictions apply to dive activities. A medical questionnaire must be completed. Divers cannot fly for 24 hours after diving and the company accepts no liability for medical conditions experienced as a result of flying after diving. All diving is operated by Reef Safari Pty Ltd and booking to dive with them deems acceptance of the terms and conditions as published on their website www.reefsafari.com.
---
Travel Risk/Insurance:
It should be noted that adventure travel involves risk. Whilst we make every effort to safeguard clients, we cannot be responsible for personal injury or loss due to the actions of our clients which are beyond our control. We highly recommend that all clients have travel insurance covering illness, injury, loss or damage to personal belongings and not being able to travel on the confirmed date of departure. You should also ensure your travel insurance will cover special circumstances including weather events preventing guests from travelling to their tour departure destination and cancelled flights due to unforeseen circumstances.
---
Transfers:
Transfers are at an additional cost. Please enquire if you would like to add transfers to your booking.
The Service Operator reserves the right to limit courtesy transfers to select local accommodations. Private residences or Airbnb properties may be asked to meet at the closest confirmed location. Failure to meet at the specified pick-up location may be treated as "No Show", for which the Client Cancellation Policy applies.
---
Merchant Fees:
Please be aware operators pass on credit card merchant fees so there is a non-refundable 1% surcharge for VISA and MASTERCARD card purchases.
---
Other:
Terms and Conditions (including the Cancellation Policy) are subject to change. The most recent versions can be found online on the relevant product pages.
All ticket/voucher reissues attract a $20 administration fee.
---
Open Date Vouchers / Gift Certificate:
Shipping Costs are in addition to the ticket price and will be added at check-out. Shipping costs are non-refundable and do not makeup part of the ticket value.
E-Vouchers incur no shipping fees.

You have 5 years to use the value of the voucher. Seasonal Price Rises will apply if travelling out the current seasons pricing. Vouchers can be exchanged for free up to the full value of the voucher excluding credit card fees and charges.
Cancellations
---
Client Cancellations:
All cancellations forfeit 25% of the recommended retail price (RRP) - not the discounted/sale price. Cancellations made 14 days prior to travel date forfeit 100% of the total ticket price.
Transfers between tours can be made at the suppliers discretion, however, it should be noted that supplier fees may apply. Tour transfers also incur a $20 administration fee.
It is compulsory that all cancellation requests are in writing and sent via email to admin@mr-travel.com. Cancellations attempted via online chat or phone will not be actioned.
---
Supplier Cancellations:
The Service Operator reserves the right to alter prices, alter itineraries, apply a fuel surcharge, cancel departures, arrange alternative transport and vary itineraries and services if necessary.
All departures and itineraries are subject to weather. Tours may be changed or cancelled for any reason at the discretion of the Service Operator. If the Service Operator has to cancel the trip or activity (prior to departure) and we cannot offer a suitable alternative, then a refund will be given minus a 20% administration fee and any associated card fees. We strongly recommend that you have travel insurance, especially during the wet season.
In the unlikely event of your trip being cancelled or stood down, all guest communication is required to go through our Online Store via telephone or email. While there is a Sailing Whitsundays retail outlet located Airlie Beach, please be aware that they operate as a separate entity and are unable to access reservations made by the Mr Travel online department.
---
Refunds:
All refunds are in Australian Dollars and must be made to the card of payment. Sailing Whitsundays/Mr Travel is not liable for exchange rate fluctuations or fees, or any other merchant/bank fees associated with domestic and/or international transactions.
Where a full refund is applicable, there is the option to transfer the whole cost of the tour to another tour or "Credit" to avoid the administration fee. A transfer fee of $20 will apply.
You will be emailed confirmation once the refund has been processed. Once the refund has been processed, it may still take time for the banks to clear the amount. Please allow 7-10 business days for the funds to clear into Australian accounts and up to 21 business days for international accounts.
---
Accountability/Misconduct:
All Service Operators have the right to provide client feedback and to cancel bookings based off of feedback from other Service Operators.
Please enjoy your travel experience in a kind and responsible manner.
Sailing Whitsundays/Mr Travel will treat this as any normal client cancellation and therefore the cancellation fees stated in the Client Cancellation Policy will apply.
---
Thank you for booking with our East-Coast travel experts here at Mr Travel/Sailing Whitsundays. If you would like any further advice, assistance in arranging accommodation, transfers or additional tours please get in touch.
Reviews
Overall Rating
5.0 / 5.0
Based on 84 reviews
Reviews by our Sailing Whitsundays customers
Yasmin Carloss
, 29 Nov 23
I have already highly recommended this trip to several people. It was a great experience. The Cruise Whitsundays staff were so attentive and made us feel like movie stars. It was a holiday where we created some amazing memories and we will talk about it for years to come.
Still unsure about a reefsleep? Don't, is well worth the money. Especially when the boat with day guests leaves at 3 p.m., the magical feeling really begins. All the reef to yourself with a handful of travel companions. Then a nice and good food, some drinks and watching stars before go to bed!
Melinda Wallman
, 16 Nov 23
This was a bucket list item that did not disappoint. The staff, facilities, food and drink were all top notch. A couple of small maintenance issues in the shower (blocked drain and lock on door) and a lot more reef education needed to stop people stepping on coral, suggest reminder on entering water
The reefsleep experience was definitely the highlight of my trip to the Whitsundays. The staff were incredible & friendly, loved mingling with the other "reefsleepers" over drinks & dinner. I would absolutely recommend this experience to anyone considering it
Natalie Pemberton
, 04 Nov 23
It was the most incredible experience. We loved every second. The staff were amazing, so friendly and welcoming, happy to assist with anything. Hats off to the chef because his food was excellent!! We also had a very good group on board and all mingled together. The snorkelling safari was amazing.
Very friendly staff, great environment a wonderful experience! Good food
Briana Berkowitz
, 23 Oct 23
We had a great time. All positive - only negative feedback would be to explain bed covers in preparation for bed when "checking in" as it was difficult to figure out in the dark with no assistance
I Hope much more: for the snorkle the reef have not colors, just grey.Regarding the reefsleep, I was surprised when I saw we will sleep on the deck,I don't realized when I did the booking, some people have told me the same. I don't liked when at 11am arrive a lot of people at the deck.
Absolutely Amazing. An experience worth sharing and letting people know about. Well Organized, Boat and amenities were always very clean, Staff were friendly and very helpful, Food was to die for and plenty of it. All the activities are amazing, safe and efficiently organised. I highly recommend
What an amazing surreal experience - sleeping on the Great Barrier Reef!! The whole experience from start to finish was primo!! The crew, the amazing food, the inclusive drinks - Thank you, we have memories we will cherish forever!!
Fantastic experience, staff were friendly & made sure we had a great time. Food served at the Pontoon by chef was 5*. Would highly recommend
It was incredible I've done the reef sleep twice now & love it! The stuff we're amazing & looked after us so well, & the food was amazing the chef even made a last minute cake for us for our friends birthday we will definitely be back thanks again. MB
we were so lucky in many ways. The day before the trip we were offered an upgrade to the Reef Suite From the first moment of being in the suite we were captivated by the experience- all sizes and shapes of fish extending into the evening and waking up to.
François ORHAN
, 15 Aug 23
Great experience that will unforgetable. Crew was just amazing!
Shirley Fromberg
, 06 Aug 23
It was an amazing experience and very unique. We loved staying out on the reef overnight, we enjoyed the snorkelling and semi submersible boat to see the reef as well. The food and staff were amazing.
Jennifer Powell
, 06 Aug 23
Wonderful! Staff was amazing and it was an epic experience!
Etienne Zeeman
, 04 Aug 23
Excellent,
Gustavo N Betonico
, 12 Jul 23
Really exciting experience. Grest food and great atmosphere. Only perhaps was the attendance at the bar at the reef spot.They had so many duties during the day that the bar was unattended for long periods.
I would thoroughly recommend the reef sleep to anyone. It was an amazing experience right from when we boarded the boat until we arrived back. The staff were exceptional.
Fantastic way to see the great barrier reef. Plenty of time to snorkel without much of a crowd. Food was delicious and service on the pontoon was great. Unforgettable experience.
Amazing, once in a lifetime experience, will definitely do it again when given the chance. Crew were all amazing, very helpful & kind. The swags were comfortable, waking up to the reef & ocean view was beautiful & plenty of activities to do on & off deck. It's definitely worth the trip & the money
Rahul Rajendran
, 11 May 23
It was a great experience. Enjoyed every bit of the experience.
Absolutely loved it! Great food, great service, once in a lifetime experience and was wonderful. Planning a return trip next year for our anniversary
Allen Bradford
, 04 May 23
What an experience! The staff were very helpful and looked after every need and request. The food was great and there was a lot of it. The activities were well organised and very professional. We swam with turtles and did a dive. The sunset was amazing and the sunrise better. Highly recommend.
VINCENT VIVEK GANAPATHIAPPAN
, 14 Apr 23
It'was so happy and peaceful to surrounded by water . The stay was really comfy and refreshing. The staff members were so good to us they took care of our food and safety very well . Our pontoon manager Mr Aitor is so helpful , he made our visit more enjoyable. It was an unforgettable stay .
Rahel Aeschlimann
, 12 Apr 23
Es war ein unvergessliches Erlebnis! Wir haben das Schlafen unter den Sternen am Great Barrier reef sehr genossen. Die Crew hat uns sehr professionell betreut. Das Essen war köstlich!! Das Schnorcheln hat uns sehr gefallen!!
Shannon Thompson
, 12 Apr 23
Epic! What a lovey experience. The staff was great and every little detail considered. Will recommend to everyone!
Christine Hughes
, 03 Apr 23
Kym, Kailey, Page, Tom, Paul and Tea made us welcome, leaving us wanting for nothing, the food was amazing, and Alex continued this on the trip back. Snorkelling after the boat leaves is something else and the beds comfy sleeping under the stars. Thank you for making my birthday so very special xx
The Reef Sleep experience was incredible. All the staff were extremely friendly and personable. Great care and thought was put into the activities offered. In particular, they made snorkelling and scuba diving incredibly accessible so that even non-swimmers like myself could experience the reef.
We think the experience was fabulous. It has been the highlight of our 7 weeks in Australia. Even though the weather was not great, very windy, rain and ruff waters everything was great. Awesome food, great staff and we met great people. We would highly recommend this tour to anyone. Thanks
Rachel Den-Braber
, 28 Mar 23
It was amazing, a really wow experience! The staff were so helpful and friendly, the food was delicious and plenty of it and the reef was incredible!
Keira-Jayne Bryant
, 18 Mar 23
Incredible experience! Definitely a once in a lifetime opportunity that was worth every penny. The food, the facilities, the staff, the reef itself were amazing & exceeded all my expectations.
Absolutely hands down the best tourist experience I have had! I went diving for the first time completely supported and saw turtles, manta-rays and hundreds of varieties of fish. The staff were superb, the food was high-end restaurant quality and the swag - well the photos speak for themselves!
No words are enough to describe the wonder, peace and shear joy of this experience. Snorkelling on the Great Barrier Reef is on thing but to be one of only a few hand full to be able to experience it when the day trippers have left. Best experience of my life. The staff were amazing too.
Dominik Wintergerst
, 16 Mar 23
This trip was just amazing. I was snorkelling and diving for the first time. And the food was excellent! The sunset and sunrise was also beautiful. It was 100% worth the money. Someday I want to do this again.
Amazing experience in a perfect location on the reef. The team are great and give a very personal service. I would recommend to anyone.
Heike Tosca Nelly Peters
, 09 Mar 23
It was a great experience, especially since the weather was wonderful. The team fulfilled our every wish and was very attentive overall. The food was just excellent, which we didn't expect. We recommend the Reefsleep experience to anyone who wants to experience an incomparable night.
We had an incredible trip doing the Reefsleep experience. The location was perfect, right on the reef so the perfect spot for snorkelling and scuba diving. The team onboard couldn't have done any more for us - Aitor, Greg, Charlotte and the dive team were very kind to us and were a pleasure to meet.
This was AMAZING!! Truly a must for everyone at least once in their life! The location, views, food and staff were second to none. We couldn't give a review great enough to represent how wonder this trip and experience was!! Looking forward to going back!!
This experience couldn't have gotten any better! The food, the view, the location and especially the staff were all 5 Star!! We haven't been able to stop talking about it, and have been recommending it to all of our friends! We can't wait to go again!!
Russell Warren
, 30 Jan 23
Absolutely amazing. The staff were always friendly and helpful, food was fantastic and the sea life was out of this world. Waking to the sight of a sunrise over the reef from your bed is the best way to wake up.
Mohammad Hajiarab
, 18 Jan 23
Fantastic hospitality from Reef World crew.
Kathleen Adams
, 15 Jan 23
It was amazing!
Andrew kniveton
, 13 Jan 23
The reefsleep was amazing! The experience was unbelievable, seeing the reef in person is super special. The food & drinks provided are great and the team accommodate to all dietary requirements - we would 100% recommend this experience!
nicola jane horak
, 08 Jan 23
I had an incredible time! A very special place and an amazing experience.
AMAZING. Well worth the value and the service of the staff is superb. The privacy and intimacy on the reef alone is worth it, let alone the great food.
Elizabeth Dodds
, 01 Jan 23
It was amazing.
Absolutely fantastic, bucket list experience! Must try the scuba dive aswell! The food was perfect and the staff were so friendly and comforting! 10/10 can't recommend it enough!
Lasse Andersen
, 26 Dec 22
A very special experience! Sailing Whitsundays made us feel taken care of from the first step on the boat out to the pontoon to the minute we got back to dry land. We got the introductory dive which was amazing, definitely do that if you want something challenging and special.
Simply terrific, a memorable experience. Smooth travel to Hardy Reef, extremely friendly staff on the pontoon. Food was excellent, way above expectations. Dive instructors were great. Finally, the overnight stay in the swags was very comfortable.
Incredible, 5 star service, 5 star food, 5 star overall experience
Janelle Starkiewicz
, 04 Dec 22
Pros: the food, reefsleep bed, staff and getting to snorkel in the morning to see fish is amazing. Cons: the coral is damaged in this area compared to other nearby areas
Alicia Pearce
, 30 Nov 22
Had a fantastic time on the GBR pontoon. Plenty of time for snorkeling, scuba diving, sun bathing, eating and drinking! Had a fab group which was the cherry on top. Comfortable beds on the reef stay.
Alicia Pearce
, 23 Nov 22
Great 2 days on the reef. Fully recommend.
Extraordinary experience and value! Would highly recommend
Chelsea Rabeiro
, 20 Nov 22
AMAZING EXPERIENCE!! I only wish we would have booked more than one night. The food was excellent and abundant. We made great friends with a lot of other guests. The snorkeling was amazing and I did scuba for the first time! We also did the helicopter ride to see the heart reef. Beautiful!
This is an experience of a lifetime. So amazing.. friendly staff, heaps of space to enjoy the quiet sunset and sunrise.. great snorkelling and diving and food is beyond 5 star. absolutely the best suprise ever.
Natasha Pascale
, 16 Nov 22
Awesome had a great time. Beautiful staff and food was awesome. the whole experience was 5 Star.
We had an awesome time and were so glad of the opportunity to stay overnight. We were amazed by the restaurant quality food and our host, Andy, was so welcoming. We met some very interesting people and had a fabulous time. We snorkeled 4 times over the 2 days a absolutely loved every minute of it!
Lauren Denning
, 11 Nov 22
9/10 -Wonderful experience highlights being: helicopter ride, snorkel safari w Josh, and Andy's hospitality. Beds very comfy. Area of improvement would be portion sizes for vegetarians. Alcohol wasn't offered at the dinner and we had nearly finished our meal before we realised we had to request it.
Barbara Fellner
, 05 Nov 22
This was a unique experience and the highlight of our trip in Australia. Also I didn't expect the food to be so amazing!
Abigail Myerscough
, 03 Nov 22
This was the most amazing experience, loved every minute, one ticketed off the bucket list! Once in a lifetime opportunity, made even better by the lovely staff and facilities, cannot thank them enough!
Michelle McCabe
, 29 Oct 22
Loved it! Andy and the crew were great, did my first scuba dive and the snorkeling was by far the best. Food excellent and loved sleeping on deck! Highly recommend
It was unforgettable! Despite not the best weather it was an amazing experience. Would recommend it to anyone
Paul Botwright
, 22 Oct 22
What a trip! an amazing experience... Staff, food, weather, reef, fish, turtles, social interaction with others, sleeping pods, views, night sky, food.... everything was perfect... Oh and I should mention sunset, and and even better pre dawn red sky. Still feeling relaxed a week later.
Marianne Alcock
, 11 Oct 22
Loved the Reef Sleep - the only way to go really- (So sad about the 30 knot wind! which dampened the experience). This meant that the staff (especially Andy) had to give 150% customer service to ensure we all had a great time. Many thanks to all of you. would love a repeat visit on a calm day
Samantha Rowe
, 04 Oct 22
We absolutely loved our Reef Stay adventure and highly recommend it! Andy and the staff were amazing and attentive and made our stay even better than we could have ever imagined. Thank you to the teams on the Catamaran and Reef World. You are all amazing
Maria Gerasimova
, 17 Sep 22
Amazing experience, well organised and with great food provided (with unlimited drinks to boot). Weather was gorgeous too luckily! Special shoutout to the team of girls that ran the reefsleep overnight portion, especially Telia (sorry if I spelt that wrong!). She went above and beyond for us!
WOW what an incredible experience! The reef, food, accommodation, bathroom facilities, activities and staff were all 11/10! It was honestly the best time and I havent stopped raving on about it to all our friends and family! Best part is that we have gained new friends from all around the world!!
Michelle Copley
, 06 Sep 22
Exceeded expectations on every level.
Luis Miguel Soares Martins
, 02 Sep 22
Great experience, . Will definitely recommend
Such a unique experience! Could not fault this trip at all, as the food was incredible and what an amazing way to see both the sun set and rise over the ocean.
I was fortunate enough to be able to do Reef sleep! Its definitely a bucket list item that everyone should do once in their life. We ate the most delicious, gourmet food, slept under the stars, had the reef to ourselves, included drinks, fans in the swags + the most amazing staff that made the trip so special! I can not fault the trip and I hope I am lucky enough to go out and do it again soon!!
One of the best experiences ever! Reefsleep was far better than any expectations that I had from the AMAZING food, all inclusive drinks, super friendly staff and not to mention the stunning reef itself! Snorkelling first thing in the morning before the other guests arrive will be something that I never forget! A big thank you to my dive instructor who calmed me down when I felt nervous despite being a certified diver. I cannot recommend this tour enough!
Lucy Holbrook
, 05 Dec 21
Excellent facilities and staffing. Nothing was an issue with respect to any guest request. Food was first class. Can recommend this experience to be on everybody's bucket list.
Jacqueline Wrightson
, 17 Nov 21
Fantastic. The afternoon canapes on the pontoon should have been served to each individual reservation and not buffet style. We were rationed to ONE oyster each and TWO small prawns... perhaps not worth the money we paid? The same with dinner, there was no entre or even a small bread basket.
Amazing! What an incredible journey, I am so grateful for the experience! Delicious food, personalised experience, amazing staff + the swags are so comfy and nice I can not recommend this experience enough
We unfortunately went when the weather wasn't fantastic, but there was still plenty to do while on the pontoon. Snorkelling was great, and having the pontoon to ourselves was great once they day guests headed back to the mainland. Staff were great, and the food was delicious-We got the seafood platter add on, definitely got our money's worth!
Sleeping on the Great Barrier Reef was an absolute dream come true! I couldn't believe how much there was to do on the pontoon and the underwater observatory was phenomenal at night! Would definitely recommend!
This trip was a highlight of our trip to Australia. Staff was great. Perfect way to see the reef. Highly recommend.
Courtney Jones
, 17 Jul 18
I had the best time ever. We did the reef sleep, so worth it. The food was amazing, staff were awesome and so friendly, the Reef was incredible with lots of fish to see, the stars at night are like nothing I have seen before. I would recommend the reef sleep to anyone! Thank you so much for everything. We had the best time! 11/10