CW: Great Barrier Reef Adventures Optional Extras
CLOSE
View More Thumbnails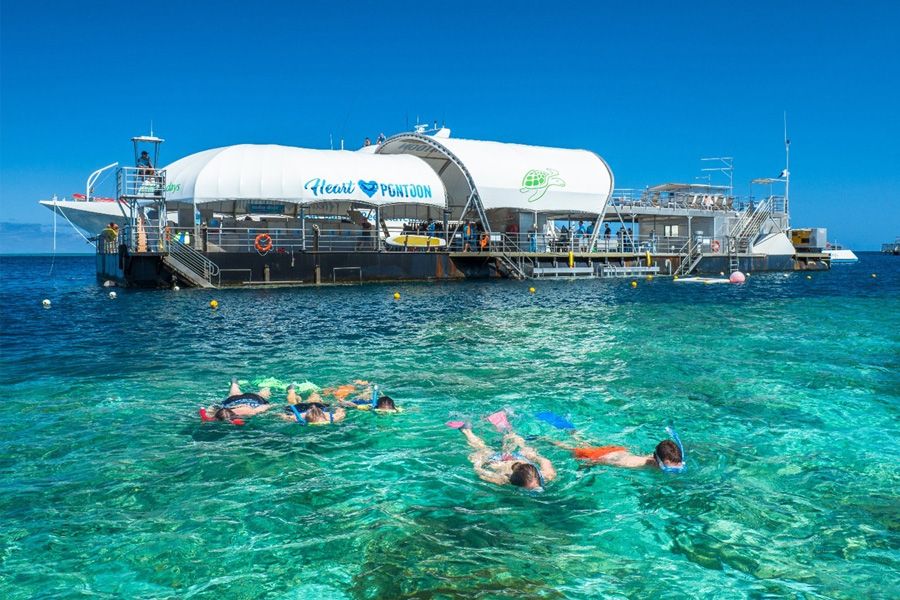 Loading...
Departure Times
Departs: Please Enquire - Daily
Returns: Please Enquire - Daily
Pricing Options
$112 AUD / Person
- Certified Dive - First Dive (12+)
(Between: 31 Mar 2021 and 31 Mar 2023)
$142 AUD / Person
- Introductory Dive - First Dive (12+)
(Between: 31 Mar 2021 and 31 Mar 2023)
$60 AUD / Person
- Introductory Dive - Second Dive (12+)
(Between: 31 Mar 2021 and 31 Mar 2023)
$60 AUD / Person
- Certified Dive - Second Dive (12+)
(Between: 31 Mar 2022 and 31 Dec 2023)
$60 AUD / Person
- Guided Snorkel Tour - Adult (15+)
(Between: 31 Dec 2021 and 31 Mar 2023)
$36 AUD / Person
- Guided Snorkel Tour - Child (4 - 14 yrs)
(Between: 31 Mar 2022 and 31 Dec 2022)
Tailor your stay aboard the Cruise Whitsundays' Reef Pontoon with an adventurous selection of additional extras!
Guided snorkelling tours
Introductory scuba dives
Certified scuba dives
Whether you're looking to try your hand at diving, are an experienced underwater explorer or want to learn more about the mindblowing underwater world of the Great Barrier Reef, the Reefworld Pontoon has an awesome array of additional add ons.
Surrounded by flourishing, kaleidoscopic marine ecosystems, Hardy Reef amongst the World Heritage-listed Great Barrier Reef is the best place in the Whitsundays for your next diving or snorkel experience. Dive down to the depths of these vivid, dazzling reefs and keep your eyes open for friendly reef sharks, fish of the brightest colours and luminescent giant clams.

---
Guided Snorkel Tour
Embark on a deeper snorkelling tour with Reef Safari to discover the Reef like never before. Your passionate, expert guide will take you to the most spectacular spots and distinguish different marinelife and coral species! Be astounded by knowledgable insights into the bustling underwater cities of the Great Barrier Reef, and don't forget to keep your eyes open for majestic sea turtles!


Scuba Diving
Whether you're dipping your toe into the world of scuba diving for the first time or a dive-lover that just can't wait to jump in, we've got you covered! With the ability to book multiple dives, the Reefworld Pontoon provides exclusive access to Hardy Reef as well as great prices after your first dive. With introductory or certified dives, you can dive to your limits with a great support team to accompany you on your underwater dives. Let the vibrant colours of rainbow coral gardens, shimmering fish scales, friendly reef sharks and more fill your sights as you make unforgettable memories and learn new skills amongst the amazing Great Barrier Reef!

More Information
Show Less
What To Bring
What's Included
What's Extra

All of these additional activities incur an additional cost on top of your tour ticket.
See our pricing list or talk to our team for pricing.
---
Scuba Diving
...
Read More
What's Extra

All of these additional activities incur an additional cost on top of your tour ticket.
See our pricing list or talk to our team for pricing.
---
Scuba Diving
Divers must be 18 years or over, or 12 years or older with parental consent (conditions permitting).
---
Dive Medical Certificate
Your safety in the water is our primary concern. Please read through the following information carefully to determine whether you require a Dive Medical Certificate (at your own cost).
If you are aged 45 and over and you would like to participate in an Introductory Scuba Dive you will be required to present a Dive Medical Certificate onboard. This does not apply to certified divers.
Please read the following questions carefully:
Do you currently have an ear infection?
Do you have a history of ear disease, hearing loss or problems with balance?
Do you have a history of ear or sinus surgery?
Are you currently suffering from a cold, congestion, sinusitis or bronchitis?
Do you have a history of respiratory problems, severe attack of hayfever or allergies, or lung disease?
Have you had a collapsed lung (pneumothorax) or history of chest surgery?
Do you have active asthma or a history of asthma, emphysema or tuberculosis?
Are you currently taking medication that carries a warning about any impairment of your physical or mental abilities?
Do you have behavioural health problems or a nervous system disorder?
Are you or could you be pregnant?
Do you have a history of colostomy?
Do you have a history of heart disease or heart attack, heart surgery or blood vessel surgery?
Do you have a history of high blood pressure, angina, or take medication to control blood pressure?
Are you over 45 and have a family history of heart attack or stroke?
Do you have a history of bleeding or other blood disorders?
Do you have a history of diabetes?
Do you have a history of seizures, blackouts or fainting, convulsions or epilepsy or take medications to prevent them?
Do you have a history of back, arm or leg problems following an injury, fracture or surgery?
Do you have a history of fear of closed or open spaces or panic attacks (claustrophobia or agoraphobia)?
If you answered YES to any of the above questions, you are required to obtain and present a current (issued within the past 12 months) Divers Medical Certificate before you can scuba dive.
Please click here for a list of doctors who can provide this service.
Terms and Conditions
---
Important Information:
Infants 0-3 years travel free of charge, however no infant meals are included. Guests must be able to show valid ID at check in to support their ticket type (i.e Senior or Child ticket). If you cannot produce the valid identification to meet your ticket requirements, you will not be able to travel without paying a surcharge/difference in fare.
The "Backpacker" price shown is only available clients between the age of 18-35 years who are able to present a genuine backpacker card or proof backpacker accommodation. Backpacker cards are classified as Student Flights, ISIC, YHA, IYTC, ISE, Nomads, Base, or SUT cards. Backpacker accommodation is defined as a hostel, campervan or Sailing Whitsundays accredited Airbnb. Clients will be asked to present their card, photo identification and accommodation receipt at check-in. If the above cannot be produced, the client will not be able to travel without paying a surcharge and may face cancellation fees. The operator retains full rights to grant or refuse a backpacker discount at its absolute discretion so that the backpacker price is only made available to genuine backpackers. Please assist us by adhering to these conditions.
---
Your Responsibilities:
Please advise us before booking if any passengers are under 18 years old to ensure this is the appropriate trip.
You must reconfirm all booked tours prior to travel as specified on your voucher. If applicable, notes such as dietary requirements, pick-up locations and additional fees should also be confirmed at this time. Reconfirmations cannot be actioned through Sailing Whitsundays/Mr Travel, and must be done so directly through the Service Operator as specified on each ticket.
It is your responsibility to notify us of ticket discrepancies. Please read through the details on your voucher thoroughly to ensure all details such as passenger names, ages and dates of travel on vouchers are correct.
It is the responsibility of all passengers travelling to advise both your travel agent at the time of booking and vessel check-in agent before boarding of any medical conditions including food allergies you may suffer from.
You need to allow adequate time to check-in prior to the specified departure time.
---
Scuba Diving/Medical Disclosure:
Age and medical restrictions apply to diving activities. A medical questionnaire must be completed. Divers cannot fly for 24 hours after diving and the company accepts no liability for medical conditions experienced as a result of flying after diving. All diving is operated by Reef Safari Pty Ltd and booking to dive with them deems acceptance of the terms and conditions as published on their website www.reefsafari.com.
---
Prices/Extra Costs:
All prices are stated in Australian dollars and include GST. Surcharges over peak holiday seasons may apply.
The Service Operator reserves the right to alter prices and extra costs. Extra costs may include EMC fees, Stingersuit/Wetsuit Hire, Luggage Storage, Insurance, Linen Hire, National Park Fees, Fuel Levies, Dietary Fees, etc. Bonds may also apply.
We will also endeavour to communicate these extra costs with you at the time of booking, and on your ticket. However, it is your responsibility to confirm which (if any) additional costs apply with each Service Operator upon reconfirming your trip.
---
Travel Risk/Insurance:
It should be noted that adventure travel involves risk. Whilst we make every effort to safeguard clients, we cannot be responsible for personal injury or loss due to the actions of our clients which are beyond our control. We highly recommend that all clients have travel insurance covering illness, injury, loss or damage to personal belongings and not being able to travel on the confirmed date of departure. You should also ensure your travel insurance will cover special circumstances including weather events preventing guests from travelling to their tour departure destination and cancelled flights due to unforeseen circumstances.
---
Transfers:
The Service Operator reserves the right to limit courtesy transfers to select local accommodations. Private residences or Airbnb properties may be asked to meet at the closest confirmed location. Failure to meet at the specified pick-up location may be treated as "No Show", for which the Client Cancellation Policy applies.
---
Merchant Fees:
Please be aware operators pass on credit card merchant fees so there is a non-refundable 1% surcharge for VISA and MASTERCARD card purchases.
---
Other:
Terms and Conditions (including the Cancellation Policy) are subject to change. The most recent versions can be found online on the relevant product pages.
All ticket/voucher reissues attract a $20 administration fee.
---
Open Date Vouchers / Gift Certificate:
Shipping Costs are in addition to the ticket price and will be added at check-out. Shipping costs are non-refundable and do not makeup part of the ticket value.
E-Vouchers incur no shipping fees.

You have 5 years to use the value of the voucher. Seasonal Price Rises will apply if travelling out the current seasons pricing. Vouchers can be exchanged for free up to the full value of the voucher excluding credit card fees and charges.
Cancellations
---
Client Cancellations:
All cancellations forfeit 25% of the recommended retail price (RRP) - not the discounted/sale price. No shows or client cancellations made within 72 hours of departure forfeit 100% of the total ticket price.
Transfers between tours can be made at the suppliers discretion, however, it should be noted that supplier fees may apply. Tour transfers also incur a $20 administration fee.
It is compulsory that all cancellation requests are in writing and sent via email to admin@mr-travel.com. Cancellations attempted via online chat or phone will not be actioned.
---
Supplier Cancellations:
The Service Operator reserves the right to alter prices, alter itineraries, apply a fuel surcharge, cancel departures, arrange alternative transport and vary itineraries and services if necessary.
All departures and itineraries are subject to weather. Tours may be changed or cancelled for any reason at the discretion of the Service Operator. If the Service Operator has to cancel the trip or activity (prior to departure) and we cannot offer a suitable alternative, then a refund will be given minus a 20% administration fee and any associated card fees. We strongly recommend that you have travel insurance, especially during the wet season.
In the unlikely event of your trip being cancelled or stood down, all guest communication is required to go through our Online Store via telephone or email. While there is a Sailing Whitsundays retail outlet located Airlie Beach, please be aware that they operate as a separate entity and are unable to access reservations made by the Mr Travel online department.
---
Refunds:
All refunds are in Australian Dollars and must be made to the card of payment. Sailing Whitsundays/Mr Travel is not liable for exchange rate fluctuations or fees, or any other merchant/bank fees associated with domestic and/or international transactions.
Where a full refund is applicable, there is the option to transfer the whole cost of the tour to another tour or "Credit" to avoid the administration fee. A transfer fee of $20 will apply.
You will be emailed confirmation once the refund has been processed. Once the refund has been processed, it may still take time for the banks to clear the amount. Please allow 7-10 business days for the funds to clear into Australian accounts and up to 21 business days for international accounts.
---
Accountability/Misconduct:
All Service Operators have the right to provide client feedback and to cancel bookings based off of feedback from other Service Operators.
Please enjoy your travel experience in a kind and responsible manner.
Sailing Whitsundays/Mr Travel will treat this as any normal client cancellation and therefore the cancellation fees stated in the Client Cancellation Policy will apply.
---
Thank you for booking with our East-Coast travel experts here at Mr Travel/Sailing Whitsundays. If you would like any further advice, assistance in arranging accommodation, transfers or additional tours please get in touch.
---
Reviews
Overall Rating
4.8 / 5.0
Based on 4 reviews
Reviews by our Sailing Whitsundays customers
Candice bombardier
, 24 Nov 22
So fun! A trip I'll never forget! Food, facilities and activities were All amazing
Candice bombardier
, 24 Nov 22
Excellent! It was an okay experience I'll never forget and the food and drinks were amazing. The diving was unreal and the swags were comfortable. Facilities were clean
It was a really nice experience and an beautiful day. The food was good and I also did the scuba diving which was really nice. The instructors did an amazing job. I just think that the time there was quite short do do everything you wanted to do.
Joseph Seychell
, 31 Oct 22
Just an amazing cant miss experience. From start to finish just a lot of fun run by real professionals. The Introductory Scuba experience was something I will never forget.