CW: Great Barrier Reef Tour from Airlie Beach
CLOSE
View More Thumbnails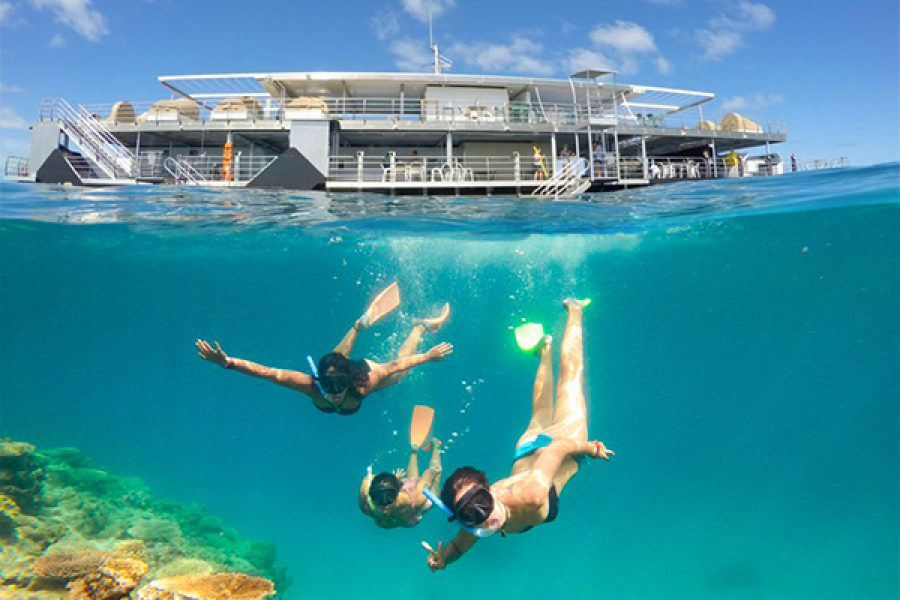 Loading...
Departure Times
Departs: 8:00am - Daily
Returns:
6:10pm - Daily
Departure Point: Port Of Airlie, Airlie Beach
Pricing Options
$269 AUD / Person
- Senior (60+ years)
(Between: 07 Jul 2022 and 31 Mar 2024)
$146 AUD / Person
- Child (4-14 years)
(Between: 07 Jul 2022 and 31 Mar 2024)
$269 AUD / Person
- Youth (15-17 years)
(Between: 07 Jul 2022 and 31 Mar 2024)
$299 AUD / Person
- Adult
(Between: 07 Jul 2022 and 31 Mar 2024)
$799 AUD / Person
- Family (2A+2C)
(Between: 07 Jul 2022 and 31 Mar 2024)
$0 AUD / Person
- Infant (0-3 years)
(Between: 01 Apr 2020 and 31 Mar 2024)
$39 AUD / Person
- Guided Snorkel Tour (Child)
(Between: 13 Jan 2023 and 31 Mar 2024)
$69 AUD / Person
- Guided Snorkel Tour (Adult)
(Between: 13 Jan 2023 and 31 Mar 2024)
$120 AUD / Person
- 1 Certified Dive (12+)
(Between: 13 Jan 2023 and 31 Mar 2024)
$165 AUD / Person
- 1 Introductory Dive (12+)
(Between: 13 Jan 2023 and 31 Mar 2024)
$189 AUD / Person
- 2 Certified Dives (12+)
(Between: 13 Jan 2023 and 31 Mar 2024)
$234 AUD / Person
- 2 Introductory Dives (12+)
(Between: 13 Jan 2023 and 31 Mar 2024)
Highlights
| | | |
| --- | --- | --- |
| Whitsunday Islands | Outer Great Barrier Reef | Scuba Diving |
| Guided Snorkelling | | Scenic Flights |
| | | |
See the Outer Great Barrier Reef on an action-packed full day trip!
Spend a day on a pontoon on the Great Barrier Reef!
Snorkelling and scuba diving available
One of the few day trips to visit the Outer Great Barrier Reef
See marine life up close in our underwater observatory
Great for the whole family!
Introductory and certified divers welcome - recommended to book in advance
Join the beloved Great Barrier Reef Adventure for a unique and unforgettable trip to the outer reef amongst the pristine Whitsunday Islands! Head out to the unique, fun-filled Hardy Reef pontoon and experience the Outer Reef like never before, with a range of incredible activities including snorkelling and scuba diving. Get up and close to our wondrous marine life and end the day by relaxing... there's no better way to spend a day at sea!

This day trip offers an incredible range of opportunities that will leave you in awe. The incredible scenery, both above and below the water, will leave you speechless. Dive right in and swim and snorkel the cool, aqua waters of the Great Barrier Reef, leaving you with an incredible insight into the world below. If you're up for a unique perspective or don't want to dive, we've got you covered - take a trip down to our underwater viewing chamber and join in the fun!
After exploring, it's time to enjoy a scrumptious buffet lunch, provided by an incredible, local award-winning restaurant. Once your tummy is full, you'll have the opportunity to try scuba diving or enjoy a scenic flight (for an extra cost). Up for relaxing instead? The pontoon is calling your name - providing a spacious and secure way to enjoy the beautiful Outer Reef all afternoon, find your zen while floating above millions of years of evolution. Regardless of how you choose to spend your afternoon, taking a day trip aboard the Great Barrier Reef Adventure is a once-in-a-lifetime adventure!

Highlights & Features:
Depart Airlie Beach and head towards the Great Barrier Reef
Enjoy a stable pontoon with plenty of room for relaxing
Free to use snorkelling gear and wet/stinger suit
Delicious buffet lunch
Enjoy morning and afternoon teas/coffees
Semi-submersible
Fun for the whole family
Underwater viewing chamber
Sun loungers on the top deck
Several other activities are available for purchase onboard such as scuba diving, scenic flights, snorkel tours
Jump on board the Sunshine State's most luxurious and innovative reef pontoon, proudly located at Hardy Reef. Featuring Queensland's largest and most spectacular underwater viewing chamber, a trip with Great Barrier Reef Adventure is one of the most unique and incredible ways to spend your time in the Whitsundays.

---
Important Information:
This tour is also available to depart from Hamilton Island and Daydream Island.
Youth must be aged 15-17 and have a valid high school ID. *Rate Expires July 6th 2022
Sample Itinerary
Show Less
Departing at 8 am from Airlie Beach, Great Barrier Reef Adventure is set to be an incredible adventure. Our first port of call is the pontoon, also known as Reefworld. Placed adjacent to coral walls, it's the perfect spot to safely explore the surrounding reefs. The reefs around Reefworld boast their very own magnificent ecosystem, with an incredible and diverse range of coral and marine life t...
Read More
Departing at 8 am from Airlie Beach, Great Barrier Reef Adventure is set to be an incredible adventure. Our first port of call is the pontoon, also known as Reefworld. Placed adjacent to coral walls, it's the perfect spot to safely explore the surrounding reefs. The reefs around Reefworld boast their very own magnificent ecosystem, with an incredible and diverse range of coral and marine life to spot. It's a unique and humbling opportunity to rub shoulders with the lively fish population who are bound to surprise and delight you - especially our beloved Giant Groper! With an array of included and optional activities, personalise your day out on the Hardy Reef Pontoon to be as adventurous or relaxed as you please!
Snorkelling
Providing all of the snorkel gear and stinger suits required, spend your days making a splash and immersing yourself in the magic of the Great Barrier Reef. Glide over kaleidoscopic corals, brilliantly-coloured fish, weird and wonderful marine molluscs as well as some giants of the sea! A perfect natural discovery experience for adventurers and families alike, you will never forget the amazing experience of snorkelling the flourishing Hardy Reef!

Underwater Viewing Aquarium
For those who'd prefer to stay dry, make use of our wonderful underwater viewing chamber - it's hands-down one of our favourite pontoon activities! A unique underwater chamber will allow you to gaze at the wonders of the Great Barrier Reef like never before as you get up close with huge tropical fish, sea turtles and more inside this wonderful ecosystem.

Guided Snorkel Tour - Add On
If you're ready to dive deeper into the sights you'll see on your snorkel, there's no better way to learn more than taking a guided snorkelling tour with Reef Safari. Your passionate guide will point out all of the incredible species and coral you come across, leaving your curiosity qualmed and your mind at ease. Catering to small groups, our intelligent and passionate guides will escort you to a few very special areas where you'll get to spot marine life. Get up close and personal to the Maori Wrasse, tropical fish, turtles and reef sharks, before being awestruck by incredible and colourful coral formations.
Book your guided snorkel tour in advance with us for a seamless day of exploring!

Scuba Diving - Add On
Want to dive deeper? Choose one of our optional add on experiences to try out scuba diving! Both introductory and certified divers are welcome to join us in exploring the incredible life of the Great Barrier Reef. The magic will be right at your fingertips - there's absolutely no better place to experience the enchantment of your first scuba dive than here. The wonder also remains for experienced divers: the incredible coral formations and vivid marine life in the Great Barrier Reef are like no other! As a major bucket list item for any diver, Hardy Reef is set to impress!

Book your scuba dives in advance with us to enjoy a worry-free day.

Scenic Flight - Add On
If you're looking for an incredible and unique way to see the reef, look no further than up! Take the ride of your life in a helicopter and see the brilliant hues of green and blue from above. Enjoy the incredible maze of coral reefs and gaze lovingly at the iconic Heart Reef on this perfect adventure for families, couples and friends! Witness a whole new angle to the spectacular, glistening reef with a magnificent scenic flight. Scenic flights are available for purchase on the day of your Reefworld experience.

Glass Bottom Semi-Submersible Boat
Head out on the exciting and educational semi-submersible glass-bottom boat for yet another incredible view of the spectacular Great Barrier Reef. With insightful commentary (available with an interpreter), this underwater discovery experience is perfect for all ages. Explore the wonderful fish, creatures, corals and mammals that call the reef home without even getting wet!

Photos
Our passionate team of onboard photographers will capture your incredible day with ease - from your first underwater experience to rubbing shoulders with a magnificent Maori Wrasse, our team will be snapping away! Photos will be available for purchase at the end of the day, where you can walk away with an array of incredible captured memories that will last a lifetime.

Please note: Some of the above optional activities are available for an additional cost. Please advise us at the time of booking if you would like to add any of the above optional extras. Age and medical restrictions apply to all activities with Great Barrier Reef Adventures. Please ask us if you have any questions.
More Information
Show Less
What To Bring
Please bring only a small bag with:
Photo identification
Sun protection (hat, sunscreen, sunglasses etc)
Swim-wear
Beach towel
Camera
Jumper or jacket (seasonal)
Cash or credit cards for onboard purchases
What's Included
Snorkelling equipment
Wet/stinger suit
Buffet lunch
Morning and afternoon tea and coffees
Semi-Submarine/Glass Bottom Boat Tour
Underwater Observatory
What's Extra
On board purchase such as drinks, alc...
Read More
What To Bring
Please bring only a small bag with:
Photo identification
Sun protection (hat, sunscreen, sunglasses etc)
Swim-wear
Beach towel
Camera
Jumper or jacket (seasonal)
Cash or credit cards for onboard purchases
What's Included
Snorkelling equipment
Wet/stinger suit
Buffet lunch
Morning and afternoon tea and coffees
Semi-Submarine/Glass Bottom Boat Tour
Underwater Observatory
What's Extra
On board purchase such as drinks, alcohol and snacks

Photographs

Souvenirs

Scenic flights

Guided snorkelling tours

Scuba diving (subject to medical conditions and age restrictions).

If you would like to add scuba diving or a guided snorkel to your booking, please click here. Please provide your "SW" booking reference from your GBR tour when making your scuba diving payment/booking.
Terms and Conditions
---
Important Information:
Infants 0-3 years travel free of charge, however no infant meals are included. Guests must be able to show valid ID at check in to support their ticket type (i.e Senior, Youth or Child ticket). If you cannot produce the valid identification to meet your ticket requirements, you will not be able to travel without paying a surcharge/difference in fare.
---
Your Responsibilities:
Please advise us before booking if any passengers are under 18 years old to ensure this is the appropriate trip.
You must reconfirm all booked tours prior to travel as specified on your voucher. If applicable, notes such as dietary requirements, pick-up locations and additional fees should also be confirmed at this time. Reconfirmations cannot be actioned through Sailing Whitsundays/Mr Travel, and must be done so directly through the Service Operator as specified on each ticket.
It is your responsibility to notify us of ticket discrepancies. Please read through the details on your voucher thoroughly to ensure all details such as passenger names, ages and dates of travel on vouchers are correct.
It is the responsibility of all passengers travelling to advise both your travel agent at the time of booking and vessel check-in agent before boarding of any medical conditions including food allergies you may suffer from.
You need to allow adequate time to check-in prior to the specified departure time.
---
Scuba Diving/Medical Disclosure:
Age and medical restrictions apply to diving activities. A medical questionnaire must be completed. Divers cannot fly for 24 hours after diving and the company accepts no liability for medical conditions experienced as a result of flying after diving. All diving is operated by Reef Safari Pty Ltd and booking to dive with them deems acceptance of the terms and conditions as published on their website www.reefsafari.com.
---
Prices/Extra Costs:
All prices are stated in Australian dollars and include GST. Surcharges over peak holiday seasons may apply.
The Service Operator reserves the right to alter prices and extra costs. Extra costs may include EMC fees, Stingersuit/Wetsuit Hire, Luggage Storage, Insurance, Linen Hire, National Park Fees, Fuel Levies, Dietary Fees, etc. Bonds may also apply.
We will also endeavour to communicate these extra costs with you at the time of booking, and on your ticket. However, it is your responsibility to confirm which (if any) additional costs apply with each Service Operator upon reconfirming your trip.
---
Travel Risk/Insurance:
It should be noted that adventure travel involves risk. Whilst we make every effort to safeguard clients, we cannot be responsible for personal injury or loss due to the actions of our clients which are beyond our control. We highly recommend that all clients have travel insurance covering illness, injury, loss or damage to personal belongings and not being able to travel on the confirmed date of departure. You should also ensure your travel insurance will cover special circumstances including weather events preventing guests from travelling to their tour departure destination and cancelled flights due to unforeseen circumstances.
---
Transfers:
Transfers are at an additional cost. Please enquire if you would like to add transfers to your booking.
The Service Operator reserves the right to limit courtesy transfers to select local accommodations. Private residences or Airbnb properties may be asked to meet at the closest confirmed location. Failure to meet at the specified pick-up location may be treated as "No Show", for which the Client Cancellation Policy applies.
---
Merchant Fees:
Please be aware operators pass on credit card merchant fees so there is a non-refundable 1% surcharge for VISA and MASTERCARD card purchases.
---
Other:
Terms and Conditions (including the Cancellation Policy) are subject to change. The most recent versions can be found online on the relevant product pages.
All ticket/voucher reissues attract a $20 administration fee.
---
Open Date Vouchers / Gift Certificate:
Shipping Costs are in addition to the ticket price and will be added at check-out. Shipping costs are non-refundable and do not makeup part of the ticket value.
E-Vouchers incur no shipping fees.

You have 5 years to use the value of the voucher. Seasonal Price Rises will apply if travelling out the current seasons pricing. Vouchers can be exchanged for free up to the full value of the voucher excluding credit card fees and charges.
Cancellations
---
Client Cancellations:
No shows or client cancellations made within 48 hours of departure forfeit 100% of the total ticket price.
Sailing Whitsundays are required to notify the operator of any cancellations within the specified cancellation period (48 hours). It is your responsibility to make sure you submit your cancellation request with adequate time, and during standard business hours (9am-5pm), to allow us to contact the tour provider.
Transfers between tours can be made at the suppliers discretion, however, it should be noted that supplier fees may apply. Tour transfers also incur a $20 administration fee.
It is compulsory that all cancellation requests are in writing and sent via email to admin@mr-travel.com. Cancellations attempted via online chat or phone will not be actioned.
---
Supplier Cancellations:
The Service Operator reserves the right to alter prices, alter itineraries, apply a fuel surcharge, cancel departures, arrange alternative transport and vary itineraries and services if necessary.
All departures and itineraries are subject to weather. Tours may be changed or cancelled for any reason at the discretion of the Service Operator. If the Service Operator has to cancel the trip or activity (prior to departure) and we cannot offer a suitable alternative, then a refund will be given minus a 20% administration fee and any associated card fees. We strongly recommend that you have travel insurance, especially during the wet season.
In the unlikely event of your trip being cancelled or stood down, all guest communication is required to go through our Online Store via telephone or email. While there is a Sailing Whitsundays retail outlet located Airlie Beach, please be aware that they operate as a separate entity and are unable to access reservations made by the Mr Travel online department.
---
Refunds:
All refunds are in Australian Dollars and must be made to the card of payment. Sailing Whitsundays/Mr Travel is not liable for exchange rate fluctuations or fees, or any other merchant/bank fees associated with domestic and/or international transactions.
Where a full refund is applicable, there is the option to transfer the whole cost of the tour to another tour or "Credit" to avoid the administration fee. A transfer fee of $20 will apply.
You will be emailed confirmation once the refund has been processed. Once the refund has been processed, it may still take time for the banks to clear the amount. Please allow 7-10 business days for the funds to clear into Australian accounts and up to 21 business days for international accounts.
---
Accountability/Misconduct:
All Service Operators have the right to provide client feedback and to cancel bookings based off of feedback from other Service Operators.
Please enjoy your travel experience in a kind and responsible manner.
Sailing Whitsundays/Mr Travel will treat this as any normal client cancellation and therefore the cancellation fees stated in the Client Cancellation Policy will apply.
---
Thank you for booking with our East-Coast travel experts here at Mr Travel/Sailing Whitsundays. If you would like any further advice, assistance in arranging accommodation, transfers or additional tours please get in touch.
Customers who viewed this item also viewed...
Frequently Asked Questions
Can I go scuba diving?

Yes, scuba diving is available for both introductory and certified divers. However, diving is an extra cost which you can opt to add at the time of booking. The prices are as follows; $165 for the first introductory dive, $120 for the first certified dive, and $69 for second dives. You must be 12+ to dive.
Can I get a transfer to and from my accommodation?

Yes. Transfers to and from select accommodations are available at an extra cost.
Can I bring my luggage?

There won't be room for large suitcases or backpacks. However, we offer luggage storage for as little as $10 a day in our Travel Shop which is located at the top of Airlie Beach's main street. The address is 344 Shute Harbour Road, Airlie Beach, QLD, 4802.
Do you cater for vegetarian, vegan, gluten-free diets, etc?

Yes, we certainly do. Please let us know at the time of booking if you have any dietary requirements and the Cruise Whitsunday staff will do their best to accommodate at no extra cost.
Where do we depart and return from?

You will be departing and returning to the Cruise Whitsundays terminal located at the Port of Airlie in Airlie Beach.
Is this tour child friendly?

It sure is! The pontoon is suitable for children of all ages. Infants are welcome and are free if they are 3 years of age or under.
Is it safe to swim during stinger season?

During stinger season we provide stinger suits that help to protect you from being stung so that you can still swim and explore the Great Barrier Reef safely.
Reviews
Overall Rating
4.9 / 5.0
Based on 150 reviews
Reviews by our Sailing Whitsundays customers
Regan Broadfoot
, 12 Sep 23
Guided snorkeling was amazing.
Felipe de Jesús Gómez Flores
, 01 Sep 23
Excellent, the place is incredible
Felipe de Jesús Gómez Flores
, 26 Aug 23
Iit is excelent
Crew were wonderful - always available, friendly & helpful. Nothing was too much trouble. The food was good & plentiful. There was plenty of room to snorkel safely under the life guards watchful eye.
Pip Murray-Aynsley
, 04 Aug 23
Very friendly helpful driver
Pip Murray-Aynsley
, 04 Aug 23
Great trip with very friendly, helpful staff Everyone seemed very happy in their jobs and a real team Only thing that could have been improved was the weather! ????
This tour was above anything we were expecting. The crew were friendly, helpful and very informative and all the options to experience the reef were top notch and allowed for us to experience it in many different ways.
Matthew Williams
, 10 Jul 23
Great experience with some beautiful scenery.
Our recent sailing experience with Sailing Whitsunday exceeded all expectations and left an indelible mark on our hearts! From start to finish, the staff at Sailing Whitsunday went above and beyond to ensure that our journey was nothing short of extraordinary - well done 5 out of 5 from Ryan & Cass
We loved our first experience of the Great Barrier Reef! We felt like VIPs even though we were the same as everyone else and all the staff were amazing! Thanks for the experience of a lifetime!
Peter Matthews
, 17 Jun 23
Absolutely brilliant
Peter Matthews
, 15 Jun 23
Excellent
My mum and I really enjoyed our trip. I definitely will recommend this trip to my friends and will bring my dad next time!
Rebecca Harris
, 12 Jun 23
This tour is a must..if you can add the reef sleep then that will make the experience something unique. The service from the time we got on the bloat to getting off was exceptional. The snorkeling experience was magical.
Sheryl Inostroza reyes
, 06 Jun 23
Good afternoon, I really didn't like it. Because I do not know how to swim and the truth was going to see the barrier reef in a more friendly way through the boat with underwater views and unfortunately I could not see it because my English level is not very good so I did not know that there were on
Irena Martincich
, 31 May 23
The staff were excellent in making the day an easy and enjoyable experience. Thanks for a great tour of our amazing, colorful and lively reef! The great was top notch and the day was fun!
Ivana Pivarnikova
, 29 May 23
The whole trip was amazing. The crew took great care of us and it was a lot of fun. My first time diving experience at the reef was unforgettable.
Grahame Bennett
, 23 May 23
Great. Supportive friendly staff. Good day.
Shaun McCulloch
, 21 May 23
Incredible experience. The tenor of the trip is obviously the natural beauty of the reef. Nevertheless, the approachable professional manner of the staff members made the trip even more memorable. Five stars, will recommend.
Darian-Allene Rocci
, 18 May 23
Great experience and great crew, they made sure we were all comfortable and got to enjoy the trip and see what we wanted to. Got to do some snorkelling and saw the abandoned island. We also had a great group of people we met on the boat which made the trip special.
The staff on Whitsunday Cruises go above and beyond to make the trip out to the reef great. They ensure passengers comfort and families including kids are taken care of. It wasn't the most perfect of conditions with tide time and visibility etc but we still had a good time.
Sophie Thompson
, 11 May 23
I absolutely loved it, yeh crew was amazing and food as yummy. I loved my dive instructor, she was great! Only feedback was the AC didn't need to be blasting. I could see that the crew were also really cold. But overall it was a great day ???? thank you
Amazing crew that made the trip unforgettable. The Whitsundays is an unreal place and I couldn't believe what I saw, breathtaking. Snorkeling at the reef was fun!
lovely crew and they did everything to make this sailing trip amazing. the whitsundays are unreal and I couldn't believe my eyes. I would highly recommend this trip!
Unfortunately our boat got cancelled on the day of departure. I was very sad about this but the sailing Whitsundays team was amazing and we booked some daytours for the next day. Thank you team!
Amazing sailing experience to the Whitsundays! The views were stunning and the crew was amazing! We got a lot of good food and enjoyed everything of the trip. Would definitely do this again if I'll ever go back to airlie beach!
Amazing! The crew was very friendly and I dived for the first time! Wouldn't have wanted to dive in another place than the GBR.
Cristian Brito
, 06 May 23
The best: Overall is a pretty amazing trip, the pontoon is very nice, great location to snorkel, the food is ok. The bad: The cruise failed while sailing back, we arrived with a delay of 3 hours. Special mention to Mauro (dive T) and Dylan, made our trip even better, very kind, great guys
Jacqueline Bell
, 04 May 23
This is the second time I've been on this tour and it's great! The boat, staff, and facilities were excellent. Highly recommended!
Aniruddha Pratipati
, 03 May 23
We travelled as a family of 3 and all of us had a delightful experience. The sail, food, staff support was top notch would definitely recommend this without a second thought
Fantastic. We were looking forward to going to the Great Barrier Reef and you helped deliver that. Would also like to say that the way the crew on board helped when our children were dealing with motion sickness was much appreciated. The crew were extremely helpful during the entire trip
Fantastic i took my to boys 15 & 12 for there first Scuba dive and now they are addicted the 3 of us really enjoyed the day and the whole crew worked really hard and were friendly and approachable.
Bucket list ? for my 11 year old and incredible day for my whole family. Fish and coral in abundance. A reef shark (small and harmless), Dolphins and a Dugong. Buffet lunch was delicious. Crew were professional and fun. We were in great hands. Great value for money and a wonderful memory.
Bucket list ? for my 11 year old and incredible day for my whole family. Great value for money. Fish and coral in abundance. Reef shark (small and harmless), dolphins and a dugong. Delicious buffet lunch (which was very considerate of pre notified allergies). The crew were professional and fun.
Flavia Henriques Guimaraes
, 15 Apr 23
Amazing... life at sea is a unique experience every one should try.
Flavia Henriques Guimaraes
, 15 Apr 23
Wonderful day experience
Absolutely incredible place! Completely fell in love with the reef - the colours & the marine life were insane! The kids want to get their PADI off the back of the introductory scuba dive & the helpful & reassuring guys who literally held our hands until we felt confident! Thank you so much!
We had a trip we will never forget .The crew were knowledgeable and Ashley was a joy the places we visited were amazing .We also like meeting new people .Fabulous x Terese and Rex
Suezanne Alcock
, 25 Mar 23
Well organised to accommodate a large group of people to enjoy a day on the reef. Activities from the pontoon easy to access and hassle free with good support from staff to enable you to experience the underwater beauty at your leisure.
Had a great time. Met some new friends who made my trip and we had a blast in the "splashzone" on the upper deck. Lunch was amazing..yummy prawns. Staff so friendly and helpful. So glad I booked this
Was the best!! All the staff were so friendly and helpful with any question I had to ask! 10/10
I loved it!! I really enjoyed seeing the reef through snorkeling and scuba diving. I haven't dove in awhile, and my certified dive leader made me feel super safe and comfortable. Great food and atmosphere on the boat, and the staff was so welcoming and a pleasure to be around.
The cost was ok but all the other things you wanted us to pay for it is a big money grab why dont you look after the locals i live in mackay now but am from proserpine
Great experience. We were taken to the Whiteheaven Beach, Hill Inlet Lookout and snorkeling at Cateran Bay where we saw lots of live coral, hope the snorkeling session could be longer.
The current was too strong, we easily drifted too far away from the pontoon. Could see lots of fish around the boat. Better to pay for a guided snorkel tour if you want to see live corals.
The day was amazing and I would highly recommend it to people. The only negative I would have is that the staff didn't seem to know the same answer to questions I asked . 1 was where the helicopter left from+the other was where would lost property go.
Amazing everything, the snorkel team, the food , the fish and the transfer all amazing
Good day to snorkel, saw plenty of fish and one shark
Michael Wiemann
, 07 Jan 23
We had a perfekt day at the reef. Nice People's and good food. I Can absolutely recommend the sailing whitsundays
Jia Ji (Jimmy) Yang
, 06 Jan 23
The trip was fun, the vessel was big enough to minimise sea sickness. The only disappointment being the semi-sub experience, where the glass bottom needs cleaning as the windows were blurred by the seaweeds.
Fun! The boat captain and main tour guide really made it a fun trip. Good, easy snorkelling spots.
Bad weather on the day (no one's fault!) but the food was good and the facilities were good.
Really helped a lot with booking experiences and boat tours. Responsive, easy to talk to and can do discounted packages.
It was very nice beautiful area nice to see all the sea life everyone was friendly and helpful, would definitely do it again.
It was very enjoyable I will be recommending it to my friends and family, I would personally do it again.
Had a great day on the Great Barrier Reef. The staff was super friendly and the food offer was good. We did the Introductory Scuba Dive, everything was very well explained and we felt safe all the time. Going under water we would have loved to have a bit more freedom to discover the reef on our own.
Very good I alway come there
It is amazing experience and the view is fabulous
Jodie Manners
, 11 Dec 22
Incredible day out on the Great Barrier Reef with family! Very helpful staff. Thankyou
Amazing tour from Airlie Beach. The crew on the boat made me feel safe and comfortable. Food was so good and the snorkeling on the Great Barrier Reef was a dream!
Sophia Zerebinski
, 07 Dec 22
This trip was canceled for us.
Sophia Zerebinski
, 07 Dec 22
This is the sailing day charter you want to book! Something less mainstream, away from everyone else, get that real sailing experience with ability to help with sailing. It is worth the money and captain Paul is the best! He will make sure you have the best day out! Highly highly recommend!!!
Sophia Zerebinski
, 07 Dec 22
The scuba dive intro was so great! Instructors are really good and the fish and coral are more magical then you could ever imagine
Sophia Zerebinski
, 07 Dec 22
What an awesome day trip! Bit of a long boat ride out there but it's a magical place! Well worth it going out there for the day. Also recommend the scuba add on
Di Gallie James
, 07 Dec 22
FANTASTIC day of fun!! Just the right mix of everything - and the snorkelling was absolutely beautiful. Our skipper (Scotty) and first mate (Emily) were great fun, lunch was delicious, and the view and access to swirling sands first rate, top notch. Can't recommend highly enough. Thank you so much.
Di Gallie James
, 07 Dec 22
So glad we booked through Sailing Whitsundays because when one of our tours was cancelled by the operator the Sailing Whitsundays staff were very quick to help get us booked on a similar tour by a different operator. Truly fantastic team at Sailing Whitsundays - so professional and always available.
Di Gallie James
, 07 Dec 22
Wow! What an experience. An absolutely perfect day on the reef for us, a true bucket list adventure! Gorgeous snorkelling, a fantastic helicopter ride over the stunning reef and some incredible scuba diving. Organisation, equipment, lunch, tea, staff all absolutely perfect. 10 stars from us.
Megan Thorburn
, 06 Dec 22
The Great Barrier Reef tour was absolutely spectacular and the service from all the crew was fantastic. The dive was outstanding as the reef is so amazing and the facilities were top notch. Would definitely recommend anyone to do this tour if you are in the Whitsundays or Airlie Beach!
Sophia Zerebinski
, 28 Nov 22
The intro dive was awesome! The instructors and really good, makes you feel really at ease
Sophia Zerebinski
, 28 Nov 22
What a great day out on the Great Barrier Reef. Long boat ride out there and back, but totally worth it. Did the intro dive also, highly recommend
Great day. Was sceptical what it would be like for kids but it was the best experience ever. Kids were well looked after was a defect day
It was amazing! The view from above was so beautiful and the team was really nice. I would totally do it again.
Dear GSL team, I really enjoyed my trip to the whitehaven beach. The crew was really nice and I just loved the Whitehaven beach! Would absolutely do it again with GSL! Noemi
Dear sailing Whitsundays team, I really enjoyed my trip to the Great Barrier Reef with you and I would absolutely do it again! The crew was really nice and I loved that we got some extra information about the Whitsundays from one of the crew members. I just wish we had some more time out at the reef
Franziska Simon
, 15 Nov 22
It was a really nice day! I met very nice people on board and I totally enjoyed the Great Barrier Reef, the food and the crew. It was a perfect day.
Loved it!!! so many fish and the coral was just amazing
So cool, the place was so impressive! from the submarine to the underwater observatory to the snorkeling staff it really was the best day out of the whole holiday. Will be back!!
Tarana Lalwani
, 06 Nov 22
Overall enjoyed it, wish there was more fish to see, food could be a notch better...I just felt I was not able to real get the feel but the toilets were clean which is HUGE, staff helpful and vigilant which made you feel safe.
Such a great day on Hamilton Island - Sailing Whitsundays made our trip there and back so easy - the staff and amenities were great - I would recommend this tour and Sailing Whitsundays to all thank you x
I had an absolute blast on the reef day trip! The reef was phenomenal, the staff were friendly and informative and the food was delicious. I would give more stars if I could! 100% recommend this tour
Had a great day out on the reef, saw a good amount of different fish and the coral was way healthier and brighter than expected, the pontoon is really cool and well kept, highly recommend
The best thing about the Great Barrier Reef for me was that it was my first-time doing scuba diving, being underwater sightseeing is the best experience. I will never forget it.
Jayson Chalmers
, 17 Oct 22
Absolutely one of the best experiences of my life. The professionalism of all the staff and the beauty of the Great Barrier Reef made for an awesome day.
Kris Ian Chapman
, 13 Oct 22
The trip out and back was awesome! There were aspects of the pontoon that could have been better. Most people seemed to get of the boat, put all there bags towels on a table - then disappear to do activities - maybe some storage cubes yo hold bags/towels for those not needing to sit?
The crew were wonderful, very helpful. Meals were great and ample equipment for snorkeling! Thank you everyone
Mariana Podgorski-Guyett
, 05 Oct 22
It was our very first time and visit to the Great Barrier Reef! It was the most memorable and amazing experience! We will definitely return! And thanks heaps to the Team and Crew at Sailing Whitsundays for making it possible and for their professional and fun experience. MPG & PG
Magdalena Ognicka
, 05 Oct 22
Great experience for anyone. Highly recommended
Best snorkeling trip ever. The air conditioning was a bit cold at times. Would do it again
We had a wonderful day on the reef. The crew on board the Seaflight were very friendly and helpful. They really enjoyed what they were doing which in turn helped us to enjoy ourselves.
Kirrily McWilliams
, 03 Oct 22
Great way to experience the reef! Something for everyone
Belinda Buckley
, 02 Oct 22
Bucket list ticked off. What an incredible day on the hearty reef. The boat was very comfortable and food was great! Staff were so friendly, helpful and filled with knowledge. Plenty of space and equipment on the pontoon. Lots of staff around to help. Can't fault the day.
Super day with friends, saw so many fish I had never even seen in a book.
William Lambert
, 14 Sep 22
Professional, friendly and welcoming trip from all members of the crew. The morning tea, lunch and afternoon tea was plentiful. Great hospitality and most informative for the scuba diving. Thanks
Joylene Richards
, 13 Sep 22
Amazing trip, great crew and lots of fish and lovely coral to see while snorkelling or scuba diving
This trip was a great way to cap off our holiday in airlie, snorkeling the outer reef for the full day. cant wait to come back again.
GReat family day out, the kids were well looked after while in the water and had lots to do once out of the water
A great day out with lot to do other than just snorkeling, the underwater observatory was really cool.
Wow what a great day our, the reef was vibrant and had alot of fish to snorkel with. Also alot of dry activities to do like the observatory , the staff were wonderful aswell
We had a fab day, food was great, staff are super friendly and plenty of fish to view (even spotted a whale).
It was a great day out with good weather, friendly and funny staff who had everything well organised. The food was good and healthy and there were activities that took up most of my time at the reef.
Spectacular.... well worth the money
Best place to snorkel in Airlie! the pontoon was so cool and the coral we saw was out of this world. They have a fish feeding licence so we got to see alot of fish up close and personal which we werent expecting.
The reef was really good - couldn't be happier- hanging out on the platform was great.
Margaret and I had the most spectacular day out at the Great Barrier Reef. The submarine was great to view to fish and coral. the food for lunch was yummy. Thank you for helping us book all of our tours, Claudia was very helpful and informative.
Had the most wonderful experience on the reef seeing plenty of fish and coral throughout the day. thought the staff were really good at helping th guests with navigating the reef. food excellent too .
The reefs outer part was wonderful for the whole party and found it super enjoyable day out. think next time they would like to try diving to see more. staff super helpful at identifying fish and giving a little backstory on the reef.
The reef was lovely. We had a really nice day. The weather was great and the fish and coral were spectacular. I Havant been to the reef before so I loved it. The food was yummy and ample.
wow the reef was spectacular, we booked a bunch of tours and claudia really looked after us. We added on some dive for myself and my partner who is an intro diver. IT was incredible. The marine life was beautiful. It was a really great day. we had lots of fun.
The pontoon was amazing structure with alot to do for the whole day and the food was also really impressive. The dive instructors were wonderful and attentive throughout and it was worth the visit.
Diving instructors were wonderfully attentive considering the number of people diving. food was great too.
Spending the day out at the reef was quite the experience and one they felt was really enjoyable, the staff were so knowledgeable that they felt the staff must have been working there for years.
had really enjoyable weather so got the most out of the trip. tour exactly what they expected which was an opportunity to see the reef and reef fauna from the pontoon, a really good full day tour. Thought the staff were a 10/10.
We had the best day on the Great Barrier Reef tour. It was an amazing experience for myself and my 4 friends. Highly, highly recommend it!
We went out the reef, with cruise Whitsundays and a fantastic time. I was able to do my first scuba dive ever and now I'm addicted.
This was an amazing experience. Food was exceptional and lots to do and see, both on and off the boat / pontoon
This full day boat ride to the reef was really genuinely amazing. Morning tea, lunch and arvo tea was provided which made ease. Thanks to the fantastic staff at Cruise Whitsundays for providing a safe and enjoyable experience. if your going to Whitsundays you down right have to do this.
The crew were fabulous, the boat ride comfortable, and the snorkelling incredible. A perfect day out that was topped by lots of whale sightings and a big shark cruising by
We really enjoyed this trip. Little things such as the crew standing and welcoming onboard and saying goodbye made for excellent customer service. We are already making plans to come back and will highly recommend you to everyone
This trip was really well organized, we took the family and they all had a great time, keep up the great effort, it was so nice to experience the Great Barrier reef first hand.
Such an awesome day out with the family!! The snorkelling was amazing, so many massive fish and beautiful coral! The kids loved the tour on the submarine and were so excited to see turtles. The food was delicious and plenty of it. Will be recommending it to all of my friends.
Marcel Journeaux
, 06 Dec 21
As soon as I was meet at the docks for boarding the first class service started, well done to everyone.
Great snorkelling, good food, helpful crew and lots of smiles from the kids!! A great day had by all!!
Wow what a day! We saw so many fish and corals. The Great Barrier Reef is truely beautiful! Definitely wanna see more.
A once in a lifetime experience diving the Great Barrier Reef from the Whitsundays! The variety in coral and marine life was amazing. The dive team were really enthusiastic and gave a great marine talk on the journey home. I would definitely recommend spending a day out on the GBR pontoon!
Great day at the reef, saw Maori Wrasse, turtles and beautiful corals. Great day out
A must do in order to see the Outer Great Barrier Reef! I did two Introductory Dives and the crew was amazing, making me feel very comfortable and getting very close to the beautiful coral, pointing out all the funny tricks nature has in store. I also had plenty of time to go snorkelling by myself and keep exploring. I can only recommend this tour!
The Great Barrier Reef tour is a long trek from Airlie but definitely worth the wait, with all the staff to help you with whatever queries you had and informing you of all the marine life it was great. You can choose to snorkel, dive or just ride on the glass bottom boat there is something for everyone to do to be able to see the reef.
The pontoon has so much to offer! The semi submarine ride was a lot of fun, the underwater observatory perfect for the kids and the pontoon offers enough space to sit down and relax or eat after snorkelling. A great tour for everyone!
I took my 75 y/o mum on the GBR tour and we had the most amazing day. The care from the crew exceeded my limits and the boat ride out there was so smooth over the waves which was nice considering I usually get quite bad sea sickness. We both went for a snorkel in the reef and there was always someone with us to make sure we were okay and safe. Great day, will defiantly be back to do it again with some mates!
great day. saw the most beautiful fish and a turtle whilst scuba diving. will be back, thanks.
I really liked this tour as the Big Vessel that took us out to the reef was fast and stable. Then the pontoon at the reef was new and not run down like other tours I did up north. I have recommended that my friends do this tour when visiting Airlie. A great day out on the water.
I had a really great day at the Great Barrier Reef with CW. The pontoon gives you easy access to the Hardy Reef. I also got to Scuba dive with giant Maori Wrasse fish!
A large pontoon with everything you need for an amazing day at the reef. The resident maroi wrasse followed us around the entire time during our drift dive. It's really given me a new perspective on fish personalities! Hardy Reef is a great site with marine diversity and large coral formations.
Booked the family on this tour. The vessel was large and comfortable with plenty of space to move about. Once we arrived at the pontoon we had a blast taking tours on the semisubmersible, snorkelling on the reef and splashed out on a 10min helicopter scenic flight over Heart Reef. Certainly not to be missed! Would recommend this tour to families in a heartbeat.
If you want to snorkel the GBR this is a great option, even as families. There are guided snorkeling areas, kids' section as well as an underwater observatory and submarine which are free to use. The lunch is buffet, good selection of foods.
An amazing way to experience the Great Barrier reef, I really enjoyed the diving and snorkelling as many of the larger fish you will not see on a usual boat trip take up residency under the Pontoon. Time flies on this tour.
Sailed with these guys on a few of their tours and have never been let down. They continue to exceed our expectations.
Francis O'Reilly
, 19 Dec 19
I didn't get seasick! Food is awesome! 10/10
I have completed many dives in the past but my friend completed her first dive at the pontoon today I am impressed with how easy they make it for her. The moon pool on the platform is a very good place to practice and the instructor made her very relaxed and happy before she did her dive.
I am not usually one to write reviews but I feel compelled to write one for this trip. Exceptional. I struggle to find any faults at all. The boat journey out to the reef was smooth and the crew are engaging and attentive. Well organised trip and to a high professional standard. The pontoon itself is stunning with a plethora of activities to keep you occupied. I could not recommend this tour anymore.
I had reservations about going out to a pontoon as we have been to some in the past that are too overcrowded but this pontoon is different, there is so much going on you never find yourself as a loss of things to do. It is spacious and very well staffed, the snorkelling was some of the best I have done and I have done A LOT of snorkelling. The glass bottom boat is a nice touch, very informative about the reef so you actually learn something too! I will definitely do it again if I find myself in Airlie!
I chose to book the pontoon because my mother is disabled and finds it hard to get around. Even though she couldn't snorkel she still had a fantastic time. She sat in the sun loungers on the pontoon, went in the glass bottom boat and checked out the underwater observatory. We all enjoyed our lunch together on the deck. She thoroughly enjoyed the day and it turned out to be the highlight of her entire trip. Thank you so much to the staff who did everything they could to make it a fantastic day.
This is a very well made trip. The crew are so helpful and the snorkelling was amazing. Food is also very good!
I usually suffer from getting seasick but this boat is HUGE so I had no issues. Pro tip - They do Gopro hire on the boat, you just keep the SD at the end of the day.
I have lived in the area for 4 years and had my parents visit from Wales, it is their first time to Australia so i wanted them to see the reef. My dad is 58 and has always wanted to go diving, so wheres a better place to do your first dive than the Great barrier reef! The staff are really good, they let you try out the diving to see if your comfortable, if your not they will give you the money back. We had a great experience and they have the pictures up on the wall back home.
As a keen diver, I enjoyed the experience that Hardy Reef Pontoon offered us. We booked 2 certified dives, which were taken on different parts of the reef. The coral and marine life were amazing. A big maori wrasse (named Wanda), followed us the entire time! Yes, it is a big boat welcoming a lot of people, but we found that it was a comfortable journey and we appreciated having all the staff available to assist us with our every need. They even have marine biologists on board who share insight about the ecosystems.
Well worth the journey. Great Barrier Reef is so beautiful. Beyond expectations. Crew were outstanding and very friendly, food was very yummy. I also did my first dive, unreal.
As soon as I was meet at the docks for boarding the first class service started, well done to everyone. I wish to return on Wednesday 8th December as is my last day in Airlie beach and do some more diving.