Airlie Beach Bag Storage
CLOSE
View More Thumbnails
Loading...
Departure Times
Departs: 7:00am - Daily
Returns: 5:00pm - Daily
Airlie Beach Bag Storage offers a safe and affordable facility that is conveniently located in the heart of Airlie Beach. This facility is the only insured baggage facility in Airlie Beach and has attended bag services as well as self-operated lockers. The area is fully secured so there is no need to worry about bags being raided by animals, stolen, or possessions going missing. The baggage room is in a smoke-free zone and is fully equipped with security cameras and air-condition for additional freshness.
Airlie Beach Bag Storage (ABBS) offers storage options to suit all of your storage needs whilst holidaying in the Whitsundays. ABBS have lockers and storage to fit all bags, suitcases and backpacks, so you don't need to worry about stuffing all your belongings into small, crammed and over loaded space. Unlike other storage facilities in Airlie Beach, this is the only 100% secure and fully insured premises in the region.
As an added bonus, power points are also available so you can leave your devices on charge whilst they are in storage.
Airlie Beach Bag Storage Features:
Friendly and welcoming check in staff
Fully secured and insured facilities
Security cameras through-out
Power points for charging devices
Competitive prices and streamlined services
Location:
Please check in your bags between 7am - 5pm.
Address: 350 Shute Harbour Road, Airlie Beach, QLD, 4802.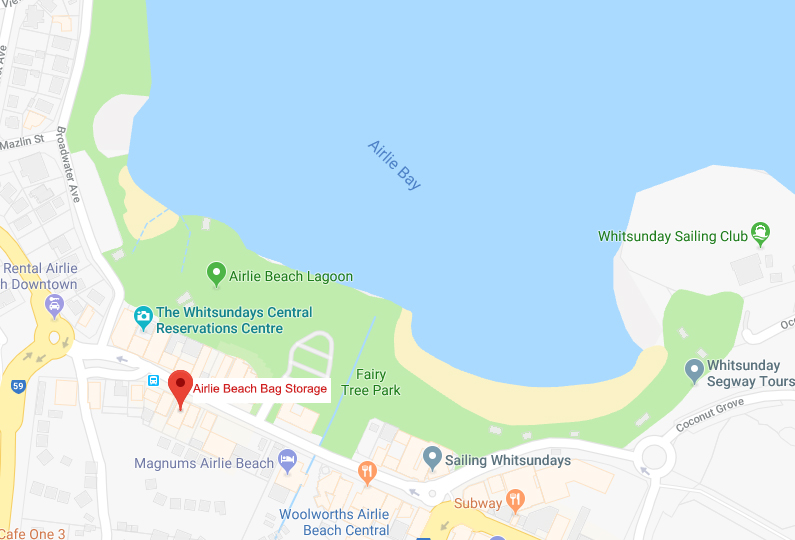 BOOK WITH US TODAY! CALL 1800 550 751 OR LIVE CHAT US NOW!
---
Add to your Whitsundays experience... Combine multiple tours to unlock exclusive discounts!
Featured Add-on's for Airlie Beach Bag Storage:
Heart ReefSkydive Airlie BeachCW ReefworldDropbear Tag Along 3D/2N
More Information
What To Bring
Please check in your bags between 7am - 5pm . Ph: 07 4946 4444.
Address: 350 Shute Harbour Road, Airlie Beach, QLD, 4802 - (Located at Red Cat Adventures building)
There will be NO access to Airlie Beach Bag Storage beyond the regular opening/closing times (7am - 5pm daily).
What's Included
Secured and insured bag storage in the heart of Airlie Beach.
What's Extra
Customers can purchase zip-less bags to take on their trip for an additional $5. Ask the friendly staff upon check-in.
By leaving your luggage with Airlie Beach Luggage Storage (ABBS) you accept the terms and conditions set out in the below storage contract. Please read the below agreement carefully before choosing to store luggage at ABBS.
Luggage storage is open seven days per week only at specific times. Please take note of the times on the card receipt supplied at check-in. There will be NO access to ABBS beyond the regular opening/closing times of the premises, generally outside of 7am-5pm every day.
It is prohibited by ;aw to store hazardous items or items that can cause harm to humans (please visit safe work website for a full list of items)
No illegal drugs, alcohol, plants, animals, fragile objects, or perishable foods are to be stored at ABBS.
The weight limit for each luggage is 30kg. We have the right to refuse an item of luggage if it is over this limit as it can be a safety hazard.
The customer is responsible for ensuring that the locker door is securely closed before leaving the self-serving locker. It is not the responsibility of ABBS staff.
The customer is responsible for ensuring that his/her luggage is locked, zipped and secured prior to storage.
ABBS staff members are allowed into the secured luggage room. No customer has the right to attempt to enter the room and collect their luggage themselves.
The customer agrees the right for ABBS staff or a government official to inspect and open any luggage that is on our premises for security reasons.
The customer is liable for any damage caused to other customers luggage.
The customer is responsible for the luggage check in and check out times. If the customer does not collect their luggage within the agreed times, then we will hold the luggage until the storage re-opens and charge an additional rental fee of $7 per day.
If luggage is left in storage for additional days on top of what has been paid for, it will not be released until those additional days have been paid out.
If out of office hours emergency collection of luggage is required, it will require a $100 call out fee.
If the customer believe an item is missing from their luggage during the time it was stored at ABBS then we will hold $100 deposit and check the security cameras for the full duration of their trip. If there has been suspicious action then we will return the $100 and offer a full investigation. If the cameras show there hasn't been any tampering of the luggage then ABBS will keep the $100 admin fee (this is to avoid false claims). Total time to view footage for 2 days takes approximately 25minutes and requires 2 staff members by law.
ABBS offers insurance for each luggage stored on the premises up to a maximum value of AUS $1,000. Proof of items must be proved by the customer before a claim can be made.
False claims will be reported to the police as insurance fraud is a serious offence in Australia.
If a customer loses their card receipt with the number of the bag on it then we charge $25 to search and find their missing luggage.
If a customer loses a padlock key for the self-serving lockers then we charge $50 to open the locker and replace the padlock and key.
If a customer forgets their luggage or needs any item to be sent there is a $50 admin and handling fee plus postal charges.
If a customer forget or leaves an item they do not want then it will be destroyed after 7 days.
I accept all the above "terms and conditions" and will sign the paperwork provided on-site.
Terms and Conditions
Please refer to the storage contract under 'Whats Extra'. Please be aware operators pass on credit card merchant fees so there is a non-refundable 2.5% surcharge for VISA and MASTERCARD card purchases.
Cancellations
Cancellations are accepted until 24 hours prior to travel. Full amount will be charged for cancellations within 24 hours. We strongly recommend that you have travel insurance, especially during the wet season.
Thank you for booking with Mr Travel/Sailing Whitsundays. If you would like any advice or assistance in arranging accommodation, transfers or additional tours, please do not hesitate to contact us.