Whitsunday Getaway 2D2N
CLOSE
View More Thumbnails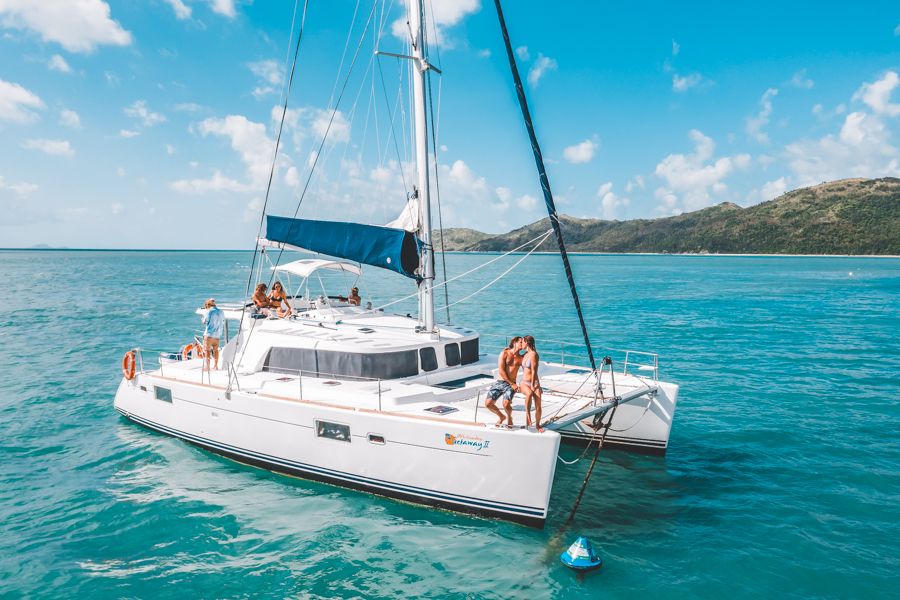 Loading...
Departure Times
Departs: 3:00pm - Mon, Wed
Returns:
1:00pm - Wed, Fri
Departure Point: Coral Sea Marina, Airlie Beach
Pricing Options
RRP $2095

$1990 AUD / Cabin
- Private Queen Ensuite Cabin (sleeps 2)
(Between: 01 Apr 2023 and 31 Mar 2024)
Highlights
| | | |
| --- | --- | --- |
| Whitehaven Beach & Hill Inlet | | |
| | | |
| | Snorkelling | Wifi Onboard |
| SUPs | | |
Cruise the Whitsundays on board Whitsunday Getaway for a romantic and unforgettable sailing experience - the dream getaway!
The ideal tropical escape for couples ready to sail the Whitsundays in style at their own pace
Only four spacious private cabins onboard, complete with private ensuites and air-conditioning for ultimate comfort and luxury
Enjoy gourmet dining experiences whilst exploring the beauty of the Whitsundays
Equipped with an onboard ice maker, ample foredeck space, and modern forward outdoor lounge for picturesque downtime
Be proud that you have selected a boat that has 1.2kilowatts of Solar Panels to power all of the onboard mechanics
---
---
Frequently Asked Questions
Do you cater for special diets?

Yes, all special dietary requirements including vegan, vegertarian, gluten-free, dairy-free, etc can be catered for. Just keep in mind that there will be a small additional fee of $15 to accommodate towards your needs.
Is there a minimum age for this trip?

Yes, you need to be over the age of 18 years to book a trip on Getaway.
Can I smoke on board?

Yes, in designated smoking areas you are permitted to smoke.
Is there Wifi on board?

Yes, there is access to Wifi powered by Starlink on Getaway.
Is snorkelling equipment provided?

Yes, snorkelling equipment including a snorkel and mask will be provided.
Is there air-conditioning?

Each cabin is fitted with an air-conditioner, and the main saloon is air-conditioned too.
Is it BYO?

You are permitted to bring your own alcohol on board. Please ensure you do not bring glass bottles on board. You also cannot bring excessive amounts of alcohol - the absolute maximum is 24 cans of beer (preferably lite), one box of wine, or 1/2 bottle of spirits per person.
Can I store excess luggage somewhere?

You can store any extra bags at our Airlie Beach Bag Storage located on the main street, for a small fee.
Reviews
Overall Rating
5.0 / 5.0
Based on 145 reviews
Reviews by our Sailing Whitsundays customers
Tracey Mountford
, 05 Sep 23
My partner surprised me with a sunset cruise and it was truly a magical and memorable experience. The weather was amazing, the sunset was incredible, but being on a sailing boat and watching the rocky shores, pristine beaches, and picturesque sunset was just a perfect and romantic occasion! Loved it
Overall, this was a fantastic experience. My only suggestion is for the crew to be as clear as possible with regards to meal times, activities etc. (knowing this changes depending on weather, etc.)
Jenny and Russell Marsh
, 26 Mar 23
Excellent explanation of packages and prompt reply to queries
Brilliant two day trip, great crew who really looked after us. Big thanks to the captain Sam and Addy who made it the best experience
Sydney Marzeotti
, 08 Feb 23
We loved it! Les and Liv took such good care of us. would definitely do this trip again!
The experience with Sailing Whitsunday was absolutely incredible! The boat was in really good condition and our captain Karl and hosty Marie-Anne were so attentive and really helped us enjoy the time aboard! Karl was very good at making sure everyone had a good time!
The whole trip was fantastic - couldn't have been better. Beth (hostess) and Karl (skipper) were both brilliant. The flexible itinerary fit the conditions and what everyone wanted to do/see. Space to do as you want on the beautiful boat and the food was great. Thank you!
I had such a wonderful trip on the catamaran Getaway. It was amazing!! Beth and Carl did such a brilliant job of looking after us. Views were amazing. Snorkeling was fantastic and food was very good. Definitely well worth going!!!
Alexander Hohaus
, 17 Dec 22
A great Tour, we love the Whitehaven Beach, the Whitehaven Bay and the Boot "Getaway". A perfect Crew with a lot of love, good dinner and very good bed.
Our skipper Ron was fantastic … always planning ahead and finding the right sailing, snorkelling and sleeping options. Crew member Marliss was wonderful and did what she could with the good options provided. We felt food could have been a bit higher quality. At times there wasn't enough for 10.
Positives: great crew, Whitehaven, turtles, giant clams, relaxation, social with other couples, sailing. Less positive: not enough snorkelling, outdated menu, needs a freshen up Ditch the mashed potatoes, cocoapuffs, rice crispies, platter very basic. A/C not used except first meet and greet
We had an incredible experience! Snorkelling with fish + hikes to lookouts were amazing. Staff was great! We will be back.
I cannot recommend this trip highly enough. A combination of relaxing sailing & soaking up the beauty of the Whitsundays with amazing walking trails & snorkeling. We were so well looked after by the skipper & hostess and learnt so much about this beautiful part of the world.
Liane Katsoulis
, 11 Oct 22
We had the best time. Crew were sensational. So accommodating and great company.
This was everything I had dreamt of. Laney was amazing and nothing was too much trouble. Cabins were clean and comfy. We were taken to some beautiful places and it really pays to have someone as a tour guide who knows all the hidden gems. Amazing experience, so sorry it's over.
Laney and Jamie are fab crew. Nice food and comfy beds. Thank you!
Our cruise experience was fantastic, i would highly recommend anyone to do the same, the skipper and host were amazing
Excellent. Ellie was amazing with her cooking.
Great trip! Karl and Ellie were amazing. We really enjoyed ourselves.
A very pleasurable trip with great company. Lots of fun and awesome snorkeling.
The host and captain really made our experience wonderful. Accommodating people and very professional. Thank you.
Julie and Tony Quinn
, 08 Jul 22
We had a wonderful experience and enjoyed every moment. The food was fabulous. Great steak!
Karl and Fergus made the trip an absolute delight. Their timing for excursions and snorkeling activities were impeccable as was the comfort of the vessel.
The trip was much better than we anticipated! Company was great, accommodation very comfortable and the snorkeling was a highlight! Captain and host kept us up to date with everything and gave 100%.
The captain and staff were excellent.
Fantastic food, crew and guests. Loved it! Thank you very much!
Very nice crew. Helpful and friendly. They were very experienced.
Very comfortable boat. The crew were very welcoming and knowledgeable.
A wonderful experience filled with lots of activities the group wanted to do. Nothing was a bother or problem for the crew. Amazing time.
Ron and Steph were amazing hosts. So knowledgeable and fun. They made it a perfect trip.
Ellie and Ron were a wonderful Captain and crew. All our needs were catered for. The locations we visited were excellent and the experiences were amazing!
Sophie Mckechnie
, 23 May 22
Fabulous time! Both the host and skipper were so accommodating and friendly. Will definitely recommend to friends. Thanks for a great trip!
Diana and Noel
, 14 May 22
Karl and Marlee are very friendly and they gave great service. Breakfast, lunch and dinner were great.
Everything went smoothly and we were provided with everything we could have needed whilst on board. Thank you!
Annette Peraloo
, 13 May 22
Karl is a great guy and super friendly. Marlee was an awesome cook and there was great hospitality on board.
Boat experience was fantastic!
Unreal experience with unreal people. The captain had a lot of knowledge and experience with sailing and the area.
The crew made the trip! Everything 5 star!
Greatest experience I have ever had! The skipper made sure that everyone got to do what they wanted to do and the host was welcoming and accommodating. BEST FOOD EVER!
It was honestly the best holiday ever!! The crew were very accommodating and took us to some awesome locations. Would recommend to everyone!
The best holiday I have ever had. The skipper was amazing and gave us a great experience. The host was awesome super accommodating and easy to get along with. The food was also delicious. I couldn't rate the staff or this trip any higher!
Captain and host provided an amazing experience. Great service, great knowledge, a great adventure!!
Best holiday we have ever had! The crew were fantastic. Would recommend this trip to everyone.
Couldn't have been better!
All fantastic! Staff were excellent and provided amazing customer service. The food was also brilliant!
Everything was superb, we had a fantastic time. The crew was absolutely wonderful.
We had an amazing time. the crew were friendly, welcoming, and very professional throughout the trip. The boat was great very comfy and spacious. We would recommend it to friends. Snorkelling with turtles was an incredible experience.
Beautiful first sailing trip! Felt very safe and welcomed by Karl and Bec. Loved every new place we went. Absolutely magnificent trip - loved the flexible itinerary! Thank you :)
Great experience, friendly crew + group sailed with :) Knowledgable of great visiting places of interest. Would do it again. Thanks!
Tailor made trip, fun filled, action packed, experienced EVERTHING! Amazing! Thank you!
Tara & Adrian Watters
, 29 Nov 21
Absolutely amazing experience!! The boat and crew were amazing, Adam & Alex went out of their way to ensure all our needs were met throughout the trip. We have recommended this experience to all of our friends and family and will definitely do it again ourselves if we have the chance
We had the most amazing experience on this trip! It was so cruisy and comfy. The staff were very helpful and accomodating.
Fantastic trip with a friendly captain and host. Thank you!
This is my 5th sail from Airlie Beach and the best I have ever experienced. Thank you Bec & Adam!
This trip was on our bucket list of things to do, our expectations ere well and truely met! Thank you so much for a great holiday!
Great experience with sp much to do or nothing to do at all. A Great way to see such beautiful sights.
Fabulous experience! Karl & Bec went over and above to make this a very memorable trip. Thank you so much!
Fantastic, very accommodating, informative and very chilled.
Karen & Eric Verdown
, 21 Aug 21
The trip was customised to suit our style. Loved everything, would definitely recommend. Perfect! weather was magnificent!
It was a lovely experience, home made food, excellent vibes and beautiful landscapes. It was more than we expected and would definitely repeat the experience.
Fantastic " Getaway" small group was excellent. Spectacular locations. Ian an Bec awesome skipper and host.
Peter & Gillian
, 16 Aug 21
Beautiful and relaxing. One of the most beautiful places on earth and the team onboard were relaxed and helpful.
Catalina & Robertino
, 16 Aug 21
It was a lovely experience, home made food, excellent vibes and beautiful landscapes. It was more than we expected and would defiantly repeat the experience.
Excellent trip. Food was delicious, plenty of it too. Lots of leisure time. Relaxing trip and would recommend to others - Thank you
Beautiful holiday a great mix of people and facilitated by an amazing captain and host
Absolutely fantastic! Great crew, amazing scenery, very well organised- no complaints!
Everything was fantastic. Absolutely met our expectations and loved the trip.
Amazing trip. Great experience with small group.
Federia & Andrea
, 04 Jan 21
Andrea and I had an amazing time with guests and the crew. Jono and Bec are very prepared, accommodating and acknowledgeable. They are both professional and open to any requests and understanding to everyone's necessaries. We could have not asked for a better team to be with and will cherish the memory of this trip forever.
Wonderful relaxing fun trip. Loved the easy pace. Never been snorkelling before- this was mind blowing! The crew were unflappable, genuine and really accommodating. Enjoyed every moment. Never been sailing before- again a wonderful experience. I cant believe I hadn't done it before. We will be back! Will definitely recommend to our friends!
We loved every minuet. Crew were amazing, boat was amazing. Very accommodating & clearly love what they do. Their passion was infectious & they were above & beyond their level of duty. Would highly recommend this trip to all family & friends. Couldn't be happier!!!
Frida and Ammar
, 21 Dec 20
Crew is very friendly, accommodating and knowledgeable! Our hostess (Bec) accompanied us snorkelling as we are both poor swimmers and we really appreciated her doing so. The food was delicious, cabins are clean & well- appointed. They times our visit to Whitehaven beach + Hill Inlet so well we had the places to ourselves! Views were fantastic. We felt very well looked after throughout the trip and we would highly recommend this trip to our friends + family without hesitation!
We had an amazing time. Brendan & Tryne were friendly, welcoming & very professional throughout the trip. The boat was great, very comfy and spacious. We would recommend the trip to our friends. Snorkeling with turtles was an incredible experience.
This tour came highly recommended by friends of ours and it did not disappoint! Staff are very friendly and accommodating. The stop off at Manta ray Bay was easily my best fish experience ever!
We had an amazing holiday. Everything was 5 stars! We were very well looked after in all aspects of our trip. The hosts & skipper were incredible.
Andy & Hilame
, 28 Feb 20
This trip always had the makings of a 'once in a lifetime' experience. It more than exceeded all expectations. The locations visited were perfect enabling us to experience beautiful beaches, amazing reefs and the best snorkelling experience of our lives. All this was made possible with the great team of skipper Shane and hostess Bibi. The perfect combination of friendly and relaxed whilst always professional.
Thomas & Corrin
, 28 Feb 20
The crew was very friendly and we loved the food and the boat! Thanks for everything, it was amazing.
Tasmyn + Holly
, 28 Feb 20
We have had the most amazing time!! From start to finish we have been wowed! The Whitsunday island we stopped at was so beautiful but i think the people on the boat, Becca + Shane made the trip what it was! Thank you for the bucket list experience!
The trip exceeded our expectations in every way. Both Shane and Bec were always very friendly and helpful. We loved the food that Beck prepared! (Jame Oliver look out for Beck). The places we visited and moored were the most beautiful we have ever been to. Our accommodation was first class. We loved being on a boat and will do it again. This was our first stay on a boat and could not imagine it being any better! 5*
Excellent host and skipper. Both exceptionally friendly and welcoming. Helped with snorkelling, staying close at all times and making sure everyone was OK. Food was outstanding and plentiful, nothing was too much trouble. Would Highly recommend this tour but think Shane and Becs actually made the trip more memorable.
Oliver Dominik
, 04 Feb 20
It was such a funny, lovely and exciting trip with their crew! Bibi and Les did a really good job and looked after us. All the food was delicious, thanks a lot to you all!
We loved it! Everything was perfect! The crew were so helpful and happy it really made the experience brilliant. Food was excellent too.
It was really amazing. We enjoyed all of the activities. The crew was fantastic and the food was delicious! Thanks a lot!
Jenna and steve
, 08 Jan 20
An unforgettable experience. Fantastic group, amazing skipper(shane) and host(Britney)-- They looked after us fantastically well--welcoming, accommodating, relaxing, laidback and very friendly! Can i come again?!?
It was the highlight of our trip in Australia!
Tom and Serena
, 06 Jan 20
Absolutely awesome trip! So impressed with the boat crew, food and locations! We'll definitely do it again! recommed to others! Loved everything about the trip! Shane absolutely fantastic, fun and energetic. Brit really professional and a great host! Food was amazing! Thank you!
Britney is so friendly, patient and a good host. She takes care of you when youare sick. She always has a smile. She is not too rowdy(/screaming/overly/fake enthusiastic). She is real shine! Good cook as well! Shane is a knowledgeable friendly funny skipper. I think everyone loves to be around with Mr.Jack Sparrow. He tells nice and funny stories and is so enthusiastic
We found the trip awesome!! Relaxing, and exciting at the same time. The skipper was friendly and knowing all the best thing! That could be the best experience of our lifetime!
Everything is perfect! My English is not good enough to describe this! Good job!
Kim and Jordan
, 01 Jan 20
Excellent trip! Friendly Staff! We felt very at home and taken care of! We would definitely come again and recommend to others. Thank you so much for the wonderful experience ! all our best!
It was a very lovely trip. The crew was very very friendly. We felt like home. The vibe on the oat was amazing. Great food. Loved to come back! 2 days were too short!
The trip was amazing! Air-coned,, soap for snorkelling gears, timing of white haven beach, attention to the tides, the food, snacks, and shower towels. Everything was great! High recommended and Thank you !!
Veronica and Shane! were fantastic, very friendly! fun and engaging! I felk like travelling with friends. Thank you for making the trip wonderful. Food was plentiful, so fresh and delicious. Wish it was a longer trip! highly Recommended! Thank you so much we loved every minutes!
Zahir and Amina
, 30 Dec 19
We had a fantastic time on this trip and felt very looked after by veronica and share. We especially enjoyed the trip to white haven beach, snorkelling and relaxing underneath the stars!
Sam and kirsty
, 28 Dec 19
Food was fantastic! Crew and skipper were very nice and easy to talk to! lovely host! Great view!
Great crew! lovely food! really enjoyed the experience!
Andreia and Mirco
, 27 Dec 19
Great experience. Very friendly crew! we visited great spots! Thank you for that!
Sailing around the Whitsundays has been on my bucket list for some time, and I couldn't be happier that I chose Getaway to do it on! The crew were professional but so friendly, the food was amazing and getting Whitehaven Beach to ourselves is an experience I will never forget!
BB- amazing host, friendly, very organized and effective! Les- very knowledgeable. happy to answer any questions and know the reef and water very well! Both of them were so so professional and friendly crew members! Thank you!
Mary and Bruno
, 20 Dec 19
Both les and biki are kind, lovely and helpful! They provide us with joy, peace and safe and secure trip! The food are awesome. Thanks for all your effort and hard work, much appreciated!
We have had a great couple days on board. Everything has been great! It has been very fun and the locals was brilliant! High recommend to others planning on the trip here. Thank you!
Exceeded all expectations. The itinerary content was an excellent balance. We covered all of the "must do" items. Timings between events worked perfectly. The snorkelling at mantaray bay was amazing! Captain Shane and Bibi could not have done more for us. Relaxed and utterly professional throughout. They made the environment and the whole trip a joy . Would recommend this trip to anyone without hesitation!
This trip was the highlight of our 5-day trip to the tropical north and my best birthday yet (I've had quite a few to compare). Travelling with my husband, and 4 friends from overseas, we loved every minute of the experience. We and our guests were blissed-out within the first couple of hours on board. The vessel is comfortable and well maintained, with enough space for everyone and enough spaces for variety. The itinerary was well-paced, and took in some wonderful places for relaxing and snorkeling - the last morning, we spent 2 hours in the water that went by in a flash - there was such an amazing variety of sea life. Perhaps the best part of the trip was the crew. Captain Jimmy, who oozed confidence and was always watching out for our safety. And Becca, who tirelessly and graciously cared for our comfort. Both were delightful company as well.
I had an amazing time on our 3 day 3 night sailing trip. everything from the boat to the food to the crew was exceptional, exceeding my expectations. Nina and Chris were a wonderful team. Just got off the boat and I wish we had another 3 days to go. I'll definitely be back to airlie and would love to book again woth whitsundays getaway.
We had a brilliant time on the 3 night cruise with our skipper Phil and host Deb, on the catamaran Getaway2. The experience exceeded our expectations with a comfortable cabin and washroom, great food served up by Deb and Phil and the superb scenery and locations. We were really lucky to have great company too and all eight of us had a really wonderful time. Phil was a perfect skipper, knowledgeable about where to go and what to see and always keeping an eye on us all. He was also laid back and relaxed and he and Deb were a real pleasure to chat to "Up Top" as we sailed around the Whitsundays. Truly the highlight of our 4 week Australian adventure and couldn't recommend it enough to anyone considering this type of trip.
Fantastic trip, great hosts, great food, snorkelling + Whitehaven Beach! Thank you so much Phil & Deb for great few days cruising around the beautiful Whitsundays.
Great Experience on Whitsunday Getaways. Will definitely recommend to friends + family travelling to Australia.
Great, thank you so much!!The tour was perfect to get an impression of the Whitsundays and to have a very relaxed time
Phil & Deb were really excellent hosts and made the trip most enjoyable. The food exceeded expectations and the sights and snorkelling were fantastic. Thanks to all involved.
Francesco and Susanna - Itlay
, 23 Sep 14
Beautiful boat and crew. Food really good and amazing islands.
Rod and Susan Daley - Aus
, 18 Sep 14
Everything was great. Leisurely feel yet plenty of opportunity to do things. Both staff incredible helpful and always lovely , lots of fun. Delicious food plenty of it and always appeared at the perfect moment.
Gary and Sue Oldhan
, 14 Sep 14
Fantastic experience, thoroughly enjoyed it. Ashleigh extremely helpful with snorkelling, never left my side as I didn't feel confident. I'm so glad I had that experience which I wouldn't have had without Ashleigh's help. Wonderful food, skipper very knowledgeable and extremely helpful pulling me in the boat.
Ulrike and Alfred - Germany
, 06 Aug 14
10/10
The tour had been perfectly organised, the crew was extremely nice and helpful, Food was excellent, all destinations were carefully choosen. Please continue in the way. Thank you fort the trip is was great!
Jacquie & Rob Gilmour - Aus
, 29 Jun 14
9/10
Everything was well organised and welcoming from the minute we arrived at the boat. Deb & Phil were great hosts and we could not have asked for anything more.... except better weather!! Great memories, thank you very much.
Excellent relaxing couple of days, with friendly, hardworking hosts. Fantastic hosts loved the sailing experience and great snorkelling spots. Will recommend!
The trip was just great. The boat is very comfortable. The crew was nice and helpful. We felt very welcomed. Especially the food was just lovely. It's really fascinating how Deb can prepare that amazing dishes in such a small kitchen :) The snorkelling and the trip to the Whitehaven Beach were lots of fun. Thanks a lot
We have had a fantastic time - thank you Phil + Deborah you have both worked hard to give us some lovely memories. Everything from arriving hasn't been too much trouble for you. Skipper, Host, Food & Boat all 10 out of 10!
Chris and Pamela - Australia
, 19 May 14
Just an amazing trip , made easy by Phil and Deborah!
Crew: 10/10
Food: 10/10
Boat: 10/10

Annette & Tschekav - USA
, 14 May 14
Great trip! The boat as comfortable and so well maintained. Deb & Phil were great guides and took good care of everyone on-board. I felt very comfortable and able to just relax and enjoy. The food was impressive and I could not be happier with the whole experience would choose the same boat again for a future trip.
Crew: 10/10
Food: 10/10
Boat: 10/10

Phil & Deb made the trip memorable and have been fantastic. Their patience, hospitality truly encompass the Whitsunday adventure. Debs Cooking and preparation was outstanding coupled with Phil's barbeque skills completed the package. Thanks for a truly great GETAWAY :)
Caitlin & John Fox
, 29 Mar 14
Hayley and Matt were great. Both very friendly & helpful throughout the trip. Learned a lot about The Whitsundays whilst traveling which made it interesting. Would HIGHLY recommend it!! Skipper: 10 out of 10 Host: 10 out of 10 Food: 10 out of 10 BOat: 10 out of 10!!!!!
We unfortunately had lots of rain on the day one & two. But Trent & Hayley definitely kept us all smiling. They were both so informative about any questions we had & were always smiling despite our groans about the weather (would drive one crazy). So thank you both. We have had a ball on our 'minimoon' on the Whitsunday Getaway
Crew knew all the good spots on the reef to take us to. We were never rushed. Food appeared 'by magic' at exactly the right time and was healthy and delicious and plenty of it. Was great to have Whitehaven Beach to ourselves thanks to Trent knowing the schedules of the other visiting boats. Trent & Ashley were always attentive but at the same time very relaxed, letting us do what we wanted and allowing us to do as much or as little sailing as we wanted! Exceptional!
J & H Graham - UK
, 13 Feb 14
Thorough enjoyed the trip. Felt sea sick at times but it was all part of the experience. Put at ease at all times by the staff. Had a wonderful birthday with champagne and cake , many thanks.
Maureen & Katie
, 12 Feb 14
Overall this was a great trip. Trent and Ashleigh were very accommodating and so knowledgably about the area. It was great to be able to customize our trip a little. My only complaint was the bathroom, the drain did not work so there was water on the floor. The snorkelling was great along with the hike on the last day.
The trip has been such an amazing experience. Even when the weather was bas on the first day, we still had so much fun. The service + attention to details is out of this world. Better than any hotel. Nothing was too much trouble for Trent or Ashleigh and they really made the trip for us both - they are a real credit to the Whitsunday Getaway team. Thanks again for everything. We will definitely be recommending this experience. If you are ever in England give us a shout.
We loved it! Hard to imagine what would have made it better. Skipper Chey and hostie Claire were fantastic, charming, cheerful, hard working and professional. We loved the places we went to and all the activities. We would definitely recommend this trip to friends.
Joe and Maureen
, 06 Jan 14
Crew were friendly and great to hang out with. food was delicious and loved the barrier reef. Weather was perfect, relaxing trip. Even got out work out swatting the marchies!
Howard and Debbie
, 22 Dec 13
Absolutely wonderful. Sail beat all our expectations. Debbie and Phil are lovely hosts who created a relaxed and very enjoyable journey. thanks very much for all the Rickets family. We will always remember this holiday with great fondness. After rushing around this was the perfect getaway great Crew/Capt and other guests are lovely. What an exper3eiice not to be missed, paradise on earth! x x
Katie & Ian - UK
, 16 Dec 13
Very attentive & helpful, nothing too much trouble. Thoroughly enjoyed the whole experience. Very knowledgeable and willing to impart knowledge - really good snorkel spots. Very good value for money
Deepak & Kaushuka
, 15 Dec 13
Very enjoyable and we had a fantastic time. Phil and Deb were very friendly and made our trip very enjoyable. They both worked very hard and made sure we were comfortable and having a good time. Awesome trip - Thank you.
Rachel- Loved it so much! snorkelling was amazing, Trent and Clair both very competent, relaxed, always felt very safe and well fed. Thank you so much Dan- absolutely one of the BEST things I ve done in my life. Trent and Clair are very safety conscious and were excellent. Really sad to be leaving. Thank you
Terry and Amanda
, 09 Dec 13
Cant Fault it, Trent and Claire are good fun. Trent was so knowledgeable and interesting to listen to. Claire was bubbly and make super food. Will do it again for sure and hopefully talk our friends into coming as well! fantastic!
Whitsunday Getaway!
, 30 Nov 13
Wow! We had an absolutely amazing time. Phil & Deb are great. The food was delicious & surpassed our expectations. The snorkelling sites were great. A wonderful relaxing holiday.
Absolutely amazing, so happy that we decided to do this, and even more happy we chose this boat. The passengers, food, comfort everything was top notch! Trent and Claire, thank you o much for everything, you re the best!
Can we come back again week? Crew were brilliant, friendly, relaxing, welcoming and delightful. Beautiful and clean boat, thank you. Great menu, We will tell all our friends.
We loved everything, passengers, staff, boat, places we stoped. Thank you so much it was our best weekend for ever.
Our trip was magical, mainly due to the extremely friendly, relaxed, happy and helpful crew. Their flexibility ain allowing us to have a say and create some of the adventure our selves, was much appreciated. Tim and Claire were fab!
Didn't want to go home, such an amazing experience. Such a relaxed and amazing crew, hope to see them again on a return trip, very lucky to have them
Claudia and David
, 13 Nov 13
The trip was absolutely fantastic. We loved the boat and were quiet impressed we had so much space in our cabin. Deb & Phil were perfect skipper and hosts and Debs meals were really delicious. We would definitely recommend the Whitsunday Getaway to our friends and family. Everything was perfect, the boat the meals, Whitehaven Beach,the 2 snorkel spots and we were lucky enough to see turtles and huge napoleon fish. Thanks again for Deb & Phil for unforgettable trip.
AMAZING! Would love to do this trip again and definitely recommend to friends.
Couldn't have been better!!