Whitsunday Getaway 3D3N
CLOSE
View More Thumbnails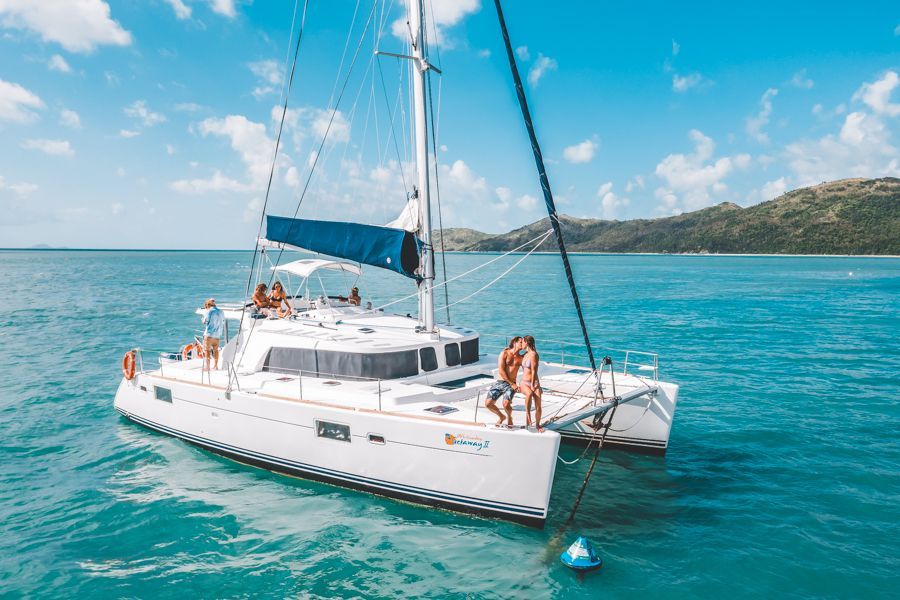 Loading...
Departure Times
Departs: 3:00pm - Please Enquire
Returns:
1:00pm - Please Enquire
Departure Point: Coral Sea Marina, Airlie Beach
Pricing Options
RRP $2350

$2230 AUD / Cabin
- Private Queen Cabin with Ensuite (sleeps 2)
(Between: 31 Mar 2022 and 31 Mar 2023)
Highlights
| | | |
| --- | --- | --- |
| Whitehaven Beach & Hill Inlet | | |
| | | |
| | Snorkelling | |
| SUPs | | |
Cruise the Whitsundays on board Whitsunday Getaway for an unforgettable escape into tropical paradise!
Enjoy the splendour of an extended trip, lasting 3 days and 3 nights - longer than most tours in the Whitsundays
The perfect escape for couples and honeymooners who want to see the Whitsundays in style
Designed to offer couples the chance to be wined and dined whilst exploring the natural beauty of the Whitsunday Islands
Large foredeck, modern saloon, and spacious private cabins, complete with private ensuites for the best in luxury and comfort
Customers who viewed this item also viewed...
Reviews
Overall Rating
5.0 / 5.0
Based on 104 reviews
Reviews by our Sailing Whitsundays customers
Hinki Bedrae + Kim Bedrae
, 09 Sep 22
Wonderful adventure, great friendly service. Thank you, Captain Craig and Natasha, for a fantastic getaway. Special thanks to Natasha for looking after us, hope to see you again on another Whitsunday Getaway!
Olyn Gril + John
, 09 Sep 22
Very inviting and friendly crew. Better than expected! Too much food! Highly recommend to have both Natasha and Craig!
Great trip. Ellie is the hostess with the mostess!
Robyn and Gavin
, 30 Jul 22
Ellie and Karl made us feel right at home. Ellie did a great job with cooking and cleaning. Thanks!
Rhonda Maguire
, 15 Jul 22
Great experience on board the catamaran. Claudia was our host for the duration of our trip and she was amazing, very knowledgeable about the Whitsundays and a fantastic chef!! Cal allowed us to make our own decisions on the trip and always offered advice and entertaining stories.
Karl and Fergus were the consummate hosts. They considered our every need and anticipated the ways to make the trip most enjoyable. Thanks for a great three days!!
Excellent everything. Thank you, Karl and Fergus.
Exceptional service and a lovely, relaxed atmosphere on board the vessel. Loved every minute of it.
A brilliant trip! Captain Karl designed the trip to suit all guests. Fergus was a brilliant host, catering exceptionally well to my dietary needs. Thank you for an excellent three days and nights!
Great trip! Stopped at wonderful locations. Awesome activities. Cool captain and host.
Fabulous trip! The food was plentiful and tasty. Maryanne is an amazing host and the skipper was terrific. Snorkeling was fun. Great trip and very enjoyable!
Great trip! Friendly and experienced crew. Good activities.
Krissy + Justin Waley
, 10 Jun 22
Amazing! Greatest experience- exceeded expectations! Karl and Steph did a fantastic job. Would definitely recommend this to friends and family!
Loved every moment of the trip. Wonderful host and captain. They went above and beyond to accommodate any request.
Awesome experience. Captain Karl and Marley were both great! Definitely see you guys again!
Fantastic experience trying new things- snorkeling and bush walks. Captain and crew were very patient and encouraging. Fresh fish a bonus! Will book again!
Great experience- Ron was so wonderful. Good food. Amazing time- we will be back!
Ross and Debbie Quick
, 24 May 22
Wow !!!! What an experience. Capt Kyle and Hostie Steph were the best. They made sure that everyone on board had an experience of a lifetime. Visited places which are rarely visited by other tourists. Snorkeling, sailing and swimming was fantastic. As was the food and hospitality. Defiantly go again
Amazing experience and great people on board!
A wonderful experience with great people, fantastic scenery and too many memories to remember.
Matthew and Debra
, 16 May 22
Marlee was an excellent worker. The meals she cooked were so yum! She was a beautiful host. Karl, the skipper, was very friendly . Well done!
Fabulous trip. Despite a rainy day the Captain ensured we all had a great time and he found safe bays for us all to enjoy.
Considering touch and go weather at the beginning, the trip was great! Great knowledge of the area and the crew made sure we got as much as possible out of the trip. Thanks!
An incredible experience on our Getaway trip! A very personalised itinerary, as Carl the skipper asked us what we wanted to do. Magical snorkelling, beautiful walks up to Whitsunday Cairn and Ngaro Cultural Site, delicious meals and wonderful service made it an unforgettable time. 10/10 would recommend!
A beautiful first overnight sailing experience! Both Carl and Bec made the whole crew feel very comfortable, making sure we all got to experience what we wanted to over the 3 nights. Loved the snorkelling experiences, large rooms, delicious meals, and watching the sunset every afternoon from the front nets after a day of exploring!
The crew was great and very flexible itinerary. Had a great chat with the crew, bonus hostie was wonderful to have along.
Had a great time, nice to have a flexible itinerary catering to the group.
Such an incredible trip! At the very beginning of the trip skipper Karl asked us all individually what we wanted to get out of our trip and he didn't disappoint (I said to relax)! Getaway is a very comfortable boat and Grace provided delicious food!
Comfortable sailing and cabins with plenty of space. Entertaining & friendly. Accommodating hosts/skipper.
Had an amazing 3 nights. Carl was amazing and so was Bec. They really made everyones experience rememberable, special and personalized. Very accommodating to seasickness needs.
Captain Carl provided the opportunity of a variety of experiences to satisfy the requests of al l onboard. Bec was supportive of all our needs.
A relaxing and enjoyable journey, many beautiful walks encounters with marine life, beautiful weather. Captain & host made the trip very memorable.
Great experience lots of adventures over the 3 days. Was even better than we expected! Carl & Bec are amazing.
It was a great experience. Captain asked us what we wanted to do & based the trip around that. Host was there to help us with anything we needed. Very comfortable environment.
Amazing trip - extremely relaxing and never a dull moment Langford Island was our favorite part. Bec & Ron added to the trip with their experience and stories.
The trip was amazing, Karl and Bec made sure our trip was perfect! So easy going. They ere flexible and catered to everyones needs and requests. Couldn't have asked for a better crew. We will definitely be back.
Gavin & Rachel
, 04 Oct 21
Fantastic adventure.
Amazing snorkelling and Whitehaven Beach! Great trip.
I have had such a great time sailing around the Whitsunday Island. Carl with his outstanding humour!
Fantastic, Great, Excellent
Absolutely fantastic! Great crew, amazing scenery, very well organised
Darren & Allison
, 27 Aug 21
A beautiful holiday, great mix pf people and facilitated by an amazing captain and host. FIVE STARS!!!!
Great flexibility, great trip.
Excellent trip. Food was delicious, plenty of it too. Lots of leisure time. Trip relaxing and would recommend to others. Thank you.
Catalina & Robertino
, 16 Aug 21
It was a lovely experience, home made food, excellent vibes and beautiful landscapes. It was more than we expected and would definitely repeat the experience.
Peter & Dillan
, 16 Aug 21
Beautifuk and relaxing. One of the mosy beautiful places on earth and the team on board were relaxed and helpful.
Fantastic "Getaway". Small group. Was excellent, spectacular locations. Ian & Bec were awesome.
Very relaxing, great swim, comfortable, would do again.
Awesome trip!! Great snorkelling and absolutely fantastic crew. Thank you, Ian and Bec! Ian's patience and encouragement with nervous snorkellers was amazing and meant we all had a fantastic experience.
Great few days. Captain was super flexible & adapted trip as guests gave ideas! Menu was diverse, ample & nicely prepped. Great trip. Quite pleased! Thanks.
Thoroughly enjoyed our trip - crew were fantastic, always eager to assist, very friendly.
Wonderful companions & experiences. Carl & Sasha very attentive, flexible & accomodating. SUPs were fabolous. Carl's humour, knowledge & sailing lessons were an added extra we didnt expect.
Great trip, great staff, great experiences, great flexibilty.
Throughly enjoyed our trip. Crew were fantastic, always eager to assist, very friendly.
I have had such a great time sailing around the Whitsunday Islands. Carl with his distinctive sense of humor and knowledge made us feel comfortable. Enjiying every single moment of our cruise. Sasha, with a beautiful smile, always suportive and keen to help everyone on board. I would definitely recommend Sailing Whitsundays to family and friends and I am looking forward to doing it again in the near future.
Guests make for a great few days. Captain was super flexible and adapted trip as guests gave ideas. Menu was diverse, ample and nicely prepped. Great trip. Quite pleased. Thanks!
Everything was fantastic, absolutely met our expectations & loved the trip. Thank you!
An excellent experience, loved every minute!
An excellent experience loved every minuet.
Everything was fantastic, absolutely met our expectations & loved the trip. Thank you
Thoroughly enjoyed our trip - crew were fantastic always eager to assist. Very friendly feedback.
A great few days, captain was super flexible an adapted trip as guests gave ideas. Menu was diverse, ample and nicely prepared. Great trip! Thanks :)
Great cruise, loads of fun. Crew very attentive. Other guests friendly & helped make experience even better. Many thanks.
Fabulous host & captain. All guests got together very well - we had much fun! An excellent experience. Thank you!
Geraint & Laura
, 13 Jul 21
Very enjoyable trip in beautiful location. Fantastic trip! Thank you!
Amazing trip. Great experience with small group!
Both Rachel & Ian were fantastic. Their knowledge & passion for sailing was fantastic & their willingness to share that passion & answer questions was great. Both had warm & welcoming personalities and made the trip a memorable one.
Loved the trip - would have likes more swimming apportunities - maybe off back of boat.
Crew were great and the other guests were lovely. Ian and Rachel shared their love and knowledge of sailing. Food was excellent. More swimming opportunities would have been good during the trip.
Great crew, great boat. Just loved everything! Thank you!
Geraint + Laura
, 08 Jul 21
Very enjoyable trip in a beautiful location. Fantastic trip thankyou!
Awesome. Definitely recommend to everyone.
It was an amazing experience. The room, bathroom, food, deck and all was top notch. The host & skipper were very friendly and helpful. Highly recommend this to all my friends and family.
This trip went above our expectations. The crew were so friendly and inviting. Any questions we had were answered politely and we werent afraid to ask. The skipper was very approachable and very knowledgeable. The trip was very intimate and well planned. It was great all around and will be highly recommended by us to anyone who is planning on visiting the Whitsundays.
We had a lovely trip. The hosts Steph and Lily were fantastic, catering to all our needs. our skipper Karl was also great, making sure everyone got a bit to do of what they wanted. thanks again.
The experience was amazing. Some of the spots we visited, we saw more exotic sea life than what I have experienced in Scuba diving. Got to try sailing, steering and learned some of the sailing words. Was awesome!
Amazing hosting! Food was always great and well prepared. Skipper and host had a wealth of knowledge and we always felt safe and well-informed. The areas the crew took us to for activities and to stay overnight were fantastic and they made us and the group very comfortable and relaxed. We felt the crew were welcoming, accommodating and would highly recommend.
Very friendly crew and knowledgeable. Food was excellent and healthy. Great snorkeling. Good timing of each part of trip. Thanks so much guys, thanks to you we had a blast!
Really enjoyed our trip on Gateaway. Will be recommend this tour to all our friends.
Itinery absolutely perfect. Captain Daves knowledge took the trip to the next level. Food - more than enough & delicious, great job Bec! Atmosphere totally wonderful, fun and friendly. We loved the trip and will be back.
We have had the most enjoyable time, relaxing good food and great company. Saw some amazing things while snorkeling. Just to go where the weather takes you, was great. Well done to all concerned.
Loved the trip, was easy to relax and enjoy the beautiful Whitsundays! Crew was great, friendly and very informative. Great spots & locations that we hadnt seen before. Bettys beach tip from Trine was the best. Great trip. Would 100% do again.
The trip was the perfect mix of relaxing and activity. Crew were friendly & overly accommodating.
Loved that we got to Whitehaven earlier than the larger groups. Great experience. Snorkeling was fantastic experience. Was great to have direction & Ron on the speed boat along with us. Overall had a fantastic experience. Ron & Bec were extremely knowledgeable, friendly and made us feel at home. Will definitely recommend to friends & family.
Joel & Jennie
, 19 Mar 20
Thank you for this 3-day sailing tour. The tour was everything we expected. The team & the food which was provided was amazing. We absolutely enjoyed our stay!
A really fun trip and made all the better because of the cheerful and informed host and skipper. Snorkelling spots were magnificent. Food great and lots of it. We have made lots of friends on our trip and will not forget it for a very long time. Can't wait to come back!
Amazing trip with friendly and knowledgeable staff! Loved every minute of it and would absolutely recommend to friends and family.
Great trip! Would recommend without hesitation, the 3 night trip is a great option to sail without feeling rushed. The crew were amazing and couldnt do enough, friendly knowledgeable making it fun for us all. Plenty of sail time with may opportunities for off-boat activities too. Jo was great with thr food and really looked after dietary requirements/requests.
Great trip! Would recommend without hesitation, the 3 night is a great option to sail without feeling rushed. The crew were amazing couldnt do enough, friendly knowledgeable making it fun for us all. Plenty of sail time with lots of opportunity for off-boat activities too. Jo the hostess was great with food and really looked after dietary requirements/requests.
Absolutely loved it on Whitsunday Getaway. We went snorkelling, paddle boarding, sunbathing, swimming and saw turtles and dolphins. The food was really yummy and the crew were great hosts. We didnt get to see that much while snorkelling but I guess thats just down to luck! Whitehaven Beach is magical and the walk was fun with the other couples who were on the trip.
Eileen and Rob Perry - UK
, 03 Nov 14
Rob and I have thoroughly enjoyed our time on Getaway. and we would certainly do this again if we are ever on this side of Australia in the future. I would like to especially thank Ashleigh for taking me on my first ever snorkel trip. She gave me the confidence to have a second snorkel, this time solo, All in all we have had a wonderful experience, also this was the first time we have sailing on a catamaran, our own boat is a monu hull. Well done crew!
From the time we came aboard we were made welcome, had a safety briefing which was full. The skipper allowed us to relax and to enjoy all aspects of sailing. He knew where to moor at night to be in comfort and where to snorkel. The hostess was alw3ays attentive to needs and produced delicious meals and snacks at appropriate times. They made a great team
Margie & Michael Lee
, 01 Sep 14
Thank you Ash and Chris for a fabulous 3 days. Local and trivial knowledge was exceptional. The boat was fabulous, weather fantastic. Food was great, friendly, wonderful crew. Ive felt well looked after and cared for 24/7. The company on the boat all round was lots of fun.
Nicoletti - Australia
, 13 Jul 14
Phil and Amder were amazing crew. We had a wonderful experience, great food, nice spots a to stay and Phil and Amber did really everything to ensure our cruise would be the best. Thanks a lot guys! will definitely recommend the getaway!
10/10
David and Gail Hudson - NZ
, 06 Jul 14
10/10
The trip was great, Phil and Amber were wonderful lots of laughs. Well worth the experience.
Amazing! WE loved Peter & Amber, they are both lovely people. Food was great. We had an amazing time Thank you !
Tom + Marcella
, 29 May 14
Exactly what we had hoped! A great size boat for exploring the islands with all the comfort to make the voyage relaxing and luxurious. The schedule was perfect with a good mix of activities and our host was always one step ahead.
Harriet and James
, 11 Apr 14
Amazing trip, nothing could be improved. Everything was perfect! Hayley + Matt were superb skippers/hosts. Loved the Whitsunday Peak walk + Langford Island snorkelling with the turtles - these two activities were our favourite.
Fantastic, very easy going and super friendly, kept informed of what was happening and made to feel great. Our enjoyment and experience was the only consideration Food excellent and plenty of it - felt like I was very special with all the gluten free food. Totally amazing :) Both Trent & Ashleigh put me at ease in the water as inexperienced snorkeller. Running out of superatives. Everything Brillant!
Andrea Sello - USA
, 17 Mar 14
Fantastic skipper and host! Ashley and Trent were very friendly, caring and knowledgeable about the boat, Whitsundays native culture, wildlife and peoples. Meals were delicious and nutritious. Great variety. Very impressed with preparations in such a small space. Very accommodating to all our requests. Many thanks for a fantastic few days!
Tess Atkinson - AUS
, 02 Feb 14
What can we say this trip was the absolute perfect end of our honeymoon. The skipper and host were amazingly hospitable and friendly. They selflessly went out of there way to make us have the ultimately relaxing and fun filled holiday. The way they cared for the boat was extremely dedicated and the way they cared for their clients was perfection. The food was the nicest food we have had in the Whitsundays, beautifully prepared and full of nutrients. If only every holiday we go on could be just as amazing.
Derek & Celia
, 10 Dec 13
thoroughly enjoyable. Both Trent and Clair could not have been more attentive, supportive friendly and helpful. The knowledge and experience Trent was willing to share made us feel like personal Friedens. Both Clair and Trent made us laugh and not once did we fell the were 'just doing their jobs' nothing was too much trouble and they were happy everyday, everything from sorting out the toilets to chatting in the evenings. With staff like this you will always have happy customers. 8 people was a great number, luckily we all got on so had an intimate feel about the whole holiday. Please can you install blue lights under boat!! Thank you for everything.
Excellent fun happy crew and skipper. Plenty of well-prepared yummy food. Always happy to answer and explain any questions. I would definitely recommend to everybody! Snorkeling and all activities were great.