Whitsunday Getaway 3D3N
CLOSE
View More Thumbnails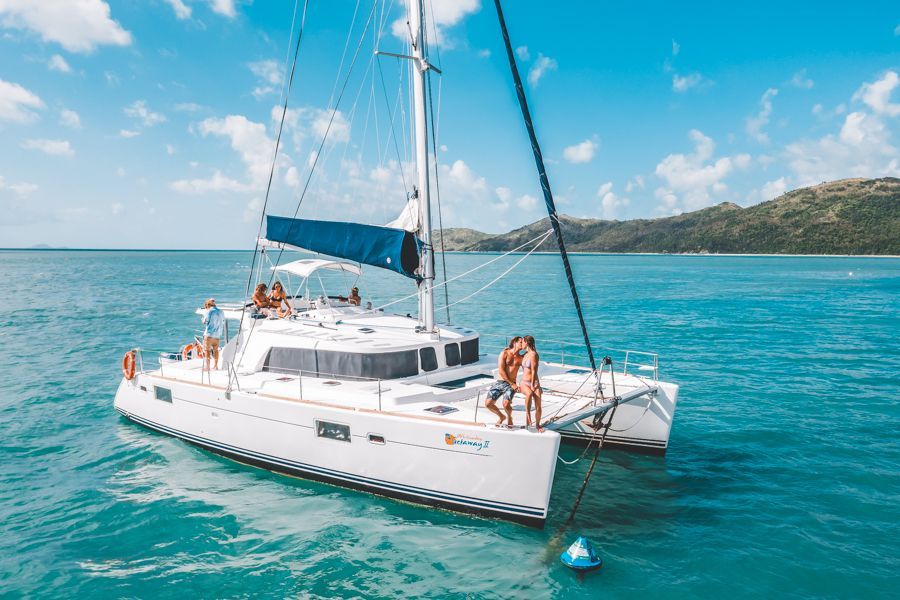 Loading...
Departure Times
Departs: 3:00pm - Friday
Returns:
1:00pm - Monday
Departure Point: Airlie Beach
Pricing Options
RRP $1000

$975 AUD / Person
- Private Queen Cabin with Ensuite (requires 2 people) ($1950 Total)
(Between: 01 Apr 2021 and 31 Mar 2022)
Cruise the Whitsundays on board Whitsunday Getaway for an unforgettable escape into paradise!
Enjoy an extended trip, lasting 3 days and 3 nights - longer than most tours in the Whitsundays
The perfect escape for couples and honeymooners who want to see the Whitsundays in style
This intimate trip is designed to offer couples the chance to be wined and dined while exploring the beauty of the Whitsunday Islands
Large foredeck, modern saloon and roomy private cabins, complete with ensuites for the best in luxury and comfort
For 3 days and 3 nights, you can enjoy the tropical paradise of the Whitsundays in style on board Whitsunday Getaway. This extended trip will allow you to see see first hand why this prestigious vessel is ranked as one of Sailing Whitsundays' favourites!
Highlights & Features:
Stand-up paddleboards
Professional and friendly crew
Spacious cabins with queen-sized beds and ensuites
Individually air conditioned cabins and saloon
Gourmet meals included, freshly prepared
All snorkelling equipment and tuition included
Intimate group sailing - max 8 guests
Spacious flybridge and a forward outdoor lounge
Spacious flybridge with a 360 degree view and a forward outdoor lounge
Getaway II is a Lagoon 440 and is 13 meters in length
Enjoy an onboard Aussie barbecue
BYO (bring your own) alcohol
Whitsunday Getaway is an exclusive way to experience the stunning Whitsunday Islands in style and at a relaxed pace. With friendly crew, gourmet food and spacious accommodation, you will love seeing the Whitsundays on one of our deluxe sailing catamarans. Start building your once in a lifetime memory right here... it's time to Getaway!

---
Important Information
Each passenger must have a clear understanding of safety directions and instructions given in English by the crew and be able to complete the required safety forms in English. A passenger is only able to participate in water activities if they have a level of swimming experience. If a passenger is unable to swim they will still be able to participate in the sailing trip, but will not but able to participate in water activities such as snorkelling. In order to meet our minimum safety standards, passengers must be able to exit the vessel unassisted in the unlikely case of an emergency. If you have any questions please do not hesitate to ask us.
Looking for a different Whitsunday Getaway trip?
Sample Itinerary
Whitsunday Getaway is owned by local couple Rich and Veronica, who care a lot about their vessel and the type of experience they provide and aim to make each and every trip an unforgettable one. The flexible itinerary allows passengers to see all the best of the Whitsundays, where keen sailors can take the helm, enthusiastic snorkellers can spend plenty of time in the warm tropical waters, and those wanting rest and relaxation can sit back and enjoy the Whitsundays weather! You will also get to visit Whitehaven Beach and Hill Inlet to enjoy unbeatable views, as well as taking plenty of time to relax on the sunny, beautiful beaches of the Whitsunday Islands. Spend time enjoying an authentic sailing experience, complete with sails up and wind in your hair, as you revel in the beauty of your surroundings.
Whitehaven Beach
Whitsunday Getaway will whisk you off towards the world famous Whitehaven Beach, where you can relax and enjoy the soft silica sands Here you can spend as long as you like sunbathing on the pure white sands, or exploring the variety of marine life in the shallow waters.

Hill Inlet
Nearby Whitehaven Beach is a low incline bush walk to Hill Inlet lookout - a viewpoint overlooking the 7km stretch of Whitehaven Beach and Hill Inlet. Here you will get to witness one of the most beautiful sights in all of Australia, the swirling sands of Hill Inlet.

Snorkeling
The Whitsunday Islands are an important part of the Great Barrier Reef. The fringing reefs that surround the Whitsunday Islands are a snorkeler's paradise, with its protected bays and coves, teeming with colourful and diverse marine life. Whitsunday Getaway carries a full compliment of snorkel gear aboard including stinger suits/wet suits, fins, mask and flotation assistance devices to make every snorkelling experience an unforgettable one. Snorkel with schools of tropical fish, and be amazed by the bright and vivid colours of the spectacular coral formations, keeping an eye out for sea turtles, Clownfish or the huge Maori Wrasse. The warm waters and calm seas of the Whitsundays is ideal for snorkeling year round, with an average water temperature of 25 degrees.

Stand-Up Paddle
Paddleboards allow for a great view of the surrounding area, and are a fun way to explore the reef and coastline! Keep on enjoying the sun as you glide on the surface of the reefs, having fun keeping your balance and paddling around. From above the water, you will get to enjoy the reef in a new way as you quietly make your way around while fish and other marine life hang out below. Great for spotting turtles, stand-up paddle boards are becoming popular all over the world.



Sailing
What better way to explore the 74 Whitsunday Islands than with sails up and waves below. Sailing is definitely a prime focus of Whitsunday Getaway's tours, adding to the sense of serenity of being on the water. Sit back and watch how it's done as the crew set the sails or take part and help. Sails up and engines off with only the crashing sounds of waves on the bow, this is the ultimate escape!

Layout
Whitsunday Getaway has four spacious cabins, all with queen-sized beds and private ensuites.
Tap the hotspots on the floor plan below to view Whitsunday Getaway.
Loading...
More Information
What To Bring
Please bring only a small soft bag with:
Change of clothes
Swimwear
Toiletries
Insect repellent
Water bottle to refill
Camera
Comfortable walking shoes
Sun protection (sunscreen, hat, sunnies etc.)
Warm clothes/pullover for evenings (seasonal)
You will also need to bring your own alcoholic beverages, available for purchase in town. No glass bottles permitted (with the exception of wine).
Excess luggage can be stored at several places in town. Please click here for more information.
What's Included
Skipper
Host
Drinking water
Meals
Linen
Wetsuit hire
Bath towel
Beach towel
Snorkelling equipment*
Marine Park fees
*Regular snorkelling equipment supplied. If you require any additional equipment such as a prescription snorkel mask, please contact Aqua Dive (refer to "What's Extra") for hire options.
What's Extra
BYO alcohol - no glass bottles, with the exception of wine and champagne. Soft drinks are available for purchase on board. A $30 surcharge may apply for some dietary requests and requirements.
Soft drinks and bottled water
Alcohol (BYO - refer to "What to Bring" for more info.)
Additional snorkel equipment (prescription masks etc.)
Children equipment (life jackets, stingersuits, fins, masks, etc.)*
Peak holiday seasons (i.e. Christmas, Easter, New Years) may incur a surcharge. Please enquire at the time of booking.
*IMPORTANT: Whitsunday Getaway does not supply equipment for children. Please ensure you have the equipment needed prior to departure. For hire options, please contact Aqua Dive.
Aqua Dive Hire and Supplies
Coral Sea Marina (North Village)
(07) 4946 4074
Terms and Conditions
---
Important Information:
To enable us to meet our duty of care and establish an acceptable level of risk, EACH passenger must have a clear understanding of safety directions and instructions given in English by the crew and be able to complete the required safety forms in English. A passenger is only able to participate in water activities if they have a level of swimming experience. If a passenger is unable to swim they will still be able to participate in the sailing trip, but will not but able to participate in water activities such as snorkelling. In order to meet our minimum safety standards, passengers must be able to exit the vessel unassisted in the unlikely case of an emergency.
---
Your Responsibilities:
Please advise us before booking if any passengers are under 18 years old to ensure this is the appropriate trip.
You must reconfirm all booked tours prior to travel as specified on your voucher. If applicable, notes such as dietary requirements, pick-up locations and additional fees should also be confirmed at this time. Reconfirmations cannot be actioned through Sailing Whitsundays/Mr Travel, and must be done so directly through the Service Operator as specified on each ticket.
It is your responsibility to notify us of ticket discrepancies. Please read through the details on your voucher thoroughly to ensure all details such as passenger names, ages and dates of travel on vouchers are correct.
It is the responsibility of all passengers travelling to advise both your travel agent at the time of booking and vessel check-in agent before boarding of any medical conditions including food allergies you may suffer from.
You need to allow adequate time to check-in prior to the specified departure time.
---
Prices/Extra Costs:
All prices are stated in Australian dollars and include GST. Surcharges over peak holiday seasons may apply.
The Service Operator reserves the right to alter prices and extra costs. Extra costs may include EMC fees, Stingersuit/Wetsuit Hire, Luggage Storage, Insurance, Linen Hire, National Park Fees, Fuel Levies, Dietary Fees, etc. Bonds may also apply.
We will also endeavour to communicate these extra costs with you at the time of booking, and on your ticket. However, it is your responsibility to confirm which (if any) additional costs apply with each Service Operator upon reconfirming your trip.
---
Travel Risk/Insurance:
It should be noted that adventure travel involves risk. Whilst we make every effort to safeguard clients, we cannot be responsible for personal injury or loss due to the actions of our clients which are beyond our control. We highly recommend that all clients have travel insurance covering illness, injury, loss or damage to personal belongings and not being able to travel on the confirmed date of departure. You should also ensure your travel insurance will cover special circumstances including weather events preventing guests from travelling to their tour departure destination and cancelled flights due to unforeseen circumstances.
---
Merchant Fees:
Please be aware operators pass on credit card merchant fees so there is a non-refundable 1% surcharge for VISA and MASTERCARD card purchases.
---
Other:
Terms and Conditions (including the Cancellation Policy) are subject to change. The most recent versions can be found online on the relevant product pages.
All ticket/voucher reissues attract a $20 administration fee.
---
Cancellations
---
Client Cancellations:
All cancellations forfeit 25% of the recommended retail price (RRP) - not the discounted/sale price. No shows or client cancellations made within 30 days of departure forfeit 100% of the total ticket price.
Transfers between tours can be made at the suppliers discretion, however, it should be noted that supplier fees may apply. Tour transfers also incur a $20 administration fee.
It is compulsory that all cancellation requests are in writing and sent via email to admin@mr-travel.com. Cancellations attempted via online chat or phone will not be actioned.
---
Supplier Cancellations:
The Service Operator reserves the right to alter prices, alter itineraries, apply a fuel surcharge, cancel departures, arrange alternative transport and vary itineraries and services if necessary.
All departures and itineraries are subject to weather. Tours may be changed or cancelled for any reason at the discretion of the Service Operator. If the Service Operator has to cancel the trip or activity (prior to departure) and we cannot offer a suitable alternative, then a refund will be given minus a 20% administration fee and any associated card fees. We strongly recommend that you have travel insurance, especially during the wet season.
In the unlikely event of your trip being cancelled or stood down, all guest communication is required to go through our Online Store via telephone or email. While there is a Sailing Whitsundays retail outlet located Airlie Beach, please be aware that they operate as a separate entity and are unable to access reservations made by the Mr Travel online department.
---
Refunds:
All refunds are in Australian Dollars and must be made to the card of payment. Sailing Whitsundays/Mr Travel is not liable for exchange rate fluctuations or fees, or any other merchant/bank fees associated with domestic and/or international transactions.
Where a full refund is applicable, there is the option to transfer the whole cost of the tour to another tour or "Credit" to avoid the administration fee. A transfer fee of $20 will apply.
You will be emailed confirmation once the refund has been processed. Once the refund has been processed, it may still take time for the banks to clear the amount. Please allow 7-10 business days for the funds to clear into Australian accounts and up to 21 business days for international accounts.
---
Accountability/Misconduct:
All Service Operators have the right to provide client feedback and to cancel bookings based off of feedback from other Service Operators.
Please enjoy your travel experience in a kind and responsible manner.
Sailing Whitsundays/Mr Travel will treat this as any normal client cancellation and therefore the cancellation fees stated in the Client Cancellation Policy will apply.
---
Thank you for booking with our East-Coast travel experts here at Mr Travel/Sailing Whitsundays. If you would like any further advice, assistance in arranging accommodation, transfers or additional tours please get in touch.
---
"A really fun trip and made all the better because of the cheerful and informed host and skipper. Snorkelling spots were magnificent. Food great and lots of it. We have made lots of friends on our trip and will not forget it for a very long time. Can't wait to come back!"
Phil & Tricia
"Amazing trip with friendly and knowledgeable staff! Loved every minute of it and would absolutely recommend to friends and family."
Greg
"Great trip! Would recommend without hesitation, the 3 night trip is a great option to sail without feeling rushed. The crew were amazing and couldnt do enough, friendly knowledgeable making it fun for us all. Plenty of sail time with may opportunities for off-boat activities too. Jo was great with thr food and really looked after dietary requirements/requests."
James
"Great trip! Would recommend without hesitation, the 3 night is a great option to sail without feeling rushed. The crew were amazing couldnt do enough, friendly knowledgeable making it fun for us all. Plenty of sail time with lots of opportunity for off-boat activities too. Jo the hostess was great with food and really looked after dietary requirements/requests."
James
"Absolutely loved it on Whitsunday Getaway. We went snorkelling, paddle boarding, sunbathing, swimming and saw turtles and dolphins. The food was really yummy and the crew were great hosts. We didnt get to see that much while snorkelling but I guess thats just down to luck! Whitehaven Beach is magical and the walk was fun with the other couples who were on the trip."
Steph
"Rob and I have thoroughly enjoyed our time on Getaway. and we would certainly do this again if we are ever on this side of Australia in the future. I would like to especially thank Ashleigh for taking me on my first ever snorkel trip. She gave me the confidence to have a second snorkel, this time solo, All in all we have had a wonderful experience, also this was the first time we have sailing on a catamaran, our own boat is a monu hull. Well done crew! "
Eileen and Rob Perry - UK
"From the time we came aboard we were made welcome, had a safety briefing which was full. The skipper allowed us to relax and to enjoy all aspects of sailing. He knew where to moor at night to be in comfort and where to snorkel. The hostess was alw3ays attentive to needs and produced delicious meals and snacks at appropriate times. They made a great team"
Quarrie - UK
"Thank you Ash and Chris for a fabulous 3 days. Local and trivial knowledge was exceptional. The boat was fabulous, weather fantastic. Food was great, friendly, wonderful crew. Ive felt well looked after and cared for 24/7. The company on the boat all round was lots of fun."
Margie & Michael Lee
"Phil and Amder were amazing crew. We had a wonderful experience, great food, nice spots a to stay and Phil and Amber did really everything to ensure our cruise would be the best. Thanks a lot guys! will definitely recommend the getaway!
10/10"
Nicoletti - Australia
"10/10
The trip was great, Phil and Amber were wonderful lots of laughs. Well worth the experience. "
David and Gail Hudson - NZ
"Amazing! WE loved Peter & Amber, they are both lovely people. Food was great. We had an amazing time Thank you !"
Heather
"Exactly what we had hoped! A great size boat for exploring the islands with all the comfort to make the voyage relaxing and luxurious. The schedule was perfect with a good mix of activities and our host was always one step ahead."
Tom + Marcella
"Amazing trip, nothing could be improved. Everything was perfect! Hayley + Matt were superb skippers/hosts. Loved the Whitsunday Peak walk + Langford Island snorkelling with the turtles - these two activities were our favourite."
Harriet and James
"Fantastic, very easy going and super friendly, kept informed of what was happening and made to feel great. Our enjoyment and experience was the only consideration Food excellent and plenty of it - felt like I was very special with all the gluten free food. Totally amazing :) Both Trent & Ashleigh put me at ease in the water as inexperienced snorkeller. Running out of superatives. Everything Brillant! "
Alex
"Fantastic skipper and host! Ashley and Trent were very friendly, caring and knowledgeable about the boat, Whitsundays native culture, wildlife and peoples. Meals were delicious and nutritious. Great variety. Very impressed with preparations in such a small space. Very accommodating to all our requests. Many thanks for a fantastic few days! "
Andrea Sello - USA
"What can we say this trip was the absolute perfect end of our honeymoon. The skipper and host were amazingly hospitable and friendly. They selflessly went out of there way to make us have the ultimately relaxing and fun filled holiday. The way they cared for the boat was extremely dedicated and the way they cared for their clients was perfection. The food was the nicest food we have had in the Whitsundays, beautifully prepared and full of nutrients. If only every holiday we go on could be just as amazing. "
Tess Atkinson - AUS
"thoroughly enjoyable. Both Trent and Clair could not have been more attentive, supportive friendly and helpful. The knowledge and experience Trent was willing to share made us feel like personal Friedens. Both Clair and Trent made us laugh and not once did we fell the were 'just doing their jobs' nothing was too much trouble and they were happy everyday, everything from sorting out the toilets to chatting in the evenings. With staff like this you will always have happy customers. 8 people was a great number, luckily we all got on so had an intimate feel about the whole holiday. Please can you install blue lights under boat!! Thank you for everything."
Derek & Celia