Whitsunday Getaway 3D3N
CLOSE
View More Thumbnails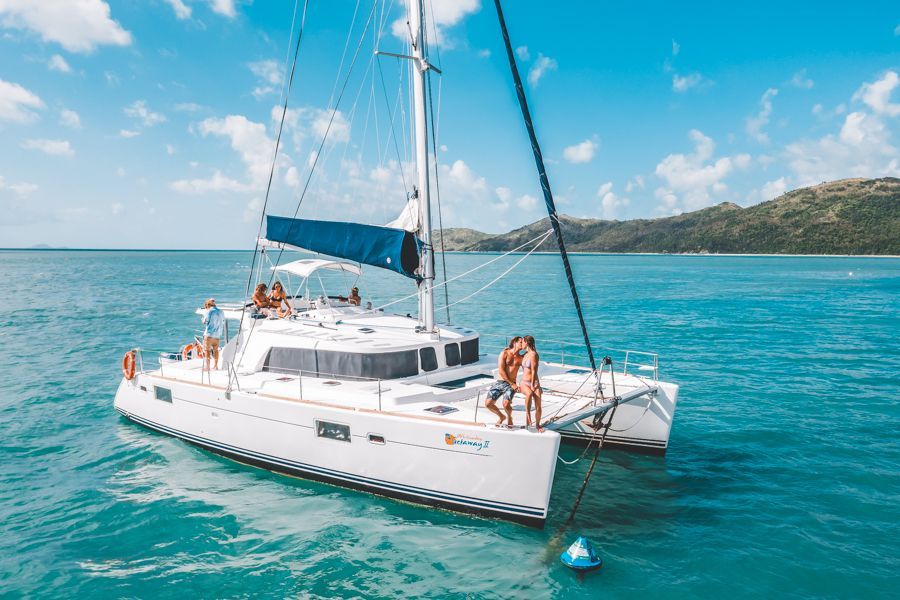 Loading...
Departure Times
Departs: 3:00pm - Please Enquire
Returns:
1:00pm - Please Enquire
Departure Point: Coral Sea Marina, Airlie Beach
Pricing Options
RRP $995

$845 AUD / Person
- Private Queen Cabin with Ensuite (requires 2 people) ($1690 Total)
(Between: 29 Jul 2021 and 28 Sep 2021)
Cruise the Whitsundays on board Whitsunday Getaway for an unforgettable escape into paradise!
Enjoy an extended trip, lasting 3 days and 3 nights - longer than most tours in the Whitsundays
The perfect escape for couples and honeymooners who want to see the Whitsundays in style
This intimate trip is designed to offer couples the chance to be wined and dined while exploring the beauty of the Whitsunday Islands
Large foredeck, modern saloon and roomy private cabins, complete with ensuites for the best in luxury and comfort
On Sale Now - Marked down from $995 to only $845 AUD per person!
"Awesome trip!! Great snorkelling and absolutely fantastic crew. Thank you, Ian and Bec! Ian's patience and encouragement with nervous snorkellers was amazing and meant we all had a fantastic experience."
Richard
"Great few days. Captain was super flexible & adapted trip as guests gave ideas! Menu was diverse, ample & nicely prepped. Great trip. Quite pleased! Thanks. "
Karen
"Thoroughly enjoyed our trip - crew were fantastic, always eager to assist, very friendly. "
Joanne
"Everything was fantastic, absolutely met our expectations & loved the trip. Thank you!"
Peter
"An excellent experience, loved every minute!"
Vicki & Rick
"Great cruise, loads of fun. Crew very attentive. Other guests friendly & helped make experience even better. Many thanks. "
Leigh
"Fabulous host & captain. All guests got together very well - we had much fun! An excellent experience. Thank you!"
Barbara
"Very enjoyable trip in a beautiful location. Fantastic trip thankyou!"
Geraint + Laura
"Awesome. Definitely recommend to everyone. "
Ash + Marcia
"A really fun trip and made all the better because of the cheerful and informed host and skipper. Snorkelling spots were magnificent. Food great and lots of it. We have made lots of friends on our trip and will not forget it for a very long time. Can't wait to come back!"
Phil & Tricia
"Amazing trip with friendly and knowledgeable staff! Loved every minute of it and would absolutely recommend to friends and family."
Greg
"Great trip! Would recommend without hesitation, the 3 night trip is a great option to sail without feeling rushed. The crew were amazing and couldnt do enough, friendly knowledgeable making it fun for us all. Plenty of sail time with may opportunities for off-boat activities too. Jo was great with thr food and really looked after dietary requirements/requests."
James
"Great trip! Would recommend without hesitation, the 3 night is a great option to sail without feeling rushed. The crew were amazing couldnt do enough, friendly knowledgeable making it fun for us all. Plenty of sail time with lots of opportunity for off-boat activities too. Jo the hostess was great with food and really looked after dietary requirements/requests."
James
"Absolutely loved it on Whitsunday Getaway. We went snorkelling, paddle boarding, sunbathing, swimming and saw turtles and dolphins. The food was really yummy and the crew were great hosts. We didnt get to see that much while snorkelling but I guess thats just down to luck! Whitehaven Beach is magical and the walk was fun with the other couples who were on the trip."
Steph
"Rob and I have thoroughly enjoyed our time on Getaway. and we would certainly do this again if we are ever on this side of Australia in the future. I would like to especially thank Ashleigh for taking me on my first ever snorkel trip. She gave me the confidence to have a second snorkel, this time solo, All in all we have had a wonderful experience, also this was the first time we have sailing on a catamaran, our own boat is a monu hull. Well done crew! "
Eileen and Rob Perry - UK
"From the time we came aboard we were made welcome, had a safety briefing which was full. The skipper allowed us to relax and to enjoy all aspects of sailing. He knew where to moor at night to be in comfort and where to snorkel. The hostess was alw3ays attentive to needs and produced delicious meals and snacks at appropriate times. They made a great team"
Quarrie - UK
"Thank you Ash and Chris for a fabulous 3 days. Local and trivial knowledge was exceptional. The boat was fabulous, weather fantastic. Food was great, friendly, wonderful crew. Ive felt well looked after and cared for 24/7. The company on the boat all round was lots of fun."
Margie & Michael Lee
"Phil and Amder were amazing crew. We had a wonderful experience, great food, nice spots a to stay and Phil and Amber did really everything to ensure our cruise would be the best. Thanks a lot guys! will definitely recommend the getaway!
10/10"
Nicoletti - Australia
"10/10
The trip was great, Phil and Amber were wonderful lots of laughs. Well worth the experience. "
David and Gail Hudson - NZ
"Amazing! WE loved Peter & Amber, they are both lovely people. Food was great. We had an amazing time Thank you !"
Heather
"Exactly what we had hoped! A great size boat for exploring the islands with all the comfort to make the voyage relaxing and luxurious. The schedule was perfect with a good mix of activities and our host was always one step ahead."
Tom + Marcella
"Amazing trip, nothing could be improved. Everything was perfect! Hayley + Matt were superb skippers/hosts. Loved the Whitsunday Peak walk + Langford Island snorkelling with the turtles - these two activities were our favourite."
Harriet and James
"Fantastic, very easy going and super friendly, kept informed of what was happening and made to feel great. Our enjoyment and experience was the only consideration Food excellent and plenty of it - felt like I was very special with all the gluten free food. Totally amazing :) Both Trent & Ashleigh put me at ease in the water as inexperienced snorkeller. Running out of superatives. Everything Brillant! "
Alex
"Fantastic skipper and host! Ashley and Trent were very friendly, caring and knowledgeable about the boat, Whitsundays native culture, wildlife and peoples. Meals were delicious and nutritious. Great variety. Very impressed with preparations in such a small space. Very accommodating to all our requests. Many thanks for a fantastic few days! "
Andrea Sello - USA
"What can we say this trip was the absolute perfect end of our honeymoon. The skipper and host were amazingly hospitable and friendly. They selflessly went out of there way to make us have the ultimately relaxing and fun filled holiday. The way they cared for the boat was extremely dedicated and the way they cared for their clients was perfection. The food was the nicest food we have had in the Whitsundays, beautifully prepared and full of nutrients. If only every holiday we go on could be just as amazing. "
Tess Atkinson - AUS
"thoroughly enjoyable. Both Trent and Clair could not have been more attentive, supportive friendly and helpful. The knowledge and experience Trent was willing to share made us feel like personal Friedens. Both Clair and Trent made us laugh and not once did we fell the were 'just doing their jobs' nothing was too much trouble and they were happy everyday, everything from sorting out the toilets to chatting in the evenings. With staff like this you will always have happy customers. 8 people was a great number, luckily we all got on so had an intimate feel about the whole holiday. Please can you install blue lights under boat!! Thank you for everything."
Derek & Celia