On Ice
CLOSE
View More Thumbnails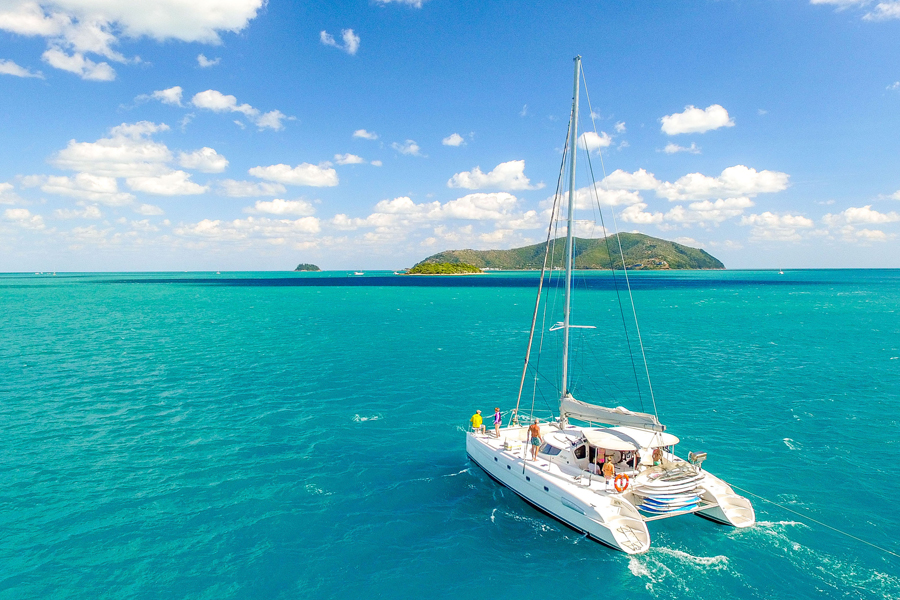 Loading...
Departure Times
Departs: 4:00 pm
Returns:
2:00 pm
Departure Point: Coral Sea Marina, Airlie Beach
Pricing Options
RRP $630

$599 AUD / Person
- Shared Single Accommodation
(Between: 01 Jul 2023 and 31 Mar 2024)
RRP $820

$789 AUD / Person
- Private Double/Twin Cabin (requires 2 people) ($1578 Total)
(Between: 01 Jul 2023 and 31 Mar 2024)
RRP $845

$815 AUD / Person
- Private Double Cabin with Ensuite (requires 2 people) ($1630 Total)
(Between: 01 Jul 2023 and 31 Mar 2024)
RRP $845

$815 AUD / Person
- Private Double/Twin Cabin with Ensuite (requires 2 people) ($1630 Total)
(Between: 01 Jul 2023 and 31 Mar 2024)
RRP $630

$609 AUD / Person
- Private Triple Cabin (requires 3 people) ($1827 Total)
(Between: 01 Jul 2023 and 31 Mar 2024)
RRP $774

$742 AUD / Person
- Private Triple Cabin with Ensuite (requires 3 people) ($2226 Total)
(Between: 01 Jul 2023 and 31 Mar 2024)
Highlights
| | | |
| --- | --- | --- |
| Whitehaven Beach & Hill Inlet | | |
| | | GBR Island Reefs |
| Snorkelling | | |
Sail and play in paradise on On Ice's ever-popular adventure tour!
An unrivalled collection of water toys makes On Ice one of the most popular trips in the Whitsundays
With a maximum of 10 guests, this tour is ideal for small group sailing
The perfect sailing experience for anybody seeking fun and adventure, complete with a relaxed and social atmosphere
Great for couples, families and groups of friends
*On Ice has an identical sister vessel, Entice. Please visit the Entice page for further availability if needed.
Frequently Asked Questions
Can I bring children on this trip?

Yes but there is a minimum age of 6 years old. It also may be subject to change in the future.
Can I bring my own alcohol on board?

You are permitted to bring your own alcohol. Just keep in mind that small glass bottles are not permitted (like beer, cider, pre-mixed spirits).
Are there air-conditioners on board?

Unfortantely there are no air-conditioners on board, but the cooling seabreeze should do the trick!
Do you cater towards vegetarian, vegan etc diets?

Yes, however there is a small fee of $10 per day for special dietary requirements.
Can I smoke on board?

Yes, but only in designated smoking areas.
What if my phone dies? Can I charge my phone?

As there is limited service throughout the Whitsunday Islands, and no Wifi on board, you likely won't need your phone. However, if your phone does happen to die, there are USB charging ports in the cabins and main saloon for you to use.
Are there hot showers onboard?

There are 4 bathrooms onboard. 3 are ensuites and 1 is shared and they each have hot water showers.
Reviews
Overall Rating
4.9 / 5.0
Based on 89 reviews
Reviews by our Sailing Whitsundays customers
great loved the trip great staff Julia and Renee
Jozsef Zopcsak
, 14 Sep 23
It was a very nice experience to sail with On Ice. It is a small enough boat, so people engage with each other. The crew (Kat and Bordeaux) we very attentive, when they noticed that we like sailing, we did some extra rounds to have a nice experience.
Elizabeth Clare Sachse
, 11 Sep 23
Simply the best! A perfect balance of relaxation, beaching,walking, snorkeling, wildlife watching and did I mention eating the freshly prepared meals and snacks! Each more tasty than the previous one! Thanks Katie (our host). Loved Toby's (skipper) broad knowledge of wildlife, sailing and best spots
Ann-Sophie Teiche
, 10 Sep 23
We had the best time during our sailing trip with Toby and Caty. Toby showed us the best places and snorkel spots and always made sure that there weren't a lot of tourist around:)Caty made amazing food for us during the whole trip and they both were courteous. We will definitely come back! :)
Absolutely loved it. Toby and Katie were amazing and very knowledgeable. Definitely recommend ??
Jacinta Pollard
, 04 Sep 23
We had a fabulous trip with Toby and Kat. They timed our trip so we were away from the crowds and could relax and take our time. They were knowledgeable about the local area and showed us whales, dolphins, turtles, stringrays, crabs and heaps of fish. They looked after us very well
Raphaël Serrat
, 31 Aug 23
Amazing experience and fantastic crew!
Amazing trip. Everything was perfect. Jay and Aoife were faultless. Thanks so much for a stunning trip, would recommend it to everyone.
Mariska Vermeer
, 08 Aug 23
Absolutely fantastic! Despite the weather we have enjoyed exploring the Whitsundays. A memory not soon to forget. The crew was great, shared their knowledge, prepared our fantastic meals and looked for the best places to explore.
Rachael Gregory
, 23 Jul 23
Our 2night sailing trip was the highlight of our journey to the Whitsundays. Our double bed ensuite cabin was very comfortable and functional. The food was abundant and delicious, particularly as a vegetarian. Great snorkeling, would have liked more opportunities to use the equipment onboard.
Silvia Avanzini
, 20 Jul 23
We had a fantastic 3D/2N trip on On Ice. The trip was well organized, stopping at all the most famous and beautiful areas in the Whitsundays, as well as several gorgeous snorkeling spots. The room was comfortable and clean. The food was tasty and plentiful. The team was friendly and knowledgeable.
We loved it. Our room was roomy and so was the ensuite. The boat never felt crowded, plenty of room for everyone. The food was good basic food prepared well and very tasty. The skipper was very friendly and shared a lot of information about the area, the reef and the indigenous culture and people.
Maxima Rademacher
, 27 Jun 23
I loved staying on the boat for two nights. The crew was amazing. Our skipper Isaac and our host Maike made sure we had the best time and joined us on some activities. We were able to decide what we wanted to do and both of them tried there best to make this happen.
Tanya Schneider
, 26 Jun 23
Had a fabulous trip, Greg was a highly experience skipper and Katie kept us well fed.
Lisa Steinkopf
, 04 Jun 23
great boat with great relaxed crew (oscar and kathy). The cabins were big enough for the four of us. Kathy's food (in the small space and with the boat rocking) was outstanding and added a lot to our great experience. The snorkeling spots were well chosen and we saw a lot of great things.
The tour was really good. The crew was nice and funny, the food was awesome and all in all I had a great time on the boat. It never feels crowded and the snorkeling spots were really nice. Only four stars though because the sea scooter wasn't working, I was really looking forward to that.
Excellent!! Gordo & Katie we're incredible
Barbara Robson
, 06 May 23
Fantastic experience. Two full days of sailing, snorkeling, and exploring. Heaps of wildlife to see, coral reefs in good condition and perfect weather. Good food and great crew. Whitehaven Beach was great — I thought it might be overhyped, but not at all.
Fantastic experience. The crew was incredibly friendly and knowledgeable. Shout out to Gordo & Eva! The food was great - lots of fresh fruit & veggies, we never went hungry. I swam with the biggest sea turtle I've ever seen, saw tons of amazing fish and coral & even spotted dolphins.
Chris Davidson
, 31 Mar 23
Beautiful experience. Oscar, Dan and Eva were great hosts. Dan seems very capable at being the skipper and he and Dan obviously work well together. Eva was so pleasant and helpful. All three made us feel welcome and looked after. Not just good at "the job" but lovely people. I'd definitely recommend
We had a fantastic time, with Greg And Dan looking after us all the way. Greg is very experienced and kept us safe, entertained and informed. Dan kept us satiated with his culinary skills! A totally memorable experience!
Lovely experience, fantastic crew who were professional and very knowledgable on questions relating to the tour and the reef. Except for the noisy toilet when flushed,i would say if you are thinking of it..book it!!
Had a great time! The crew went out of their way to cater to my dietary requirements. Got a chance to do all the activities. The crew was very experienced and we felt safe even when the weather was not favourable. Overall was a GREAT trip! Would recommend :)
Ignacio Barreras Sierra
, 12 Feb 23
Nice crew, well organized tour and food was really good. The boat and room was smaller than expected and private bathroom had to be shared with crew which was not informed in advance and it was sold as ensuite private. The tour could be done in 1 day instead of 2 if departure done in the morning.
Fantastic!! Hosts (Dave and Simone) were excellent, obviously experienced and knew the best spots to take us for the best experiences and sights. Very considerate of all their guests needs. Food superb. Would highly recommend. Felt very well looked after
Myles Thompson
, 25 Jan 23
We had a great time sailing the Whitsundays aboard "On Ice". Made for a memorable trip to propose to my girlfriend (now fiance) on Whitehaven beach. Captain Dave had a great sense of humour, keeping us laughing the entire time. And we got to share the experience with amazing people from around the w
Alessandro Rastelli
, 10 Jan 23
It was very well organized, and let us explore beautiful places far from the crowds. Maybe some more "warmth" by the staff would have made it even more magic.
Mayrhofer Ilse
, 27 Dec 22
We would like to say THANK YOU! the two days were great. snorkeling in the most beautiful places, wonderful beaches, good company with good food and cool music. It was really an experience and we enjoyed it very much!
A great trip with Capt 'Crispy' Dave and First Mate Steph. The snorkelling was great, and we loved Whitehaven Beach, Manta Ray Bay and the paddleboarding too. So good to come back under sail. We were well looked after the whole time, thanks again. The Masters Family
Our trip was delayed due to Covid, but it was very easy to reschedule. We ended up sailing 18 months later in December 2022. I can only describe our experience as perfect! We were on 'Entice' with the crew, Dave, Simone and Latika, who were fantastic. I highly recommend this company, boat and crew.
Karis Archibald
, 19 Dec 22
We really enjoyed our trip, and Dave and Simone were great hosts. It was very relaxing, the rooms were comfortable and the food was great. We will definitely try to do another trip in the future.
We had a great time on our 2 day 2 night sailing cruise. We got to sail, snorkel at 3 different locations to see plenty of fish and coral, and walk around the beautiful Whitehaven beach. The crew were always in control and our safety was never in question.
Desiree Stocker
, 15 Dec 22
It was an amazing trip with realy nice food. Snorkling with all the fish was stunning. We enjoyed evey minute on this trip.
We both had an amazing time, great crew, good food, all round fantastic trip, would highly recommend
Rebecca Biddle
, 12 Dec 22
We had a great trip, it was relaxed with a good pace, friendly and informative crew and the sailing and snorkeling were great, we would definitely recommend it!
Great trip, once in a lifetime experience. Well looked after by Cecilia and Kane.
Randal Moseley
, 20 Nov 22
Fantastic, exceeded all expectations. Captain Dave had lots of great stories and experiences to share. First mate Steph was very helpful and a great cook. Whitehaven beach was stunningly beautiful. Snorkeling along the "wonder wall" was outstanding. Trip is a "must do" for anyone visiting Australia!
Melanie SARSFIELD
, 17 Nov 22
Dave & Celia were very welcoming from the minute we met them. The boat was very comfortable with plenty of space for everyone. Dave's knowledge of all the best spots to snorkel was amazing & he made sure we all got the best out of our trip. Definitely recommend On Ice and the crew
To say I was looking forward to this trip was an understatement. ON-ICE, a magnificent 47' catamaran, home for the next 2 nights. The perfect balance of activity and relaxation. Dave and the crew were amazing, great fun and looked after us so well. I would highly recommend this sailing adventure.
Charlotte Russo
, 08 Nov 22
This trip was perfection! We got to see Whitehaven beach and several other beautiful sights. The snorkelling was amazing - Dave knew exactly where the best spots were. Paddle boarding and swimming was great fun too. Shoutout to the absolute BEST skipper, Crispy Dave, and his partner, Simone.
Gloria Kilpatrick
, 29 Oct 22
We thoroughly enjoyed our 2 night experience. Whitehaven beach was fabulous as always. The other guests were fabulous and our Skipper Dave was laid back and knowledgeable.
The boat was great. We sailed around the islands which was nice. Lots of relaxing and lots of sun. The food was yummy.
We had a lovely time onboard ONice. The weather was beautiful. We just relaxed and kicked back on the boat and on the beaches. Was a well deserved holiday. We loved it
We saw whales, dolphins and I saw a turtle when kayaking, which was magical. The food was really great (even vegan option) and the crew were amazing at making us feel comfortable and relaxed!
Kim Fibiger Laursen
, 03 Sep 22
We spent 3 days and two night on On Ice and it was amazing. The the other people on the boat touring with us, and the crew was amazing.
Michael Downie
, 03 Sep 22
It was a fabulous experience shared with a wonderful group of guests. It lived up to our expectations with only a few exceptions. The weather was very windy which affected the number of activities we could do. No paddle boarding or glass bottom kayaking was provided. Snorkeling was amazing!
Glenda Flowers
, 30 Aug 22
A dream come true
No better way to see the Whitsundays in my opinion - access to the best snorkelling and beaches! Once in a lifetime experience - perfect balance of relaxation and adventure - incredible snorkelling, great food, stunning star gazing at night - we even got to see baby turtles and squid one night !
Wow!! What can I say. Had an absolutely incredible 2 days and 2 nights on board the beautiful catamaran that is On Ice!! I was not expecting to have such a comfortable experience on a boat, but On Ice was just perfect for me and my family. We absolutely loved trying out the sea scooter, stand up paddle boards and snorkelling at some beautiful locations! We were also lucky enough to spot a number of turtles on our trip!! The crew were fantastic, and the food was delicious. Not a bad word to say about this trip :)
An awesome trip! I was a bit worried at first being a solo traveller however the group was very friendly and welcoming. I really loved that we went straight to Tongue bay on the first day so that we were one of the first people at Whitehaven the following morning! Tommy's playlist and the amazing cookies were an unexpected highlight!
Who needs to go overseas when we have the Whitsundays! Thanks, Julia and Amy you made the trip special.
I have sailed monohulls all my life. I'm now a catamaran convert, boats really nice and sails surprisingly fast. Thanks for all the sailing tips Luke and Issy.
This was our first time sleeping on a boat and we were nervous. Dave and Simone made us feel really comfortable. Seeing turtles at the last stop was super cool.
We were so well fed. Loved Greg's stories and insight into the area. Issy's food rocked!
Weather wasn't great but Dave and Simone made sure we still had an awesome time.
Great food, great people. Thanks Julia and Tommy.
This was our first time snorkeling. Greg was very kind and gave us life jackets so that we were comfortable.
Such a nice boat and nice crew. Julia and Sophie need a pay rise, we miss you!
Luke is an absolute legend. Felt lucky to get out with the owner of the boat. He got us to all the best spots at the best times. The paddleboard mission at Butterfly bay was very special.
Absolutely fantastic trip!!!! From the minute we met the captain (Pete) aka legend at the marina we knew it would be a good time. Crew were new and great (Izzy and Hattie) and looked after us so well. Met some awesome people too- great time. Pete's knowledge of the reef and open water -unreal
Julia and Mitch are the best crew ever! Such a good 3 days, the weather and snorkelling were amazing! I will be recommending it to everyone!
What can I say, Paradise! Dave and Simone really made us feel at home. Deducted a point due to Daves terrible dad jokes lol
So glad we spent the extra money instead of just doing a day trip. I will be telling all of my friends about this one. Greg and Rheef were really friendly and knowledgeable. Words can not express how lucky we were to have these guys as crew!
Went way too fast!! I could have spent 2 weeks out there easily!!
Exceded all expectations. Dave and Simone were great with our kids. Most relaxing and best part of our holiday.
Julia and Juan looked after us so well. The trip has inspired us to live on a boat.
Watch out On Ice I'm coming back with mates!
I had an awesome time sailing the Whitsundays! The crew and the other guests were so much fun. We spent over 3 hours on Whitehaven Beach, went snorkelling several times, even with an underwater scooter, and they had stand up paddle boards and a glass bottom kayak :) On top of it the boat is very comfortable with a huge net in the front to relax on and amazing food. I would do it again straight away!
Had an amazing time on the Whitsundays and sailing around on a beautiful yacht. Very reasonable priced and great group - wish we could've stayed longer!
We had a good time but after reading other reviews I think we missed out on a great time. Captain Pete was as hospitable as he knew how to be which did unfortunately fall short of acceptable at times, particularly whilst training a new deckhand. The kayak was not as pictured and no sea scooter.
What an amazing tour to see Whitehaven Beach, go snorkelling and do some water sports. Great boat with very good food, nice cabins and the best crew ever. We had a blast sailing the Whitsundays!
I just went out on On Ice for my 28th Birthday and just wow! It was so nice and relaxing, exactly what I wanted to kick in my late 20s. Ontop of visiting the idyllic Whitehaven Beach and Hill Inlet, we even got to go SUP boarding around the mangroves into a hidden bay and explored around the rocks. Everyone were so friendly and the weather was outstanding.
Beautiful!! I fell in love with the 'On Ice' boat, and now it is one of my dreams to buy a catamaran. My family and I went on this trip, and it was just the perfect mixture of adventure and relaxation. My skipper Issy was so great, and her knowledge about the area was fantastic. We had so much fun on the paddleboards and the underwater sea scooter. We are still in awe of Whitehaven beach, and it was so great that we had an area of the beach to enjoy on our own.
Absolutely blown away. Never snorkelled before, so to snorkel in two of the best spots in the world for the first time!! The crew, Dave The Legend (first-generation Ozzie, as described by himself) and Chelsea were just fabulous. Special thanks to Dave for his patience and his good-cop/bad-cop approach to getting me and Denise out on the reef. This ranks up there as our all-time experience, and to any OAPs who might think twice about such an holiday, JUST DO IT (ask for Dave the Legend as your skipper !!!). The food they provided was great, and there was always drinks ready and waiting on return from the rib boat, prepared by the always-smiling Chelsea. Great bunch of fellow-travellers we met, too. thanks again for a memorable experience.
Amazing 3 days 2 nights trip, Dave the skipper and Tash his first hand were excellent,helped make the trip 5*! Considering we were on a catamaran the food was of a really good standard, snorkeling, paddle boarding all great activities , Whitehaven beach was amazing. We paid for a private room between 2 which gave us plenty space,rooms are set up for 3 people though, would maybe be a bit crowded with 3 especially if it was a couple with a random person, fine if it was 3 friends. Could not recommend enough!
Thank you, all was perfect. Crew was very friendly and amazing activities. The boat is very nice, too.
My partner and I went on the 2D 2N Whitsundays cruise, On Ice and it was spectacular. Our skipper Lauchy and his first hand Mitch knew everything about the Whitsundays!! They were both able to use their knowledge to adjust the trip to the conditions and their travellers. We were able to go snorkeling twice, see the swirling sands, go to two beaches including Whitehaven, and paddle board twice. For all the activities our captain timed our arrival so we were there outside the times that big tourist boats arrived and we were able to enjoy the sights while it was less crowded. Last but not least, the boat itself was clean and spacious and the food was delicious and we were never hungry!!
Bo, the ship hand was an amazing cook and really friendly and helpful, really made us feel at home. Isabelle was a very professional captain, made us feel safe and in good hands. Together they gave us a very relaxed, fun packed trip. Swimming with turtles, whale spotting, cool corals to snorkel and amazing views of Whitehaven beach.
My friend and I had an amazing time on board, so much so that we hit dry land for a couple of hours and then hopped back on for the next sailing! Both trips were aboard On Ice, the beautiful catamaran. This trip had everything you could want and more- it left me with a hunger for sailing and a stand up paddle board! The extra few dollars it costs is well worth it for the toys, the luxury cabins and the stunning places a boat this size can moor. I want to go back!
The vessel was immaculate with plenty of room to move around.The cabins clean and the decks spotless. We cruised at a comfortable speed and our journey was roughly mapped out for us on our departure. The crew, Captain Phil and Mink were exceptional.Phil made us all feel safe on the vessel as well as making the time to get to know each and every one of his guests. Mink was amazing with his management of deck hand duties and culinary expertise. The food was far beyond what i expected. The espresso was a lovely touch too. They even organised fantastic weather for us. (lucky) I have recommended the cruise to work colleagues and may well return again soon with some friends.
The only thing that I would criticize is that... the trip is too short!! Wish it could have gone on for a whole week. Thanks for taking us to all your favourite spots - I always tell people to go to Mantaray Bay now because I loved it so much. Will recommend this one to all my friends Thanks again, Nikki
I want to quit my job and work in the Whitsundays!!! You guys are so lucky to get to work in such a paradise. Thanks so much for sharing this amazing place with us and feeding us LOTS of yummy food. The water toys were good fun. If you ever want to trade jobs, I'm in!! Hannah
My first time on a boat for more than a day! Even though I got a bit sea sick... it was well worth it! I couldn't believe how much we got to see and do in 2 days. Was a really relaxed environment and it was nice to have the owner of the boat actually drive it - thanks Luke! I wish you all the best, this is a trip that doesn't disappoint!
Nice boat. good food. friendly crew. very relaxing. not a party boat unless you have the right people for it on board
The only thing that I would criticize is that... the trip is too short!! Wish it could have gone on for a whole week. Thanks for taking us to all your favourite spots - I always tell people to go to Mantaray Bay now because I loved it so much. Will recommend this one to all my friends Thanks again, Nikki
Me & my boyfriend had a fantastic couple days on On Ice. We loved the crew and all the activities they provided for us. Although my boyfriend didn't quite get the hang of it (lol), he loved playing around on the stand up paddle! The kayak was my favourite though... great food, nice company and comfortable accommodation. Would recommend to anyone - especially couples :) Noj & Aisha
Happy days. Couldn't have been more impressed with this professional and fun tour! The boat was just as it was in the photos - usually I find myself disappointed. Luke was the perfect skipper and always took what we wanted to do into account when making decisions. It felt more like I was out on a boat with a bunch of my mates for a couple days rather than an organized trip. No complaints... other than I wish it had have been longer!! Cheers from Maron and Tobias
Amazing experience with great stops for snoreklling and the beaches. Highly recommend.