On Ice
CLOSE
View More Thumbnails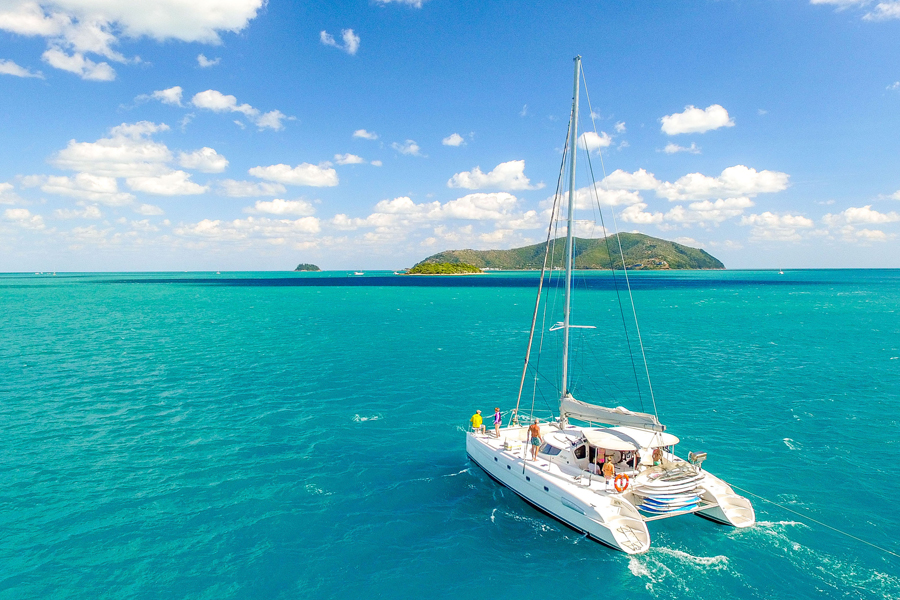 Loading...
Departure Times
Departs: 4:00 pm
Returns:
2:00 pm
Departure Point: Coral Sea Marina, Airlie Beach
Pricing Options
RRP $549

$519 AUD / Person
- Shared Single Accommodation
(Between: 31 Mar 2022 and 31 Mar 2023)
RRP $549

$519 AUD / Person
- Private Triple Cabin (requires 3 people) ($1557 Total)
(Between: 31 Mar 2022 and 31 Mar 2023)
RRP $680

$650 AUD / Person
- Private Triple Cabin with Ensuite (requires 3 people) ($1950 Total)
(Between: 31 Mar 2022 and 31 Mar 2023)
RRP $719

$698 AUD / Person
- Private Double/Twin Cabin (requires 2 people) ($1396 Total)
(Between: 31 Mar 2022 and 31 Mar 2023)
RRP $749

$729 AUD / Person
- Private Double Cabin with Ensuite (requires 2 people) ($1458 Total)
(Between: 31 Mar 2022 and 31 Mar 2023)
RRP $749

$729 AUD / Person
- Private Twin Cabin with Ensuite (requires 2 people) ($1458 Total)
(Between: 31 Mar 2022 and 31 Mar 2023)
Highlights
| | | |
| --- | --- | --- |
| Whitehaven Beach & Hill Inlet | | |
| | | GBR Island Reefs |
| Snorkelling | | |
| SUPs | | |
Sail and play in paradise on On Ice's ever-popular adventure tour!
An unrivalled collection of water toys makes On Ice one of the most popular trips in the Whitsundays
With a maximum of 10 guests, this tour is ideal for small group sailing
The perfect sailing experience for anybody seeking fun and adventure, complete with a relaxed and social atmosphere
Great for couples, families and groups of friends
*On Ice has an identical sister vessel, Entice. Please visit the Entice page for further availability if needed.
Reviews
Overall Rating
5.0 / 5.0
Based on 53 reviews
Reviews by our Sailing Whitsundays customers
No better way to see the Whitsundays in my opinion - access to the best snorkelling and beaches! Once in a lifetime experience - perfect balance of relaxation and adventure - incredible snorkelling, great food, stunning star gazing at night - we even got to see baby turtles and squid one night !
Wow!! What can I say. Had an absolutely incredible 2 days and 2 nights on board the beautiful catamaran that is On Ice!! I was not expecting to have such a comfortable experience on a boat, but On Ice was just perfect for me and my family. We absolutely loved trying out the sea scooter, stand up paddle boards and snorkelling at some beautiful locations! We were also lucky enough to spot a number of turtles on our trip!! The crew were fantastic, and the food was delicious. Not a bad word to say about this trip :)
An awesome trip! I was a bit worried at first being a solo traveller however the group was very friendly and welcoming. I really loved that we went straight to Tongue bay on the first day so that we were one of the first people at Whitehaven the following morning! Tommy's playlist and the amazing cookies were an unexpected highlight!
I have sailed monohulls all my life. I'm now a catamaran convert, boats really nice and sails surprisingly fast. Thanks for all the sailing tips Luke and Issy.
Who needs to go overseas when we have the Whitsundays! Thanks, Julia and Amy you made the trip special.
We were so well fed. Loved Greg's stories and insight into the area. Issy's food rocked!
This was our first time sleeping on a boat and we were nervous. Dave and Simone made us feel really comfortable. Seeing turtles at the last stop was super cool.
Great food, great people. Thanks Julia and Tommy.
Weather wasn't great but Dave and Simone made sure we still had an awesome time.
This was our first time snorkeling. Greg was very kind and gave us life jackets so that we were comfortable.
Luke is an absolute legend. Felt lucky to get out with the owner of the boat. He got us to all the best spots at the best times. The paddleboard mission at Butterfly bay was very special.
Such a nice boat and nice crew. Julia and Sophie need a pay rise, we miss you!
Julia and Mitch are the best crew ever! Such a good 3 days, the weather and snorkelling were amazing! I will be recommending it to everyone!
So glad we spent the extra money instead of just doing a day trip. I will be telling all of my friends about this one. Greg and Rheef were really friendly and knowledgeable. Words can not express how lucky we were to have these guys as crew!
What can I say, Paradise! Dave and Simone really made us feel at home. Deducted a point due to Daves terrible dad jokes lol
Julia and Juan looked after us so well. The trip has inspired us to live on a boat.
Exceded all expectations. Dave and Simone were great with our kids. Most relaxing and best part of our holiday.
Went way too fast!! I could have spent 2 weeks out there easily!!
Watch out On Ice I'm coming back with mates!
I had an awesome time sailing the Whitsundays! The crew and the other guests were so much fun. We spent over 3 hours on Whitehaven Beach, went snorkelling several times, even with an underwater scooter, and they had stand up paddle boards and a glass bottom kayak :) On top of it the boat is very comfortable with a huge net in the front to relax on and amazing food. I would do it again straight away!
Had an amazing time on the Whitsundays and sailing around on a beautiful yacht. Very reasonable priced and great group - wish we could've stayed longer!
What an amazing tour to see Whitehaven Beach, go snorkelling and do some water sports. Great boat with very good food, nice cabins and the best crew ever. We had a blast sailing the Whitsundays!
Beautiful!! I fell in love with the 'On Ice' boat, and now it is one of my dreams to buy a catamaran. My family and I went on this trip, and it was just the perfect mixture of adventure and relaxation. My skipper Issy was so great, and her knowledge about the area was fantastic. We had so much fun on the paddleboards and the underwater sea scooter. We are still in awe of Whitehaven beach, and it was so great that we had an area of the beach to enjoy on our own.
I just went out on On Ice for my 28th Birthday and just wow! It was so nice and relaxing, exactly what I wanted to kick in my late 20s. Ontop of visiting the idyllic Whitehaven Beach and Hill Inlet, we even got to go SUP boarding around the mangroves into a hidden bay and explored around the rocks. Everyone were so friendly and the weather was outstanding.
Absolutely blown away. Never snorkelled before, so to snorkel in two of the best spots in the world for the first time!! The crew, Dave The Legend (first-generation Ozzie, as described by himself) and Chelsea were just fabulous. Special thanks to Dave for his patience and his good-cop/bad-cop approach to getting me and Denise out on the reef. This ranks up there as our all-time experience, and to any OAPs who might think twice about such an holiday, JUST DO IT (ask for Dave the Legend as your skipper !!!). The food they provided was great, and there was always drinks ready and waiting on return from the rib boat, prepared by the always-smiling Chelsea. Great bunch of fellow-travellers we met, too. thanks again for a memorable experience.
What an amazing trip on the One Ice catamaran. I was there in May for my birthday with 2 friends and trust me it was a breathtaking cruise. The boat was comfortable and Matt & Taylor were awesome. Food was delicious, best garlic bread ever! The second snorkelling spot was extraordinary. I saw colourful corals, fishes and a turtle. We saw dolphins when sailing. My only regret is I thought I would see Whitehaven Beach from the view point at high tide to see the shades of blue. Even if at low tide it was beautiful, I would have appreciated seeing both. Maybe next time!!
Amazing 3 days 2 nights trip, Dave the skipper and Tash his first hand were excellent,helped make the trip 5*! Considering we were on a catamaran the food was of a really good standard, snorkeling, paddle boarding all great activities , Whitehaven beach was amazing. We paid for a private room between 2 which gave us plenty space,rooms are set up for 3 people though, would maybe be a bit crowded with 3 especially if it was a couple with a random person, fine if it was 3 friends. Could not recommend enough!
Thank you, all was perfect. Crew was very friendly and amazing activities. The boat is very nice, too.
My partner and I went on the 2D 2N Whitsundays cruise, On Ice and it was spectacular. Our skipper Lauchy and his first hand Mitch knew everything about the Whitsundays!! They were both able to use their knowledge to adjust the trip to the conditions and their travellers. We were able to go snorkeling twice, see the swirling sands, go to two beaches including Whitehaven, and paddle board twice. For all the activities our captain timed our arrival so we were there outside the times that big tourist boats arrived and we were able to enjoy the sights while it was less crowded. Last but not least, the boat itself was clean and spacious and the food was delicious and we were never hungry!!
We had the most amazing 2 nights aboard "On Ice." The boat was beautiful and the crew made everyone feel right at home. The skipper did a wonderful job of answering our questions, presenting new challenges for us, and taking us to snorkel in areas off the beaten path so we were never crowded by other tour groups. The crew made sure we had delicious meals in addition to providing lots of laughs. They really made the most of our time on the boat and we were able to pack in many activities including stand up paddle boarding and lots of snorkeling.
My girlfriend and I have been on the "On Ice" catamaran. The crew did a good job - they showed us some nice spots and served us lots of tasty food between the activities. We have been snorkelling at 3 reefs at different islands, did some stand-up paddling or wind-surfing. Of course you can stay on the boat lying in the sun if you prefer. We even saw two turtles at a reef. This trip is really worth the money!
It was a dream come true! Everything was perfect! Plenty of good food, thanks to Julia!! Great activities, snorkelling, stand up paddle, surfing behind the boat... and lots of free time in Whitehaven after "rush hours"! Thanks to our captain Isabelle who brought us safe home! I definitely recommend!!
This definitely had the wow factor, such a beautiful place and the best skipper & deck hand around. I would happily do this again and again and highly recommend to everyone.
On Ice and the crew of Dave and Julia were fantastic. I have been on two other sails through the Whitsunday Islands and this trip was the best by far. The boat, the food, the kayak, paddle boards all being included make this a one stop holiday with everything provided. Experienced and knowledgeable crew, wonderful itinerary of places to snorkel, see the turtles, hike and the added environmental and historical information that was provided made it a unique experience. The fact that it is a boat that only caters to ten guests makes it much more enjoyable than sharing the boat with 30+ people. If you want an excellent experience you cannot beat "On Ice"!
We are still under the impact of marvellous days with On Ice we would like to say THANK YOU for this outstanding experience. You can be proud of this crew Cat and Amy! Such a kind of hospitality, belief, engagement and being present. It was really stunning to spend these days last week on your boat.
My brother, sister, and I just went on On Ice with Peter and Julia. We had a great time! We thought that Julia was great... She did remarkably well for her first trip. Would definitely recommend keeping her on board... pun intended!
We went onboard On Ice and had the best time ever! Our captain and host did an amazing job and made sure we were not short of anything, and it was nice to always be informed about our route and our plans for the day. With only 10 guests onboard really gives you a possibility to explore the Islands in a pleasant and personal atmosphere! There are many beautiful things to explore around the Whitsundays and we also had the possibility to do cool water activities! There were delicious meals which everyone enjoyed! They offered nice snacks in between the meals as well.
We booked a 2 day 2 night trip on On Ice and it was just perfect from the beginning until the end. The skipper is very passionate about his job and tried to please everyone even when the weather was not too great during our first day. The deckhand loves his job and was perfect. His food was delicious. The boat itself looks brand new and was big enough and the cabin had plenty of windows which was great. During our trip, we stopped at Whitehaven beach for a few hours and it was fantastic having the beach for ourselves. The snorkelling sites all were nice with plenty of colourful fish. We even tried all the different toys, all in all it was good fun! We would recommend to anyone this sailing adventure. It is worth it to pay extra money to have a nicer catamaran with less backpacker and party onboard.
Great two days was had on board On Ice. The crew treated us like royalty and took us to some spectacular sights around the Whitsundays. We walked on the whitest sand in the world on Whitehaven Beach, we snorkelled with some stunning fish in coral, we paddle boarded into the sunset at Blue Pearl just before having a delicious meal. I would recommend this 2 day 2 night trip to everyone, great crew, great boat and great food.
The crew were friendly, helpful and professional! They provided us with ample information, delicious meals and snacks and made everyone feel welcome. The activities were amazing, from snorkeling at two different places, seeing Whitehaven Beach and doing stand up paddle boarding! There was enough space on the boat for 10 passengers in total, with 4 toilets on board. This meant that no one was in each others space and things were kept super clean. We kept to time and the crew definitely knew their stuff! This trip is a must do for anyone coming to the Whitsundays!!
Such an amazing few days had On Ice with a stellar crew Marky and Matt! We were looked after so well and had so many great activities planned for us! Had so much fun and would highly recommend to everyone!
We chose this trip as we didnt want to be on a party boat with large numbers of backpackers. This trip was perfect. Just 10 guests and all happened to be aged between 21-35. We all got on well and all went out for a drink in Airlie Beach the evening after we returned to shore.
My friend and I had an amazing time on board, so much so that we hit dry land for a couple of hours and then hopped back on for the next sailing! Both trips were aboard On Ice, the beautiful catamaran. This trip had everything you could want and more- it left me with a hunger for sailing and a stand up paddle board! The extra few dollars it costs is well worth it for the toys, the luxury cabins and the stunning places a boat this size can moor. I want to go back!
Bo, the ship hand was an amazing cook and really friendly and helpful, really made us feel at home. Isabelle was a very professional captain, made us feel safe and in good hands. Together they gave us a very relaxed, fun packed trip. Swimming with turtles, whale spotting, cool corals to snorkel and amazing views of Whitehaven beach.
The vessel was immaculate with plenty of room to move around.The cabins clean and the decks spotless. We cruised at a comfortable speed and our journey was roughly mapped out for us on our departure. The crew, Captain Phil and Mink were exceptional.Phil made us all feel safe on the vessel as well as making the time to get to know each and every one of his guests. Mink was amazing with his management of deck hand duties and culinary expertise. The food was far beyond what i expected. The espresso was a lovely touch too. They even organised fantastic weather for us. (lucky) I have recommended the cruise to work colleagues and may well return again soon with some friends.
The only thing that I would criticize is that... the trip is too short!! Wish it could have gone on for a whole week. Thanks for taking us to all your favourite spots - I always tell people to go to Mantaray Bay now because I loved it so much. Will recommend this one to all my friends Thanks again, Nikki
I want to quit my job and work in the Whitsundays!!! You guys are so lucky to get to work in such a paradise. Thanks so much for sharing this amazing place with us and feeding us LOTS of yummy food. The water toys were good fun. If you ever want to trade jobs, I'm in!! Hannah
My first time on a boat for more than a day! Even though I got a bit sea sick... it was well worth it! I couldn't believe how much we got to see and do in 2 days. Was a really relaxed environment and it was nice to have the owner of the boat actually drive it - thanks Luke! I wish you all the best, this is a trip that doesn't disappoint!
Nice boat. good food. friendly crew. very relaxing. not a party boat unless you have the right people for it on board
The only thing that I would criticize is that... the trip is too short!! Wish it could have gone on for a whole week. Thanks for taking us to all your favourite spots - I always tell people to go to Mantaray Bay now because I loved it so much. Will recommend this one to all my friends Thanks again, Nikki
Me & my boyfriend had a fantastic couple days on On Ice. We loved the crew and all the activities they provided for us. Although my boyfriend didn't quite get the hang of it (lol), he loved playing around on the stand up paddle! The kayak was my favourite though... great food, nice company and comfortable accommodation. Would recommend to anyone - especially couples :) Noj & Aisha
Happy days. Couldn't have been more impressed with this professional and fun tour! The boat was just as it was in the photos - usually I find myself disappointed. Luke was the perfect skipper and always took what we wanted to do into account when making decisions. It felt more like I was out on a boat with a bunch of my mates for a couple days rather than an organized trip. No complaints... other than I wish it had have been longer!! Cheers from Maron and Tobias