On Ice
CLOSE
View More Thumbnails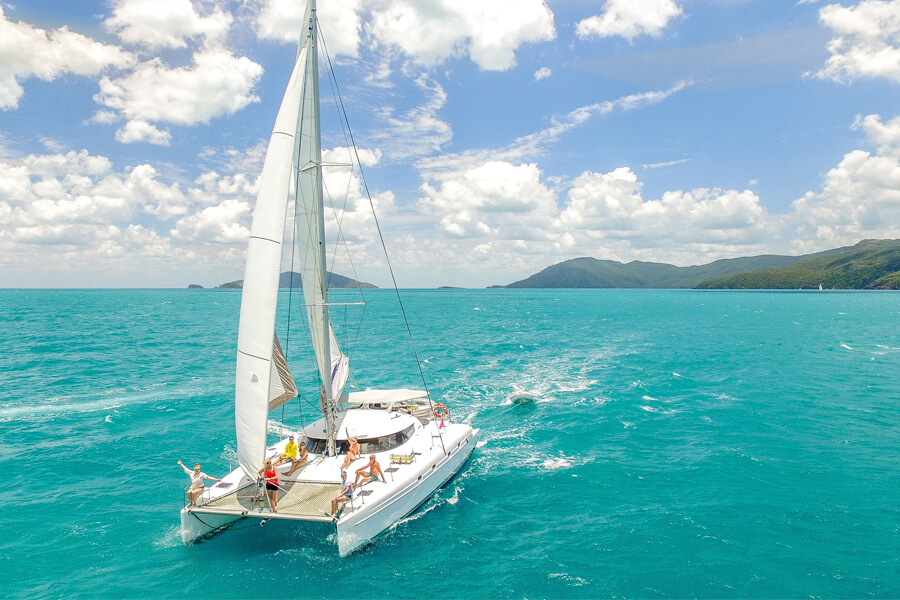 Loading...
Departure Times
Departs: 4:00 pm - Please enquire
Returns:
2:00 pm - Please enquire
Departure Point: Airlie Beach
Pricing Options
RRP $539

$499 AUD / Person
- Shared Single Accommodation
(Between: 01 Jan 2021 and 31 Mar 2022)
RRP $539

$499 AUD / Person
- Shared Double Accommodation (requires 2 people) ($998 Total)
(Between: 01 Jan 2021 and 31 Mar 2022)
RRP $539

$499 AUD / Person
- Private Triple Cabin (requires 3 people) ($1497 Total)
(Between: 01 Apr 2021 and 31 Mar 2022)
RRP $645

$615 AUD / Person
- Private Triple Cabin with Ensuite (requires 3 people) ($1845 Total)
(Between: 01 Apr 2021 and 31 Mar 2022)
RRP $699

$679 AUD / Person
- Private Double Cabin with Ensuite (requires 2 people) ($1358 Total)
(Between: 01 Apr 2021 and 31 Mar 2022)
RRP $699

$679 AUD / Person
- Private Twin Cabin with Ensuite (requires 2 people) ($1358 Total)
(Between: 01 Apr 2021 and 31 Mar 2022)
Sail and play in paradise on On Ice's popular adventure tour!
An unrivalled collection of water toys makes On Ice one of the most popular trips in the Whitsundays
With a maximum of 10 guests, this tour is ideal for small group sailing
The perfect way to experience a sailing holiday in the Whitsunday Islands!
The perfect choice for anybody seeking fun and adventure, complete with a relaxed and social atmosphere
Great for couples, families and groups of friends
On Ice is a true offshore sailing vessel and offers a great combination of speed, comfort and adventure in the Whitsundays, creating the perfect atmosphere for a sailing trip! This tour is unique compared to other tours in the Whitsundays, boasting an all-inclusive tour with the latest water toys and water sports, making it a very popular choice for a variety of guests who come here to explore and see what the Whitsundays are all about.
---
Highlights & Features:
Snorkel equipment, clear, glass bottom canoe, sea scooter, and stand-up paddleboards included
Quality time at Hill Inlet Lookout and Whitehaven Beach
Snorkel the fringing reefs of the Great Barrier Reef around the Whitsunday Islands
Private and shared accommodation options for every comfort level and budget
Family owned and operated: ISail Whitsundays is the operator of Blizzard, On Ice and Entice Catamarans
Authentic sailing experience with an amazing itinerary
Delicious and fresh meals provided by a highly trained crew
Bow nets for optimal relaxation
Large panoramic windows for amazing views
Suitable for children 6+
BYO alcohol
During the 2 day tour, guests will get to snorkel over the beautiful coral gardens of the fringing Great Barrier Reef, explore in our see-through glass bottom canoe, paddleboard over the corals and swim in the clear azure waters of the Whitsundays! On the top of the itinerary is a stop at the fantastic white sands of Whitehaven Beach and Hill Inlet Lookout, for unforgettable moments and memories to last a lifetime.

Sample Itinerary
Experience the best of the Whitsundays with On Ice. With intimate group numbers, you can avoid the crowds as we take you to some of the most pristine locations in the Whitsunday Islands. No two trips are the same as the crew are focused on giving each and every tour a personalised experience.
While on your trip you will stop in various bays of the Whitsundays for snorkelling and other adventurous activities. On Ice sails throughout the Whitsunday Islands National Park, stopping at a range of islands such as Whitsunday, Hook, Dumbell, Langford, Hayman, Black, Border and Esk Island. Every tour is a little different as we travel to the best locations for the weather and tide conditions during your trip. Each tour also visits the beautiful Whitehaven Beach on Whitsunday Island. A short walk takes you up to the Hill Inlet Lookout, from where you have breathtaking views over Whitehaven Beach.

Whitehaven Beach and Hill Inlet Lookout
On Ice takes her guests to the amazing Hill Inlet Lookout and Whitehaven Beach to relax, play and see the sights. Spend ample time on the beach, relaxing on the cool silica sands, lazing in the shade or taking a swim in the warm shallow waters as you let the day pass you by. You can also take advantage of the short bushwalk through the island up to Hill Inlet Lookout for the famous view of the swirling sands below - one of the best places in the Whitsundays to take stunning photos! This beach and lookout combo is one of the most sought after destinations in the Whitsundays and with good reason!

Snorkelling and Sea Scooter
On Ice offers guests plenty of time in the water to explore the colourful reefs that lie below. There are thousands of species of fish and coral at your fingertips meaning that for most, this is a once-in-a-lifetime experience, where you can see tropical fish species up close! Hop in and discover all the beauty that waits and learn all about the marine life that will surround you! On Ice also offers to use of their ultimate water toy...the sea scooter! This fun toy will take you on a wild ride as you zoom through the ocean, checking out the reefs as you zip by!

See-through Canoe and Stand-up Paddleboards
Experience all the beauty and wonder of the Great Barrier Reef Marine Park without getting your hair wet! Always popular, the glass bottom see-through double canoes are a window to the underwater world as you make your way around and feel immersed in the marine life that lives below! Guests can also take the opportunity to gaze in wonder at the amazing coral gardens from on board On Ice's paddleboards, which will give you a new point of view! Many curious fish often come close to investigate the boards as you make your way around the reefs.

Layout
Tap the hotspots on the floor plan below to view On Ice:
Loading...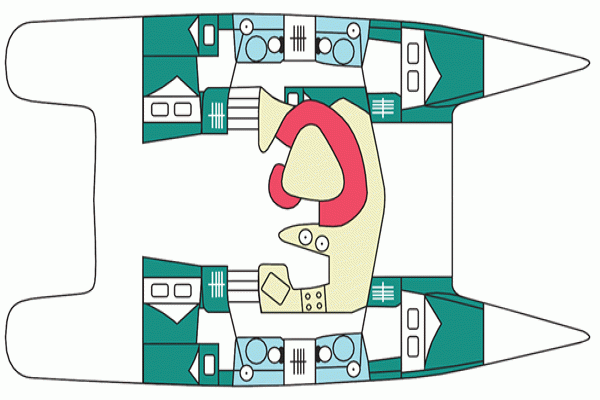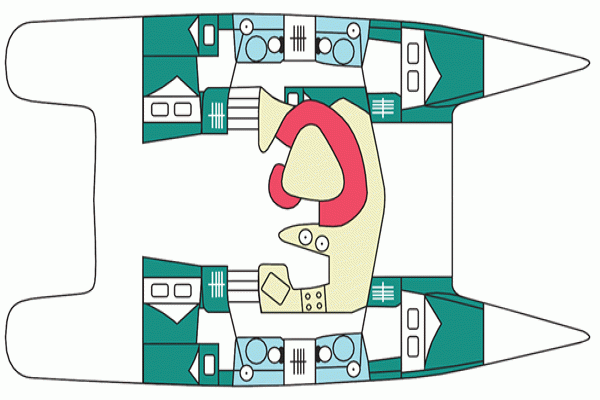 Shared single accommodation - One single bunk sharing accommodation space and bathroom with others. 1 person to occupy.
Shared double accommodation - One double bed sharing accommodation space and bathroom with others. 2 persons to occupy.
Triple share cabin - One double bed and single bed in a private space, but sharing bathroom with others. 3 persons to occupy.
Private twin cabin - Two separate beds in a private space and en suite bathroom. 2 persons to occupy.
Private double cabin - One double bed in a private space and en suite bathroom. 2 persons to occupy.
More Information
What To Bring
Please bring only a small soft bag with:
Change of clothes
Swimwear
Toiletries
Beach towel
Insect repellent
Water bottles to refill
Camera
Comfortable walking shoes
Sun protection (sunscreen, hat, sunnies etc.)
Warm clothes/pullover for evenings (seasonal)
You will also need to bring your own alcoholic beverages, available for purchase in town, or from Coral Sea Cellars at the southern end of Coral Sea Marina. No glass bottles permitted (with the exception of wine, champagne or spirits).
Excess luggage can be stored at several places in town, including your check-in office (Whitsunday Sailing Adventures) for $5 per person. Please click here for more information.
What's Included
Skipper
Host
Drinking water
Meals
Linen
Bath towel
Wet suit hire
Snorkelling equipment
All Marine Park fees
What's Extra
Soft drinks, bottled water and snacks
Alcohol (BYO - refer to "What to Bring" for more info.)
Terms and Conditions
---
Important Information:
Minimum age for children is 10 years of age. Any guests under 18 must be able to swim.
Guests under 18 cannot be booked into shared accommodation, except where the group will occupy an entire shared area. In other cases, the parent need to occupy the shared area and child share private cabin with the other parent. Please also note that there are no 2 shared single beds together in the same area, they are spread out around the boat.
This is a water-based activity, for safety reasons ALL passengers must be able to swim and speak fluent English.
This sailing adventure is only suitable for active people. A basic level of fitness and mobility is required. As a guideline, guests should be able to climb a ladder easily.
---
Your Responsibilities:
Please advise us before booking if any passengers are under 18 years old to ensure this is the appropriate trip.
You must reconfirm all booked tours prior to travel as specified on your voucher. If applicable, notes such as dietary requirements, pick-up locations and additional fees should also be confirmed at this time. Reconfirmations cannot be actioned through Sailing Whitsundays/Mr Travel, and must be done so directly through the Service Operator as specified on each ticket.
It is your responsibility to notify us of ticket discrepancies. Please read through the details on your voucher thoroughly to ensure all details such as passenger names, ages and dates of travel on vouchers are correct.
It is the responsibility of all passengers travelling to advise both your travel agent at the time of booking and vessel check-in agent before boarding of any medical conditions including food allergies you may suffer from.
You need to allow adequate time to check-in prior to the specified departure time.
---
Prices/Extra Costs:
All prices are stated in Australian dollars and include GST. Surcharges over peak holiday seasons may apply.
The Service Operator reserves the right to alter prices and extra costs. Extra costs may include EMC fees, Stingersuit/Wetsuit Hire, Luggage Storage, Insurance, Linen Hire, National Park Fees, Fuel Levies, Dietary Fees, etc. Bonds may also apply.
We will also endeavour to communicate these extra costs with you at the time of booking, and on your ticket. However, it is your responsibility to confirm which (if any) additional costs apply with each Service Operator upon reconfirming your trip.
---
Travel Risk/Insurance:
It should be noted that adventure travel involves risk. Whilst we make every effort to safeguard clients, we cannot be responsible for personal injury or loss due to the actions of our clients which are beyond our control. We highly recommend that all clients have travel insurance covering illness, injury, loss or damage to personal belongings and not being able to travel on the confirmed date of departure. You should also ensure your travel insurance will cover special circumstances including weather events preventing guests from travelling to their tour departure destination and cancelled flights due to unforeseen circumstances.
---
Merchant Fees:
Please be aware operators pass on credit card merchant fees so there is a non-refundable 1% surcharge for VISA and MASTERCARD card purchases.
---
Other:
Terms and Conditions (including the Cancellation Policy) are subject to change. The most recent versions can be found online on the relevant product pages.
All ticket/voucher reissues attract a $20 administration fee.
---
Cancellations
---
Client Cancellations:
All cancellations forfeit 25% of the recommended retail price (RRP) - not the discounted/sale price. Cancellations made 30-14 days prior to travel date forfeit 75% of the RRP. No shows or client cancellations made within 14 days of departure forfeit 100% of the total ticket price.
Transfers between tours can be made at the suppliers discretion, however, it should be noted that supplier fees may apply. Tour transfers also incur a $20 administration fee.
It is compulsory that all cancellation requests are in writing and sent via email to admin@mr-travel.com. Cancellations attempted via online chat or phone will not be actioned.
---
Supplier Cancellations:
The Service Operator reserves the right to alter prices, alter itineraries, apply a fuel surcharge, cancel departures, arrange alternative transport and vary itineraries and services if necessary.
All departures and itineraries are subject to weather. Tours may be changed or cancelled for any reason at the discretion of the Service Operator. If the Service Operator has to cancel the trip or activity (prior to departure) and we cannot offer a suitable alternative, then a refund will be given minus a 20% administration fee and any associated card fees. We strongly recommend that you have travel insurance, especially during the wet season.
In the unlikely event of your trip being cancelled or stood down, all guest communication is required to go through our Online Store via telephone or email. While there is a Sailing Whitsundays retail outlet located Airlie Beach, please be aware that they operate as a separate entity and are unable to access reservations made by the Mr Travel online department.
---
Refunds:
All refunds are in Australian Dollars and must be made to the card of payment. Sailing Whitsundays/Mr Travel is not liable for exchange rate fluctuations or fees, or any other merchant/bank fees associated with domestic and/or international transactions.
Where a full refund is applicable, there is the option to transfer the whole cost of the tour to another tour or "Credit" to avoid the administration fee. A transfer fee of $20 will apply.
You will be emailed confirmation once the refund has been processed. Once the refund has been processed, it may still take time for the banks to clear the amount. Please allow 7-10 business days for the funds to clear into Australian accounts and up to 21 business days for international accounts.
---
Accountability/Misconduct:
All Service Operators have the right to provide client feedback and to cancel bookings based off of feedback from other Service Operators.
Please enjoy your travel experience in a kind and responsible manner.
Sailing Whitsundays/Mr Travel will treat this as any normal client cancellation and therefore the cancellation fees stated in the Client Cancellation Policy will apply.
---
Thank you for booking with our East-Coast travel experts here at Mr Travel/Sailing Whitsundays. If you would like any further advice, assistance in arranging accommodation, transfers or additional tours please get in touch.
---
"I had an awesome time sailing the Whitsundays! The crew and the other guests were so much fun. We spent over 3 hours on Whitehaven Beach, went snorkelling several times, even with an underwater scooter, and they had stand up paddle boards and a glass bottom kayak :) On top of it the boat is very comfortable with a huge net in the front to relax on and amazing food. I would do it again straight away! "
Isabel
"Had an amazing time on the Whitsundays and sailing around on a beautiful yacht. Very reasonable priced and great group - wish we could've stayed longer!"
Anthony
"What an amazing tour to see Whitehaven Beach, go snorkelling and do some water sports. Great boat with very good food, nice cabins and the best crew ever. We had a blast sailing the Whitsundays!"
Maria
"Beautiful!! I fell in love with the 'On Ice' boat, and now it is one of my dreams to buy a catamaran. My family and I went on this trip, and it was just the perfect mixture of adventure and relaxation. My skipper Issy was so great, and her knowledge about the area was fantastic. We had so much fun on the paddleboards and the underwater sea scooter. We are still in awe of Whitehaven beach, and it was so great that we had an area of the beach to enjoy on our own."
Emily Plummer
"I just went out on On Ice for my 28th Birthday and just wow! It was so nice and relaxing, exactly what I wanted to kick in my late 20s. Ontop of visiting the idyllic Whitehaven Beach and Hill Inlet, we even got to go SUP boarding around the mangroves into a hidden bay and explored around the rocks. Everyone were so friendly and the weather was outstanding."
Melissa
"Absolutely blown away. Never snorkelled before, so to snorkel in two of the best spots in the world for the first time!! The crew, Dave The Legend (first-generation Ozzie, as described by himself) and Chelsea were just fabulous. Special thanks to Dave for his patience and his good-cop/bad-cop approach to getting me and Denise out on the reef. This ranks up there as our all-time experience, and to any OAPs who might think twice about such an holiday, JUST DO IT (ask for Dave the Legend as your skipper !!!). The food they provided was great, and there was always drinks ready and waiting on return from the rib boat, prepared by the always-smiling Chelsea. Great bunch of fellow-travellers we met, too. thanks again for a memorable experience."
Ken
"What an amazing trip on the One Ice catamaran. I was there in May for my birthday with 2 friends and trust me it was a breathtaking cruise. The boat was comfortable and Matt & Taylor were awesome. Food was delicious, best garlic bread ever! The second snorkelling spot was extraordinary. I saw colourful corals, fishes and a turtle. We saw dolphins when sailing. My only regret is I thought I would see Whitehaven Beach from the view point at high tide to see the shades of blue. Even if at low tide it was beautiful, I would have appreciated seeing both. Maybe next time!!"
Elodie
"Amazing 3 days 2 nights trip, Dave the skipper and Tash his first hand were excellent,helped make the trip 5*! Considering we were on a catamaran the food was of a really good standard, snorkeling, paddle boarding all great activities , Whitehaven beach was amazing. We paid for a private room between 2 which gave us plenty space,rooms are set up for 3 people though, would maybe be a bit crowded with 3 especially if it was a couple with a random person, fine if it was 3 friends. Could not recommend enough!"
Lucas S
"Thank you, all was perfect. Crew was very friendly and amazing activities. The boat is very nice, too."
Olga H
"My partner and I went on the 2D 2N Whitsundays cruise, On Ice and it was spectacular. Our skipper Lauchy and his first hand Mitch knew everything about the Whitsundays!! They were both able to use their knowledge to adjust the trip to the conditions and their travellers. We were able to go snorkeling twice, see the swirling sands, go to two beaches including Whitehaven, and paddle board twice. For all the activities our captain timed our arrival so we were there outside the times that big tourist boats arrived and we were able to enjoy the sights while it was less crowded. Last but not least, the boat itself was clean and spacious and the food was delicious and we were never hungry!!"
Rhiannon
"We had the most amazing 2 nights aboard "On Ice." The boat was beautiful and the crew made everyone feel right at home. The skipper did a wonderful job of answering our questions, presenting new challenges for us, and taking us to snorkel in areas off the beaten path so we were never crowded by other tour groups. The crew made sure we had delicious meals in addition to providing lots of laughs. They really made the most of our time on the boat and we were able to pack in many activities including stand up paddle boarding and lots of snorkeling."
Harry
"My girlfriend and I have been on the "On Ice" catamaran. The crew did a good job - they showed us some nice spots and served us lots of tasty food between the activities. We have been snorkelling at 3 reefs at different islands, did some stand-up paddling or wind-surfing. Of course you can stay on the boat lying in the sun if you prefer. We even saw two turtles at a reef. This trip is really worth the money!"
Jamie
"It was a dream come true! Everything was perfect! Plenty of good food, thanks to Julia!! Great activities, snorkelling, stand up paddle, surfing behind the boat... and lots of free time in Whitehaven after "rush hours"! Thanks to our captain Isabelle who brought us safe home! I definitely recommend!!"
Melanie
"This definitely had the wow factor, such a beautiful place and the best skipper & deck hand around. I would happily do this again and again and highly recommend to everyone."
Gina
"On Ice and the crew of Dave and Julia were fantastic. I have been on two other sails through the Whitsunday Islands and this trip was the best by far. The boat, the food, the kayak, paddle boards all being included make this a one stop holiday with everything provided. Experienced and knowledgeable crew, wonderful itinerary of places to snorkel, see the turtles, hike and the added environmental and historical information that was provided made it a unique experience. The fact that it is a boat that only caters to ten guests makes it much more enjoyable than sharing the boat with 30+ people. If you want an excellent experience you cannot beat "On Ice"!"
Alice
"We are still under the impact of marvellous days with On Ice we would like to say THANK YOU for this outstanding experience. You can be proud of this crew Cat and Amy! Such a kind of hospitality, belief, engagement and being present. It was really stunning to spend these days last week on your boat. "
Monica
"My brother, sister, and I just went on On Ice with Peter and Julia. We had a great time! We thought that Julia was great... She did remarkably well for her first trip. Would definitely recommend keeping her on board... pun intended!"
Sam
"We went onboard On Ice and had the best time ever! Our captain and host did an amazing job and made sure we were not short of anything, and it was nice to always be informed about our route and our plans for the day. With only 10 guests onboard really gives you a possibility to explore the Islands in a pleasant and personal atmosphere! There are many beautiful things to explore around the Whitsundays and we also had the possibility to do cool water activities! There were delicious meals which everyone enjoyed! They offered nice snacks in between the meals as well."
Uli
"We booked a 2 day 2 night trip on On Ice and it was just perfect from the beginning until the end. The skipper is very passionate about his job and tried to please everyone even when the weather was not too great during our first day. The deckhand loves his job and was perfect. His food was delicious. The boat itself looks brand new and was big enough and the cabin had plenty of windows which was great. During our trip, we stopped at Whitehaven beach for a few hours and it was fantastic having the beach for ourselves. The snorkelling sites all were nice with plenty of colourful fish. We even tried all the different toys, all in all it was good fun! We would recommend to anyone this sailing adventure. It is worth it to pay extra money to have a nicer catamaran with less backpacker and party onboard."
Arlekin
"Great two days was had on board On Ice. The crew treated us like royalty and took us to some spectacular sights around the Whitsundays. We walked on the whitest sand in the world on Whitehaven Beach, we snorkelled with some stunning fish in coral, we paddle boarded into the sunset at Blue Pearl just before having a delicious meal. I would recommend this 2 day 2 night trip to everyone, great crew, great boat and great food."
Dean
"The crew were friendly, helpful and professional! They provided us with ample information, delicious meals and snacks and made everyone feel welcome. The activities were amazing, from snorkeling at two different places, seeing Whitehaven Beach and doing stand up paddle boarding! There was enough space on the boat for 10 passengers in total, with 4 toilets on board. This meant that no one was in each others space and things were kept super clean. We kept to time and the crew definitely knew their stuff! This trip is a must do for anyone coming to the Whitsundays!!"
Mozzy
"Such an amazing few days had On Ice with a stellar crew Marky and Matt! We were looked after so well and had so many great activities planned for us! Had so much fun and would highly recommend to everyone!"
Kimberley
"We chose this trip as we didnt want to be on a party boat with large numbers of backpackers. This trip was perfect. Just 10 guests and all happened to be aged between 21-35. We all got on well and all went out for a drink in Airlie Beach the evening after we returned to shore."
Nattie
"My friend and I had an amazing time on board, so much so that we hit dry land for a couple of hours and then hopped back on for the next sailing! Both trips were aboard On Ice, the beautiful catamaran. This trip had everything you could want and more- it left me with a hunger for sailing and a stand up paddle board! The extra few dollars it costs is well worth it for the toys, the luxury cabins and the stunning places a boat this size can moor. I want to go back! "
Frou
"Bo, the ship hand was an amazing cook and really friendly and helpful, really made us feel at home. Isabelle was a very professional captain, made us feel safe and in good hands. Together they gave us a very relaxed, fun packed trip. Swimming with turtles, whale spotting, cool corals to snorkel and amazing views of Whitehaven beach. "
Sofia
"The vessel was immaculate with plenty of room to move around.The cabins clean and the decks spotless. We cruised at a comfortable speed and our journey was roughly mapped out for us on our departure. The crew, Captain Phil and Mink were exceptional.Phil made us all feel safe on the vessel as well as making the time to get to know each and every one of his guests. Mink was amazing with his management of deck hand duties and culinary expertise. The food was far beyond what i expected. The espresso was a lovely touch too. They even organised fantastic weather for us. (lucky) I have recommended the cruise to work colleagues and may well return again soon with some friends. "
David May
"The only thing that I would criticize is that... the trip is too short!! Wish it could have gone on for a whole week. Thanks for taking us to all your favourite spots - I always tell people to go to Mantaray Bay now because I loved it so much. Will recommend this one to all my friends Thanks again, Nikki"
Munoz
"I want to quit my job and work in the Whitsundays!!! You guys are so lucky to get to work in such a paradise. Thanks so much for sharing this amazing place with us and feeding us LOTS of yummy food. The water toys were good fun. If you ever want to trade jobs, I'm in!! Hannah"
James
"My first time on a boat for more than a day! Even though I got a bit sea sick... it was well worth it! I couldn't believe how much we got to see and do in 2 days. Was a really relaxed environment and it was nice to have the owner of the boat actually drive it - thanks Luke! I wish you all the best, this is a trip that doesn't disappoint!"
Richards
"Nice boat. good food. friendly crew. very relaxing. not a party boat unless you have the right people for it on board"
Alba
"The only thing that I would criticize is that... the trip is too short!! Wish it could have gone on for a whole week. Thanks for taking us to all your favourite spots - I always tell people to go to Mantaray Bay now because I loved it so much. Will recommend this one to all my friends Thanks again, Nikki"
Nikki
"Me & my boyfriend had a fantastic couple days on On Ice. We loved the crew and all the activities they provided for us. Although my boyfriend didn't quite get the hang of it (lol), he loved playing around on the stand up paddle! The kayak was my favourite though... great food, nice company and comfortable accommodation. Would recommend to anyone - especially couples :) Noj & Aisha "
Garcia
"Happy days. Couldn't have been more impressed with this professional and fun tour! The boat was just as it was in the photos - usually I find myself disappointed. Luke was the perfect skipper and always took what we wanted to do into account when making decisions. It felt more like I was out on a boat with a bunch of my mates for a couple days rather than an organized trip. No complaints... other than I wish it had have been longer!! Cheers from Maron and Tobias"
Soligo