On Ice
CLOSE
View More Thumbnails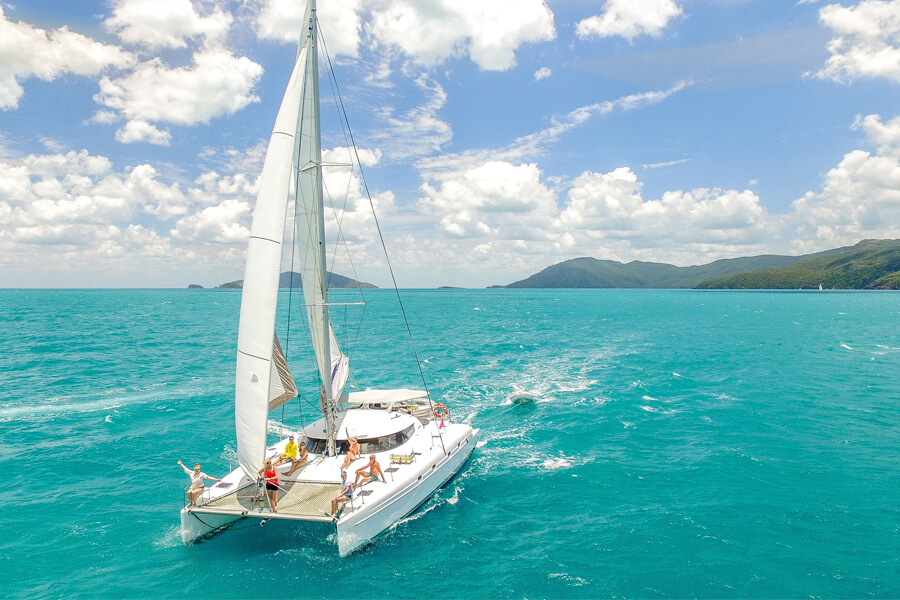 Loading...
Departure Times
Departs: 4:00 pm - Please enquire
Returns: 2:00 pm - Please enquire
Pricing Options
$499 AUD per Person
- Shared Accommodation
(Between: 19 Jun 2017 and 31 Mar 2019)
$645 AUD per person
- Private Double/Twin Cabin (requires 2 people) ($1290 Total)
(Between: 21 Jun 2017 and 31 Mar 2019)
$499 AUD per person
- Triple Share Cabin (requires 3 people) ($1497 Total)
(Between: 21 Jun 2017 and 31 Mar 2019)
$599 AUD per person
- Triple Share Cabin with Ensuite (requires 3 people) ($1797 Total)
(Between: 21 Jun 2017 and 31 Mar 2019)
Sail and play in paradise on this popular adventure tour!
An unrivalled collection of water toys makes On Ice one of the most popular trips in the Whitsundays. With a maximum of 10 guests and a catamaran that offers all the stylish comforts, this tour is the perfect way to experience a sailing holiday in the Whitsunday Islands. The perfect choice for anybody seeking fun and adventure, complete with a relaxed and social atmosphere. Great for couples!
A true offshore sailing vessel, On Ice offers a unique combination of speed, comfort and adventure! This tour is unique among other vessels in the Whitsundays, boasting all the latest water toys and water sports, which makes it a very popular choice for a variety of guests. Snorkel over the beautiful coral gardens of the Great Barrier Reef, stay dry in our see-through canoe, paddle-board and swim in the clear azure waters of the Whitsundays, or simply wander the fantastic white sands of Whitehaven Beach for unforgettable moments and memories to last a lifetime.
On Ice Features
COMPLETE REFURBISHMENT IN MAY 2017!
Only 10 guests for a more personal experience
Large saloon with panoramic windows
See-through Canoe for you to explore without getting wet
Several Stand-Up Paddleboards
Sea scooter to help make the most of your time in the water
Friendly and dedicated crew
Huge deck space including foredeck nets
Linen and bath towels provided for each guest
All meals freshly prepared onboard
Tea and coffee from a percolator
Snorkel suit and snorkelling equipment
Launched in 2002 and is 46 feet long
Check out On Ice's sister boat Entice for more departure dates
Boat Layout
On Ice features 3 private cabins with double beds, 1 double bed in a communal cabin, and 2 single bunks in communal accommodation (shared with other people).
Tap the hotspots on the floor plan below to view On Ice.
Loading...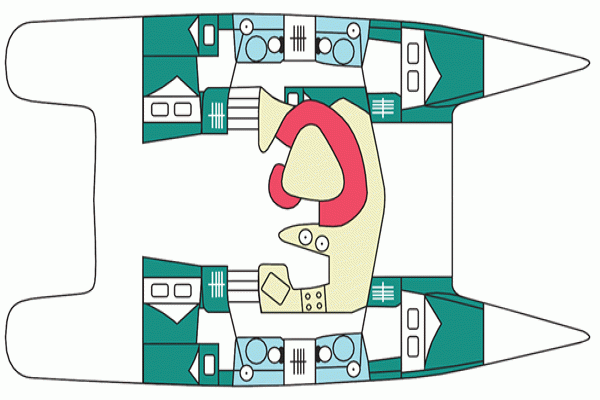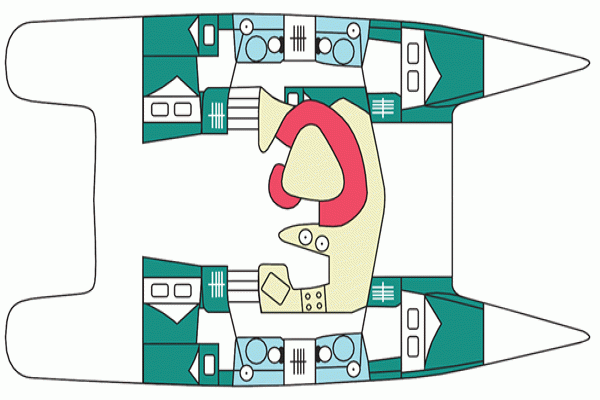 *Please note that the Private Triple Ensuite Cabin option will not be available after March 31 2018
Watersports Activities
See-through Canoe
Experience all the beauty and wander of the Great Barrier Reef, without getting your hair wet! Always popular, the see-through canoe doubles as a window to the underwater world. Gaze in wonder at the amazing coral gardens, and the many curious fish that will come close to investigate you.
Sea Scooter
The ultimate water toy, the sea scooter will take you on the ride of your life as you zoom through the ocean.
Stand-up Paddle boards (SUP)
Paddle board allows for a great view of the surrounding area, a fun way to explore the reef and coastline, and gives you a work out at the same time! Great for spotting turtles and other marine life, stand-up paddle boards are becoming popular all over the world.
Sample Itinerary
Experience the best of the Whitsundays with On Ice. With low group numbers, you can avoid the crowds as we take you to some of the most pristine locations in the Whitsunday Islands. No two trips are the same as the crew are focused on giving you a personalized experience!
While on your trip you will stop in various bays of the Whitsundays for snorkelling and other adventurous activities. On Ice sails explore throughout the National Park, stopping at a range of locations such as Whitsunday, Hook, Dumbbell, Langford, Hayman, Black, Border and Esk Island. Every tour is a little different, we travel to the best locations for the individual conditions. Each tour also visits the beautiful Whitehaven Beach on Whitsunday Island. A short walk takes you up the Hill Inlet Lookout, from where you have a breathtaking view over Whitehaven Beach.
Sample Menu
Day One
Appetizers: Hot Samosas, served with asian dipping sauces.
Dinner: Honey Lime Baked Tasmanian Salmon served with Marbled Rustic Mashed Sweet Potatoes, Seasonal Green Vegetables and Peri Peri Aoili.
Day Two
Breakfast: Percolated Espresso Coffee, Black Tea, Milk, Orange Juice; Freshly Chopped Fruit Salad, Hot English Muffins with a variety of Spreads and Cereals.
Morning Tea: Percolated Espresso Coffee, Black Tea, Milk; Dreamy Choc Chip Cookie; Apple Slices.
Lunch: Seasoned Roast Chicken Quarters, our world famous Potato Salad, Baby Spinach Leaf Salad with Feta, Cucumber and Tomatoes.
Appetizers: Cheese Platter with Brie, Australian Vintage Cheddar, Olives, Salami, Crackers and Roast Pumpkin Onion Cashew Dip.
Dinner: Gnocchi Amatriciana (Bacon, Capers, Cherry Tomatoes ), Mixed Italian Salad, Homemade Garlic Bread and Parmesan.
Day Three
Breakfast: Percolated Espresso Coffee, Black Tea, Milk, Orange Juice; Freshly Chopped Fruit Salad, Hot English Muffins with a variety of Spreads and Cereals.
Morning Tea: Percolated Espresso Coffee, Black Tea, Milk; Lamingtons (Australian Biscuit Cake), Orange Slices.
Lunch: Gourmet Deli Wraps with salami .
*Common Special Diets and Food Allergies are catered for if advised upon booking or re-confirmation. Please enquire upon booking if unsure. We reserve the right to change the menu at any time without notice.

BOOK WITH US TODAY! CALL 1800 550 751 OR (07) 4914 2425 IF LOCAL
---
Minimum age for children is 10 years and over and any guests under 18 must be able to swim.
Guests under 18 cannot be booked into shared accommodation, except where group will occupy an entire shared area. In other cases the parent need to occupy the shared area and child share private cabin with other parent.
This sailing adventures is only suitable for active people. A basic level of fitness and mobility is required, as a guideline Guests should be able to climb a ladder easily.
There are not 2 shared single beds together in same area, they are spread out around the boat.
Please note departure days vary.
On Ice is also available for Private Charter.
---
You May Also Like One Of These Products:
BlizzardWhitsunday AdventurerWhitsunday Getaway 2Whitsunday Blue 2
What To Bring
Please bring only a small soft bag with: change of clothes, hat, swim-wear, beach towel, sunscreen 30+, warm pullover for the evenings (seasonal). You will only need flip flops or sandals. You will also need to bring your own alcoholic beverages, available for purchase in town. No glass bottles please.
Luggage storage is available for $5 per person at check-in (ABC Travel).
What's Included
Skipper, Host, drinking water, meals, linen, bath towel, wet suit hire, snorkelling equipment and all Marine Park fees.
What's Extra
BYO alcohol - no glass. Soft drinks, bottled water and snacks are available for purchase on board.
Terms and Conditions
All departures and itineraries are subject to weather. Tours may be changed or cancelled for any reason at the discretion of the Tour Operator It should be noted that adventure travel involves risk. Whilst we make every effort to safeguard clients, we cannot be responsible for personal injury or loss due to actions of our clients which are beyond our control. We recommend that all clients have travel insurance covering illness, injury, loss or damage to personal belongings and not being able to travel on the confirmed date of departure. Please be aware operators pass on credit card merchant fees so there is a non-refundable 2.5% surcharge for VISA and MASTERCARD card purchases.
Please advise us before booking if any passengers are under 18 years old to ensure this is the appropriate trip. Also please note that you need to allow time prior to the boats departure to check in, please ask us for more details.
Cancellations
All client cancellations forfeit 25% of total ticket price. Cancellations made 14 to 30 days before departure will result in a loss of 75% of ticket price. Cancellations made less than 14 days of departure will result in a forfeit of full trip fees. If the sailing company has to cancel the trip (prior to the boat's departure) and we cannot offer a suitable alternative, then a refund will be given minus card fees. We strongly recommend that you have travel insurance, especially during the wet season.
Please note it is the responsibility of ALL passengers traveling to advise both your travel agent at the time of booking and vessel check-in agent before boarding of ANY medical conditions including food allergies you may suffer from.
Thank you for booking with Mr Travel/Sailing Whitsundays. If you would like any advice or assistance in arranging accommodation, transfers or additional tours, please do not hesitate to contact us.
"We had the most amazing 2 nights aboard "On Ice." The boat was beautiful and the crew made everyone feel right at home. The skipper did a wonderful job of answering our questions, presenting new challenges for us, and taking us to snorkel in areas off the beaten path so we were never crowded by other tour groups. The crew made sure we had delicious meals in addition to providing lots of laughs. They really made the most of our time on the boat and we were able to pack in many activities including stand up paddle boarding and lots of snorkeling."
Harry
Wed 16 Aug 2017
"My girlfriend and I have been on the "On Ice" catamaran. The crew did a good job - they showed us some nice spots and served us lots of tasty food between the activities. We have been snorkelling at 3 reefs at different islands, did some stand-up paddling or wind-surfing. Of course you can stay on the boat lying in the sun if you prefer. We even saw two turtles at a reef. This trip is really worth the money!"
Jamie
Wed 31 May 2017
"It was a dream come true! Everything was perfect! Plenty of good food, thanks to Julia!! Great activities, snorkelling, stand up paddle, surfing behind the boat... and lots of free time in Whitehaven after "rush hours"! Thanks to our captain Isabelle who brought us safe home! I definitely recommend!!"
Melanie
Wed 17 May 2017
"This definitely had the wow factor, such a beautiful place and the best skipper & deck hand around. I would happily do this again and again and highly recommend to everyone."
Gina
Tue 21 Feb 2017
"On Ice and the crew of Dave and Julia were fantastic. I have been on two other sails through the Whitsunday Islands and this trip was the best by far. The boat, the food, the kayak, paddle boards all being included make this a one stop holiday with everything provided. Experienced and knowledgeable crew, wonderful itinerary of places to snorkel, see the turtles, hike and the added environmental and historical information that was provided made it a unique experience. The fact that it is a boat that only caters to ten guests makes it much more enjoyable than sharing the boat with 30+ people. If you want an excellent experience you cannot beat "On Ice"!"
Alice
Fri 03 Feb 2017
"We are still under the impact of marvellous days with On Ice we would like to say THANK YOU for this outstanding experience. You can be proud of this crew Cat and Amy! Such a kind of hospitality, belief, engagement and being present. It was really stunning to spend these days last week on your boat. "
Monica
Fri 14 Oct 2016
"My brother, sister, and I just went on On Ice with Peter and Julia. We had a great time! We thought that Julia was great... She did remarkably well for her first trip. Would definitely recommend keeping her on board... pun intended!"
Sam
Thu 21 Apr 2016
"We went onboard On Ice and had the best time ever! Our captain and host did an amazing job and made sure we were not short of anything, and it was nice to always be informed about our route and our plans for the day. With only 10 guests onboard really gives you a possibility to explore the Islands in a pleasant and personal atmosphere! There are many beautiful things to explore around the Whitsundays and we also had the possibility to do cool water activities! There were delicious meals which everyone enjoyed! They offered nice snacks in between the meals as well."
Uli
Wed 23 Mar 2016
"We booked a 2 day 2 night trip on On Ice and it was just perfect from the beginning until the end. The skipper is very passionate about his job and tried to please everyone even when the weather was not too great during our first day. The deckhand loves his job and was perfect. His food was delicious. The boat itself looks brand new and was big enough and the cabin had plenty of windows which was great. During our trip, we stopped at Whitehaven beach for a few hours and it was fantastic having the beach for ourselves. The snorkelling sites all were nice with plenty of colourful fish. We even tried all the different toys, all in all it was good fun! We would recommend to anyone this sailing adventure. It is worth it to pay extra money to have a nicer catamaran with less backpacker and party onboard."
Arlekin
Thu 03 Mar 2016
"Great two days was had on board On Ice. The crew treated us like royalty and took us to some spectacular sights around the Whitsundays. We walked on the whitest sand in the world on Whitehaven Beach, we snorkelled with some stunning fish in coral, we paddle boarded into the sunset at Blue Pearl just before having a delicious meal. I would recommend this 2 day 2 night trip to everyone, great crew, great boat and great food."
Dean
Thu 21 Jan 2016
"The crew were friendly, helpful and professional! They provided us with ample information, delicious meals and snacks and made everyone feel welcome. The activities were amazing, from snorkeling at two different places, seeing Whitehaven Beach and doing stand up paddle boarding! There was enough space on the boat for 10 passengers in total, with 4 toilets on board. This meant that no one was in each others space and things were kept super clean. We kept to time and the crew definitely knew their stuff! This trip is a must do for anyone coming to the Whitsundays!!"
Mozzy
Fri 20 Nov 2015
"Such an amazing few days had On Ice with a stellar crew Marky and Matt! We were looked after so well and had so many great activities planned for us! Had so much fun and would highly recommend to everyone!"
Kimberley
Sun 25 Oct 2015
"We chose this trip as we didnt want to be on a party boat with large numbers of backpackers. This trip was perfect. Just 10 guests and all happened to be aged between 21-35. We all got on well and all went out for a drink in Airlie Beach the evening after we returned to shore."
Nattie
Mon 27 Apr 2015
"My friend and I had an amazing time on board, so much so that we hit dry land for a couple of hours and then hopped back on for the next sailing! Both trips were aboard On Ice, the beautiful catamaran. This trip had everything you could want and more- it left me with a hunger for sailing and a stand up paddle board! The extra few dollars it costs is well worth it for the toys, the luxury cabins and the stunning places a boat this size can moor. I want to go back! "
Frou
Sun 04 Nov 2012
"Bo, the ship hand was an amazing cook and really friendly and helpful, really made us feel at home. Isabelle was a very professional captain, made us feel safe and in good hands. Together they gave us a very relaxed, fun packed trip. Swimming with turtles, whale spotting, cool corals to snorkel and amazing views of Whitehaven beach. "
Sun 04 Nov 2012
"The vessel was immaculate with plenty of room to move around.The cabins clean and the decks spotless. We cruised at a comfortable speed and our journey was roughly mapped out for us on our departure. The crew, Captain Phil and Mink were exceptional.Phil made us all feel safe on the vessel as well as making the time to get to know each and every one of his guests. Mink was amazing with his management of deck hand duties and culinary expertise. The food was far beyond what i expected. The espresso was a lovely touch too. They even organised fantastic weather for us. (lucky) I have recommended the cruise to work colleagues and may well return again soon with some friends. "
David May
Mon 06 Aug 2012
"The only thing that I would criticize is that... the trip is too short!! Wish it could have gone on for a whole week. Thanks for taking us to all your favourite spots - I always tell people to go to Mantaray Bay now because I loved it so much. Will recommend this one to all my friends Thanks again, Nikki"
Munoz
Mon 02 May 2011
"I want to quit my job and work in the Whitsundays!!! You guys are so lucky to get to work in such a paradise. Thanks so much for sharing this amazing place with us and feeding us LOTS of yummy food. The water toys were good fun. If you ever want to trade jobs, I'm in!! Hannah"
James
Sun 13 Feb 2011
"My first time on a boat for more than a day! Even though I got a bit sea sick... it was well worth it! I couldn't believe how much we got to see and do in 2 days. Was a really relaxed environment and it was nice to have the owner of the boat actually drive it - thanks Luke! I wish you all the best, this is a trip that doesn't disappoint!"
Richards
Sat 15 Jan 2011
"Nice boat. good food. friendly crew. very relaxing. not good if you want something really social"
Mon 06 Dec 2010
"The only thing that I would criticize is that... the trip is too short!! Wish it could have gone on for a whole week. Thanks for taking us to all your favourite spots - I always tell people to go to Mantaray Bay now because I loved it so much. Will recommend this one to all my friends Thanks again, Nikki"
Sat 16 Oct 2010
"Me & my boyfriend had a fantastic couple days on On Ice. We loved the crew and all the activities they provided for us. Although my boyfriend didn't quite get the hang of it (lol), he loved playing around on the stand up paddle! The kayak was my favourite though... great food, nice company and comfortable accommodation. Would recommend to anyone - especially couples :) Noj & Aisha "
Garcia
Thu 23 Sep 2010
"Happy days. Couldn't have been more impressed with this professional and fun tour! The boat was just as it was in the photos - usually I find myself disappointed. Luke was the perfect skipper and always took what we wanted to do into account when making decisions. It felt more like I was out on a boat with a bunch of my mates for a couple days rather than an organized trip. No complaints... other than I wish it had have been longer!! Cheers from Maron and Tobias"
Soligo
Sat 07 Aug 2010