Entice 2D2N
CLOSE
View More Thumbnails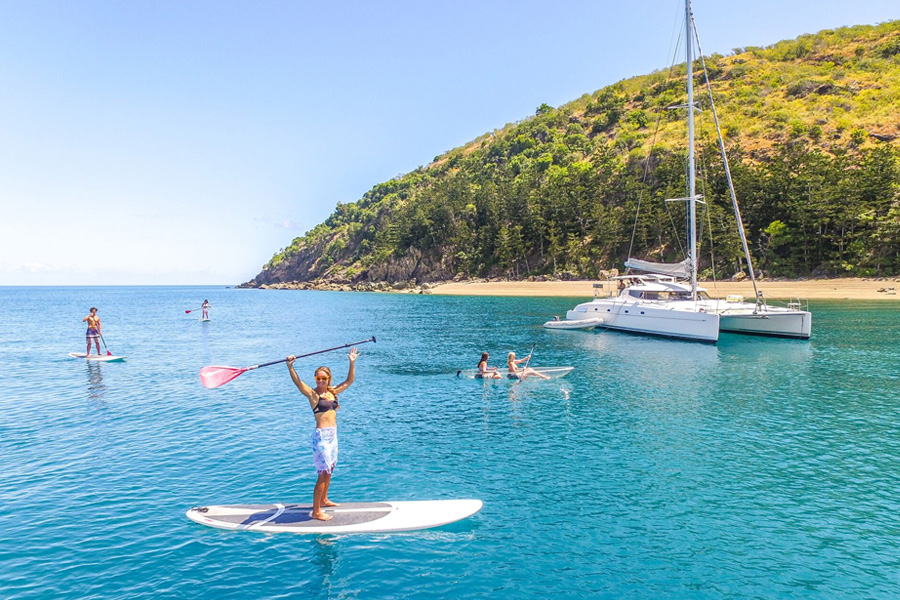 Loading...
Departure Times
Departs: 4:00 pm
Returns:
2:00pm
Departure Point: Coral Sea Marina, Airlie Beach
Pricing Options
RRP $549

$519 AUD / Person
- Shared Single Accommodation
(Between: 31 Mar 2022 and 31 Mar 2023)
RRP $549

$519 AUD / Person
- Private Triple Cabin (requires 3 people) ($1557 Total)
(Between: 31 Mar 2022 and 31 Mar 2023)
RRP $680

$650 AUD / Person
- Private Triple Cabin with Ensuite (requires 3 people) ($1950 Total)
(Between: 31 Mar 2022 and 31 Mar 2023)
RRP $719

$698 AUD / Person
- Private Double/Twin Cabin (requires 2 people) ($1396 Total)
(Between: 31 Mar 2022 and 31 Mar 2023)
RRP $749

$729 AUD / Person
- Private Double Cabin with Ensuite (requires 2 people) ($1458 Total)
(Between: 31 Mar 2022 and 31 Mar 2023)
RRP $749

$729 AUD / Person
- Private Twin Cabin with Ensuite (requires 2 people) ($1458 Total)
(Between: 31 Mar 2022 and 31 Mar 2023)
Highlights
| | | |
| --- | --- | --- |
| Whitehaven Beach & Hill Inlet | | |
| | | Best Island Reefs |
| Snorkelling | | |
| SUPs | | |
For small group sailing with a fun itinerary, hop on board Entice!
Entice is one of the most recent additions to the Whitsunday sailing fleet

Snorkel, swim, and enjoy action-packed complimentary extras such as a clear bottomed canoe, sea scooter, and stand-up paddleboards

Taking only 10 passengers at a time, look forward to small, intimate group sailing onboard a smooth, state-of-the-art catamaran

Sail around one of the sought-out destinations of Australia and see all the sights

The perfect choice for families, couples, or groups of friends!
*Entice has an identical sister vessel, On Ice. Please visit the On Ice page for further availability if needed.
Customers who viewed this item also viewed...
Reviews
Overall Rating
4.9 / 5.0
Based on 72 reviews
Reviews by our Sailing Whitsundays customers
Alison Magrath
, 28 Feb 23
We had a wonderful adventure, thoroughly enjoyed the sailing and snorkelling!
Louise Marlinde Annemarie Smolders
, 02 Feb 23
From the 3 moons to the narcoleptic birdWe had a great time during our trip with Dave and Simone! Lots of humor, amazing music playlist battle, great food, wonderful hospitality and awesome snorkeling. Our trip couldn't be better! Thanks you guys, highly recommended. Warm regards, the Dutch dentists
Linda Strachan
, 02 Feb 23
Suoerb! The catamaran was large enough to be comfortable but small enough to get to know other guest and crew. The reef snorkelling was amazing and we were taken to fantastic locations including Whitehaven beach before crows arrived. The food was also lovely. This was the trip of a lifetime.
Regina Chrapko
, 28 Jan 23
Wow! Our skipper Pete and crew were amazing . Pete took such care of us . Food was delicious , cabins were clean .Felt safe and it was a huge adventure and excitement to get into the Australian waters . We saw so much and the fellow passengers were lovely .
Marlon Elias Kampmann
, 23 Jan 23
Dave and Simone were fantastic! They were the reason we had such an amazing time. Perfect planning and execution. It was an exciting adventure, where we also felt safe all the time. 10/10 - would highly recommend! Best
We had a wonderful experience aboard Entice. Skipper Pete planned a great itinerary and squeezed in as much snorkeling as anyone could ask for, and his deck hand Daniel was utterly fantastic, meeting and even anticipating our needs and helping in every way he could. He was also a fantastic cook!
Matthew O'Reilly
, 16 Jan 23
An amazing trip! The skipper knew all the best snorkel spots and how to make the most of our time on the water. The crew made sure everyone on board was having fun and felt super comfortable both in and out of the water.
Joanne Wegener
, 09 Jan 23
Our trip aboard "On Ice" with skipper Dave was fabulous. The boat was comfortable and Dave made sure our trip was a great experience adapting the trip to suit the weather. He was mindful of allowing us to have a unique experience without the other large crowds. Dan's food was delicious
Great experience, stunning views and great tour. Chris was very knowledgeable of the area answered any questions about the reef/area. Jillian was very welcoming & worked very hard! She was a great tour guide on the island and made sure we had everything we needed. 100% recommend
Great trip! I had sea sickness, but overall a good experience. Just wish I felt better.
For us, it was the experience of a lifetime with a great skipper (Kane) in one of the most beautiful places we've ever visited. Some parts of the boat are starting to seem a little run down, but the overall quality of the experience more than made up for it.
Wonderful few days. Great team, great food & great activities!
Sacha Nicholls
, 14 Nov 22
Great unique way to see the Whitsundays! Couple of things weren't as expected/ advertised, but these were pretty minor in the overall experience
Charles Tunley
, 12 Nov 22
As above
Really great trip, the staff were so informative and attentive and the islands were beautiful were so grateful we got to see them and so much more!
Had a great time onboard entice the food was plentiful and tasty and the snorkel spots were great, saw some great fish. the crew were great would recommend
great experience, Kane was very knowledgeable and engaging with the guests. The snorkeling & Whitehaven were great. Food was excellent. Only suggestion, better description of the single sleeping unit, it is has no privacy for changing and is a bed in the corridor but I may have misunderstood myself
patricia Ansell
, 30 Oct 22
Amazing. The weather was turbulent but Kane the skipper was all over it and plotted our course accordingly. Both he and Jan were extremely good company and did a fantastic job
Taneen Tremblay
, 19 Oct 22
Over all good, unfortunately hit bad weather but still made the most of it! Food was delicious!
We were a bit unlucky with some really wet weather, but still had a great time. Thanks to the crew for making the most of the trip for us.
Awesome experience, highly recommended. Crew members Kane and Yarn were amazing in educating and entertaining us in our trip around the Whitsundays. Definitely worth doing.
The ship was well equipped and clean, the staff ok maybe just not very engaging. The navigation leg could have included a longer stop at Whitehaven Beach. Unfortunately the weather was not the best but it is not your fault.
Absolutely fantastic ! Food was really good and plenty of it . Chief stew was Celia , she looked after us brilliantly making sure we had plenty of food and snacks . Pete the skipper was very informative ( with some added extra tales too ) and took us to lovely reefs to snorkel .highly recommended
Sonya Leslight
, 07 Sep 22
Setting off with a bunch of strangers quickly turned into a gathering of new friends with idyllic surrounds and knowledgeable crew enabling us to view all that the Whitsundays has to offer. Once in a lifetime experience.
Eleanor Grace Dooley
, 02 Sep 22
Absolutely amazing trip. Myself my sister and a friend went on the whitsunday adventurer for 2 days and 2 nights. We had Megan and Tierry as our crew who were fantastic. Food, snorkelling and sailing was incredible. Even with the poor weather on the first day we had a fab time. Definitely recomend.
Philippa Rose
, 04 Aug 22
Really great. Loved captain Gary and our crew coco and Jan. we relaxed, swam, snorkelled, used the canoe and SUPs, Gary had so much knowledge of area and wildlife.
Thanks for the amazing trip, the boat and itinerary for our party was perfect. Crew were fantastic, they both looked after us well. Good luck with the rest of your winter season.
The crew did everything in their power to make the trip great! We had an absolute blast and will definitely recommend it to others.
The best thing I've ever done!!
Amazing experience! I cant think of anything that could have been improved.
It was a magical experience - it was like living the dream! Thanks to all, we had the perfect trip.
Lived the dream with the sea scooter!
Julia and Tommy were excellent, we would recommend them to anyone! Wonderful experience!
The trip was fun and we felt safe!
Julia and Tommy are an amazing duo. Both highly professional and always friendly.
Epic trip! Food was great, even with a special diet - thanks Tomm! Julia was so professional but so relaxed - we were in good hands :)
I just want to say that my time out on Entice 2D2N with Julia & Sophie a few weeks ago was INCREDIBLE! They have such great local knowledge and Sophie is such a good chef. Please pass on my appreciation of them to the owners because they were so professional and went above and beyond to ensure each guest had an unforgettable experience. I will be recommending this trip based on the fact it felt like a very personalised experience with minimal numbers and the snorkel spots were brilliant.
Skipper and crew were the best!
I felt very spoilt and am extremely grateful for the experience.
My wife and I had the pleasure of spending the weekend on Entice. Honestly one of the best weekends we have ever had. Dave and Sophie were awesome hosts and we learnt heaps.
Had an awesome trip on Entice and even saw a dolphin on our last day, lovely memories to cherish forever, will be back next year
Fantastic tour out to the Whitsunday Islands aboard Entice. The crew are professional, friendly and wanting to ensure you're having a great experience.
Thank you very much, we had a great trip! We can't wait to go out on a catamaran again.
One of the best coral reefs I've ever seen. This was better than our snorkelling at Hardy Reef. Enjoyed everything. Great tour.
Me and my friend had an amazing tour, visiting Whitehaven Beach and some of the Whitsunday Islands, where the coral and fish were breathtaking - we even saw turtles. The boat felt quite new and very comfortable, and the staff were first class.
Came on as a single traveller but enjoyed myself. The atmosephere was very friendly and welcoming from the start. The tour was a highlight along my Queensland road trip.
This cruise is fabulous. The crew are very friendly. The coral reef locations were amazing, saw plenty of colourful fish, turtles, stingrays and even a reef shark. Food was also great. Highly recommend.
We had an awesome time. My mum joined me and my sister. This is a great tour for family and friends. We enjoyed all the activities like paddle boarding, sea scooter and sailing.
Wow! The best sailing trip we have ever done. I had researched a tour from Airlie Beach and this one came out on top and did not disappoint. Friendly and helpful crew. The boat is incredibly clean and large with plenty of space to move about. A very well run sailing tour from Airlie.
It was a great and adventouros trip at times. Weather wasn't the best but still an experience not to be missed. We will be back.
A bit unlucky with the weather. We did have sunny weather on Whitehaven Beach and it is a fanatastic spot. Snorkelling was still great.
The group had a wonderful time, thank you. Julia and Alfie really added to the dynamic. Julia's knowledge of the islands, coupled with her boat handling skills and her zest for life, really contributed to our fantastic charter. We hope to do it again, but only with Julia!!
Had a flawless few days out sailing and snorkelling the Whitsunday Islands. Professional crew cater for all skills levels and experience, great food!, and comfortable vessel. Don't come to the Whitsundays without going sailing.
What an amazing adventure we had the last few days sailing and snorkelling the Whitsundays. So much to explore, learn and see, we had a ball out there. Special thanks to skipper Greg, who knows everything Whitsundays and assisted us with snorklling. Thank you for a memory we won't forget.
Had a great tour with the crew aboard Entice, very professional and extremely safe. I am an experienced sailor and I was very impressed. I have done a lot of other boat tours with other companies, but the team aboard Entice is a cut above. I will certainly be back. Big thanks to Julia who is a great skipper and host. Thanks for an awesome time.
An amazing experience to do in your life. The crew aboard Entice made it special. There is still the beautiful colorful fish to see and living corals. Really enjoyed the snorkelling. Thanks to skipper Greg and deckhand Tommy!
From start to finish, it was very clear that the skipper and deckhand loved their work and were committed to helping every passenger get the most out of their experience. Skipper Julia and host Tommy were helpful and always ready to engage with passengers. All the meals were freshly cooked and delicious, thanks.
Very professional and personal experience. The boat was amazing, and bith crew were friendly and informative - no request was too hard. The boat was well maintained, and at the snorkelling locations we were the only vessel, which was lovely.
Great skipper and crew who sailed us through the Whitsunday Islands. Went to Whitehaven Beach and 2 great sites on the reef and saw plenty of amazing fish. Would recommend this trip.
I can not recommend this trip enough!! Dave, our skipper was incredible, the chef Rheif, was great and well everyone was fabulous. Heaps of corals, fish, paddle boarding and more ????. Thé boat was comfortable and felt new. Great job and I will see you all soon!
Awesome family experience, staff so happy, friendly and professional. The water was clear and blue, snorkelling was amazing!
We booked this as part of our Whitsundays visit. The tour was great, we loved every minute of it! Our skipper Izzy was fantastic. We saw a ton of tropical fish...AND a turtle! We visited two different locations where the reef was healthy and colourful. Swimming amongst the fish was next level AMAZING!
Fantastic two day sail on Entice with skipper Dave and host Julia. Both very knowledgeable and did everything to make the trip a memorable one. Got to visit a couple of spots none of the other boats went to, and had superb snorkelling, paddle boarding, etc. Sailed back at 11 knots in a strong force 5 wind: superb sailing, 10/10!!
We were on the 'Entice' catamaran for 2 nights with Matt and Kate. EVERYTHING ran so smoothly. They both went above and beyond to provide us all with a full and fun schedule for the 3 days. Loads of insight and lots of care taken to provide us with little thing like warm drinks after snorkelling etc. the food was plenty. We never needed for anything extra...we didn't feel like we were in each other's pockets at all and fellow travellers were an awesome bunch!! Thank you for a great cruise... Take shoes suitable for walking on rocks and coral!!
Just returned with my daughter from 2 days, 2 nights on the Entice with captain Math and Dez(great food ,Dez!..). If it would have been possible I'd give the trip and the crew 6 stars! They made the trip so relaxing, took us to some of the most beautiful spots I've ever been before. See you again!
We loved it. Definitely one of the highlights of our holidays. We will recommend you!
Just returned from an amazing trip with the Entice; everything was great, the ship, the islands, the beaches, the food, snorkling, and above all the crew Matt and Mitch ! Highly recommended if you want to experience the Whitsundays at it's best.
"The crew went above and beyond to give us the best possible experience! We had a great time and will remember for years to come. Thank you!"
"It was a very nice trip, would do this every time again-We definitely got what we expected, and more. The crew and skipper were a great team and created a great atmosphere. An amazing trip!!"
"We want to have another day!!! Loved it, team and view were awesome. If I come back I want the same! Everything was perfect. Thank you!"