Blizzard - 4 Day 3 Night Sailing Tour
CLOSE
View More Thumbnails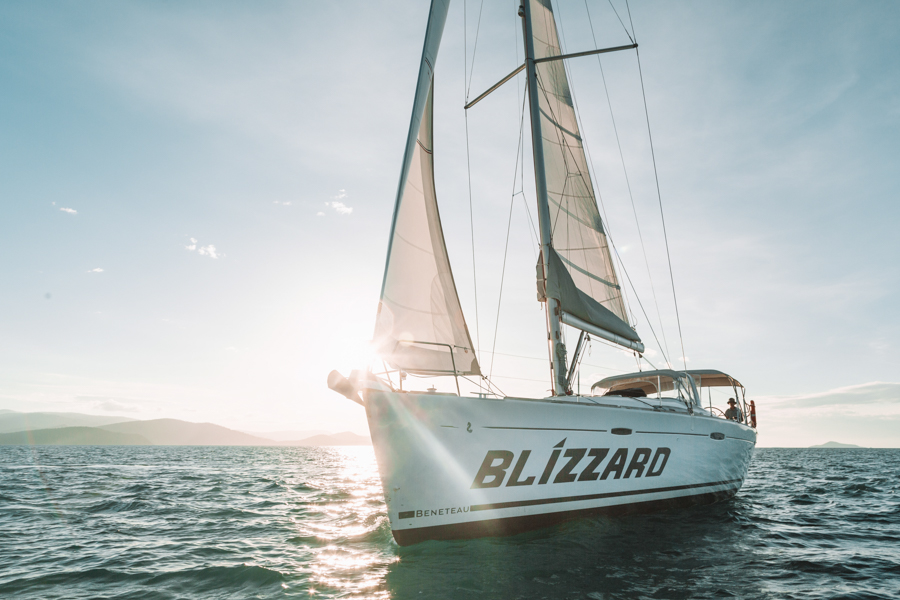 Loading...
Departure Times
Departs: 9:00am - Tue
Returns:
4:00pm - Fri
Departure Point: Coral Sea Marina, Airlie Beach
Pricing Options
RRP $695

$635 AUD / Person
- Shared Accommodation
(Between: 31 Mar 2022 and 31 Mar 2024)
RRP $900

$840 AUD / Person
- Private Double Cabin (requires 2 people) ($1680 Total)
(Between: 31 Mar 2022 and 31 Mar 2024)
RRP $900

$840 AUD / Person
- Private Twin Cabin (requires 2 people) ($1680 Total)
(Between: 31 Mar 2022 and 31 Mar 2024)
RRP $940

$890 AUD / Person
- Private Double Ensuite Cabin (requires 2 people) ($1780 Total)
(Between: 31 Mar 2022 and 31 Mar 2024)
Highlights
| | | |
| --- | --- | --- |
| Hill Inlet Lookout | | |
| | Snorkelling | Great Barrier Reef |
| | | |
Delight in contemporary cruising onboard a sleek and elegant Beneteau 50.
Blizzard is a popular choice amongst travellers who are looking for a fun, interactive tour around the Whitsunday Islands
Visit both ends of world famous Whitehaven Beach and Hill Inlet Lookout!
The tour that gives you a full four days exploring the Whitsundays Islands
Maximum of 10 passengers so you can enjoy the beauty of the islands in comfort
Frequently Asked Questions
What is the minimum age for Blizzard?

The minimum age is strictly 6 years and above. The trip is not suitable for infants.
Can I bring my own alcohol?

Yes, but only wine bottles and spirits are permitted. Please do not bring any small glass bottles like beers, ciders or mixed drinks.
Do you cater for special diets?

Yes any special dietary requirements including vegetarian, vegan, gluten-free, etc can be catered for. However, there will be a fee of $10 per day to cover the costs. Please let us know at the time of booking if you require this.
Can I smoke on board?

Yes, but only in designated smoking areas which the crew will point out once you're on board.
Will I be able to charge my phone on board?

Yes. There are USB charging points in each cabin and in the main saloon area.
Reviews
Overall Rating
4.9 / 5.0
Based on 37 reviews
Reviews by our Sailing Whitsundays customers
Melissa Francis
, 12 Nov 23
Great experience and great team, thanks so much for the fantastic trip!
Captain Ahab has a great appreciation for sailing and the ocean alike. The more we sailed the better it was. Hard for me not to be hands on or know what's happening at any given time which equates to learning. I was able to adjust and we felt accommodated. Great trip ,keep up the great work
Anne Franzmann
, 17 Sep 23
It was everything we expected, and more!! The winds were up so we had a great sailing experience. From Whitehaven Beach to turtle and whale spotting, to snorkeling along amazing reefs, I absolutely loved it all. Such a great value trip! Thanks, Sam & Phil!
i had a 30 year dream to go on sailing adventure at Whitsunday's. The dream was fulfilled and I can not speak highly enough of Blizzard and its crew. Great food. Great locations. The crew had vast knowledge of the location, tides, times and conditions. thoroughly enjoyed by myself and my new wife.
This trip has exceeded my expectations. With the perfect sailing conditions, we were able to beat the crowds and experience the Whitsunday's in a very unique way. I was impressed how talented the crew was and how well they took care of us. It was the cleanest boat I've ever sailed with.
Had a great time and nice that we were able to sail for much of the time. Felt safe and secure at all times both on the Blizzard and while snorkelling. Good veggie food. The crew, Sam and Sarah, were excellent. The only downside was the heat in the cabin overnight.
Romana Witschi
, 30 Jan 23
Top experience, I would recommend it to everyone. Great crew, Sam and Xavier are a great company, taking good care of you and making great food. Everything was clean. Great snorkeling spots and a beautiful yacht. I would do it again!
My time on the Blizzard was truly life-changing. I saw much more of the reef, sea life, and Whitsundays than I ever could have imagined. I also couldn't have dreamed of a better boat crew. The locations, activities, and crew together made this trip truly unforgettable. I'm confident I will be back.
The trip was truly fabulous. Sam took us to places that we would have missed if we took any of the shorter day cruises. We had the luxury of being at Whitehaven Beach when we were the only ones there. Sam knew all the right places for great snorkelling, to swim with giant Turtles.
Diane M Brunetti
, 25 Dec 22
This was an experience of a lifetime! We rate it 5+++++Stars! We feel extremely fortunate to have found availability for the 4 days, 3 nights on the Blizzard! Do not hesitate to book this trip! You will sail, snorkel, hike, relax and swim the beautiful Whitsundays! Thank you Captain Sam & crew!
Well organized. Great crew. Lots to see and not rushed. Highly recommended.
Incredibly beautiful! The food was excellent (arguably the best part!). The sleeping arrangement was also better than we imagined! However the organization felt scatty when we arrived on the pontoon, and one of the staff members was not as hospitable as we would expect for such an experience.
Excellent hospitality, great conversations and setting! However for the price that it is, the food was not what we thought it would be. Nonetheless, it was a beautiful boat, some of the best snorkelling we have ever experienced and a stylish way to see Whitehaven Beach.
SCUBA diving was excellent, and the instructors were amazing. Very easy to book and organize, and all equipment was clean and in fantastic condition. I would do this again for sure!
Geoffrey Crisp
, 18 Oct 22
Coral and fish were outstanding. Beaches and scenery stunning. Fellow travellers great company, friendly and made for a very enjoyable time.
Jessica Kendall
, 04 Oct 22
This tour was amazing, great number of people on board, both staff were great guides, we loved it and we will definitely book again. Food was good quality and lots of it, plenty of snorkeling and beach time, 3hrs at Whitehaven and the beach was empty for our last hour. Book this boat!!!
Jessica Kendall
, 04 Oct 22
This tour was great, amazing snorkelling, perfect amount of people on board, both Sam's looked after us well. Would do again, more relaxed vibes than the larger tours, 10/10
Amanda Matley
, 04 Oct 22
TBH, it far exceeded all my expectations and I was left speechless. Sam and Phil were a terrific balance of professional, safe, fun & adaptable to the groups needs and desires! I cant recommend this trip enough. A truly magnificent experience. Thankyou to Sam, Phil and my fellow travellers- superb
Ian Chipchase
, 04 Oct 22
Best snorkelling ever. Great sailing and scenery. Our skipper Sam looked after us with skill, humour and with regard to our request for extra snorkelling.
Please send our thanks to Tristram and Sam for a glorious four days on board Blizzard. They were fantastic hosts, they offered special care for me with my new knee! Both Marc and I enjoyed each and every minute of our journey. Nice people on board. It was fun. thank you. Trisha and Marc.
Ted van Groningen
, 13 Sep 22
We were fortunate to have good weather and good company from our fellow passengers. The crew was outstanding, doing everything to give us great snorkelling and sightseeing opportunities, and providing us with good food. The four day tour is nice, allows sufficient time to relax and no need to rush
Amazing experience-I did not want to get off! We were lucky enough to have Tristram (owner) skipper us. His knowledge of the area meant that we got the best of the spots we went to according to weather and tides. Lots of sailing too. Phillipe our host and crew, looked after us exceptionally well.
We did the Blizzard 4day trip with Tristam the Owner. It was really relaxing and laid back. Delighted we went to so many places and saw a lot of The Whitsundays. We learnt a lot about sailing and want to come back next year.
James and Abby
, 24 Sep 21
Went on Blizzard for a 3D/2N trip around the Whitsundays. Blizzard is a lovely yacht and has enough space for everyone on board (it is a yacht not a house). Our skipper Scottie was very knowledgeable and made the trip more personal... we stopped to view whales at every opportunity, which all the guests loved. He also took us under sail more than motor, which was great. Des was our deckie and the food was amazing! We felt constantly fed and my girlfriend was well catered for, even as a veggie; had separate meals prepared. Our crew were really good and definitely added to the great experience. Being early in the whale season we did not expect to see any. We were fortunate enough to see multiple breaches and one whale come within 50m of the boat. We snorkelled with turtles and saw some great sections of reef.. you read so many horror stories of the Great Barrier Reef so it was great to see that it is still thriving (if you are willing to not go to the tourist sites that are visited daily by hundreds of people!) The Whitsundays are truly incredible and we felt this was the best way we could have seen them. We will definitely be back and have been inspired to start sailing more! Thank you for a great time.
Christina and Mat
, 01 Sep 18
Amazing trip on the sailboat Blizzard! Scotty and Mitch are just a perfect crew, we couldn't get any better. Scotty, our funny and experienced captain took us to just amazing places. We saw colourful corals, fishes and turtles. Mitch is a great cook! He always prepared delicious meals and helped with everything! Both of them had always an instructive answer for marine life and sailing. It was a beautiful sailing adventure with a very nice group. Thanks for everything!
We have booked a 2 night sailing tour on the Blizzard, a 50 ft Beneteau sailing boat, and it was a wonderful trip although the weather could have been better. Scotty, the skipper and Desiree, the assistent and cook, did a great job and knew what to do. Everything was well organized, food very nice and the boat quite clean. Scotty likes to sail really and not only use the engine and he is very experienced concerning the Whitsunday waters. Nice stops for snorkeling, clear instructions and entertaining stories made it all very enjoyable. We can really recommend this crew and company.
My friend and I were on board Blizzard from Friday to Sunday - honestly, one of the best experiences of our lives. The snorkelling and scenery, complemented by the monohull sailing, was just so so much more than we could have hoped for. Scotty was a phenomenal skipper with his knowledge of all things, not just the sailing. He is a huge asset to your company. As is Monique, the deckhand, who was the best tour guide we could have hoped for, looked after us, and cooked up a storm every mealtime. In all, thank you so so much for giving us an amazing time.
Best 2 day 2 night trip in the Whitsundays!! It's my 3rd trip out to the reefs and I will say the skipper loccy made the trip with his knowledge and enthusiasm! The food was fantastic and I thoroughly appreciated the effort the skipper went to take us to the best spots on the reefs for snorkeling!! Out of all the boats this is the one to get on !!
Fabulous trip in great hands. Grateful to have had them take such good care of us. Thanks.
Just finished a fantastic 3 day trip on Blizzard with Scotty & Mitch. The sailing was brilliant and a lot of fun. Both Scotty & Mitch were extremely knowledgeable & informative; they added so much to the experience. The snorkelling was very enjoyable & Scotty's local knowledge certainly enhanced the trip to Whitehaven Beach. The food was also excellent, plenty of it & good quality. This is my 3rd trip to Aus & I've been on a number of trips & experiences across the country. This is by far the highlight of my previous trips combined! I'd certainly recommend Blizzard to anyone as you get the true sailing experience with an excellent crew.
Dabi - Netherlands
, 20 Aug 14
The trips was awesome! It was THE highlight of my holiday in Australia thanks to skipper Dave and Stephanie. They are the best! Definitely recommend this to other people. Dave and Steph made the trip an awesome trip!! Very professional, experienced, clean, caring, just great!
Amazing!!!! The crew were outstanding - the best couple of days I've had in Australia. Thanks so much :)
The best way to see the whitsundays is on a yacht & this is the creme de la creme! Stunning boat, great skipper & the lovely Lauren crewing. No more than 10 guests. Can't recommend it enough
We couldn't recommend this trip and this boat highly enough. If you are looking for a fun relaxed trip-not a party boat but a very sociable boat-that when the wind is good makes you feel like you are really sailing-stop looking for anything else-book an adventure with isail-and if you can-book Blizzard
Hi Lizzie Just updating you on our weekend trip out on Blizzard. We had a marvelous time and the weather was great. We did all the activities, saw wonderful scenes and snorkelling with the fish and turtles was terrific. And we had a wonderful group of people with us. Lots of fun. Thanks for all your help. Cheers Elaine
Thanks to Kirsten and Mr Travel for booking Sue and myself On Blizzard, yes it was brand new as you told us, it was. We had a truly fabulous time. Great food, some new friends, and the Whitsundays are really are a sailors playground. thanks to all for a great holiday we will definately be back next year. The Johnsons from Melbourne.
Loved our time on Blizzard and the crew, Alex and Sam were amazing. You can really tell they were enjoying their job and they did everything in their power to keep us safe, fed and entertained. We also did a lot more sailing and used a lot less motor than I was expecting.