Solway Voyager 3 Day 2 Night
CLOSE
View More Thumbnails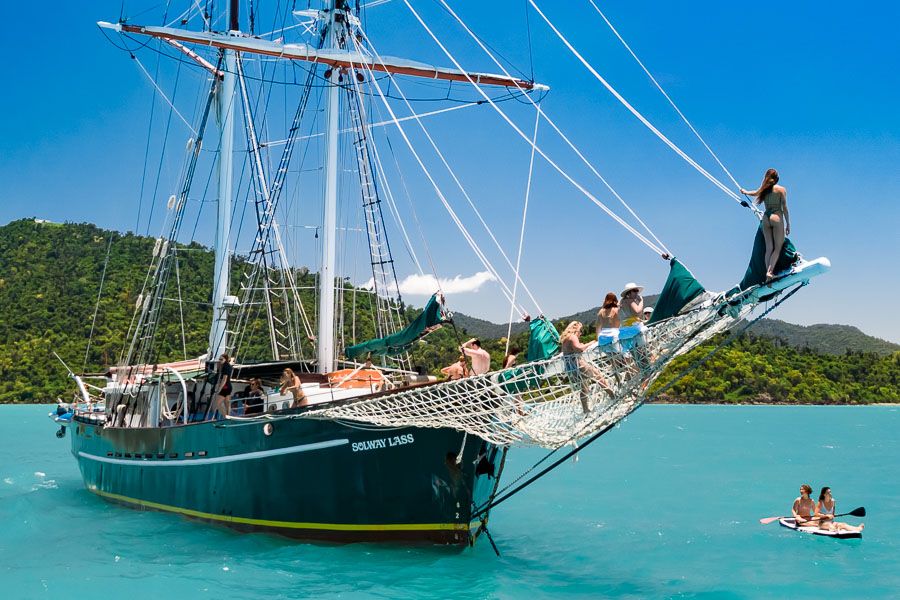 Loading...
Departure Times
Departs: 9:00am - Monday, Friday
Returns: 4:00pm - Wednesday, Sunday
Pricing Options
RRP $649

$539 AUD / Person
- 7 DAY SALE Shared Accom
(Between: 25 Sep 2023 and 01 Oct 2023)
RRP $649

$579 AUD / Person
- ONLINE DEAL ONLY Shared Accom
(Between: 08 Sep 2023 and 31 Oct 2023)
RRP $649

$599 AUD / Person
- Shared Accommodation
(Between: 01 Sep 2023 and 31 Mar 2024)
$1799 AUD / Cabin
- Private Double Ensuite
(Between: 01 Jul 2023 and 31 Mar 2024)
Highlights
| | | |
| --- | --- | --- |
| | Hill Inlet Lookout | Great Barrier Reef |
| Snorkelling | | SUPs |
| | | |
Let the good times roll on this social adventure aboard a unique sailing vessel!
Explore Whitehaven Beach and Hill Inlet Lookout with ample island time.
Snorkel the Great Barrier Reef and swim with turtles, fish and colourful corals!
The perfect experience for backpackers looking for more time on the reef.
Frequently Asked Questions
Is there a minimum age for this trip?

Yes, you must be 18 years or older to book a trip on Solway Voyager.
Do you cater for vegetarians, vegans, gluten-free, etc?

Yes, however any dietary requirements will be required to pay a surchage of $15 each payable upon check-in.
Is it BYO?

Yes, you can bring your own alcohol on board Solway Voyager. But please ensure you do not bring any glass bottles.
Is snorkelling equipment provided?

Yes, you will be provided with snorkelling equipment including your mask and snorkel.
Can I smoke on board?

Yes, there are designated areas on the vessel where you can smoke or vape.
Are there air-conditioners on board?

In the cabins you will find air-conditioners to ensure you stay cool during the humid summer months.
Reviews
Overall Rating
5.0 / 5.0
Based on 41 reviews
Reviews by our Sailing Whitsundays customers
The crew was incredible care, attention and hospitality! They all truly exceeded expectations!
Thank you for the authentic experience with Solway, will remember this trip forever. You guys have been amazing!
This trip has been everything hoped and more. Food was great, staff were fantastic, vibes were high. Thanks for your time, effort and dedication! Much love!!
Thank you so much for making our trip so special! It was a blast!
We loved all the stories, the crew made the trip so much fun
The crew constantly made everyone safe and having fun! Love their stories and knowledge they have shared with us!
A big thank you to all of you! It was a special trip on the private ship :)
Thank you team for making this trip an unforgettable one!
Thank you guys so much for everything! The crew made the trip so special. Thanks for sharing your love for the boat with us!
Absolutely incredible experience - couldn't have been any better. So glad I did this. Captain Dan, Picked the parrot, & the crew were awesome & did everything possible to make it the most amazing cruise. An unmissable adventure, for sure!
Really amazing trip! Enjoyed the snorkelling, hiking lots! The food was also a highlight
It was an absolutely awesome trip - awesome crew, lots of fun and all in all just a great experience - would defenitely recommend it
Niamh McCarthy
, 22 Mar 23
It was really fun and the staff made the trip amazing
Natalia Fioretti
, 08 Mar 23
The boat itself was great, shade and air con! I removed a star because there was a problem with the toilet from the group before which the crew did not figure out until halfway through our trip, proving that they don't clean it thoroughly in between sailings.
AWESOME , I'm taking home hundreds of wonderful photos , videos & precious memories.
Amazing experience, comfortable rooms & fantastic food!! Such a great team had an amazing time, sunsets on the water are incredible.
Kaitlin Kinahan
, 10 Feb 23
Trip of a life time! An absolute must do on the east coast!
Victoria Selzer
, 04 Feb 23
I had the best time on the Solway Lass Boat! The boat and the crew are truly amazing, they showed us the best spots (to the best times), gave us a lot of informations about the reef & Whitsundays and the served food was amazing. Can really recommend this tour!
Great trip, couldn't recommend it enough, amazing crew, couldn't ask for anything more.
Fabian Johannes Neuhaus
, 14 Jan 23
I really had a great time and enjoyed staying on the Sloway Lass. The food was extraordinary and the snorkeling experience over the Wonderwall Reef was one of the best of my life. I hope the Sloway keeps on sailing the sea for another 120 years.
Courtney Lisboa
, 14 Jan 23
Great experience all around
This was bar far one of the highlights of my time in Australia. Captain Dan and the crew were absolutely amazing, couldn't have asked for a better experience
Just got back from a Voyager trip. The vibe of the boat the Whitsundays all exceeded our expectations. Really happy to recommend this boat to others. It was really hot on the trip but coming back to an air-conditioned boat was the best bit. Great boat crew under an awesome skipper Dan, what's not like. thanks, team Solway.
Anton Simon Kunstmann
, 24 Dec 22
The tour was great! Had a lot of fun and an amazing time. The crew was really cool and did a fantastic job at making the tour an awesome experience. The food was really good, the snorkeling was a lot of fun and exploring the Whitsundays was just beautiful! Thank you for this wonderful experience!
Last minute booking and so lucky they had room, Was the highlight of our east coast adventure. Great food always kept coming and fun friendly crew. Loved the rope swing, and we kept coming back for more. Bed was comfortable and air-conditioned. Big Thanks to all
What a blast of a trip! I went alone and made sooo many new friends, had such a good time on the paddle boards and snorkelling! I would recommend this to anyone, made real friends for life!
Went out on Solway Voyager and had such a blast! It was a super social and fun trip with awesome crew, food and spacious cabins. The highlight was definitely the rope swing and stand-up paddleboarding over bright blue waters - would 100% recommend for any young and fun travellers coming to Airlie!
Had a really good time, The crew really made the trip, we saw dolphins on the first day. Very happy to recommend this trip to all my friends. We want to come back next year. Pauline.
The weather was perfect, so that was a highlight with clear blue skies and warm seas. We enjoyed the rope swing the most and found the food was much better than we expected. Such a lovely traditional boat with air conditioning that worked really well. Thanks to the team on Solway Voyager
Brilliant trip, spacious boat with loads of fun stuff to do like rope swings, hammocks on the front, snorkelling and paddle-boards! Also great value for a full 3 day trip
Had a spectacular trip on Solway Voyager! The boat is very spacious with plenty of areas to kick back and socialise. Over the three days we saw the best Whitsundays spots, including heaps of snorkelling. Loved the rope swing and front nets - thanks team!
Amazing time out on the Whitsundays!! Great crew, great food and the best locations. The rope swing was so much fun and loved the paddle boarding!!
Just spent three days on Solway Voyager and was really impressed, the crew, the food, and the boat were all above what I expected for the money.
Billy Halliday-Scharwei
, 04 Dec 20
Great boat, crew were amazing! Would highly recommend
Solway Lass was sold to us as a pirate ship experience and didn't disappoint. We had all the sails up and went to Whitehaven, alongside snorkelling at various locations in the islands. I also got an anklet made by the crew :)
The trip was amazing! Thank you for letting us snorkel, see wildlife and whitehaven beach and have fun! Food was amazing!
Wow! What a fun 3 days out at the Whitsunday Islands. My girlfriend and I just got back from the Solway Lass 3 day/ 2 night tour and had the most unbelievable experience! We saw whales, dolphins, turtles and loads of other marine life. The crew are so much fun and very knowledgeable about the Islands and the history of the vessel. It was so interesting to hear about it all. We'll be telling all our friends to go on this tour for sure! Best part of my Australia holiday, hands down
Great trip, plenty of food and even the chance to raise the sails. The snorkelling at Mackerel Bay was a real highlight and the Tarzan swing definitely got a good workout! Will recommend to friends
We really enjoyed our relaxing trip on Solway - do yourself a favour and experience a real piece of maritime history on this historic sailing boat. Whitehaven Beach and Hill Inlet were stunning and that water! Wow! Thank you to the Solway Crew for a memorable trip.
The crew was very friendly, professional and relaxed. The food was very good. We had a nice and international group. We loved the sailing, snorkeling and the beach time. We really recommend this trip!