Atlantic Clipper 2D2N
CLOSE
View More Thumbnails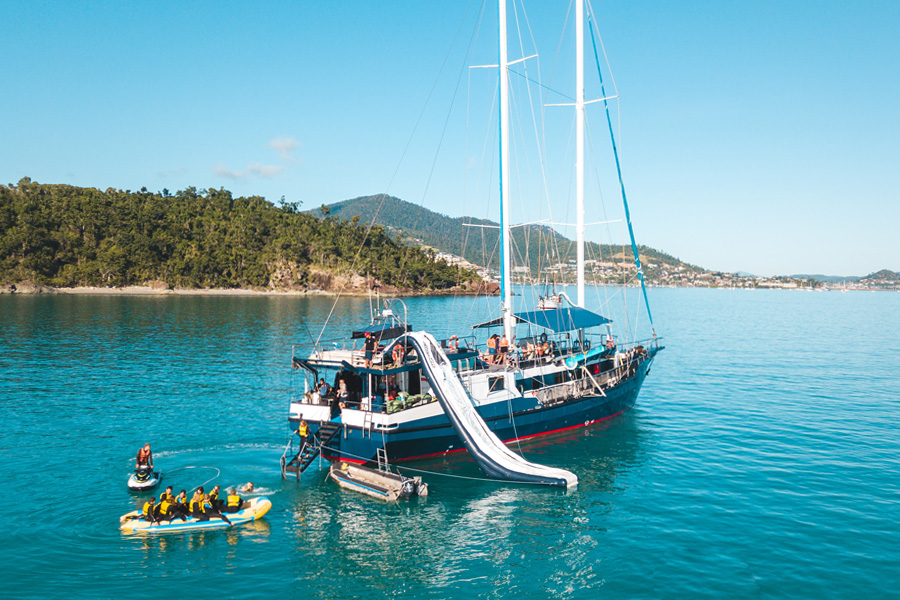 Loading...
Departure Times
Departs: 11:45am - 2:15pm
Returns:
12:00pm
Departure Point: Coral Sea Marina, Airlie Beach
Pricing Options
RRP $599

$549 AUD / Person
- Shared Accom
(Between: 15 Jan 2023 and 01 Dec 2023)
RRP $679

$659 AUD / Person
- Private Twin Cabin (Requires 2 People) ($1318 Total)
(Between: 15 Jan 2023 and 01 Dec 2023)
RRP $679

$659 AUD / Person
- Private Double Cabin (Requires 2 People) ($1318 Total)
(Between: 15 Jan 2023 and 01 Dec 2023)
Highlights
| | | |
| --- | --- | --- |
| Whitehaven Beach & Hill Inlet | Giant Waterslide | Scuba Diving |
| | | |
| Snorkelling | | |
| SUPs | | |
Are you looking for the best social boat in the Whitsundays? Jump aboard Atlantic Clipper! Ask online about last minute super deal pricing, when available.
Spend your days exploring the freshest spots in the Whitsundays on one of the liveliest boats around!
Boasts a huge waterslide, scuba diving, air-con and an action-packed itinerary.
The biggest boat in the Whitsundays with up to 54 guests for a fun, social experience, ages 18-35!
Snorkel the Great Barrier Reef, explore Whitehaven Beach and adventure to Hill Inlet!
---
---
Customers who viewed this item also viewed...
Reviews
Overall Rating
4.9 / 5.0
Based on 158 reviews
Reviews by our Sailing Whitsundays customers
Abigail McDonald
, 20 Feb 23
Had a great time on the boat. Food was great! Bathrooms could have been cleaner.
Sarah Mc alister
, 29 Jan 23
It was really brilliant. Such a great group, the crew were amazing and food/rooms/facilities were above expectations. Would recommend it to anyone. Thanks guys
Despite the weather conditions which were out of all of our control, the crew, the boat and energy the small group brought was incredible! A truly fun experience where when it rained it poured and when it poured we partied! Highly recommend! The spa in the rain on the choppy seas was a highlight!
Alexander Koehl
, 19 Jan 23
F**kin loved it! Thank you guys!
lauren huseyin
, 17 Jan 23
My experience on the clipper was amazing - we met such people and the staff were apart of the group. Despite the bad weather - skin is water proof and it didn't stop any fun! I've got memories and new friends that will last a life time. The trip was well planned for us princesses !
Claudia Heath
, 04 Jan 23
Loved it! The crew were super fun & the other guests were awesome too. Would definitely recommend this trip.
Amazing experience, highly recommend Stuff were great ! Best New Years I've had in a while
Great experience! Staff were awesome would recommend if your travelling to Airlie beach
Great tour, right amount of activities and party. Could add some more intro/mixing activities at the beginning to get people introduced and interacting over the trip.
Incredible! The crew were legends, very fun and informative about the islands, and there was always a good buzz onboard. The games in the evening were super fun and food was delicious. The islands themselves were beautiful and walking along Whitehaven beach is a once in a lifetime experience
The staff was very nice and the sites were beautiful. I especially enjoyed jumping off the boat and the snorkeling.
Really fun boat with amazing crew. Planned out but didn't feel restrictive. Whitehaven is a must see. A lot of fun, not a lot of sleep.
Great trip, crew were amazing, had such a laugh and saw some stunning beaches.
10/10 would recommend. Boat was incredible as were the staff. Best trip all holiday
Celeste Imthurn
, 22 Nov 22
Absolutely loved our time on the clipper! You won't regret booking your whitsundays trip on the clipper!
Eleanor Parnell
, 19 Nov 22
once in a lifetime trip! the crew (j-mac, nicole, harri, paddy and jake) made the experience unbelievable with their upbeat energy everyday and knowledge of the whitsundays. would recommend to anyone!
Amazing trip to paradise. Crew were very nice and friendly, food was good and overall trip was amazing.
Fun trip, well organised, food was good.
Wow wat an amazing trip, the best boat in town. Beaches were beautiful but the boat staff created the best vibe all through the trip. If you want a fun trip to Whitehaven go on the Clipper!
Samantha McAlpine
, 14 Nov 22
Had such a fun time from the moment I got on everything ran so smoothly no stress just so many fun times to be had. Loved the snorkeling experience, Whitehaven beach was gorgeous and the story time was so good! Everyone from crew to guests were all so welcoming and friendly. Will be back again!
Absolutely amazing, the crew were lovely and so accomodating!! I would do this again 100%, we got to see so much wildlife and learnt so much about the whitsundays!
Really great tour, food, rooms everything amazing. The islands were incredible too loved it so much.
Whitehaven beach was amazing! the snorkeling too so so much fun. And the slide :)
Amazing trip! Got to see two turtles which was the highlight for me :)
Wow what a great trip. the beach and boat amazing, even got to se a dolphin <3
Had the best time with the best people! The trip was amazing and everything I expected it would be. Really loved the slide and water games in the evening.
Friendly crew, great food,amazing experience overall! Highly recommend!
The crew was amazing at their job. Made the experience very enjoyable. The food was good through the entire trip. Always kept everyone smiling and laughing.
Sick trip, the crew were great, good food and a good vibe.
Unreal time, all the people were great, food was really good and nice clean and spacious boat. highly recommend
Beach was sick, nice sociable tour met a lot of good people, would recommend to anyone travelling the east coast
Big shout out to the crew they were all great, met friends for life
Amazing trip!!!!! loved every minute of it, will recommend to everyone
Was a great experience and a great way to explore all the Whitsundays has to offer in one simple package!
Sick trip, boat was awesome and whitehaven and snorkelling were fun. Highly recommend
The crew were unreal, big thanks to them for making it such a good trip. Will recommend to everyone.
Best time, the crew were great, beds and food really good and we saw lots.
Unreal trip!! best crew best food best spots, 10/10
Molly Johnstone
, 22 Oct 22
The best weekend! Lovely people and a great crew. Beautiful views and so much fun :)
The staff were fantastic and kept spirits high even despite some very bad weather during the trip.
Great trip! Weather was a bit shit on the second day but we still made the most of it. The crew really did an amazing job of making sure we still had a great time. The Whitsundays is amazing rain or shine!
Good trip, although I am exhausted after getting back to land. A lot of partying and not a lot of sleeping! Great fun though.
Best way to end my time in Airlie beach! The Clipper has been on my list for ages and it did not disappoint.
Girls trip on the Clipper was such a stunner! Best crew, best fun, just so so good.
Was fantastic! made so many new friends. the crew were epic and Whitehaven was so pretty. Went snorkelling and saw a turtle
Amelie Arbeiter
, 12 Oct 22
I had a wonderful time. The crew was so friendly and the food really good. The snorkelling and the trip to Whitehaven beach had been amazing! I did the diving as well, it was impressing swimming next to the corrals and the fish. I can absolutely recommend :)
Emily D'souza
, 08 Oct 22
Super fun! good mix of party and activities!!! food was very good and the crew were super friendly and lovely!! was honestly a highlight of the trip
Amazing experience, super fun and crew were all lovely! 10/10 recommend
Had the BEST time onboard the Atlantic Clipper, food was amazing, staff were amazing. Laughed for two days straight. LOVED IT
Sheridan Notley
, 17 Sep 22
It was a great experience overall. I was a little disappointed we didn't see another island
Clipper was amazing. The weather was perfect. I didn't see any turtles but I saw whales which was amazing. The snorkelling was so great and the other passengers were a blast.
WAs so much fun. I loved the snorkelling but the whole trip was amazing. Whitehaven was definitely the highlight. so beautiful and we saw whales too.
Was good. I had fun. the crowd was a little young for me but it was still great.
Was so much fun. Im so wrecked from relaxing in the sun on the boat, at the beach and swimming in the water. Was a big couple of days but was so much fun. I went alone and was a little nervous but I made friends straight away as everyone was so nice.
The clipper was sick. the water was so pretty. And we saw whales on the last day .
We saw whales! I've never seen a whale before so that was a highlight. The foods good and I had loads of fun with my girlfriends. we all loved it
The water was so pretty. the colour blue is insane. I had fun on the slide and we saw whales. The trip was epic, so much fun
Was so sick, we had such a good time. food was so good, music was good, vibe was great
I had so much fun. didn't get much sleep but thats okay. The slide was so fun, and the other passengers were really cool to hang with too. Crew were fantastic and were really easy to get along with too.
WOW. CLIPPER WAS SO MUCH FUN. THE SLIDES WERE SO MUCH FUN. WE PLAYED HEAPS OF GAMES WHCIH WAS COOL AND MADE IT EASY TO MAKE FRIENDS. THE CREW WERE AWESOME. WE ARE SUPER TIRED NOW BUT IT WAS WELL WORTH IT. FOOD WAS GREAT TOO.
The clipper was awesome. I had so much fun. I went by myself which was daunting but everyone was so nice and the crew helped everyone to mingle. The slides and activities were fun and I loved the sunsets from the boat. Will come again
Jessica Dolphin
, 29 Aug 22
Overall I thought the Atlantic clipper 2D2N was amazing! I would definitely recommend this trip! Even though we did not have very good weather for our trip, the crew members went above and beyond to make sure we all had fun and enjoyed ourselves! The food was great and accommodation was clean!
ABSOLUTELY AMAZING WOULD ABSOLUTELY DO IT AGAIN. MADE THE MOST OF THE WEATHER , THE WHOLE THING WAS A HIGHLIGHT.
Big fun out in the water and all the activities kept the whole group socializing throughout. Would definitely recommend to a friend.
Thought the slide was so much fun, jumping off the boat into the water was great too. Found the food really. homely and had some great options for vegetarians.
You guys go above an beyond and you've helped create memories for all of us! Thanks for everything!
Excellent service, very hospital staff. Would 100% recommend! Thanks guys :)
Loved it!! Family of six, had the best time. Highly recommend. Great staff, Great food!
Best trip ever! Every aspect was amazing.
Great food, great crew, greta trip!
Thank you so much for a great trip!! Everyone was so lovely and welcoming. The snorkelling, slides and paddle boarding was a massive highlight! The food was great too, compliments to the chef! We will definitely be back!!
Perfect day trip for a younger fmaily or a group of friends. Staff were lovely and welcoming. Fun, fantastic day out on the water.
WAS A GREAT TRIP. ALTHOUGH IT WAS A VERY YOUNG CROWD. I was definitely the oldest and im not even old. however it was still great fun.
It was okay I think it could have been organized bit better, felt the first day we did very little and the same with the last day
Had an absolute blast, never had so many amazing experiences before! The crew were awesome I loved every minute of it! Thanks so much for a trip I will never forget!!
Excellent few days + nights out on the Atlantic Clipper! Second time doing the trip and every time the vibes are high and the crew are the ones that make the trip incredible! I will be back for a 3rd
Heaps good trip, highly recomend
All of the crew are so kind and the food was very yummy!! Thank you so much for a great experience.
Thanks for everything guys! we had a sick time. The cew has been so helpful and overall an amazing couple of days!!
Thank you for such a beautiful experience!
Scuba diving was amazing! also loved the inflatable slide / mat. - Thank you! Not to mention Whtehaven!
Food was delish! Great staff & good vibes.
Such an amazing trip, amazing staff, food and activities.
Big love for the entire crew. Lovely meals, good vibes!
Great food, friendly crew and the coral was amazing. Thank you!!
Great food, friendly crew. Loved the big slide. Food was delicious! Thank you so much!!
Incredible staff, super friendly!
Best crew, had the best time. Snorkelling was ace!
Awesome crew, Great outcome!
Thank you to the best crew for making the trip an absolute blast! A Big thanks to Lily for taking me scuba diving!
10 / 10 would recommend! Great trip all round.
10/10 would recommend!! Solis crew who know how to get people out of their seats. Great experience for solo travelers.
The crew were absolutely amazing!
For me that was the best trip ever!!!
Hey crew, we had a blast. Super relaxed yet mega fun!
Wow, what an amazing trip!
We had such a blast. Crew was super fun, the party on the 2nd night was sick. Made so many friends. Big thanks to the crew!
I faced my fear of the ocean! It was fantastic.
Thank you for the best trip ever.
The crew were amazing, the food was excellent and the slides were so much fun. Defiantly would do the trip again!
Sailing around the Whitsundays with the Atlantic Clipper is the biggest adventure! 2 slides, a trampoline, stand-up paddleboards, a jacuzzi, snorkeling, diving, so much to do and so much fun :) They also do some games in the evenings and the atmosphere on the boat is just awesome. On top of that we also saw the main spots of the Whitsundays, Whitehaven Beach was definitely my favorite.
The most fun I've ever had... from what I can remember. Loved my first scuba dive with steve!!
Absolutely amazing staff, boat, locations, facilities and food. I couldn't of had a better time! Shall be recommending to everyone! Thank you all so much.
Absolutely wonderful informative crew. Amazing day brought to life by the team!
Best time since long sailing with the Atlantic Clipper around the Whitsundays! The people were so much fun and the crew was amazing as well. My personal highlight was the huge slide, that was so much fun. But Whitehaven Beach and diving were great as well. 2 days packed with action and good vibes, can only recommend!
Beautiful weekend with beautiful people and beautiful islands. Perfect!
Lovely crew, good food, and I had a wonderful time :) <3
Good food, nice morning jingle! Noice ambiance and cool crew
Great trip! Very well run + organised and a fun dress up party! Very good, very nice, I like it I like it.
Very good quality for money, exceptional food with generous servings. Safety awareness throughout the trip without impacting the fun spirit.. Amazing trip made even greater by the amazing crew.
Thanks for the amazing couple of days. The crew were lovely, very energetic & welcoming. Captain John is the best! The food was amazing, thanks Ellie. Loved going to Whitehaven & snorkelling! :) :P
The crew made the trip awesome! 10/10 treatment from the crew! Cracking time
Fulfilled all promises on adventures and good times! A chill + polite crew made it even better. 10/10
Atlantic Clipper was amazing!! From even before we got onto the boat it was an adventure meeting new people and having laughs! The whole crew were amazing and worked so hard to make sure we had a great time! The food was soooo much better then I thought it was going to be, yummy food the whole time! I recommended it to all of my friends and would recommend it to anyone who's sad they cant travel overseas and they are looking for some fun and adventure!!!
Amazing trip guys! Thanks so so so much, food & fun was unreal
Thanks so much for an amazing 2 days! Crew was such fun! Food was delish! Cant fault anything whatsoever. Cheers!
Thankyou all for your patience, kindness and hospitality. I had a great time.
To all the team, thankyou so much for looking after us and having the crack we had the best time. You are all legends; couldn't ask for a better boat.
Had 2 nights of awesome fun on the Clipper! We had asked for a party boat and had so much fun partying
Clipper was so much fun! The Spa is the one :)
Best 2 night tour I've ever done! the crew and boat were amazing and the food as delicious! So many activities like going on the slides or scuba diving but also plenty of time to relax in the hot tub or on deck. Can't wait to come back!
Thanks so much for looking after us and having such a ball! Great trip with an AWESOME crew
Epic 2 days on the Clipper, sailing around the Whitsundays. We got to spend time on Whitehaven Beach, snorkel, Scuba dive, paddleboard and go on the 2 slides. Best way to enjoy the islands! Inc hot tub!
One word accurately describes this trip, EPIC! Could not have asked for a better crew and bunch of people. Food 10/10 Crew 10/10 Diving 10/10
Atlantic Clipper was absolutely amazing! The tours to Whitehaven was a bucket list dream come true! The staff on the boat were so accommodating, fun, confident and extremely friendly! The activities and slides that were added on the boat were so much fun and made the trip so much more exciting! I would without a doubt be going again in the future.
Best party in the Whitsundays! Perfect mix of sailing the Whitsundays on a big boat with slides, a trampoline, and a jacuzzi and discovering Whitehaven beach. Will be back!
My trip on The Clipper was AMAZING! Everything from the crew, the boat, the food, the activities were even better than I expected! If you're looking for a good time, meeting fun people and enjoying a few bevies, this is the trip for you! My favourite trip along the East Coast!!!
We had an epic time on the Clipper, the crew were amazing, great food, snorkelling was sick and the waterslides were heaps of fun!
Recently went out on Atlantic Clipper and had a fantastic time. The crew are great at keeping everyone happy and the food was better than expected. Would highly recommend this tour to anyone thinking about travelling in the Whitsundays.
Myself and 3 friends sailed on the famous Atlantic Clipper to celebrate a birthday and if you aren't scared of a good time I highly recommend! It was so nice having nice small groups in each cabin and the crew were legends making everything fun! It was jam-packed with activities, we went diving, paddleboarding, bushwalking, snorkelling and of course made great use of the spa and waterslides - the night time entertainment was also a lot of fun!
I just spent the best two nights of my trip so far on board Atlantic Clipper. The trip was so much fun and had awesome activities onboard such as diving, waterslides, snorkelling and a hot tub. The games at night were so much fun, and everyone got involved. The rooms were great, and it was so lovely to have air-con!! The crew were terrific, always so happy, helpful, and making sure everyone was having fun. I would recommend this tour!!!
Simply amazing experience!! Had the most magical experience, owed mainly to the superb staff aboard the clipper. They did everything in their power and beyond to make sure that every single person aboard was rich in laughter and joy! From the moment we boarded, we were stunned with breathtaking scenery, but better yet we were constantly given the opportunity to experience it firsthand via snorkeling, paddleboarding, and more. Extremely grateful, and will cherish the memories made for the rest of my life. Endless thanks to the crew!
What an amazing action packed three days boozing and cruising through the Whitsunday islands! The staff were great, the food was great, the lols were great!
11/10 would recommend. We got mashed on the Atlantic Clipper (and I'm just talking about the amazing potato.. thanks Frodo). The crew are awesome at getting everyone hyped with party games and fancy dress costumes on the last night. But don't worry about the goon hangovers, they're soon cured after a dip in beautiful Whitehaven beach and snorkling with fish- just watch out for the sting-rays and yellow sharks. The last morning was super chill with paddle boarding, banana boats and jet skiing. Thanks so much to the awesome crew.. hey DJ spin that sh*t!!!!
'Which boat are you doing for whitsundays?' Most common conversation between east coast back packers... make sure your answer is the CLIPPER every single time... Combine the best scenery of whitsundays, with activities such as snorkeling, view points, water slides, paddle boarding, jet boat/banana boat, and after the days done get your bag of goon and get in the hot tub, dance on the deck or flake out on the bean bags. It's the perfect mix of party and scenery, good sound system on the deck to play your own music and plenty of laughs with drink fueled games on the night. What happens when you mix a giant bag of miniskirts and crop tops with a fridge full of booze and loads of back packers wanting a good time...? The best cross dressing party you'll ever go to! The chef is an absolute legend, his bright white smile is as impressive as his fish, and he feeds you loads. Whitsundays boat trip? Completed it mate. Choose wisely, vote CLIPPER!
Absolutely amazing tour. The guides are awesome and very knowledgeable and friendly. They really do care about their customers and ensuring they have an awesome time.
Great trip anyone looking for a unique experience wanting to make friend or travel in a group this is the boat for you. Lots of space and stable for those with wobbly sea legs. Fully ac, waterslide and so much more value for your $$$. Scuba diving is a must absolutely loved the crew they made our trip.
100% best 2-3 days I have spent during my east coast trip!! All staff were friendly, helpful, gun and professional. The food was amazing , no body went hungry! The evenings activities were hilarious everybody was involved and the staff made sure everybody was having a good time and happy. I cannot say a bad word about the trip and I would without a doubt book again with clipper! My most memorable moment was the snorkelling this was my first time and I was made to feel safe.
Had the most amazing trip, best trip of our east coast adventurer! The crew were brilliant!! they made the trip! I was absolutely terrified of the water but the crew made me feel safe and I managed to snorkel both days and loved it. They put on a great show in the evenings and got everyone involved. Food was spot on! Loved every meal and there was plenty of it. Best part was the snorkelling, was unreal! Massive thanks to all the crew members. Best trip ever!!
Take an awesome crew, a great boat, add two awesome scuba diving lessons, a trip to Whitehaven Beach, a sense of fun and adventure, good food, lots of drink and super fun games and you have the Atlantic Clipper. A cocktail for the luck, that I want to drink everyday.
Ducles you guys Rick! My first time on a boat and it couldn't have been better! Awesome crew and activities. Thank you for looking after us and feeding us! Missing you already!
Amazing experience on the clipper. By far the best trip ive been on in Australian! The crew were brilliant, the locations were unreal. Loved the group photos and the evening games, would recommend to everyone! Thanks so much
Amazing trip! brilliant crew, excellent food and loved the snorkelling. Definitely one to remember!
Top food, top crew, top entertainment. Really enjoyed the snorkelling and messing about on the slides! Crew helped us make the most of it! Cheers guys!
Loved the snorkelling! There was a lot more fish than at the reef in Cairns. The crew made everything a great laugh and very enjoyable. 10/10
Enjoyed the day on Whitehaven beach taking part in all the fun activities. The guys/crew on the boat made the whole experience fun by being lovely the whole time
Very memorable sailing trip. very genuine crew and easy going, great sun and full of energy which made the trip highly enjoyable. Loved the snorkelling and finally getting to see Elvis. Everyone seemed to relay genuinely enjoy he trip and get along so well. Food was top of the pops! Would highly recommend to friends,Thanks
Scuba was awesome, good banter between the boyz. Food was spot on. Good efforts to get every1 envolved.
Amazing trip! Crew all really friendly and funny! Had a great time cant wait for the after party! Food was good, actually really good! Chef Boy Jiah is pretty sexy! Also he always made me something different because Im a veggie! Awesome!!!
Awesome trip, glad we were able to snorkel & jump off the boat. Crew were super friendly. Thank you guys for making my birthday extra special!!
Absolutely amazing trip. Could not fault it in any way. Stunning locations, great food, banter and crew members. I would recommend it to anyone and would definitely do it again. Thanks!
Ashling - Ireland
, 02 Feb 14
Claaaaaaaaaaassssss trip!!! The crew are great craic and got the party going! The activities were so much fun and Gregg was so good taking pictures on whitehaven - above and beyond. My first time diving and they named it great - will recommend to anyone!!!
Absolutely amazing trip. This was the best trip I have been on during my time on the east coast. The crew were great and friendly and up for a laugh. I would have happily come on the clipper again and again as I had such a good time. I have no criticism as all an I don't think it could have gone any better. The highlights were all the group photos on the beach (Whitehaven) and the second night show which was HILARIOUS. Thanks to everyone for making this such an awesome trip x
Really glad we chose the Clipper. The trip, crew, food all of it was amazing! Will never forget it, thank you!
Unreal hey! Great trip from start to finish! Unforgettable, The crew made it!
Awesome trip, had the best time, met amazing people and felt at home with the best crew I've ever sailed with!
Had an awesome time on the clipper, the crew were cool and chilled and showed us a good time. Doing my first ever scuba dive was a great experience