Whitsunday Bullet
CLOSE
View More Thumbnails
Loading...
Departure Times
Departs: 8:30am - Daily
Returns: 4:45pm - Daily
Pricing Options
RRP $189

$169 AUD / Person
- Backpacker*
(Between: 01 Apr 2019 and 01 Apr 2020)
RRP $189

$179 AUD / Person
- Adult
(Between: 01 Apr 2019 and 31 Mar 2020)
$129 AUD / Person
- Child (2-15 years)
(Between: 01 Apr 2019 and 31 Mar 2020)
$499 AUD / Family
- Family (2A + 2C)
(Between: 01 Apr 2019 and 31 Mar 2020)
Get the most out of your time in the Whitsundays on a premium day tour!
Cruise around the crystal clear waters at up to 25 knots an hour on Whitsunday Bullet
Visit Hill Inlet Lookout and Whitehaven Beach for the ultimate beach experience
Snorkel among the fringing reefs of the Whitsundays
Comfortable forward facing seats to help you enjoy the view
Stand-up paddleboards for guests to use during stops
*Conditions apply to the Backpacker price - ask us for more details!
Whitsunday Bullet is a fast power catamaran in the Whitsundays and is here to take you on the ride of your life! Cruise at top speeds around the Whitsundays and see all the best it has to offer in this action-packed day tour. The stable design makes it perfect for hopping around from place to place, checking out awesome locations such as Whitehaven Beach and Hill Inlet Lookout. Guests will also get the chance to snorkel and check out the amazing marine life of the Great Barrier Reef Marine Park during their action-packed day!
---
Whitsunday Bullet Features
Newest boat in the Whitsundays
Free use of stand-up paddleboards
Whitehaven Beach guaranteed
Visits the shifting sands of Hill Inlet
Amazing marine life
Snorkel fringing reefs
Delicious smorgasbord lunch
Alcohol for sale on board
Very Fast, stable catamaran
Flexibility to move around in transit
Full awning and sun cover
Every seat has a great view
Fun and informative crew
Faster travel more time to explore
---
Whitsunday Bullet Layout
Tap the hotspots on the floor plan below to view Whitsunday Bullet.
Loading...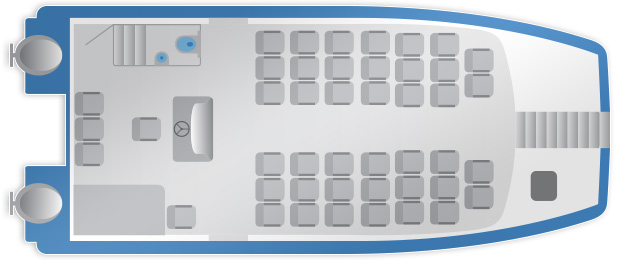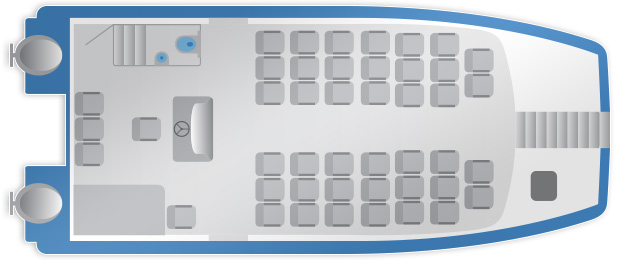 ---
Sample Itinerary
Hill Inlet lookout
Departing from Coral Sea Marina, you will head straight to Whitsunday Island, home to Whitehaven Beach and Hill Inlet Lookout. Guests will enjoy a short bushwalk up to the lookout to enjoy the world-famous views of the swirling sands below, taking the opportunity to grab some awesome photos. Afterwards, you will make your way down to the shifting sands of Hill Inlet, enjoy a swim in the clear waters of the most famous beach in Australia! Then climb back onboard to head to South Whitehaven, where you can try the paddle boards and enjoy a swim or relax on the soft silica sands that Whitehaven is known for.

Whitehaven Beach
After visiting the Lookout and North Whitehaven beach, you climb back aboard Bullet and embark for South Whitehaven. You will also get to spend some time enjoying the pristine white sand of Southern Whitehaven, where you can experience uninterrupted stretches of beach. Take the opportunity to go for a swim in the calm, protected waters or try your hand at paddleboarding before getting back on board.

Snorkelling
Guests will get the chance to snorkel in some of the most beautiful reefs in the world, right here in the heart of the Whitsundays! This premium tour will take you to the North end of Hook Island or Hayman Island where snorkellers can check out the beauty of the underwater world from above. With abundant marine life and crystal clear waters, you will have a snorkelling experience unlike any other. With luck you will get to swim with George the Giant Maori Wrasse or come up close and personal with a local Green turtle, these magnificent creatures are seen on just about every trip.

Stand-up paddleboards
Whitsunday Bullet is very proud to be the first day tour to offer stand-up paddleboards for use by all passengers! We carry eight paddleboards on the vessel with half those being designed for two people at a time. Learn what the stand-up paddleboard craze is all about with Bullet! Enjoy the exhilarating experience gliding over crystal clear waters, gazing down at the marine life below. Our experienced crew will train even the novice beginners on how to manage this exciting new Aussie sport!

---
Sample Menu
Buffet style lunch means you will not leave hungry and offers enough choices to satisfy the fussiest diners and you can go back as many times as you like. The vessel caters for vegetarians, vegans and gluten-free diets. Snacks are also served through the day.
Water and soft drinks and alcohol are available on board for purchase. No BYO, please.


After a fun-filled day of sightseeing, snorkelling and great food, you return to the marina around 4.30 pm and your complimentary courtesy bus will be waiting to take back to your accommodation. This new vessel is fast becoming the must-do day trip of the Whitsundays Islands. By combining the North and South shores of Whitehaven beach with a visit to the picturesque Hill Inlet lookout, you truly will have a day to remember.

*Backpackers must be aged 18-35 and have either a valid backpacker card OR proof of staying at an Airlie Beach hostel, campervan, or Sailing Whitsundays approved Airbnb.
Get more for less! Start saving with these awesome combos:
Airbnb AccommodationBullet + Heart ReefBullet + Great Barrier ReefBullet + Base Hostel
---
More Information
What To Bring
Swimmers
Sunglasses
Sunscreen
Hat
Jumper (if weather is cool)
Towel
Camera
Cash for drinks
Guests may also bring their own snacks and water
What's Included
Lunch
Snacks
Snorkelling equipment
Stand Up Paddle Boards
2 Beaches and 1 Snorkel
All marine park taxes
Courtesy pick up and drop off from select local accommodations
What's Extra
Onboard purchases such as snacks and water.
Please read the following questions carefully:
Do you currently have an ear infection?
Do you have a history of ear disease, hearing loss or problems with balance?
Do you have a history of ear or sinus surgery?
Are you currently suffering from a cold, congestion, sinusitis or bronchitis?
Do you have a history of respiratory problems, severe attack of hayfever or allergies, or lung disease?
Have you had a collapsed lung (pneumothorax) or history of chest surgery?
Do you have active asthma or history of asthma, emphysema or tuberculosis?
Are you currently taking medication that carries a warning about any impairment of your physical or mental abilities?
Do you have behavioural health problems or a nervous system disorder?
Are you or could you be pregnant?
Do you have a history of colostomy?
Do you have a history of heart disease or heart attack, heart surgery or blood vessel surgery?
Do you have a history of high blood pressure, angina, or take medication to control blood pressure?
Are you over 45 and have a family history of heart attack or stroke?
Do you have a history of bleeding or other blood disorders?
Do you have a history of diabetes?
Do you have a history of seizures, blackouts or fainting, convulsions or epilepsy or take medications to prevent them?
Do you have a history of back, arm or leg problems following an injury, fracture or surgery?
Do you have a history of fear of closed or open spaces or panic attacks (claustrophobia or agoraphobia)?
If any of these conditions apply to you, you will need to tell the staff when you board the vessel.
Terms and Conditions
All departures and itineraries are subject to weather. Tours may be changed or cancelled for any reason at the discretion of the Tour Operator. The Operator also reserves the right to alter the tour or the itinerary of any of its tours and organise alternative carriers to those advertised if necessary. It should be noted that adventure travel involves risk. Whilst we make every effort to safeguard clients, we cannot be responsible for personal injury or loss due to the actions of our clients which are beyond our control. We recommend that all clients have travel insurance covering illness, injury, loss or damage to personal belongings and not being able to travel on the confirmed date of departure.
The Tour Operator reserves the right to limit courtesy transfers to select local accommodations. Private residences or Airbnb properties may be asked to meet at the closest confirmed location. If you are concerned about the availability of a door-to-door service to/from your accommodation, please contact our reservations team prior to booking.
Please note that in the unlikely event of your trip being cancelled or stood down, all guest communication is required to go through our Online Store via telephone or email. While there is a Sailing Whitsundays retail outlet located Airlie Beach, please be aware that they operate as a separate entity and are unable to access reservations made by the Mr Travel online department.
Please be aware operators pass on credit card merchant fees so there is a non-refundable 1.5% surcharge for VISA and MASTERCARD card purchases.
Cancellations
Any cancellations made more than 72 hours prior to departure will forfeit 25% of the total ticket price. Cancellations made within 72 hours prior to boarding will result in forfeit of full trip fees. Any passenger may elect to transfer their travel to another day with notice prior to 3pm the day before departure. No refunds will be given on transfers. An Admin Fee ($40) may be applied to postponements or transfers. Card fees are non-refundable.
If the sailing company has to cancel the trip (prior to the boat's departure) and we cannot offer a suitable alternative, then a refund will be given minus card fees. We strongly recommend that you have travel insurance, especially during the wet season.
Please note it is the responsibility of ALL passengers travelling to advise both your travel agent at the time of booking and vessel check-in agent before boarding of ANY medical conditions including food allergies you may suffer from.
Thank you for booking with Mr Travel/Sailing Whitsundays. If you need any advice or assistance making arrangements for your accommodation or transfers please do not hesitate to ask.
"Had the most amazing day out on Bullet, and even got to see whales! The paddleboarding was fun, we're definitely hooked now, highly recommend! "
James
"Didn't expect the boat to be so comfortable! Would recommend heading for the back of the boat for the best seats. Great option if you want to scoot around the islands quickly but comfortably."
Angela W
"We had a great adventure onboard the Whitsunday Bullet. The boat was very well equiped and comfortable and the trip from Airlie across to Whitehaven Island was much quicker than we anticipated. We were taken to tongue bay to venture up to Hill Inlet lookout. Where the views are world class and breathtaking. Then we went swimming at Whitehaven Beach, after a very generous buffet lunch, where they catered for many different food allergies, which was very impressive. Then we finished the day with some snorkeling. Chase, Micko and Sam were fantastic hosts - very friendly and approachable and Chase was very thorough in all his demonstrations and information sessions."
Michelle
"Fantastic day! The crew are great helpful friendly food was fantastic and the locations we went to were great....... thanks! :)"
Paris Popovic
"We had such a great day! All crew were very attentive and knowledgeable. Well worth the money with lots of food, plenty of time for the snorkel, the beach and the lookout. Conditions were rough in the morning but the crew made sure everyone got the most out of the experience."
Rebecca Popovic
"Wonderful trip. As a 60plus age woman I enjoyed every minute of it. Staff were welcoming and I felt very comfortable. The weather was rainy at times with bursts of warm sunshine to really show us the magnificent beauty of the Whitsundays ancient and dynamic wilderness. The buffet lunch was plenty and delicious. I will never forget it and am so glad we went. Thanks"
Maria M
"Had an awesome bday exploring the whitsundays aboard the bullet on tuesday!!! Great boat with great people! Thanks heaps for the amazing staff lottie, jesse and shane for making it all happen!!!"
Jacqui W
"Had the most perfect day on Whitsunday Bullet.. the weather was amazing! Staff very helpful, funny and professional. We saw whales as well as dolphins.. I am a local who just needed a day out to relax and got just that.. the boat ride was smooth all the way out.. Hill Inlet walk was more than spectacular the scenery is just breathtaking, the staff hand you a little esky filled with fresh tasty food and water for the day which was more than enough as well as a few snacks on the boat ... Whitehaven Beach and then snorkelling.. what more could you do in one day! Very well done and very recommended for young and old!"
Emma
"It certainly made a forever lasting memory of our travels on the coast of Australia - if you haven't seen paradise yet book it your trip now because it really is paradise... thank you again for making our dreams become a memory. I sure will be recommending this to everyone!!!"
Rebecca
"We had an amazing time on and with the crew of the Whitsundays Bullet. It was certainly the highlight of our trip to Airlie. The crew made the trip out fun, they where only too happy to answer questions and go above and beyond for all on board."
Kiara
"A wonderful experience! Dive and snorkel spot was amazing and Whitehaven Beach is beautiful. The staff are very friendly and accommodating. I think being given our own esky full of delicious fresh food and snacks is a fabulous idea as it didn't lock me into times when I have to eat and the food was much better than other tours I have been on. Fantastic day and I will definitely be recommending you to family and friends."
Linda
"A wonderful experience! Dive and snorkel spot was amazing and Whitehaven Beach is beautiful. The staff are very friendly and accommodating. I think being given our own esky full of delicious fresh food and snacks is a fabulous idea as it didn't lock me into times when I have to eat and the food was much better than other tours I have been on. Fantastic day and I will definitely be recommending to family and friends."
Linda