Ocean Rafting - Southern Lights
CLOSE
View More Thumbnails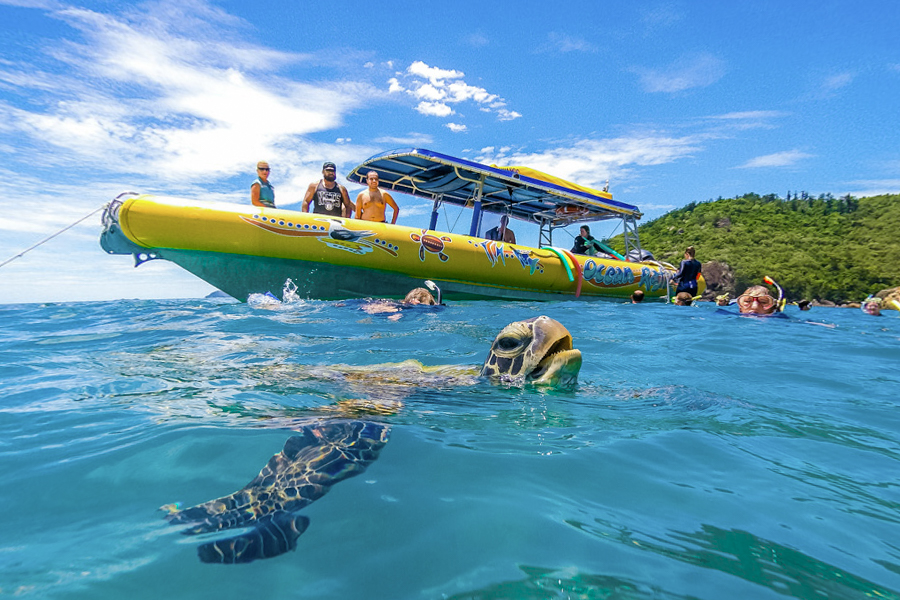 Loading...
Departure Times
Departs: 10:00 am - Daily
Returns:
4:30 pm - Daily
Departure Point: Coral Sea Marina, Airlie Beach
Pricing Options
RRP $169

$159 AUD / Person
- Adult
(Between: 17 Oct 2021 and 31 Mar 2022)
RRP $169

$159 AUD / Person
- Adult - FREE Lunch Upgrade
(Between: 18 Oct 2021 and 31 Oct 2021)
RRP $185

$175 AUD / Person
- Adult All-Inclusive Rafters Pack
(Between: 17 Oct 2021 and 31 Mar 2022)
RRP $109

$105 AUD / Person
- Child (2-14 years)
(Between: 17 Oct 2021 and 31 Mar 2022)
RRP $109

$105 AUD / Person
- Child - FREE Lunch Upgrade
(Between: 18 Oct 2021 and 31 Oct 2021)
RRP $125

$120 AUD / Person
- Child All-Inclusive Rafters Pack (2-14 years)
(Between: 17 Oct 2021 and 31 Mar 2022)
RRP $556

$504 AUD / Family
- Family (2A+2C)
(Between: 17 Oct 2021 and 31 Mar 2022)
RRP $620

$568 AUD / Family
- Family All-Inclusive Rafters Pack (2A+2C)
(Between: 17 Oct 2021 and 31 Mar 2022)
$0 AUD / Person
- Infant (0-2 years)
(Between: 01 Apr 2020 and 31 Mar 2022)
Experience the best of the Whitsundays with a jam-packed adventure on board Ocean Rafting!
Make a splash and snorkel through the kaleidoscopic coral
Visit both the south and north ends of Whitehaven Beach!
Bushwalk around Whitsunday Island to the beautiful Hill Inlet Lookout
Travel at top speeds from one location to the next
Enjoy a thrilling and fun day with a social and friendly crew!
---
---
Ocean Rafting's Whitsunday tours visit the "wild side" of the Whitsunday Islands and are perfect for anyone looking to squeeze the Whitsundays into one day. This multi-award-winning tour has special permits which allow access all areas of Hill Inlet, including the beach! There's no other Whitsundays tour which can cruise all the way through the "postcard perfect" swirling sands of hill inlet.
Highlights & Features:
Approximately 2 hours at Whitehaven Beach
Over 1 hour snorkelling the Great Barrier Reef Marine Park
All snorkel equipment and flotations devices provided free of charge
An exclusive permit to ALL areas of Hill Inlet and guided national park walks
Courtesy bus pick-up and drop-off included to/from local accommodation
Reef and island naturalist talks are offered by the Skipper and Eco Host
A fast and adventurous experience - suitable for all ages!
Visit the North and South end of Whitehaven
The Southern Lights tour has more of a focus on Whitehaven Beach and visits both ends of the world-famous beach! For a tour with more snorkelling focus check out Ocean Rafting's Northern Exposure tour.

Ocean Rafting is also available for Private Charter.
---
Important Notes:
General tickets do not include lunch or wet/stinger suit hire. Please purchase the "Rafters Pack" if you wish to purchase an all-inclusive tour featuring a delicious tropical lunch pack and wet/stinger suit hire.
This tour has the option depart and return to Daydream Island, please refer to Ocean Rafting - Southern Lights ex DDI.
Sample Itinerary
Ocean Rafting's Southern Lights tour will depart Coral Sea Marina at 10:00am. Courtesy pick-ups are included for guests from local accommodations between 8:45am and 9:30am.
Get ready for an adrenaline-fuelled day exploring the pristine islands, inlets, bays and beaches of the Whitsundays!
Whitehaven Beach
Whitehaven beach is a massive 7kms in length! With Ocean Rafting's Southern Lights tour you can enjoy an extended stay at the southern end of the beach for approximately 2 hours. Choose to simply relax and bathe in the beautiful turquoise waters or bring along some beach toys and enjoy activities such as beach cricket, football or Frisbee!

Hill Inlet
Ocean Rafting has special permits which allow access to all areas of Hill Inlet. The swirling sand bars of Hill Inlet are the perfect place to relax and enjoy a tropical lunch pack (optional). A guided bush walk to Hill Inlet lookout will provide panoramic views of the swirling sands below. If you look closely you can quite often see harmless stingrays and lemon sharks resting in the shallows.

Snorkelling
Snorkel for over an hour at Border Island, Dumbell Island, or one of Ocean Rafting's "secret" snorkel locations! The exact snorkel location depends on the sea conditions and your knowledgeable skipper will determine the best snorkelling location on the day. Either way, you will see an abundant range of corals and marine life. Keep an eye out rare and protected fish species such as Queensland groupers, humpheaded Maori wrasse and barramundi cod!

It may be time to head home but the fun isn't over yet! The Ocean Rafting boats will often weave and race against each other on the way home to finish the day off with some more of Ocean Rafting's signature adrenaline fuelled action!
Tour Map
The Southern Lights tour follows the orange coloured path around the Whitsunday Islands.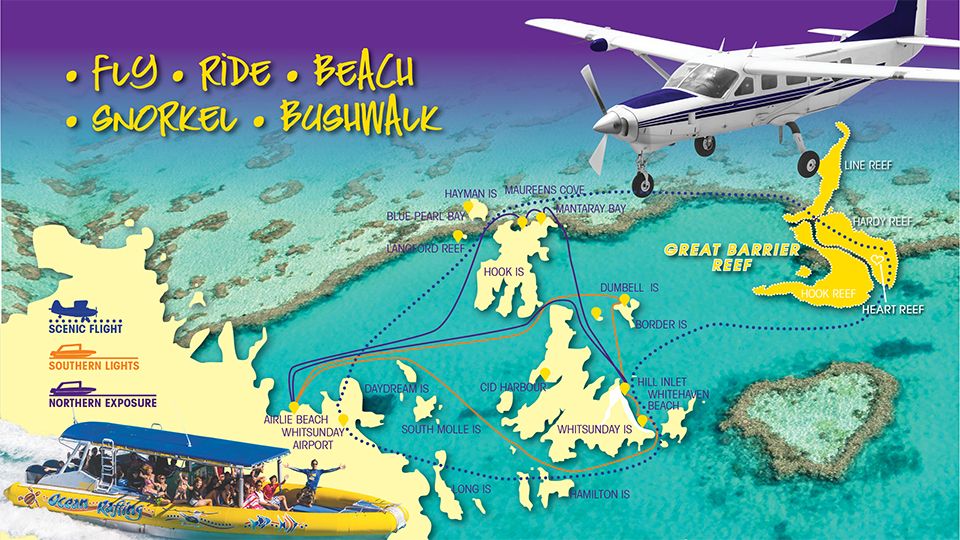 More Information
What To Bring
A beach bag including a towel, hat and sand shoes. A sweater or jacket in the winter months to protect you from the wind and keep you warm after snorkelling. Cameras should be in a waterproof case or Tupperware. If you have chosen not to have our buffet style lunch, please ensure that you bring your own as we do not visit any resorts during the day. A sense of humour is always welcome!
What's Included
Marine park Fees
Guided walks and talks in national parks
Snorkelling gear - mask, snorkel, and fins
Courtesy transfers to/from select local accommodations
What's Extra
Tropical Lunch Pack - $17*
Sunsuit/Wetsuit Hire - $8*
Prescription Mask Hire - $15
Water
Soft Drinks/Juice
Beer/Cider
Chocolate
*The "All-Inclusive Rafters Pack" includes lunch and sunsuit/wetsuit hire.
*Schoolies Special (All Inclusive Rafter's Pack) available from November 19th 2021 to December 11th 2021 - all schoolies must have their schoolies ID at boat check-in
Terms and Conditions
---
Important Information:
Ocean Rafting may use photographs of clients in promotional material, including but not limited to social media. If you do not consent please advise Ocean Rafting.
---
Your Responsibilities:
Please advise us before booking if any passengers are under 18 years old to ensure this is the appropriate trip.
You must reconfirm all booked tours prior to travel as specified on your voucher. If applicable, notes such as dietary requirements, pick-up locations and additional fees should also be confirmed at this time. Reconfirmations cannot be actioned through Sailing Whitsundays/Mr Travel, and must be done so directly through the Service Operator as specified on each ticket.
It is your responsibility to notify us of ticket discrepancies. Please read through the details on your voucher thoroughly to ensure all details such as passenger names, ages and dates of travel on vouchers are correct.
It is the responsibility of all passengers travelling to advise both your travel agent at the time of booking and vessel check-in agent before boarding of any medical conditions including food allergies you may suffer from.
You need to allow adequate time to check-in prior to the specified departure time.
---
Prices/Extra Costs:
All prices are stated in Australian dollars and include GST. Surcharges over peak holiday seasons may apply.
The Service Operator reserves the right to alter prices and extra costs. Extra costs may include EMC fees, Stingersuit/Wetsuit Hire, Luggage Storage, Insurance, Linen Hire, National Park Fees, Fuel Levies, Dietary Fees, etc. Bonds may also apply.
We will also endeavour to communicate these extra costs with you at the time of booking, and on your ticket. However, it is your responsibility to confirm which (if any) additional costs apply with each Service Operator upon reconfirming your trip.
---
Travel Risk/Insurance:
It should be noted that adventure travel involves risk. Whilst we make every effort to safeguard clients, we cannot be responsible for personal injury or loss due to the actions of our clients which are beyond our control. We highly recommend that all clients have travel insurance covering illness, injury, loss or damage to personal belongings and not being able to travel on the confirmed date of departure. You should also ensure your travel insurance will cover special circumstances including weather events preventing guests from travelling to their tour departure destination and cancelled flights due to unforeseen circumstances.
---
Transfers:
The Service Operator reserves the right to limit courtesy transfers to select local accommodations. Private residences or Airbnb properties may be asked to meet at the closest confirmed location. Failure to meet at the specified pick-up location may be treated as "No Show", for which the Client Cancellation Policy applies.
---
Merchant Fees:
Please be aware operators pass on credit card merchant fees so there is a non-refundable 1% surcharge for VISA and MASTERCARD card purchases.
---
Other:
Terms and Conditions (including the Cancellation Policy) are subject to change. The most recent versions can be found online on the relevant product pages.
All ticket/voucher reissues attract a $20 administration fee.
---
Open Date Vouchers / Gift Certificate:
Shipping Costs are in addition to the ticket price and will be added at check-out. Shipping costs are non-refundable and do not makeup part of the ticket value.
E-Vouchers incur no shipping fees.

You have 5 years to use the value of the voucher. Seasonal Price Rises will apply if travelling outside the current seasons pricing. Vouchers can be exchanged for free up to the full value of the voucher excluding credit card fees and charges.
Cancellations
---
Client Cancellations:
No shows or client cancellations made after 7pm, the day prior to departure, forfeit 100% of the total ticket price.
Sailing Whitsundays are required to notify the operator of any cancellations within the specified cancellation period. It is your responsibility to make sure you submit your cancellation request with adequate time, and during standard business hours (9am-5pm), to allow us to contact the tour provider.
Transfers between tours can be made at the suppliers discretion, however, it should be noted that supplier fees may apply. Tour transfers also incur a $20 administration fee.
It is compulsory that all cancellation requests are in writing and sent via email to admin@mr-travel.com. Cancellations attempted via online chat or phone will not be actioned.
---
Supplier Cancellations:
The Service Operator reserves the right to alter prices, alter itineraries, apply a fuel surcharge, cancel departures, arrange alternative transport and vary itineraries and services if necessary.
All departures and itineraries are subject to weather. Tours may be changed or cancelled for any reason at the discretion of the Service Operator. If the Service Operator has to cancel the trip or activity (prior to departure) and we cannot offer a suitable alternative, then a refund will be given minus a 20% administration fee and any associated card fees. We strongly recommend that you have travel insurance, especially during the wet season.
In the unlikely event of your trip being cancelled or stood down, all guest communication is required to go through our Online Store via telephone or email. While there is a Sailing Whitsundays retail outlet located Airlie Beach, please be aware that they operate as a separate entity and are unable to access reservations made by the Mr Travel online department.
---
Refunds:
All refunds are in Australian Dollars and must be made to the card of payment. Sailing Whitsundays/Mr Travel is not liable for exchange rate fluctuations or fees, or any other merchant/bank fees associated with domestic and/or international transactions.
Where a full refund is applicable, there is the option to transfer the whole cost of the tour to another tour or "Credit" to avoid the administration fee. A transfer fee of $20 will apply.
You will be emailed confirmation once the refund has been processed. Once the refund has been processed, it may still take time for the banks to clear the amount. Please allow 7-10 business days for the funds to clear into Australian accounts and up to 21 business days for international accounts.
---
Accountability/Misconduct:
All Service Operators have the right to provide client feedback and to cancel bookings based off of feedback from other Service Operators.
Please enjoy your travel experience in a kind and responsible manner.
Sailing Whitsundays/Mr Travel will treat this as any normal client cancellation and therefore the cancellation fees stated in the Client Cancellation Policy will apply.
---
Thank you for booking with our East-Coast travel experts here at Mr Travel/Sailing Whitsundays. If you would like any further advice, assistance in arranging accommodation, transfers or additional tours please get in touch.
"Very good atmosphere on the boat, the crew is amazing. Whitehaven Beach is beautiful and we had heaps of time to relax on South Whitehaven Beach. Snorkelling was great as well and the coral was very nice. Perfect trip on a fast and fun boat!"
Isabel
"I was recommended this tour from friends, we booked with Sailing Whitsundays as part of a package with the outer reef. Both tours were excellent and made our holiday awesome thanks to Kerr on Ocean rafting we really enjoyed our day."
Kevin
"We had a great day out. Just loved the fast raft, spending time on Whitehaven Beach and snorkelling. The perfect mix!"
Sofia
"Such a fun and fast adventure! We got to swim with the local fish and and look at the beautiful views over Whitehaven Beach. If your visiting the Whitsundays I highly recommend!!! "
Sandra
"Such a fun day trip! Took the ocean rafting boat to Whitehaven beach and other great locations around the islands. We were served a yummy lunch and had a blast jumping the waves in the boat."
Keanna Ellingsen
"Really great day out, saw the swirling sands and got to snorkel! Would go again!"
David
"Great guys! Fantastic views of Whitehaven, plus snorkeling and very adventurous trip on the boat. The team is experienced and helpful."
Mary
"Amazing day!!! Swam with turtles, Nemo, colourful coral and even spotted some dolphins on our way back home. Our crew were fantastic and taught us so much about the Whitsunday Islands and sea life. Having lunch on Whitehaven was incredible. The boat ride was lots of fun. It is an action-packed day and one I would recommend to anyone."
Emily Plummer
"'We decided to take a last minute day trip on the Ocean Rafting tour and definitely do not regret it. We booked online and the staff were so helpful from the get go. The day was lots of fun because we had the skipper (Claudia) who was 'sending it' around the waves. Although the boat was fast and furious we felt perfectly safe the whole time. Whitehaven Beach is the most beautiful beach I've ever been to. Thanks for a fun day out!"
Jack
"Had a great day out on Ocean Rafting, the crew were a hoot! "
Helen
"What a day! My partner and I were looking for a day trip with less time "in transit" and were so happy we opted for this tour. Guides were great, and it never felt like there were too many people on board. Thanks again!"
Angie W
"As a long term local, whenever I have friends visit, I ALWAYS take them rafting. Fun, fast and hitting all the best spots of the region, this trip ticks all the boxes. Plus the crew really make the trip extra memorable, with their enthusiasm and knowledge of the region."
Bianca S
"Whitehaven beach is one of the best beaches in the world and fast boat ride with ocean Rafting is the best way to reach wthe island with some adventure without getting sea sick. The equipment is great, the staff is friendly and the schedule is pretty awesome. We did the southern lights tour as a group of 12 and it is already one of the best vacations for us!"
Mandarbhale
"Absolutely fantastic day right from making the booking till the trip completed. Excellent friendly helpful and informative staff. Nothing was too much trouble for them. Have highly recommended it to friends and family back in N.Z"
Josh
"It was an awesome day excursion to Whitehaven beach. Our crew members Brodie and Shannon were excellent! Very informative and approachable. The ride was an adventure in and of itself... I really enjoyed it! The lunch option that we purchased was great... Highly recommend this tour company to my travelling fellows."
Ken