Camira Whitsundays
CLOSE
View More Thumbnails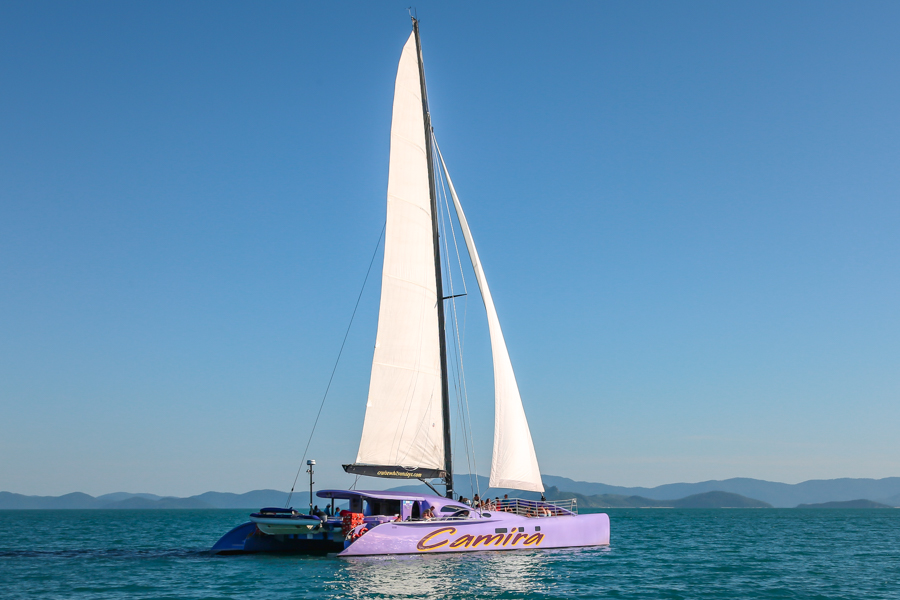 Loading...
Departure Times
Departs: 8:15am - Daily
Returns:
5:45pm - Daily
Departure Point: Port of Airlie, Airlie Beach
Pricing Options
RRP $229

$199 AUD / Person
- Adult
(Between: 07 Jul 2022 and 31 Dec 2023)
RRP $197

$175 AUD / Person
- Child (4-14 years)
(Between: 07 Jul 2022 and 31 Dec 2023)
RRP $188

$179 AUD / Person
- Youth (15-17 years)
(Between: 01 Apr 2021 and 31 Dec 2022)
RRP $229

$190 AUD / Person
- Senior (60+ years)
(Between: 07 Jul 2022 and 31 Dec 2023)
RRP $852

$745 AUD / Family
- Family (2A+2C)
(Between: 07 Jul 2022 and 31 Dec 2023)
Highlights
| | | |
| --- | --- | --- |
| | Hill Inlet Lookout | Great Barrier Reef |
| | | Snorkelling |
| | | |
Only have one day in paradise? Experience the magic of the Whitsundays aboard the dynamic Camira!
Camira is one of the fastest sailing catamarans in the world!
Sail directly to the gorgeous Whitehaven Beach and Hill Inlet Lookout
Enjoy a generous Aussie BBQ lunch
ALL drinks, including beer, wine, cider and soft drink
Explore the National Park and snorkel in colourful coral reefs
Get ready to unwind and relax!
The azure waters of the Whitsundays are calling your name! Jump onboard the impressive Camira and get ready for the trip of a lifetime. Camira is a speedy 85-foot ocean-going catamaran, with luxury and comfortable trimmings. After departing Airlie Beach, we will make our way to the spectacular Hill Inlet lookout, where you can soak up nature and hike up to the peak for a glorious view of the incredible creamy hues of the Whitsundays. We'll also leave footprints on the world-famous Whitehaven Beach, snorkel the fringing coral reef and settle down for a delicious BBQ lunch. As an all-inclusive and jam-packed day, there's no better way to experience the heaven that is the Whitsundays!

Highlights & Features:
Beer and wine included from 11am
Scenic return sailing adventure through the Whitsundays to Whitehaven Beach and Hill Inlet
Morning tea and afternoon tea provided
BBQ buffet lunch, soft drinks and water included
Experience sailing at its best in the Whitsundays
Complimentary snorkelling gear and protective stinger suits
Two onboard toilets
Beach activities included
Spacious vessel with indoor and outdoor seating areas
Guided walk to Hill Inlet and lookout (tidal dependent)
If you're short on time, there's no better way to see the Whitsundays than onboard the beautiful Camira. Pack the must-do's and bucket list items of the Whitsundays into one full day of incredible adventure!

---
Your Camira Experience
Venture into the heart of the Whitsundays, as Camira's speed and finesse guarantees you and your loved ones a once-in-a-lifetime authentic sailing experience, all in one day of absolute island bliss! Camira is a state-of-the-art catamaran capable of sailing up to 30 knots, with a passionate and skillful onboard crew leading the way. As soon as you set sail out of the Coral Sea Marina at Airlie Beach you will be able to relax in luxury, before arriving at the world-renowned destinations of Whitehaven Beach and Hill Inlet Lookout. Take in the swirling hues of blues and whites as far as the eye can see at the Lookout, before cooling off in the serene waters of Whitehaven Beach below. After snorkelling to your heart's content at one of the Whitsundays flourishing fringing reefs, enjoy an included scrumptious barbecue lunch and refreshments, including beer and wine! Get ready to experience the magic of the Whitsundays!

---
Important Information:
The bushwalk to Hill Inlet lookout is subject to tidal restrictions and is NOT guaranteed.
Sample Itinerary
Show Less
Authentic Sailing
As soon as we depart Airlie Beach Marina, the top priority becomes setting the sails! Get ready to embark on a once-in-a-lifetime authentic sailing experience, where our passionate and skillful crew will lead the way. Watch and learn from our incredible crew as they use a combination of manual techniques and powerful mechanical winches to pull up the giant sails. As the sails ...
Read More
Authentic Sailing
As soon as we depart Airlie Beach Marina, the top priority becomes setting the sails! Get ready to embark on a once-in-a-lifetime authentic sailing experience, where our passionate and skillful crew will lead the way. Watch and learn from our incredible crew as they use a combination of manual techniques and powerful mechanical winches to pull up the giant sails. As the sails rise, the calm waters of the Whitsundays are ready to be explored! As we cruise along, you'll have a choice of where to relax. Whether you fancy the bow nets, the comfortable inner seats or are seeking out snacks in the spacious interior cabin, there's something for everyone. Camira is specially designed for ultimate comfort, space, and relaxation - ensuring you have the best day possible on the water.

Hill Inlet and Whitehaven Beach
After we've sailed across the dreamy blues, we'll make our way towards Hill Inlet Lookout to soak up the incredible view from the top. Picture this: swirling hues of blues and whites as far as the eye can see! It's the perfect spot to shoot some amazing photos and feel the bliss of all that nature has to offer. The walk leading up to the lookout point is the perfect opportunity to rub shoulders with the gorgeous flora and fauna of Whitsunday Island. Keep your ears opened for the wondrous sounds of a myriad of singing birds and your eyes peeled for the scurrying critters below! After you're finished exploring, head on down to the incredible beach below for a lovely dip. Relax in the soft silica sand and unwind!

Snorkel the Fringing Reef
Explore the incredible deep blue and snorkel to your heart's content! Your knowledgeable skipper will take you and your loved ones to the best snorkelling spot in the area (depending on tides and other conditions), so you can soak up the wonderful sights below! Rub shoulders with unique and vibrant marine life, including sea turtles and colourful fish, and explore the intricate mazes of kaleidoscopic coral. There's no doubt that snorkelling through the pristine waters of the Whitsundays is the best way to see the highlights of this jaw-dropping natural wonder!

Delightful BBQ with Free Beer and Wine!
Serving delicious morning and afternoon tea, Camira also puts on an incredible show for lunch. A scrumptious barbecue lunch is included in the price of your tour - as well as liquid refreshments including beer and wine! The incredible and local Fish D'vine, an award-winning Whitsundays restaurant, will put on an amazing tropical banquet featuring seasonal salads and more. Camira is licensed to serve alcohol from 11 am.

Enjoy the pure serenity...
After lunch, we will set sail back to the mainland. Our wonderful crew will take you and your loved ones around the southern islands of the Whitsunday chain, something that most other day tours don't offer! It's an incredibly special sight that gives you an even deeper perspective into the beauty of the area - so help yourself to a glass of wine or a beer and get ready to enjoy the smooth sailing! As we head back to the mainland, you're bound to be feeling on top of the world after a colourful, exciting and wholesome day exploring the Whitsunday Islands!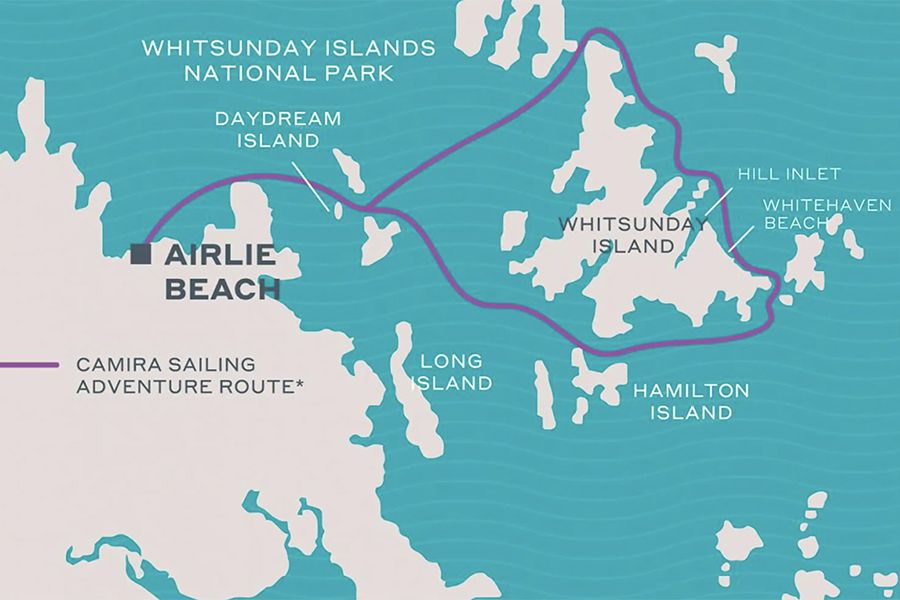 *This itinerary is a sample only. It should be noted that the bush walk to Hill Inlet lookout is subject to tidal restrictions and is NOT guaranteed.
More Information
Show Less
What To Bring
Photo identification for the free bar
Sun protection (sunglasses, hat, sunscreen etc)
Beach towel
A light jumper for your return journey
Swimmers
Camera
Jumper or jacket (seasonal)
Wh...
Read More
What To Bring
Photo identification for the free bar
Sun protection (sunglasses, hat, sunscreen etc)
Beach towel
A light jumper for your return journey
Swimmers
Camera
Jumper or jacket (seasonal)
What's Included
All activities, morning tea, a delicious barbecue lunch and drinks are included, with beer, wine, soft drinks, tea and coffee available throughout the day. Alcohol is available after 11am. Also on board are stinger suits free of charge and all local fees are included.
What's Extra
Payment for additional onboard purchases.
Terms and Conditions
---
Important Information:
The bush walk to Hill Inlet lookout is subject to tidal restrictions and is NOT guaranteed.
Guests must be able to show valid ID at check in to support their ticket type (i.e Senior or Child ticket). If you cannot produce the valid identification to meet your ticket requirements, you will not be able to travel without paying a surcharge/difference in fare.
---
Your Responsibilities:
Please advise us before booking if any passengers are under 18 years old to ensure this is the appropriate trip.
You must reconfirm all booked tours prior to travel as specified on your voucher. If applicable, notes such as dietary requirements, pick-up locations and additional fees should also be confirmed at this time. Reconfirmations cannot be actioned through Sailing Whitsundays/Mr Travel, and must be done so directly through the Service Operator as specified on each ticket.
It is your responsibility to notify us of ticket discrepancies. Please read through the details on your voucher thoroughly to ensure all details such as passenger names, ages and dates of travel on vouchers are correct.
It is the responsibility of all passengers travelling to advise both your travel agent at the time of booking and vessel check-in agent before boarding of any medical conditions including food allergies you may suffer from.
You need to allow adequate time to check-in prior to the specified departure time.
---
Prices/Extra Costs:
All prices are stated in Australian dollars and include GST. Surcharges over peak holiday seasons may apply.
The Service Operator reserves the right to alter prices and extra costs. Extra costs may include EMC fees, Stingersuit/Wetsuit Hire, Luggage Storage, Insurance, Linen Hire, National Park Fees, Fuel Levies, Dietary Fees, etc. Bonds may also apply.
We will also endeavour to communicate these extra costs with you at the time of booking, and on your ticket. However, it is your responsibility to confirm which (if any) additional costs apply with each Service Operator upon reconfirming your trip.
---
Travel Risk/Insurance:
It should be noted that adventure travel involves risk. Whilst we make every effort to safeguard clients, we cannot be responsible for personal injury or loss due to the actions of our clients which are beyond our control. We highly recommend that all clients have travel insurance covering illness, injury, loss or damage to personal belongings and not being able to travel on the confirmed date of departure. You should also ensure your travel insurance will cover special circumstances including weather events preventing guests from travelling to their tour departure destination and cancelled flights due to unforeseen circumstances.
---
Transfers:
The Service Operator reserves the right to limit courtesy transfers to select local accommodations. Private residences or Airbnb properties may be asked to meet at the closest confirmed location. Failure to meet at the specified pick-up location may be treated as "No Show", for which the Client Cancellation Policy applies.
---
Merchant Fees:
Please be aware operators pass on credit card merchant fees so there is a non-refundable 1% surcharge for VISA and MASTERCARD card purchases.
---
Other:
Terms and Conditions (including the Cancellation Policy) are subject to change. The most recent versions can be found online on the relevant product pages.
All ticket/voucher reissues attract a $20 administration fee.
---
Open Date Vouchers / Gift Certificate:
Shipping Costs are in addition to the ticket price and will be added at check-out. Shipping costs are non-refundable and do not makeup part of the ticket value.
E-Vouchers incur no shipping fees.

You have 5 years to use the value of the voucher. Seasonal Price Rises will apply if travelling out the current seasons pricing. Vouchers can be exchanged for free up to the full value of the voucher excluding credit card fees and charges.
Cancellations
---
Client Cancellations:
No shows or client cancellations made within 72 hours of departure forfeit 100% of the total ticket price.
Transfers between tours can be made at the suppliers discretion, however, it should be noted that supplier fees may apply. Tour transfers also incur a $20 administration fee.
It is compulsory that all cancellation requests are in writing and sent via email to admin@mr-travel.com. Cancellations attempted via online chat or phone will not be actioned.
---
Supplier Cancellations:
The Service Operator reserves the right to alter prices, alter itineraries, apply a fuel surcharge, cancel departures, arrange alternative transport and vary itineraries and services if necessary.
All departures and itineraries are subject to weather. Tours may be changed or cancelled for any reason at the discretion of the Service Operator. If the Service Operator has to cancel the trip or activity (prior to departure) and we cannot offer a suitable alternative, then a refund will be given minus a 20% administration fee and any associated card fees. We strongly recommend that you have travel insurance, especially during the wet season.
In the unlikely event of your trip being cancelled or stood down, all guest communication is required to go through our Online Store via telephone or email. While there is a Sailing Whitsundays retail outlet located Airlie Beach, please be aware that they operate as a separate entity and are unable to access reservations made by the Mr Travel online department.
---
Refunds:
All refunds are in Australian Dollars and must be made to the card of payment. Sailing Whitsundays/Mr Travel is not liable for exchange rate fluctuations or fees, or any other merchant/bank fees associated with domestic and/or international transactions.
Where a full refund is applicable, there is the option to transfer the whole cost of the tour to another tour or "Credit" to avoid the administration fee. A transfer fee of $20 will apply.
You will be emailed confirmation once the refund has been processed. Once the refund has been processed, it may still take time for the banks to clear the amount. Please allow 7-10 business days for the funds to clear into Australian accounts and up to 21 business days for international accounts.
---
Accountability/Misconduct:
All Service Operators have the right to provide client feedback and to cancel bookings based off of feedback from other Service Operators.
Please enjoy your travel experience in a kind and responsible manner.
Sailing Whitsundays/Mr Travel will treat this as any normal client cancellation and therefore the cancellation fees stated in the Client Cancellation Policy will apply.
---
Thank you for booking with our East-Coast travel experts here at Mr Travel/Sailing Whitsundays. If you would like any further advice, assistance in arranging accommodation, transfers or additional tours please get in touch.
Customers who were interested in this product, also viewed...
Reviews
Overall Rating
5.0 / 5.0
Based on 68 reviews
Reviews by our Sailing Whitsundays customers
Went out with a few friends which was great fun, great weather aswell which was super
What a way to end the holiday, beers beaches and BBQ!
This is the best tour in Airlie hands down! the most amazing BBQ and the hill inlet was amazingtoo.
Lovely trip to whithaven on the sailing boat, would definitely recomend
Great day out on the beers! really fun way to relax your way to Whitehaven beach and back. Also the food and staff were absolutely amazing, 5 stars.
What a day out! the drinks were flowing and everyone was in a great mood all day. The boat is big enough to have your own space if that's what you desire.
Best way to get to Whitehaven hands down. Sailing along the water with a beer and a burger doesn't get any better really, does it?
Loved all the complimentary alcohol all day and the beach was class
Lisa Iacomella
, 15 Sep 22
Best tour out there. Beautiful destinations and crew were awesome to get the most out of the day Highly recommend
It was a very lovely day. Whitehaven Beach was so beautiful. We did get back early so we missed the sunset and the walk to the inlet was longer than we expected but it was to an incredible view so well worth it.
Best day ever!!! Had so much fun with the crew and other guests, Whitehaven was amazing too.
Highly recommend Camira for a relaxing day cruising the Whitsundays. Staff are amazing and if you have dietary requirements this is the cruise for you. Vegan food provided for us was yummo! Thanks Camira crew for a memorable and enjoyable experience.
We had an absolutely amazing time, the staff were outstanding, helpful in in every way, Couldn't recommend to friends and family highly enough. Thank you so much for a great experience
Our trip was fantastic! The crew were so entertaining and knowledgable. We ended up booking 2 tours with Cruise Whitsundays thanks to Claudia's advice. We got to go sailing to Whitehaven which was incredible and Whitehaven Beach is more beautiful than I thought. Overall great day.
My friend and I loved it. It was recommended to us by Claudia as she said it was one of her favourite tours and we loved it. Was a great suggestion. the lunch was super yummy and filling and catered well to our dietary requirements. Was a beautiful day and we loved Whitehaven.
This tour is the best way to get to Whithaven beach, its such a nice relaxing way to get there and the free drink was a great way to loosen up and get chatting to other guests on the boat.
We absolutely loved the staff. they were so amazing. The sand and coloured of the water was spectacular. the most beautiful thing I have ever seen. The lookout was spectacular and the whole day was the absolute best.
Amazing trip, friendly and helpful staff, perfect amount of activities, really good food. Will definitely return for a sunnier trip!
Absolutely amazing experience! We highly recommend. The crew were fabulous. They kept us fed throughout the day (yummy food) and having drinks included was an added bonus!! Loved the snorkeling and visiting Whitehaven bay. If you are looking for a great day out on the water, this is your cruise!
Nicole Minchin
, 29 Aug 22
Really enjoyed the tour! It was great.
Natasha Romoff
, 27 Aug 22
Camira was great value! The crew were super friendly and welcoming, the snorkelling and activities on Whitehaven were great and it was also very family friendly. Would definitely recommend!
Family of 4 went on the boat and had a really good time, food was excelent and the beach was very impressive.
10/10 experience! Would recommend this to anyone thats in Airlie beach looking for an awesome day trip. You definitely get your money's worth and the crew make the trip that much better!
Madeline cassano
, 14 Aug 22
What an incredible day out! From the minute we set sail we felt right at home, the crew were amazing, very informative and made us feel very welcome. The food and drinks were great. The itinerary was in the perfect order and cruising back into the harbour as the sunset topped off a perfect day!
Greg Oakenfull
, 13 Aug 22
The best day! The crew were awesome and so much fun.
was recommended by a friend to take this tour and were not disappointed, food was incredible and it was a wonderful experience to sail through the island area to whithaven beach which was also wonderful
Had a really great time sailing and would definitely recommend. Staff were wonderful and engaging, not to mention the free drink! they loved the free drink.
The Sailing trip was awesome! our favourite part was the Whitsunday Island. We have done some travelling in our time but have never sen anting like that!
Had the best day ever out on Camira. What a magnificent way to see the Whitsundays, Whitehaven beach and snorkel the islands. Loved every bit of it!
Phil and Carol Wells
, 23 Jul 22
A day sailing on the Camira was "a must" for us on our recent visit to the Whitsundays and we weren't disappointed. The weather was perfect and the crew (especially Clayton) were amazing. Food, prawns, wine, beer, soft drink etc were plentiful and all inclusive. Absolutely recommended day trip.
Phil and Carol Wells
, 23 Jul 22
A day sailing on the Camira was "a must" for us on our recent visit to the Whitsundays and we weren't disappointed. The weather was perfect and the crew (especially Clayton) were amazing. Food, prawns, wine, beer, soft drinks etc were plentiful and all-inclusive. Absolutely recommended day trip.
I had such a fun day, the weather was perfect. I really enjoyed my snorkel although it was a little cold. I saw a turtle which was awesome ! Lunch was so good and very well catered as I am a vegan.
What a beautiful day. There wasn't a cloud in the sky. I went out with a couple of my girlfriends and we couldn't have asked for a better day. The food was incredible. Best around food I have had on a tour here. We did not go hungry and the drinks included with the ticket was nice too. Meant for no stress with extra cash on the day. Hill inlet was in credible! so blue .
what such an incredible day. I went out with my girlfriends and the weather was amazing! the food was amazing too and whitehaven was just magical. wow will go again
It was the best experience ever!!! First at all, very punctual about start and very fast. The food was AMAZING!! The timing of the activities and the places that we visited was perfect. The team super-friendly and polite. Very happy with this tour. Also a lot of soft drinks ! THank you so much!!!
Liesel Sparrius
, 25 Apr 22
We had a beautiful day on Camira. The staff were amazing and the food was soooo good and so much of it they definitely wanted to make sure you Didn't want for any more. The crew were very experienced and even though it was windy and rainy they got us out to beautiful and secluded beach to snorkel
Tony Capitano
, 11 Apr 22
Heading out yesterday morning the weather didn't look like it was going to be kind to us. Hoisting the sails in a shifting breeze transformed the boat and we skipped over the waves. The crew where awesome from start to finish, the food was excellent and all-inclusive drinks from 10:00 am. Amazing day!
"All of the lovely crew on board Camira were amazing and went over and above to make sure we were safe, comfortable & having the best sailing experience we can in the Whitsundays."
Thank you to the staff of the Camira! As a non-swimmer I felt very safe on the boat and at the beach. The staff are very professional yet friendly. They look like they love their job. The itinerary was smooth and easy. The food was delicious and the drinks were overflowing throughout the trip. We definitely recommend the Camira tour
I look forward to bringing my 3 grandchildren next time – this crew would make their experience the absolute best. The safety demonstrations were mature but funny, which made my family feel at ease. The crew didn't treat us like a number; they treated us like family… Some sat down and talked with us, making for a really nice atmosphere
WOW, what a sensational day's adventure. The staff were very friendly, knowledgeable, and took safety as a priority. Their desire and ability to change the itinerary so that we could snorkel at the best possible area was appreciated by all. This a MUST-DO experience. Well done Camira Crew.
Gloria Kennedy
, 08 Mar 22
Could not have asked for a better trip!! The whole crew including Bodie and Redman were so accommodating and friendly. The food was amazing even as a vegan there was plenty to eat! We went for my mates 21st and could not have asked for a better day! We didn't want it to end. Best trip ever!!!
Just came back from a great trip on this really big sailboat, wow what a great day. I will definitely recommend it to all my friends
What a great day out!! The food was fantastic and the crew are so friendly! Thank you to the staff at Sailing Whitsundays for the recommendation.
Camira was great. Loved Whitehaven beach and the snorkeling was amazing! Great visibility and the crew were very friendly. The lunch provided was lovely and a good selection of food was provided to cater to all diets. Would really recommend this boat for space, comfort, and all-around fun.
I celebrated my birthday with 7 of my friends on Camira. The catamaran is very big and offered us a lot of space to chill and relax. After snorkeling we were allowed to start drinking. We had the best time.
Had a fantastic day out on Camira, Sailing Whitsundays made the whole process super easy. I was booked and had confirmation in 5min. Snorkelling on the day was amazing. Crew on board were friendly and world class. Would do again.
Can only recommend! Hill Inlet was spectacular with beautiful colours and a perfect spot for a photoshoot. The boat is a huge catamaran with nets in the front to lie down and sitting areas outside and inside with tables, so plenty of space and shade to relax. The food is plenty and very nice with a big variety and on top of it there is an open bar. Amazing trip!
The most relaxing way to sail the Whitsundays! The boat is just fantastic with its big nets, amazing food and open bar. Plenty of space to move around and socialise. Would do it again!
Highly recommend doing a day trip on the Camira! We had the best time, all the staff were awesome its such a fun vibe and they take you to the best spots! The food was good and the best part was the drinks never stopped flowing! Would 100% go on it again!
Great views and an easy introduction into sailing boats. It was great to overtake the highspeed catamarans using nothing but the wind mother nature provides.
Lounging on the trampolines while taking in the views as Camira sailed around the islands is pretty a pretty special introduction to the Whitsundays. Loved the inclusive beer and wine! The tender was a bit hard to get back into after our snorkel session, but the crew were happy to assist.
Camira looked like such a cool sailing boat, that we had to try it! It definitely did not disappoint – we had the most amazing day!!! We loved the nets on the front of the boat to relax and enjoy the sunshine. Their Aussie BBQ lunch was delicious, so much to choose from! And the open bar was a nice perk as well!!!
I've been out on Camira a few times now with friends and my partner and I've had the best time, every time. You get to see Whitehaven Beach, Hill Inlet Lookout and snorkel in the inner Great Barrier Reef. AND it's all inclusive!! I especially enjoyed hanging out on the tramp at the front of the boat with a nice cold cider at the end of the day.
Richie Hamster
, 28 Oct 19
We arrived at the port of airlie at 7.20am for an 8am boarding. Tea, coffee and biscuits to start followed shortly by fresh fruit. We sailed out for a couple of hours where we were going to snorkel. The captain and crew clearly had our best interests at heart, because they skipped past a couple of snorkelling spots where visability was poor. When we disembarked to the snorkelling spot they were happy with we were not disappointed having a good period of time to explore the reef and see a whole host of marine fish and coral. Back on the boat and onwards to hill inlet and Whitehaven bay. These truly are a sight to behold and we apparently saw it in a different light that was very rare. It wasn't the picture post card vivid blue, where it had been raining it was a strange brown kind of colour which was a cool spin compared to the usual. Once we spent a while on the beach in the beautiful white sand we headed back on the boat for a tasteful bbq with a wide selection of meat and salad. This was followed by beers and a couple of tops tricks demonstrated by Luca and as he knew it was our honeymoon, took delight in using us as demonstrators of how to split 2 ropes interlinked... no mean feat I assure you. The trip was amazing but it was all down to the crew for my wife and I that made the trip. They were all funny, knowledgeable, keen and highly professional. I would personally go on any trip with this particular crew because they were amazing. Thank you so much for such a memorable day all of you!
We were so excited to go sailing, and the boat did not disappoint- very exciting to feel the way the wind moves the boat, but it has engines too for when the wind dies down. Snorkelling was great, the BBQ lunch was so good we went back for seconds (and I'm a picky eater), the day was all-inclusive (drinks!), hill inlet and whitehaven beach were spectacular and we had plenty of time there so it didn't feel like we were rushing, the scenery sailing both ways was incredible, great music all day, there were TRAMPOLINES on the sail boat, and surprise chocolate cake too! The staff were so friendly and fun and all-in-all we couldn't have had a better day! Would recommend!
We really enjoyed our sailing adventure on the Camira. All the crew were fun, attentive and made sure everyone was safe and happy. It was great that everything (including alcohol) was included. We had a delicious lunch with plenty of food and drinks and thoroughly enjoyed the activities throughout the day. Highly recommended!
Went out on Camira with my Fiance and her two friends from Canada, such a stable ride and so much room to spread out! Oh plus beer and wine included, how good is that!
At first we were a little daunted that there would be too many people on board for us, but after coming back to the mainland we had an amazing day! The nets at the front of the boat made a great addition for lazing around in between stops. Whitehaven was of course amazing, but the hot BBQ lunch is what really did it for us. We'll be back!
My friends and I spent an amazing day aboard Camira! We loved watching the crew sail her, claiming that she is the fastest commercial catamaran in Australia. The BBQ lunch was delicious after our snorkelling experience. Overall a great day to see the best of the region, especially if you love sailing. She's nice and roomy. The inclusive beer and wine were a welcome bonus too!
Colleen Barker
, 17 Jul 18
Our day on the Camira to Whitehaven beach was excellent. All the staff were very friendly. The food was superb and lots of. It is well worth the trip out to Whitehaven beach as its spectacular. On the way we stopped at a reef and went snorkeling. There was lots of fish,beautiful coral and clear water. A very enjoyable day.
Neil Earl & Sue Earl
, 21 Oct 16
Booked Camira for my wife and I last week when we were in Airlie Beach visiting family. We had such an amazing time that we decided to do it all over again the next day and invited our 7 other family members to join us. The crew absolutely made this trip, a big thank you to them for taking such good care of us. The food spread was so good & Whitehaven Beach was a sight for sore eyes. A must do. I cant wait to come back and do it for the 3rd, 4th, 5th time....
Excellent day trip on the purple Camira sailing boat. Everything about this trip was excellent. The staff our informative, friendly courteous. The places we visited awesome, Whitehaven beach warm, sunny the sand is gorgeous. Has to be seen. The food was great plenty of it. Thoroughly enjoyed the day out. The islands and waters, reefs are well worth the visit. I would consider another trip .
One day catamaran was a great day with amazing bbq on board and free booze and drinks all day. The good thing was that although free booze all day this wasnt a party boat. Great snork Oh my god and visit to Whitehaven beach.
We chose to do Whitehaven Beach in the morning and Hamilton Island in the afternoon. We were picked up early in the morning and boarded the boat. everything was well organised and made for a relaxing experience. after a few stops to pick up other passengers and drop the first batch at HI we went onto Whitehaven Beach. I cant begin to describe how beautiful this place is. Even with the hundred or so other passngers around, there is more than enough room to wonder down the beach to get some quiet. the sand and sea is spectacular. after an hour half on the beach, the boat left and took us back to HI where we went for lunch at the Marina Tavern. the food here is great. We had a few hours to ourselves so hired a buggy to drive around the island. Although not very big, theres plenty to see. Would recommend this trip as an easy way to see some beautiful parts of the local area.
We went on a tour during our honeymoon in September and all I can say is if you dont get Craig as your tour guide, ask for your money back! Ive never met anyone who is so enthusiastic about their job, he was so knowledge about the surroundings and was full of interesting random information, he took the time to get to know each person on the tour and remembered each persons name and story. He also went the extra mile for us as he knew we were on our honeymoon and took us to our own lookout as the other one was busy and took some gorgeous photos for us. The surroundings of Whitehaven Beach, the hill inlet and Chalkies Beach were spectacular, pictures do not do it justice! We will 100 percent be back in the future only this time we will bring our daughter as the tour was very child friendly!
Fantastic trip to the barrier reef! Snorkeling, food and staff were exceptional! Had the best day and would highly recommend!
The trip was excellent. We were well informed about where to meet and our bus was on time to pick us up. The port is really well organised and looks very professional. We had breakfast on daydream Island. The food was good and was a really nice start to the day. Our tour guide Alison met us and stayed with us for the day. She was great, friendly, approachable and really knowledgeable. It was also her birthday. We travelled to Hamilton Island to have lunch. Food choices were good and lunch tasted great. Not included in the tour but we stopped at the bakery next to the lunch stop for cheesecake, was really good. We went on the Whitehaven beach, was stunning. Cant say enough good things about this experience, highly recommend. Special thanks to Alison, we have some wonderful memories of the whitsundays.