New Horizon 2D2N
CLOSE
View More Thumbnails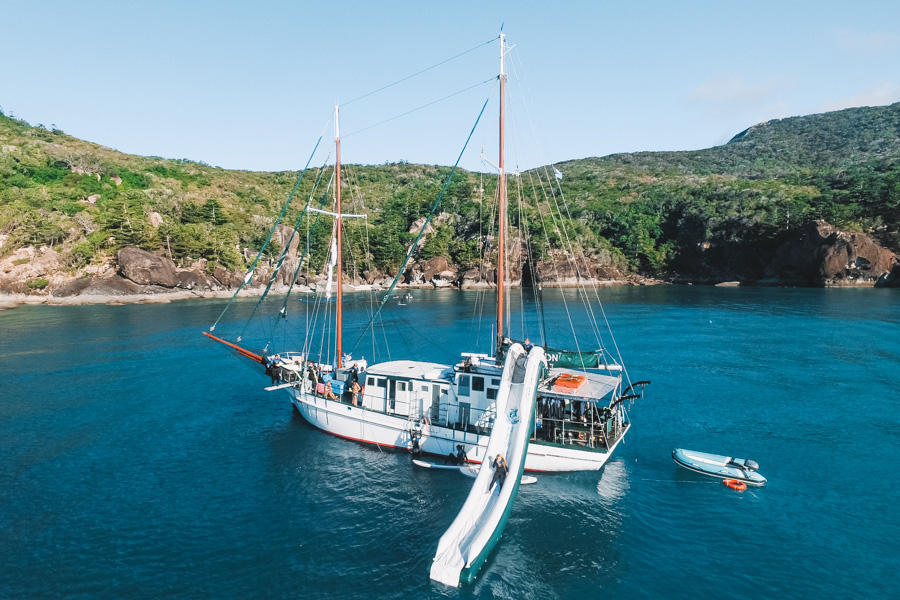 Loading...
Departure Times
Departs: 2:00 pm
Returns:
11:30am
Departure Point: Airlie Beach
Pricing Options
RRP $580

$520 AUD / Person
- Shared Accom
(Between: 15 Jan 2023 and 01 Dec 2023)
Highlights
| | | |
| --- | --- | --- |
| Whitehaven Beach & Hill Inlet | Giant Waterslide | Scuba Diving |
| | | |
| Snorkelling | | |
| SUPs | | |
New Horizon is a great way to have fun at a great price! Perfect for adventurers wanting to socialise while on a wild Whitsunday adventure.
One of the few overnight boats with scuba diving - an unforgettable experience!
Fun tour on an authentic sailing boat that will offer a unique experience
Look forward to snorkelling, Whitehaven Beach and a visit to Hill Inlet Lookout
Plenty of fun extra on board like waterslide, paddleboards and jet boat rides!

---
---
Customers who viewed this item also viewed...
Reviews
Overall Rating
4.9 / 5.0
Based on 129 reviews
Reviews by our Sailing Whitsundays customers
Zac O'Sullivan
, 09 Mar 23
Unreal from start to finish
Kristen Bekker
, 11 Feb 23
I really enjoyed the experience. The crew we had were so awesome. Food was delicious and the sights were so beautiful! Would highly recommend to anyone
Nicloe MacDougall
, 17 Dec 22
Amazing trip
Max Van Der Hart
, 17 Dec 22
Great time! Ayla, Jmac, Harry and Sam were a very nice team together and the activities were nice. Loved snorkeling and sunset rock.
Loved it! Amazing staff and great food.
Phoebe Canning
, 01 Dec 22
10/10 recommend this tour. Best crew and great mates. The crew are very knowledgeable and take you to secluded bays to swim and snorkel. Highly recommend. Highlight of my trip
Great tour full of nice sightseeing activities (dive,snorkel) great food on board, entertaining crew :)
Solid Crew! Great vibes and food. Would recommend more games for everyone :)
Lovely crew, great times, good vibes. All around quality time.
Charlotte Casey
, 19 Nov 22
The trip was amazing! Weather was stunning, crew were friendly and helpful, knowledge brief was so interesting, and all the activities were great fun. There was always plenty of food and water on board and the living quarters were cute and comfy! Would love to get the money so I could come again ha!
J Mac, Jake, Paddy Harry + Nicole were an awesome crew. Met so many new people and had the best time with them all. Recommend highly.
The crew were amazining, made the trip so fun & the activities we did was awesome.
Incredible! Amazing staff and unfortgettable experience!
Meri Ingebrigtsen
, 03 Nov 22
It was great all round! Liked the boat, the crew, activities and the food wasn't bad either.
Whitney Wheeler
, 20 Oct 22
I had the best time ever! The whole crew was incredible, and we all had so much fun from start to finish! The views were amazing, and I had so much fun swimming, diving, and exploring Whitehaven beach. Thanks so much for everything, can't recommend it enough!
Had an amazing experience on the New Horizon--can't recommend it enough! The crew were so wonderful, food was delicious, and all activities were amazing. 10/10 !!
Lauren Fulton
, 10 Oct 22
It was AMAZING!! Crew was great, activities were well planned and fun! Everyone on board was a blast - honestly 10/10 experience i would recommend it to literally everyone!!!!!!!
IT WAS LOVELY. THE WEATHER WAS AMAZING. WE SAW WHALES AND THE SECOND DAYS SNORKELLING SPOT WAS MY HIGHLIGHT. THE CORAL WAS SO BEAUTIFUL.
Was so much fun. Whitehaven Beach was so beautiful. The snorkelling was great. I really loved it
Really fun. The parties were the best and Whitehaven Beach.
Was wicked fun. I went with my friend and we both partied hard. the rest of the crew were wicked too. Such a beautiful place to visit on an epic boat
I loved the snorkelling. the diving wasn't for me but my partner got to go for his first dive which was amazing. Whitehaven was spectacular and the weather was glam. 10/10
Was really good. I went on my first dive which was amazing. I saw some incredible fish and coral which was really cool. The rest of the passengers were really nice too so we made some friends. The crew were great. Food was good. Highlight was definitely Whitehaven Beach.
was really great. My friend and I had a ball. The water and beach were so beautiful and it was nice to relax on the boat and beach
was super nice, loved the snorkelling and the weather was great so made Whitehaven so incredibly beautiful
wow was really fun, I have never been snorkelling before so that was great. I saw some really cool fish and coral. Was a fun trip for sure
Caitlan Beckett
, 10 Sep 22
The trip was so much fun, I will definitely do it again and recommend to all of my friends. Really enjoyed the laid back vibe and minimalistic living. The people definitely make the trip worth while and I was lucky to have a great group on board. The food was good although more of it is needed!
Jordan Wainwright
, 27 Aug 22
It was a good time, weather wasnt great (cloudy and rainy) but the crew still made it a great time, it was just a bit squishy out of the weather as space was limited. Food was better than expected
We all had a really fun time. The slides were epic and the crew were awesome. The other people onboard were a lot of fun as well. I really enjoyed the snorkelling and Whitehaven. The food was good. Would definitely book again if I come back to Airlie.
We had and absolute blast. It was amazing 10/10. The weather wasn't great the whole time but as soon as we got Whitehaven Beach the clouds cleared! we were all very impressed with the food and the amazing crew.
Unbelievable experience on board the New Horizon 2D2N made better by the crew on board. The C-section room is noisy so people struggle to sleep and the slide is only used for 2 hours (subject to demand) on the last day. Other than that - incredible!! Josh (Diesels)
Charlotte Cotterill
, 13 Jun 22
Amazing!! Loved it all! The crew were amazing from start to finish, they really made this trip so much fun. The boat is comfortable and bigger then I thought. Food was delicious, I could not fault any of it. I enjoyed and would do again.
The last few days and it's been absolutely awesome we've been to so many amazing sites and seen some excellent snorkeling only with extremely capable confident staff, we even became good friends it was a highlight and put it all in perspective, just great
The amazing crew would highly recommend to everyone traveling to the Whitsundays with New Horizon being jmac and Maddie made the experience chill and was so enjoyable
Great positive Crew, they were very helpful and every need was taken care of will be back to party again
Fantastic trip the Crew were amazing yet safe and having a load of fun Beck's knowledge and passion were incredible and Kyle lead an absolutely terrific dive .
Wow, it was 15/10 the crew was just awesome. I'm telling all my friends to do this it was just fantastic few days on the Ocean
Awesome time Kyle was great as she was the best dive instructor ever, Maddie's food was also really good, love the way they kept us all safe and entertained, thanks guys
We had a great time the crew was fantastic and I'll definitely recommend the new Horizon to my friends big big shout out to Maddy for the lovely food each day Big thanks from Claire
Fantastic time aboard the New Horizon, loved the slide and the diving thanks to a well oiled machine, will recommend to friends
All the crew were legends. the trip wouldn't be the same without them, Great crew, great food, great fun had, will highly recommend to everyone
Had the most amazing time all the crew were so helpful so informative and so sound had the best time big thank you
Danielle O'Brien
, 02 Dec 21
What an amazing experience! The crew were next to none. I've never dived before and was really nervous and Jessie was so amazing. She held my hand the entire way and made me want to dive again. The food was tasty, the crew were hilarious and made us feel at home. Would 100% recommend this boat.
Absolutely incredible trip, we could not have asked for a better crew or trip! Thanks so much for everything.
Trip was great. Had such a great time with everyone on board.
The trip was amazing. The crew made it unforgettable. Food was delicious. I was scared of going under the water but the crew made it so safe and I could snorkel :)
Thank you for the wonderful trip! The crew, love what they do and you can feel they love it. Thanks again!
Thank you so much for all your work. Great food, great menu, awesome entertainment and leisure activities. I've had a fantastic time!
Awesome trip to start my 34th year! Thanks so much for the memories that will last a lifetime. Such a good crew!
Wonderful people / crew, food was decent and kept us full all the time. Splendid trip!
Amazing crew with a great sense of humor. My dietary were also well accommodated. The sleeping quarters were very comfortable. Thanks :)
What an awesome team! absolute pleasure! Thank you all!
What an amazing 3 days! Thanks so much for taking us to so many beautiful spots around the islands, doing so many different activities & learning more about the region. It's been a perfect balance of relaxed, fun & great people. We'll certainly be recommending to others!!
The crew was awesome, they were fun and professional. Would definitely recommend it.
Great time had, the crew were lots of fun and very professional when needed. We felt safe and informed. The food was also great!
Super fun trip with great crew and really yummy food.
Awesome trip cruising the Whitsundays. The intro dive was really well done. Thanks all!
Such an amazing trip with great crew, can't wait to come back!
Amazing crew and delicious food! The views were breathtaking and the morning spent using the SUP and giant slide was super fun!
Kenny and Debs
, 28 Oct 21
Thanks for a wicked couple of days. We loved every second of it! Awesome crew, great food, scenery and amazing snorkelling and diving locations. First sailing trip for both of us and it certainly didn't disappoint.
All of the crew had the best energy, super down to earth and so so friendly! Food was awesome and more than enough for everyone. Had the best time ever.
Amazing snorkeling and great times!!
The whole crew was outstanding and really made the whole trip easy, relaxing, fun & enjoyable. % stars for each one of them.
Crew worked great as a team. Made the whole trip fun :)
The crew was really professional. Amazing food. I enjoyed from sunrise to sunset. Everything was there to have a really good time! Recommend 100%
Crew was really great. Fun, always up for a chat and great local knowledge. Had a ripper of a time!
All staff were friendly and helpful.
Staff were awesome! Great team, friendly and helpful. Knowledgeable lads!
A great crew, friendly, positive & helpful.
Crew were great and knew how to read the room and make our time out at sea super enjoyable. Legends!!
Everything was great! awesome dive with Jmac :)
Great food. Felt well looked after. Super diving and liked the info. Have eaten very well!
Amazing trip with epic crew! Thank you so much guys, you did an awesome job.
Such an amazing experience on the New Horizon! Mikey's food was amazing and made us laugh. Jmac definitely made us feel comfortable on the boat. Guest service is the highest! Thanks for the unforgettable experience!
From start to finnish a beautiful, good vibes trip. Jmac, Mikey and Tylah made the experience unforgettable. Loved it! Thank you so much!
I loved the crew & all there advice & help, not to mention the food was 100%. Every question I asked Jmac, Mikey & Tylah always had a good reply.
Cracker jokes, yummy food and heaps fun of a trip. Great stuff you guys!!!
What a time to be alive! such a great experience out at sea with the crew. They were all welcoming, funny and had us all feeling safe. Loved it!
Really good experience! Staff were super helpful & fun! Great atmosphere.
The trip was sensational and the crew were awesome! Full of good vibes cheers guys!
Justin and Hayley
, 03 Oct 21
The crew are amazing friendly and helpful. We had the best time ever! Many Thanks!!
From the moment we arrived we got a big hello beautiful people
Great time on the 2 day 2 night trip. Met the most lovely people and was nice having the option to party or relax. Visited such beautiful locations and the water slides are a blast! Cant wait to do it all again soon
The place and activities were great
Great weekend staff are all happy and chatty
We had the most incredible weekend on the horizon
Food was absolutely glories
Had a wonderful time on the New Horizon! Food was unreal, crew were loads of fun, great activities and a great trip all in all.
Amazing 3 days, beautiful island, great people, GREAT!! Perfect crew team for a beautiful trip! Early mornings can be difficult but the vibes on this boat make it easy... Thankyou so much <3
Absolute good time was had! 10/10 for everything!
A fantastic 3 day boat trip. Great activities and destinations. Staff were friendly and resourceful. Food was also very satisfying.
A great trip- the best thing; AMAZING CREW- friendly, contentious and super kind!! :) Definitely the best part of our east coast experience!
Literally the best tour I have been on. The crew were awesome, the food was unbelievable and I learnt a lot as well.. Cannot emphasise how great this experience was. I will be back. Thank you crew!
Awesome crew and amazing snorkelling spot! Best 2 day trip :)
lovely and upbeat crew, kept it positive despite the rain! <3 great crew and great snorkelling. Best food, easy going staff. Had my first scuba dive with Ursula and would definitely recommend!
The crew were great, food was really good! We had a lot of fun and feel really lucky we got to check out the waterfall!
Can not fault my trip. Great day, great people. Weather was raining for most the trip but didnt affect it at all, was still the best time and would go back rain, hail or shine. so beyond happy.
This new years will go down as one of the best. Good food and well taken care of by the crew. Would highly recommend!
Excellent crew, food was delicious! Generous amounts of food! Paddle boarding was great. Thanks for a great trip
Everything about this trip was amazing. Despite the rain the crew still made it the best ever! Perfect way to spend NYE!
Everything about this trip was AMAZING, the crew went above and beyond to make it un-forgettable. Would definitely recommend! Thankyou
Amazing snorkelling and beaches to see. Loved seeing turtles and stingray up close :)
Great experience. Met a whole bunch of lovely people of the same age. Crew were also young and very knowledgeable & helpful
It was amazing. Great food, great people and vibe!
I went on New Horizon as a solo traveller. It was a great boat to socialise and meet other people! The slide was great!
Best experience ever to sleep two nights on a boat sailing the Whitsundays! Whitehaven Beach is beautiful and the boat is heaps of fun with the slide, diving and a lot of young people :)
I had fantastic time on board New Horizon, loved the crew and the diving board the best. We had an awesome scuba dive with Ellie and even got a visit from a mother and a baby dolphin at night
This trip was everything I asked for and more! My friends and I had the best time on the New Horizon Tour. We were with the most amazing group of people who are now lifelong friends. Special thanks to Ellie for putting up with me on my first ever scuba dive experience. We even found nemo! Thanks again, hope to be back soon!
I had so much fun on New Horizon doing my first ever scuba dive. I was a bit nervous but the crew helped me to relax and were so patient with me. I even got to see and swim with turtles for my first time. It was great to meet other travellers my age as well.
The New Horizon trip was amazing! The beautiful view, the good food, the sweet crew and all the fun water activities made it a wonderful trip! The trip is perfect for young people who wants to socialize and have fun! Would definitely go again!
Had an amazing trip with New Horizon. The crew was very helpful and friendly, the food was great and we saw the most beautiful spots from the Whitsundays.
Had an amazing time on new horizon! Food was tasty and there was plenty of it! All staff were fun and informative (conor, Nicko & Eileen) and made sure we had the best time. Definitely recommend this boat for a Whitsundays tour!
As if the East Coast couldn't get any better, being on the New Horizon was one of the best experiences so far. The Crew (Crossy, Conor and Nick) were fab and made the trip amazing. Everyone was lovely on board #TeamNewHorizon
Seonaid McLaren
, 21 Jun 18
Great couple days on the boat the crew were amazing Crossy got us everywhere and was smooth sailing, Conor was good fun and full of great information about the islands and nick was great fun always having a laugh and the food was great! (Found my husband #foundMrWright)
Absolutely amazing trip, loved every minute of it from the diving board and the slide to the snorkelling and seeing the beautiful coral and of course the visit to the gorgeous Whitehaven beach. The guys Nick, Conor and Crossy made the trip 100 times Better by keeping us safe, making the best meals and just being great guys !! Thanks for showing us around the Whitsundays and giving us the time of our lives!
This was a-ma-zing! New Horizon is such a beautiful boat and we had a lot of fun! The food was delicious because Nick made it, even tho the skipper #Eileenwasbetter! In the welcome speech Conor and Tommy said they don't do a lot on the boat, but it kind of surprised us how much they actually do! Couldn't have had a better experience!! Thanks guys!
Amazing trip. It's a very nice boat, everything was good organized, the crew (Nick, Eileen, Tommy, Conor) was very cool and entertaining. Storytime was fun :D We visited nice spots, equipment and activities were sweet. Really enjoyed the stand up paddle board!
Had such a great time on the trip! I have always wanted to go on a sailboat and this was a great way to be introduced to it. The stops at Whitehaven Beach, the reef snorkels, and the last morning of water sports was really great. I had so much fun sitting on the bow riding some of the bigger swells. The food was great too! The crew was very funny and nice too. Definitely recommend this tour! Crew: Ilene, Connor, Tommy, Nick
I did the two night /day sailing trip with the New horizon Boat. This was one of the best trips I've done to date! The food was fantastic! And on the boat the crew were excellent . Whitsundays has to be one of the most beautiful places I've seen to date, words can't describe it!. I would advise anyone to put this on your bucket list! This two day trip was well planned with more than adequate time for snorkelling at some of the most beautiful spots in Australia. I would highly recommend this trip and would do it again!
Had an absolute blast. Best thing to do on the east coast by far. The crew are amazing so much fun... They really try to make your trip amazing best time of my life
Amazing from start to finish. Great food, great crew, would recommend to all!
Great food, great crew, great activities! Awesome trip especially the diving! Nice laid back attitude for us to enjoy the trip. Loved paddle-boarding in the sunset! Thanks New Horizon!