Big Fury
CLOSE
View More Thumbnails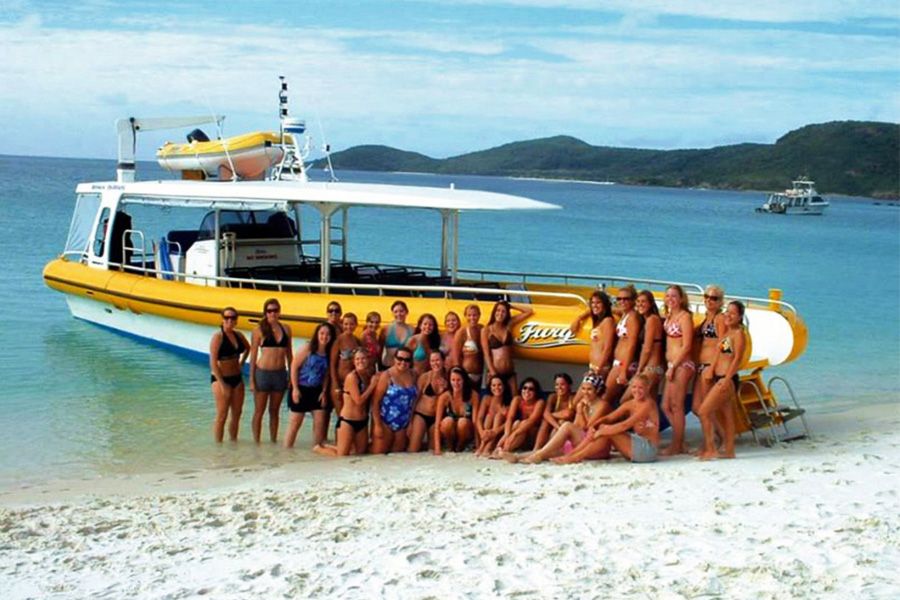 Loading...
Departure Times
Departs: 10:00 am - Daily
Returns:
5:00 pm - Daily
Departure Point: Coral Sea Marina, Airlie Beach
Pricing Options
RRP $170

$149 AUD / Person
- Adult
(Between: 01 Sep 2021 and 15 Dec 2021)
RRP $115

$105 AUD / Person
- Child (3-14 yrs)
(Between: 01 Sep 2021 and 31 Mar 2022)
RRP $510

$480 AUD / Family
- Family (2 adults + 2 children)
(Between: 01 Sep 2021 and 31 Mar 2022)
Cruise the Whitsundays on one of the biggest and most powerful day boats in the area!
A custom-designed, 900 horsepower boat
A fast and very stable boat which reduces seasickness
Visit Whitsunday Island, home to Whitehaven Beach and Hill Inlet lookout
Spend time relaxing on the beach and snorkel in colourful reefs
---
---
"Fun trip on a fast boat! We went to Hill Inlet to overlook Whitehaven Beach, had a delicious buffet lunch on Whitehaven Beach and went snorkeling. The crew did everything to make everyone happy, we even did some fish feeding :)"
Isabel
"Perfect to start later in the day, but still go to Whitehaven Beach and snorkeling. Fun crew and activities!"
Mauro
"We had heaps of fun, it was an entertaining and informative day, the food was great, snorkeling and sightseeing was beautiful. Couldnt be happier, well definitely be coming back to see these guys again! "
Melissa - UK
"It was an amazing day out! Despite the cold and windy morning at the snorkelling spot the sealife was beautiful. The best part of the day was the time at the beautiful whitehaven beach. We were beyond glad that the most part of the day was spent there. Lunch was great. We went with adults and children and all had a blast the entire time. And last but not least the fabulous crew on big fury made the day great with lots of knowledge, humor and fun. Thanks. "
Kjelfs, Sweden
"We had an absolutely incredible day. Excellent value for money and we felt very looked after. Staff were brilliant and made the day unforgettable. Lunch and cake were also very good, more than we expected and plenty to go round. Thanks for a day we will always remember"
Pete Wesl
"We had the best day ever!!! It was the last day of our holiday week. We had been on other tours, and big fury was by far the very best!!! Great guide, Braydon is wonderfully suited to his job and very comical, Matt the captain was lovely, food excellent, commentary informative and entertaining. Thank you very much, we would definitely do it all over tomorrow if we didn't have to leave "
KRCCA
"Thanks to Chris and Brayden for an incredible tour to whitehaven & snorkelling. Funny, informative and great with the kids and I who were first time snorkellers. 10/10 & would recommend to anyone and everyone to book a day tour with them. Will be back. Thanks guys"
Loulabelle, France
"If you are looking to check out the reef & Whitehaven Beach you need to do it with these guys. The guide & skipper both hilarious & make the tour that much more fun. Fantastic day, still buzzing hours later! We are planning the over night stay for our next trip! "
Peter Harris - NZ
"Well, where do I start. From the friendly face that greets you at your hotel, to the insane, insatiable, Deckhand Brayden providing running commentary, and jokes aplenty on the boat. We had a truly wonderful day out to Whitehaven Beach. The boat is superfast, We spent the first part of the day snorkelling at a place called Ravens Cove. Apparently the currents are too rough for snorkelling usually so this was an unexpected bonus. Did I mention that I actually swim like a lead brick, however my partner is part Mermaid, and has no fears of the water. Brayden and Chris were able to look after everyone , even non-swimmers like me. He took me out on his mini dinghy to see some of the coral so I felt included. Once we finished it was a fast hop over to Whitehaven Beach, which I have to say is as good as everyone says it is. Again, a top spread of food was put on for us, much more than I expected. Having lunch with the local monitor lizards is an experience, but don't worry apart from one particular Lizard known as 'Grumpy' who tried to have a Toe-to-Toe with Brayden, they will leave you alone. I have mentioned Brayden a few times in this review, but it's fair to say, he really goes out of his way to make the trip, and his enthusiasm is infectious. The price for the day was about 130 Australian Dollars, which is about £75 British Pounds. For me personally it was well worth the outlay"
B Boyles- UK
"Awesome Fun Must Do if Your in Airlie Beach. OMG what a day we had. It was so awesome. Well worth the money. The skipper Matt is great and the deckie Loki really made the day. The skipper was always ensuring the customer where happy throughout the day and made us laugh so much. Big Thanks for the great pictures and the best fun ive had in the water"
Kayla S, Sydney