Whitehaven Beach: Everything You Need to Know
Updated Thu 25 May 2023
If you're planning a trip to the Whitsundays, you'd be remiss not to make the effort to visit the world-famous Whitehaven Beach. Known for its clear turquoise water, breathtaking views of the unique and magical swirling sands of Hill Inlet, and the feel of the finest white sand you will ever have the pleasure of walking on. But there is so much more to this gem, which is regularly voted the best beach in the world. Whitehaven Beach, located on Whitsunday Island in the Whitsundays has a colourful indigenous history, a unique array of flora and fauna, and some pretty intriguing myths.
Each year, over 75,000 visitors grace the island, but step foot on it you would never know. As part of the World Heritage Great Barrier Reef National Marine Park (A.K.A., GBR), this beach is pristine national parkland, and only vessels and small scenic aircraft carrying permits have access. Most tours are eco-certified, and there is no infrastructure save for a few toilet blocks and boarded walking tracks.
---

Departure Points
Getting to the Whitsundays is easier than you think! Whitehaven Beach is located on Whitsunday Island and therefore requires a scenic flight or boat to get here, but before visiting this national treasure you will need to get to the region. You can visit either via Airlie Beach on the mainland or from resort islands such as Daydream Island and Hamilton Island. There are plenty of options whether you're driving, flying, or travelling by bus.
---
---
Getting to Whitehaven
There are seemingly endless options available to visit and experience Whitehaven Beach once you are in the region: Seaplanes, helicopter flights, aerobatic flights, overnight boat tours, day boat tours, bareboat charters, private charter boats, and even skydiving! Depending on the time of year there are some great deals available as well, and you can see a full list of options here.
Here are a handful of our most popular Whitehaven Beach tours!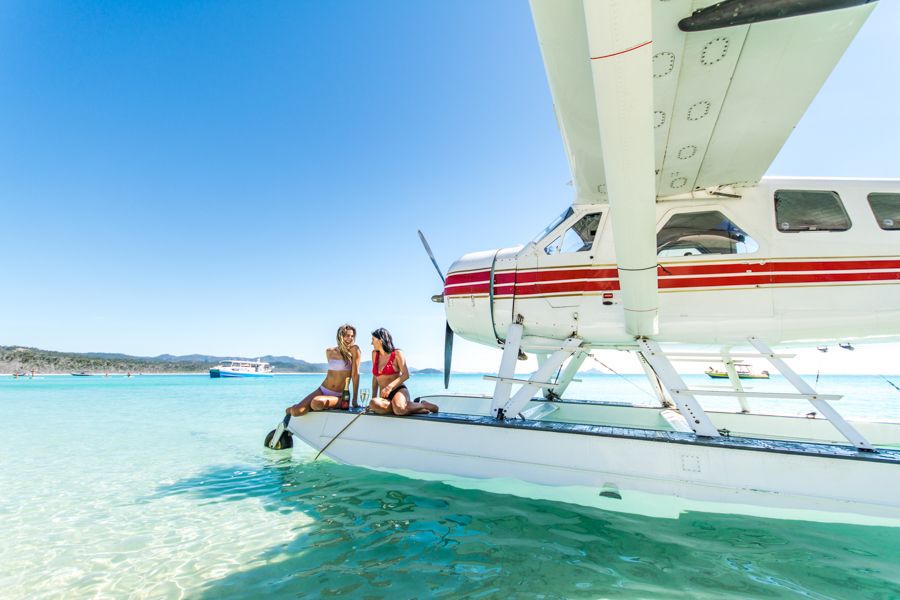 ---
Silica Sand
What makes Whitehaven so unique is the 98.9% pure silica sand that graces the 7 km long beach. Silica sand comes from eroding quartz, so there is much speculation about where the sand came from, as it is the only area in the Whitsundays that consists of this fine powdery substance. The natural formation of the island forces tides in and out of Hill Inlet, creating the iconic swirling layers of sand.
Varying shades of blues, greens and whites pop when the tide is just right, but there is almost never a time where the inlet doesn't look amazing. The almost pure silica is so fine and clear that it doesn't retain heat, and the white colour reflects the sun's rays. Although the sun can make most beaches quite hot, even in this climate the sand stays comfortable and cool under your feet.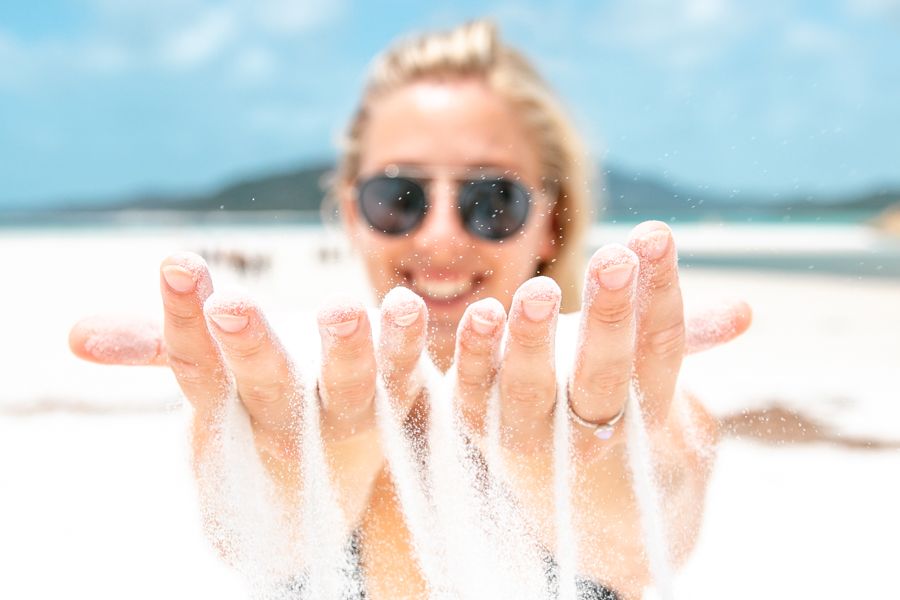 Walking on Whitehaven is like walking in a dream, but it can be a nightmare for your camera, so make sure you keep your equipment safely stored away when not in use! You can also polish your jewellery, and some tour guides claim you can also brush your teeth (although we don't recommend testing this one). While it can be tempting to take home a souvenir, you can't take any sand with you, as it is protected under the Great Barrier Reef National Marine Authority, and situated in a national park.
Silica sand is widely known for its use in making glass, heated to high temperatures of 2,300 degrees Celsius, or 4,172 degrees Fahrenheit. Whitehaven sand is so fine, it actually squeaks under your feet as you walk. Locals and tour operators affectionately refer to this phenomenon as "barking spiders," which travellers seem to get a kick out of.
---
Hill Inlet lookout
The best time to view Hill Inlet is mid-tide, so tour operators have to time it just right to get that WOW factor photo, but there is never really a time that the inlet doesn't look amazing (#nofilter). If you're arriving via Tongue Bay, it's easiest for boats to come in on the high tide, as there is fringing coral reef leading to the entrance of the start of the lookout walk. Most tours will have a guide to take you up to the lookout and tell you a little bit about the area, but there are also informational signs dotted along the way, so keep an eye out for them!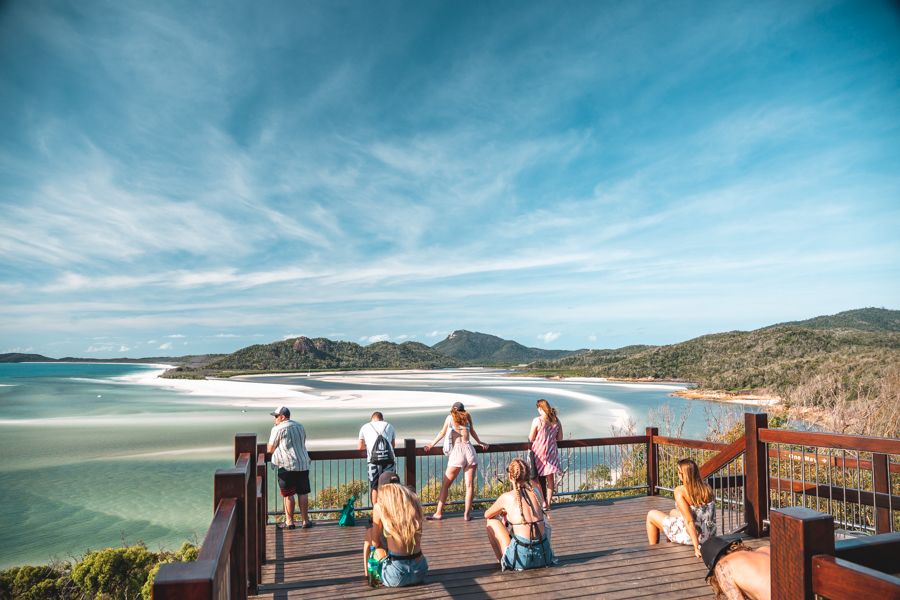 ---
North Whitehaven
There are two parts to Whitehaven Beach, commonly referred to as the northern and southern ends. The north end is accessible by Tongue Bay and leads to Hill Inlet Lookout. Most boat tours will take guests to the north end for the amazing lookout, but also include some beach time here. For more information on the difference between north and south Whitehaven beach, click here.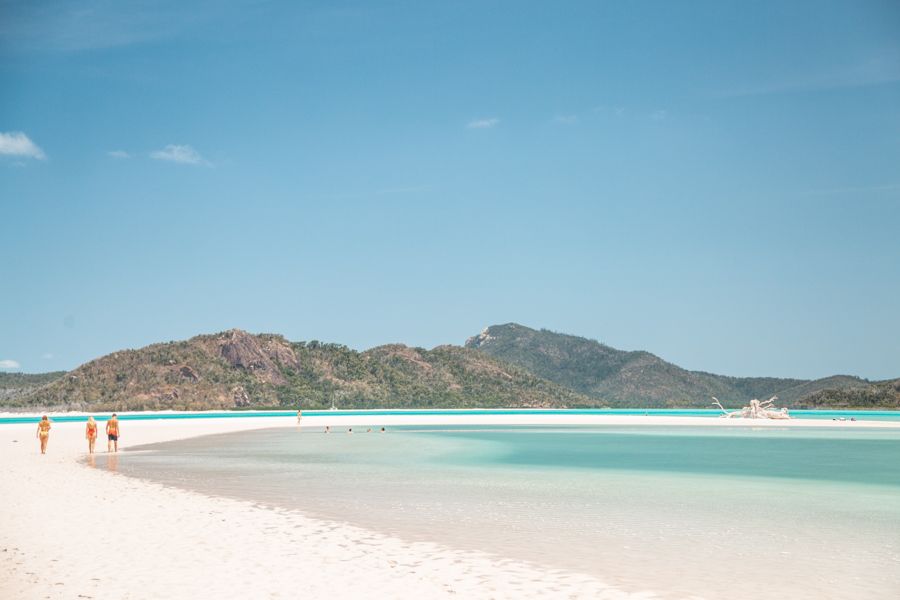 ---
South Whitehaven
The other end of Whitehaven is the 7 km long white strip where many marathons and the occasional long table dinner are held. Seaplanes commonly land here as there is plenty of room, and weddings and proposals are very popular on this part of Whitehaven. It is so spread out, that there is plenty of room for everyone to have their own little section of the sandy wonder.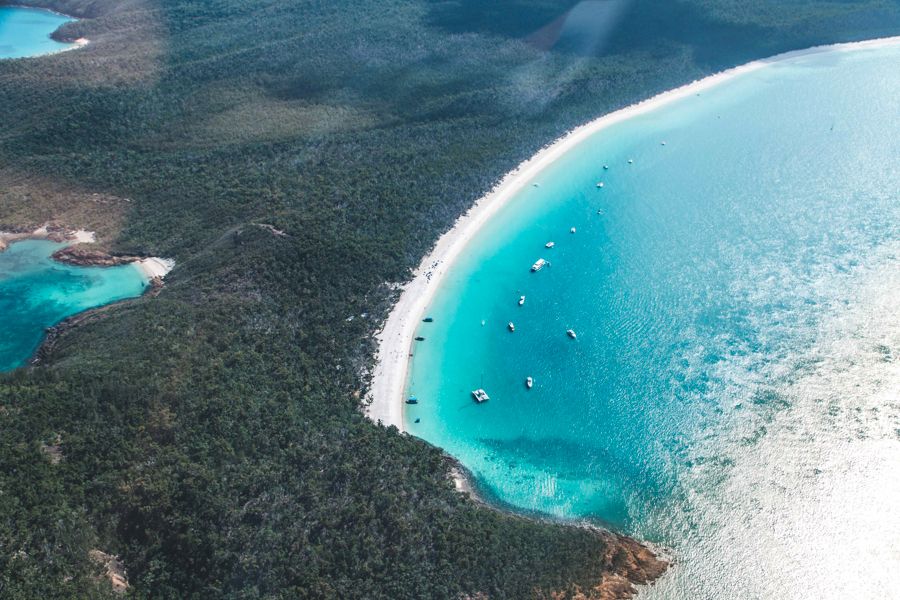 ---
Tongue Bay
The Access point to North Whitehaven Beach and Hill Inlet Lookout, this protected bay is where your boat will come to moor or anchor. Boats anchoring here overnight are in for a treat come morning, as the bottom of the ocean here is largely covered with seagrass, meaning-Yep, you guessed it-Sea Turtles! Keep your eye peeled on the water while you eat your breakfast in the morning and you're almost guaranteed to see several sea turtles popping up for air. Dugongs also frequent this calm cove for the seagrass, and occasionally you'll see the odd dolphin. There is a small rocky beach where you'll be tendered over from your boat, and close to the shore, there is a beautiful fringing reef, showcasing a stunning array of colour.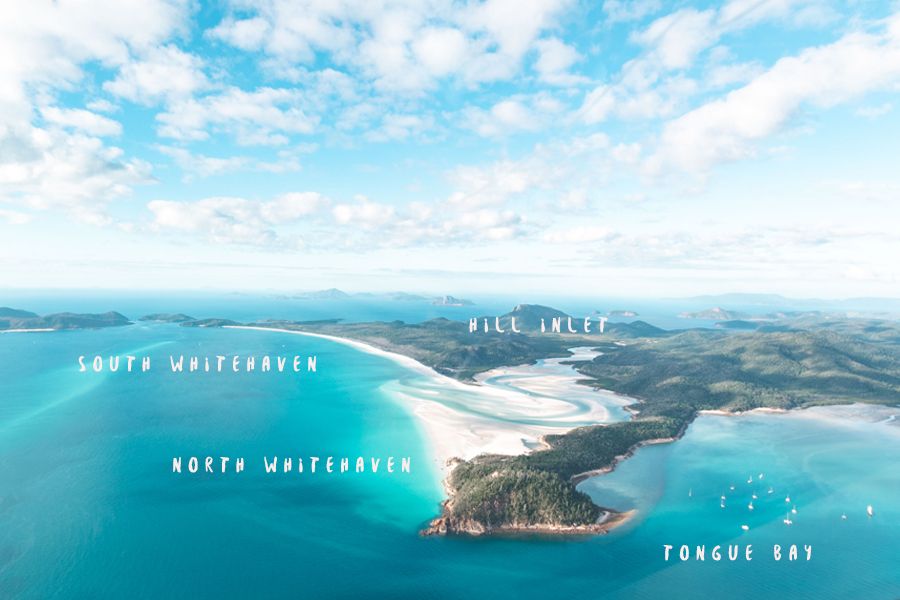 ---
Chance Bay
Chance Bay is located on the south-east part of Whitsunday Island, and there is a walking track from the south end of Whitehaven Beach to this pristine cove. There is some beautiful fringing coral here, so grab your snorkel gear if you are walking over here to have a look! There is also a small campsite, and you can access this area by boat with certain tides, or by doing the roughly 3 km hike from south Whitehaven. This site takes a maximum of 8 people, so if you're after a truly intimate and exclusive experience, this is the place for you! Picnic tables and outhouse toilets top this off as a sought after site.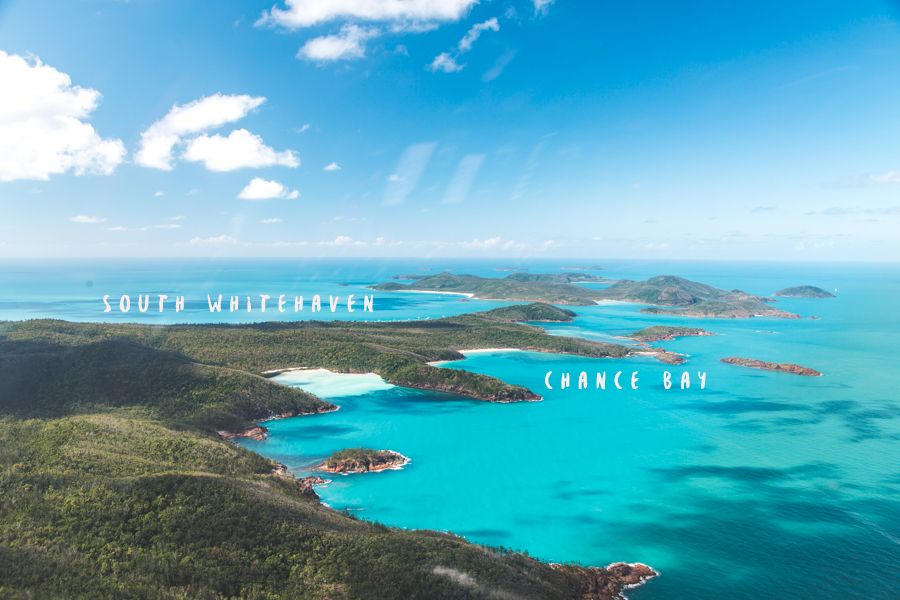 ---
Betty's Beach
On the north end of Whitehaven, there is a hidden gem that most people aren't aware of and that often gets overlooked. Once you've landed on the 98.9 % pure silica sand, follow the coastline to your left and you'll come to what appears to be a dead end, but past a short climb over some rocks lies a secluded beach tucked into a little cove. Affectionately known as Betty's Beach, it is said the women of the Ngaro tribe used this secluded beach to give birth. This was also said to be a perfect spot for fishing, and the Ngaro had some very inventive ways of building trenches in accordance with the tides to catch them.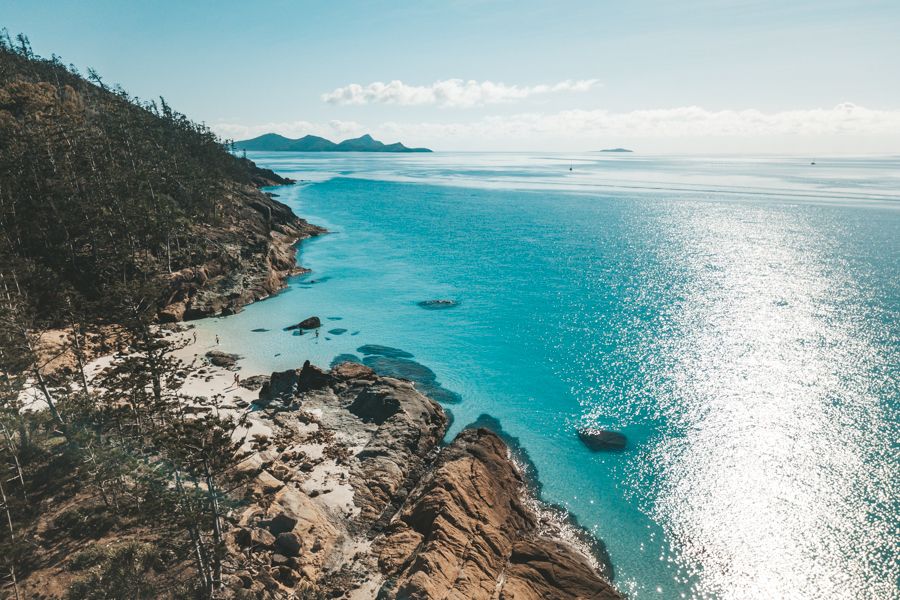 This beach isn't widely talked about so generally speaking you will only see the odd tourist coming across it by mistake, and taking a few brief snaps before moving on. Talk about having Whitehaven to yourself! There are striking coloured volcanic rock formations, bursting with colours of violet and indigo, making another stunning contrast against the white sand and turquoise water, perfect for the avid photographer.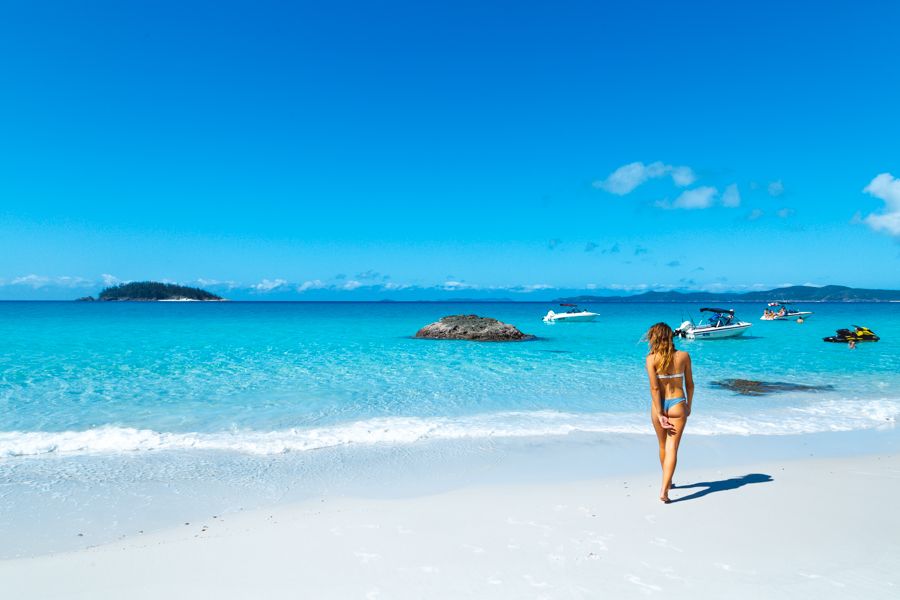 ---
Surrounding Islands
Having 74 islands in the Whitsundays, there are plenty of them surrounding Whitsunday Island and Whitehaven Beach, and most tour operators can point these out to you while underway on the boat or from the beach. The ones you're likely to see from Whitehaven Beach are Esk, Haslewood, Border, Dumbell, and Deloraine. There are other bays and beaches on neighbouring islands and on other parts of Whitsunday Island that are only accessible by boat, so you're better off accessing these by private charter as most tours don't frequently visit these other spots.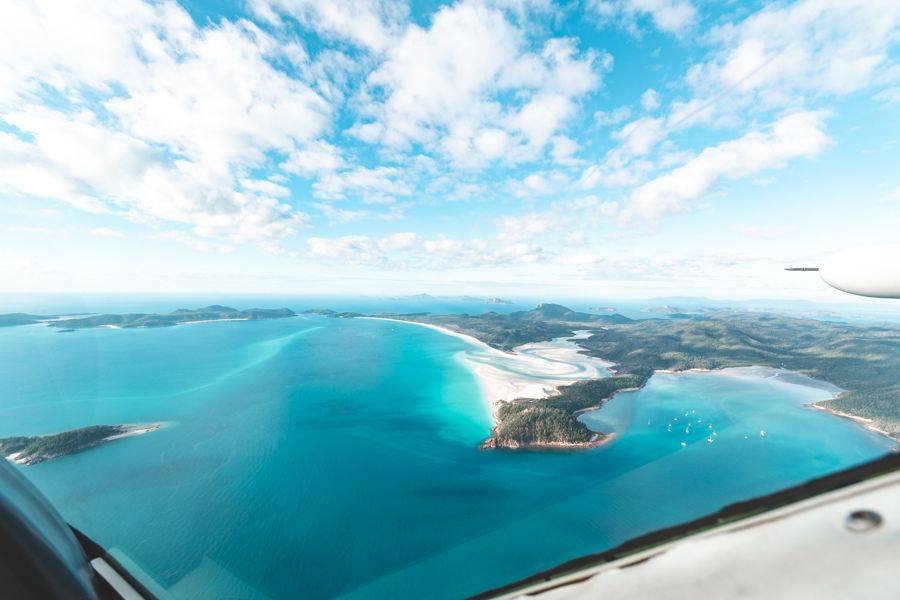 ---
Flora and Fauna
Whitehaven ticks a lot of boxes for all-around Australian experiences, as there is plenty to see other than the sand and water. There are several bushwalks through the lush, tropical rainforest that makes up most of Whitsunday Island. Here you are transported to another world under an emerald canopy, where you can meet many of the local residents of the island.
Weaving through hoop pines, cedar trees, voluptuous ferns and climbing vines searching for sunlight, you will lose yourself in this tropical paradise. There is no natural water source on the island, so the forest relies on rainfall in the wet season. Closer to Hill Inlet lookout's edge, you can find the uniquely Australian Xanthorrhoea plant, also referred to as "black boys."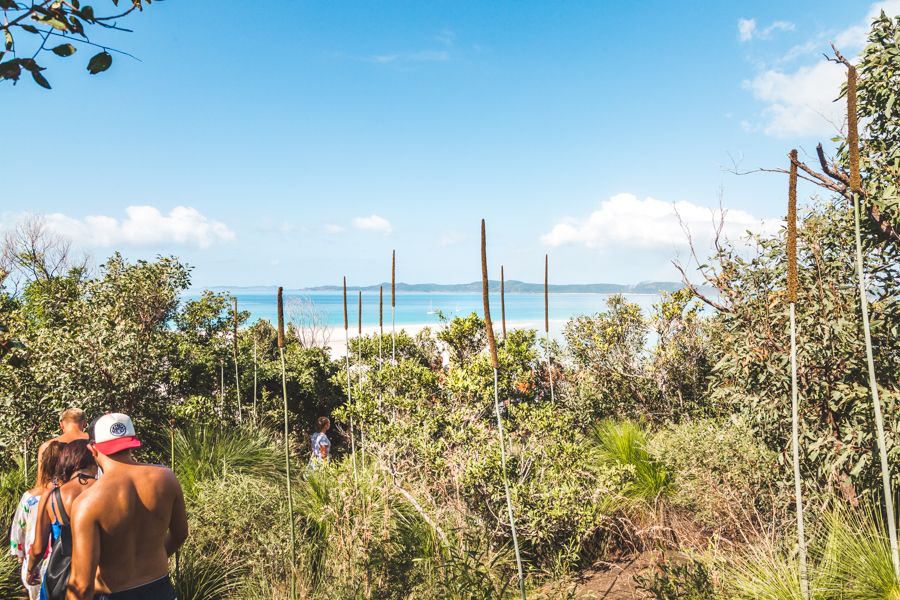 Take your time and keep your eyes peeled for golden orb spiders hanging above, along with green ant nests. Green ants have a unique way of building their nests, as they use their saliva to create a glue on the edge of several leaves, and working together as a team fold the pieces together to look like a rugby ball. You'll also find a plethora of native birds, butterflies, snakes, bush turkeys, monitor lizards (also called goannas). Sea eagles will be spotted circling the skies, and nesting on high rock formations on the islands. These are best spotted when you are arriving/departing by boat.
Down on sea level on the island, mangroves dot the shoreline, creating its own entire ecosystem. Here juvenile fish and crabs can avoid larger prey, and feed on the smaller animals in the sediment. In the protection of Hill Inlet, you will find baby lemon sharks, stingrays, and even mud crabs. Soldier crabs also grace the sandy beach, creating thousands of small balls of sand as they burrow in the soft white silica. If you can manage to sneak up on them without scaring them away, you'll get some amazing photos as hundreds congregate to feed at low tide. While there is no fringing reef or seagrass off the shores of Whitehaven Beach, you can still spot sea turtles cruising the coast looking for a yummy jellyfish to eat, and diamondback mullet are also often spotted around rocks.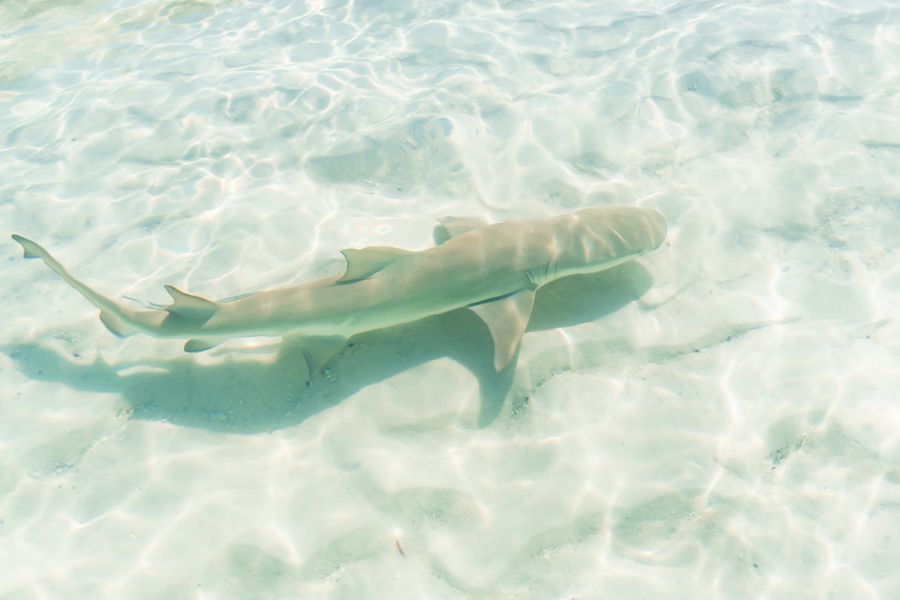 Jellyfish
Jellyfish, or stingers as they're referred to in Australia, are also found in the warm Whitsunday waters. Technically, stinger season is during the summer months, from October to May, however, they can be present year-round. These incredible creatures can be quite beautiful to behold as they dance and drift lazily with the tide, and there are over 100 types found in the Great Barrier Reef National Marine Park. The two to watch out for are the box jellyfish and Irukandji jellyfish, as these can be potentially harmful. Other types of species you may encounter include the blue bottle, (or Portuguese man-of-war), and moon jelly.
Almost every tour provides stinger suits or wet suits, which cover 90% of your body and will protect you from any stings. Pregnant women, elderly and children may also opt for some gloves, suit hoods and covered feet for extra protection, as they are the most vulnerable to medical complications due to a sting. It's also a good idea to exercise caution in swimming in bays and mangroves, and always observe safety and warning signs on beaches. Jellyfish can't swim and rely on getting around heavily on the tides so they can be subject to getting stuck in marinas and enclosed bays. Medical treatment varies depending on the species of the stinger, so always seek professional help from your crew or by calling an ambulance if you are unsure.
---
Facilities
Being a national park, development is not permitted on Whitsunday Island. Whitehaven does not have any infrastructure and therefore has limited facilities. There are some outhouses and toilet facilities available on the north and south end, and some walking tracks, boardwalks and viewing platforms, as well as some picnic area's on the south end.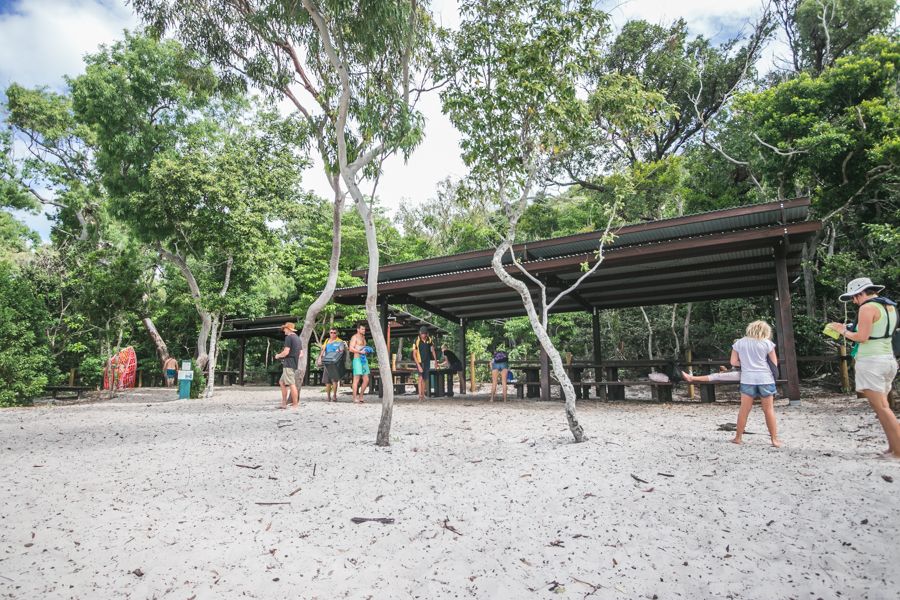 Bush Walks and Hiking
Whitsunday Island is 275.08 km², or about 106 mi², and is covered mostly by national park bushland. National Parks have created several walking tracks and hikes so there is more to see and explore than just the sandy beach. Starting on the North end of Whitehaven via Tongue Bay access, you'll start on the Beach Track, which is just a short 250m from your drop off to the soft sand of Whitehaven Beach. In the middle of this track, you can veer off on Hill Inlet Track, which is a 700m loop that will take you to the three lookout points of the iconic swirling sands.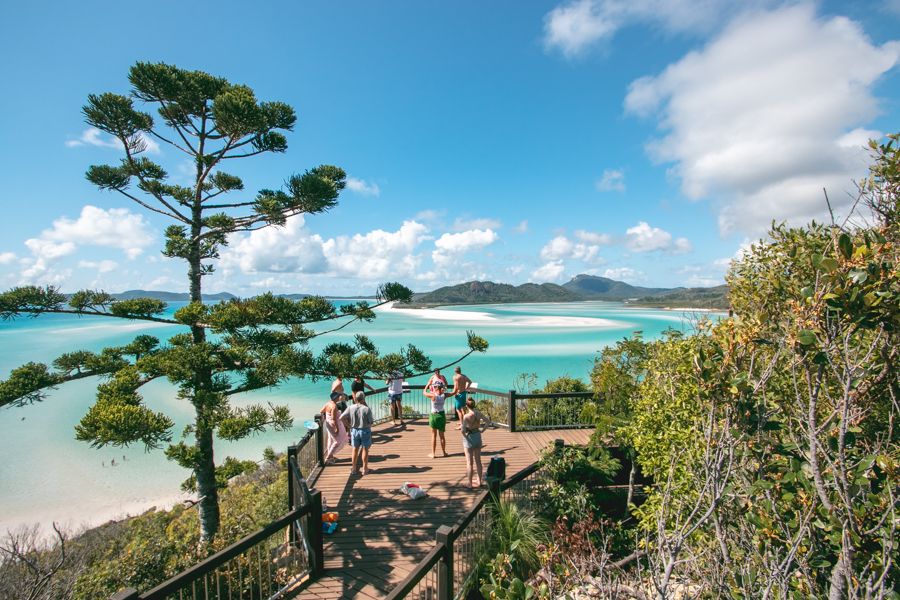 On the South end of Whitehaven, where the 7km long beach stretches, you will find several walking track entrances at the very end of the beach, where most boat tours will take you. There is the Solway Circuit, a 1.2km hike that will take you to a lookout. From this track, you can merge onto the Chance Bay track, a 1.8km walk that takes you onto the other side of Whitsunday Island to Chance Bay. There is a small campsite there, perfect for groups of no more than 8. Another track that starts from the sandy beach on the Southern end of Whitehaven is Whitehaven Beach lookout track, a 970m walk that will take you to another beautiful vantage point. From this lookout, you can merge onto Whitehaven Beach Headland track, a 400m loop that will eventually take you back down onto Whitehaven.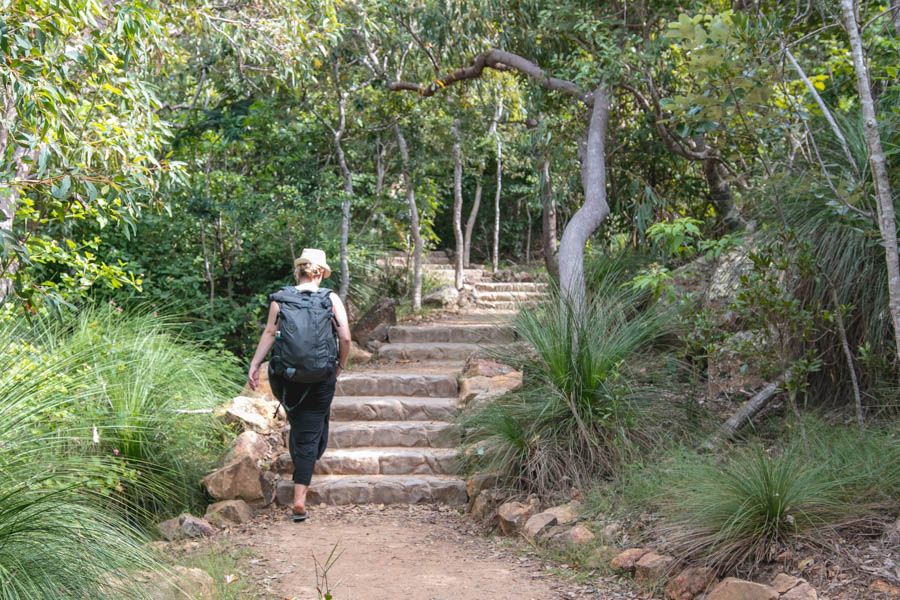 ---
Swimming
Swimming at Whitehaven Beach is extremely easy, and swimmers of every level from the buoyancy of a rock, all the way to Michael Phelps can enjoy the warm, balmy tropical waters. The shoreline is very shallow, so expect to wade out for some time before you'll be up to your shoulders. Whitsunday Island is very protected thanks to the 74 islands in the group and the outer reef breaking the big waves further out at sea. There are no rip tides or waves to worry about, but depending on the wind and tidal conditions there can occasionally be a strong current.
If you have concerns about this you can always check with your tour guide on the day. While Whitehaven is not a patrolled beach, all tour guides and boat crew are required to have safety training and radios in case of emergency so you can rest assured you're in good hands. It's important to remember the ocean is vast and wild, so always exercise caution when going for a dip. Some tours offer pool noodles and life jackets to ease passengers fears if they aren't strong swimmers, so you may also opt to use one of these aids when swimming off Whitehaven Beach.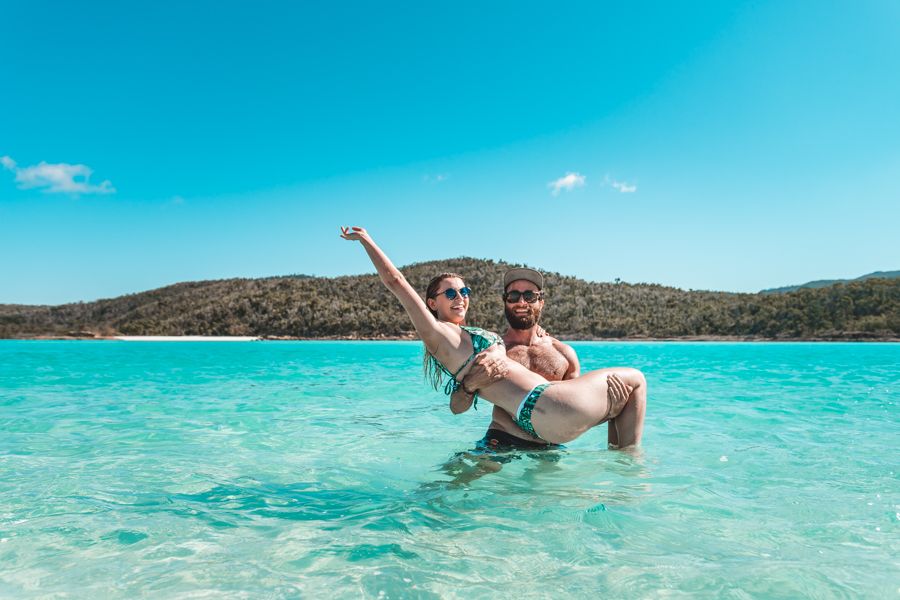 Whitehaven Beach's famous Hill Inlet is a protected shallow nursery, where you can often see baby stingrays and lemon sharks. This is an amazing opportunity to get up close to nature, and the crystal clear waters make them easy to spot. While lemon sharks and rays don't represent a large threat to humans, it's still a good idea to give them plenty of room when swimming. Generally walking through the water and shuffling your feet in the sand will let them know you're coming (remember, they're more afraid of you than you are of them!). For more information on other places to swim in the Whitsundays, click here.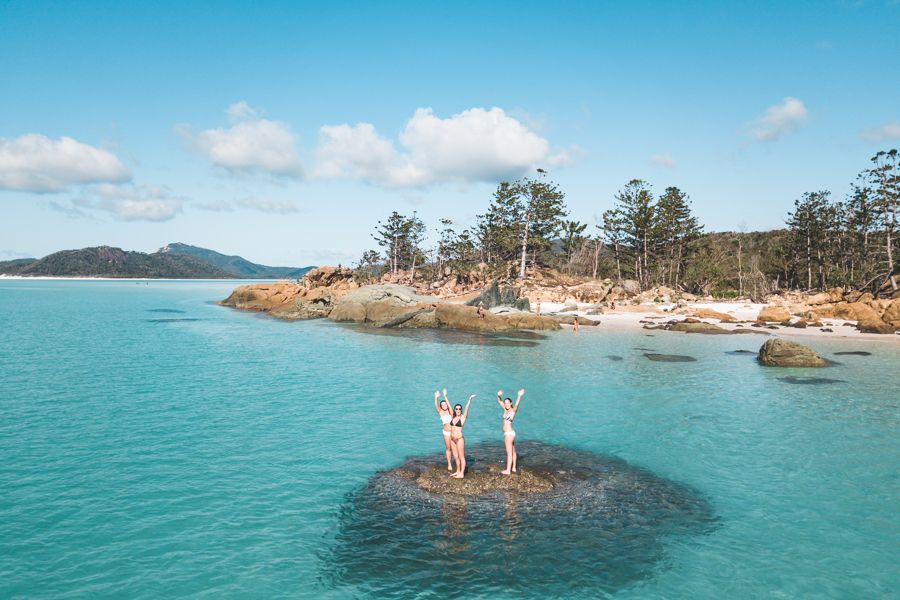 ---
Snorkelling
Off the white shores of Whitehaven beach, there are no fringing coral reefs, so snorkelling isn't an activity that is generally offered here. That being said, there's no stopping you from bringing your own snorkel to the beach to have a look around under the water! If you're new to snorkelling, this could also be a great place to practice in the comfort of the shallow water and sandy bottom to stand on when you need to. Further around the island, there are bays with fringing reefs, however, you can only access them by boat. Best to enjoy Whitehaven for what it is known for!
For more information on tours that include diving onboard, or that visit the outer reef, check out these tours.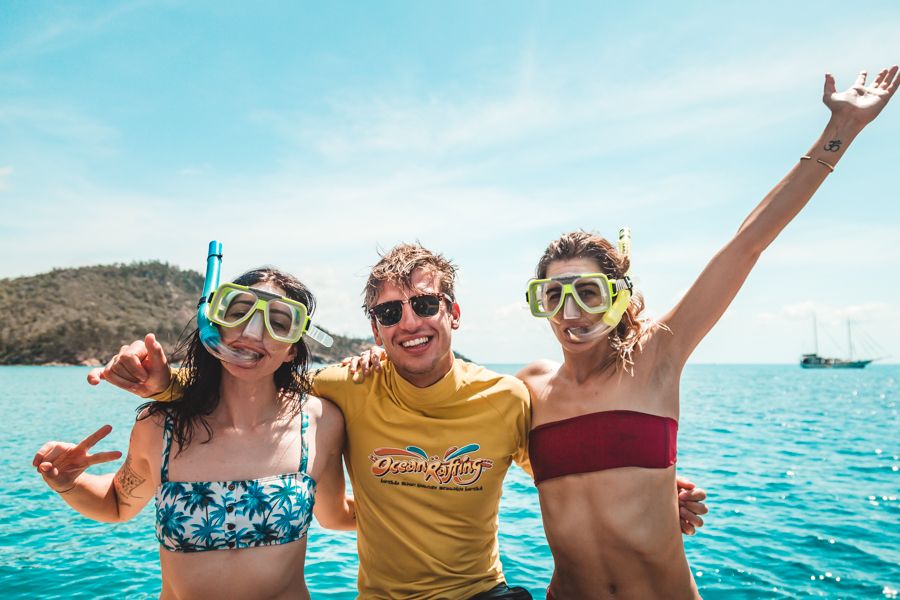 ---
Camping
If beating the crowds and having Whitehaven Beach to yourself is on your bucket list, then camping is definitely a great way to experience this wonder of nature. With several campsites available, and tours either by boat drop off or kayaking, this is an exclusive and unique way to experience our region's favourite beach.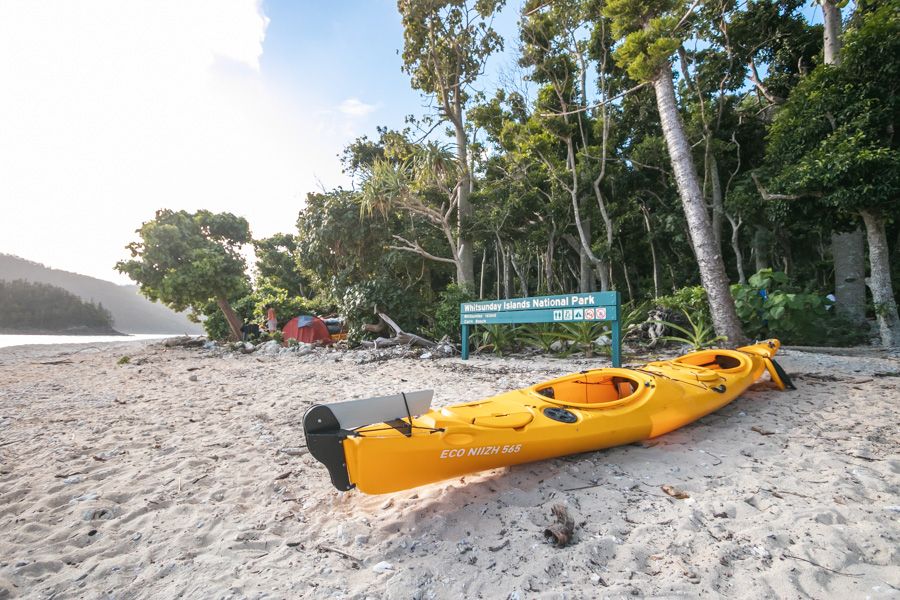 Chance Bay and South Whitehaven beach offer eco-friendly campsites, picnic benches and outhouse toilets. There is no running water on the island, and campfires are strictly prohibited, so be sure to prepare accordingly if you're planning to stay overnight. Plan it around a full moon, and you can wander the endless glowing white beach as if it were daytime!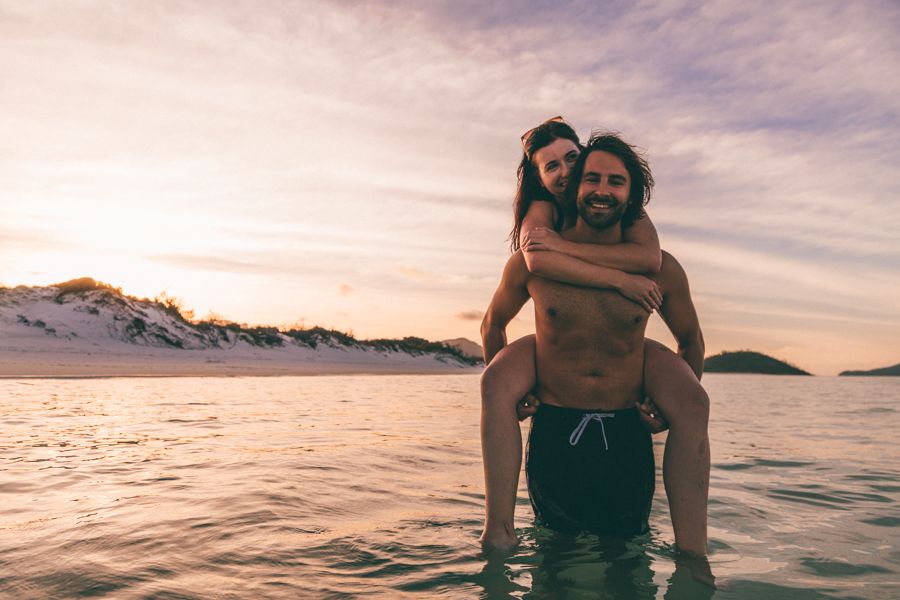 ---
Fishing
The Great Barrier Reef and the Whitsunday Islands do offer areas where you can fish, however they have very specific zones where you can drop a line in the water. Whitehaven Beach is a green zone, and fishing is strictly prohibited. The Great Barrier Reef Marine Park Authority, (or GBRMPA) monitors fishing in these waters closely, and it is a criminal offence to fish in the wrong zone, so best to rely on the locals to steer you in the right direction-Book a fishing charter for the day, or find a chartered boat that offers fishing and permits.
You can get a zoning map anywhere you can buy bait, including BCF. Permits start at around $10, but fish in the wrong zone and you could be facing a hefty fine and criminal charges as there are strict laws to protect the GBRMPA heritage natural wonder that is great barrier reef.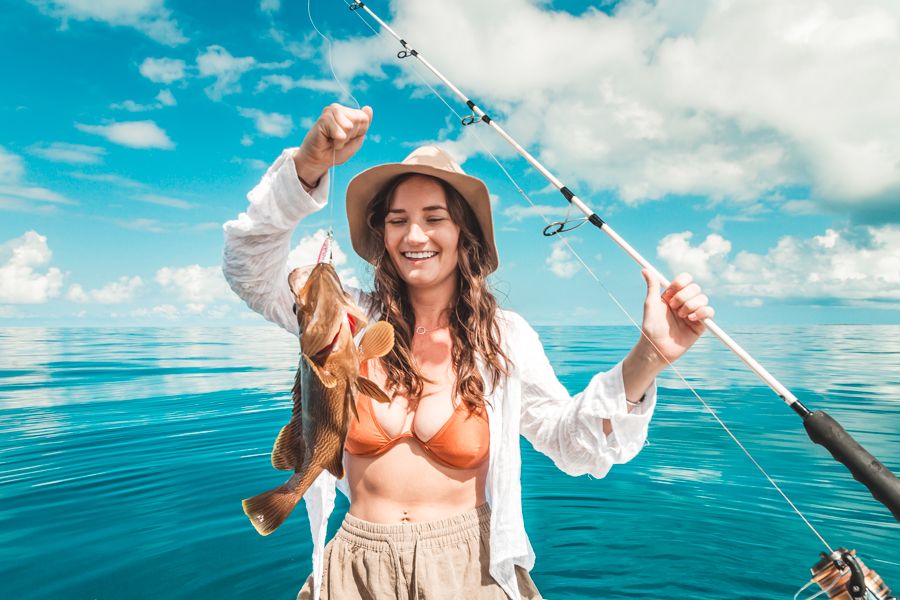 ---
Weather and Seasons
The southern hemisphere has opposite seasons than the northern hemisphere, so their winter is our summer. Summer in the subtropics is considered the wet season and averages hotter, more humid temperatures. Winter is considered the dry season, averaging cooler temperatures and is also when you'll get to experience whale migration. Typically July is the coldest month and January is the hottest month. Annually, the temperature in the Whitsundays averages between 23-30 degrees Celsius, or about 75-85 degrees Fahrenheit, so there is never a bad time to visit!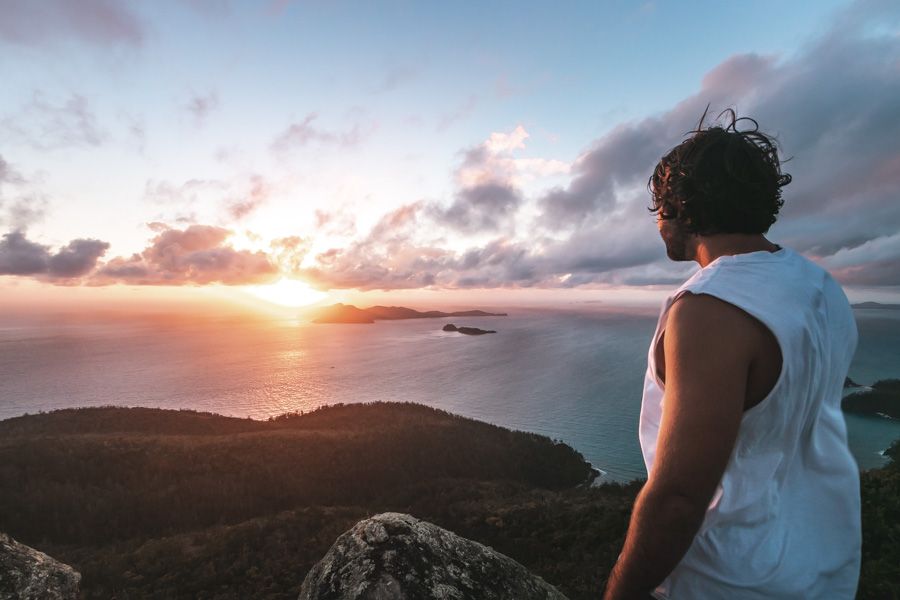 ---
What to do on Whitehaven
The possibilities are endless on Whitehaven! Many tours bring along sporting equipment for beach sports, which is a great way to get to know fellow travellers on your tour. Some tours will provide kayaks or stand up paddleboards as an option, or you can always bring some inflatable toys to either relax and take in the scenery or have a little goof around on. If you're taking a private charter or a seaplane, you may even opt for a romantic champagne picnic add on.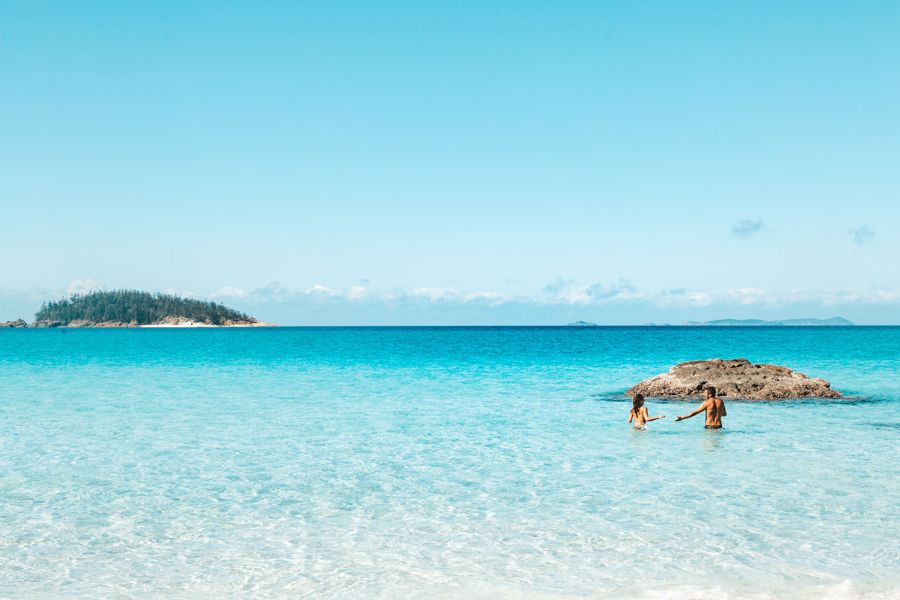 ---
The Ngaro People
Whitehaven is enjoyed by thousands of people every year, but until recently when the first settlers happened upon it, it was only enjoyed by the Ngaro people, the indigenous tribe who called this magical place home for over 8,000 years. They moved seasonally through the Whitsunday Islands, and carbon dating has placed them at many sites over this region. From their ingenious bark canoe outriggers to their clever fishing techniques, the Ngaro truly knew how to make their surroundings work for them. Beautifully woven tales of Dreamtime keep their rich history alive, and members of the Ngaro tribe can still be found in the region.
The Ngaro Sea Trail was named for their common routes and is still used today through the collaborative mapping of the government and national parks. The walking trails lead from mainland Australia out to many of the islands, showcasing the truly nomadic lifestyle of these coastal dwellers. There are also many cultural sites on many of the islands to experience, so ask your tour guide if they can point any of them out to you. There is also a new Ngaro Underwater Marine Sculpture Trail, the first of its kind in the Great Barrier Reef, which is also named after the famous trail and many boat tours visit them as snorkel and dive sites-Just ask us which!
---
Rumours, Myths and Legends
Every area has its share of urban legends, tall tales and myths, and Whitehaven is no exception. You may hear some of these from locals or tour guides, and here are a few of our favourites.
It's rumoured the 98.9% pure silica sand caught the interests of the science community years ago, and NASA took heaps of it to melt down and create the Hubble telescope lens. This hasn't been proven, but it's still nice to think that there's a little piece of the Whitsundays in the sky...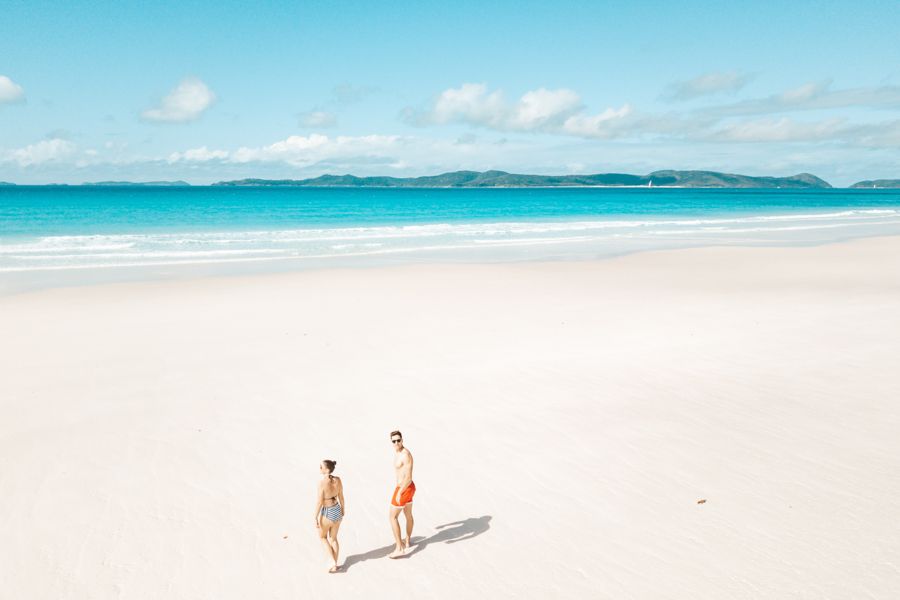 Speaking of sand, there are also many different theories around where the silica actually came from, as there are no other islands or beaches in the Whitsundays with the fine powdery white substance. Some of these theories include it travelling on currents from Antarctica over the centuries, eventually getting caught on Whitsunday Island. Another is that nearby the island there is a deep, churning underwater hole, grinding down deeply buried quartz, and regularly spitting out the silica sand on Whitehaven. Others include variations of the idea that there was a tectonic plate shift where there happened to be a large amount of concentrated quartz, which then exposed the rock to the surface and over billions of years, erosion took care of the rest.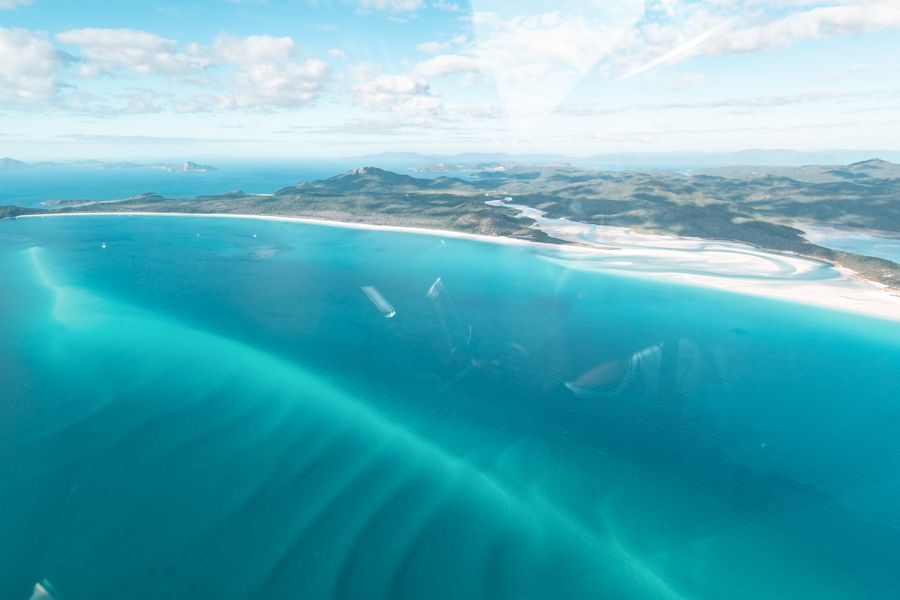 The Australian Xanthorrhoea plant is found on Whitsunday Island and is commonly referred to as "black boys." This stems from an old adage that the first settlers to the region saw the low grassy shrub with a long stem protruding out of the middle, and thought they were the indigenous Ngaro people squatting with spears from afar. Fearing an ambush, they took turns keeping watch. They eventually realised it was just the plant, but then the nickname was born.
Another Ngaro myth is they were actually responsible for inventing the first pina colada! It is said they took a coconut, drilled a hole in it, and then took a green ant's nest which they then wrung out into the coconut. Green ants taste like lime, so this added to the flavour. They let it sit in the sun for a few days to ferment, then they had themselves a tasty, alcoholic pina colada!
---
Hollywood, Baby!
The Whitsundays has been host to many famous celebrities on holiday, but it is also the perfect filming location! You're probably living under a rock if you haven't heard of the Pirates of the Caribbean franchise, with A-list stars adorning the marquee of this multi-billion dollar set of movies. In their latest instalment, Pirates of the Caribbean: Dead Men Tell No Tales, you'll see some shots of a very familiar looking beach… Whitehaven that is! Yes, Johnny Depp and the whole gang graced the Whitsundays to shoot several scenes for the iconic film. Can't seem to find it in the movie? They actually had to import and plant palm trees on Whitehaven for the shoot, which were then removed. There was a massive temporary no access zone around the shooting site, where boats and aircraft had to steer clear of. Still can't work out the scene? We'll give you a hint: Think, zombie shark!
There is so much we have yet to learn about this natural wonder, but this comprehensive guide should get you started on your perfect Whitehaven trip. Make sure you chat to one of our friendly locally based Whitehaven experts for more information or have a look at our latest deals on Whitehaven Beach trips today!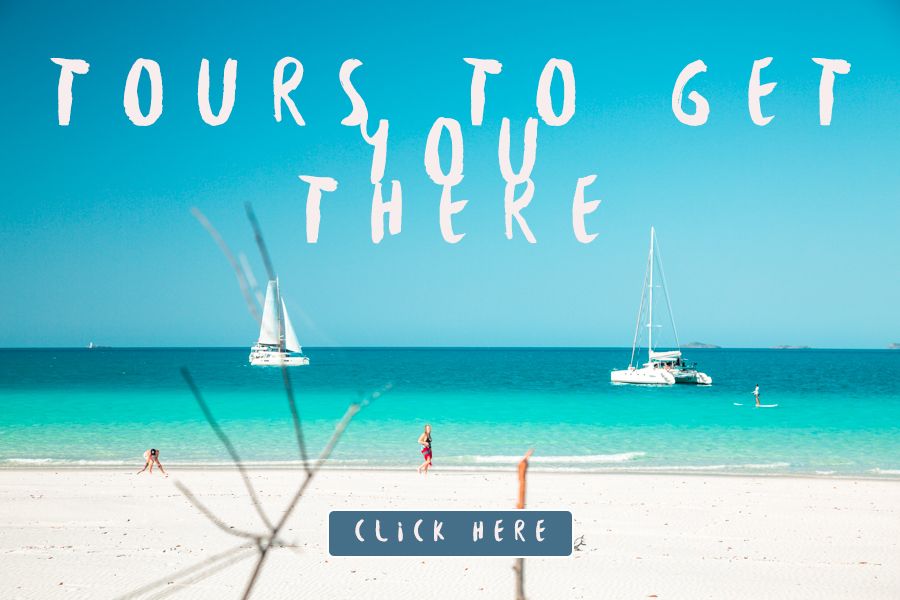 May 22, 2019 by Jennifer Copsey