Swimming in the Whitsundays
Updated 05/01/22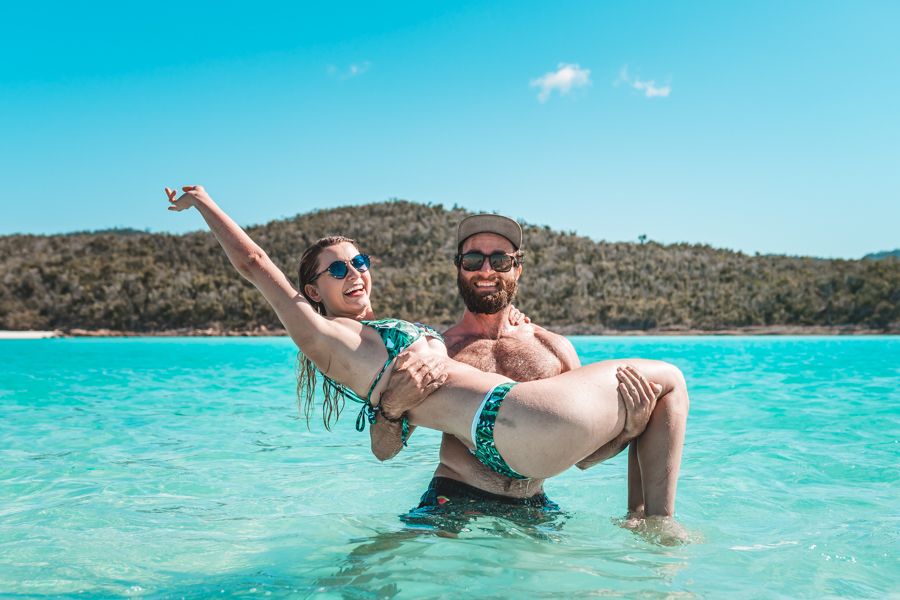 When in Airlie Beach you have to dive into the stunning aqua waters of the Whitsundays at least once! There are many places and opportunities to swim in the region, either on the mainland of Airlie Beach or while out around the Whitsunday Islands and at the Outer Great Barrier Reef.
The climate in the Whitsundays encourages swimming, as the hot and humid temperatures make a refreshing dip appealing to everyone! There is no better way to enjoy this sought-after part of tropical Australia, so be sure to pack your swimwear!
There are two public beaches situated in Airlie Beach where you are welcome to swim, one is located near the Port of Airlie Marina and is known as 'Boathaven Beach', while the other is located in Cannonvale.
Both of these swimming locations are popular amongst tourists and locals alike and have a floating swimming enclosure in place during most months of the year. You will be encouraged to swim in the enclosure, but please note there are no lifeguards at this location. Swimming enclosures not only decrease the chance of being stung by a stinger (jellyfish), but they also deter small marine life and boats from the area.
Both beaches are an ideal place to unravel your picnic rugs and enjoy the warm weather that the Whitsundays is famous for!
---
Whitehaven Beach
The famous Whitehaven Beach is without a doubt, the best place to take a dip in the Whitsundays. Boasting shallow jewel-coloured lagoons, and an array of gentle local marine life, it is essential that you remember to pack your camera before you head out on your day or overnight tours to Whitehaven Beach!
Depending on the time of the year, the North or South end of Whitehaven could behold better conditions! Check out how the opposite ends are different here, spoiler: they're quite different!
---
Whitsunday Islands
If you are able to join in on a day or overnight trip, you will most likely have the opportunity to swim and snorkel to your heart's content around the Whitsunday Island's flourishing fringing reefs, which boast ample marine life and coral formations.
Stinger suits will be provided or offered to hire (dependant on your tour) to ensure your safety whilst out in the water, acting to protect against marine stingers and protect your skin from the powerful Queensland sun!
---
Airlie Beach Lagoon
There are many other man-made and natural freshwater swimming areas, including Airlie Beach's popular lagoon situated on the main street, next to the shoreline. This is a large man-made lagoon with smaller wading pools for children, surrounded by public facilities and amenities, including barbecues, shared tables, and chairs.
If you're seeking a place to enjoy your afternoon in the water and under some shade, this is the ideal place! The lagoon is additionally monitored by lifeguards and has a scenic view of the Coral Sea horizon and nearby Whitsunday Islands.
---
Cedar Creek Falls
If you are willing to head off the beaten track, be ready to find an abundance of secluded beaches, bays, and swimming holes, including the freshwater waterfall known as Cedar Creek Falls. This natural waterfall is located approximately 30 minutes away from Airlie Beach and requires a vehicle to get to.
Once there, the falls are located just a minute's walk from the road, where a beautiful, deep freshwater pool can be found. It's best to visit here after rainfall when the falls are flowing at their best!
---
Things to know about Swimming in the Whitsundays
You do need to be able to swim to enter the water when on a day or overnight boat trip to the Whitsunday Islands. You don't have to be a strong swimmer, but usually, need to be able to swim at a level that our experienced crews deem appropriate for ocean activities.
There are always flotation devices available if you're not overly confident in your swimming abilities, and you can always ask our highly-trained crews for tips on enjoying yourself and staying safe in the water. There is so much to be discovered in the waters of the Whitsundays, but safety always comes first!
Whitsundays Stinger Season
Stinger season in the Whitsundays generally runs from October to May, during the warmer months of the year. Being stung or sighting a harmful species of jellyfish is an extremely rare occurrence whilst out on your day or overnight tours of the Whitsundays Islands - yet, it is essential that a stinger suit and necessary precautions are taken to make your swims and snorkels safe and enjoyable!
To learn all you need to know about the Whitsundays stinger season before your tropical getaway click here.
Be sure to check out the top beaches in the Whitsundays before planning your dream itinerary!
---
Call us on +61 7 4914 2425 or live chat with our team of experts today, who can help you choose the most-suited Whitsundays tour for your swimming ability!
There's an option for everybody to immerse themselves in all the Whitsundays has to offer!