Essential packing list for the Whitsundays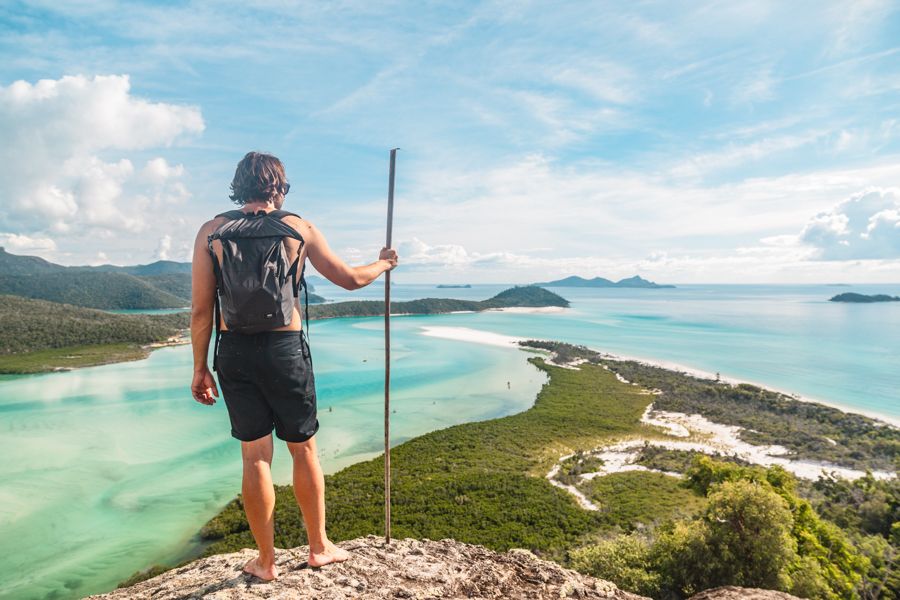 If you have an upcoming trip to the Whitsundays, you might be wondering what you should pack. In order to help you prepare for your trip in the best possible way, we have created a list of essential items that you will want to pack. We recommend bringing along a day pack in addition to your regular luggage so you'll have something to bring along with you for any tours you do while in the Whitsundays.
---
Packing for the Whitsundays and Airlie Beach
Clothes
The Whitsundays has varied weather throughout the year. You can expect it to be relatively warm most of the year, occasionally with cooler evenings and wet days. If you're travelling in the winter, you should bring several layers with you to ensure you keep warm at night, especially if you're going on a boat tour. Staple items of clothing will include shorts, t-shirts, tank tops and swimwear. Compared to most parts of the world, it is relatively humid in the Whitsundays, meaning thin, breathable clothing is key to get you through those warm, sticky days.
Shorts
Breathable t-shirts or tank tops
Swimwear
Rash shirt (if you're prone to burning, this will keep you covered)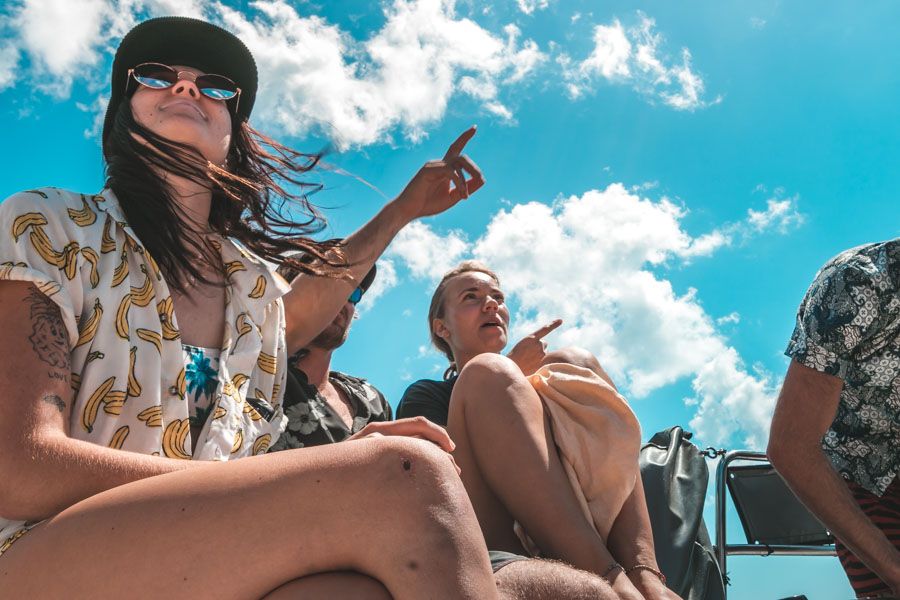 Footwear
As you will notice in most parts of Australia, the national footwear is thongs! They are the staple shoe for locals and travellers alike and you'll spot a lot of people wearing them all over the country, especially in the Whitsundays. There's no need to worry if you can't find any to bring with you (if you're coming from abroad) since they are found in most shoe stores or department stores. There are actually entire stores here just dedicated to thongs! Other than that, a sturdy pair of footwear is also a good idea. If you plan to hike, skydive or do anything that will need a bit more durability, sneakers or some other type of closed toe shoe will come in handy. Another thing to think about is water footwear - if you think you'll be spending a lot of time in the water, water shoes are a great idea.
Thongs
Sneakers
Water shoes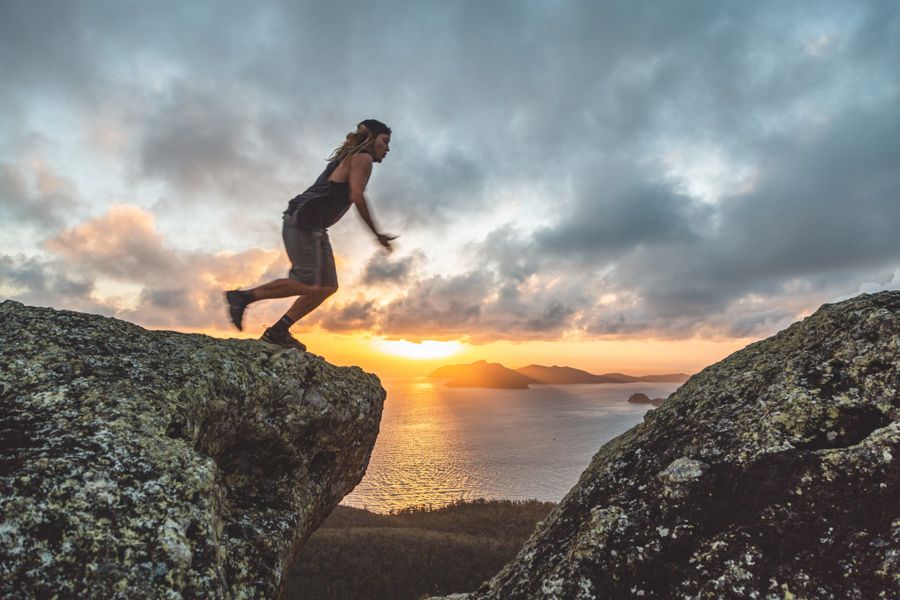 Medicines/toiletries
You will be able to find most things you will need in chemists and pharmacies in the Whitsundays. There are two on the main street of Airlie Beach, and a couple in Cannonvale, so you will have a variety if anything does come up. However, it's a good idea to take staple items along with you including painkillers, topical cream (for rashes or irritated skin), insect repellent and sunscreen! Remember - the sun here is very strong, so keeping your skin protected is important. Even if you aren't prone to burning, you might in the hot Whitsunday sun. In the case that you do burn, you should bring along a moisturizer and aloe vera.
Painkillers
Topical cream
Insect repellent
Sun cream
Moisturizer
Deodorant
Aloe vera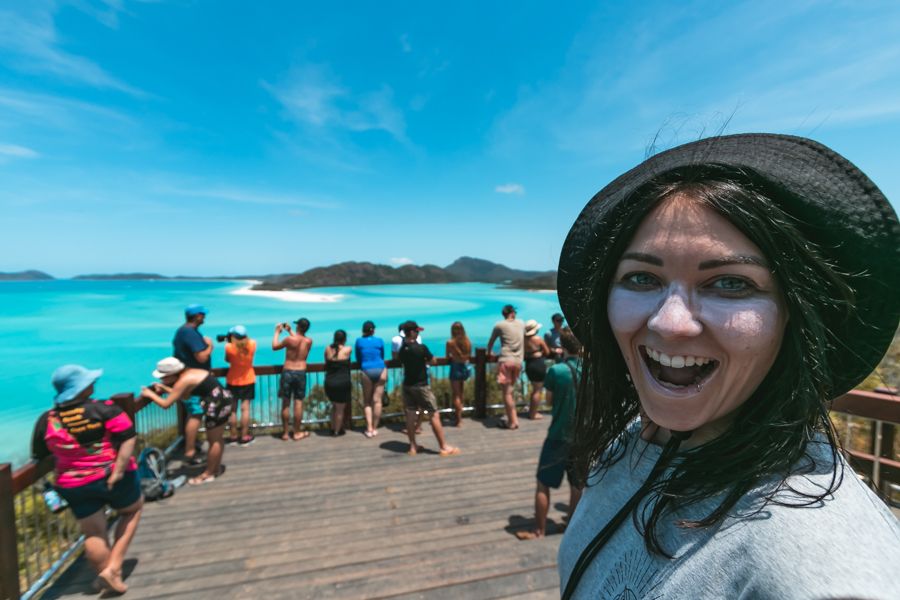 Camera/GoPro
The Whitsundays is one of the most beautiful places in Australia. The tropical islands, warm blue water and white beaches are what dreams are made of! To make sure you have these images for a lifetime, you'll want to bring along a camera or GoPro to capture everything along the way. Since you'll likely be spending a lot of time around or in the water, waterproof equipment is essential! If you have a GoPro, make sure it has a waterproof casing and floating attachment - you wouldn't want to lose your memories to the ocean!
Camera/phone camera
GoPro
Attachments
Batteries
Waterproof case
Floating attachment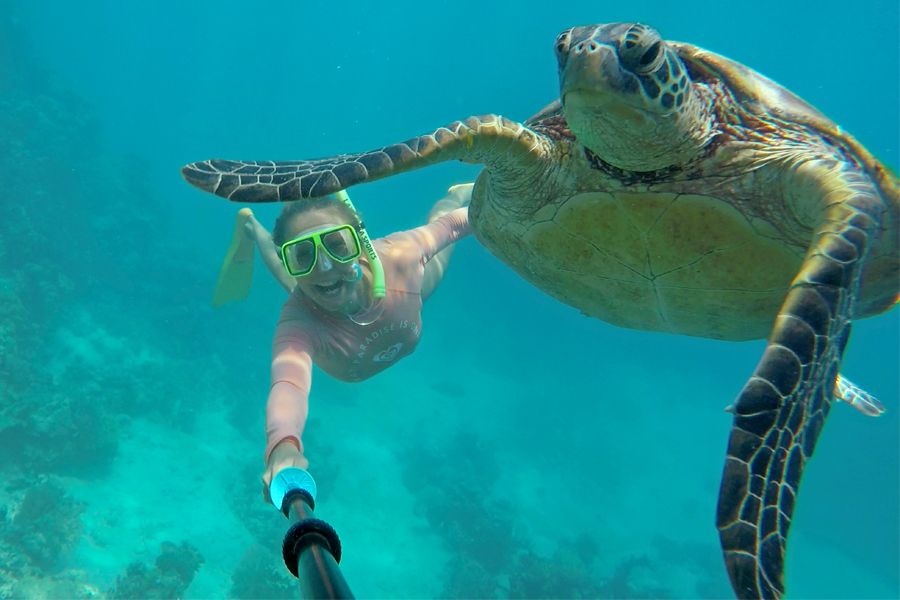 Other essentials
Chargers for cell phone and cameras
Battery pack for charging
Fast dry towel
Day pack
Power converter (for overseas visitors)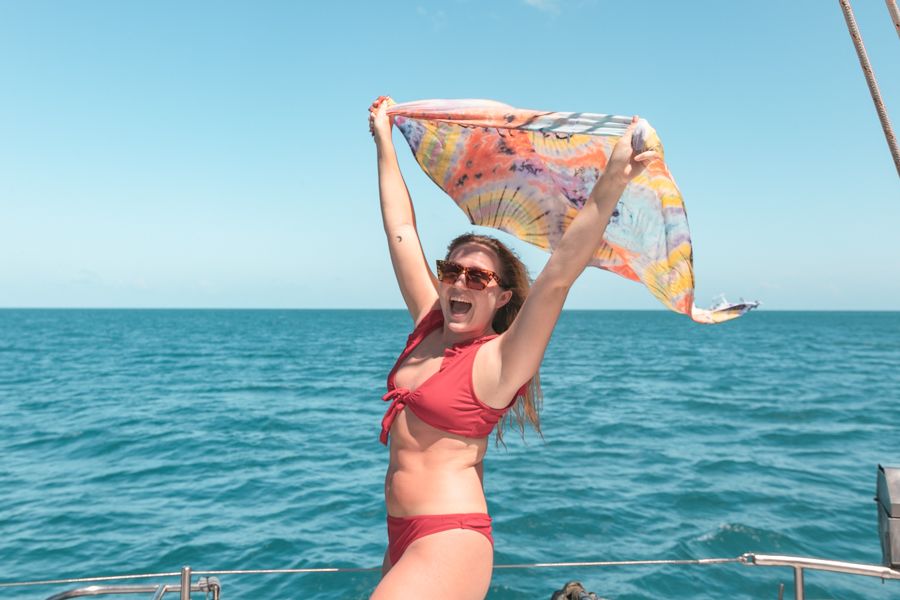 It's good to know that most places in Australia provide easy access to stores, shops and chemists so you can buy anything you might need along the way.
---
Packing for an overnight boat trip in the Whitsundays
If you're going on an overnight boat trip while in the Whitsundays, you'll have to narrow down your things and bring a small pack with you with your essentials. Unless it's a bareboat charter (where there is no crew and you are renting the boat on your own), tours do not allow excess luggage and guests are not allowed to bring large suitcases or packs. Most will not allow any luggage with wheels or zippers so having a small, soft bag is essential. Some tours will provide you with a bag to put your things in for the trip. You can store your excess luggage at several places around town, including Airlie Beach Bag Storage, or at various accommodations or at check-in offices. You can check with your accommodation beforehand or ask when you call to check-in for your boat trip to see if they will store your bags! In order to help you prepare, we've made a short list of things to bring with you, but it's always best to check with your tour of choice for suggestions on what to bring.
Swimwear: You will likely be spending plenty of time in the water and on the beach, so make sure you bring along your swimwear!
Change of clothes: Make sure you pack a change of clothes or two to change into after finishing your water activities for the day. This includes a sweater or jumper for chilly nights.
Battery pack (to charge devices): Some tours will have live access points available, but in the event they don't, or if they are being used by other passengers, a battery pack will come in handy. You'll want to keep your camera or phone charged up so you can take photos and videos along the way!
Alcohol: Many tours in the Whitsundays are BYO - that is "Bring Your Own Alcohol." If your boat does not have a licensed bar, you'll want to bring along any alcohol you will want to consume on your trip. Generally, no glass or red wine is allowed. Check with your particular trip to see if it's BYO or not.
Reusable water bottle: You have to stay hydrated when out in the Whitsunday sun, so make sure you bring a water bottle that you can refill. You can often just fill up your bottle from the tap on the boat and cut down on single-use water bottles, plus; you'll always know which bottle is yours to avoid a mix-up.
Thongs: While most tours don't allow the use of footwear on board, you'll want something on your feet for when you hit dry land again! Many tours do a short bushwalk up on Whitehaven Beach to Hill Inlet Lookout, which will require some footwear. Other than that, you'll probably be barefoot most of the trip!
Sunscreen: Even if you're not prone to burning, you'll want to bring along sunscreen (at least SPF 30). Sunburns tend to increase while snorkelling or while at Whitehaven Beach, so you'll want to lather up before the day begins.
Hat: Sun protection is paramount while on your tour, as nothing quite dampens the day like a bad burn! Stay sun safe and keep on a hat while in the sun to avoid too much exposure.
Most boat tours will provide you with drinking water, all your food, and things like toilet paper, so you won't need to bring any of that. If you are a big snacker, it is a good idea to bring your own.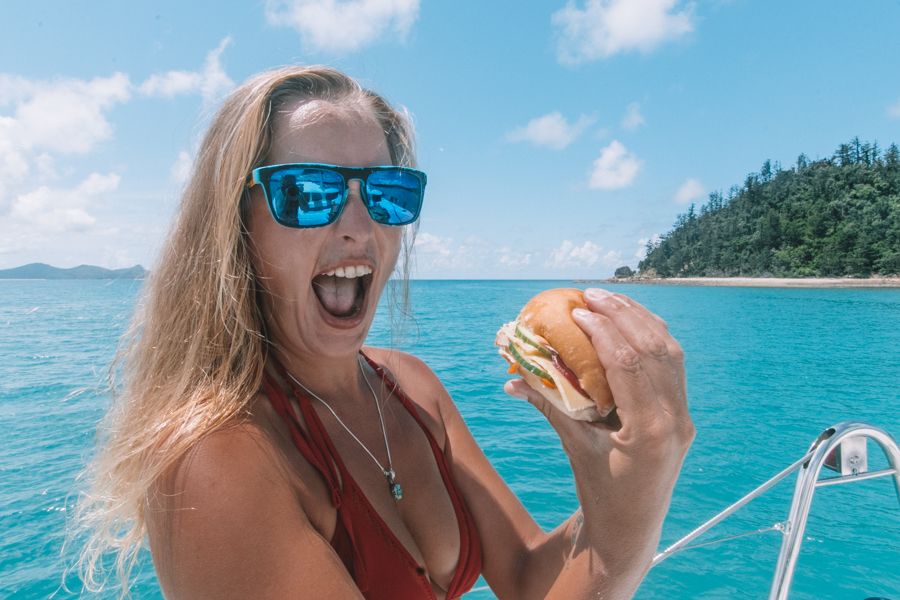 For more information before you head out on your boat trip, click here here.
With so many boat tours available in the Whitsundays, it can be difficult to choose the right one for you. Chat LIVE with our friendly team of travel experts, or visit our wide range of tours here!