Whitsunday Blue 2D/2N
CLOSE
View More Thumbnails
Loading...
Departure Times
Departs: 3:00 pm - Tue & Thu
Returns: 12:00 pm - Thu & Sat
Pricing Options
$599 AUD per person
- Private Double Cabin with Shared Bathroom (requires 2 people) ($1198 Total)
(Between: 01 May 2017 and 30 Jun 2017)
$669 AUD per person
- Private Double Cabin with Ensuite (requires 2 people) ($1338 Total)
(Between: 01 May 2017 and 30 Jun 2017)
$79 AUD per Person
- Pre-booked Intro OR Cert Dive
(Between: 01 Apr 2017 and 31 Mar 2018)
Whitsunday Blue offers the best in comfort and style 
Whitsunday Blue is a a custom built yacht designed purely for relaxation. It offers the best in comfort and style, with a romantic atmosphere. It's private cabins create an intimate environment that is ideal for a Whitsunday Escape. Four private cabins are fully equipped with en-suites to make up the spacious interior, along with a comfortable saloon and dining area. On board your experienced skipper and friendly host will take care of your every need with their exceptional service and local knowledge.
Relax on board Whitsunday Blue as you sail through the beautiful Whitsunday Islands for the ultimate escape into paradise. With only eight passengers and two crew, you'll to experience a very personal atmosphere with the best service. You will get to snorkel on the colourful fringing reefs of the Great Barrier Reef, wander the beautiful beaches of Whitehaven or enjoy some relaxing time back on board. Whitsunday Blue has stand-up paddleboards, a kayak, plenty of deck space and a spacious interior to allow guests to be completely at home while at sea. This modern and comfortable boat will be the ideal place to relax in luxury in the Whitsundays. During the winter season of July to October guests may even be treated to a special sight, put on by the humpback whales who frequent the area, breaching and playing in the warm waters.
Whitsunday Blue Features:
Alfresco dining 
Saloon area with plenty of space and air-conditioning
Four private cabins with en-suite bathrooms
Special underwater blue lights which attract marine life at night
On-board snorkel equipment and wet-suits
Portable DVD players in each cabin
Clear bottom kayak (explore the reef without getting wet!)
Professional skipper and host
Stand-up paddleboard
Delicious meals made from local sourced ingredients prepared on-board by your professional crew
BYO alcohol
Whitsunday Blue also offers a 3 Day/ 3 Night Tour
Make your dream holiday come true in romance and comfort with Whitsunday Blue. Exclusive rates and unbeatable prices available. Advanced bookings are a must on this popular catamaran.
BOAT LAYOUT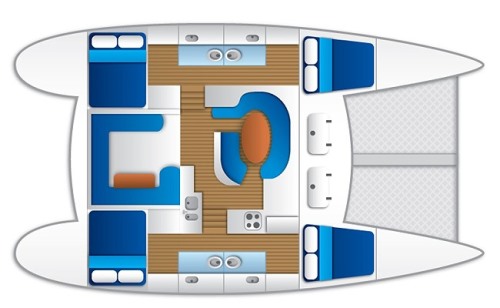 Whitsunday Blue is a very spacious vessel that has four private cabins all with en-suites. The interior saloon seats all passengers for evening meals or you can dine under the stars on our aft-deck seating area. The spacious foredeck is ideal for sunbathing and there's plenty of shaded area to escape the heat and relax in the shade.
*Please note three cabins have a private ensuite and one cabin shares an ensuite with the crew, with separate entrances.
Sample Itinerary
The Whitsunday Islands are one of the top holiday destinations in the world and definitely one of the top sailing destinations. It is a sailing and boating paradise with calm waters and beautiful islands to explore, with quiet anchorages for overnight stays. It's beauty and majesty will leave you in awe as your crew takes you to some of the best places the Whitsundays has to offer to snorkel, swim and relax. The seemingly endless bays and coves will allow you explore at length, each stop more picturesque than the last.
Whitsunday Blue will take guest on the adventure of a lifetime, filling your days with fun activities, with each day more exciting than the last. Sailing, swimming and snorkelling the on the beautiful Great Barrier Reef is just a normal day in the Whitsundays. Explore Australia's national parks and spot the local wildlife, wander the pristine white sands of Whitehaven Beach or take the walk to Hill inlet lookout, the third most photographed place in Australia!
Whitsunday Blue is designed to operate to the wishes of our guests, so you enjoy the ultimate holiday experience in the Whitsunday Islands. No two trips are the same as we take you from one idyllic island location to the next.



SNORKELLING
The Whitsunday Islands are home to some of the most colourful and diverse corals in the world. On board Whitsunday Blue you'll get to experience the magic of this underwater paradise for yourself as you snorkel and swim in the protected bays and coves. Your crew will guide you to the best places and educate you on the local marine life to ensure you make the most of your snorkelling experience. This trip is ideal for both first time and experienced snorkellers with a qualified crew who are there to help you learn and have an amazing time in the water. Flotation devices are available to make your experience more enjoyable and more comfortable. Keep an eye out for clownfish, sea turtles, reef sharks and the giant Maori Wrasse. 
WHITEHAVEN BEACH ANDÂ HILL INLET LOOKOUT
Whitehaven Beach attracts thousands of people to Australia every year who come to play and relax on the beautiful silica sands and swim in the calm shallow waters. As one of the most famous beaches in the world, it is the third most photographed place in Australia, where people try to capture a piece of its beauty to share with family and friends. Guided by your crew, you'll take a short bushwalk up to Hill Inlet Lookout, where you will get to see the unforgettable view from above. The sands of Whitehaven Beach and Hill Inlet are never the same twice, with unique swirling patterns that will take your breath away. You'll get to relax on Whitehaven itself, enjoying the silica sands up close, keeping eye our for stringrays and shark pups as they flit through the warm sunny waters around the beach. You can take time to sunbathe, swim, relax or walk along the soft sands, letting the surf take all your worries away. 
CLEAR KAYAK
Whitsunday Blue has a clear kayak, suited for two people, that offers guests a unique way to see the reef. You can glide quietly above and experience seeing the colourful corals below through the clear hull, watching the curious fish swim around and below you, with frequent turtle sightings. You'll get to to see the entire beauty of the reef without getting wet, taking time to enjoy the sun and the underwater world at the same time. This is a great option for guests who can't swim or would prefer to enjoy the reefs from above the surface. Our friendly crew are there to give you a helping hand to make your experience all the more enjoyable.
GOURMET CUISINE
We guarantee the quality of our food on board Whitsunday Blue and we promise you won't be disappointed. Fresh fruit, cookies, tea and coffee are always available to guests during your trip. All dietary requirements are catered for and we are happy to help with special occasions, such as birthdays and anniversaries. Below is a sample of what you can look forward to on board Whitsunday Blue.
SAMPLE MENU
Day One
On Arrival: Seasonal fruit selection pineapple, rock melon, mango and kiwi fruit
Sunset snacks: Fine dips accompanied by crispy strip vegetables and savory crudites
Dinner: Flamed Tuscan chicken served with a fresh Greek salad, lashings of Feta, sun-dried tomatoes and olives. Accompanied with oven baked crisp dinner rolls
Dessert: New York style cheese cake with berries and cream

Day Two
Breakfast: Fresh fruit platter, Swiss muesli, cereals, warm croissants and banana bread
Morning Tea: Individual French pastries
Lunch: Superb smorgasbord of champagne leg ham, Waldorf salad, spinach and pine nut salad, traditional Greek salad with wholegrain and scotch rolls
Afternoon Tea: Delicious fudge cookies with tea/coffee and hot chocolate
Sunset snack: Antipasto platter
Dinner: Rib fillet topped with a delicious red wine mushroom gravy, served with potato gratin and steamed seasonal vegetables, accompanied by cheese and herb ciabatta bread
Dessert: Chocolate cake or warm apple pie

Day Three
Breakfast: Fresh fruit platter, Swiss muesli, cereals & pancakes with all the yummy toppings to with it. Served with tea, coffee and orange juice.
Farewell meal: Antipasto platter with olives, sun-dried tomatoes, a variety of soft and hard cheeses and more...

Looking for a different trip on Whitsunday Blue?

What does Eco Accreditation mean? What does WCBIA mean?
Please note:
Minimum age is 18 year old and guests must be able to swim if they would like to snorkel. This sailing adventure is only suitable for active people and a basic level of fitness and mobility is required.
---
You May Also Like One Of These Products:
Whitsunday Blue 3Whitsunday Getaway 2On IceWhitsunday Adventurer
---
You Might Also Be Interested In:
Sail & Stay in StyleBlue Coral Package
---
BOOK WITH US TODAY! CALL 1800 550 751 OR (07) 4914 2425 IF LOCAL
What To Bring
Please bring only a small soft bag with: change of clothes, hat, swim-wear, sunscreen 30+, warm pullover for the evenings (seasonal). You will also need to bring your own alcoholic beverages, available for purchase in town. No glass bottles please.
Excess luggage can be stored at several places in town including most boat check-in offices, a 24 hour locker shop on The Esplanade, most hostels, or at your accommodation. Most charge between $5-10pp for the duration of your trip.
What's Included
Skipper
Crew
Drinking water
Meals
Linen
Wetsuit hire
Bath towel
Snorkelling equipment
Marine Park fees.
What's Extra
BYO alcohol - no glass bottles, with the exception of Wine and Champagne. Soft drinks available for purchase on board.
Terms and Conditions
All departures and itineraries are subject to weather. Tours may be changed or cancelled for any reason at the discretion of the Tour Operator. It should be noted that adventure travel involves risk. Whilst we make every effort to safeguard clients, we cannot be responsible for personal injury or loss due to actions of our clients which are beyond our control. We recommend that all clients have travel insurance covering illness, injury, loss or damage to personal belongings and not being able to travel on the confirmed date of departure. Please be aware operators pass on credit card merchant fees so there is a non-refundable 2.5% surcharge for VISA and MASTERCARD card purchases.
Please advise us before booking if any passengers are under 18 years old to ensure this is the appropriate trip. Also please note that you need to allow time prior to the boats departure to check in, please ask us for more details.
Cancellations
​All cancellations made result in 25% cancellation fee of the recommended retail price (RRP), not discounted or sale prices.  Any cancellations made 60-30 days prior to travel will result in a 50% cancellation fee and any cancellations made inside of 30 days to departure will result in forfeit of full trip fees. If the sailing company has to cancel the trip (prior to the boat's departure) and we cannot offer a suitable alternative, then a refund will be given minus card fees. We strongly recommend that you have travel insurance, especially during the wet season.
Please note it is the responsibility of ALL passengers travelling to advise both your travel agent at the time of booking and vessel check-in agent before boarding of ANY medical conditions including food allergies you may suffer from.
​
Thank you for booking with Mr Travel/Sailing Whitsundays. If you would like any advice or assistance in arranging accommodation, transfers or additional tours, please do not hesitate to contact us.
"It was so lovely and such a pleasure on this boat. We were able to visit the wonderful beach and trail."
Ina
Fri 19 May 2017
"Had a great trip! We got to see turtles, so it was an all around success. The crew were brilliant."
Steve
Fri 12 May 2017
"Absolutely amazing trip! Fabulous crew - I loved it. Thanks a lot!"
Mary
Wed 03 May 2017
"The trip was amazing, we visited many beautiful places. I hadn't snorkelled before but I felt completely comfortable under the water under the guidance of the crew and loved it. The boat was beautiful and well looked after. We visited Black Island and were surprised with canapes and sparkling wine! The food was amazing and some of the best we have eaten in Australia!"
Sarah & Matt
Wed 08 Feb 2017
"Everything we expected and more! The trip gave us a better appreciation of the Whitsundays. Very informative, friendly and efficient crew."
John
Tue 17 Jan 2017
"Outstanding - filled every expectation!"
Bob and Meg
Fri 02 Dec 2016
"We really enjoy this tour! The crew were so helpful and knowledgeable. Such a beautiful place!"
Gareth
Fri 18 Nov 2016
"Once in a lifetime experience and an amazing way to see a beautiful part of the world. Crew was excellent, friendly and knowledgeable, nothing was too much trouble!"
Rob and Louise
Fri 11 Nov 2016
"We really enjoyed our sail! The crew were fab - very informative and great fun!"
Mary
Thu 03 Nov 2016
"Crew was fantastic, informative, helpful, friendly and hard working!"
Janelle Rowe
Wed 03 Aug 2016
"It was a great tour with an awesome crew. The spots we had for snorkelling were very beautiful. The food was so delicious and the tour to the Whitsundays was so awesome!"
Sasha
Wed 06 Jul 2016
"Amazing trip. Aaron has extreme knowledge of everything and Rihannon worked hard and looked after us. Brilliant experience thanks to the two of them!"
Kathryn and Darren
Fri 01 Jul 2016
"Excellent tour! Packed so much in two days and quality of tour was excellent. It was lots of fun and we didnt want it to end!"
Bowers Group
Thu 23 Jun 2016
"The crews knowledge was excellent and gave me an appreciation of the entire ecosystem. The host Charlotte also did a great job and was very friendly."
Dennis
Wed 04 May 2016
"The crew were excellent. The skipper was very informative and answered any questions we had. Were very friendly and helpful. Would definitely recommend this trip to others."
Elaine
Tue 15 Dec 2015
"Aaron and Ali are very professional and knowledgeable, friendly and easygoing. There are always ready to help and share their knowledge. They were patient and made the trip a wonderful experience."
Andros
Thu 22 Oct 2015
"I would like to acknowledge the crews hard work in providing high-level of enjoyment for us all. All crew were really helpful and friendly. Food was great! "
Ben
Mon 31 Aug 2015
"By far the most exciting experience weve had. The pure joy of sailing was exhilarating. With ensuite facilities and only having a small group onboard made this trip a winner. Thanks so much to the amazing crew and looked after us."
Anon
Thu 30 Jul 2015
"It was lovely! an experience of a lifetime and weve been so well looked after. Wed recommend!"
Kath and Kris
Mon 13 Jul 2015
"Great trip! The service was great and the staff was very knowledgeable. Delicious food! I liked how the staff gave us personal insight about the islands."
Michelle
Mon 18 May 2015
"Staff were accommodating, thoughtful and informative and gave us the experience of a lifetime. Even though the crew have done this so many times, they were enthusiastic and fresh in their approach. Safety was always considered. The diversity of the experience was appreciated."
Brenda
Fri 08 May 2015
"Fantastic trip. Crew were very knowledgeable and friendly. Boat was great and the stops on our tour were brilliant. Thoroughly recommend. "
Wilson
Wed 08 Apr 2015
"Crew: Both Excellent. Very helpful and knowledge
Food: Great selection
Boat: Handled well in rough seas
"
Thorne - UK
Mon 23 Feb 2015
"Great first mate! hated the march flies. Thanks for organising the dolphins."
Lauren Jenkins
Thu 19 Feb 2015
"Crew: Very friendly, entertaining and good with information about the islands, creatures and cultures. Food: Amazing, good variety, lots of it! Boat: Outstanding! Had everything to make the trip enjoyable."
Panek
Fri 13 Feb 2015
"Great fun time. Everything well organised, boat great and food better. Glen and charlotte did amazing job, looked after us unbelievably and showed us the island and top spots."
Matt Butler
Mon 19 Jan 2015
"10/10
Very informative, safe, skill and confidence of crew was evident, respectful of everyone needs, flexible. Cannot say enough.. a great experience. "
Harvey & Barb Hall
Wed 14 Jan 2015
"We loved the trip and accommodations, food, crew, beautiful areas visited. Very accommodating of glutton allergy. Crew very knowledgeable and helpful, a real delight. Wish we could have booked 3 nights or started earlier in the day. Would have liked more time to lounge on boat."
Emily & Michael
Mon 08 Dec 2014
"Crew - Very competent, safe, friendly, knowledgeable, relaxed, get in charge, wonderful! Food - Couldn't believe what came out of such a small kitchen - very impressed Boat - Very comfortable. Great treat to have private cabin + adjoining bathroom. Highlight of the trip was the sunset at the deck."
Krista
Sat 27 Sep 2014
"The Crew - 5/5 Very experienced and professional, great local knowledge added to the experience, very kind, friendly and hospitable.
The Food - 5/5 Fantastic and plentiful!
The Boat - 5/5!
Highlight - Whitehaven and overall sailing."
Joe and Tanja - Aus
Thu 18 Sep 2014
"The Crew - 5/5 Both are top level at making us feel comfortable and safe, informing us about the sea and islands and history. They took great care of us and we laughed so much.
The Food - 5/5 The vegetarian food was the best Ive had on an extended trip and comparable to the best Ive had. Tom says excellent.
The Boat - We loved this boat, and even though we have little sailing experience we know its up there with the best! Wed prefer to stay on-board longer!
"
Margaret Keller - USA
Sat 13 Sep 2014
"The crew - 5/5 Friendly, very competent and informative.
The food - 5/5 Good and plentiful.
The boat - 5/5
"
Hall - UK
Wed 03 Sep 2014
"The crew - 5/5 Captain Aaron was really friendly and professional Ria also and we had a great time with them. They were always available for any of our needs (with a smile)
The food - 5/5 Ria is a wonderful cook, and we were really impressed especially regarding the poor conditions of cooking on a boat. The meals were healthy, divine and always well dressed. Aaron is a BBQ master.
The boat - 5/5 The boat was spacious and well equipped.
Highlight - Whitehaven Beach!"
Victor & Aline - Canada
Thu 07 Aug 2014
"The crew - 5/5 Ali spent time with each of us and got to know everyone. Jas was great and has a great taste in music
The food - 5/5 Food was plentiful and excellent.
The boat - 5/5 Boat was very comfortable. we never felt crowded.
Highlight - swimming with turtles!"
Kathleen & Dave - Canada
Tue 05 Aug 2014
"The crew - 5/5 Loved the stories and felt very safe in Jason's company. Great fun host.
The food - 5/5 Really well organised, good timings, never went hungry and when the meals arrived they were very tasty.
The boat - 4/5 Outside space was amazing, inside the rooms were very cosy and clean.
Highlight - Paddleboards"
Alex & Paul - UK
Mon 14 Jul 2014
"Ali and Jase were amazing. They made us feel so comfortable especially me as I nervous on boats. Jase was so informative so I felt I learnt a lot too. I loved all the food , there was plenty and was varied. Spacious . Nice common areas. Not too bumpy. "
Tania & Aaron
Thu 10 Jul 2014
"The crew - 5/5 Crew was excellent! Despite the weather crew stayed very positive a, fun and optimistic, Crew created a fantastic route and activities. Felt like a local way to see the islands. Loved all the unique spots we saw and stories about each location.
The food - 5/5
The boat - 5/5
Highlight - Whitehaven beach and Cid harbour."
Mon 02 Jun 2014
"The crew - 4/5 Very friendly and provide great insight in their commentary for the trip.
The food - 4/5 Food at regular intervals and nice selection. Very attentive service too!
The boat - 4/5 Great deck space. dining outside was also really good. Blue lights at night great!!
"
Jenny - UK
Sun 01 Jun 2014
"The crew - 5/5 Jayce was so knowledgeable and shared lots with us - this was great. Lucy was so professional and fun. We felt very at home.
The food - 4/5 Salads were amazing and dinner first night was awesome.
The boat - 5/5 loved it and having private space was brilliant. Atmosphere was chilled an fun!
"
Deirdre and Paul - Aus
Thu 29 May 2014
"The crew - great knowledge of the area and even changed snorkelling location to poor visibility at first site. Ali was so accommodating. She definitely fulfils her role as mum on-board! (in a good way!) The food - Heaps of great food - we were lucky we didn't sink. Great fresh salads and main meals plus plenty of snacks and pre dinner treats. The boat - Looks newer than it is apparently! Great layout and amenities. Nice to lounge on the front trampoline especially with a bot of shade from the front sail. "
Adam & Amanda - UK
Tue 20 May 2014
"The crew - friendly & helpful. The food - delicious & lots of it The boat - nice & comfortable. A memorable trip"
Ingrid
Fri 09 May 2014
"CREW: Superb hosts - v relaxed and friendly. Informative. Great fun. FOOD: All very nice, very thoughtful about food issues, very well cooked and prepared. BOAT: Highlight of the whole holiday. Don't want o get off. Great other guests. HIGHLIGHT: Difficult to separate all the good things being on the boat. "
Colin Aget - UK
Mon 21 Apr 2014
"The crew - very nice, professional and welcoming. The food - very good and healty - "
Javier
Fri 21 Mar 2014
"Crew were really friendly and professional. Really forthcoming and helpful in everyway. Thanks for a great few days. Really enjoyed the variety and taste of the food, who know boat food can be this good. Well done! Very enjoyable, easy to get around and spacious for the 8 people on-board. Maybe get some cushions for the trampolines? F-A-B-U-L-O-U-S! "
Bas Storch
Thu 23 Jan 2014
"Loved all the stories about the places we saw, the aboriginal cave, the corals and snorkelling. Good was great. Highlight of trip. - snorkelling and Whitehaven beach and dolphins! It was amazing thanks for everything!"
F Forner - Italy
Wed 15 Jan 2014
"Aaron was friendly, very knowledgeable and we felt very safe with him. Ria was a superb hostess, friendly and excellent cook. Excellent food, plenty of it, beautifully cooked and good variety. "
David
Sat 14 Dec 2013
"crew were fantastic, happy and positive attitude. We couldn't have felt more looked after and safe in there knowledgeable hands. Food was delicious and v impressed with what Ali managed to produce every meal and snack. A brilliant sailing trip , unforgettable and we felt very looked after."
Nicola and Andrew
Wed 11 Dec 2013
"Friendly and knowledgeable crew who made you feel comfortable and safe at all times. Way to much food and delicious. Great boat With just the right amount of people to enjoy it. "
Lindsay
Mon 11 Nov 2013
"Crew made trip the trip! very knowledgeable, friendly, laid back - especially enjoyed the sing song fri night! Food very tasty and lots of it. boat very comfortable. "
Sweeney
Wed 09 Oct 2013
"The crew are the best!!! Vickey is a great cook!! Food was great"
Lorenzo
Sat 17 Aug 2013
"The crew was fantastically welcoming & helpful. The food was amazing & s much of - it was amazing seeing Vicky preparing & serving in such a small space. The boat got everything you could need it such a compact space - very comfortable. Keep doing what you're doing guys - Just great !!"
Emma
Sat 10 Aug 2013
"Both captain & host were amazing, very friendly, competent & lots of fun. The food was fabulous. OMG I do not eat that much at home :) "
Tracey
Sat 27 Jul 2013
"We always felt safe & well looked after! Daily activities well planned. Vicky procided edicous meals and snacks - presented well & timely. "
Dave & Rita
Sun 07 Jul 2013
"Brilliant crew, Very friendly and efficient. We choose this trip because of the great trip advisor reviews and it exceeded all of our expectations. Beautiful boat and excellent all round. "
Susan
Wed 03 Jul 2013
""
Wilson
Wed 26 Jun 2013
"Excellent skipper and hostess they could not do enough for us. Pointing out things of interest made us feel most welcome"
Bob Wilson
Fri 07 Jun 2013
"It was just perfect, just like home"
Baroth
Fri 07 Jun 2013
"very friendly and helpful Thank you! We had a lot of food, plenty of it and I enjoyed it. "
Daniel & Alexandra
Sat 11 May 2013
"The crew were very hospitable, friendly and knowledgeable about the area. Plenty of good food and snacks, we appreciated all the fruits and salads. Whitsunday Blue is a well cared for clean boat which met our needs perfectly. Over all it was a very relaxing experience "
Hay
Sat 11 May 2013
"The crew on board Whitsunday blue were really friendly, viki fed us really well and aaron showed us the best spots for snorkeling . I want to complain because after this trip i will always be hungry in my backpacker life the food was really good!Whitsunday Blue was beautiful and comfy! enough space, good equipment for snorkeling kayaking and paddle boarding. Awesome view, snorkeling, staff and food!"
Juneau
Sat 11 May 2013
"Nothing was too much trouble for Jayme our host. Aaron was a mine of information and has a great sense of humor. great team. If anything there was too much food! all lovely quality and nicely presented. Food Hygiene excellent. Lovely cabin, plenty of room! Relaxed, fun and felt thoroughly spoiled. "
Harrop
Thu 25 Apr 2013
"brilliant Crew, very friendly and efficient. love the captains briefings he kept us well informed all the time. He gave me the confidence to snorkel properly for the first time. Big thank you to Aaron and Vicki. The food was amazing! never seen so much food!!! beautifully prepared by Vicki. Really appreciated fresh fruit and great steaks! One of the best experiences we have ever had if we return to the Whitsundays we would do it again! "
Ransome
Thu 25 Apr 2013
"The Crew were great loved to hear all the storied and they are both extremely friendly and helpful. Loved the BBQ you certainly don't get hungry on this trip! Great way to experience the Whitsundays!"
Farah
Thu 25 Apr 2013
"Nothing was to much trouble, Skipper Aaron was as a mine of information and had a great sense of Aussie humour. All food was of lovely quality and nicely presented"
Harris
Wed 10 Apr 2013
"Brilliant crew, Very friendly and efficent. Loved Aarons briefings , gave me and sue the confidence to snorkel properly for the first time. We choose this trip because of the great trip advisor reviews."
Ransome
Wed 10 Apr 2013
"John our captain was excellent ans his knowledge of the area was very helpful. Vicky was an excellent host and she was friendly and helpful. She is excellent. Food was great and plentiful"
Morrison
Sat 02 Mar 2013
"Very good knowledge of the area and service and attitude was excellent. there was plenty of food all of which was excellent boat was very nice with a great net out front to lie on. "
Roth
Sat 02 Mar 2013
"Very friendly and knowledgeable answered all our questions nice variety and amount of food Perfect honeymoon trip! "
Cho
Sat 02 Mar 2013
"They are friendly and always there attitude was of good value. Please keep up the great work you have been doing. The food was nice and a good variety. Cosy boat with all privacy needed AWESOME"
Seixas
Thu 31 Jan 2013
"Very friendly they answered all our questions patiently and competently. Food and meals were very nice and tasty , varied a lot, nice idea the picnic at sunset. Clean and enough space and privacy Great Value and impressive. "
Waltes
Thu 31 Jan 2013
"Both nick and Vicky were fantastic. very impressed with nicks knowledge and vickys cooking. Soooooo much food! good variation and thank you for providing lactose free milk. Fantastic - not long enough!! "
Hawky
Thu 31 Jan 2013
"Aaron was very knowledgable and friendly. Always focused on making sure the passengers were having a good time. Aimee and Jayme again very friendly , polite, chatty , hard working and nothing was ever too much trouble. Excellent Crew. Always fresh food which was delicious. Plenty of variety and hosts always prepared to prepare dishes the way passengers wished. Never went hungry. Very clean, well looked after and modern boat. Comfortable and kept cool in hot temperatures. Trip of a lifetime which we did not want to end! I don't think words can sum up how amazing the 3 days were. "
Payne
Thu 31 Jan 2013
"The crew were knowledgeable friendly and over all a great team. Everything was delicious and plentiful. Great experience and friendly staff"
Bennie
Sat 26 Jan 2013
"The crew (Aaron and Viki) were great helpful, informative and very friendly. Great food - a lot better than expected and beautifully presented. Greta experience - the crew made the trip for us, helpful, friendly and safety conscious "
Tran
Sat 26 Jan 2013
"Very friendly and brilliant hospitality. Always told us the best places to snorkel. Food was amazing so much variety and very filling. Boat was very clean tidy and spacious. AMAZING"
Sturgess
Sat 26 Jan 2013
"Experienced and friendly captain flexible but always our safety as forefront, hostess nothing too much to ask always ready to help us. Excellent range for the weather conditions and the food always seemed to come just before we were hungry. Ideal for 4 couples enough privacy but always felt safe on board A great experience marvelous to just relax in such beautiful places. "
Walker
Sat 05 Jan 2013
"Both very friendly and welcoming. both good fun and knowledgeable. Nicole was a great cook with limited facilities. "
Fenton
Sat 05 Jan 2013
"Nick and nicole made us feel very welcomed, they informed us about the whitsundays with their knowledge that they have - they are fantastic. i was amazed how nicole could come out with such tasty and amazing food from not a large kitchen. she did such a great job we never went hungry. Very clean and we all enjoyed our space, loved the sailing on the first few days as it was very windy - slept very well and enjoyed our journey through out the whitsundays."
Barlow
Mon 31 Dec 2012
"Nick and Nicole were just special. Service was A+ personality- laughter - knowledge - nothing was impossible, I'm a bit left of center and they made me feel like the center of the universe yew! As a vegetarian i was so looked after with delicious meals every time. FAB! Donny loved all the cakes too! Very spacious and comfortable + clean. Love the nets on the bow. AMAZING such a great variety of activities and fun staff I didn't want to get off"
Walker
Mon 31 Dec 2012
"Willo and Rachel have been amazing. Beautiful food, great company. Willo even let me drive which is suprising seeing as we sank the kayak! Loved them both The food was beautiful rachel is an excellent cook now i just have to lose the weight ive gained on board. Beautiful boat with lovely cabins. 2 of the best days ive had in my life!"
Logan
Wed 05 Dec 2012
"The whole experience was fantastic I cannot fault the captian (willo) or the host (rachel) Th food was excellent and well presented. Whitsunday Blue was the best! "
Smith
Wed 05 Dec 2012
"The crew were amazing - so friendly and courteous. the trip was well organized and the crew professional. There was always perfect and tasty food and just at the right time.Over all the boat was fantastic and the beds comfortable and spacious. We had a fantastic trip. Great Company"
Bukovico
Tue 20 Nov 2012
"Very informative captain, good humored. excellent service by Vikki the hostess. Excellent food and plenty of it. Very good lay out - easy to get around and ideal for guests. "
Fanning
Tue 20 Nov 2012