Whitsunday Blue 3D3N
CLOSE
View More Thumbnails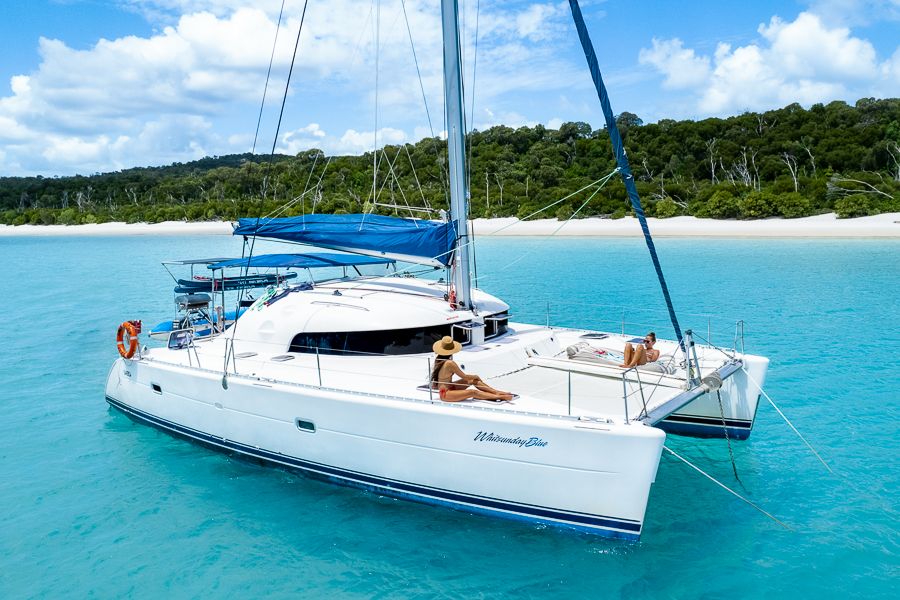 Loading...
Departure Times
Departs: 3:00 pm - Tue, Sat
Returns:
12:00 pm - Fri, Tue
Departure Point: Coral Sea Marina, Airlie Beach
Pricing Options
RRP $1135

$1035 AUD / Person
- Private Double Cabin with Shared Bath ($2070 Total)
(Between: 15 Feb 2023 and 31 Mar 2024)
RRP $1218

$1080 AUD / Person
- Private Double Cabin with Ensuite ($2160 Total)
(Between: 15 Feb 2023 and 31 Mar 2024)
Highlights
| | | |
| --- | --- | --- |
| Whitehaven Beach & Hill Inlet | | |
| Snorkelling | | |
| SUPs | | |
Whitsunday Blue offers exclusive comfort and style in the Whitsundays, with private cabins, water sports and a spacious catamaran!
Enjoy an extended trip, lasting 3 days and 3 nights - longer than most tours in the Whitsundays
Perfect for couples and honeymooners with only 8 guests per tour
4 private rooms with ensuite bathrooms for comfort and privacy
Look forward to seeing the best of the Whitsundays including the romantic Whitehaven Beach, the picturesque Hill Inlet Lookout and the amazing fringing reefs of the Great Barrier Reef Marine Park
Customers who viewed this item also viewed...
Frequently Asked Questions
Does Whitsunday Blue cater for vegetarian, vegan, gluten-free, etc diets?

Special dietary requirements can be catered for. Please advise at the time of booking, and keep in mind there will be an additional charge of $15 per person.
Are there air-conditioners on board?

Each cabin has been fitted with an air-conditioner to ensure you stay cool during the humid summer months.
Can I bring my own alcohol?

You can certainly bring your own alcoholic or non-alcoholic beverages. There will be room to store them in the onboard fridge. Just ensure you are not bringing any glass on board. If you wish to bring red wine, please inform the crew beforehand.
Can I smoke on board?

You can smoke in the designated smoking area at the back of the boat.
Can I charge my phone?

There are charging ports in all cabins as well as the main saloon area.
What is the minimum age for Whitsunday Blue?

You must be 18 years or above to book a trip on Whitsunday Blue's 3D3N trip.
Reviews
Overall Rating
5.0 / 5.0
Based on 110 reviews
Reviews by our Sailing Whitsundays customers
Our tour on Whitsunday Blue surpassed all expectations! Dave and Ines were so knowledgeable about the area and took us to all the best spots, nothing was too much trouble. Our fellow passengers were lovely and we couldn't have asked for a better trip.
Beverley Allen
, 14 Nov 23
Fantastic experience. Fully enjoyed the experience
Stefan Springer
, 12 Nov 23
Very relaxing enjoyable experience. Would recommend to my friends.
Fantastic. Activities were wonderful. Staff was most pleasant and accommodating. Excellent experience.
It was a very relaxing and enjoyable experience
Sebastian & Jennifer
, 31 Oct 23
This trip was amazing. Dave and Inez were fantastic!!!
Amazing journey with best snorkeling spots
We had a very good experience, everything was fantastic. A partical thank you to Ines who worked very hard. Thank you so much
Best captain we could hope for. Aaron adapted to the passengers interests and gave us great nature talks. Thanks.
Excellent knowledge from Aaron - good clear instructions - thank you
Lovely discovery of the Whitsundays, happy cruising. Crew looked after us extremly well.
Rich + Jottntton
, 28 Oct 23
We were very well looked after and captain adapted trip to suit the group. Thank you.
Michelle McKinnion
, 27 Oct 23
We had a great trip. Crew were great, took us to some lovely spots. Ines looked after us very well
Bernhard & Uta Loehrer
, 24 Oct 23
Great tripn fantastic humor, Dave & Ines did a great job! Thank you!
Muethmair Alicja Felix
, 24 Oct 23
Please continue with this :)
Great mix of swimming, snorkling and SUP. No party vibes. Great captain Dave and Ines as Deckhand
Sue & Richard Armfield
, 24 Oct 23
A great trip made for us by captain, Deckhand, scenery and weather. Snorkling and sailing will recommend to friends.
Tim Barraccough
, 23 Oct 23
Dave & Ines were excellent hosts. Great Trip! Thanks Team
Add clippers for snorkeling. Than it is perfect!
A great trip, awesome opportunities to snorkel, swim and enjoy. Great food. Thanks.
Keiran McKinnon
, 17 Oct 23
Great
Dave & Ines were great. Accomodating and made sure we had the best experience. Definitley would recommend.
Kathy & Andy Rouse
, 10 Oct 23
Fantastic trip - Dave & Ines were amazing and looked after us so well - we loved every second of it
Charlie & Will Clarke
, 10 Oct 23
We had the best time. A once in a lifetime experience. Very well looked after by Dave and Ines. Thank you :)
Lovley way to see the Whitsundays. Thank you, Dave and Inez :) We misseld the flippers for the snorkel gear and glasses kept fogging up + snorkels leaked a bit
Thank you for some great days! :)
Great trip, would recommend to everyone
Simone & Ingo Wehlinp
, 07 Oct 23
Stephen + Michelle Stinner
, 07 Oct 23
Very much enjoyed by us both. had a range of weather and experiences, whitch was ideal. Aaron and Maryann were excellent, both impressive. Please supply fins for experienced snorkelers! Perhaps add kayaks whitch would be appreciated. Also, the 3D/3N trip is ideal time, enough to enjoy the best of the Whitsundays but not too long. Could do more with food, but that is not a criticism. Thank you for a great trip.
Michelle Echarti Boch
, 07 Oct 23
Great Trip, super friendly crew and great experience
Sharnie Travers
, 03 Oct 23
It was a beautiful trip. We really loved all of it. So many places we got to see and enjoy
Lee Anne + Martin Bramble
, 03 Oct 23
We loved it. I would love to send my kids on it and come back ourselves. So relaxing and just amazing.
This trip was amazing! Dave and Inez were wonderful. We had so much fun and could not have asked for anything more! Thank you so much.
K. Bartlett / C. Littlechild
, 03 Oct 23
The whole experience was very easy to book. The cruise experience was amazing, food was abundent and very enjoyable. The Captain was very friendly and knowledable, Deckhand Inex was very friendly and hepful. Willl be looking at promoting this to my clients.
Teagon Pentland
, 03 Oct 23
Crystal clear water. Magical beaches. Stunning snorkelling. :)
Tim + Karen Wood
, 28 Sep 23
From the first contact with Aaran and Ines, the whole trip was a wonderful experience. Can't thank all enough
What an amazing experience! The crew made sure we had everything we need, the food was amazing, scenery stunning and bathing at Whitehaven Beach was definitely the highlight of our Australia vacation. Thank you!
Tjipke Bergsma
, 19 Sep 23
It was a wonderful and unforgettable experience. Skipper Kevin and Chef Inez did everything to make our trip enjoyable, with good food, safe voyages and quiet anchor locations with nice snorkeling, paddling, swimming and island visits.
Aldo Costagliola
, 14 Sep 23
I loved everything personally, but especially Marianne and Aaron were fantastic. Always available and helpful and the food cooked was truly fantastic. The boat was a bit old but has everything we needed. Probably I would have enjoyed a non smoking policy on the boat.
Best trip we have done in a long time. Thank you!
Best experience we had in a long time. Big thank you to the crew who made sure we had an unforgettable experience.
Highlight of our time in Australia! Would recommend it to friends and family. Skipper Dave and Hostie Katie went out of their way. We got fed well, i lost count of how many whales we saw, stunning sunset views & perfect amount of time on the beach. Thank you for the amazing experience!
Awesome trip with just the right amount of adventure and relaxation. Captain Dave made the trip with his yarns, advice and music play list Highly recommend
Our skipper & host were very much willing to assess the guests' needs and wants and design our experience to suit. The boat was spotlessly clean, the food was of a very high standard and the laughter was abundant. We were well informed about safety, the environment and wildlife every day.
Highlight of my Australia trip I'm writing a long overdue review of my trip on Whitsunday Blue, with the incredible Dave and Simone. I had been having a rough time with work and my better half and I took some time away to regroup in Australia (we're from UK). We had crammed alot into Aus in my time there but the 3 nights we had on board were definitely my highlight. Our hosts were welcoming, generous and interesting but also interested in us and our own stories. We shared many discussions about our lives along with our other guests, and retired couple from the UK and a younger Danish couple taking a career break and those chilled evenings sharing drinks, games and laughter were amazing. In particular, a highlight of mine was a late night drink watching fish in the lights over conversation. This night we were particularly lucky to see squid attracted to the light and then a pair of dolphin hunting the squid before my partner and I gazed at a star filled sky on the front netting of the catamaran in clear skies counting how many shooting stars we saw (lots). Dave lead us to amazing snorkel locations where I was overjoyed in seeing a Green Turtle in two separate locations, something I had hoped I'd see on this trip but the experience was more magical than I imagined it would be if I was lucky enough to have it. Simone was the ever doting hostess with the mostess and it was a wrench leaving the boat. Simone had meticulously catered for my vegan diet amongst the mainstream diets and a kosher diet of another guest and everyone was certainly well fed and content throughout. The food was delicious but it would not of mattered if it was the most basic of cuisines (which it was not in any way); it was the company of our hosts that made this trip so special. I can't recommend this trip enough (3 days, 3 nights), you will not be disappointed. We certainly weren't and would go back many times if we could. Thank you both so much some incredible memories. Luke Ps. We had an offer accepted on a house and are hopefully moving in this month. I hope you're both keeping well!!
Bridget Pierik
, 28 Jun 23
We were originally on a shorter trip which got cancelled and we are GRATEFUL we ended up on the extended trip. 3 days/3nights is the perfect length and if you have the time I would highly recommend the longer trip!! Thanks Dave and Tiff you were both awesome.
Bridget Pierik
, 28 Jun 23
We had an absolute blast on our trip on Whitsunday Blue. We were in desperate need of a reset and it was the perfect way to just slow down. Dave was a great skipper, with a great sense of humor and amazing knowledge of the area! Tiff gave us service with a smile and was so bubbly and positive.
Amazing trip! Would highly recommend to anyone. The staff helping book were fab, we booked the same day and helped us find a trip. The staff on the boat were very knowledgeable and took us to amazing places to snorkel and the food was amazing.
Best crew ever. Dave and Simone were terrific. They were social, not invasive, knew their stuff, interesting to talk to and took us to great sites. Food was delicious and heaps of it. Thanks for a great 4 days guys…luckily we now know who the f is Trevor!! ???? (Originally posted on Tripadvisor)
Marcus Lennon
, 01 Jun 23
Amazing. Highly recommended. Karl was a great skipper & Olivia was a great host. Thankyou
Great experience The sights we saw and places we went to were really sights that everyone should see. The crew was really just right - knowledgeable and helpful but allowed time to really relax. everyone should do this tour. .
Best experience in the Whitsundays! Amazing company, amazing food, stunning views and snorkel spots - the crew made us feel special and went out of their way! 100 points!
It's was just f…ing brilliant !!!
Memorable cruise - Awesome trip, 3D3N was the perfect match to our expectations. Mariane and Dave were absolutely amazing, they made this trip so special. We got so lucky to see many kind of marine wildilfe. Definitely a must-do around the whitsundays. We would advise to anyone wiling to discover a bit more about the area and relax surrounded by awesome people. Thank you !
A must do experience, never forget it. Our trip made even better by an amazing crew. Thanks to captain Dave and decky Annie.
The best Whitsunday trip you could hope for packed with as much adventure as you want with an excellent experienced crew. What a fantastic four night trip around the Whitsundays! Who would have thought we could cram so much into a short trip. See photo of map for our itinerary. We left the itinerary in the hands of our expert crew - Dave and Mariann who chose the very best of the islands to show us, including an overnight stay on Hamilton Island. It was clear to see Dave is an excellent skipper with many years of sailing under his belt. We certainly felt safe with Dave at the helm! Mariann was a one woman crew wonder! She could not have done more for us if she tried. Always smiling and positive, nothing was too much trouble; an excellent cook, host and crew member and like Dave, very knowledgeable about the area. Even when she wasn't feeling well she carried on regardless. The stops we made took us to the most beautiful beaches where we could swim (stinger suits were provided on board). The snorkelling was excellent in certain areas and Dave knew exactly where to find these! Paddle boarding was such fun too. The boat was equipped with everything we needed to have fun - even "wet weather" quiz/board games! Dave's music playlist was to our taste too (mostly!!). If you are thinking of doing a boat trip I would highly recommend Whitsunday Blue! We didn't meet the owner but she seems dedicated to ensuring everyone has a quality experIence. The most important aspect of it for us was that we felt comfortable in Dave and Mariann's company - it was like being with good friends!
What an amazing experience! Dave and Mariann were an absolutely incredible team!!! Very professional, down to earth, hospitable, went above and beyond to ensure everyone had a great time. The way they spoke about the awesome owners of the yacht Anne and Kev, the thought and care given to preserving the coral reef by ensuring everyone understood the rules and the care and respect given to the everything from the yacht, nature, to saying G'day to fellow travellers on other cruises… They run it as if it was their own business which is a true credit to them! 100% recommend and will definitely be back for another 3 night trip! 10/10 (Originally posted on Tripadvisor)
Once in a lifetime experience! My family and I did the Whitsunday Blue cruise in March 2023 and were more than happy to experience such an amazing trip. Whilst the scenic sail through the Whitsundays was exceptional by itself already and made it possible for us to see the beautiful Whitsunday Islands from a completely new and different point of view, the crew that guided us along the way is what made the trip so special. Our Captain Dave did not fail to make us all feel safe on board while at the same time creating a welcoming and laid back atmosphere (especially with his great choice of music throughout the cruise) and the Deckend Mariann managed to be there for every passenger whenever a helping hand was needed with her friendly character and also kept us all satisfied with her amazing cooking. Apart from the exceptional crew the duration of the cruise (3 days, 3 nights) was perfect and therefore we got to see the cornerstones of the Whitsundays' landscape and saw places such as the Whitehaven Beach and the Hill Inlet along with some amazing adventurers like snorkelling in the Great Barrier Reef and got to spend the needed amount of time at each of these locations. If you want to see the beautiful Whitsundays from a completely new perspective while being guided by an amazing crew, I would highly recommend the Whitsunday Blue Cruise. (Originally posted on Tripadvisor)
A wonderful adventure with wonderful company and a marvellous crew. Yes the boat is an old lady however the new owners along with friends have put their heart and soul into her restoration and this passion is reflected in the care and attention we received from our skipper Dave and our magic fairy, Mariann. They both went above and beyond- nothing was ever too much trouble and the initial fears about snorkeling soon disappeared as Dave and Mariann's knowledge gave us the confidence to experience the unique coral environment and it's wildlife. Our meals and wonderful snacks were prepared beautifully by Mariann with Dave on BBQ duty and everything was left spotless when we finished. There were 8 of us on board and despite language differences, we ended up as a bunch of friends, playing trivial pursuit on our last evening along with the crew. We would thoroughly recommend this boat and her crew to anyone looking for a wonderful experience in Airlie Beach. (Originally posted on Tripadvisor)
We experienced a superb 4 day/3 night cruise on the Whitsunday Blue (21-24 March 2023). The wit, charm and knowledge of both Skipper Dave and our host Mariann made life for us easy and relaxing. Mariann produced the most amazing meals, and Dave's BBQs were delicious. Both Dave and Mariann gave us much support and advice when we were out of our comfort zone, (neither of us had snorkelled before). Dave ensured that we all had a chance to practice the snorkelling before we came to the most amazing area with stunning fish and coral. We hiked to viewing points, swam, snorkelled, walked on beautiful sandy beaches in some incredibly beautiful locations, including Whitehaven Beach, Tongue Point, Langford Island, and many bays and inlets. However it was not just about the swimming and the sights...we had a great time on the catamaran with our fellow passengers and crew. There was plenty of time to chat, sit in sun or shade, snooze, read, play games or just enjoy the views as we sailed between islands. This was a 4 day adventure which gave us a lifetime of memories, and we thank Dave and Mariann for all they did to make this happen. (Originally posted on Tripadvisor)
We had a perfect stay. We loved the balance between relaxing and activities. And the staff tried to make our stay extra special. Thanks to Cass and Glenn. Would definitely recommend this trip and taking 3 days instead of 2
Absolutely brilliant! Cannot think of any improvement. Crew mere fantastic and made our trip. Big thanks to the captain and host.
We had a fabulous 3 night/4 day trip on the Whitsunday Blue. The experience will stay in our memories forever, in particular snorkelling with a turtle over the beautiful coral and paddle boarding on Whitehaven beach. The boat is about 20 years old and in need of a bit of TLC especially in the cabins but the company and crew made up for it tenfold. We had a great itinerary which included the chance to go paddle boarding for the first time, we were provided with stinger suits and snorkelling equipment and had several opportunities to go snorkelling too. We also went on a short hike up to a beautiful lookout spot at Hill Inlet. The real stars of the show however were skipper Dave for all his knowledge and Aussie wit and Annie for making us feel so at home and providing us with an array of wonderful meals (assisted by Dave on BBQ duties) Despite being laid back and fun they also ensured we were safe and comfortable at all times and they ferried us backwards and forwards on the tender to snorkel/paddle board etc. as many times as we wanted. We were also very fortunate to have Beth from the marketing team on board who was filming part of our trip. She was a font of knowledge on marine life and was happy to share her pictures and videos with us. Overall a fantastic trip which we would love to do again one day. (Originally posted on Tripadvisor)
What an amazing experience sailing the Whitsundays with Skipper Dave and host Annie for 4 days and 3 nights. Dave was a fount of information about sailing, the geography and history of the areas we traveled. and much more. Annie treated all passengers like VIPs. Her culinary expertise was amazing. How she managed to create such feasts for the guests from her limited galley, was beyond our expectations. We were very lucky with our other passengers. All over seas visitors and very friendly and so easy to get along with. What were the highlights of our trip?..the crew, the food, the locations, the scenery, the snorkeling, the boat, the weather, plus, plus plus. The bad thing about the trip....it had to finish. Hope to see you again. (Originally posted on Tripadvisor)
Fantastic trip. Captain & decky went out of their way to make our trip extra special and more than expected. Will recommend.
Annika Steffens
, 24 Feb 23
Would absolutely do it again and again! We had the best time. Food 10/10, Crew 10/10, Boat 10/10, Place 20/10!!!
Whitsunday Blue - bucket list tick! We have just had the most wonderful 3 night sailing experience on Whitsunday Blue. Yes, the boat is a little dated, but the new owner is committed to upgrading it, and it still provides a wonderful platform to experience this stunning part of the world. The true joy was the crew. Glen, who captained us and Mariann our host. Glen constantly reviewed the weather and winds and adjusted our itinerary to ensure we were at the best spots at the right time. Snorkling, onto pristine beaches, actually sailing, what more could you ask? Mariann was incredibly attentive and ran the boat like clockwork, going above and beyond on a regular basis. The other passengers were wonderful company. We boarded as strangers and left as friends. (Originally posted on Tripadvisor)
Philippe Messora
, 16 Feb 23
The crew, Glenn and Mariann, did an incredible job. The tour was breathtaking and the food was very tasty. Food was in abundance with the main meals and snacks. The boat is in good condition. However, the details and sanitary facilities could use some love and investment. We def. recommend the trip!
Rick and Maria
, 16 Feb 23
The boat has just been taken over by a new owner and ready to impress everyone. Glenn and Mariann were the best hosts you could ask for, great food, snorkelling, amazing beaches and scenery, we had 2 other fantastic couples on board with us and by the end of our trip we had all shared an amazing experience and bonded as friends, if your looking for down to earth hosts who make you feel at home ask for Glenn and Mariann to host your trip. You will love it. Thankyou guys, hope to catch up again in the future. (Originally posted on Tripadvisor)
Big thanks to Glen och Marianne for making the trip memorable. An open initiary thats were personalised for the group and each individual. Amazing food, didnt go hungry at al. Do recommend!
Unique, superb. Captain & hostie absolutely the best. Unbeatable quality of crew and kowledge.
Ultimately memorable and astonishingly good attention from Ed and Mariann. Thank you for the great trip.
This trip was simply AMAZING! Cannot recommend enough, it's the best way to see the Whitsundays. 3 days full of snorkeling, walks, stunning beaches & the bluest seas! Zim & Jordie were the best Captain & deck hand you could ask for, so knowledgeable and attentive they truly made the trip!
Skipper Zim had set a top course! We snorkeled in a fascinating 'aquarium' full of colorful fish and coral, swam in crystal clear bays and took walks to beautiful look-outs. The skipper and his mate provided tasty meals and a great atmosphere. Our sailing trip with the Whitsunday Blue was beautiful!
Awesome cruise, food excellent, Skipper Zim wonderful sailing/cruising skills, well planned trip and negotiated weather, took us to beautiful snorkelling sites. Host Rhys very friendly and keen to learn. The plumbing on the boat needs work. 9/10 experience. (Originally posted on Tripadvisor)
Marion Hall Hall
, 03 Nov 22
Amazing experience…great captain and first mate - nothing too much trouble - they clearly wanted us to have a wonderful time.
Lauren Palmer
, 30 Oct 22
We had an amazing time on Whitsunday Blue with Zim and Beth. The places we stopped at were incredible, and we got to swim, snorkel and paddle board. The food was amazing (& abundant!), and our hosts were fantastic, we had such a fun time. We'd love to come back again!
Fantastic our captain Matty was great very informative and funny he is a credit to your company..Georgia only being new was excellent she prepared beautiful food and was always busy making sure we were all happy...again great asset to your company...the trip was amazing we saw so much.food was super
Fantastic staff Matty and Georgia. We swam with a manta ray and turtle. whales within a few metres, dolphins beside the boat . Skipper knowledgeable about the area and knew all the best snorkeling spots. Perfect weather and spectacular scenery. Water an unbelievable beautiful clear blue. Powder soft sand on Whitehaven beach. Delicious food onboard and a friendly fun time. Trip of a lifetime. Extremely good value. (Originally posted on Tripadvisor)
Katie & Arash Saidi
, 19 Aug 22
We did a 3 day/3 night sailing cruise with the above boat. Booking Ref: SW136922. We wanted to send an email to specifically highlight the professionalism, knowledgeability and just general friendliness/ fun of our skipper Harry. He was amazing! A true professional in his work. He went out of his way to make the experience not only enjoyable but also took us to some of his favourite locations and never once made our requests feel like an issue or any type of hardship! We are so grateful for him and hope that your team will acknowledge his professionalism. When we come again (and we will) we will definitely request him. We also want yo acknowledge H (Helena). She was brilliant also and made everything (ie preparing meals in the small galley) look so easy. She was always able to service any request and did so with a smile and was extremely knowledgeable about everything too: We know that it was her last cruise with us and we are so happy we got to meet her and spend the time with her too. Anyway please do let them know that we adored our experience with them, and hope that your team is able to also acknowledge them in some way.
Very enjoyable made even better by our crew of Harry and Lyla. Their expert knowledge, and their sense of humour, and wonderful meals added up to a perfect trip
Happy Traveller!
, 04 Jun 22
Just DO it! 'Skipper' Harry and Lexi made our trip so relaxed and special. The meals were great quality, Lexi made it seem effortless while Harry was full of information and humor. If you are after a relaxed time away from the crowds ( and partiers) we highly recommend Whitsunday Blue. She is older than some boats but served us well...our group all fabulous.. we just didn't want to get off! Can't wait to return to do it all again. Don't hesitate, just do it! (Originally posted on Tripadvisor)
Athol & Angela Gibson
, 29 Mar 22
We are still on our cruise disembarking this morning off Whitsunday Blue Please acknowledge what a marvellous job Dan and Lylah have done looking after your asset and us!!! They could not have done anything more to make our adventure more enjoyable!!
One of the best trips I have done! An absolute incredible itinerary including sunset drinks on the beach, and Spion Kop walk on South Mole Island. Pinky and Reece were amazing crew and everyone in the group had the absolute best time. We were lucky enough to have the BEST weather over the 3 days. I can't recommend this trip enough!
Great trip, great staff, great experiences, great flexibility.
Wonderful companions and experiences. Carl & Sasha very attentive, flexible and accomodating. Sups were fabulous, Carls humour, knowledge and sailing lessons were an added extra we didn't expect. Over all 5 starts.
Darren & Allison
, 27 Jul 21
A beautiful holiday, great mix of people and facilitated by an amazing captain and host. Five starts!!!
Just got back from a fantastic three day three night sailing trip on Whitsunday Blue catamaran. The crew were Aaron and Rachel and they made us feel welcome and safe throughout the whole trip. There were only 8 people on board which was good. We went snorkelling at many different sites, saw Whitehaven Beach and tried paddle boarding. The food was very varied, tasted good and there was plenty to eat. Aaron and Rachel worked well as a team and nothing was too much trouble for them to make our trip enjoyable. Thanks again for a great trip.
Our crew, Brad and Emma, were fantastic and couldn't do enough for us. The snorkelling was awesome with Brad finding some great spots. You could easily spend the whole 3 days in the water if you wanted. Emma was a great host cooking, cleaning, playing deck hand and generally looking after us well. And Brad did an excellent job of safely navigating us around the islands.
Sam - very amiable and knowledgeable as to Whitsundays & snorkelling spots - Ali - great cook & 'mother' Endless supply with foods - my highlight was the barramundi and I don't eat fish. The boat is comfortable and the right size for 8 guest and 2 crew The highlight of the trip was whale sighting, snorkelling - I have been wanting to do this for years.
Lea Coussa-Jandl - Canada
, 27 Sep 14
THE CREW - 4/5 Really liked the contact of both. Learned a lot from both, very accessible.
THE FOOD - 5/5 Food was very good, we didnt think wed get that level of dinner.
THE BOAT - 4/5 It was a nice boat. Rooms were perfect and had enough place. We really enjoyed it!
HIGHLIGHT - The Whitsunday Beach.
Caroline & Jan Thomas - UK
, 21 Sep 14
THE CREW - 5/5
THE FOOD - 5/5 Fantastic!
THE BOAT - 5/5 Couldn't be better!
HIGHLIGHT - All of it.
Terry & Susan Clarke - USA
, 21 Jul 14
THE CREW - 5/5 Both Aaron and Allie were wonderful! They were attentive to all the guests - called us by each name right from the start, made sure we were comfortable with all the activities and generally treated us like royalty.
THE FOOD - 5/5 Ever meals was superb. Allies planning, prep and presentation were flawless - I need to take lesson from her.
THE BOAT - 5/5 Mu first time on an overnight boat I loved the sway of the boat, the glimmer on the water. The smell of the salty ocean. The boat was fairy easy for me to get around even with my limited physical agility.
HIGHLIGHT - Aarons Humour, the trampoline, visiting around meal times, snorkelling.
Harry & Alison - UK
, 06 May 14
The crew were very pleased professional and friendly, very knowledgeable. All the food was very well presented, plentiful and varied. The boat was 1st class. The highlight was Whitehaven sands and snorkelling. 5 out of 5
Issy Hennessy - Australia
, 05 May 14
THE CREW - 5/5 Both ally and Aaron made us and the whole group feel very much at home. We had such an amazing trip and as out 2nd rime on Blue we shall be back again for sure! THE FOOD - 5/5 Couldn't be better - A great choice for all preferences! Well fed and well looked after. THE BOAT - 5/5 Excellent, very comfortable. HIGHLIGHT - Great scenery and the knowledge passed on by the crew.
Nick Plaister - Aussie
, 04 May 14
THE CREW - 5/5 Azza a great bloke, great sailor very knowledgeable on local geography, history, marine like etc. Aly extremely friendly, great cook, kept morale up, clean cabins. Both excellent customer service! THE FOOD - 5/5 Aly a very competent cook. Awesome variety, never went hungry. Only complaint was too much food! THE BOAT - 5/5 Always clean and tidy and safe. HIGHLIGHT - BLOODY BRILLIANT! Whitehaven Beach, crew awesome and great travellers with us!
THE CREW - 5/5 Amazing Captain with an outstanding knowledge of everything and excellent and very attentive host. THE FOOD - 5/5 So much food and all to an excellent standard. THE BOAT - 5/5 Amazing boat and well kept. HIGHLIGHT - Snorkelling with George the wrasse. Best trip EVER!!!
Garyn & Jason Magder - Canada
, 21 Apr 14
CREW - Very personal - happy to have net Aaron and Ali. FOOD - Great food - definitely didn't need as much as was served, but very good! BOAT - 5 out of 5 HIGHLIGHT - First snorkel and paddleboard.
Bard Salem - Norway
, 14 Apr 14
Best crew on the Whitsundays for sure!! Wish you all the best! Great and tasty food.. refreshing and light breakfast. Followed up by a great dinner in the evening. Enough space for everything if you wanted privacy or be social. Nice and well cleaned. Excellent ride on the water. Best boat trip in my life!!! Highlight - Albert, Elvis and sea turtles!
Aaron & Aly were amazing. Heaps of knowledge & always there to help or answer questions. Would love to go on another trip with them in the future. Great food - amazing what can come out of that tiny kitchen. The boat very well maintained & always clean & tidy thanks to lovely Aly.
Captain - the best I've seen! So knowledgeable + skilled! Host - absolutely lovely, amazing chef!! The food - really really appreciate the effort to provide special food for me (gluten free + vegan). The food was absolutely amazing. Thanks very much. Our veggies + fruits taste lovely + fresh. Very impressed with the boat - I want one :)
JAmin & Maik - GERMANY
, 25 Feb 14
Really relaxed atmosphere. Food cooked with love! Highlight was Allie and Dolphins.
Crew - Aaron was very knowledgably and shared his experiences with us. I felt very safe while on-board. Ali very friendly and never stopped catered us very well. Excellent trip! Food - Excellent range, well prepared was never hungry. Boat - met all our needs, suitable for journey comfortable and well stocked! Highlight - several, sunsets and snorkelling with the fish.
Marianne & Roger - CANADA
, 13 Feb 14
Aaron is very knowledgeable, informative helpful and entertaining. We were very comfortable about all aspects of the boat, snorkelling and area. There was no way we could eat all the food offered, the variety was great. Ria was great, worked hard and was very attentive.
Carl & Diana - CANADA
, 13 Feb 14
Aaron and Ally were very competent and made our tour a great and memorable experience. The food - plenty of it, we loved the nachos, lots of salads.
The crew was very friendly, good fun and always making sure everyone is happy. The food was Yummy :) never go hungry!! The boat was lovely, clean and cabins were spacious for a boat.
We booked the sunset tour because we wanted 3 nights on a boat. The skipper took us to the Whitsunday Peak lookout and that along with the beach was the highlite. Absolutely loved the trip thanks to Nat for looking after us so well. The boat is very tidy and was above our expectations..