Whitsunday Blue 3D3N
CLOSE
View More Thumbnails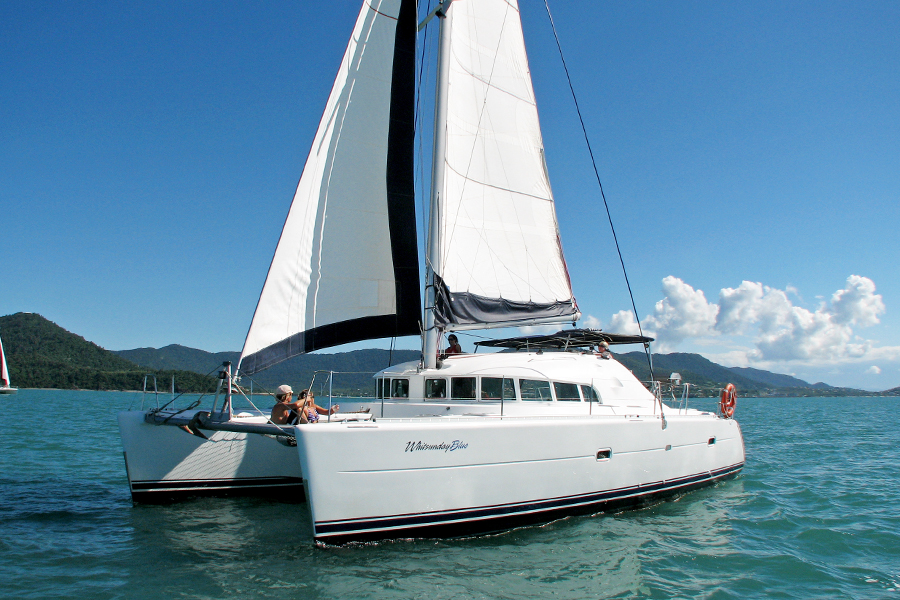 Loading...
Departure Times
Departs: 3:00 pm - Tue, Sat
Returns:
12:00 pm - Fri, Tue
Departure Point: Coral Sea Marina, Airlie Beach
Pricing Options
RRP $2110

$1950 AUD / Cabin
- Private Double with Shared Bathroom (Max 2 Guests)
(Between: 31 Mar 2022 and 31 Mar 2023)
RRP $2265

$2038 AUD / Cabin
- Private Double Cabin with Ensuite (Max 2 Guests)
(Between: 15 Feb 2023 and 31 Mar 2023)
RRP $2270

$2070 AUD / Cabin
- Private Double Cabin with Shared Bath - From April 1 2023 (sleeps 2)
(Between: 15 Feb 2023 and 31 Mar 2024)
RRP $2435

$2160 AUD / Cabin
- Private Double Cabin with Ensuite - From April 1 2023 (sleeps 2)
(Between: 14 Feb 2023 and 31 Mar 2024)
Highlights
| | | |
| --- | --- | --- |
| Whitehaven Beach & Hill Inlet | | |
| Snorkelling | | |
| SUPs | | |
Whitsunday Blue offers exclusive comfort and style in the Whitsundays, with private cabins, water sports and a spacious catamaran!
Enjoy an extended trip, lasting 3 days and 3 nights - longer than most tours in the Whitsundays
Perfect for couples and honeymooners with only 8 guests per tour
4 private rooms with ensuite bathrooms for comfort and privacy
Look forward to seeing the best of the Whitsundays including the romantic Whitehaven Beach, the picturesque Hill Inlet Lookout and the amazing fringing reefs of the Great Barrier Reef Marine Park
Customers who viewed this item also viewed...
Reviews
Overall Rating
4.9 / 5.0
Based on 41 reviews
Reviews by our Sailing Whitsundays customers
A must do experience, never forget it. Our trip made even better by an amazing crew. Thanks to captain Dave and decky Annie.
Absolutely brilliant! Cannot think of any improvement. Crew mere fantastic and made our trip. Big thanks to the captain and host.
Fantastic trip. Captain & decky went out of their way to make our trip extra special and more than expected. Will recommend.
Philippe Messora
, 16 Feb 23
The crew, Glenn and Mariann, did an incredible job. The tour was breathtaking and the food was very tasty. Food was in abundance with the main meals and snacks. The boat is in good condition. However, the details and sanitary facilities could use some love and investment. We def. recommend the trip!
Big thanks to Glen och Marianne for making the trip memorable. An open initiary thats were personalised for the group and each individual. Amazing food, didnt go hungry at al. Do recommend!
Ultimately memorable and astonishingly good attention from Ed and Mariann. Thank you for the great trip.
Unique, superb. Captain & hostie absolutely the best. Unbeatable quality of crew and kowledge.
This trip was simply AMAZING! Cannot recommend enough, it's the best way to see the Whitsundays. 3 days full of snorkeling, walks, stunning beaches & the bluest seas! Zim & Jordie were the best Captain & deck hand you could ask for, so knowledgeable and attentive they truly made the trip!
Skipper Zim had set a top course! We snorkeled in a fascinating 'aquarium' full of colorful fish and coral, swam in crystal clear bays and took walks to beautiful look-outs. The skipper and his mate provided tasty meals and a great atmosphere. Our sailing trip with the Whitsunday Blue was beautiful!
Christian Willows
, 10 Nov 22
Enjoyed out experience, especially because of our skipper Zim and host Liberty. They were amazing! Very impressed what the 2 of them accomplished, a lot for just 2 given they had an old boat to take care of and 8 guests. The food they prepared was delicious. Boat is perhaps a bit tired.
Marion Hall Hall
, 03 Nov 22
Amazing experience…great captain and first mate - nothing too much trouble - they clearly wanted us to have a wonderful time.
Lauren Palmer
, 30 Oct 22
We had an amazing time on Whitsunday Blue with Zim and Beth. The places we stopped at were incredible, and we got to swim, snorkel and paddle board. The food was amazing (& abundant!), and our hosts were fantastic, we had such a fun time. We'd love to come back again!
Fantastic our captain Matty was great very informative and funny he is a credit to your company..Georgia only being new was excellent she prepared beautiful food and was always busy making sure we were all happy...again great asset to your company...the trip was amazing we saw so much.food was super
Katie & Arash Saidi
, 19 Aug 22
We did a 3 day/3 night sailing cruise with the above boat. Booking Ref: SW136922. We wanted to send an email to specifically highlight the professionalism, knowledgeability and just general friendliness/ fun of our skipper Harry. He was amazing! A true professional in his work. He went out of his way to make the experience not only enjoyable but also took us to some of his favourite locations and never once made our requests feel like an issue or any type of hardship! We are so grateful for him and hope that your team will acknowledge his professionalism. When we come again (and we will) we will definitely request him. We also want yo acknowledge H (Helena). She was brilliant also and made everything (ie preparing meals in the small galley) look so easy. She was always able to service any request and did so with a smile and was extremely knowledgeable about everything too: We know that it was her last cruise with us and we are so happy we got to meet her and spend the time with her too. Anyway please do let them know that we adored our experience with them, and hope that your team is able to also acknowledge them in some way.
Very enjoyable made even better by our crew of Harry and Lyla. Their expert knowledge, and their sense of humour, and wonderful meals added up to a perfect trip
Athol & Angela Gibson
, 29 Mar 22
We are still on our cruise disembarking this morning off Whitsunday Blue Please acknowledge what a marvellous job Dan and Lylah have done looking after your asset and us!!! They could not have done anything more to make our adventure more enjoyable!!
The scenery, beaches and snorkelling sites were amazing. The food was also well prepared and plentiful. We wouldn't however recommend the Whitsunday Blue until it has a refurb. Tired and dated, no working air conditioning meaning sleep was impossible and fresh water for showers ran out very quickly.
One of the best trips I have done! An absolute incredible itinerary including sunset drinks on the beach, and Spion Kop walk on South Mole Island. Pinky and Reece were amazing crew and everyone in the group had the absolute best time. We were lucky enough to have the BEST weather over the 3 days. I can't recommend this trip enough!
Wonderful companions and experiences. Carl & Sasha very attentive, flexible and accomodating. Sups were fabulous, Carls humour, knowledge and sailing lessons were an added extra we didn't expect. Over all 5 starts.
Great trip, great staff, great experiences, great flexibility.
Darren & Allison
, 27 Jul 21
A beautiful holiday, great mix of people and facilitated by an amazing captain and host. Five starts!!!
Just got back from a fantastic three day three night sailing trip on Whitsunday Blue catamaran. The crew were Aaron and Rachel and they made us feel welcome and safe throughout the whole trip. There were only 8 people on board which was good. We went snorkelling at many different sites, saw Whitehaven Beach and tried paddle boarding. The food was very varied, tasted good and there was plenty to eat. Aaron and Rachel worked well as a team and nothing was too much trouble for them to make our trip enjoyable. Thanks again for a great trip.
Our crew, Brad and Emma, were fantastic and couldn't do enough for us. The snorkelling was awesome with Brad finding some great spots. You could easily spend the whole 3 days in the water if you wanted. Emma was a great host cooking, cleaning, playing deck hand and generally looking after us well. And Brad did an excellent job of safely navigating us around the islands.
Sam - very amiable and knowledgeable as to Whitsundays & snorkelling spots - Ali - great cook & 'mother' Endless supply with foods - my highlight was the barramundi and I don't eat fish. The boat is comfortable and the right size for 8 guest and 2 crew The highlight of the trip was whale sighting, snorkelling - I have been wanting to do this for years.
Lea Coussa-Jandl - Canada
, 27 Sep 14
THE CREW - 4/5 Really liked the contact of both. Learned a lot from both, very accessible.
THE FOOD - 5/5 Food was very good, we didnt think wed get that level of dinner.
THE BOAT - 4/5 It was a nice boat. Rooms were perfect and had enough place. We really enjoyed it!
HIGHLIGHT - The Whitsunday Beach.
Caroline & Jan Thomas - UK
, 21 Sep 14
THE CREW - 5/5
THE FOOD - 5/5 Fantastic!
THE BOAT - 5/5 Couldn't be better!
HIGHLIGHT - All of it.
Terry & Susan Clarke - USA
, 21 Jul 14
THE CREW - 5/5 Both Aaron and Allie were wonderful! They were attentive to all the guests - called us by each name right from the start, made sure we were comfortable with all the activities and generally treated us like royalty.
THE FOOD - 5/5 Ever meals was superb. Allies planning, prep and presentation were flawless - I need to take lesson from her.
THE BOAT - 5/5 Mu first time on an overnight boat I loved the sway of the boat, the glimmer on the water. The smell of the salty ocean. The boat was fairy easy for me to get around even with my limited physical agility.
HIGHLIGHT - Aarons Humour, the trampoline, visiting around meal times, snorkelling.
Harry & Alison - UK
, 06 May 14
The crew were very pleased professional and friendly, very knowledgeable. All the food was very well presented, plentiful and varied. The boat was 1st class. The highlight was Whitehaven sands and snorkelling. 5 out of 5
Issy Hennessy - Australia
, 05 May 14
THE CREW - 5/5 Both ally and Aaron made us and the whole group feel very much at home. We had such an amazing trip and as out 2nd rime on Blue we shall be back again for sure! THE FOOD - 5/5 Couldn't be better - A great choice for all preferences! Well fed and well looked after. THE BOAT - 5/5 Excellent, very comfortable. HIGHLIGHT - Great scenery and the knowledge passed on by the crew.
THE CREW - 5/5 Amazing Captain with an outstanding knowledge of everything and excellent and very attentive host. THE FOOD - 5/5 So much food and all to an excellent standard. THE BOAT - 5/5 Amazing boat and well kept. HIGHLIGHT - Snorkelling with George the wrasse. Best trip EVER!!!
Nick Plaister - Aussie
, 04 May 14
THE CREW - 5/5 Azza a great bloke, great sailor very knowledgeable on local geography, history, marine like etc. Aly extremely friendly, great cook, kept morale up, clean cabins. Both excellent customer service! THE FOOD - 5/5 Aly a very competent cook. Awesome variety, never went hungry. Only complaint was too much food! THE BOAT - 5/5 Always clean and tidy and safe. HIGHLIGHT - BLOODY BRILLIANT! Whitehaven Beach, crew awesome and great travellers with us!
Garyn & Jason Magder - Canada
, 21 Apr 14
CREW - Very personal - happy to have net Aaron and Ali. FOOD - Great food - definitely didn't need as much as was served, but very good! BOAT - 5 out of 5 HIGHLIGHT - First snorkel and paddleboard.
Bard Salem - Norway
, 14 Apr 14
Best crew on the Whitsundays for sure!! Wish you all the best! Great and tasty food.. refreshing and light breakfast. Followed up by a great dinner in the evening. Enough space for everything if you wanted privacy or be social. Nice and well cleaned. Excellent ride on the water. Best boat trip in my life!!! Highlight - Albert, Elvis and sea turtles!
Aaron & Aly were amazing. Heaps of knowledge & always there to help or answer questions. Would love to go on another trip with them in the future. Great food - amazing what can come out of that tiny kitchen. The boat very well maintained & always clean & tidy thanks to lovely Aly.
Captain - the best I've seen! So knowledgeable + skilled! Host - absolutely lovely, amazing chef!! The food - really really appreciate the effort to provide special food for me (gluten free + vegan). The food was absolutely amazing. Thanks very much. Our veggies + fruits taste lovely + fresh. Very impressed with the boat - I want one :)
JAmin & Maik - GERMANY
, 25 Feb 14
Really relaxed atmosphere. Food cooked with love! Highlight was Allie and Dolphins.
Crew - Aaron was very knowledgably and shared his experiences with us. I felt very safe while on-board. Ali very friendly and never stopped catered us very well. Excellent trip! Food - Excellent range, well prepared was never hungry. Boat - met all our needs, suitable for journey comfortable and well stocked! Highlight - several, sunsets and snorkelling with the fish.
Carl & Diana - CANADA
, 13 Feb 14
Aaron and Ally were very competent and made our tour a great and memorable experience. The food - plenty of it, we loved the nachos, lots of salads.
Marianne & Roger - CANADA
, 13 Feb 14
Aaron is very knowledgeable, informative helpful and entertaining. We were very comfortable about all aspects of the boat, snorkelling and area. There was no way we could eat all the food offered, the variety was great. Ria was great, worked hard and was very attentive.
The crew was very friendly, good fun and always making sure everyone is happy. The food was Yummy :) never go hungry!! The boat was lovely, clean and cabins were spacious for a boat.
We booked the sunset tour because we wanted 3 nights on a boat. The skipper took us to the Whitsunday Peak lookout and that along with the beach was the highlite. Absolutely loved the trip thanks to Nat for looking after us so well. The boat is very tidy and was above our expectations..