The Best Whitsunday Overnight Sailing Tours
If you're planning a trip up to Airlie Beach, you may be wondering what are the best Whitsunday overnight sailing tours. Many travelers choose to do day trips to the Whitsundays, which are great for those who are short on time. But if possible, try to plan at least 3 or 4 days in the Whitsundays so you can go on an overnight sailing tour!
Sailing through the dazzling Whitsunday Islands is one of those Australia bucket list experiences that every traveler should have. Overnight tours allow you to leisurely explore the inlets, islands, and coves of the gorgeous area. With ample time to snorkel in the fringing Great Barrier Reef, hike to Hill Inlet Lookout and admire Whitehaven Beach, and watch the sun rise and set over the ocean, overnight sailing tours are the absolute best way to experience the Whitsundays!
---
The Best Whitsunday Overnight Sailing Tours

Once you've decided to dedicate a few days to experiencing this magical corner of northeast Australia, you'll need to pick your tour. Luckily, we've compiled a list of the best Whitsunday overnight sailing tours so you can choose the optimal vessel, itinerary, and tour experience for you.
Whether you're a solo traveler or a backpacker looking to party, a family looking for a fun and safe getaway, or a couple looking to relax and rejuvenate, here is a quick overview of some of the best Whitsunday overnight sailing tours!
---
Apollo is a spacious maxi yacht with an extensive and successful racing history. The ship has recently been completely refurbished, giving it a new modern look and feel. Though Apollo is a 75-foot-long vessel, the tours only take 25 guests so you'll have a relaxed and intimate experience.
Enjoy 3 days and 2 nights of bliss as you sail through the Whitsundays and stop at highlights like Stonehaven Bay, Langford Reef, and Whitehaven Beach. You'll get to snorkel with the colorful fish, enjoy freshly prepared meals, and spend 3 full days soaking in the tropical sights. Apollo is an incredible overnight sailing tour for all types of travelers, though it is ideal for relaxing and is not really a party boat.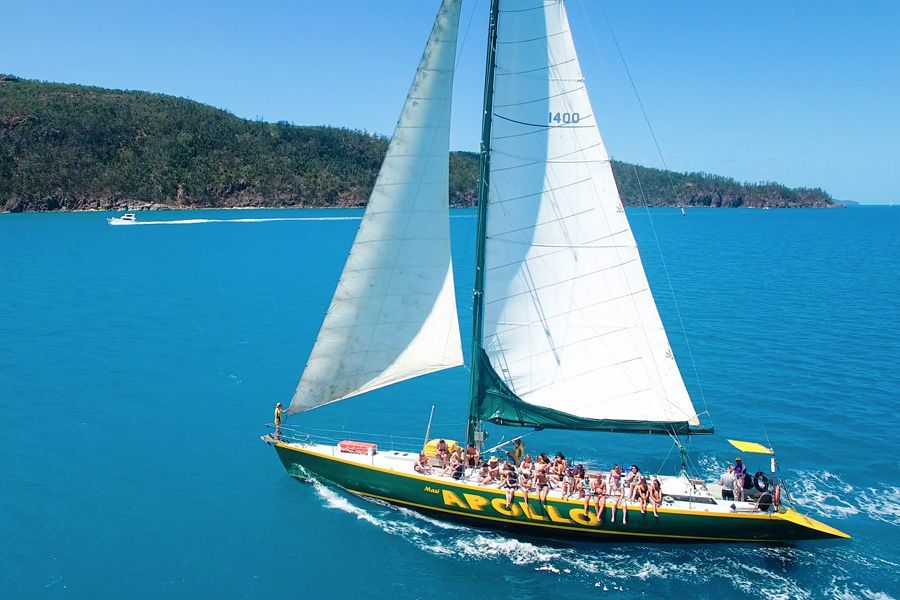 ---
Another one of the best Whitsunday overnight sailing tours is British Defender. This tour runs for 2 days and 1 night, so it's ideal for travelers who are short on time and money. Though the trip is only 2 days, you can still get a taste of the natural beauty of the area and enjoy one night at sea.
British Defender is another maxi yacht that comes in at a massive 77 feet long. The massive ship only takes 28 guests, and it even has air conditioning on the interior! In addition to lounging and enjoying meals on this comfortable maxi, you'll have two opportunities to snorkel amongst the coral reefs and you'll get to visit the iconic silica sands of Whitehaven Beach.
---
This is the ultimate Whitsunday sailing tour for backpackers and travelers aged 18-35! Atlantic Clipper is famous for being the most social and fun party boat in the Whitsundays. It is also the biggest commercial vessel in the area, coming in at 111 feet long. This tour also takes 54 passengers, so you'll have an incredible time meeting other travelers and socializing on this action-packed tour!
Also, take advantage of the waterslide, paddleboards, and huge spa on the top deck. When you're not having a blast on the boat itself, you'll be visiting the top spots in the Whitsundays. Atlantic Clipper runs for 2 days and 2 nights, with plenty of time to snorkel and sightsee.
---
Siska is another impressive maxi yacht that takes travelers on 2-day, 1-night tours of the Whitsundays. Because it's a shorter tour, it's good for travelers with less time to spare. But this vessel has a legendary racing history, so it can sail at top speeds and whisk you around to all the best sights in the Whitsundays in a short time.
This fun, social tour is packed with fun activities. Snorkel in the wildlife-filled reefs of Hook Island, snap some photos at Whitehaven Beach, and enjoy a peaceful night at sea. Siska also has a roll-out awning which provides some much-needed shade on sunny days in Tropical North Queensland.
---
Another one of the best Whitsunday overnight sailing tours for backpackers, New Horizon offers an exhilarating experience! This 2-day, 2-night tour can fit up to 32 passengers, creating a fun and social environment. Full of adventure activities, New Horizon is one of the most popular tours on the East Coast of Australia!
This is one of the few overnight sailing tours in the Whitsundays that offers scuba diving, so you can really immerse yourself in the underwater ecosystems of the fringing Great Barrier Reef. You'll also have the opportunity to go snorkeling, paddle boarding, jet boat riding, and even sliding down the massive waterslide off the side of the boat!
---
Ready to book your Whitsundays overnight sailing tour? See what's on sale here!