How Do I Get To Hill Inlet Lookout?
After traveling to Whitsunday Island by boat, you can get to Hill Inlet Lookout via the uphill walking track near Tongue Bay. Hill Inlet Lookout offers dazzling views of Whitehaven Beach, one of the best beaches in the world! Home to swirling, white silica sands, bright turquoise water, and tropical rainforest-covered mountains in the background, it's no wonder travelers flock to Hill Inlet Lookout to get the best view of Whitehaven Beach. Here is everything you need to know about how to access this fantastic lookout in the Whitsundays.
---
How To Get To Whitehaven Beach from Airlie Beach

If you're wondering, "How do I get to Hill Inlet Lookout?", the first step is to make your way over to Whitsunday Island. This is the largest island in the archipelago known as the Whitsundays Islands off the coast of Queensland, Australia. Whitsunday Island is home to the world-famous Whitehaven Beach, which draws in a huge number of tourists because it is one of the most gorgeous beaches in the world!
Airlie Beach is an exciting tourist town on the mainland that has lots of boat tours departing for Whitehaven Beach every day. You can also catch a boat from nearby islands like Hamilton Island. Hop on a tour of your choice and let your expert local guides take you over to the majestic Whitehaven Beach.
You can also charter your own boat, but there is no public ferry taking people over to Whitehaven Beach. For the ultimate vantage point, you could even jump on a seaplane or helicopter tour over Whitehaven Beach!
---
How Do I Get To Hill Inlet Lookout?

Once you arrive on Whitsunday Island, your tour boat will moor in Tongue Bay and transport you to shore where you can access Hill Inlet Lookout! Tongue Bay is a small, calm bay just north of Whitehaven Beach. From Tongue Bay, there is a 250-meter walking track through the bush called the Beach Track. The Beach Track brings you right over to the northern side of Whitehaven Beach!
Along the Beach Track, there is a junction where you can turn off towards Hill Inlet Lookout. The Hill Inlet Track is 700 meters long and ascends upwards through the bush to the lookout. At Hill Inlet Lookout, there are multiple viewing platforms where you can capture the best photos of the iconic Whitehaven Beach.
Hill Inlet Lookout is best viewed at low tide when the cerulean waters have dipped low enough to reveal the shifting sands. So depending on the tide schedule, your tour may bring you to the lookout before or after a few hours of enjoying the beach.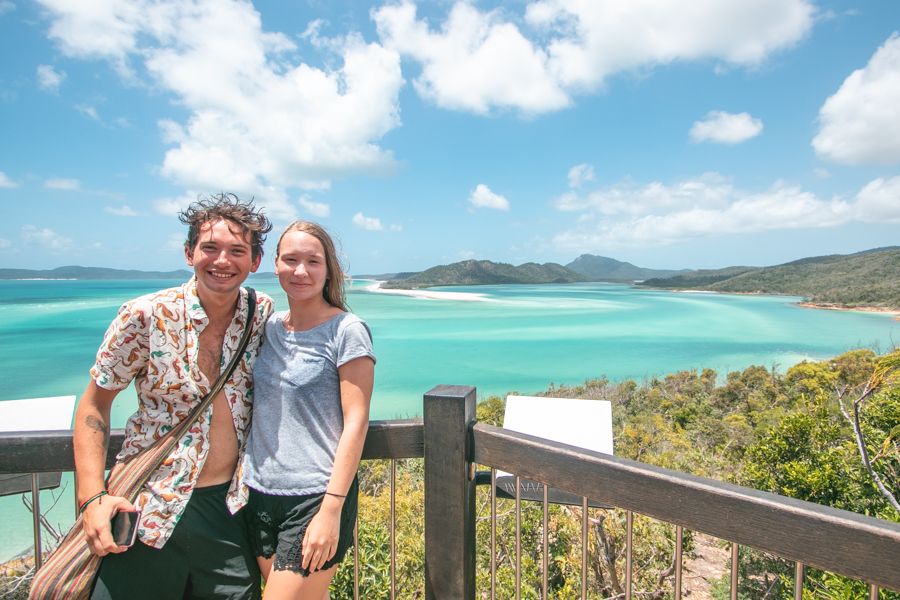 ---
How Hard Is The Walk To Hill Inlet Lookout?

The 700-meter uphill bushwalk to Hill Inlet Lookout is relatively easy and suitable for people of all ages and fitness levels. It is an uphill walk, but it winds gradually through the forest so it's not too steep. If you're not a hiker, you can still make it up to Hill Inlet Lookout if you just take your time! Relax and admire the native flora and fauna in the forest around you. Most people can complete the walk to Hill Inlet Lookout in about 30-45 minutes.
The walking track to Hill Inlet Lookout is very clear, easy to follow, and well-maintained. Some parts of the path are made of gravel, boardwalk, and stone steps. Make sure you pack the essentials for your hike up to Hill Inlet Lookout, including water, snacks, and sun protection. And of course, don't forget a camera!
---
What To Do On Whitehaven Beach

After you've finished your hike to Hill Inlet Lookout, enjoy the natural beauty of Whitehaven Beach! Head back down the Hill Inlet Track and turn onto the Beach Track to access the northern end of Whitehaven Beach and the nearby hidden gem known as Betty's Beach. You can swim in the calm waters around Hill Inlet, just keep your eyes peeled for local marine life such as lemon reef sharks and stingrays! These creatures are peaceful and harmless if you respect their space.
Some Whitehaven Beach tours also include fun activities that you can try. For example, Whitsunday Bullet offers free paddleboards to use, and Ocean Rafting includes snorkeling. For more time on Whitehaven Beach, you can camp overnight, book a multi-day sailing tour, or charter your own boat and plan your own adventure.
---