How Do I Spend A Day In Airlie Beach?


Only have a day to spend in Airlie Beach? Maybe you're stopping mid-road trip, spending the day off the cruise ship, or perhaps you're killing time before you have to board that bus? No matter what the reason is, you have a day in Airlie and you want to make the most of your limited time. Lucky for you, this article is tailored towards those needs. We have rounded up the best activities you can do to still make your time in Airlie Beach as memorable as possible!
Airlie Beach is located in North Queensland's Whitsundays, the home of the Great Barrier Reef and those famous Whitsunday Islands. But don't let that stop you from thinking you won't have enough time to see it all... trust us, we have full day tours and half day tours coming out of our ears that will have you seeing all the sights in just one day!
Here's how you can spend a day in Airlie Beach!
---
Stroll along the Boardwalk and stop at the Fat Frog Cafe


Wanting to squeeze in a little bit of exercise on your holiday? Take the Bicentennial Boardwalk which stretches from the Airlie Beach Lagoon through to Cannonvale Beach. The walk is 2.2km each way and winds you past the Coral Sea Resort and Marina. Admire the impressive coastline along the boardwalk and be sure to take photos of the stunning views. Stop at the local favourite, Fat Frog Cafe opposite Cannonvale Beach for a healthy bite and a coffee to break up the walk.
---
Have breakfast at Paradiso

Photo: Paradiso

Start your day off the right way - which is by sipping coffee in front of a postcard worthy, tropical backdrop! Paradiso is a restaurant located on Airlie Beach's main street, overlooking the ocean. Peruse the mouth-watering breakfast menu and take your pick of meals from Eggs Benedict to waffles, and drinks from espressos to smoothies. Gaze out at the stunning islands and anchored sailboats in the water as you enjoy your food and soak in the beauty that Airlie has to offer.
---
Watch a band play at the Airlie Beach Hotel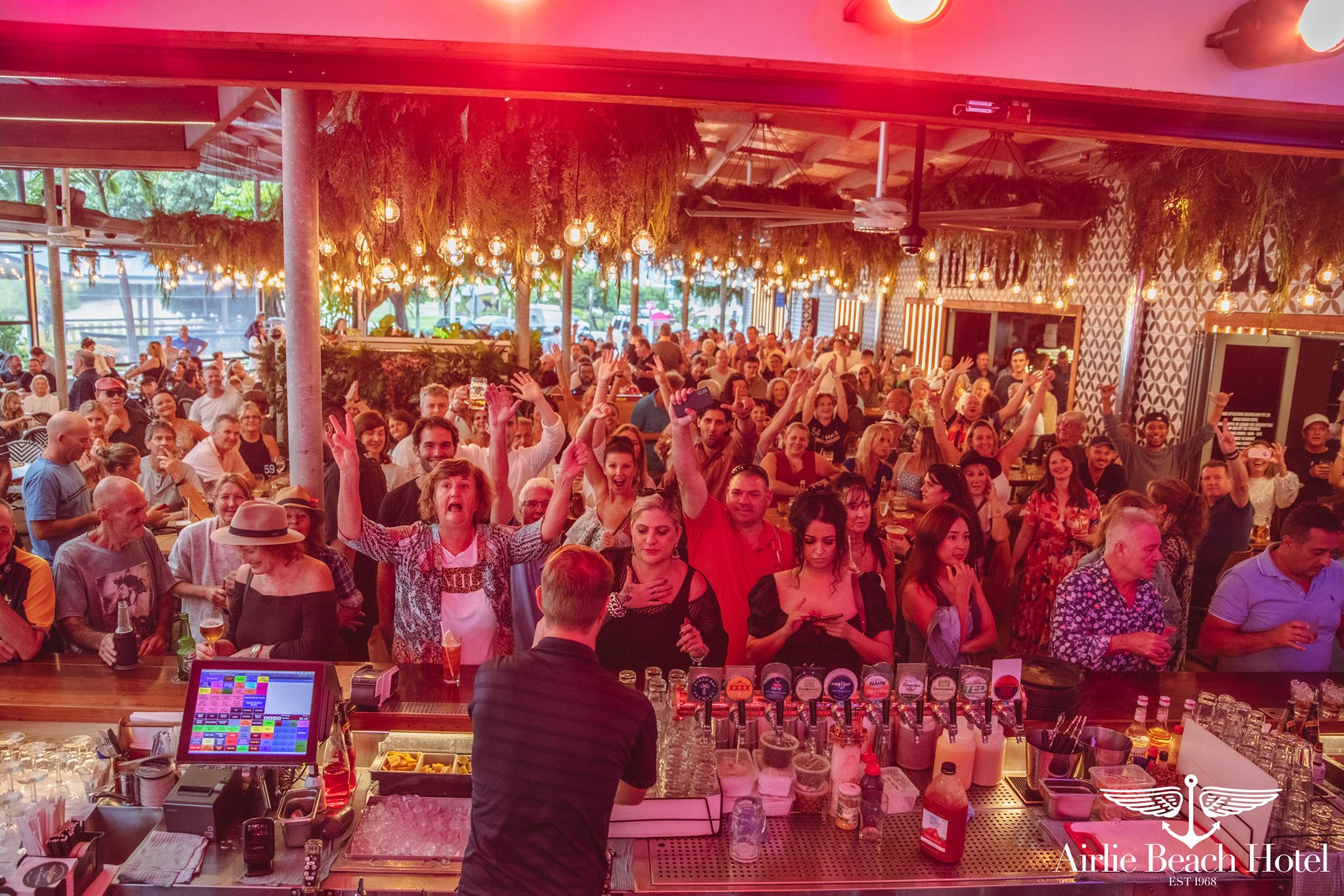 Photo: Airlie Beach Hotel

Each week, different artists perform at the Airlie Beach Hotel so you might be able to catch some live music while you're here for the day. Some gigs do have a cover fee but there are also artists who you can watch for free as you enjoy drinks or a meal. Stay up to date with upcoming events at the Hotel so you can ensure you don't miss out. Nothing screams holiday mode more than sipping a refreshing beverage, listening to live music.

---
Take a half day trip to Whitehaven


If you're short on time but don't want to miss out on getting that tropical island experience, then take a half day trip out to Whitehaven Beach. The tour leaves at 8:30am and returns at 12:30pm, which means you still get plenty of time to squeeze in afternoon activities too. Whitehaven is a 7km long beach where crystal clear water is met with pure white sand. Learn fun facts and history about the region from the passionate and knowledgeable crew. Cruise through the scenic Whitsunday islands and spend a couple of hours relaxing on the silica sand, hiking up to the Hill Inlet lookout and dipping in the cool, turquoise waters. Whitehaven is so photo-worthy that you'll be posting snaps of your time here for weeks after!
---
Enjoy lunch at La Tabella

Photo: La Tabella

If you're a lover of Italian food, La Tabella has your name all over it. Splurge a little and enjoy a gourmet lunch sitting across the road from the water. Choose from freshly homemade pastas, pizzas and all things Italian as you sip on Prosecco and truly savour your time in Airlie Beach. Considered Airlie's best Italian restaurant, you'll be thinking about the food here for months on end. Buon appetito!
---
Experience the local seafood at Fish D'vine

Photo: Fish D'Vine

Fish D'vine is constantly swarming with both locals and tourists as it's a crowd favourite. The lunch and dinner menu is ever-evolving and changing with the seasons. Choose from squid ink linguini, local grilled Barramundi or a San Francisco style seafood chowder and get your fresh seafood fix. The restaurant also has a Rum Bar with a diverse menu from Cuban cocktails to Barbados rum. The atmosphere is lively, the staff are genuine, and the food and drinks are to-die-for!

---
Go to the markets if you're here over the weekend


If your day in Airlie happens to fall on a Saturday then the markets are a must! Lined up along the foreshore are all sorts of stalls teeming with every type of knick-knack you can think of. Locally made art, jewellery, crafts, souvenirs, clothing, food, and plants are just a few to name. The buzzing atmosphere is the perfect way to interact with some of the locals and see what Airlie has to offer.
---
Lay by the lagoon


Switch into true holiday mode and kick back under a palm tree by the Airlie Beach Lagoon. In the heart of the town and along the foreshore is where you can find this tranquil lagoon. Free from stingers and patrolled by lifeguards, it is the ideal place to swim year-round. Grab a book, lay out your towel and soak in that warm, Airlie sunshine.
---
Have a cocktail and watch the sunset


Anchor Bar is said to be one of the best places to sip cocktails and watch the sunset over Airlie Beach. Tucked away off Golden Orchid drive, behind Airlie's main street is where you can find this hidden gem. Anchor Bar has a lively atmosphere, incredible views and friendly staff. With a long cocktail list and a delicious dinner menu, it is the ideal place to wind down after an exhausting but rewarding day of squeezing in as many Airlie activities as possible!
---
End your day with a sunset cruise


If you're itching to get on the water but don't want to spend all of your limited time on a boat, a short, sunset sail is the perfect choice. From tallships to catamarans, there are various types of sunset cruises that sail you to different locations within the Whitsundays. Sit back with a drink in hand (most cruises are licensed), snack on complimentary nibbles and watch the symphony of colours the sky produces as the sun sets behind the islands. Check out the wide selection of sunset cruises to round out your adventurous day in Airlie.
---
Nightclubbing at Mama Africa's

Photo: Mama Africa

Airlie is known for its bustling nightlife culture, so if you're here for the night and in the mood to party, check out Mama Africa Bar and Nightclub. This hip, safari themed club is open Thursday through to Sunday from 8pm until 3am. With four resident DJ's playing a range of current and throwback tunes from electronic to RnB, you can dance until your feet hurt. Plus with free entry before 10pm, what's not to love?
---
If you're only here for the day and lugging around suitcases or backpacks isn't what you want, we've got luggage storage available at our Travel Shop. It's only $10 per bag for the duration of your stay and our staff will ensure it is safe and secure!
---
Chat to our team of friendly experts if you want to find out other ways you can spend your day in Airlie Beach!
Live chat, call us on +61 74914 2425 or come into the store today!