Airlie Beach Lagoon
Updated Fri 03 Nov 2023
Searching for a public place to swim in Airlie Beach, free from stingers and monitored by lifeguards? Located in the town's centre, the Airlie Beach Lagoon is a popular swimming spot for families with kids, groups of backpackers and anybody looking for a refreshing dip in the tropical temperatures!
Completely free for all visitors, the lagoon itself is more than 4,000 square metres, providing a spot for everyone to kick back and take in the adjacent views of the Coral Sea and Whitsunday Islands. The sunshine, ocean breeze and freshwater is the perfect place to relax with friends or family in the absolute heart of Airlie. Bring your rug, snacks and swimwear, the Lagoon is a visitors' and locals' favourite!
---
Airlie Beach Lagoon Opening Hours
It's good to know that the Airlie Beach Lagoon is open daily during any month of the year. However, note that the Lagoon opening hours are seasonal!
Summer season opening hours (September to May): 05:30 am to 9:00 pm daily.
Winter season opening hours (June to August): 05:30 am to 7:00 pm daily.
During opening hours, the Airlie Beach Lagoon is completely patrolled by trained lifeguards, providing a safe place for everyone to swim. Outside of hours the Lagoon is guarded by security and cannot be accessed by the public.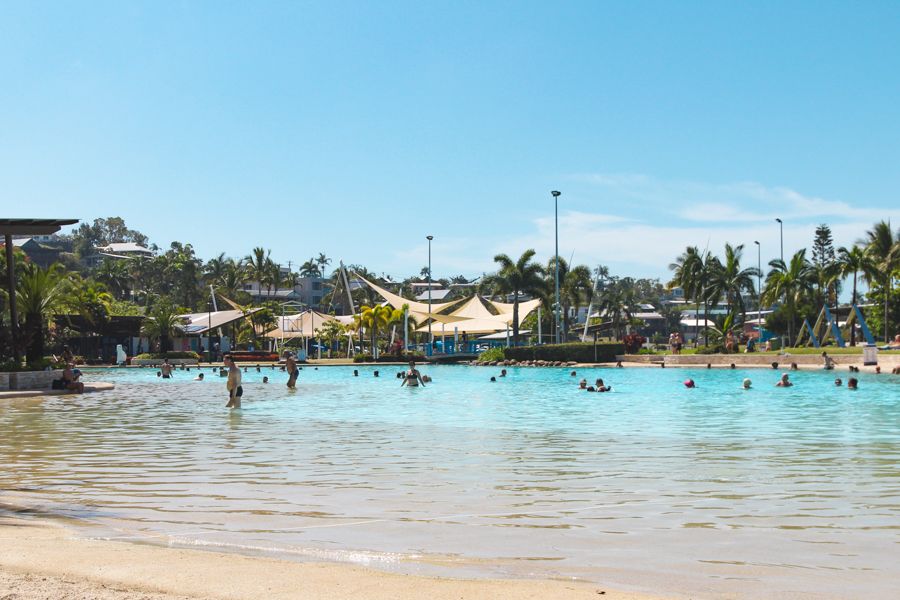 ---
Airlie Beach Lagoon Facilities
The contained lagoon offers a protected place, free of stingers, that is perfect for avid swimmers, families, and even athletes looking for swimming lanes. There is a children's pool situated at one end with shade sails above, and a pool suited for adults that goes up to 2 meters deep.
The Airlie Beach Lagoon is a go-to for both locals and tourists, with barbecue facilities, shaded picnic areas, landscaped gardens, washrooms, change rooms and a state-of-the-art play area for kids.
Not only is it a watering hole located in the centre of town, but it is also one of Airlie Beach's favourite free facilities, making it a great place to meet people, socialise, and relax. Take your friends and family along for a barbeque, or spend some time with some new friends under the sun!
---
Airlie Beach Lagoon FAQs
Here are some common questions travellers may ask about the Airlie Beach Lagoon. It's one of the main landmarks in town, so you'll most likely spend some time here!
Is the Airlie Beach Lagoon heated?
The Lagoon is comfortably heated during the milder winter months so all visitors can enjoy a relaxing plunge. During the summer, the Lagoon is not heated as the Airlie Beach temperatures are warm enough!
Can I bring my dog to the Airlie Beach Lagoon?
Unfortunately, the Airlie Beach Lagoon is not pet-friendly. However, if you're searching for a beach on the mainland to take your furry friend, check out these dog-friendly beaches on the Whitsundays mainland.
Is the Airlie Beach Lagoon chlorinated?
Yes, the Airlie Beach Lagoon is chlorinated. The freshwater in the spacious Lagoon consists of salt water and chlorine and goes through an additional filtering process.
Where else can I swim in Airlie Beach?
If you're searching for an ocean swim during your time in Airlie Beach, check out these beaches on the Whitsundays mainland. If you're entering the ocean around Airlie Beach and the Whitsundays during stinger season, be sure to wear a stinger suit and swim within a stinger net. Find out more about the Airlie Beach and Whitsundays stinger season precautions here.
If you're staying in the vibrant coastal town of Airlie Beach, make sure to check out our local's list of top free things to do in Airlie Beach! With more than an abundance of stunning hikes and walks, delicious places to eat, and a bustling nightlife scene - there is something for everyone in Airlie!
You're at the gateway to the Whitsunday Islands! Be sure to book a jam-packed day tour full of snorkelling, exploring Whitehaven Beach, and sailing! Or explore more of the Whitsundays on an overnight sailing tour!
*Please note, opening times may vary according to the season
---
To rent a car, or organise a jam-packed day or overnight tour of the surrounding Whitsunday Islands live chat or call +61 74914 2425 to speak with one of our friendly, local travel experts!