The Top 15 Free Things To Do In Airlie Beach
Airlie Beach, located in the Whitsunday region on the East Coast of Australia, is full of amazing tours to incredible destinations. If you're planning on spending a bit of money on tours to places like Whitehaven Beach, Heart Reef, and on overnight sailing charters, you may be looking for some free activities to do in Airlie Beach outside of your tours. Well, look no further! Our team of locals have put together 15 recommendations for enjoying this little slice of paradise without blowing your entire holiday budget!
---
1. Swim at the Lagoon


Airlie Beach's quaint seaside village has a relaxed atmosphere, and the CBD is located right on the shoreline. Right in the centre of town on the shore is the Airlie Beach Lagoon - And it's completely free to use! Grab some mates, a book, and plenty of sunscreen and enjoy the salt and chlorine swimming pool year-round from early in the morning till late at night. Lifeguards are posted for everyone's safety, and you'll never run out of space in the 4,300sqm watering hole.
---
2. Barbecue on the Beaches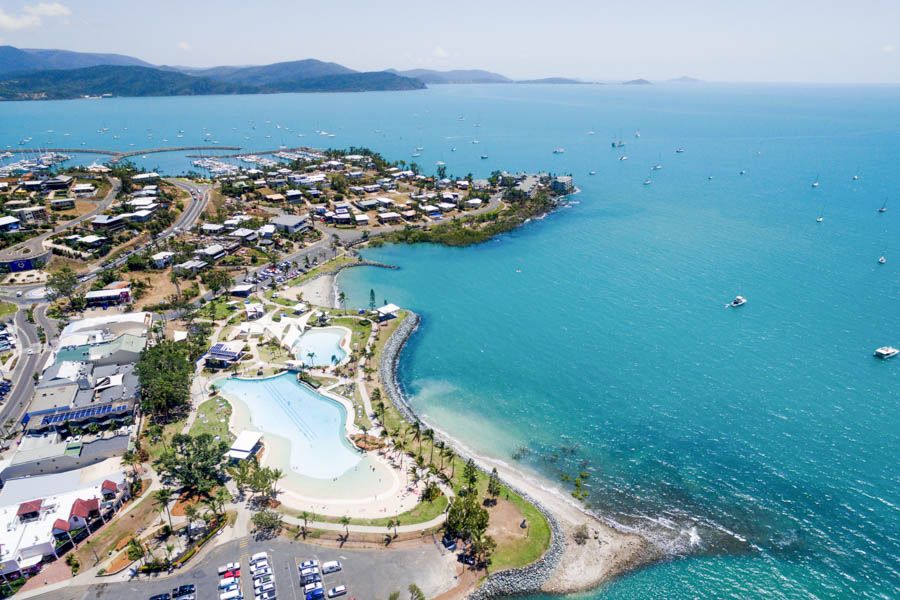 Another great way to spend an afternoon or evening without breaking the bank is to utilise the town's many complimentary BBQ facilities. Grab some snags, spray oil and some salads and head down to several areas right on the beach, such as the Airlie Foreshore, Airlie Beach Lagoon, Shingley Beach, and Cannonvale Beach. Pair your tasty sausage sammie with the stunning hues of an afternoon sunset, and you'll be set for an afternoon of alfresco bliss!
---
3. Take in the views from the Bicentennial walkway


Stretching roughly 3.7 km along the shoreline, the Bicentennial Walkway connects Cannonvale to Airlie Beach. This moderate and mostly flat walk is a perfect way to get the layout of the land while taking in the beautiful water views the town is famous for. Starting at The Whitsunday Sailing Club, the walk winds through the CBD and Foreshore, before heading through the Coral Sea Marina Resort, Shingley Beach, VMR and finally ending at Cannonvale Beach. There are plenty of restaurants and cafes to stop and grab a coffee or a cold one along the way, making for a pleasant afternoon of exploring.
---
4. Hikes and Bushwalks


The Whitsundays have an abundance of hiking and bushwalking trails, being located in the tropical rainforest. Hikes range from moderate, such as the Airlie Creek and Coral Beach walk to challenging with Honey Eater and Mt. Rooper. Discover rare Australian flora and fauna, hidden creeks and naturally formed plunge pools, as well as experience breathtaking panoramic views of the Whitsunday Islands from some of the many vantage points these walks offer. Read more about the different hikes around the region here.
---
5. Live Music


Airlie is known for its live music culture, and just about every pub has some of our local and travelling talent on offer 7 days a week. Check out venues like The Pub and Magnums Hotel for bigger travelling acts, and for some homegrown roots check out the Shed Bar on Sundays. Local and touring DJs also frequent our nightclubs and other venues like Anchor Bar, and KC's offer intimate relaxing vibes with acoustic sets. Read more about Airlie Beach's nightlife here.
---
6. Hydeaway Bay


If you're mobile, taking a scenic drive out to Hydeaway Bay should be on your list while visiting Airlie Beach. Located about 40 minutes out of town, Hydeaway Bay boasts incredible views of a different set of Whitsunday Islands, along with some beautiful resorts to stop and sunbake or grab a bite to eat, such as Monte's Resort and Cape Gloucester Eco Resort.
---
7. Weekly Events


There are plenty of weekly events at different venues around town to choose from. Keep an eye out for poker and trivia nights, karaoke, and sunset and sunrise yoga on the beach, and even complimentary drinks on Ladies Night at some pubs! While not all these activities may be completely free, they will usually only set you back a very small entry fee. If it isn't enough to just save some money, why not make some? Several pubs have weekly events where the adventurous backpacker can win cash prizes, such as Cane Toad Racing and bikini competitions, so if you're keen to get out and part of some of the action, check out the events tab on Facebook.
---
8. Cedar Creek Falls


If cooling off in freshwater sounds like your cup of tea, you must check out Cedar Creek Falls. Hidden in the Conway National Forest about a 20 minute drive out of Airlie Beach lies a beautiful series of waterfalls cascading into a naturally formed swimming hole. One of the most common questions online has to be "Is Cedar Creek Flowing?" and to truly see the falls in all their glory you're best off visiting this in the wet season, during our Summer months after a rain.
---

9. Check out the airport hangar

It might be a quirky idea, but one of Airlie Beach's biggest drawing cards is the Whitsunday Airport, featuring the beloved Hangar Cafe and Bar. Sit back, relax and watch the planes fly in! Airlie Beach locals and tourists love this activity for its uniqueness, so get in quick!
---
10. Go to the Airlie Beach markets

One of the best drawing cards back on land in Airlie Beach is the Airlie Beach Markets. Hosted every Saturday right on the esplanade, it's a hotspot for both locals and tourists alike who flock from all over the Whitsundays to soak up the vibrant atmosphere. With an amazing range of stalls to meander through and wander around, you're bound to find something that catches your eye! Sip on delicious cups of steaming coffee, enjoy a freshly made market meal or buy a trinket for someone you love!
---
11. Discover a secret beach

Known for its incredible beaches, the Whitsundays boasts one or two secret beaches that only locals know about. Whether you're perusing the coast of the mainland or exploring the islands by bareboat, there are a million and one bare and empty beaches with your name on them. One of the best ways to find these secret beaches is to ask a local – and if you're lucky and you've hired a skipper, maybe they'll even whisk you there.
---
12. Roadtrip to Bowen

Bowen is a town a few hours north of Airlie Beach, making it a wonderful place to explore for the day if you've seen all there is to see. Featuring a handful of jaw-dropping beaches, like the world-famous Horseshoe Bay, this is one of the best places to try the delicious local seafood. So pull up a chair, crack open an oyster and watch the kids splash around in turquoise water before making your way back to Airlie Beach.
---
13. Cape Gloucester


Touted as Airlie Beach's best-kept secret, Cape Gloucester is completely devoid of tourists and full of beauty. Located about a 40-minute drive north of Airlie Beach, Cape Gloucester is home to stunning scenery featuring crystal clear waters, bright golden sand and peace and quiet. Once you've seen this gem, you'll want to scream it from the rooftop!
---
14. Go fishing

With all of the wonders that come with crystal clear waters and a thriving reef, fishing is another incredible activity to take advantage of while you're in town. With a handful of great fishing tours available in the area, you'll be taken out into the Great Barrier Reef where your expert guides will show you the ropes and help you cast a net! Already a pro with your own line? Why not take it for a spin at one of our beautiful beaches?
---
15. Bird watching

The beauty of the Whitsundays isn't just in the water – it's in the sky, too! Renowned for its wonderful bird-watching sights, the forests and national parks around Airlie Beach are perfect for patient bird watchers! Head to Conway National Park and spot an Emerald dove, a sulphur-crested cockatoo and our beloved brush turkey! Keep your eyes peeled for the beautiful birds of the Whitsundays!
---
Now that you know what you can do outside of your overnight charter, it's time to choose a boat! Click here to find out which boat is right for you, or chat with us to find out our current specials!