Nightlife - Where To Go In Airlie Beach
Updated Tue 18 Apr 2023
From the moment you arrive in Airlie Beach, you can hear the hum of a good time. This vibrant coastal town is renowned for its nightlife and has often been referred to as the party capital of Queensland!
Image Source: Paradiso Rooftop Bar & Restaurant
Backpacker hostels, fully equipped with licensed bars, offer cold beer at cheap prices and a variety of activities to keep you busy! In some bars, you can play pool, volleyball or even giant Jenga while you mingle with fellow travellers. Pubs and nightclubs line the main street of Airlie Beach and fill with locals and visitors alike as dusk falls.
Seven days a week, you are guaranteed to find bars that are hosting DJs, sensational acoustic performances and other live music till the break of dawn! Let the locals fill you in on the best bars and nightclubs in Airlie Beach - before and after midnight!
---
Best Venues in Airlie Beach Before Midnight
Located within the Airlie Beach Hotel, 'The Pub' has brought a fresh, modern and lively entertainment and dining venue to Airlie Beach and is by far the biggest and busiest bar in town! Originally opened in 1968, The Pub is where you can always find a local enjoying a beer or groups of mates catching up playing pool. A pub crawl night out wouldn't be complete without a visit to The Pub!
The Pub is located on the Airlie Beach Esplanade and is open 7 days a week.
Ready for cocktails with the girls or a romantic date overlooking the glistening Coral Sea? Paradiso is where dreams come true! We recommend climbing the stairs to the Rooftop Bar at sunset, where a cocktail menu bursting with colour is calling your name! From 7 pm to 10 pm every Friday and Saturday make sure to enjoy Paradiso's live music, a perfect way to begin your night of fun in Airlie!
Paradiso Rooftop Bar & Restaurant is located in the heart of town, along the foreshore of Airlie Beach.
Image Source: Paradiso Rooftop Bar & Restaurant
Boatys is the talk of the town, especially on a sunny Whitsundays afternoon! With a large and spacious outdoor deck, complete with umbrellas, and indoor seating options, it's a picture-perfect establishment to unwind for the afternoon before hitting the town of Airlie Beach later on! Order a delicious cocktail, stroll on over for a Taco Tuesday feast, and gather your mates for a golden hour catch-up!
The Boat House is located in the centre of Airlie Beach, only 50 metres from the famous Airlie Beach Lagoon.
Just a short shuttle bus ride from the heart of Airlie Beach is Northerlies, home to beachfront beer gardens, delicious seafood platters, live music galore, and enchanting backdrops of the Whitsundays Coral Sea! Boasting multiple sections, there is a laid-back tropical vibe to suit everyone's afternoon cocktail dreams. We recommend making the trip to visit this stunning hidden gem of a bar!
Northerlies Beach Bar & Grill is located at Freedom Shore Resort, a 10-minute drive from the Airlie Beach Esplanade. Courtesy shuttle buses run from Airlie Beach.
---
Best Nightclubs in Airlie Beach.
Mama's is the late-night mash-up venue of choice in Airlie Beach and easily the most popular nightclub in town! Follow the red carpet up the mural stairs to this surprisingly little nightclub with zebra crossings at every turn. If the RnB doesn't get you moving then enjoy a delicious cocktail and soak up the lively fun - and then you'll be sure to join the dancefloor! Don't think of going before midnight, that's when Mama's really begins to fire up!

Mama Africas is located in the Lagoon Arcade on Airlie Beach's main street.
Image Source: Mama Africas
Boom Nightclub truly gets going after midnight and into the early hours of the morning - it's the place you will want to be in Airlie Beach! This upmarket nightclub has an atmosphere alone that will keep you going for hours, with an array of fun DJs hitting the decks 5 nights a week. Dance music, laser lights and comfortable seating booths for when your feet get tired - this is where to go if you want to end your night on a high!
Boom Nightclub is located above Paddy Shenanigans on Airlie Beach's main street.
Image Source: Boom Nightclub
With a large patio seating area, gaming lounge, pool tables and more, Magnums is the perfect place to enjoy an outdoor beverage at any time of the day - it's huge! Whether you're looking for a foam party, live music, pool tables, or just some good banter with views of the main street atmosphere, Magnums has it all. The ideal venue to bump into another backpacker you met in Noosa or on your Whitsunday sailing trip!
Magnums is located in the heart of Airlie Beach's main street and is open 7 days a week.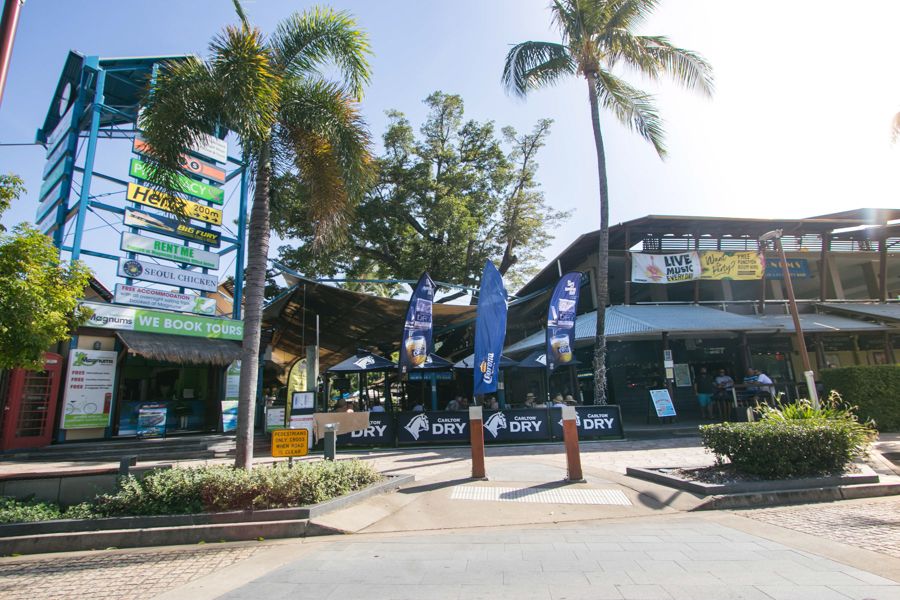 Beaches is a backpacker favourite and where most post-boat trip parties begin! It is a pumping bar and bistro, that is popular amongst the locals and tourists. Boasting pool tables, live music, a gaming room, cheap food, happy hours, and an unmissable ladies' night, Beaches is a must-visit on your Airlie Beach nightlife bucket list! Beaches gets busy after 8 pm, and by 10 pm is generally packed with vibes, good times, and dancing!
Beaches Bar & Grill is centrally located in the Airlie Beach main street and is open 7 days a week.
Image Source: Beaches Bar & Grill
Paddy's is a very popular Irish pub that you cant' miss! A true local favourite, this venue offers amazing live music performances, a balance of seating and open dance space, and their signature drink - the Nashy (alcoholic cider, vodka and Redbull)! If you are looking to add a kick to your night, this drink is sure to put a stride in your step!
Paddy's Shenanigans is located in the Airlie Beach main street and is open 7 nights a week.
Image Source: Paddy's Shenanigans
Airlie Beach's coastal hub sure is brimming with classy eclectic bars, enchanting seaside cocktails, lively beer gardens, and the best of nightclubs blaring the best of beats! We can't wait to show you an unforgettable night hitting the town!
For more information on all the restaurants and bars in Airlie Beach, be sure to check out Whitsunday Menu!
---
Recover after dancing the night away in tropical Whitsunday Islands bliss!
Call us on +61 7 4914 2425 or live chat with a friendly team member for the best of Whitsunday deals and advice!