The Whitsunday Sailing Club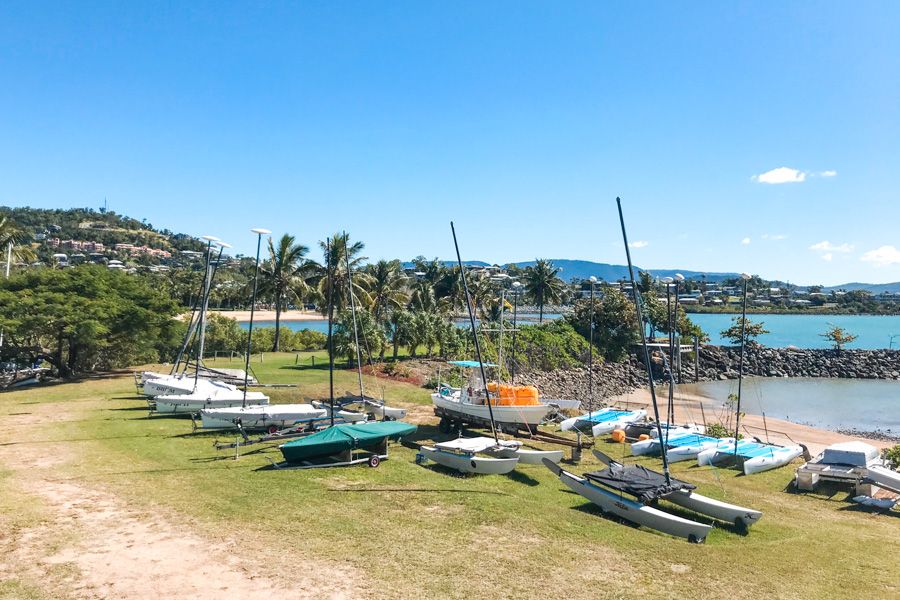 Stunning views and delicious food welcome you at Airlie Beach's Whitsunday Sailing Club. It is a mecca for local sailors and visitors alike. Commanding one of the very best locations in town, it is the ideal place to enjoy a meal or a few drinks on the balcony... We can't think of a better way to soak up some of the Whitsundays best views. Boasting a warm and welcoming atmosphere, the local sailing club has been an institution in this small seaside village since the early days. On any given day, you will find an eclectic mix of visitors, sailors, cruisers and racers... everyone is welcome!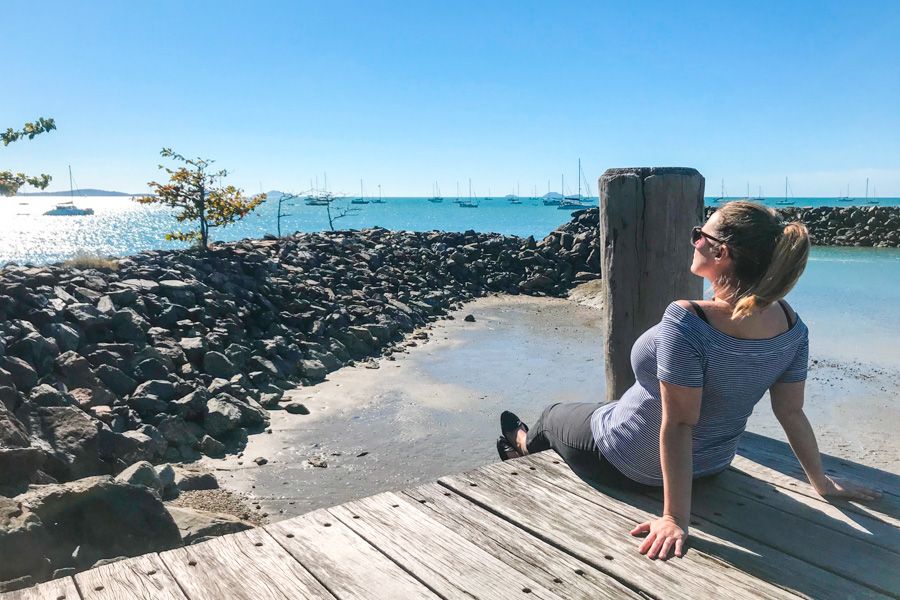 Location, Location, Location!
The Sailing Club ends the bicentennial walk, which starts from Cannonvale Beach and winds along the shoreline through the CBE and Airlie Beach Lagoon, finishing just beyond the newly renovated Airlie Beach Foreshore. Being on the pinnacle of this part of town, the views are spectacular, and the rock wall even provides one of the perfect fishing spots in the Whitsundays.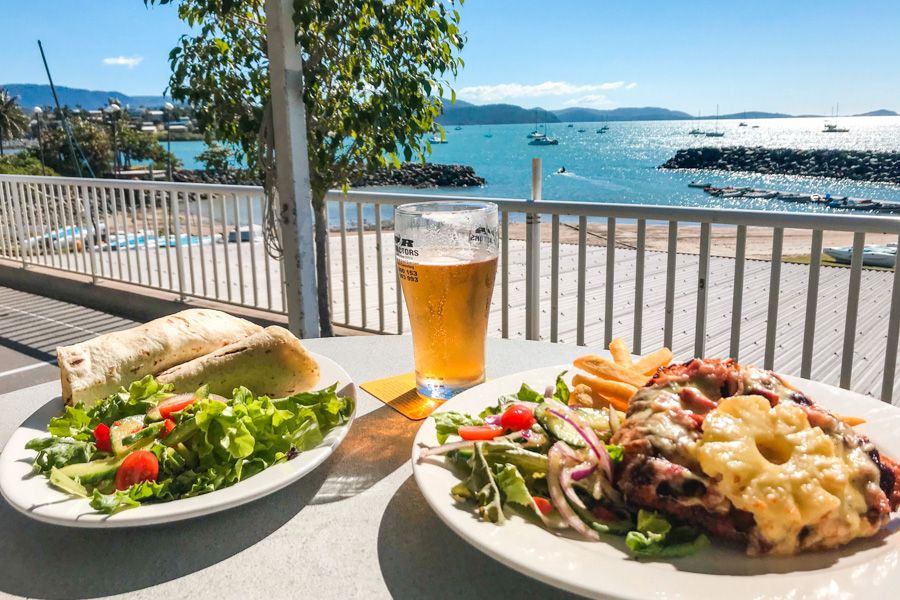 Good Food, Great Price
The club's famous balcony proves to be a town favourite for a meal after a day spent at sea. Better yet, the club is well renowned for the excellent quality of its food and cheap prices due to its community ownership.

Unfortunately, hidden secrets such as this one are not well passed on to overseas visitors. At Sailing Whitsundays, we do not want you to miss out on this hot spot! Let us give you some inside information... Yacht clubs around Australia more than less command the very best waterfront locations. They are community owned and therefore are run as not for profit organisations. They are funded by their members and the many fundraisers organised by the community, therefore they are always budget friendly without compromising quality. The food will always include local content and usually the best seafood can find its way to Australian yacht clubs. Locally caught fish are regulars on the menu, including such Queensland favourites as red emperor, Spanish mackerel and coral trout! The Whitsunday Sailing Club offers regular specials daily, including around the world buffets so you don't have to go far to travel the world through your tastebuds!

Fun Races and Events
The Whitsunday Sailing Club is also host to a number of active sailing programs, such as Wednesday night Twilight Sailing Races, offshore races, off beach races, and are host to many sailing schools for kids and even charitable programs such as Sailability. One of the biggest highlights on their calendar is the Annual Great Whitsunday Fun Race.

Every year, during the first week of September, sailing crafts ranging from bathtubs too huge visiting tall ships deck out their vessels in colourful paraphernalia to impress the judges. The best adorned and decorated crew take to the bay to race for an empty bottle of rum. This popular event attracts hundreds of boats and the lawn party that follows (at the Whitsunday Sailing Club)is always described as Airlie Beaches biggest party of the year. For up to date information on upcoming events, visit their official website here.

Maritime Training Centre
The Whitsunday Sailing Club also encompasses the local maritime training centre, a must have for a sailing town like Airlie Beach. You can get certifications in order to work in the charter boat industry, or simply learn to sail! Certifications include recreational boat license, jet ski license, first aid courses, coxswains, bareboat briefing training, and much more. Many charter boats require at least a first aid course and dinghy license, so if your dream is to work on the water while in the Whitsundays, you can find all the training you need right here. There are also 2-5 day training course packages available that will get you all you need to start your maritime career!

We highly recommend that all travellers who come to enjoy the beautiful Whitsunday Islands, pay a visit to the Whitsunday Sailing Club to soak up her most precious views.
For more information on what to do in Airlie Beach, click here.