Hiking around Airlie Beach and the Whitsundays
Updated Thu 25 May 2023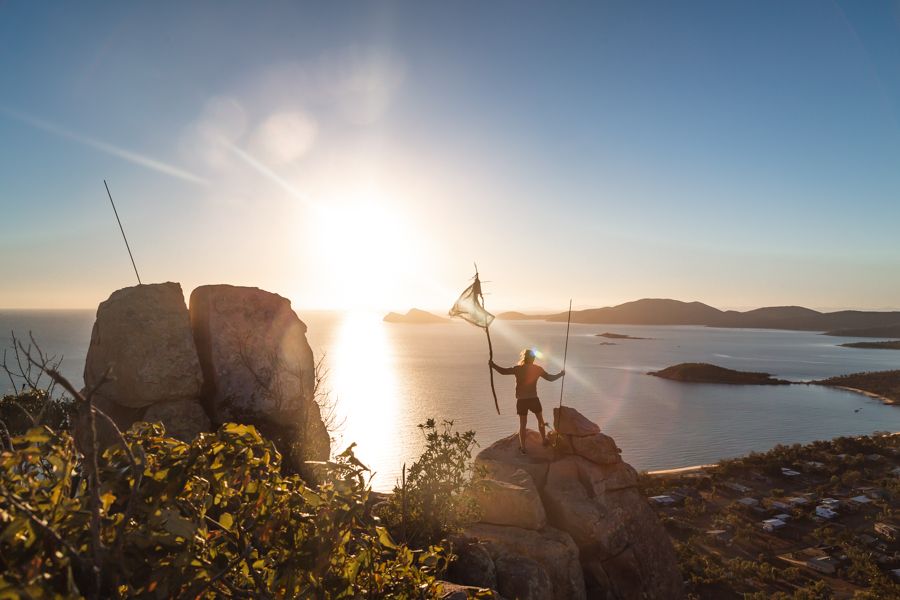 Airlie Beach is the main hub of the Whitsundays. With shops, restaurants, hostels, hotels, and supermarkets, it's the go-to place for most visitors travelling to and from the islands on boat tours, private charters, and day trips.
While the islands themselves have much on offer, it's a well-known fact that Airlie Beach has phenomenal hiking and walking trails that make for a great way to spend time while on the mainland. So lace up your shoes and grab your sense of adventure... it's time to get back to nature in the Whitsundays!
---
Here's a guide to our favourite Whitsunday hikes and bushwalks!

---
Honeyeater Lookout
The Honeyeater Walk is one of the most well-known and well-loved bushwalks in the Whitsundays. It's an 8km turnaround, 4 km each way, and boasts one of the best views in the Whitsundays at the top! It looks out over Cannonvale and the Whitsunday Islands, giving viewers an almost birds-eye view of this beautiful coastal town. The trail itself starts at the top of Kara Crescent in Airlie Beach. There are no facilities along the way, so make sure to bring water as this trial can be challenging and steep!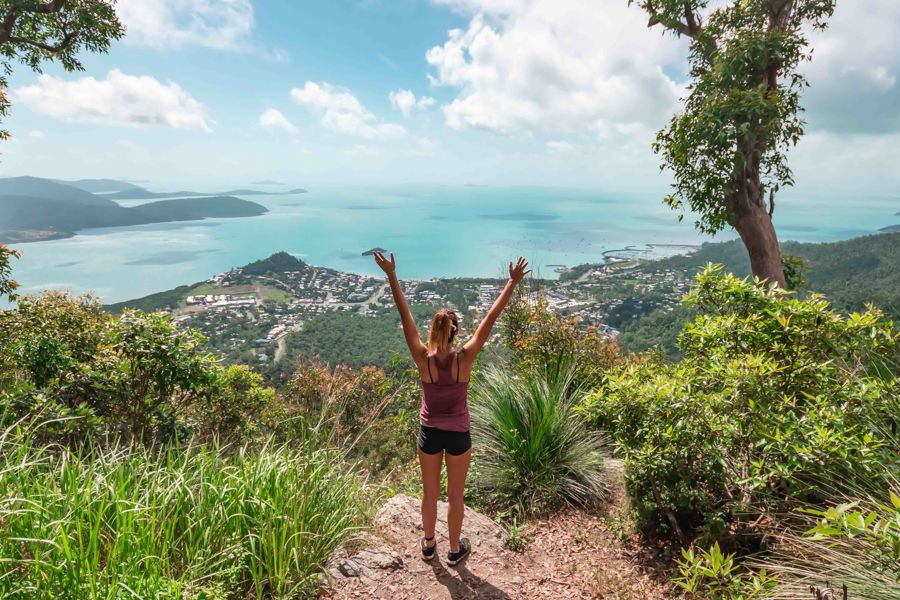 Stunning, natural views from Honeyeater Lookout.
---
Whitsunday Cairn
The Whitsunday Cairn is one of the less commonly hiked trails in the Whitsundays due to it being only accessible by boat. Located on Whitsunday Island, this 4km grade 5 hike takes roughly 3-4 hours to complete and is not for the faint-hearted. The track can be difficult to traverse, especially in wet weather, so it is best to be well prepared, have a decent level of fitness and have a good amount of water. Despite its hard to reach location, this hike has arguably some of the best 360-degree views of the Whitsunday Islands that will leave you speechless.
One of the best ways to hike to the towering Whitsunday Cairn and other Whitsunday national park trails is on an Overnight Hiking Tour! Check out your options here.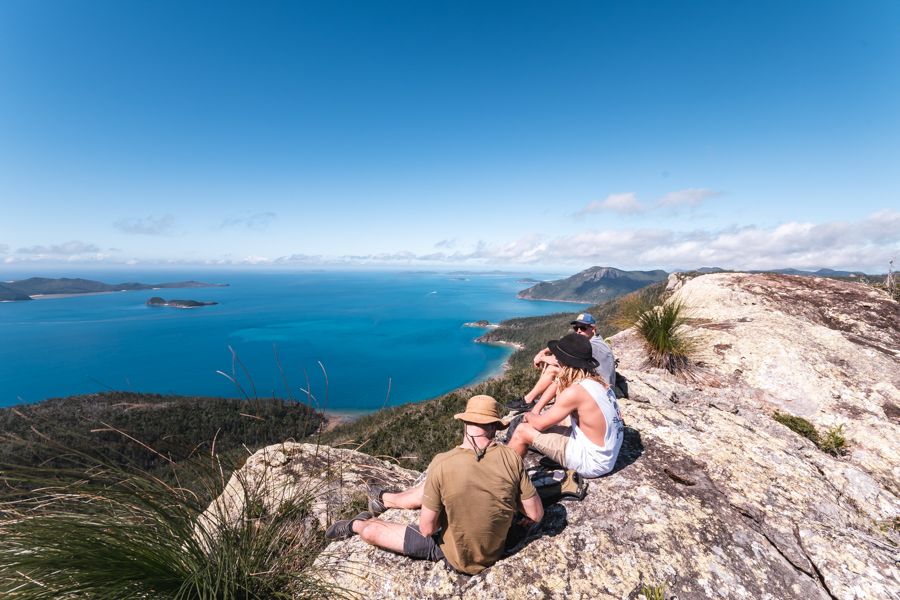 Whitsunday Cairn's naturally-formed boulder look out over the reef.
---
Hydeaway Bay
Located a 45-minute drive north of Airlie Beach, Hydeaway Bay is a perfect beach escape being both quiet and secluded. There are no official hiking tracks here though there are a number of short rock scrambles that give a breathtaking 180-degree view from Dingo Beach all the way to Cape Gloucester. It is absolutely stunning for sunrise so it is well worth setting an early alarm.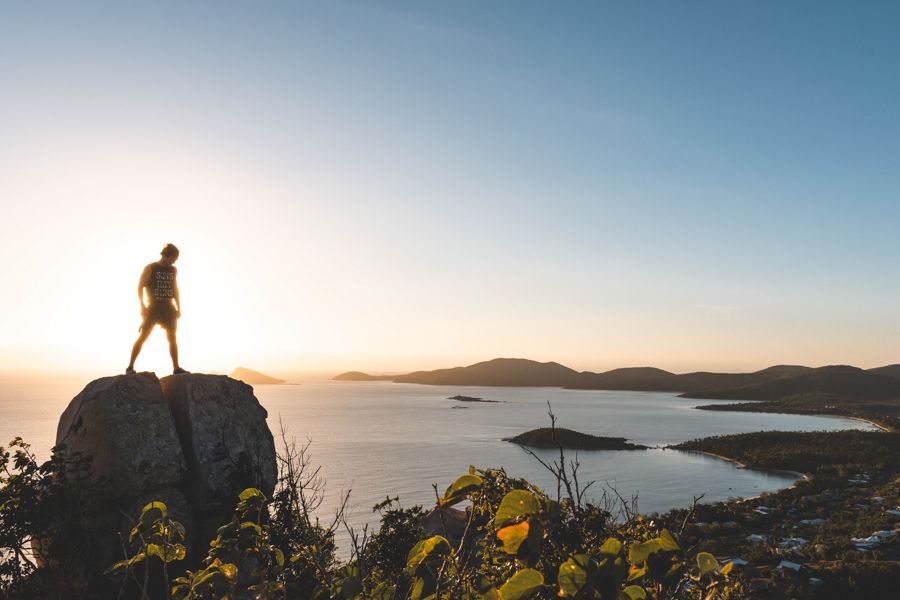 Catch a stunning sunrise from Hideaway Bay's glorious vantage points.
---
The Great Whitsunday Walk
The Great Whitsunday Walk is one of the longer trails in the area if you decide to do it end to end. It is formally known as the Conway Circuit and is a total of 28 km long. The trail itself begins in Brandy Creek and finishes in Airlie Beach. It is meant to be a 3-day walk, with camping involved, but there are several shorter side trails that can be done in less time. The walk brings adventurers into the rainforests of the Whitsundays, past creeks and giant trees, as well as giving views of the Whitsundays themselves.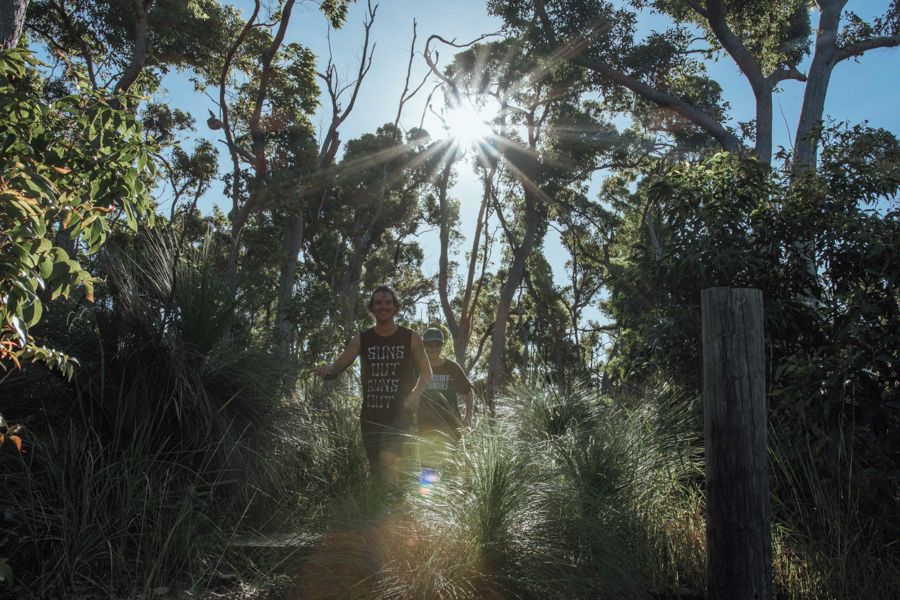 Stunning native species await you on the tracks of the Great Whitsunday Walk.
---
Hill Inlet Lookout
Located at a peak on Whitsunday Island, the Hill Inlet Lookout requires a short bushwalk from the northern end of the island, near Tongue Point. The 1km turnaround walk provides an amazing and short walk where you can enjoy the native flora and fauna species. Your crew will point out all the amazing wildlife and plant species as you make your way up and down the track before reaching the infamous lookout point. When at the lookout, you will get a fantastic panoramic view of the 7 kilometre stretch of silica sand below... the perfect photo opportunity!
The best time to access Hill Inlet Lookout is at low tide when the beach is really visible and you can see the different colours of the water in the shallows!
Visit Hill Inlet Lookout on one of these amazing overnight sailing tours!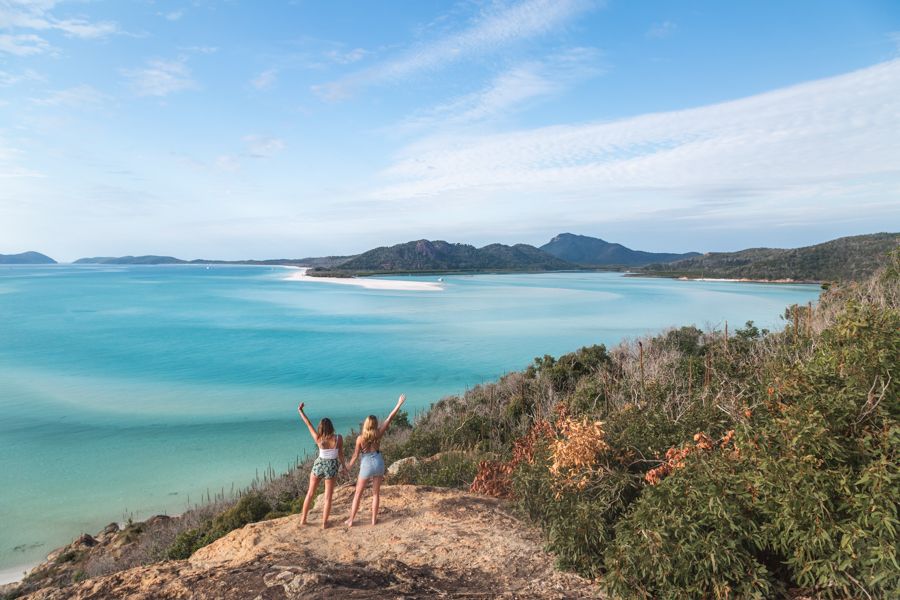 The cosmic swirling sands of Hill Inlet Lookout.
---
South Whitehaven Beach Lookout
At the southern end of Whitehaven Beach, you'll find two bushwalks. The first is a 1km walk through the stunning rainforest that starts at Whitehaven Beach and ends at the top of the Whitsunday Islands National Park lookout. From here, you'll witness breathtaking views of both Chance Bay and the 7km long powdery sands of Whitehaven Beach. The alternative walk begins at Chance Bay on the other side of the island and also ends up at the lookout.
Lush, tropical flora is abundant on the journey from South Whitehaven.
---
Langford Island Lookout
Recently completed in 2019, this 300m bush walk starts on the beach at Langford Island and ends with views overlooking Langford Spit towards Bali Hai and Hook Island. Marvel and enjoy the landscape accompanied by an impressive Boab tree at the top. Allow yourself 30min (return) to complete this brief yet wonderful walk!
Views of Bali Hai and Hook Island from the Langford Lookout.
---
Mt Rooper Circuit and Swamp Bay Track
This trail is located just outside of Airlie Beach in Shute Harbour. It's about a 7.2 km long bushwalk that climbs through the forests of Conway National Park, exposing its guests to the wonderful and amazing flora and fauna of the Whitsundays. The end result is an amazing view of the harbour and the Whitsunday Islands, including Daydream Island, North Molle Islands, and the Whitsunday Passage.
Hikers can read informational signs along the way, which will tell the story of First Nations use of the local plants that are native to the area. You can reach this trail by hopping on Whitsunday Transit, which can drop you off there. The trail starts on the left-hand side of the road just before Shute Harbour.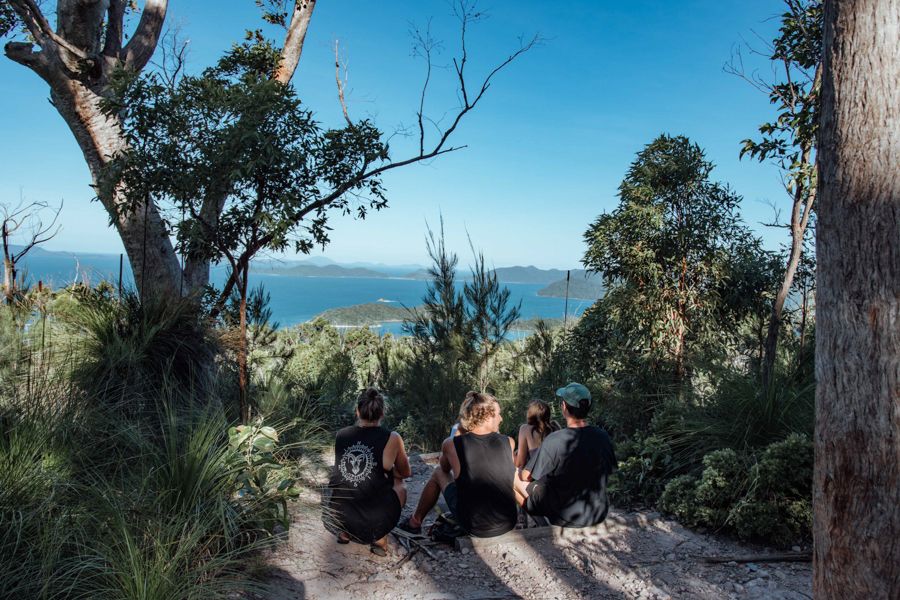 Idyllic views of Whitsunday Passage from Mt Rooper Circuit.
---
Cedar Creek Falls
Cedar Creek Falls is located a short drive halfway between Airlie Beach and Proserpine. The walk from the car park to the falls could hardly be described as a hike, though there is a small trail to continue to track your way up the creek for the more avid adventurer. The bottom of the Falls is a natural freshwater lagoon is surrounded by an amphitheatre of rock formations. Filling the large rock pool is a natural waterfall that runs all year round but is spectacular in the wet season!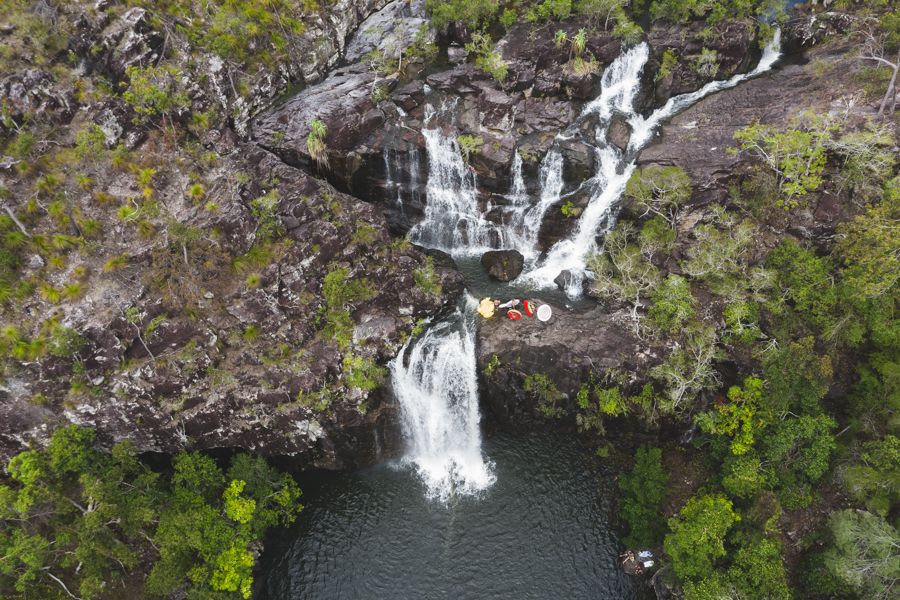 The stunning Cedar Creek Falls.
---
Kingfisher Circuit
Kingfisher Circuit is located on the other end of the Great Whitsunday walk and is only a short 2km in length. Ideal for those short on time who still want to get in some bush time, this small and picturesque walk will take you through the ancient rainforests of the Whitsundays. You can reach the Kingfisher Circuit by taking Shute Harbour Road to Brandy Creek Road and then parking in Forestry Road car park, where you'll find giant fig trees and green rainforest. At the end of the trail, you can either turn right to the car park or turn left to continue on the Wompoo Walk.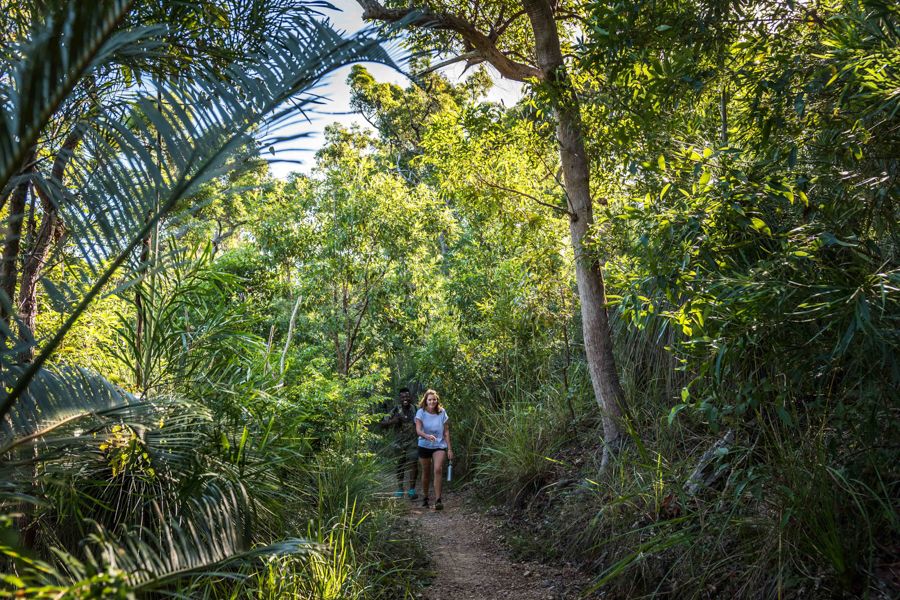 Lush, native rainforest thrives along the Kingfisher Circuit.
---
Airlie Creek
Short on time? The Airlie Creek Track is a perfect escape into nature, right out of the heart of Airlie Beach, with access from Waterson Way. The return track is 1.7km long and will take roughly an hour to complete, It is home to some magnificent subtropical plants, endangered rock wallabies as well as an incredible fig tree about halfway along the path (below). The reward at the end is a stunning sloping natural rock pool and trickling waterfalls that come to life in the wet season.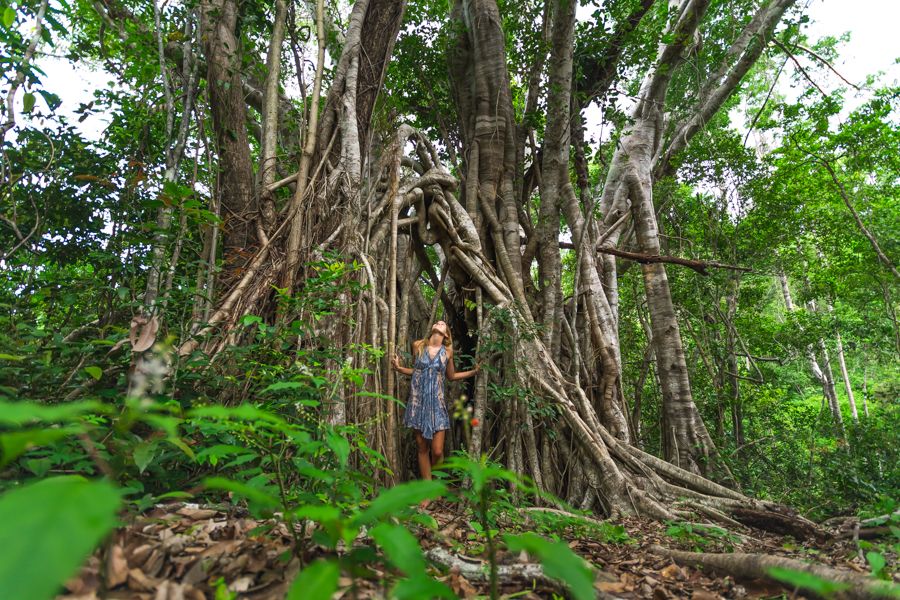 The incredible fig tree along Airlie Beach track.
---
Wompoo Walk
This trail is known for its sighting and sounds of the Wompoo Fruit-dove, which frequents the trail, along with many other animals, insects, and plants. The Wompoo walk is part of the Great Whitsunday Walk and shares its trails with mountain bikers and Segways. The 7km trail has a few steep sections and will take about four hours to complete, and it's suggested that you bring water along with you. During the walk, you'll have the chance to swing a right and spend some time at a calm creek lined with Alexandra palms, which is both said to be tranquil and beautiful.
Please note: This trail is closed annually from 1 February to 31 March and is subject to seasonal closures.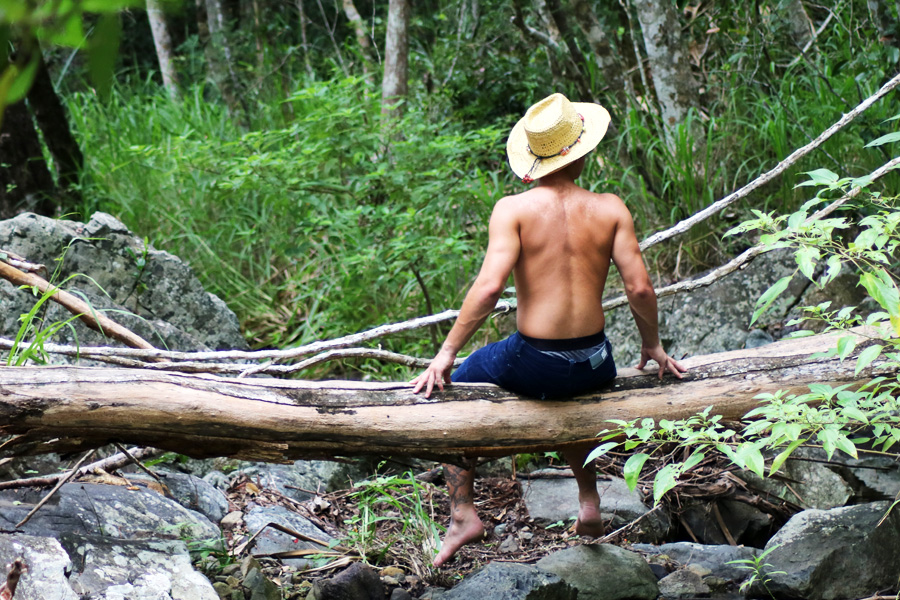 Chill out at the creek on your Woompoo Walk adventure.
---
Coral Beach and the Beak
This bushwalk leads to a unique beach that sits on the Whitsunday coast. Located on Shute Harbour road, it begins and ends at the Coral Beach car park. It's a 3.7km bushwalk through the dense rainforest, which is littered with giant trees, butterflies and plenty of birds. Once you arrive at Coral Beach, you can walk eastbound along the beach to the walking track that leads to the Beak, which will give you spectacular views of the Whitsunday Passage and the islands!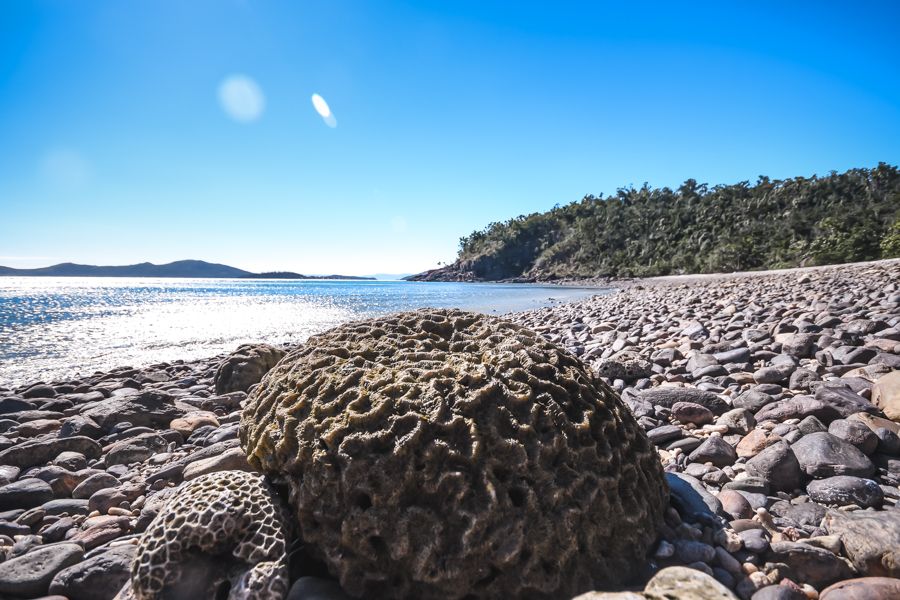 Magnificent corals found on Coral Beach.
---
Hamilton Island Trails
Located on the idyllic Hamilton Island, there are upwards of 9 walking and hiking circuits for every fitness level. Hamilton Island is covered by over 70% national parks, there is plenty to do and see on any of them! You can access Hamilton Island by ferry or by flying into their commercial airport from most major cities in Australia. As the sunrise and sunsets from most lookouts on Hamilton Island are phenomenal, we recommend booking to stay overnight to get the most out of these vantage points.
Popular trails include Passage Peak, which leads to 360 degree unencumbered views, as well as hikes to other sides of the island such as Escape Beach and Coral Cove. A few of the walks also lead to some epic Instagram-worthy features, such as giant beach chairs, wooden swings, and more. Most all connect at Saddle Junction, so you can take your pick!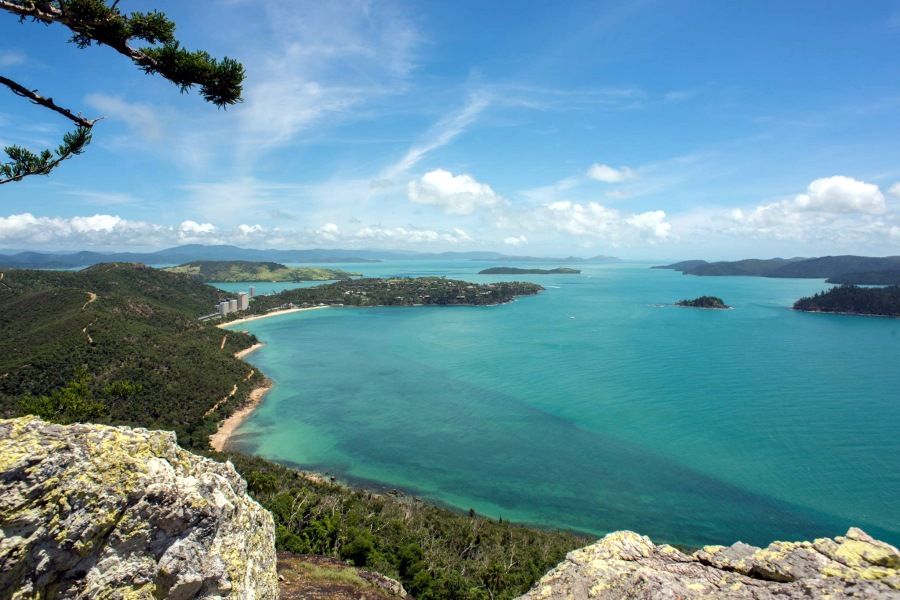 Exquisite views from Hamilton Island are bound to impress.
---
Guided Tours
There is so much rugged beauty, flora and fauna and natural history around the Whitsundays' hiking and bushwalking trails, and if you're keen to gain some local knowledge on your hike, why not book a guided tour? Absolute Airlie offers guided hikes to suit any fitness level, from their easy to moderate Coral Beach walk, to their Cedar Creek walk, and their challenging Mt. Rooper hike, there is something for everyone.
Make the most of your time in the Whitsundays by booking an Overnight Hiking Tour, which combines the best national park trails of the Whitsunday Islands during the day and catamaran luxury by night!
If you're limited on time in the Whitsundays, book an exclusive private guided bushwalking tour, where you and your group can have the flexibility to create your own itinerary and get personalised service from locals who know best!
Guided hikes are a fantastic, social way to explore the Whitsundays.
---
Remember, if you are bushwalking around Airlie Beach and the Whitsundays or anywhere in Australia, it's always a good idea to let someone know where you're going beforehand. You can't always rely on phone service in the case of an emergency, so give someone your timeline and let them know where you plan to be. Always bring water along with you and stay on marked trails to preserve and protect the wildlife and plants that live there!
Still hungry for more adventure? Check out even more Whitsunday Walks and a handy island map guide, here.
---
We can help you choose the perfect overnight boat tour to get you out to Whitsunday Islands bushwalks!
Simply ask us how! Live chat with our friendly local experts or call +61 7 4914 2425 for more information!