Airlie Beaches Top 10 Places to Eat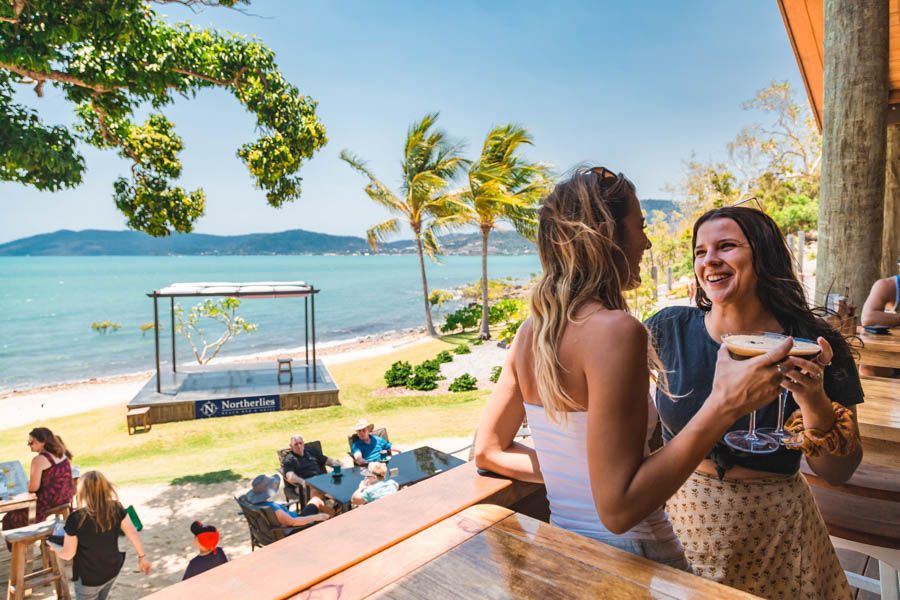 Airlie Beach is home to dozens of dining options to suit every budget and taste-With a wealth of choices, it can be difficult to pick the best options during your stay in the Whitsundays. As locals of 15 years, we've tried every restaurant in the region, and have compiled a list of our top ten picks based on our favourites-Bon Appetit!
No trip to the Whitsundays would be complete without trying Fish D'vine's excellent locally-sourced fresh seafood. You can't beat their tempura-battered tiger prawns, a wide selection of freshly caught reef fish, and of course, a signature Queensland favourite: Mudcrab! Connected to "Fishy D's" (as the locals lovingly refer to it as) is the world-famous Rum Bar. With over 560 types of rum to choose from, their experienced cocktail masters are sure to recommend the perfect drink to pair with your meal. Rated as one of the best evening dine-in restaurants in Airlie!
Connected to the Heart Hotel in the centre of Airlie Beach, the deck offers an elegant menu of fresh local ingredients and a laid back vibe right next to Airlie Creek. The layout offers 270-degree views, of the ocean, Airlie Creek, and the main street of Airlie Beach, so you have plenty of options! Share gourmet pizzas, oyster taster plates, and Australian fusion-inspired dishes.
Just a 2-minute stroll down the boardwalk from Clipper Restaurant towards Coral Sea Marina is Sorrento Restuarant, an Italian delight nestled at the north end of the marina. Watch the boats come in and out, and enjoy spectacular sunsets overlooking the water. With regular specials, like 2 for 1 pizza and happy hour, and amazing share platters.
Known for its modern Chinese and Asian cuisine, this little gem is hidden off the beaten path in the alley connecting the main street and the lagoon. Cool LaLa's signature specialties include their bubble tea, house-made Dim sum, authentic Chinese/ Asian dishes and street eats! The courtyard provides a different kind of ambience, and kids can easily access the lagoon from here.
Nestled high above the Airlie Beach main street, Anchor Bar is a local icon. Off the beaten path and overlooking the Coral Sea, this boutique pub-style restaurant offers beautiful fresh modern food, amazing views, live music and a great laid back vibe. They are part of the Whitsunday Terraces Resort so don't forget to pack your bathers and a towel make use of the pool and spa! Open daily for lunch and dinner, be sure to check out their Facebook page for live music throughout the week.
Adjacent to Airlie Beach Hotel, this newly refurbished bar and restaurant is looking better than ever! With a new outdoor bar, gaming facilities and extended menu, this is the perfect place to take in the views of the foreshore. Family-friendly with a lively atmosphere, there is also regular live music and events happening to keep the place pumping! Open for breakfast, lunch and dinner, pop on down to one of the oldest pubs in the town, with the freshest face!
For lovers of good food and great coffee-The best coffee and muffins in town, according to locals! Open early, make sure you don't miss out as this is a popular location for the locals for breakfast and brunch. Offering a cosmopolitan experience with its footpath dining whilst enjoying waterfront views a stone's throw from the Airlie Beach foreshore. Open every day for breakfast and lunch, and dinner is available Wednesday through Sunday.
If cocktails are your thing, Breeze Bar is your scene! Located on the corner of the Esplanade on the main street, they are famous for their spot-on espresso martinis and delicious meat and antipasto sharing platters. There is a wide selection of specialty cocktails and premium wine and beers-this is a great spot for people watching and pre or post-dinner drinks.
Boasting some of the best views in the Whitsundays, the newly refurbished Coral Sea Marina Resort has updated it's dining options as well. Known for impeccable service and unencumbered views of the coral sea, this is a great place to watch the sunset over the jetty, while sitting on the water's edge.
Speaking of marinas, Port of Airlie has several to choose from. One of our favourites would have to be La Marina, a modern Italian restaurant located on the edge of the marina and a short walk from the main street of Airlie Beach. Honourable mentions include Denman Cellars, a boutique bistro with craft beers and a range of imported wines, and The Boathouse FishBar for great fish and chips.
With so many great places to choose from, you can always trust the locals to point you in the right direction!
Wanting to book a tour during your stay? Check out our latest deals to plan your perfect Whitsundays holiday!