Hook Island in the Whitsundays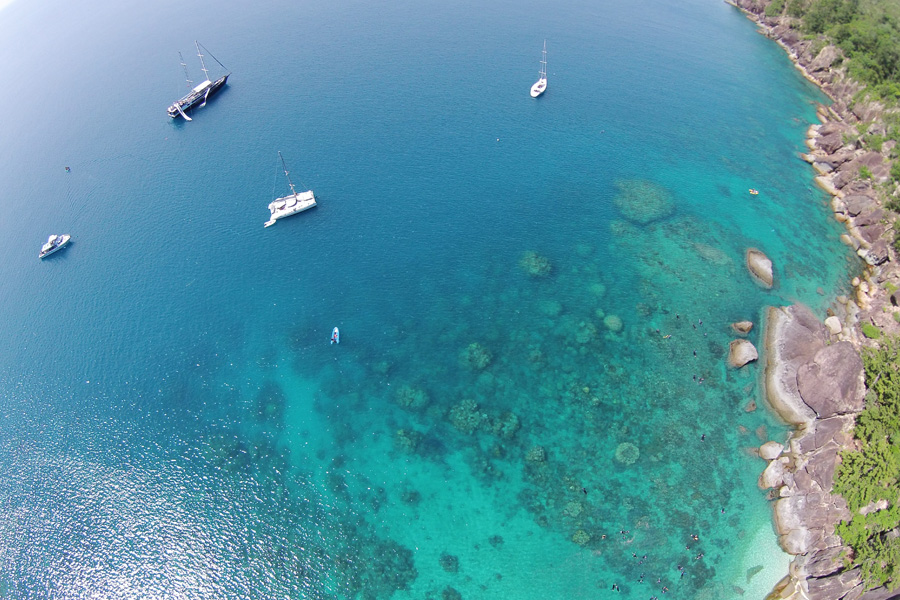 Hook Island is one of the 74 Islands in the Whitsunday Island chain, located off the east coast of Queensland in Australia. The Whitsundays Islands are known as being the home of Whitehaven Beach, Hill Inlet Lookout and many coral reefs, as well as their many beautiful islands. The islands are a popular tourist destination, bringing in people from all over the world to explore, sail and relax.
Hook Island itself is known for its amazing snorkelling and picturesque bays where you will often find boats anchored and people enjoying the warm waters. Off the shores of Hook Island, you will discover famous reefs at Maureen's Cove, Luncheon Bay, Butterfly Bay and Manta Ray Bay, which are all known for their diverse corals, colourful marine life, and calm waters. The sheltered bays offer an ideal anchorage place, with many boats mooring there for the night for a calm overnight stay. A popular tourist destination, Hook Island was settled in 1910 and became part of the national park in 1936, whereupon it eventually became home to the Hook Island Wilderness Resort.
Hook Island is 58 square kilometres and is now only inhabited by one person who is the caretaker of Wilderness Resort, which still remains as the only habitation on the island. Long since closed, the resort was once one of the most affordable island accommodation in the Whitsundays, but is now a cluster of dilapidated buildings. It was also home to an underwater observatory, which was a big draw to the island resort when it was open and was once considered to be "the greatest tourist drawcard ever to be established in the Whitsunday area." It offered guests the chance to see the underwater world up close, with fish and corals seemingly within reach as they descended to the ocean floor.
The observatory consisted of an above sea level section and an underwater section that was ideal for viewing corals and marine life and was enclosed by concrete and glass. When the observatory was originally constructed in 1965 over 200 cars were sunk in the area to encourage coral growth and provide a habitat for fish, making it a diverse marine landscape in later years. While it was once the main attraction, the observatory was closed in 2009 after the submarine viewing chamber was found to have insufficient ventilation.
Hook Island remains as one of the top places to visit in the Whitsundays, but currently visitors generally stick to the reefs around the island, Macona Inlet or Nara Inlet, enjoying the beauty that the waters and underwater world have to offer.
Looking for a tour to get to Hook Island? Live chat with our friendly, knowledgeable staff today for more information!