A Local's Guide to Airlie Beach
Updated: 30/11/21
Not only the gateway to the World-renowned Whitsundays, Airlie Beach is a lively, coastal hub that offers a variety of options for those seeking both adventure and relaxation!
Whether you're on a relaxing family getaway, fun filled girls long weekend, or romantic couples escape, we have compiled an extensive local's guide to Airlie Beach.
---
What To Do
We advise that you spend at least one night in Airlie Beach before a day or overnight trip to the Whitsundays. Yet with so much to do and see, why not give yourself an extra day or two to revel in the shallows of the Airlie Beach Lagoon, explore the stunning cascades of Cedar Creek Falls, and make your way through an Airlie main street pub crawl!
Set up for the day at the Airlie Beach Lagoon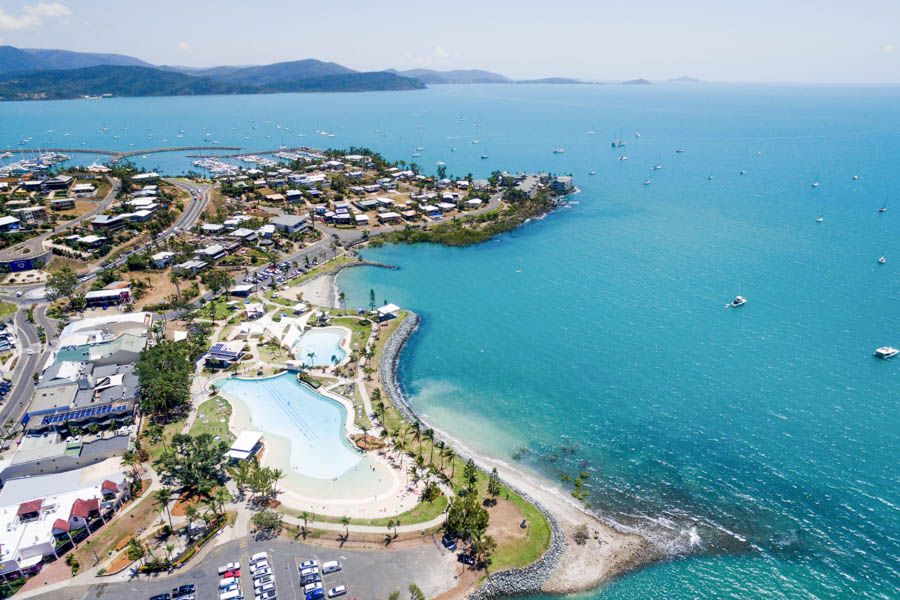 Lay your towels out, watch the kids play in the shallow waters of the children's pool, and dust off that book you've been meaning to start all year!
Recently revamped, the Airlie Beach Lagoon is situated in the centre of town. Look out over the oceanfront to the surrounding islands of the Whitsundays, whilst you utilise the barbecue facilities and shaded picnic areas with friends or family. Completely free to all visitors in Airlie, the lagoon is patrolled by experienced lifeguards. A leisurely, hassle- free day in the sunshine!
Take in the panoramic views from Honeyeater Lookout
Only a short walk from the main street (Kara Crescent) the Honeyeater bushwalk is a beloved trail for both locals and visitors to Airlie Beach. The trail is 8.2km in length, and a classed grade 4 hiking trail, taking approximately 3 hours to complete. Boasting one of the best views of the Whitsundays from the mainland, the panoramic view from the summit is a perfect opportunity to snap that holiday picture for everyone back home!
If you're looking to boost your endorphins early, start the Honeyeater trail on sunrise to watch Airlie and the Whitsundays slowly come to life!
Sunrise at Hydeaway Bay
Whilst we are on the topic of unforgettable tropical sunrises, look no further than greeting the sun from Hydeaway Bay! The sheltered bay is serene, and often deserted, with no islands of the Whitsundays blocking the first rays of light.
For a higher vantage point there are several rock formations to view the sunrise in full. Here comes the sun!
Pub Crawl through the Main Street
Airlie Beach is known for its vibrant and lively pub and nightlife scene. Start with afternoon beers in the sun, at Boatys deck or lounging in the sunbeds at Northerlies. Next gather your friends and play some pool at Beaches or Shed Bar. Follow- up the afternoon of laughs with live music at Magnums or The Pub.
Don't want the night to end yet? Have a late- night jive at Mama Africa's and Boom Nightclub. To party like the locals, check out our favourite nightlife venues in Airlie Beach!
Explore the natural beauty of Cedar Creek Falls
Just a 30-minute drive away, located between Airlie Beach and Proserpine, is the naturally flowing cascades of Cedar Creek Falls. Surrounded by cedar trees and dense tropical vegetation, the natural rock amphitheatre is a popular escape for locals and tourists alike.
As there is no public transportation to Cedar Creek Falls, we recommend you rent a car to enjoy the natural beauty of this hidden gem. After days spent by the ocean, sometimes a freshwater escape is the adventure you didn't know you were missing!
Live chat to our local travel experts today to discuss great deals on Gypsy car rentals!
---
Where to dine
Airlie Beach is home to a delicious range of locally-sourced produce and ambient bars that are sure to suit every budget and craving. We have gathered a list of Top 10 Places to Eat in Airlie Beach, sure to get your taste buds tingling!
Fish Divine and Rum Bar
Image: Fish Divine and Rum Bar
Taste for yourself locally- sourced fresh seafood from the Whitsundays at Fish Divine and Rum Bar. Choose from a wide range of reef fish caught daily, and an astonishing 560 types of rum on offer! A local's favourite, their seafood is rated as one of the best dine-in restaurants in Airlie!
Sorrento Bar
You can't get much better than looking out over the Coral Sea Marina as the sun sets at Sorrento's Restaurant, with a selection of mouth-watering Italian dishes in front of you. Yet then the waiter lets you know that it's happy hour!
The Pub
Newly refurbished and overlooking the foreshore of Airlie Beach, The Pub boasts a family-friendly atmosphere and is open for breakfast, lunch, and dinner! The lively, laid-back atmosphere is the perfect venue to grab a beer and vibe out to regular live music events.
Café Cool LaLa
Image: Cafe Cool LaLa
Nestled in the alley connecting Airlie's main street and the lagoon, Café Cool LaLa provides the town with authentic Chinese and Asian dishes and street eats, and a vibrant courtyard for groups to enjoy. Order a signature cocktail or opt for a house made bubble tea!
Anchor Bar
Image: Whitsunday Menu
Take in the ambience of Airlie's main street from above at Anchor Bar a boutique pub- style restaurant and bar. Enjoy the live music and views of the surrounding islands at either lunch or dinner. Guests are encouraged to bring their swimsuit and towel to make use of the conjoined Whitsunday Terraces Resort pool and spa!
---
Where to stay
Depending on whether you're holidaying with extended family, seeking a girl's long weekend, or planning a secret getaway for your loved one, there are plenty of accommodations options at Airlie Beach. Our guide on Where to Stay at Airlie Beach is bound to have the perfect fit for you!
We recommend staying closer to the main street of Airlie, to have the convenience of restaurants, bars, and transport at your doorstep!
Hostels/ Backpackers
Offering both private and shared accommodation, hostels at Airlie Beach are the most cost-effective accommodation option and a perfect way to meet and mingle with other travellers!
Whether you're seeking an 'over 18's only' budget escape at Magnums in the heart of Airlie or a low-cost family room with a private balcony at Airlie Beach YHA Hostel, there is a range of safe and fun hostels located in the centre of Airlie Beach for you.
Budget- friendly apartments
Planning a trip to Airlie Beach with a group of family or friends? A large variety of budget- friendly apartments are situated in the heart of Airlie Beach, with facilities to ensure a comfortable, spacious stay. From 1, 2, and 3 bedroom apartments offered at Blue Horizon and Seastar Apartments, browse through the selection of self- contained apartments here.
Modern Resorts
If a spacious, and luxurious couples or solo retreat is on your mind, there is an extensive range of modern resorts at Airlie Beach that boast ocean views, included tropical breakfasts and 3 bedroom apartments!
Treat yourselves to a romantic king suite at Island View Bed & Breakfast or a stylish, coastal spa apartment at Peppers Resort. If relaxing by a luxury pool overlooking the turquoise waters of the Whitsundays is what your craving, let us help you book your dream accommodation today!
---
Thinking of including a day or overnight tour to the Whitsundays on your trip to Airlie Beach? Let us help you find your dream adventure!
Live chat or enquire with our local travel experts today to organise your tropical escape to Airlie Beach!