First Time Divers In Airlie Beach
Updated Thu 03 Mar 2022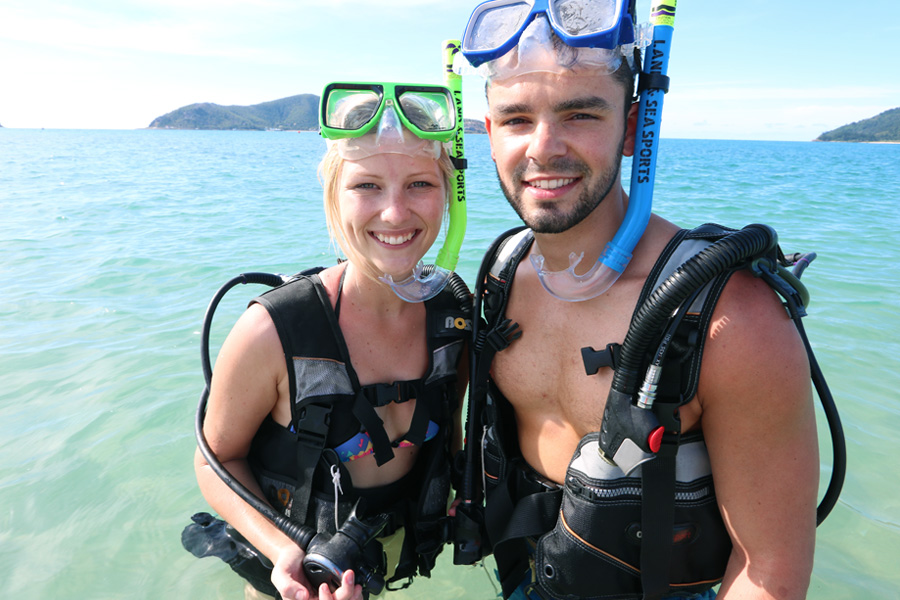 The Whitsundays offer some of the best diving in the world. The calm, shallow reefs and secluded, sheltered bays are the ideal place for first-timers to try their hand at the amazing sport of scuba diving.
Several tours in the Whitsundays offer scuba diving, with both introductory divers and certified divers welcome. No experience is necessary with experts on board to carefully guide you into the underwater world of the Great Barrier Reef Marine Park.
What you will do
First time divers will be shown breathing techniques and taught the ins and outs of life under the waves. Divers will be assigned an instructor, who they must stay with during the duration of their dive. Introductory dives usually last about 20 minutes. The instructors job is to keep divers safe and calm and to also show them all the interesting things around the reef. They will often point out and gesture to different animals you may see including sea turtles, reef sharks, clownfish and stingrays. Scuba diving, as opposed to snorkelling, allows you see the reef in a more in depth way and encounter different species that like the deeper waters.
Where you will go
Introductory dives will usually go to depths of about 6 metres, which will give you an amazing vantage point of the reef. There is no feeling quite like swimming below the surface as you get to explore the reef around you! The calming and quiet sensation is one of the best in the world, and doing it in the Whitsundays is a once-in-a-lifetime experience!
What's the catch?
All divers must complete a medical questionnaire before diving. They may be refused entry into the water if they fail their medical or are unable to swim or are a weak swimmer. Always tell your crew if you're feeling uncomfortable or have any questions. The strict rules around diving are for the safety of everyone in the water, including introductory divers, certified divers and dive instructors. Be honest with your crew and make sure you ask any questions you have before hand.
Why should you try scuba diving?
Scuba diving has so many more perks than just seeing the reef up close. It's a unique experience in itself, but also has benefits beyond what most of us think about!
New underwater experience: Scuba diving will give you a new perspective of the Great Barrier Reef Marine Park and allow you to feel immersed into the amazing world of fish and coral! It allows you to connect with nature in an entirely new way, giving you the chance to appreciate its delicacy, resilience and beauty.


Promotes well-being: Scuba diving promotes self-health due to its calming capabilities. Because of the breathing exercises you must practice while scuba diving, it creates a calm feeling within the body, relaxing you and promoting better health. Some say there is no other experience like scuba diving to make you feel comfortable, at ease and connected to yourself.
Health benefits: The slow breathing exercises one must do while under the water decreases heart rate - something most of us could benefit from! A decreased heart rate is key to heart health. The pressure of the water also increased blood circulation in the body, while deep breathing decreased blood pressure, two more key factors to overall health.
You have nothing to lose if you are able to try the art of scuba diving! Find out if you're able to scuba dive on a Whitsundays tour and begin your journey towards this exhilarating experience! Ask your travel expert which tour is right for you and dive into your next big adventure!