Can You Take Shells From The Whitsundays?
You cannot take shells from the Whitsundays due to the area being part of a protected national park. The Whitsunday Islands are one of the most beautiful places in Australia. With countless tropical islands, thriving coral reefs, and iconic natural and cultural landmarks, this corner of Northern Queensland is incredibly special.
To keep the Whitsundays as pristine as they are, it is imperative that travelers respect the land and interfere with it as little as possible. As part of the Whitsunday Islands National Park, and part of the greater Great Barrier Reef National Marine Authority, there are many rules and regulations in place that protect the purity of the area's islands and coral reefs. Let's unpack this and help you understand the levels of protection in place for the Whitsundays!
---
The Whitsunday Islands: A Protected Area
The stunning collection of 74 islands known as the Whitsundays is protected by the Great Barrier Reef National Marine Authority. Included in this group of islands are Whitsunday Island, home to the famous Whitehaven Beach, as well as Hook Island, Hamilton Island, and Hayman Island. These are some of the most popular places to visit in the Whitsundays! The Whitsundays area is divided into different official zones that define what you can and cannot do there, with green zones being the strictest.
---
What Are Green Zones In Queensland?
Green zones in Queensland signify "Marine National Park". These designated coastal areas have a strict "look, but don't take" policy. There are many green zones in the Whitsundays where you are only allowed to participate in observational activities such as swimming, photography, sailing, and snorkeling. You cannot remove anything from the area, so fishing and shell-collecting are prohibited. This helps minimize human impact and keep the landscape as pure as possible.
---
Other Zones In The Great Barrier Reef Marine National Park Authority
In addition to green zones, the Great Barrier Reef Marine Park Authority has other zones where limited extraction activities are allowed. Yellow zones signify "Conservation Park" where limited fishing is allowed. One person is allowed one line and one hook, and trolling is allowed with up to three lines per person and a total of six hooks.
There are also dark blue zones that signify "Habitat Protection". These zones protect sensitive natural habitats and limit any human activity which could be potentially damaging to the environment. Light blue zones signify "General Use", where there are no strict rules although conservation is still promoted.
Visit the Australian Government's Great Barrier Reef Marine Park Authority website for a full map of zoning areas.
---
Can You Take Shells From The Whitsundays?
You can't take shells from the Whitsundays the protected green zones. Even outside of the green zones, removing shells, plants, or other parts of nature is strongly discouraged. Whitsunday shells contribute to the natural beauty of the area and they are an important part of the habitat. Leave the natural world alone and just admire it! As they say, "take only pictures and leave only footprints".
Popular areas of the Whitsundays that are listed as marine park green zones include South Whitehaven Beach, parts of Hook Island, and parts of South Molle Island. The majority of Whitsunday Island, all of Hamilton Island, and part of Hook Island and the Molle Islands are yellow zones. Conservation is the main priority in these yellow zones, so regulated fishing is allowed but you shouldn't remove shells so the habitat remains pure.
---
Can You Take Shells From Airlie Beach?
Taking shells from Airlie Beach is also not recommended. The shores of Airlie Beach itself are not included in any colored zones of the Great Barrier Reef National Marine Park Authority, so there are no local rules stating you cannot take shells. However, you should still try to respect the environment and leave the beaches as untouched as possible.
---
Can You Take Sand From Whitehaven Beach?
No, you can't take sand from Whitehaven Beach because it is part of a protected green zone. Just as you cannot remove shells from Whitehaven Beach, you also can't remove sand. We understand that it's tempting because Whitehaven Beach's sand is absolutely incredible! It is made up of 98.9% pure silica and is velvety soft to the touch. This brilliant white sand feels like heaven, but you are not allowed to take anything from the green zones of the marine park. Just enjoy the sand during your visit to Whitehaven Beach, but don't take any home with you.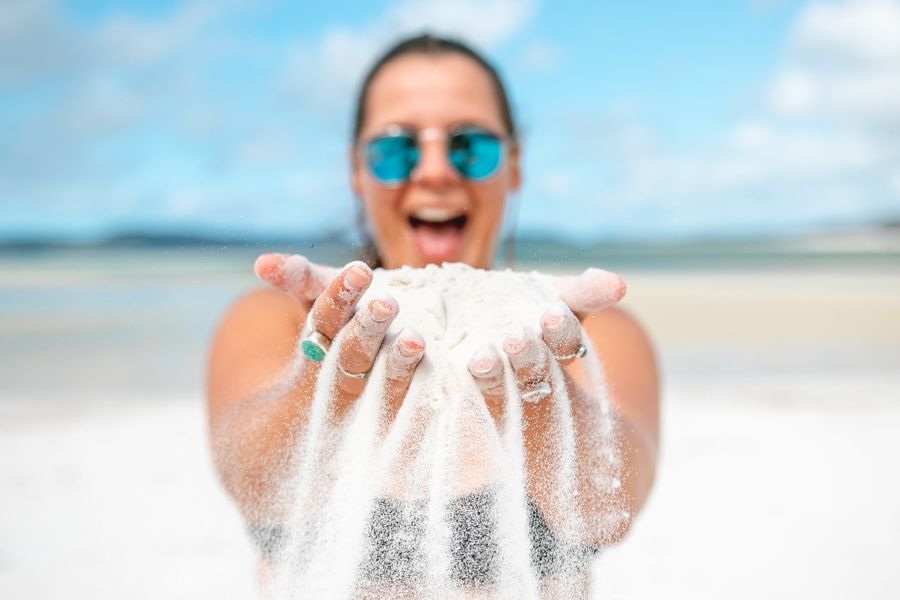 ---