What is the Whitsundays famous for?
Updated Mon 07 Mar 2022
The Whitsundays is an archipelago of 74 tropical islands off the coast of central Queensland. With thousands of visitors coming from near and far every year, the Whitsundays is internationally famous for its pristine silica sand beaches, luxurious island resorts, flourishing fringing reefs, and perfect tropical temperatures! Yet, what are the Whitsundays famous for exactly?
---
What better way to get from the mainland out to the Whitsunday Islands than with an overnight sailing tour? The Whitsunday market for luxury, overnight and multiday sailing experiences is extensive and comprehensive with something for everyone! Cruise the glassy waters of the Great Barrier Reef, travel to glorious destinations such as Whitsunday Island, Hook Island, Daydream Island, and more. Guests are treated like celebrities in paradise, so take a break and let yourself be wined, dined, and taken care of on your next Whitsunday adventure!
---
One of the most famous spots in the Whitsundays, Whitehaven Beach is sure to leave you speechless! Home to 7km of bright white silica sands, this beach located on Whitsunday Island really is a marvel of nature. Ancient, mysterious geological activity has left visitors of this pristine, national park the softest sand in the world… and an unbeatable photo opportunity! Lounge on the luxe sands, go for a barefoot stroll, or take a dip in the clear, turquoise waters at Whitehaven Beach for an unforgettable day of island bliss!
---
A short bush walk from Whitehaven lies Hill Inlet, a small and flourishing nook of Whitsunday Island. Follow the path to Hill Inlet Lookout to see what all the fuss is about! The ever-famous view really isn't one to be missed. The mosaic of turquoise waters and luminescent white sand creates a swirling masterpiece that is never once the same. Enjoy different perspectives from three different lookouts, and grab a photo with your unique version of Hill Inlet's swirling sands in this incredible natural haven!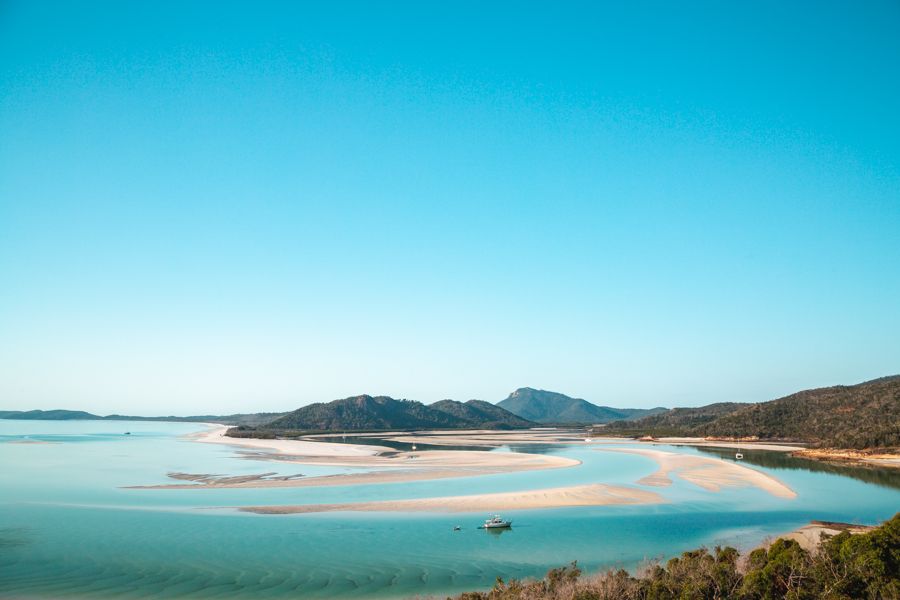 ---

Hamilton Island is a luxury, tropical holiday dream! Famous for its world-class resort accommodation options and array of fun, varied and exclusive activities. This incredible island situated in and amongst the wonders of the Great Barrier Reef is the perfect place to try something new! Grab a golf buggy to get around the island and check out Catseye Beach, the Wildlife Park, an array of boutiques and restaurants, and One Tree Hill for some stunning views of the Whitsunday Islands! Hamilton Island is also a popular place to fly into, with the Hamilton airport running flights daily to the Whitsundays.
---
As one of the seven natural wonders of the world, we are lucky enough to be situated right amongst the magic of the Great Barrier Reef. Vibrant corals, schools of tropical fish, green sea turtles, dugongs, and starfish are just some of the creatures that inhabit and make up the thriving, unique underwater ecosystems! So, grab a snorkel and sail out to the islands to dive into the bustling, kaleidoscopic marine forests teeming with wonderful and mystical marine creatures! If you are lucky, you might even spy a pod of humpback whales!
---

The Whitsundays, much like the whole of Australia, has a rich Indigenous history. The traditional owners of the area are the Ngaro people, whose ancestors were seafarers that lived in harmony with the land and ocean. The Ngaro people are known for the large canoes they used to travel from one island to another and hunt for food. Dreamtime stories tell a lot of the Ngaro people's history, and there are cultural sites in the area to learn more about the history of the Whitsundays. The Ngaro Cultural Site located at Nara Inlet on Hook Island is home to some rich, important First Nation culture and history, with cave paintings that date back prior to the invasion of the British.
---

With over 74 stunning tropical islands, it is not hard to find a secluded bay in the Whitsundays! With plenty of hidden, empty stretches of white sand, you need only go for a sail around to find your very own corner of paradise! One of the best ways to explore the Whitsundays is with a private charter, on your own time, where you are sure to find some tranquil tropical spots. Go for a dip in the crystal clear waters, explore one of the many islands in the archipelago, and lounge upon the sands to breathe in that island life!
---

The heart of the Whitsundays mainland, Airlie Beach, is famous to many, and holds plenty of golden memories of annual travellers! A hub of music, food, travel, and wonder, Airlie Beach provides you with all you need to have the best holiday of your life. Check in to an array of luxury accommodation, book your next nautical adventure to the islands or head down the esplanade for a selection of delectable dining options! Airlie Beach has something for everyone, with a bustling nightlife scene, as well as fantastic family-friendly amenities and lush hikes. With oodles of fun at your fingertips, come on down to Airlie and meet one of the locals in our small, yet vibrant, seaside town!
---
There really are an array of unmissable destinations and hidden gems waiting for you in the famous Whitsundays!
Call us on +61 7 4914 2425 or live chat with our knowledgeable team of local experts to start planning your dream itinerary!