About Hamilton Island, Whitsundays
Updated Tue 18 Apr 2023
Hamilton Island is one of the most famous islands in the Whitsundays, and in all of Australia. But why is Hamilton Island so popular? There are so many reasons! All of the Whitsundays' 74 islands are beautiful, with lush green rainforests, tropical beaches, coral reefs, and the surrounding turquoise waters of the Coral Sea. Hamilton Island is no exception!
In addition to being visually stunning, Hamilton Island is also one of the most developed islands in the Whitsundays. It has its own airport, marina, and golf course. There are lots of excellent resorts, restaurants, bars, and cafes. You can even find art galleries, a wildlife sanctuary, hiking trails, and much more. So let's dive into some more things you may want to know about Hamilton Island, a gem of the Whitsundays!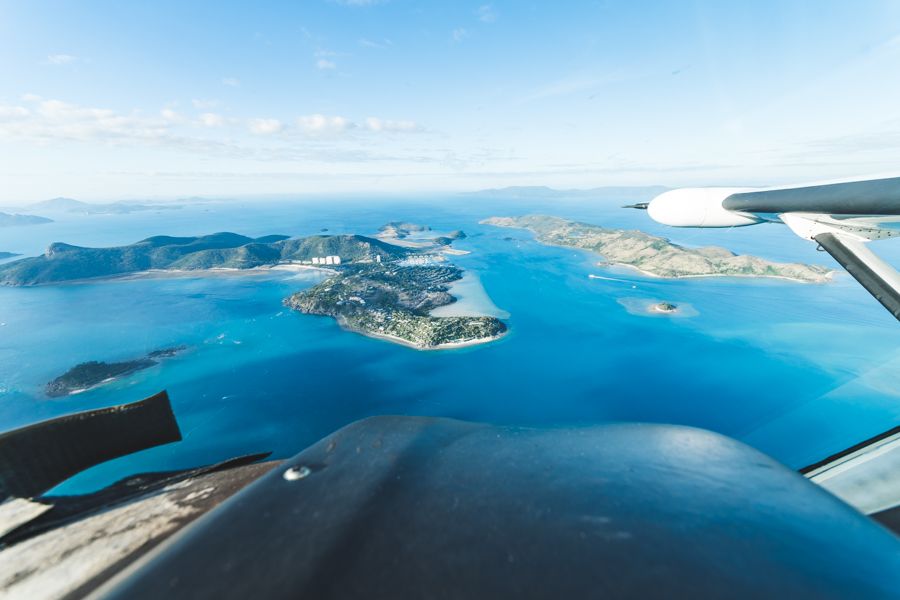 ---
About Hamilton Island, Whitsundays
The world-famous Hamilton Island is in a league of its own when it comes to a tropical island getaway in the Whitsundays. With approximately 1,000 permanent residents who live on the island, Hamilton Island has established itself as a functioning township based within the Whitsunday Islands.
Hamilton Island has also mastered the lure of attracting travellers from around the world with its resort-style accommodation, an incredible array of over 60 activities, a world-class PGA championship golf course, and so much more. No trip to the Whitsundays is complete without a day, or more, on Hamilton Island!
---
How To Get To Hamilton Island
You can reach Hamilton Island by boat, seaplane, or helicopter. This tropical getaway is just a short ferry ride away from the Airlie Beach mainland. There are day trips from Airlie Beach to Hamilton Island that depart daily, or you can charter your own boat and sail to the island without a tour!
Another option is flying into Hamilton Island. With its own airport, you can find flights direct to the island from Sydney, Melbourne, or Brisbane using Jetstar, Qantas, and Virgin Australia airlines. Once you arrive on Hamilton Island, you can also book scenic flights over the Great Barrier Reef and Whitehaven Beach, either by seaplane or helicopter.
---
Things To Do On Hamilton Island
In terms of things to see and do, Hamilton Island really does have it all. From golf, bowling, tennis, swimming pools, watersports, parasailing, 4-wheel drive adventure courses, and more, you'll never be bored here! People of all ages will enjoy a walk through Hamilton's Wildlife Park which features resident koalas, crocodiles, wombats, dingos, snakes, birds, and reptiles of all sorts.
Or soak in the sun at Catseye Beach! This stunning strip of golden sand is a great place to enjoy some snorkelling, stand-up paddleboarding, or kayaking in the Coral Sea. Of course, there are also a plethora of day tours departing Hamilton Island. Visit the Great Barrier Reef, Whitehaven Beach, and more as you jump on a day trip out through the Whitsundays.
---
Food and Accommodation On Hamilton Island
In addition to lots of fun activities, Hamilton Island also has the most amenities out of all the Whitsundays Islands. Accommodations, shops, galleries, and restaurants are plentiful on the island, so you have everything you need for a comfortable and luxurious holiday.
Hamilton Island is home to some award-winning restaurants and bars, including Japanese or Mexican-inspired restaurants, gourmet takeaway pizzas you can get delivered to your room, fine-dining seafood, ice cream parlors, sunset cocktail bars, and more!
The accommodation on the island is another huge reason why Hamilton is the perfect destination for families, honeymooners, backpackers, and large groups. There are up to 6 different accommodation types to choose from, with options for all budgets. A special mention must be made about Qualia, a 6-star resort that attracts celebrities from all over the world. Qualia continues to receive accolades to this day, and has been voted the best resort in the world in past years.
---
Is Hamilton Island Worth Visiting?
Hamilton Island is absolutely worth visiting! From the breathtaking tropical scenery, to the top-rated resorts and restaurants, to the fun and diverse activities for all ages, Hamilton Island has everything you may need for an unforgettable Whitsunday experience. It's accessible, easy to explore, and full of natural beauty.
You can get around the island on foot or by driving a cute little buggy. Mingle with Australian wildlife, hike in the national park that covers 70% of the island, or try your hand at watersports. Lounge in luxury, or adventure through the wilderness. Whatever you are looking for, Hamilton Island has it all, and more!
---
Want to learn more about what you can expect on Hamilton Island? Chat with us live to ask any questions and check availabilities for accommodations and tours!