Can You Party on Hamilton Island?
Updated Mon 12 Jun 2023
Yes, you can definitely party on Hamilton Island! Aside from water activities like paddleboarding, jet-skiing, snorkelling, scuba diving and parasailing, the island has a selection of luxurious bars, poolside cocktail menus, bespoke sunset sails and a bustling club. Whilst the party vibe is certainly more laid-back than Airlie Beach on the Whitsunday mainland, there is still an abundance of places to raise a glass island style. Let's help you find the best places where you can party into the wee hours of the night!
Hamilton Island is easily accessed by direct flights from Brisbane, Sydney and Melbourne, or via a speedy 60-minute ferry ride from Airlie Beach. It's one of the idyllic destinations for travellers searching for a relaxing trip to unwind and those who seeking fun aquatic adventures. Plus, Hamilton Island also boasts a thriving local wildlife sanctuary and nine unique hiking trails for outdoor enthusiasts. Hamilton Island also has its own Kegel 9 Pin Bowling Alley, 18-hole golf course and a fast 9-turn Go-Kart racing track, so you won't run out of things to do!
---
Where to party in Hamilton Island (Whitsundays)?
One Tree Hill
One Tree Hill is the destination to grab an indulgent afternoon cocktail! The sunset views of the hilltop lookout are one of the scenic perks of Hamilton. Enjoy a drink or two with cheese nibbles as you take in all the tropical beauty of One Tree Hill.
Hamilton Island Yacht Club
In the iconic establishment, there are world-class facilities like indoor and outdoor restaurants and bars for private dining occasions and function rooms that are aesthetically situated above the marina, giving visitors an exquisite backdrop to their dining experience!
Main Pool
Of course, you can't forget the renowned Main Pool, home to the Whitsunday's best swim-up bar and tropical gardens set amidst 35 stylish and luxurious villas. The Main Pool is where you will find the famous Boomie Deck, where overnight and day visitors enjoy their drinks poolside whilst spotting turtles swimming at Catseye Beach!
---
Does Hamilton Island have Clubs?
Yes! Hamilton Island is home to a selection of luxurious and relaxed bars and taverns that cater to all types of visitors looking for a chilled way to cap the day off with drinks, say cheers to the sunset and mingle with friends and family until the wee hours of the night. For those travellers searching for a more bustling nightclub scene, Airlie Beach is renowned as one of the most vibrant nightlife scenes for backpackers and is just a short ferry ride away.
Reef Lounge
If you're looking for a relaxing time to enjoy your cocktail and kick back after a day of action-packed water adventures, then go no further than 12 Resort Drive to find the perfect spot in Hamilton Island's Reef Lounge!
The Verandah Bar
You'll find one of Verandah Bar along Resort Drive, adjoining Sails Restaurant, filled with a relaxing ambience and family-friendly poolside vibe. The Verandah is also a walking distance or a couple of minutes away from Catseye Beach and the Main Pool.
Marina Tavern
The Marina Tavern is located (you guessed it) by the marina on the island! The tavern offers pub-style meals, beers on tap, a gaming lounge and great views of the water. Ideal for larger gatherings, the tavern has a laid-back, buzzing atmosphere which is open til late most nights of the week.
---
Hamilton Island Boat Tours Where You Can Party
A sunset sail is an ultimate way to celebrate in the Whitsundays! Sailing out from Hamilton Island, this tour is the perfect opportunity to raise a glass with loved ones and experience a breathtaking sunset over rolling tropical islands. Take your pick from a selection of cheese and fruits whilst sipping on complimentary beverages from the fully-licensed onboard bar.
With an intimate small group, we recommend this catamaran sail for visitors searching for a personal experience with their special someone or celebratory group. What better way to treat yourself whilst holidaying and enjoy a cheeky afternoon of sailing fun!
There's social sailing, then there's a Hamilton Island BBQ Dinner Cruise. Take your afternoon on the water to the next level and book a two-hour cruise filled with refreshing beverages, starlit skies and a unique barbecue buffet dinner!
Treat yourself to a buffet of entrées, mains and desserts, all whilst kicking back alfresco style. Ideal for romantic holidaymakers, family groups and grey nomads, this wholesome sunset experience cannot be missed!
Can't decide between visiting the Whitsunday Islands or catching rays at Hamiton Island? Why not treat yourself to the best of both worlds in comfort and style? Depart Airlie Beach in the morning and cruise through 74 islands in the morning before you visit two tropical wonderlands - Hamilton Island and Whitehaven Beach!
Spend 1 to 2 hours at the southern end of Whitehaven Beach and explore Hamilton Island using the shuttle bus for free. Eat lunch at the Marina Tavern, relax on Hamilton Island in the morning and indulge yourself in the pool and beach areas in the afternoon!
Party on Hamilton Island for the day with the Freestyle pass! From Airlie Beach, see One Tree Hill, shop at Hamilton's luxurious boutiques, relax at Catseye Beach and raise your hands in the air at Main Pool.
If you're more active, then choose from nine island bush walks or try water sports like paddle-boarding or jet-skiing. For animal lovers, the Wildlife sanctuary will let you get up close with the cute and cuddly resident koalas, kangaroos, snakes and even a giant crocodile!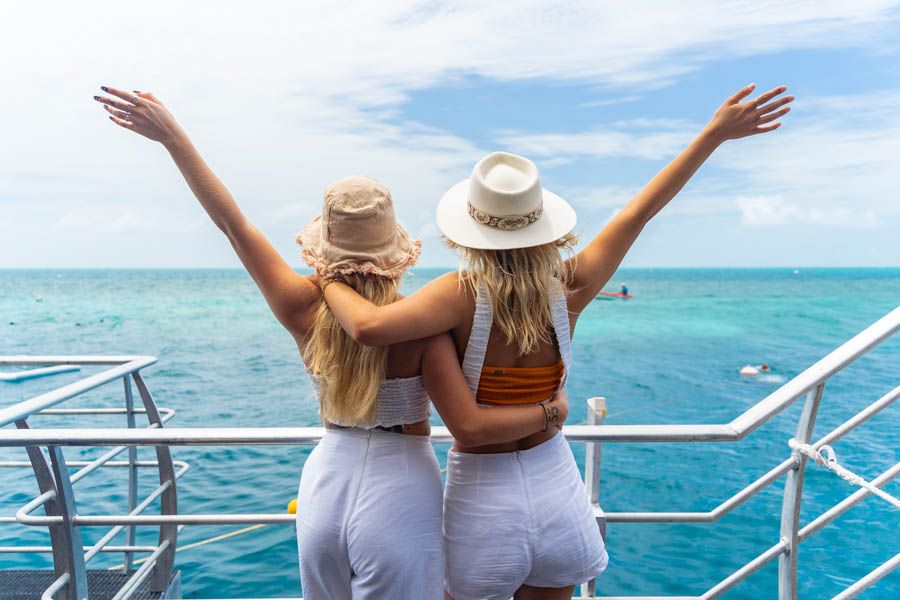 Not everyone can say they've slept under the stars in the Outer Reef and relaxed in tropical luxury on Hamilton Island! Bask in two glorious days of reef wonder where you can snorkel, scuba dive, learn about marine ecosystems, relax on a unique pontoon and indulge in entertainment, quality dining and sunset nibbles with the best food and drinks!
Get a taste of island life in a one-day tour from Airlie Beach that takes you on a picturesque cruise between two resort islands (Hamilton Island and Daydream Island), where you get to explore all day at your own pace! Hamilton Island's scheduled shuttle bus service is also available and your lunch will be at Marina Tavern overlooking Hamilton Island Marina.
You can enjoy the live fish feeding show (10 AM daily) at Daydream Island's Living Reef. The island resorts boast stunning backdrops and spectacular pool areas with swim-up bars, restaurants and shops that cater to all your needs during your day.
---
Start planning your Hamilton Island getaway today!
Live chat or call +61 74914 2425 to explore the best reef tours departing from Hamilton Island!