The Best Airlie Beach Whitehaven Tours
Looking for the best Airlie Beach Whitehaven tours? We've got you covered! Whether you want to sail, fly, or both, there are many incredible ways to access the stunning Whitehaven Beach from Airlie Beach. In fact, no visit to the Queensland tourist town of Airlie Beach is complete without a visit to this dazzling, white sand beach in the Whitsundays Islands. So let's dive into the best Airlie Beach Whitehaven tours so you know what your options are for visiting this iconic Australian beach!
---
Airlie Beach Whitehaven Tour Options

Because there are so many top-rated Whitehaven Beach tours from Airlie Beach, we'll organize this list into different categories. You can reach the secluded Whitehaven Beach by boat, seaplane, or helicopter, and some tours combine air and water travel!
You can also visit Whitehaven Beach on a half-day trip, full-day trip, or multi-day trip from Airlie Beach, depending on how much time you have. Day trips are the most popular and the cheapest, but multi-day sailing tours give you a more memorable and immersive Whitsunday experience.
---
Best Whitehaven Beach Day Tours From Airlie Beach

The most common type of tour from Airlie Beach to Whitehaven Beach is a full-day boat tour. You'll depart early, around 8am or 9am, and return to Airlie Beach around 5pm. Full-day boat tours all visit Hill Inlet Lookout and include lunch and free time on the beach!
---
One of the absolute best Airlie Beach Whitehaven tours is Whitsunday Bullet! This speedy catamaran zips you over to the spectacular shores of Whitehaven Beach, giving you ample time to hike to the lookout, sunbathe on the white sands, and make use of the free paddleboards. You'll visit both north and south Whitehaven Beach, plus snorkeling gear and lunch included!
---
Another one of the most popular Whitehaven Beach day tours is Ocean Rafting. There are two options for this tour: Northern Exposure and Southern Lights. Southern Lights departs at 10am, so it's great for travelers who love to sleep in! You'll visit North and South Whitehaven Beach and have plenty of time to snorkel. Northern Exposure is a longer tour that includes 2 snorkeling spots off the nearby Hook Island in addition to the usual Whitehaven activities.
---
For a unique sailing experience, consider hopping on board Camira! This sailing catamaran is one of the fastest of its kind, and it has lots of cozy outdoor seating areas where you can relax on your way to Whitehaven. Hike up to Hill Inlet Lookout, admire the breathtaking views, go snorkeling in the fringing reefs, and spend some time relaxing on the most beautiful beach in the Whitsundays!
---
Half-Day Boat Tours To Whitehaven Beach

These half-day boat tours to Whitehaven Beach from Airlie Beach are perfect for travelers who are short on time. These tours do not visit Hill Inlet Lookout, but they give you a few hours to enjoy the beach.
---
If you're short on time but still want a few hours to enjoy Whitehaven Beach, a half-day tour is a great option. Sealink offers a Purely Whitehaven Half Day Tour and you can choose between a 7:30am morning departure or a 12:30pm afternoon departure. Cruise over to Whitehaven and have 2.5 hours of free beach time to relax on the silica sand and soak in the tropical views.
---
Another half-day tour option is with Cruise Whitsundays. Also offering morning and afternoon options, this tour allows you to easily squeeze in a trip to Whitehaven Beach, despite how busy you may be! Admire the turquoise waters of the Coral Sea as you glide over to Whitehaven Beach. Spend 2 hours enjoying the beach however you please before returning to Airlie Beach.
---
Multi-Day Whitsunday Sailing Tours

Another amazing way to experience Whitehaven Beach is on an overnight sailing tour of the Whitsundays. If you have 2 or 3 days to spare, the best way to witness the immense natural beauty of the Whitsunday Islands is on a multi-day sailing tour! All of these tours include a visit to Whitehaven Beach and Hill Inlet Lookout. But you'll have time for many other fun activities in the area as well!
---
For 3 days and 2 nights, sail through the Whitsundays on Apollo! This magnificent maxi yacht has an extensive sailing history and allows you to take your time as you snorkel, hike, swim, and sail through the breathtaking Whitsundays. Overnight tours let you see the sunrise and sunset over the ocean, which is unforgettable!
---
If you want to try an overnight sailing tour but you only have 1 night to spare, British Defender is an excellent option! For 2 days and 1 night, enjoy sailing through stunning scenery in a spacious, air-conditioned maxi yacht. Visit Whitehaven Beach and Hill Inlet, and have some extra time to snorkel in the colorful coral reefs.
---
For an extended sailing experience, hop on Whitsunday Blue! This sailing catamaran only takes 8 guests, so you'll have a small, intimate tour group and get to spend 3 days and 3 nights enjoying the Whitsundays. Paddleboard, snorkel, and soak in the views of Whitehaven Beach.
---
If you're a backpacker looking to party while exploring the Whitsundays, this is the tour for you! Atlantic Clipper runs for 2 days and 2 nights and takes 54 guests on board, so you'll have an epic adventure with lots of other travelers!
---
This two-story catamaran is home to another one of the best Airlie Beach Whitehaven tours! For 3 days and 3 nights, you'll have lots of time to snorkel, paddleboard, hike to Hill Inlet Lookout, eat delicious food, and relax in the jacuzzi on board Powerplay.
---
Airlie Beach Whitehaven Tours By Air

Now that we've covered the best boat tours to Whitehaven Beach from Airlie Beach, we have to mention the air tours! You can also visit Whitehaven Beach by seaplane or helicopter. You can book a short but sweet scenic flight over the pristine beach and the Great Barrier Reef! Or you can book a full-day tour that actually lands on the beach for a few hours before flying back to Airlie Beach.
---
This Whitehaven Beach tour from Airlie Beach packs so much excitement into one incredible day! During your Seaplane Panorama Tour, fly to Whitehaven Beach and view the swirling silica sands from above. Land on South Whitehaven Beach and enjoy 90 minutes of free time! You'll also fly over the Great Barrier Reef and have a two hour ride in a glass bottom boat over the reef.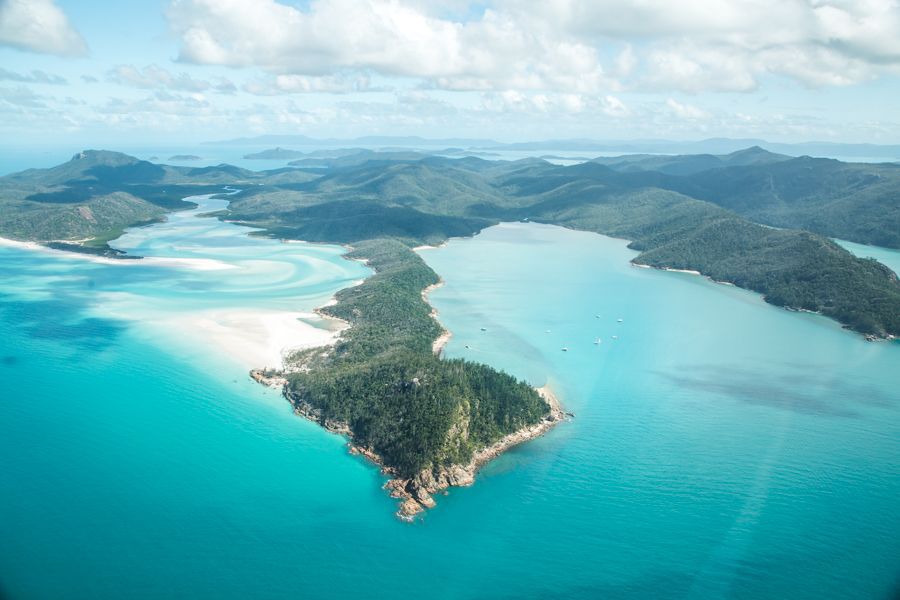 ---
Ocean Rafting offers exclusive combo packages where you can include a scenic flight with your standard boat tour of Whitehaven Beach! With both the Southern Lights and Northern Exposure options, add on a scenic seaplane flight so you can view the exquisite beauty of Whitehaven Beach from the air, land, and sea.
---
Another epic air & sea combo of Whitehaven Beach is offered by GSL. Depart from Airlie Beach on a popular boat tour to Whitehaven and spend some free time playing sports, swimming, snorkeling, and sunbathing on the pristine beach. Then hop on a seaplane flight and soar over Whitsunday Island and the Great Barrier Reef for 40 minutes before landing back on Whitehaven.
---
Enjoy a similar experience to the previous air tours, but ride in a helicopter instead! GSL also offers a Whitehaven Beach Helicopter tour where you will fly from Airlie Beach over to Whitehaven and admire the aerial views before landing on the sandy shoes. Have 1.5 hours on the beach before flying home.
---