CW: Whitehaven Beach Half Day Tour from Airlie Beach - Morning Cruise
CLOSE
View More Thumbnails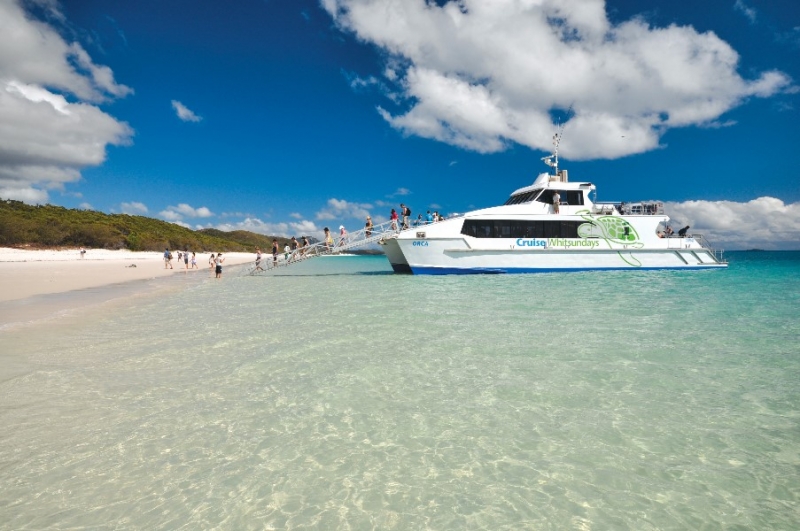 Loading...
Departure Times
Departs: 7:15am - Daily
Returns:
2:30pm - Daily
Departure Point: Airlie Beach
Pricing Options
$140 AUD / Person
- Adult
(Between: 01 Jan 2023 and 31 Dec 2023)
$55 AUD / Person
- Child (4-14 years)
(Between: 01 Jan 2023 and 31 Dec 2023)
$125 AUD / Person
- Senior (60+ years)
(Between: 01 Jan 2023 and 31 Dec 2023)
$365 AUD / Family
- Family (2A+2C)
(Between: 13 Jan 2023 and 31 Dec 2023)
$0 AUD / Person
- Infant (0-3 years)
(Between: 01 Apr 2020 and 31 Dec 2023)
Short on time but still want to soak up the best of the Whitsundays? Cruise Whitsundays will take you on a whirlwind adventure to the dazzling shores of Whitehaven Beach. Jump on board!
Relax at one of the world's best beaches!
Enjoy a half day cruise, leaving you plenty of time to explore
Cruise around the nearby islands and soak up peaceful and remote locations
Unwind on white sandy shores and paddle in the cool blue water
Explore with the confidence that you're experiencing the best of Whitehaven Beach
Jump on board the morning Half Day Whitehaven Beach tour and relax as you cruise across the calm blue waters of the Whitsundays. This cruise is comfortable and scenic, and includes informative commentary from your skipper. After jumping on board, you'll head for the magnificent Whitehaven Beach. Wander along the colossal stretches of pristine silica sands, laze around on your own piece of paradise and take a dip in the blue azure waters. You'll be mind-blown by Australia's most photographed beach!
---
Highlights & Features:
Enjoy up to 2 hours at Whitehaven Beach
Learn about the history of the region and its flora and fauna with informative commentary
Relax in the comfortable vessel equipped with air-conditioning
Expansive indoor and outdoor seating areas
Enjoy complimentary morning tea and coffee
Get ready for an incredible morning on board the Half Day Whitehaven Beach cruise! Experience the beauty of the incredible coastline and take in breathtaking scenes of the blue sea and white sand. Enjoy Mother Nature at her very best!
If you would prefer an afternoon tour, please check out Whitehaven Afternoon Cruise ex POA.

---
Important Notes:
This tour does not visit Hill Inlet lookout.
Cruise Whitsundays reserve the right to ask all passengers for ID upon check-in. Passengers who do not meet the purchased ticket requirements will need to pay the difference in ticket cost to board the vessel.
Sample Itinerary
Show Less
Jump on board the comfortable Cruise Whitsundays vessel and set off on your wonderful cruise! As you wind around some of the most beautiful Islands in the Whitsundays, your jaw is bound to drop! Your friendly, experienced, and Eco-Certified skipper will provide interesting and informative commentary on the area's history whilst whisking you away to the dazzling shores of Whitehaven Beach.
You'...
Read More
Jump on board the comfortable Cruise Whitsundays vessel and set off on your wonderful cruise! As you wind around some of the most beautiful Islands in the Whitsundays, your jaw is bound to drop! Your friendly, experienced, and Eco-Certified skipper will provide interesting and informative commentary on the area's history whilst whisking you away to the dazzling shores of Whitehaven Beach.
You'll start your day with an incredible view of the soaring Passage Peak and the striking Pentecost Island. Watch the cool turquoise waters gently lap secluded bays, and keep your eyes peeled for marine life like sea turtles! Cruising via Hamilton Island and through the Solway Passage, you'll be led to the beautiful Whitehaven Beach.
When you arrive at Whitehaven Beach, you will be delightfully greeted by the dazzling azure waters and sparkling white sands of Whitehaven Beach. Stretching for miles, you will enjoy two incredible hours on the beach. Whether you decide to swim, wander, laze or relax, you'll be entranced by the wonder of this natural gem.
When you return to the boat, you will be served a scrumptious morning as you sit back and enjoy the comfortable cruise back to the mainland. Treat yourself to a cold beer or a delicious glass of wine as you breathe in the fresh sea air, marvel at the spectacular views that surround you, and appreciate your amazing half-day experience.
Not long enough? Cruise Whitsundays also offers a full day trip to Whitehaven Beach.
More Information
Show Less
What To Bring
Please pack a small day bag with:
Photo identification
Sun protection (hat, sunglasses, sun cream etc)
Beach towel
Swimsuit
Camera
Water bottle
Sweater or jacket (for colder months)
You're welcome to bring additional snacks, if you'd like. Please also bring cash for if you wish to make any on board purchases.
What's Included
1.5 to 2 hours on Whitehaven Beach
Morning Tea
What's Extra
Cash for additional on board purchas...
Read More
What To Bring
Please pack a small day bag with:
Photo identification
Sun protection (hat, sunglasses, sun cream etc)
Beach towel
Swimsuit
Camera
Water bottle
Sweater or jacket (for colder months)
You're welcome to bring additional snacks, if you'd like. Please also bring cash for if you wish to make any on board purchases.
What's Included
1.5 to 2 hours on Whitehaven Beach
Morning Tea
What's Extra
Cash for additional on board purchases. Snacks, soft drinks and alcohol are available to purchase on board
Terms and Conditions
---
Important Information:
Guests must be able to show a valid ID at check in to support their ticket type (i.e Senior or Child ticket). If you cannot produce valid identification to meet your ticket requirements, you will not be able to travel without paying a surcharge/difference in fare.
Children's fare 4-14 years inclusive. Infants under 4 years travel free of charge, however, we must be advised at the time of booking when an infant is traveling.
---
Your Responsibilities:
Please advise us before booking if any passengers are under 18 years old to ensure this is the appropriate trip.
You must reconfirm all booked tours prior to travel as specified on your voucher. If applicable, notes such as dietary requirements, pick-up locations and additional fees should also be confirmed at this time. Reconfirmations cannot be actioned through Sailing Whitsundays/Mr Travel, and must be done so directly through the Service Operator as specified on each ticket.
It is your responsibility to notify us of ticket discrepancies. Please read through the details on your voucher thoroughly to ensure all details such as passenger names, ages and dates of travel on vouchers are correct.
It is the responsibility of all passengers travelling to advise both your travel agent at the time of booking and vessel check-in agent before boarding of any medical conditions including food allergies you may suffer from.
You need to allow adequate time to check-in prior to the specified departure time.
---
Prices/Extra Costs:
All prices are stated in Australian dollars and include GST. Surcharges over peak holiday seasons may apply.
The Service Operator reserves the right to alter prices and extra costs. Extra costs may include EMC fees, Stingersuit/Wetsuit Hire, Luggage Storage, Insurance, Linen Hire, National Park Fees, Fuel Levies, Dietary Fees, etc. Bonds may also apply.
We will also endeavour to communicate these extra costs with you at the time of booking, and on your ticket. However, it is your responsibility to confirm which (if any) additional costs apply with each Service Operator upon reconfirming your trip.
---
Travel Risk/Insurance:
It should be noted that adventure travel involves risk. Whilst we make every effort to safeguard clients, we cannot be responsible for personal injury or loss due to the actions of our clients which are beyond our control. We highly recommend that all clients have travel insurance covering illness, injury, loss or damage to personal belongings and not being able to travel on the confirmed date of departure. You should also ensure your travel insurance will cover special circumstances including weather events preventing guests from travelling to their tour departure destination and cancelled flights due to unforeseen circumstances.
---
Transfers:
The Service Operator reserves the right to limit courtesy transfers to select local accommodations. Private residences or Airbnb properties may be asked to meet at the closest confirmed location. Failure to meet at the specified pick-up location may be treated as "No Show", for which the Client Cancellation Policy applies.
---
Merchant Fees:
Please be aware operators pass on credit card merchant fees so there is a non-refundable 1% surcharge for VISA and MASTERCARD card purchases.
---
Other:
Terms and Conditions (including the Cancellation Policy) are subject to change. The most recent versions can be found online on the relevant product pages.
All ticket/voucher reissues attract a $20 administration fee.
---
Open Date Vouchers / Gift Certificate:
Shipping Costs are in addition to the ticket price and will be added at check-out. Shipping costs are non-refundable and do not makeup part of the ticket value.
E-Vouchers incur no shipping fees.

You have 5 years to use the value of the voucher. Seasonal Price Rises will apply if travelling out the current seasons pricing. Vouchers can be exchanged for free up to the full value of the voucher excluding credit card fees and charges.
Cancellations
---
Client Cancellations:
No-shows or client cancellations made within 48 hours of departure forfeit 100% of the total ticket price.
Sailing Whitsundays are required to notify the operator of any cancellations within the specified cancellation period (48 hours). It is your responsibility to make sure you submit your cancellation request with adequate time, and during standard business hours (9am-5pm), to allow us to contact the tour provider.
Transfers between tours can be made at the suppliers discretion, however, it should be noted that supplier fees may apply. Tour transfers also incur a $20 administration fee.
It is compulsory that all cancellation requests are in writing and sent via email to admin@mr-travel.com. Cancellations attempted via online chat or phone will not be actioned.
---
Supplier Cancellations:
The Service Operator reserves the right to alter prices, alter itineraries, apply a fuel surcharge, cancel departures, arrange alternative transport and vary itineraries and services if necessary.
All departures and itineraries are subject to weather. Tours may be changed or cancelled for any reason at the discretion of the Service Operator. If the Service Operator has to cancel the trip or activity (prior to departure) and we cannot offer a suitable alternative, then a refund will be given minus a 20% administration fee and any associated card fees. We strongly recommend that you have travel insurance, especially during the wet season.
In the unlikely event of your trip being cancelled or stood down, all guest communication is required to go through our Online Store via telephone or email. While there is a Sailing Whitsundays retail outlet located Airlie Beach, please be aware that they operate as a separate entity and are unable to access reservations made by the Mr Travel online department.
---
Refunds:
All refunds are in Australian Dollars and must be made to the card of payment. Sailing Whitsundays/Mr Travel is not liable for exchange rate fluctuations or fees, or any other merchant/bank fees associated with domestic and/or international transactions.
Where a full refund is applicable, there is the option to transfer the whole cost of the tour to another tour or "Credit" to avoid the administration fee. A transfer fee of $20 will apply.
You will be emailed confirmation once the refund has been processed. Once the refund has been processed, it may still take time for the banks to clear the amount. Please allow 7-10 business days for the funds to clear into Australian accounts and up to 21 business days for international accounts.
---
Accountability/Misconduct:
All Service Operators have the right to provide client feedback and to cancel bookings based off of feedback from other Service Operators.
Please enjoy your travel experience in a kind and responsible manner.
Sailing Whitsundays/Mr Travel will treat this as any normal client cancellation and therefore the cancellation fees stated in the Client Cancellation Policy will apply.
---
Thank you for booking with our East-Coast travel experts here at Mr Travel/Sailing Whitsundays. If you would like any further advice, assistance in arranging accommodation, transfers or additional tours please get in touch.
Customers who viewed this item also viewed...
Reviews
Overall Rating
5.0 / 5.0
Based on 28 reviews
Reviews by our Sailing Whitsundays customers
We visited Whitehaven Beach with a small group, some people with disabilities. The staff were more than happy to help and did all they could to make the experience enjoyable for all.
We wanted to go whale watching, we were on GKI a friend told us about Airley beach whale watching when we asked the girl that booked our tour, is it windy tomorrow, she said only a little bit of wind, we were very disappointed. Couldn't get back to shore quick enough. The staff were great.
Brad Mc Arthur
, 17 May 23
A relative had recently completed a bare boat sailing experience around the Whitsundays and when he heard we were going to Airlie Beach, he said we must go to the islands. So we took a tour to Whitehaven Beach. Despite unsettled weather, we had an exhilerating trip to Whitehaven Beach.
Darryl Vancise
, 20 Feb 23
Interesting cruise out with harbour stops, fantastic crew and such a wonderful beach. Well done in providing a memorable experience.
Alice MICHALENKO
, 23 Dec 22
Really great family trip. The trip was very rough but the staff were prepared and helpful. Complimentary tea and coffee was lovely and it was great that there was a hot chocolate option as an alternative for the kids. All staff were friendly, professional and very pleasant. Will definitely do it aga
Stephanie Yuan
, 27 Nov 22
Smooth experience from start to finish. Checking in was easy and quick, the boat was clean with good snacks provided, and I enjoyed the mini tour of Whitehaven Beach. Once we got onto the beach, really appreciated the free toys/boards to use in the water.
Brianne Lyoness
, 16 Nov 22
I highly recommend going to see Whitehaven beach! Absolutely breath taking!!! I had enough time to do 2 walks to the lookouts and enjoy time on the beach. I only wish I was there longer than a half day.
A group of 15 came away for my 50th and everything ran so smoothly throughout the day!! The staff were excellent, the boat was clean and comfortable and Whitehaven w was magical. Can't wait to go back and visit the other islands one day! Thanks for a top experience!
Just the tour I needed as I had a flight that evening. Its great that they provide these tours for people with less time on their hands
Great day out. Boat was comfortable, staff were great. The 2 1/2 hours on the beach was lovely. What an amazing Australian location. So lucky. Thank you
Nice little half day out on whithaven, would definitely recommend. Staff wonderful also
I had lots of fun. It was really nice weather and the water was really pretty. Was very relaxing. We had a good day.
Was really nice, the beach was beautiful. We didn't want to do a lot so we were recommended to just go to the beach and we had a great day at south Whitehaven. Was good.
Chris Williams
, 10 Sep 22
Fantastic day, the crew were great and couldn't do enough for you, the skipper was very experienced and easy going ,and the food was great. Can't recommend this trip enough value for money and it was a great experience. Chris and Linda Williams.
Sheridan Lewerissa
, 10 Sep 22
Great day and cheap drink package. Staff were so lovely and helpful. More food options would be great to purchase. Not enough of the shade tents or paddle boards to go around so didn't get a chance to use anything but enjoyed the time swimming and walking the island. Overall absolutely worth it!
Great tour, Great day overall. Beach was nice and weather was good which made it lovely.
It was a really good day. The kids enjoyed it and I think it was a good choice for them. The day wasn't too long but we still had enough time to relax and swim at Whitehaven.
This was a very enjoyable way to visit Whitsundays from pick-up to drop-off. The cruise itself was great, crew were so friendly, morning tea was nice and Whitehaven Beach was a lovely place to visit. Beach was amazing and walk through rainforest was great. Pick-up & drop-off from Airlie Beach Tours & Transfers were on time and drivers were all very helpful and friendly
Cruise Whitsundays half day cruise to Whitehaven beach was perfect for my family. Very professional cruise company, great friendly staff, boat was comfortable and large. Provided morning tea, sunshade tents to use perfect for the hot sunny weather as well as stinger suits to swim in. On the way back I bought lunch on the boat- salad wraps which were fresh and great value. Overall a perfect day
Perfect activity for the morning! We had the beach for ourselves, went for a walk, sunbathed, but had a tent provided as well for some shade, and the water is beautiful. Very enjoyable!
Perfect quick and easy half day tour. I have quite a large family with a lot of young children so it was really nice to be able to just take the kids out to Whitehaven beach for half the day before they got too tired. A few of us adults ended the day with the Camira sunset tour which was a perfect finish.
What an amazing beach with the white white sand. Just spectacular!
We has some time to kill before our flight in the afternoon and this seemed like the perfect option to see some paradise before we head back to Sydney. The beach is huge so you can find your own spot away from the crowds and just relax. Special thanks to Adrian who took the time to answer our questions about the islands on the journey back in. He is very knowledgeable!
Great time on Whitehaven Beach, playing with the wildlife and hiking up the hill to the lookout. Had a great day.
I was travelling with my mother and wanted an easy option to see Whitehaven, as we have been to Hill Inlet before. This is the type of tour where you can have loads of interaction with the guides if you want, or otherwise be left alone to go exploring. Was great to be dropped straight at the beach without having to worry about the small tenders. Was perfect for us!
We were short on time, so opted for a half day tour. Aboard a nice comfortable boat, we cruised out to Whitehaven Beach, where we had around 2 hours free time to enjoy the surrounds. You can really see why this beach is rated one of the top beaches in the world! Stunning!
IT WAS A GOOD DAY, NICE AND RELAXED, WAS GOOD TO FINALLY SEE WHITEHAVEN
The lookout was really beautiful, it was great to just relax and enjoy the beach. Weather wasn't to great but non the less was still stunning the morning tea was good.