10 Best Day Trips From Airlie Beach
There are so many incredible day trips from Airlie Beach that allow you to explore the natural beauty of the Whitsundays! Airlie Beach is a tourist town that is designed to set visitors up for excursions to the surrounding nature. You can have some fun in downtown Airlie Beach, but the main reason for visiting Airlie Beach is to take trips outside the borders of the town! Overnight tours are the most popular option, but many travelers like to take day trips if they are short on time.
So once you've planned a trip to this tropical tourist town, you may be wondering, "what are the best day trips from Airlie Beach"? From the World Heritage-listed Great Barrier Reef, to the dazzling white sands of Whitehaven Beach, to various local towns, waterfalls, and more, here are the top day trips you should add to your Airlie Beach bucket list!
---
10 Best Day Trips From Airlie Beach

1. Whitehaven Beach
Undoubtedly the first on this list has to be Whitehaven Beach. As one of the best beaches in the world, it would be a shame to visit Airlie Beach and not witness this magical sight. With sparkling white silica sand swirling with sapphire blue water, the views from Hill Inlet Lookout are unbelievable.
Whitsunday Bullet and Ocean Rafting are three of the most popular day boat tours to Whitehaven Beach from Airlie Beach. You can also elevate your experience by taking a day trip to Whitehaven Beach via seaplane or helicopter!
---
2. Hamilton Island
Second to Whitehaven Beach is a day trip to Hamilton Island, another gem of the Whitsundays. This gorgeous tropical island is just a 1-hour ferry ride from Airlie Beach. Spend the day conquering the hiking trails, checking out the local wildlife center, trying some water sports at Catseye Beach, or treating yourself to a delicious meal at one of the island's top-rated restaurants.
The best way to get to Hamilton Island from Airlie Beach is by booking the Hamilton Island Freestyle. This ticket covers your transport to and from Airlie Beach and includes lunch. But it provides you with the flexibility to explore the island however you choose! Or book a combined tour that includes Hamilton Island and Whitehaven Beach if you want to see two Whitsunday gems in one day.
---
3. Great Barrier Reef
Third on this list of the best day trips from Airlie Beach is the world-famous Great Barrier Reef. As the largest coral reef system on the planet, you can find an abundance of unique marine life and colorful coral gardens in this spectacular underwater ecosystem. Definitely take a day to snorkel and dive in the Great Barrier Reef while you're in Airlie Beach!
Spend a day on the Hardy Reef Pontoon on the reef where you can snorkel and scuba dive to your heart's content. Taking a scenic flight over the Great Barrier Reef is also a once-in-a-lifetime experience! Hop on a seaplane or helicopter to soar over the highlights of the reef in style!
---
4. Hideaway Bay
This charming coastal town in the Whitsundays is a less popular day trip from Airlie Beach, but simply because not many tourists know about it! This is a favorite spot among locals for watching the sunrise and strolling on the soft and peaceful sandy beach. It's not a very developed area, and it's a 45-minute drive away from Airlie Beach.
So if you're looking for somewhere that feels more secluded than the popular beaches of the Whitsundays, consider a trip to Hideaway Bay! Dingo Beach is right next to it as well, which is another awesome beach to visit.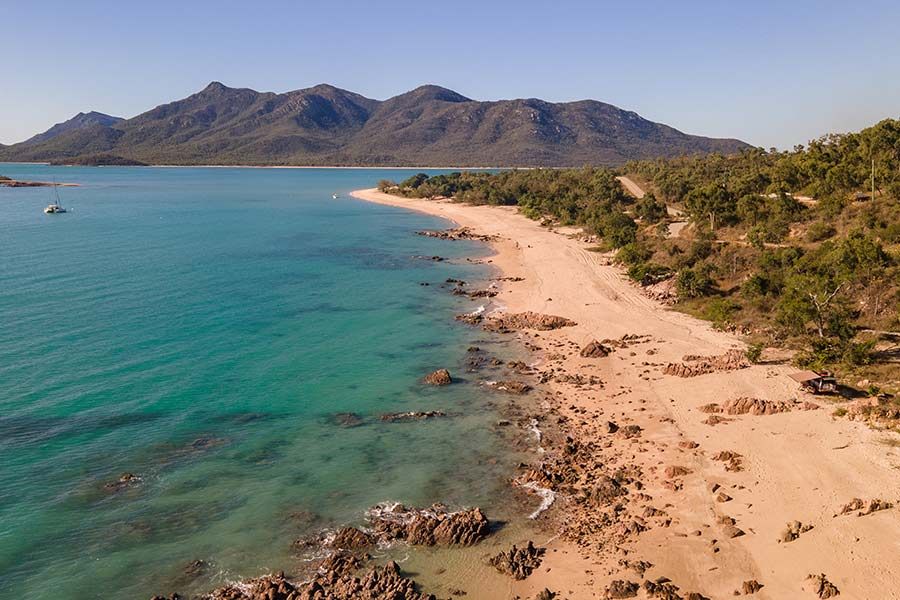 ---
5. Cedar Creek Falls
If you're looking for something different than beaches, islands, and reefs, consider a day trip into the nearby rainforest to check out Cedar Creek Falls! This tumbling cascade surrounded by rich greenery is a lovely place to go for a dip on a hot day in Airlie Beach.
There are two main ways to get to Cedar Creek Falls from Airlie Beach. You can drive yourself, or you can book a guided Cape to Creek tour. Guided tours often include visits to other nearby attractions such as Whitsunday Gold Coffee Plantation or other nearby beaches and local restaurants.
---
6. Daydream Island
One of the closest island day trips from Airlie Beach is Daydream Island. At just 10 km away, you can reach this idyllic little island in just 30 minutes. While you're here, you can visit the spectacular Living Reef, a protected, lagoon that is like a mini version of the Great Barrier Reef. Visit the Underwater Observatory and chat with a local marine biologist about the incredible creatures that thrive here.
Other fun things to do on Daydream Island include swimming, relaxing, and eating at the amazing resort on the island. The best way to visit Daydream Island is with a day tour that includes ferry transfers and lunch but has no set itinerary so you can spend your day however you choose!
---
7. Sail Through The Whitsundays
Sailing through the Whitsundays is better done as an overnight trip so you can cover more ground and spend more time out on the water! But, if you only have time for a day trip, you can still explore the stunning islands by sailboat and have an incredible time.
Sailing day tours provide a more unique experience with the ocean than speedboat tours. Enjoy a leisurely journey across the turquoise Coral Sea, stopping at highlights on the way such as Whitehaven Beach or the Great Barrier Reef. Or consider a sunset sail and watch the sky fade into purples and pinks as you float on a sailboat in the Whitsundays!
---
8. Conway National Park
Hikers will be pleased when they visit Airlie Beach because there are so many epic hiking trails nearby! Particularly in Conway National Park, which sits just south of the town center, you can stretch your legs and immerse yourself in the lush nature of Quensland.
Hike or bike along the Conway Circuit, or camp at the Swamp Bay bush camping area if you have a night to spare! For a fun twist on Conway National Park, consider a segway rainforest discovery tour where you can learn about the native flora and fauna of the park with a local guide.
---
9. Proserpine
The nearby town of Proserpine is mainly known as the location of the Whitsunday Coast Airport. This is where you will fly into if you're traveling to Airlie Beach by air! But there is more to this rural town than you may expect! You can go on a fascinating crocodile safari through the Proserpine River and spot the mighty saltwater crocodiles in their natural habitat!
Many people wonder if there are crocodiles in Airlie Beach. Saltwater crocodiles actually prefer the murky waters of rivers, so you'll really only see them in Proserpine. Other things you can do in Proserpine include grabbing a bite to eat at a charming local cafe or eatery, touring the Whitsunday Gold Coffee Plantation, or shopping at the little village downtown.
---
10. Bredl's Wild Farm
Animal lovers should definitely visit this epic attraction while visiting Airlie Beach! Bredl's Wild Farm is located on 175 acres of Australian bush and is home to an abundance of healthy, thriving, local wildlife.
A day at this unique and exciting local attraction will leave you buzzing with glee. You'll have the opportunity to feed kangaroos and cassowaries, as well as hold a koala, a snake, and even a baby crocodile. You'll also get a guided tour in a sturdy safari vehicle so you can see crocodiles safely from a distance. This is one of the best day trips from Airlie Beach for families and animal lovers!
---
Ready to plan your adventure in Airlie Beach and go on some epic day trips?
Chat with a member of our staff online or call us at +61 7 4914 2425 if you have any questions!