A Day on Daydream Island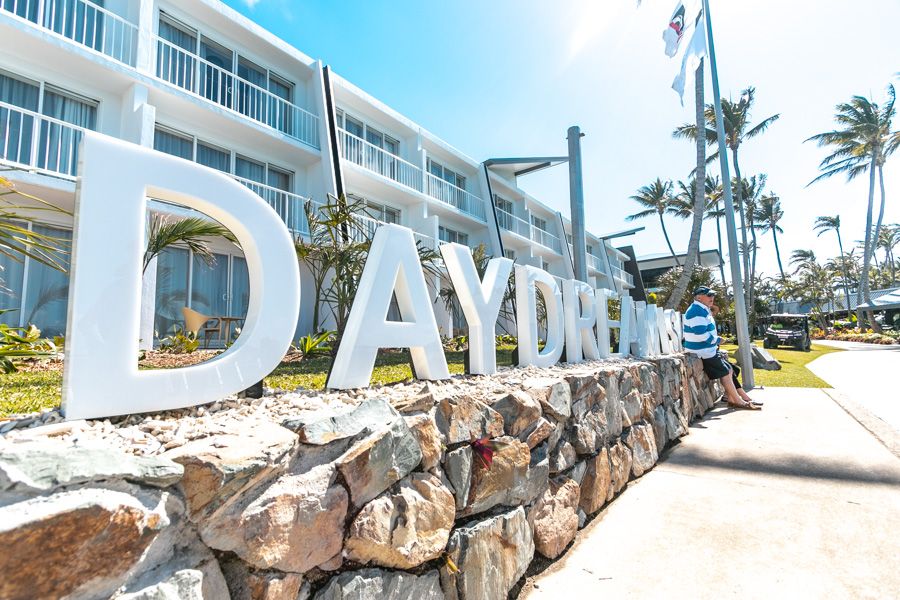 Nestled in the Molle Group in the Whitsundays, Daydream Island is a tropical oasis like no other. This little slice of paradise has changed hands and undergone many refurbishments over the years, and it has never looked better following the most recent one. We decided to see for ourselves first hand, and what better way to experience the charm of Daydream Island than to take a trip over for the day?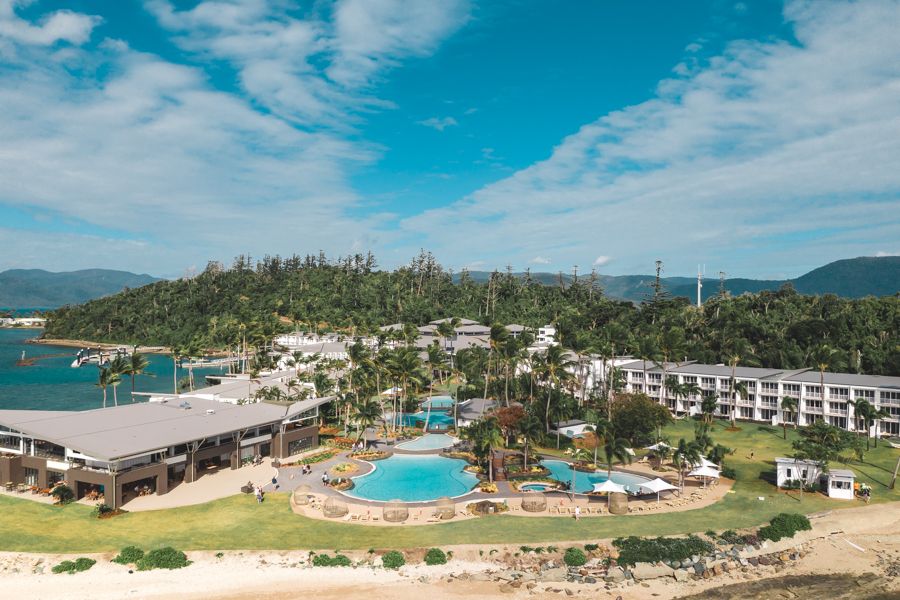 What a Day For a Daydream
We arrived at Cruise Whitsundays ferry terminal at Port of Airlie at 7:30 am to check-in for our 7:50 am departure, the dew still clinging to the grass on this crisp tropical winter morning as we took a short stroll from our accommodation on the main street of Airlie Beach. Winter in the Whitsundays is a bit of a tongue in cheek phrase, with average daily temperatures in the 30s, we knew we were in for a fun day in the sun. The ferry ride was a short 25-minute ride across the beautiful azure Coral Sea. Upon arrival, it's easy to see why this boutique island resort has caught and kept the hearts of so many locals and visitors - The quaint rock wall and jetties that make up this tiny marina are picturesque, and we couldn't wait to see what lay ahead.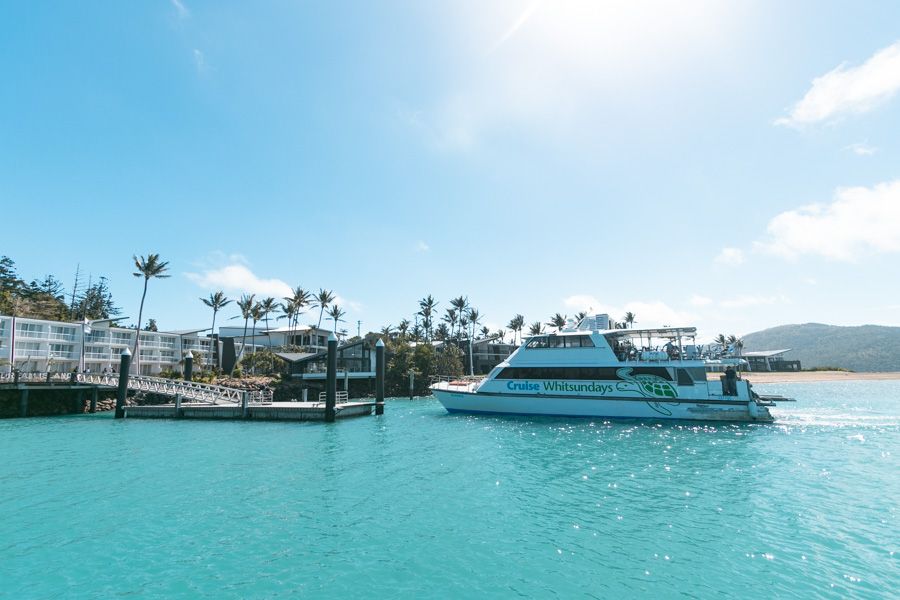 We were greeted and taken into the arrival and departure lounge, where a guest liaison briefed us on the facilities of the island and where we could explore as day visitors. The options seemed endless, and it was easy to get distracted by the beautiful aquarium wall filled with colourful coral and tropical fish, a taste of what was yet to unfold.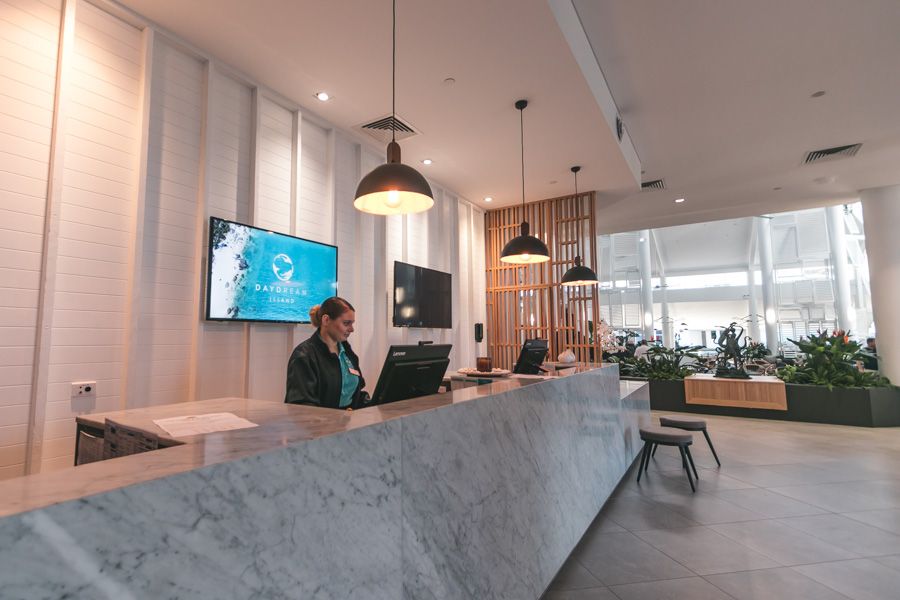 The Reef In Living Colour
Once we were left to explore, we decided to take a walk around the large multi-story reception and lounge area, beautifully adorned with white loovers and handing green planters that climbed to the ceilings, an architectural delight creating a natural airflow. Ample seating, a bar and restaurant were surrounded by a glass wall. At first, we thought the place was underwater, but upon a closer look we realised on the other side of the glass wall was our first look at the Living Reef, the largest outdoor aquarium in the southern hemisphere! Wrapping over 200m around the building and winding throughout the walkways surrounding it, the Living Reef was incredible to behold. Here we decided to grab a cup of coffee and head outside for one of their daily shows, which was free for all to enjoy.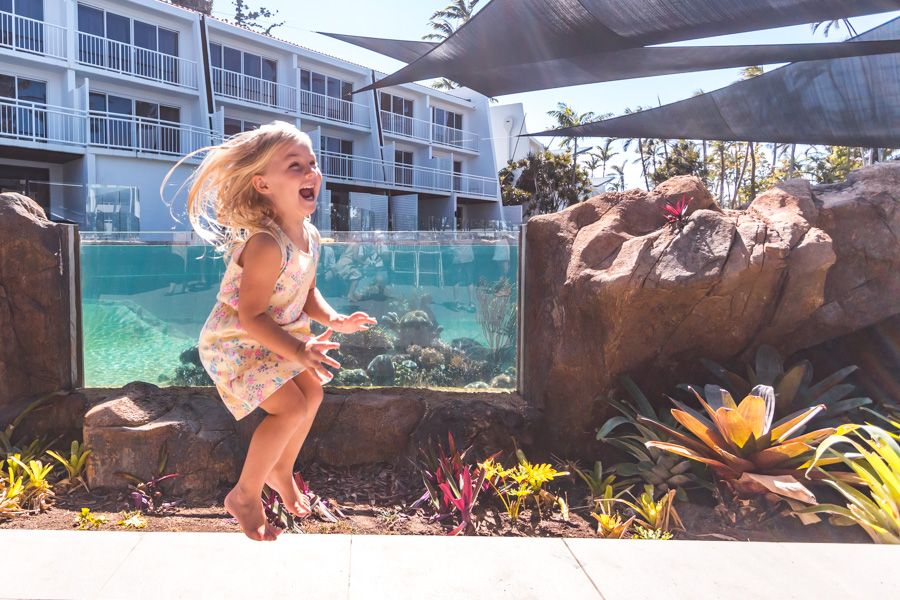 The 10:00 am fish feeding was presented by one of the living reef staff, who was an actual marine biologist! While they went through some of the hundreds of species of fish and coral in the living reef, large stingrays approached them for their breakfast, while slapping and playing about, vying for the number one spot in front of the food. After the informational talk, we decided to investigate the Living Reef Educational Centre, a mini aquarium complete with a touch tank, movie room, and lots of information about the inhabitants. This is where you can also book some of their private experiences, including the stingray splash and a guided snorkel in the 1.5 million litre tank. The marine biologists then told us about another hidden feature, and we crossed the grounds over to what looked like a mini reception with a staircase going underground. When we arrived at the bottom of the spiral staircase, we were transported to what seemed like another world, in the underground (and water!) viewing room, where a giant wall of glass was the only thing separating us from the Great Barrier Reef in the flesh! This artificial reef is teeming with life, from potato cod to giant stingrays, and even painted crayfish all harmoniously co-inhabiting this incredible display. We could even see the guided snorkel tour from underneath, making for a truly different perspective. You'll find most of the 'Great 8' on Daydream Island, making it an incredible Great Barrier Reef experience.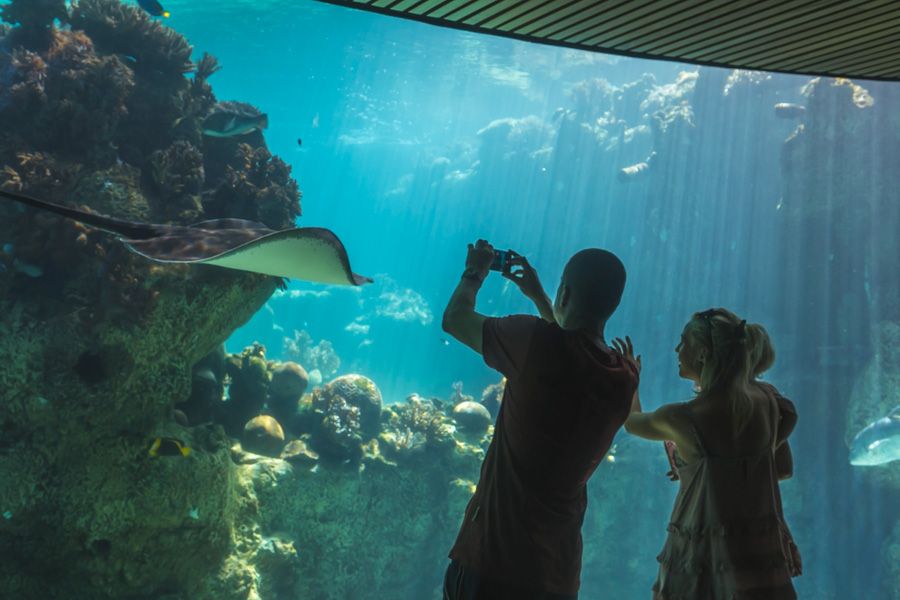 After losing ourselves in this underwater paradise, we had worked up quite the appetite, and realised we hadn't even seen the rest of the island yet! There was plenty of time for some refuelling we decided, before exploring the rest of the island.
Beach Front Dining
Included in our full-day tour was a 2-course lunch at Inkstone, formerly Mermaids restaurant, which is a modern alfresco restaurant right on the beach and by the pool. From the restaurant, you can see people already diving straight into the non-motorised water sports available. While we chose from their intriguing menu, we enjoyed watching paddleboards, kayaks, and even small Hobie catamarans setting out from the beach, while little ones played in the pool nearby. The lunch left nothing to be desired, and local delicacies like Morton bay bug linguine and smoked crocodile woodfired pizzas were a perfect blend of flavour, leaving us wishing we had left room for dessert!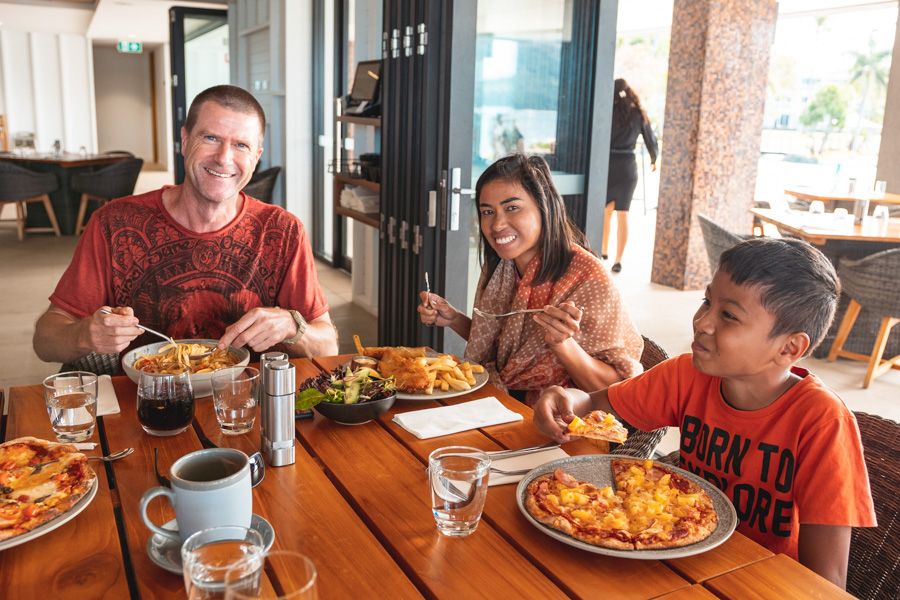 After lunch, it was time to don our bathers and check out some of the water activities, with the sun now out in full force. After a quick dip in the pool, we saw the swim-up bar was calling our name… But decided there was still too much to do before indulging in some of their signature cocktails.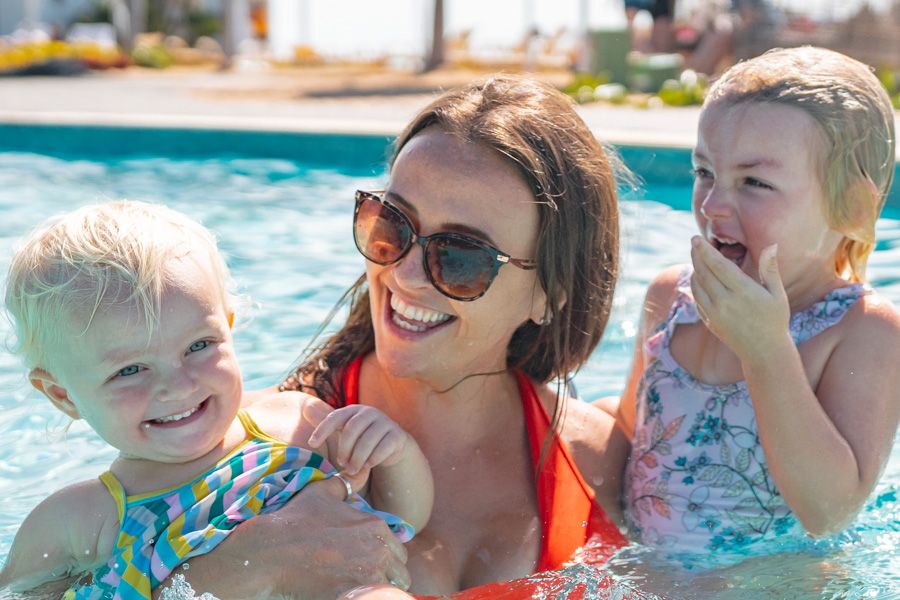 Discover Lover's Cove
After hiring some snorkel gear, we took the winding scenic walk over to Lover's Cove, where we heard some of the best offshore fringing reefs lie awaiting discovery at low tide. Along the way, we spotted several wallabies lounging like swimsuit models in the shade of a palm tree, very much at home on this island in the wild. Lovers cove certainly didn't disappoint, and we were met with dozens of local fusiliers and diamond headed mullet swarming around us while we explored the bommies and shelves of the colourful reef.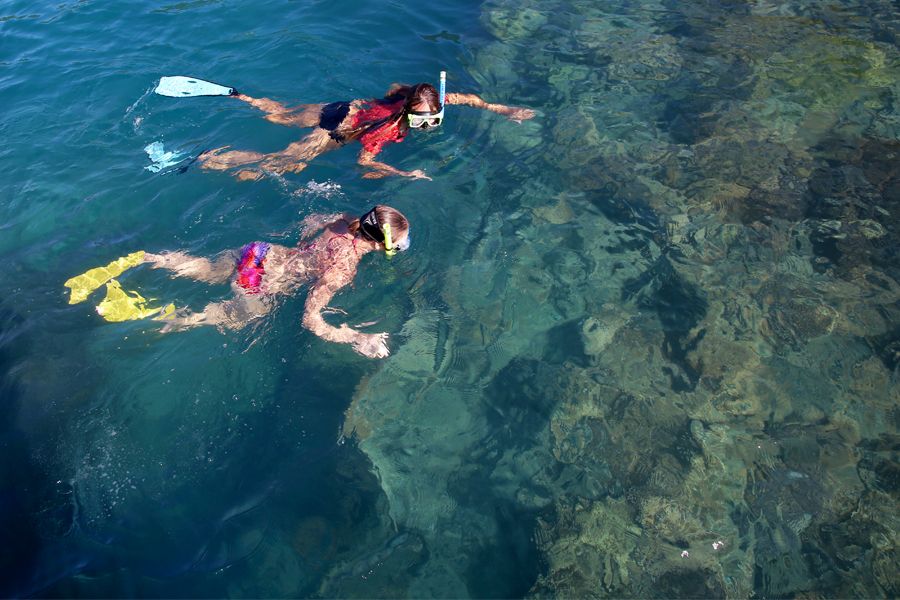 On Walkabout
On our way back up, we decided to take a detour when we noticed a rainforest walk to our right - Luckily we had our small bag with us, so being able to swap our fins for walking shoes allowed us to not miss a beat on this island full of surprises! The 20-30 minute walk brought us to some incredible vantage points of the surrounding bays and islands, with benches and informational signs posted throughout the moderate bush track. When we arrived at the end, we realised we had no idea where we were, until we spotted a quaint looking chapel, almost completely made of glass overlooking more stunning views, and even more lounging wallaby models!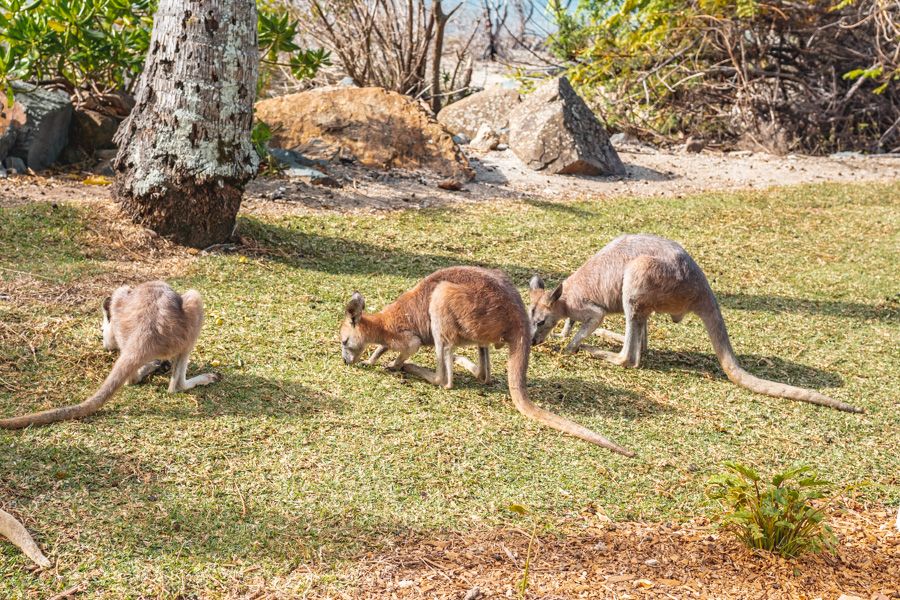 South End
As we kept on, we passed the south end of the island, where there were more infinity pools, a long beach scattered with sun loungers and strategically placed hammocks amongst the palm trees. It was as if anyone could have their own private spot on the edge of the beach. Tempted to stop for a nap, we kept strolling on to find a large outdoor movie screen, right on the ocean shore! A passing staff member told us they hold movie nights throughout the week, and you could even book a couple of chairs and a bottle of bubbles, making us regret not booking to stay overnight. They kindly offered us a personal buggy lift back to the main resort area, where we decided we had finally earned that cocktail. Tucked away we found a hidden heated spa in the shade and sipped our prized pina coladas while taking in the sounds of the birds echoing from the natural rainforest surrounding us.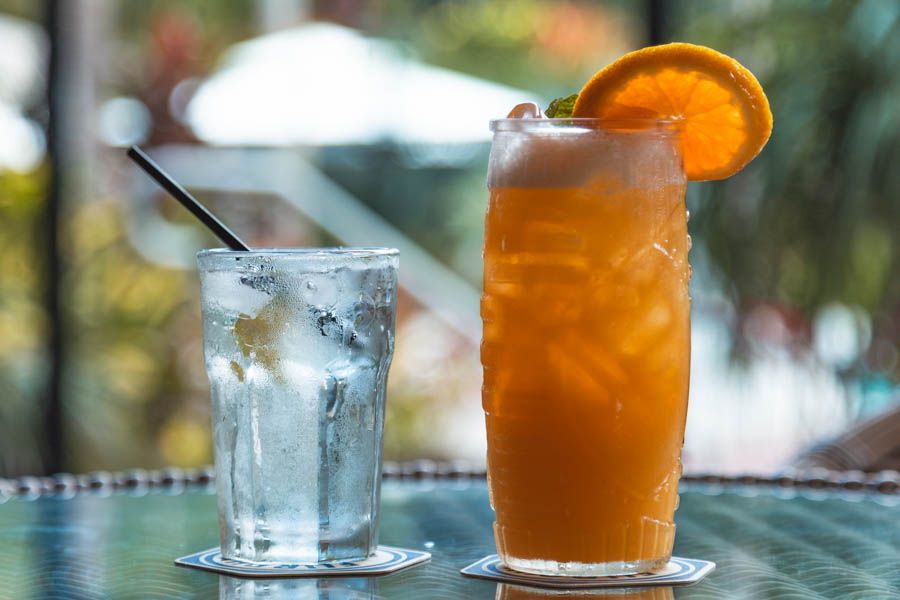 After waking from our own daydream, we realised it was almost time to depart, and we suddenly wished we had gotten lost on our bushwalk and were forced to stay overnight. Unfortunately, we managed to change and make our way back to the last ferry back to the mainland in time, and waved goodbye to what was surely not the last time to this incredibly understated island, knowing full well we would be back again soon-This time overnight!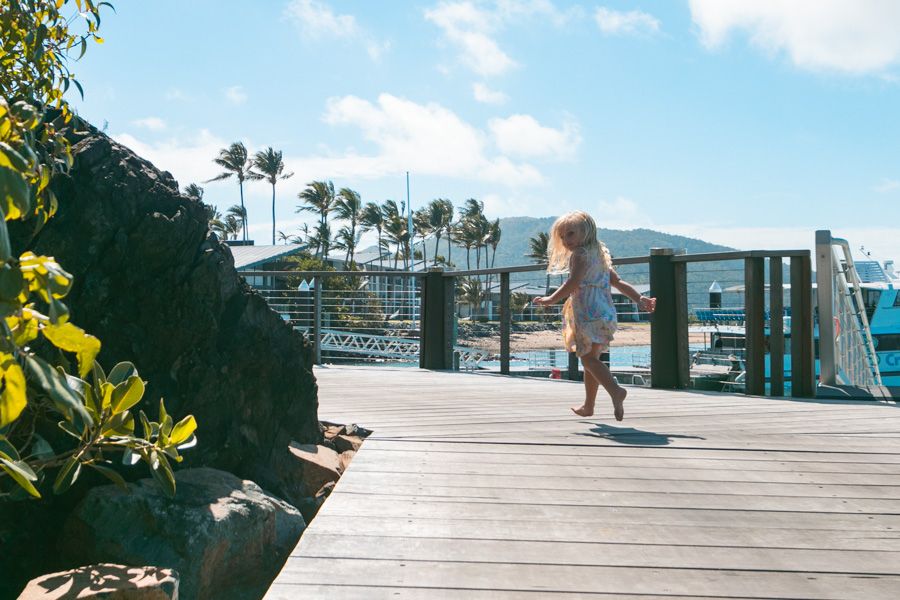 Ready to get lost in your own daydream? Chat to our local travel experts about our latest deals, or find out more about the many island day tours you can explore…