Tallship Twilight Sunset Sail
CLOSE
View More Thumbnails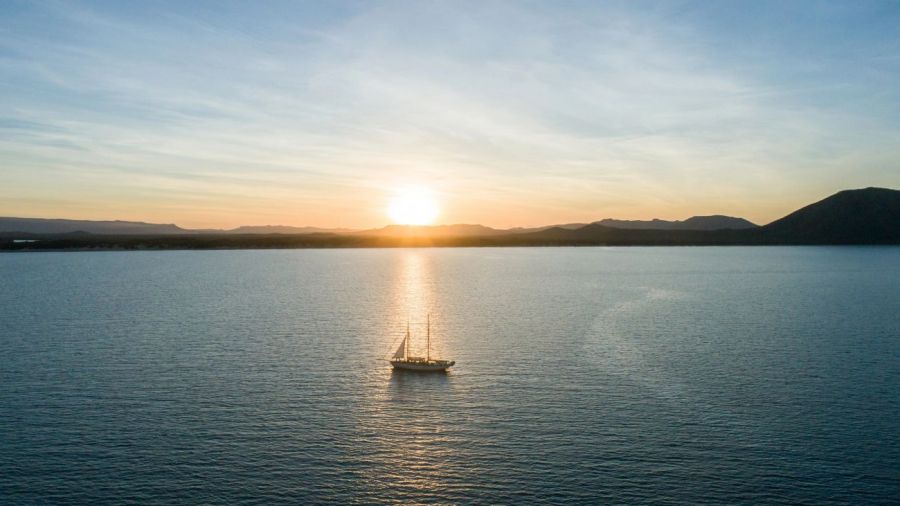 Loading...
Departure Times
Departs: 5:00pm - Daily
Returns:
7:00pm - Daily
Departure Point: Coral Sea Marina, Airlie Beach
Pricing Options
$79 AUD / Person
- Adult
(Between: 01 Apr 2022 and 31 Mar 2023)
$39 AUD / Person
- Child (5-14yrs)
(Between: 01 Apr 2022 and 31 Mar 2023)
RRP $236

$219 AUD / Family
- Family (2A+2C)
(Between: 01 Apr 2022 and 31 Mar 2023)
$0 AUD / Person
- Infant (0-4 years)
(Between: 01 Apr 2022 and 31 Mar 2023)
Immerse yourself in Whitsunday magic as the sunset slips into twilight on this authentic, spacious tall ship cruise!
A relaxed, charming afternoon of authentic sailing adorned with local knowledge, exquisite food and dazzling island seascapes!
Indulge in a local tasting spread featuring fresh seafood, salamis, cheeses and local delicacies.
Soak up maritime histories of Cape York and Torres Strait from First Nations historians.
Sip on a complimentary cocktail, as well as quality wines, beers, ciders, bubbles and non-alcoholic beverages from the fully licensed bar
Great for all ages!
As a radiating sunset turns into a gentle twilight, revel in smooth sailings, rich histories and taste sensations aboard the Derwent Hunter Twilight Sunset Cruise. Illuminate your evening as you linger over a glass of bubbles, gaze out at the cascading islands and bask in gentle conversations on your intimate sunset experience!
A journey unlike any other, you can learn from your First Nations crew members and historians as they chronicle the tales of Cape York's Aboriginal, Torres Strait Islander and South Sea Islander people. Step back in time amongst a simply glorious setting on your afternoon of natural island beauty!

---
Highlights
Historical, 90ft tall ship
Ample, shaded deck space
Food is a range of kangaroo, red wine salami, ash brie, oysters with finger lime pearls, smoked crocodile and more
Complimentary on arrival - the Pacific Lady tropical champagne cocktail
Fully licensed bar (No BYO)
Authentic maritime and First Nations guides
Intimate guest capacity
Stylish finishes and facilities
Charming vistas of the Whitsunday Islands
Witness both sunset and twilight
Perfect for friends, partners, solo travellers, colleagues and celebrations!
Indulge in natural magnificence as you glide through dazzling waters, champagne in hand and golden rays on the horizon! With a delightful spread of complimentary bushtucker and seafood nibbles, you're bound to feel contented and enchanted aboard the Derwent Hunter Sunset & Twilight Sail!

Derwent Hunter Tallship is also available for day, morning and afternoon sails, as well as a private charter experience.
Sample Itinerary
Show Less
Sails Up & Sunset On The Horizon
Embark just before 5 pm and enjoy a traditional sail out to the rolling Whitsunday Islands. Delight in a quintessential nautical adventure, wind in your hair and golden hues illuminating the historical tales of your surroundings being told by your friendly crew! Listen, learn and engage in the nautical and Indigenous past of both Derwent Hunter and the Whitsund...
Read More
Sails Up & Sunset On The Horizon
Embark just before 5 pm and enjoy a traditional sail out to the rolling Whitsunday Islands. Delight in a quintessential nautical adventure, wind in your hair and golden hues illuminating the historical tales of your surroundings being told by your friendly crew! Listen, learn and engage in the nautical and Indigenous past of both Derwent Hunter and the Whitsundays. With oceans of deep sapphire and lush tropical islands around you, you'll be truly blown away by the beauty and tales of this slice of paradise.

Shorten The Sails and Indulge!
Just as the sunset is truly dazzling, your crew will shorten the sails and open the bar. Grab a cool beverage, enjoy a selection of superb tastes and unwind out at sea! As the sun downs over the horizon, let the golden tones colour your afternoon, before sailing back in an ethereal island twilight. Let the last tendrils of soft glowing sunlight throw soft purples, pinks, blues and oranges over the ocean as you return back to port at approximately 7 pm.

Departs/Returns
Show Less
Derwent Hunter Sunset & Twilight Cruise departs from the Coral Sea Marina at approximately 4:30pm, returning at approximately 6:30pm.
Please allow time for check-in and boarding, and always consult...
Read More
Derwent Hunter Sunset & Twilight Cruise departs from the Coral Sea Marina at approximately 4:30pm, returning at approximately 6:30pm.
Please allow time for check-in and boarding, and always consult your ticket prior to your tour as these times vary depending on the time of year.
More Information
Show Less
What To Bring
Hat and sun protection
Money to purchase drinks onboard
A rain jacket during the summer months (Jan - April)
Warmer clothes during the winter months (May - September)
What's Included...
Read More
What To Bring
Hat and sun protection
Money to purchase drinks onboard
A rain jacket during the summer months (Jan - April)
Warmer clothes during the winter months (May - September)
What's Included
Local Indigenous and maritime history guides
Fresh seafood and bushtucker platters
Authentic sailing
Friendly crew
All Marine Park fees and fuel
What's Extra
Full licensed bar including wine, champagne, beer, cider and non-alcoholic beverages including 0% beers and soft drinks
Possible additional fees or levies during peak seasons
Dietary requirements may incur additional fees (enquire upon booking)
Terms and Conditions
---
Important Information
Tour departure and arrival times may vary depending on the time of year.
---
Your Responsibilities:
Please advise us before booking if any passengers are under 18 years old to ensure this is the appropriate trip.
You must reconfirm all booked tours prior to travel as specified on your voucher. If applicable, notes such as dietary requirements, pick-up locations and additional fees should also be confirmed at this time. Reconfirmations cannot be actioned through Sailing Whitsundays/Mr Travel, and must be done so directly through the Service Operator as specified on each ticket.
It is your responsibility to notify us of ticket discrepancies. Please read through the details on your voucher thoroughly to ensure all details such as passenger names, ages and dates of travel on vouchers are correct.
It is the responsibility of all passengers travelling to advise both your travel agent at the time of booking and vessel check-in agent before boarding of any medical conditions including food allergies you may suffer from.
You need to allow adequate time to check-in prior to the specified departure time.
---
Prices/Extra Costs:
All prices are stated in Australian dollars and include GST. Surcharges over peak holiday seasons may apply.
The Service Operator reserves the right to alter prices and extra costs. Extra costs may include EMC fees, Stingersuit/Wetsuit Hire, Luggage Storage, Insurance, Linen Hire, National Park Fees, Fuel Levies, Dietary Fees, etc. Bonds may also apply.
We will also endeavour to communicate these extra costs with you at the time of booking, and on your ticket. However, it is your responsibility to confirm which (if any) additional costs apply with each Service Operator upon reconfirming your trip.
---
Travel Risk/Insurance:
It should be noted that adventure travel involves risk. Whilst we make every effort to safeguard clients, we cannot be responsible for personal injury or loss due to the actions of our clients which are beyond our control. We highly recommend that all clients have travel insurance covering illness, injury, loss or damage to personal belongings and not being able to travel on the confirmed date of departure. You should also ensure your travel insurance will cover special circumstances including weather events preventing guests from travelling to their tour departure destination and cancelled flights due to unforeseen circumstances.
---
Merchant Fees:
Please be aware operators pass on credit card merchant fees so there is a non-refundable 1% surcharge for VISA and MASTERCARD card purchases.
---
Other:
Terms and Conditions (including the Cancellation Policy) are subject to change. The most recent versions can be found online on the relevant product pages.
All ticket/voucher reissues attract a $20 administration fee.
---
Open Date Vouchers / Gift Certificate:
Shipping Costs are in addition to the ticket price and will be added at check-out. Shipping costs are non-refundable and do not makeup part of the ticket value.
E-Vouchers incur no shipping fees.

You have 5 years to use the value of the voucher. Seasonal Price Rises will apply if travelling out the current seasons pricing. Vouchers can be exchanged for free up to the full value of the voucher excluding credit card fees and charges.
Cancellations
---
Client Cancellations:
All cancellations made result in a 25% cancellation fee of the recommended retail price (RRP), not discounted or sale prices. Any cancellations made 21 days prior to travel will result in the forfeit of full trip fees.
Transfers between tours can be made at the supplier's discretion, however, it should be noted that supplier fees may apply. Tour transfers also incur a $20 administration fee.
It is compulsory that all cancellation requests are in writing and sent via email to admin@mr-travel.com. Cancellations attempted via online chat or phone will not be actioned.
---
Supplier Cancellations:
The minimum guest numbers are eight people in order to sail.
The Service Operator reserves the right to alter prices, alter itineraries, apply a fuel surcharge, cancel departures, arrange alternative transport and vary itineraries and services if necessary.
All departures and itineraries are subject to weather. Tours may be changed or canceled for any reason at the discretion of the Service Operator. If the Service Operator has to cancel the trip or activity (prior to departure) and we cannot offer a suitable alternative, then a refund will be given minus a 20% administration fee and any associated card fees. We strongly recommend that you have travel insurance, especially during the wet season.
In the unlikely event of your trip being cancelled or stood down, all guest communication is required to go through our Online Store via telephone or email. While there is a Sailing Whitsundays retail outlet located Airlie Beach, please be aware that they operate as a separate entity and are unable to access reservations made by the Mr Travel online department.
---
Refunds:
All refunds are in Australian Dollars and must be made to the card of payment. Sailing Whitsundays/Mr Travel is not liable for exchange rate fluctuations or fees, or any other merchant/bank fees associated with domestic and/or international transactions.
Where a full refund is applicable, there is the option to transfer the whole cost of the tour to another tour or "Credit" to avoid the administration fee. A transfer fee of $20 will apply.
You will be emailed confirmation once the refund has been processed. Once the refund has been processed, it may still take time for the banks to clear the amount. Please allow 7-10 business days for the funds to clear into Australian accounts and up to 21 business days for international accounts.
---
Accountability/Misconduct:
All Service Operators have the right to provide client feedback and to cancel bookings based off of feedback from other Service Operators.
Please enjoy your travel experience in a kind and responsible manner.
Sailing Whitsundays/Mr Travel will treat this as any normal client cancellation and therefore the cancellation fees stated in the Client Cancellation Policy will apply.
---
Thank you for booking with our East-Coast travel experts here at Mr Travel/Sailing Whitsundays. If you would like any further advice, assistance in arranging accommodation, transfers or additional tours please get in touch.
Customers who viewed this item also viewed...
Reviews
Overall Rating
5.0 / 5.0
Based on 44 reviews
Reviews by our Sailing Whitsundays customers
what a fun night. me and my girlfriends booked on last minute for something to do and it was super fun. We had a go at playing the shell horn which was interesting. Crew were super funny and friendly. Will go on it again for sure
I had a great time. The boat was really cool and had nice deck space to move around. the sunset was really nice. drink were yummy too.
We picked the perfect night, the sunset was incredible. The boat was really nice too. I had a great time with my friends.
Very enjoyable and relaxing trip, friendly happy staff. Also enjoyed the friendliness of other people on board.
Really pretty boat to see the sun set on, lovely :)
Lovely evening out on the water. The staff were great from the boarding to the goodbyes.
What an enjoyable experience. A great way to relax, unwind and enjoy the wonderful sunset in Pioneer Bay. The crew is sensational, and the light refreshments further compliments the whole experience. Thoroughly recommend!!!
A peaceful and amazing experience
Was really nice. We had a great afternoon. Sunset was nice.
Food is so good cant believe they can offer crocodile and oysters
Sunset was beautiful! Food and staff also 10/10 couldn't fault them!
Andrew Macnamara
, 16 Sep 22
This was a fantastic relaxing experience for my whole family. We were blessed with having an absolutely pearler sunset and many photos were taken. I will highly recommend this specific tour to all.
Amazing birthday celebration with the gals! Beautiful evening on the water, enjoying the sunset with a glass of prosecco and some yummy nibbles. We tried kangaroo salami and smoked crocodile! The crew were all fantastic as well. Really friendly and professional :)
Annette & Michael
, 15 Sep 22
We had a lovely time. My husband enjoyed trying the different sacks of kangaroo and crocodile although I wasn't too keen. The complementary cocktail was yummy. Sunset was beautiful although a bit cold once the sunset.
Lovely sunset with the best staff I've experienced in Whitehaven to date. great food options aswell such as croc and kangaroo
Food was amazing!!! and a complementary glass of rum too which was a nice touch
Loved the whole evening, super romantic and the food was really amazing
Really good evening activity which was the perfect night for a sunset. the staff were super friendly aswell i would definitely recommend
Loved it and a must do for others
The sunset sail was absolutely magical!!!! The sailing boat along with the service was incredible. Would definitely do this sail and recommend it.
Vanessa Ravenhill
, 07 Sep 22
Great friendly crew
It was really lovely. We were welcomed with a nice glass of Prosecco and juice. The crew were really fun, im particular the skipper. I tried crocodile which was pretty wild. They even let us have a go at the shell horn. We really enjoyed it, will do again for sure.
Was such a beautiful sunset. I went out with some of my girlfriends and it was such a nice thing to do in Airlie to end the day. The drinks where great and the canapés were yummy. Overall it was a great sail and the boat was really cool.
Mohsen Askari
, 06 Sep 22
Amazing! Could not recommend enough!
Was a beautiful evening with stunning sunset views! Great staff and vessel
This was such a great experience - highly recommend it. The team were fabulous; thank you to Isaiah, Sammy and Josh. Special shout out to Isaiah whose customer service was outstanding. He was lovely to talk with and once he found out that I loved oysters, he made sure to do an extra round to me :)
Jenny Roggers
, 31 Aug 22
We had a wonderful time on this Tallship, we experiences such a beautiful sunset and enjoyed the traditional food that was served throughout the cruise. Highly recommend.
Perfect boat for a sunset sail! The crew were very knowledgeable and was nice to hear the history of the boat and the stories that had. And to top it off the food was lovely.
Richard Fricker
, 23 Aug 22
Really enjoyed this tour, we had a really awesome time. Loved trying out the traditional food - Crocodile, OysterS and Kangaroo
Really great time onboard, thought the boat was amazing and the staff also really good. Food was probably the highlight even though the sunset was magical.
Guest had an amazing time at the sunset sail, said the food was amazing aswell and the highlight was getting to try kangaroo and croc.
The sunset was beautiful and was great to be onboard an old tallship.
Really enjoyable tour with friends and the sunset was beautiful. Thought it would be very romantic for a couple to enjoy in the summer. Staff were really engaging
Food was absolutely excellent, really went the whole hog with what they offered. Sunset exceeded expectations as well as the staff who were wonderful throughout the evening.
Had a fantastic time and took some unbelievable photos to post online which they received alot of likes and comments which made their day. Also wanted to say the staff were incredible throughout.
An amazing sunset sail that offers so much! The crew are clearly passionate about what they do and that comes across in the way they run the trip. The information they gave on the islands and the history was really interesting. The food offered on this trip is unique and really adds to the whole experience. The boat is beautiful with heaps of room to move around and enjoy the views. I would recommend this sunset trip very highly. A massive thanks to the team!
Fantastic evening. The crew went the extra mile to accommodate everyone and the food was above expectations!!
A lovely sunset cruise! With great crew that make you feel welcome.
Really good sunset sail. Amazing boat and the history talk about Derwent Hunter was very informative. Lovely family and the food was great :)
It was really lovely, we both enjoyed it. They put the sails up which was nice. The bush tucker was interesting and nice drinks were served.
I was nice, the complimentary cocktail was really good i ended up drinking them all night. My girlfriends mum was up visiting so it was a really nice experience to show. It was my first time on a sail boat so when they set the sail it was pretty awesome. was a good price, will do it again. the bush tucker was great. was interesting to try crocodile and kangaroo salami.
It was so nice. I had such a nice time. i love sailing so any chance to get out on the water is great. My mum was up visiting and i wanted to do something nice. The cocktail was so nice and the food was okay. Loved the boat and the crew were super lovely and friendly.
I was up visting from sydney and my daughter booked us on the Tallship. It was really lovely and a great way to end my trip. It was a sail in paradise. The cocktails were yummy and the crew were really friendly.
Went on this for my birthday with a few friends. Such a fun and great way to spend the evening! Loved trying all the different foods, and the welcome cocktail was really yummy :)