CW: Reefsleep
CLOSE
View More Thumbnails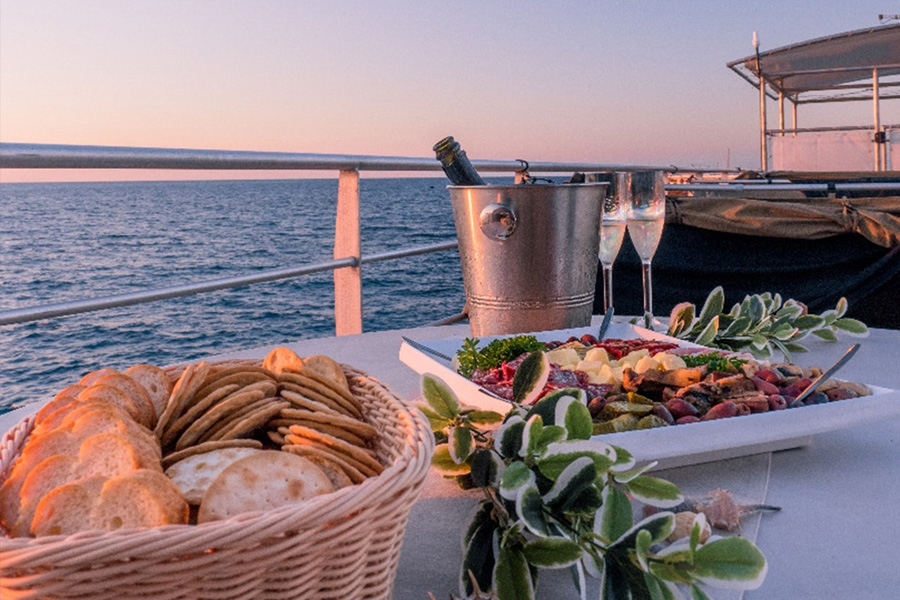 Loading...
Pricing Options
RRP $595

$579 AUD / Person
- Double Swag Accom (requires 2 persons) ($1158 Total)
(Between: 01 Dec 2019 and 31 Mar 2021)
RRP $795

$775 AUD / Person
- Single Swag Accom
(Between: 01 Dec 2019 and 31 Mar 2021)
This is the new Reefsleep which everyone is talking about! A spectacular and unique overnight tour where you sleep on the Outer Great Barrier Reef!
One of the most unique tours in the Whitsundays
Sleep under the stars on the Outer Great Barrier Reef on the CW pontoon!
See the Great Barrier Reef by day and by night
You can snorkel and scuba dive to get up close and personal with the colourful reefs and fish
The only tour of its kind in the Whitsundays with plenty of fun extras!
Experience Reefsleep and see what happens at the Great Barrier Reef at all hours of the day! Reefworld is located on Hardy Reef, one of the most spectacular stretches of the Great Barrier Reef, off the Queensland coast. It is the destination of the Airlie Beach day trippers and also a lucky 30 guests can have an overnight experience never to be forgotten!

---
Reefsleep Features
Maximum 30 guests
2 days on Reefworld pontoon
1 night on Reefworld
Meals, teas and coffees
Use of Reefworld activities
Extra costs drinks, alcohol, scuba diving and scenic flights

Sample Itinerary
Guests on the Reefsleep experience travel out to Reefworld aboard Cruise Whitsundays high-speed vessels with the day guests and arrive at about 11am. During the day you can experience all the Great Barrier Reef activities the pontoon has to offer like snorkelling, swimming, water slides and sun baking. Also, you are able to purchase guided snorkel tours, dives, and scenic flights, just ask the staff on the way out!
Come 3pm the day vessel departs leaving this magnificent part of the world is just for you and you fellow Reefsleep guests to enjoy. A hush settles and just have the sound of water and a few birds, then as dusk approaches watch for turtles that come to nibble at the seaweed around the pontoon. Please note for safety reasons only children of 12 years old and over are able to join this tour.
Scuba diving and snorkelling
The Cruise Whitsundays Reefworld pontoon is adjacent to coral walls, the length of which you can explore by snorkelling as much as like during the days. It has its own ecosystem with magnificent corals and a diversity of marine life found only in sheltered areas. It provides a unique world for you to explore and the prolific fish life will surprise and delight you especially the giant groper!
Guided snorkelling tours are also available to purchase on board with small groups the guide will take you to very special spots where giant Maori wrasse, coral formations, tropical fish, turtles and reef sharks are there to be seen. Don't worry if not a keen summer you can enjoy the sights from the comfort of a semi-submersible or viewing chamber.
There is no better place to experience the magic of your first scuba dive than at the outer Great Barrier Reef, with no experience necessary! Experienced divers can enjoy spectacular dives at specially selected sites with a variety of coral formations and marine life. Intro and cert dives are all booked and paid for onboard the boat, please see staff on ferry ride out.

Accommodation
When you are ready to snooze under the stars just climb into your swag, basically a cosy low tent with a clear viewing panel above your head. They will provide a comfortable mattress and sleeping bag so you just need to bring something to sleep in. Being 40 nautical miles from the shore you are safe from bugs and mosquitos so you can sleep with the cover open. Just you, the sea air and the stars so a true camping experience.

More Information
What To Bring
Please bring only a small bag with:
Photo identification
Change of clothes
Sun protection (hat, sunscreen, sunglasses etc)
Swimwear
Beach towel
Camera
Jumper or jacket (seasonal)
Cash or credit cards for onboard purchases
Excess luggage can be stored at several places in town including most boat check-in offices, most hostels, at your accommodation, or at Airlie Beach Bag Storage. Most charge between $5-15pp for the duration of your trip.
What's Included
Snorkelling equipment
Wet/stinger suit
2 buffet lunches
BBQ Dinner
Breakfast
Morning and afternoon tea/coffees
What's Extra
Drinks, alcohol, snacks, photographs, souvenirs, scenic flights and guided snorkelling tours.
Scuba diving is also available to purchase onboard for certified or introductory divers, is subject to medical conditions and age restrictions.
Terms and Conditions
Age and medical restrictions apply to dive activities. A medical questionnaire must be completed. Divers cannot fly for 24 hours after diving and the company accepts no liability for medical conditions experienced as a result of flying after diving. All diving is operated by Reef Safari Pty Ltd and booking to dive with them deems acceptance of the terms and conditions as published on their website www.reefsafari.com.
All departures and itineraries are subject to weather. Tours may be changed or cancelled for any reason at the discretion of the tour operator. It should be noted that adventure travel involves risk. Whilst we make every effort to safeguard clients, we cannot be responsible for personal injury or loss due to the actions of our clients which are beyond our control. We recommend that all clients have travel insurance covering illness, injury, loss or damage to personal belongings and not being able to travel on the confirmed date of departure. Also please note is select swag accommodation this is a camping experience so sleeping on deck open to the elements and weather.
Please note that in the unlikely event of your trip being cancelled or stood down, all guest communication is required to go through our Online Store via telephone or email. While there is a Sailing Whitsundays retail outlet located Airlie Beach, please be aware that they operate as a separate entity and are unable to access reservations made by the Mr Travel online department.
Please be aware operators pass on credit card merchant fees so there is a non-refundable 1.5% surcharge for VISA and MASTERCARD card purchases.
For safety reasons, only children of 12 years old and over are able to join this tour so please advise us before booking if any passengers are under 18 years old. Please ask us for more details
Cancellations
All client cancellations must be provided in writing. All cancellations made more than 7 days prior to departure forfeit 25% of the Recommended Retail Price (RRP). Cancellations made 3-7 days prior to departure forfeit 50% of the RRP. Cancellations made 24-72 hours prior to departure forfeit 75% of the RRP. No shows and cancellations made 24 hours or less prior to departure forfeit the total ticket cost.
If the tour operator has to cancel the trip (prior to the departure) and we cannot offer a suitable alternative, then a refund will be given minus card fees. We strongly recommend that you have travel insurance, especially during the wet season. Please note it is the responsibility of ALL passengers travelling to advise both your travel agent at the time of booking and vessel check-in agent before boarding of ANY medical conditions including food allergies you may suffer from.
Thank you for booking with Mr Travel/Sailing Whitsundays. If you would like any advice or assistance in arranging accommodation, transfers or additional tours, please do not hesitate to contact us.
"Sleeping on the Great Barrier Reef was an absolute dream come true! I couldn't believe how much there was to do on the pontoon and the underwater observatory was phenomenal at night! Would definitely recommend!"
Jen
"We unfortunately went when the weather wasn't fantastic, but there was still plenty to do while on the pontoon. Snorkelling was great, and having the pontoon to ourselves was great once they day guests headed back to the mainland. Staff were great, and the food was delicious-We got the seafood platter add on, definitely got our money's worth!"
Jenna B
"This trip was a highlight of our trip to Australia. Staff was great. Perfect way to see the reef. Highly recommend."
Joseph S
"I had the best time ever. We did the reef sleep, so worth it. The food was amazing, staff were awesome and so friendly, the Reef was incredible with lots of fish to see, the stars at night are like nothing I have seen before. I would recommend the reef sleep to anyone! Thank you so much for everything. We had the best time! 11/10"
Courtney Jones