Private Charters vs Bareboating in the Whitsundays
Updated Mon 06 Mar 2023
Without a doubt, chartering a powered or sailing yacht around the Whitsundays is one of the best things you'll ever do in your life. To have a truly intimate and private experience, a lot of people look at booking a private charter or hiring a bareboat.
There are benefits to both, but how do you know which is right for you? We've got all the pros and cons you need to make an informed decision in order to plan the perfect Whitsunday holiday that will leave you with memories to last a lifetime.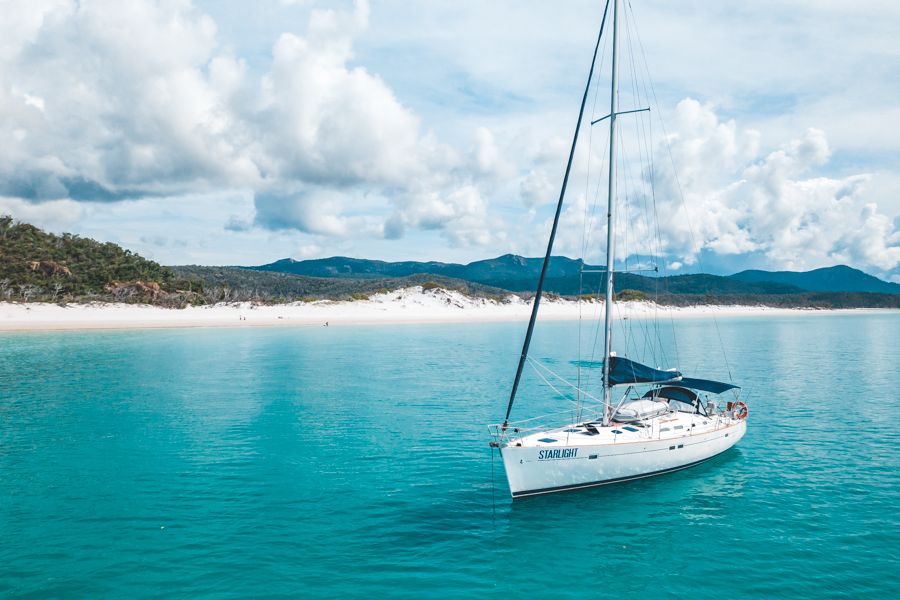 ---
Bareboating vs. Private Charters: The Benefits of Both
Private charters and bareboating share similar upsides as opposed to booking a normal tour. One of them being you get to choose the passengers you spend several days with on a boat, instead of the luck of the draw that comes with booking on a normal overnight tour boat. It can also be tricky if you aren't aware of different products attracting different age groups and demographics - You certainly wouldn't want your 50-year-old parents to end up on a backpacker party boat or a boat full of small children for 3 nights!
The Whitsundays are made up of 74 islands, including Whitsunday Island which is home to the world-famous Whitehaven Beach and Hill Inlet! The added value of a private charter or bareboat is having the time and freedom to explore whichever breathtaking destinations you choose at your own pace.
If you're a fan of sailing, then you can race from island to island, taking in the beauty surrounding you in your own sailor's paradise. If relaxing, snorkelling, and exploring the islands on foot is more your cup of tea, then you can do so! The Whitsundays is your oyster, and setting your own itinerary means you can do as much or as little as you please!
It is more affordable than you think when you and a group are choosing to take over a vessel of your own. With boats in the fleet taking anywhere from 2-50, you will find that once you break down the cost per person, per night, it can be more cost-effective than staying in a resort on land!
So to summarize the highlights of both Private Charters and Bareboats:
Ability to choose who is on board with you
Plan your own itinerary
Freedom to sail through the Whitsundays how you choose
Can be more affordable than staying in a resort on land
---
Private Charters
Private charters are a great way to get a personalised itinerary and boat to yourselves, without the stress and responsibility that comes with sailing a boat on your own. With only a small crew of 2-3, depending on your vessel, you can relax and have a drink while your meals get prepared for you and the crew sail you around the islands. The benefit of a private charter is you can have no experience sailing, but still feel safe in the hands of your highly trained, certified, and experienced crew.
Here is a quick overview of the highlights of a private charter:
Wide variety of boats available (bring anywhere from 6-50 guests!)
No sailing experience required
2-3 experienced local staff members
Delicious catering included
Staff will prepare all your meals
No need to worry about navigation, tides, or weather
Highly trained crew will ensure all rules and regulations are followed
Can still explore less touristy areas of the Whitsundays
Flexible tours and itineraries
Water sports, linens, and cleaning services usually included
Can have a fun, worry-free holiday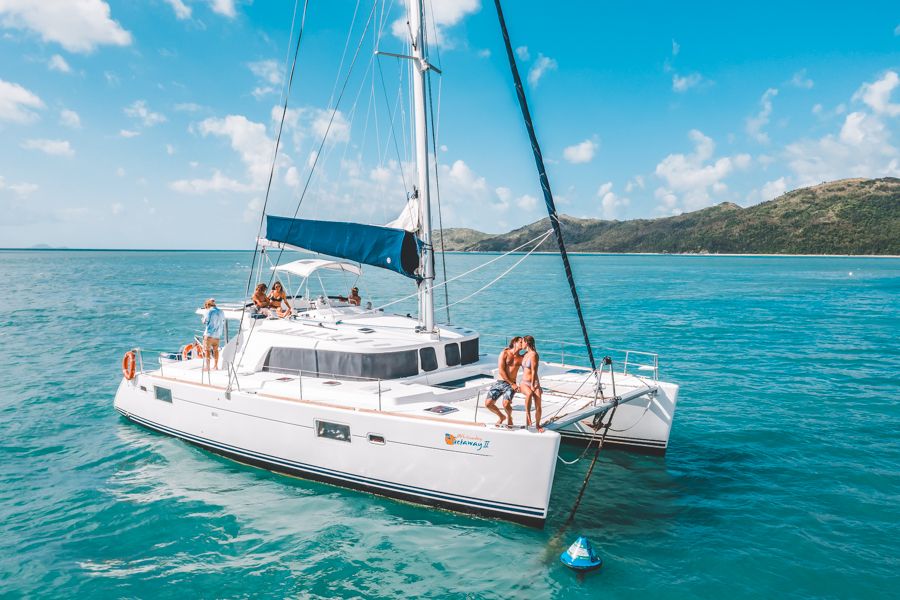 ---
Highlights Of Having Your Own Crew Onboard A Private Charter
The crew in the Whitsundays also bring with them a plethora of local knowledge and chomp at the bit to get the chance to go off of the "bus route" that encompasses a normal tour. You'll get the chance to explore secret beaches and coves, pristine snorkelling sites with healthy and dynamic reef systems, and of course, get the chance to have Whitehaven Beach all to yourself!
The crew utilise their wealth of abundant knowledge about the wind, tidal conditions, currents and seasons to maximise your experience out on the water, set the optimal sailing course, and stay far off the beaten path of other boats. They will also utilise their experience and knowledge of the area to choose the calmest anchorages for the night. You can still create your own itinerary, but will have the advantage of professional recommendations from your onboard crew!
---
Variety of Private Charters Available
Another benefit of hiring out a private charter is the variety of vessels you will have to choose from. Almost every overnight tour offers private charters as an option, as long as you book as far in advance as possible, and are able to depart/return on their normal weekly departure schedule. If you'd like to go for longer than the scheduled tour days, you'll need to enquire about how many days can be catered for, and you may look at combining a couple of trips but not returning to harbour in between them.
Private charters also cater to most food allergies and dietary requirements, so you won't have to remember your sister-in-law is now vegan, or that your grandmother is allergic to nuts - just let us know! Everything you may need for basic comfort is provided and stocked on board the vessel, including the standard equipment required for snorkelling. Some vessels even have added complimentary activities included, such as stand up paddleboards and kayaks. Bringing your own alcohol onboard is generally the only item you need to organise prior to departure!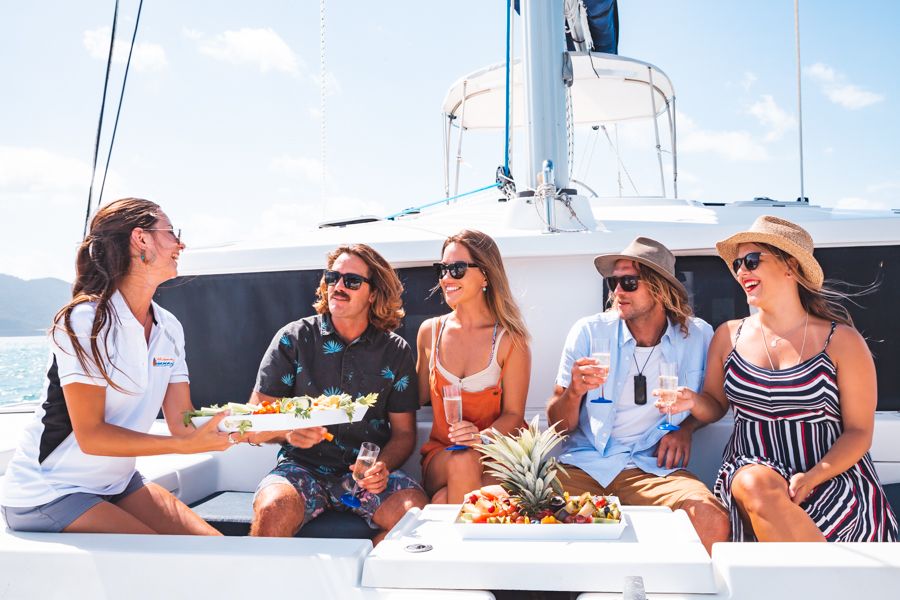 ---
Examples Of Private Charters
If you are leaning towards booking a private charter, there are so many incredible options. Whether you want a luxury yacht for a few friends and family, a huge ship for a celebration, or a small, intimate vessel, there is something available for you. Here are some examples of top-rated private charters:
Whitsunday Blue: A stunning and intimate private catamaran that allows you to snorkel and explore the Whitsundays in style.
Whitsunday Getaway: A cozy vessel that suits 8 guests and has private cabins. Available for charters anywhere from 2 nights to 7 nights!
Atlantic Clipper: Fitting up to 50 guests, this party boat is equipped with a water slide, sound system, and more. Perfect for celebrations!
MV Alfie: This luxury yacht fits 6 guests and is ideal for small family or friend holidays. Soak up the Whitsunday sun on the comfy deck beds and enjoy air conditioning inside.
Southern Cross: A sleek sailing vessel that suits up to 14 guests. Combine relaxation with adventure!
And there are so many more! Check out our full list of private charters here.
---
Bareboating
If you or your party have some knowledge of boating or sailing and want the freedom and privacy of having a boat to yourselves, then bareboating might be up your alley. Since there is a lot more involved with booking a bareboat charter, it is important to be well-informed before deciding if this option is right for you.
Whereas private charters come with a crew, bareboats are self-driven. While no experience is necessary, you'll still need a valid driver's license, and be prepared for a lesson and briefing for up to 4 hours the day before departure. You will have to rely on charts and books on your vessel to decide where to anchor, as you won't have a crew on board. Should there be an emergency, your only lifeline will be through radio, as the majority of mobile networks don't cover areas offshore.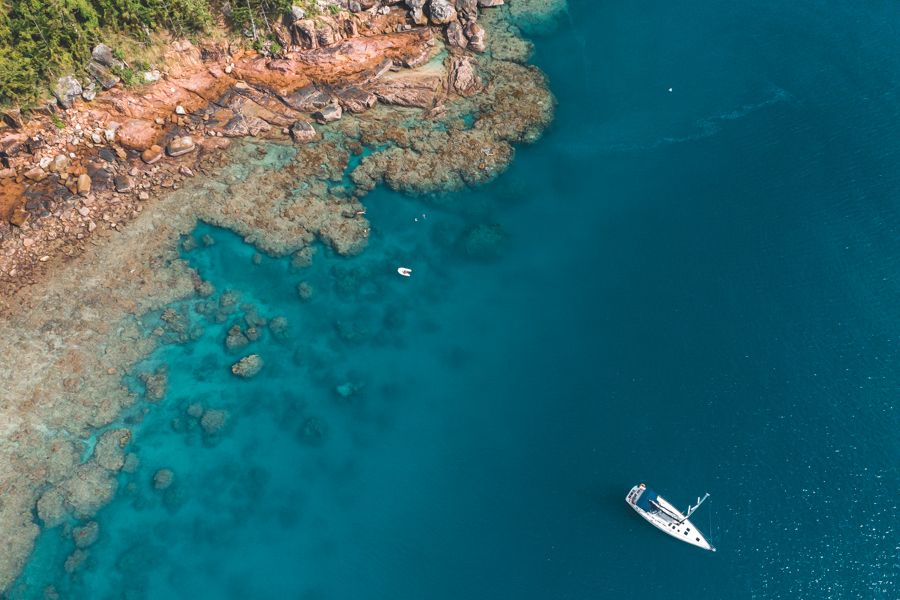 ---
More Things To Know About Bareboating
If you aren't a seasoned boaty, then you'll also have to take extra precautions when navigating around the many fringing reefs, as the Whitsundays are located in the Great Barrier Reef National Marine Park. You'll also be limited to how far you can travel each day, as you must be anchored before sundown for the evening, and radio in your coordinates. If you aren't a confident sailor, this is also something you should bear in mind when looking at the weather and season, as sailing can be quite dangerous if you don't know what you're doing.
You'll be responsible for purchasing your food and stocking the boat prior to departure, as well as preparing your own meals and cleaning up afterward. Alternatively, you may opt to splurge on a provision company, who will shop and deliver for you. Some companies even have options to purchase ready-made meals you can heat up on the boat. Be sure to weigh up whether you will want to do any additional activities, as you will need to bring your own gear and equipment unless you want to hire them for an extra fee. This includes snorkel gear, kayaks, fishing gear, and stand-up paddleboards.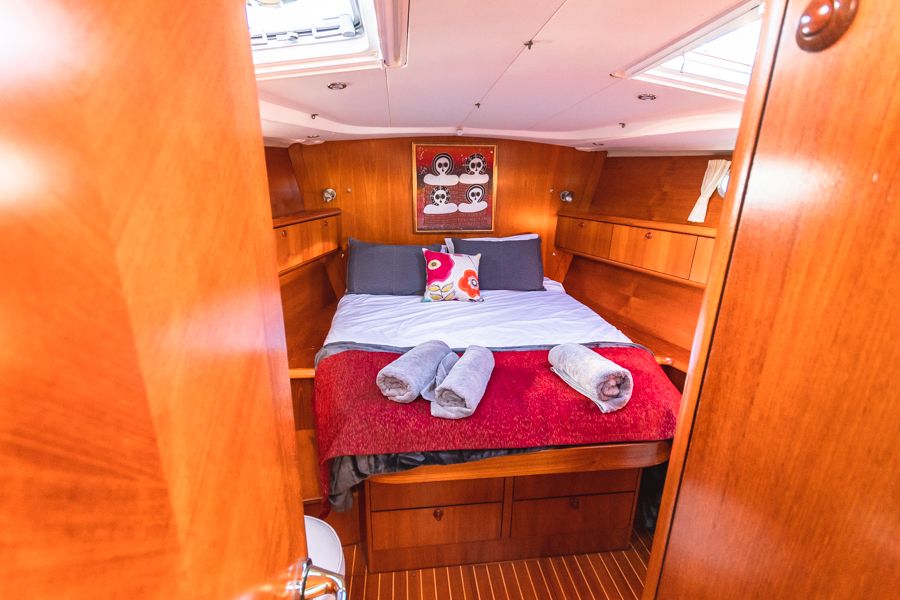 ---
Insurance and Skippers For Bareboats
You will want to take out liability insurance, as anything that should happen to the bareboat vessel while you are out at sea will be your responsibility. Usually, most bareboat companies require a minimum of a $1000 bond, and you'll have to take into account the cost of food and fuel in your final figures. Most bareboat companies offer an option to hire a skipper for an extra fee to give passengers peace of mind, however, if you choose this option on a bareboat, you will still be liable should anything happen to the boat out at sea.
If you're planning on having a skipper on the bareboat vessel, you'd be better off choosing a private charter, as the certification requirements for skippers on tour vessels is much stricter than on bareboat vessels, and the cost is approximately on par!
To summarize benefits of bareboating vs. things you need to remember:
Bareboating means you are in charge!
Extra freedom, but extra responsibility
Sailing experience required
In-depth safety briefings prior to departure
Must do all your own cooking and cleaning
Can use provision companies to organize meals for you
Must follow all the rules and regulations of the national parks
Must maintain communication via radio
Can hire a skipper
Must add in cost of fuel to your final cost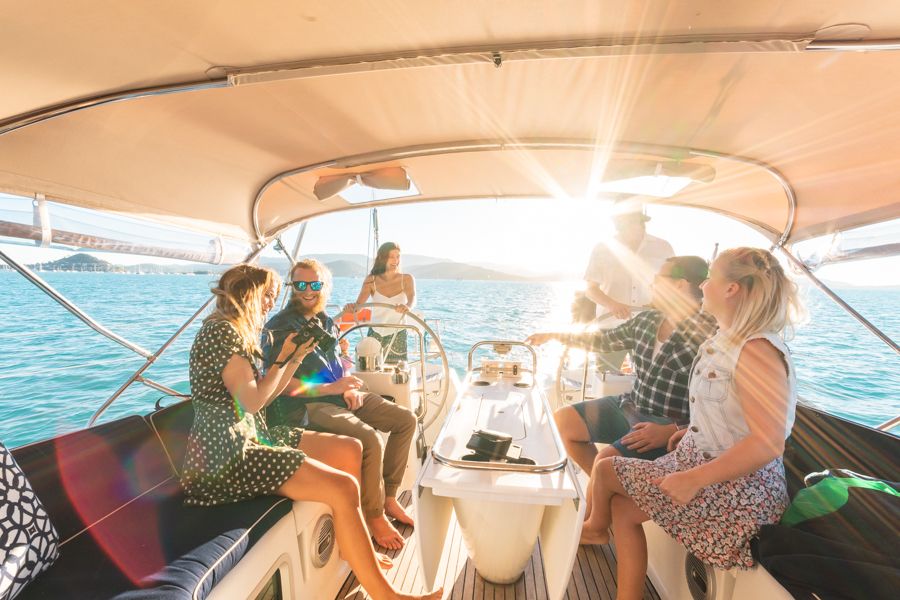 Once you've weighed up the options and spoken to your group of friends, colleagues, or loved ones, you'll be on the right track to start planning your personalised Whitsundays holiday!
---
It's your holiday, so why not take the stress out of it?
Call us on +61 7 4914 2425 or live chat today to discuss our latest special seasonal offers for a wide range of private charters, from budget to luxury!