Things To Do In Airlie Beach Without A Car
With the array of airports, pathways, buses, coaches and taxis around town, it's super common for visitors to come to the walkable Whitsundays and not rent a car.
Just because you don't have your own wheels, doesn't mean you can't see the wonders of Airlie Beach! From coastal walks, beaches, lunches on the foreshore, cycle routes and evenings on the town, you don't have to venture out of the heart of Airlie Beach to lap up that luxe tropical vibe! But first thing first, where should you stay in the Whitsundays to optimise your trip without a car?
---
Where should I stay in Airlie Beach without a car?
If you are planning on visiting Airlie Beach without a car, it is ideal to get a hotel, hostel or Airbnb closer to the centre of the town, as that's where the majority of public transport, shops, restaurants, cafes, beaches and the Airlie Beach Lagoon are. Neighbouring suburbs like Cannonvale and Jubilee Pocket are doable with a bike (or a can-do on-foot attitude), but a little further than most are probably willing to walk daily.
---
Things to do in Airlie Beach without a car


1. Swim in the Airlie Beach Lagoon
Located smack-bang in the middle of town, you don't have to venture far to cool off in the Airlie Beach Lagoon. And it's totally free, so lay down your towel on the sand and enjoy this oceanfront, stinger-free swimming spot! Perfect for families, backpackers and everybody in between, the hours will float by.
2. Sunbake at Boathaven Beach


Another free and stunning gem of the Whitsunday mainland in Airlie Beach is Boathaven Beach, tucked just around the headland passed the Whitsunday Sailing Club. With stinger nets, ample sandy stretches and peace and quiet amongst the fringing trees, it's a great way to escape the bustle of the city for a suntan and swim session!

3. Walk along the Airlie Beach esplanade to Cannonvale


An easy and scenic way to see the best of the mainland, embark on the Bicentennial walk from the Airlie Beach foreshore, along the bars, lagoon and eventually to the boardwalk. This boardwalk will take you past the Coral Sea Resort, by the chic Coral Sea Marina, through shady park pathways eventually to the charming bays of Cannonvale. All up, this walk is about 4km and takes about 45 minutes.

4. Head out to the Whitsunday Islands

No car, no worries! There's an array of island trips that mostly depart from the Coral Sea Marina: an easy walk or shuttle ride from the heart of Airlie Beach. Whether you're an avid diver, keen snorkeller, lover of catamaran cocktails, sailing enthusiast or nature lover, getting out to the Whitsunday Islands is an absolute must-do while you're in town. Stroll down the sands of the famous Whitehaven Beach, catch a brilliant view at Hill Inlet Lookout, swim with turtles, spot whales and enjoy fresh food and excellent company aboard your vessel!

5. Hike to Honeyeater Lookout


A challenging yet rewarding adventure along the outskirts of town, this is a great one for keen hikers! The Honeyeater Lookout trail takes you through the bush and to a stunning panoramic lookout of Airlie Beach, the Coral Sea and the Whitsunday Islands! A steep-in-parts 8km return hike, we recommend doing this one earlier in the morning during the summer months to beat the heat and crowds.
6. Go shopping in the Airlie Beach centre


Boutiques, bookstores, clothing stores, homeware nooks and souvenir shops line the streets of Airlie Beach. Whether you're looking for some resort wear, a new swimsuit, a souvenir to send home or a new holiday read, Shute Harbour Road and Main Street will have you covered with ample shop options!

7. Walk the Airlie Creek Track

A total hidden gem just a stone's throw from Main Street in Airlie Beach, you can access this easy path from Waterson Way. The Airlie Beach Track is just a 1.7km return walk, laden with tropical plants, wallabies and a massive fig tree. A lush, green getaway so close to the heart of Airlie, it's perfect for those craving a secluded walk without needing to drive!
8. Fly over the Great Barrier Reef


There are an array of scenic flights that include complimentary transfers from a lot of hostels, hotels and pick-up points in Airlie Beach. So, book your adventure about the clouds and experience the Great Barrier Reef like never before. Seriously, these flights are such an underrated, stunning way to see the Whitsunday Islands… and the transport is sorted!
9. Grab a seafood lunch at Northerlies


Hop on the courtesy shuttle bus from designated Airlie Beach pick-up spots to Northerlies Beach Bar & Grill! Get out of Airlie, and sit on the beautiful white sands of this bar, bespoke cocktail in hand. Treat yourself to a locally sourced seafood platter, and live it up with chill acoustic live music lining your afternoon. This is the perfect place on the mainland to snap your beach-babe Instagram piccies!
10. Watch the sunset with a cocktail on Airlie Beach foreshore


Stroll along the sea-kissed foreshore and take your pick from an impressive selection of Airlie Beach bars to watch the sun go down. Our favourites for sunset drinks are Paradiso, Mika's, Garden Bar Bistro and Anchor Bar! Check out where to get the best cocktails in Airlie Beach to ensure you and the girlies are sipping in style!

11. Skydive over the Whitsunday Islands


Another (slightly more daring) experience with complimentary shuttle transport, book into a skydive for a seriously bucket-list adventure! The Airlie Beach skydive is renowned as one of the best in Australia due to the stunning views of the Great Barrier Reef and rolling islands that greet your descent. Live life like it's for the living with this adrenaline-inducing morning… You won't ever forget your trip to the Whitsundays!
12. Do a day tour of Cedar Creek Falls


Want to venture to the cascades of Cedar Creek Falls but don't have a car? There is an array of locally run operators that take a small shuttle of visitors out to the cool pools of this nearby hidden gem. All transport is included in Cedar Creek tours, so you can leave and return from your Airlie Beach base easily. Float the days away, stand under the refreshing waterfall and enjoy the magic of the North Queensland bushlife!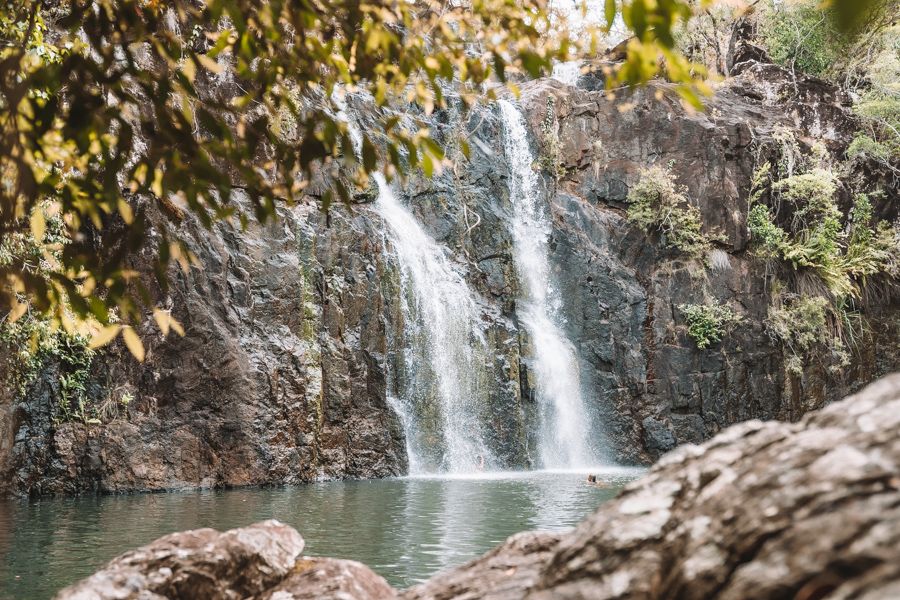 ---
Do I need a car in Airlie Beach?

You don't need a car in Airlie Beach if you plan on staying relatively close to the centre of town. Many people come to Airlie for 4 days, spending at least 2 days and nights of those out at sea on an overnight tour of the Whitsundays. If this is what you're next holiday looks like, you really don't need a car considering it will probably lay ideally parked until you return from your sail! However, if you're planning to explore the regional gems of the area like Bowen, Proserpine and Cape Gloucester, a car might come in handy.
How to get around Airlie Beach without a car?
There are ample options for travellers without cars in Airlie Beach, like public buses, free shuttle buses, cycling paths, tuk-tuks and taxis. Check out our complete guide to getting around Airlie Beach for more information!
Getting from Proserpine Airport without a car
The cheapest way to get from the Proserpine Airport to Airlie Beach is via shuttle bus, which takes about 40 minutes and costs roughly $20. You can also take a taxi, which will be more costly, although a bit faster and private. Check out the local shuttle and taxi services, along with more information on the airport journey with our guide on getting from the Whitsunday Airport to Airlie Beach.
---
Ready to start your holiday in the Whitsundays in style? The passenger seat is the perfect place to be!


Chat with our local travel agents to connect you with the island trip of your dreams… there's something for everyone in this magical corner of the world!