The Whitsundays on a budget
The Whitsunday Islands have always been a top destination for backpackers and since we know how important it is to budget for a backpacking trip, we have put together a few tips and tricks to make your trip a little easier. There are several options for visitors to see the Whitsundays on a budget including camping, cheap accommodation, day trips, and budget overnight trips. With so many options, you won't have to worry that you won't be able to afford a trip to the magical Whitsundays. Here is a list of go-to trips and accommodation for backpackers on a budget. Be sure to book your trip with Sailing Whitsundays to get the best price guaranteed.
Budget Day Trips in the Whitsundays
Whitsunday Bullet: Cruise at top speeds around the Whitsundays and see all the best it has to offer in this action-packed day tour. The stable design makes it perfect for hopping around from place to place, to snorkel the reef, and to check out awesome locations such as Whitehaven Beach and Hill Inlet Lookout.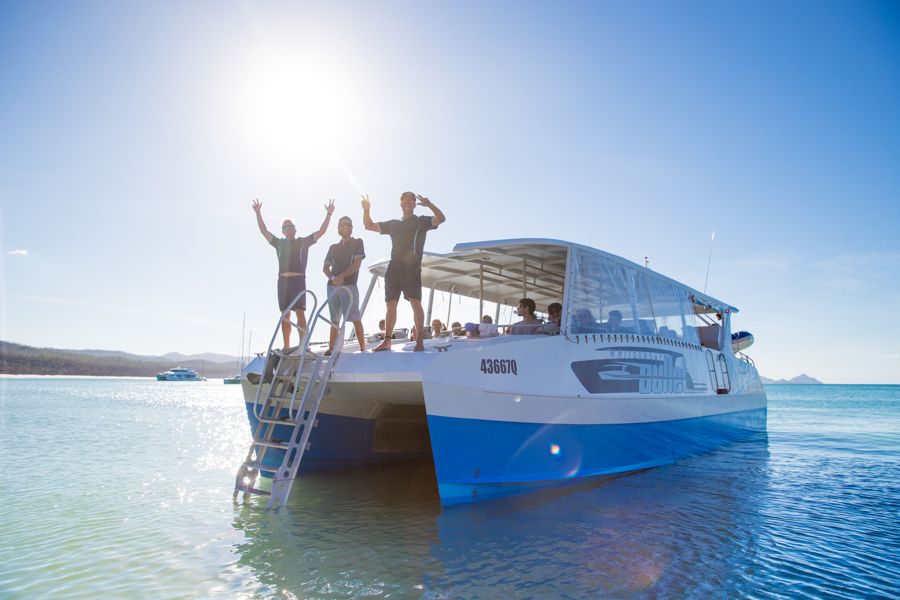 ---
Ocean Rafting: Ocean Rafting visits the "wild side" of the Whitsunday Islands and is perfect for anyone looking to squeeze the Whitsundays into one day. This multi-award-winning tour has special permits which allow access all areas of Hill Inlet, including the beach plus snorkelling as well!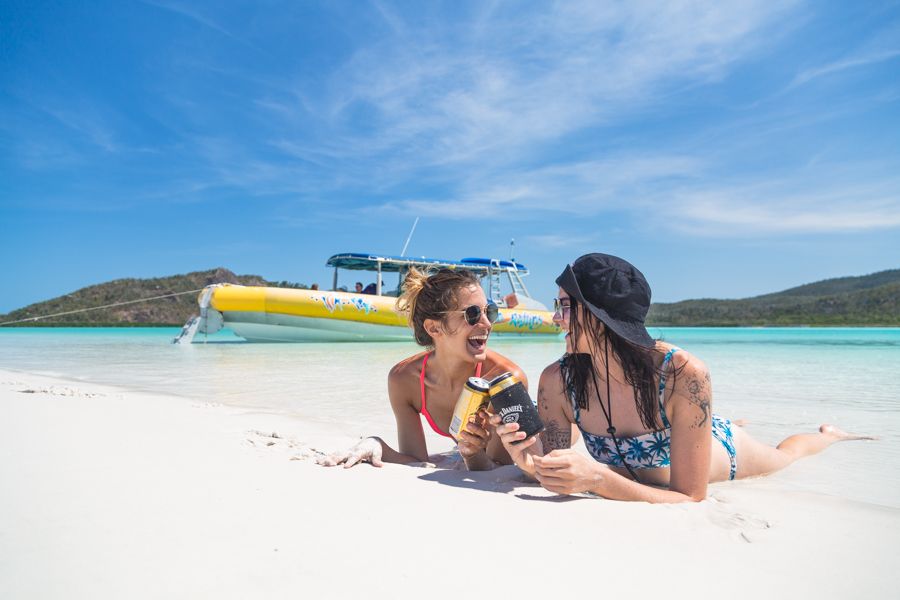 ---
Thundercat: Thundercat was not only built for speed, but also for stability and comfort. Taking passengers to the hotspots of the Whitsundays, this popular new trip is ideal for those who are looking for an all-inclusive day trip with plenty of snorkelling, a stop at Hill Inlet Lookout and Whitehaven Beach and more.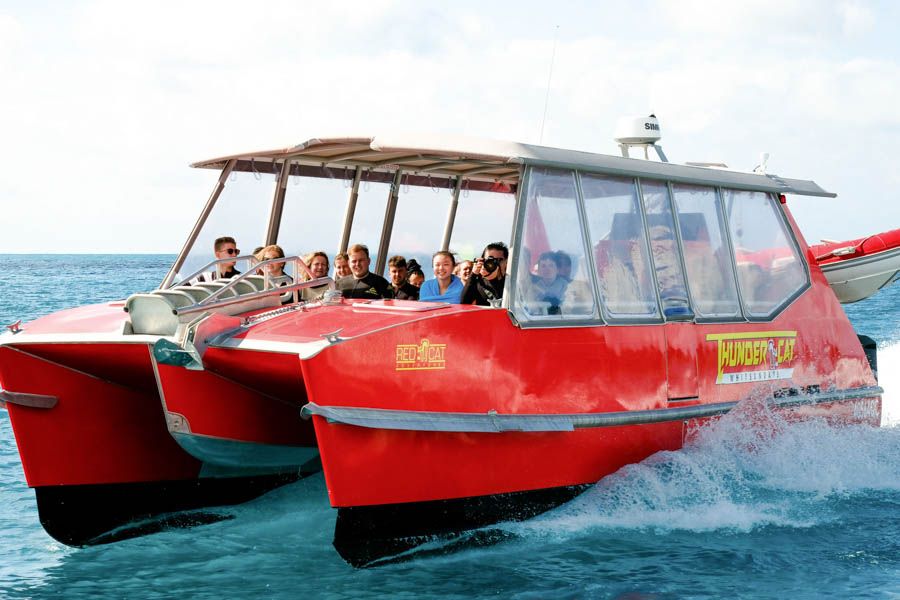 ---
CW Camira: Camira offers the ultimate day trip as you enjoy the sights, relax, and let the crew do their thing! Camira takes guests to visit Hill Inlet Lookout, Whitehaven Beach, as well as snorkelling in the fringing reefs around the Whitsunday Islands.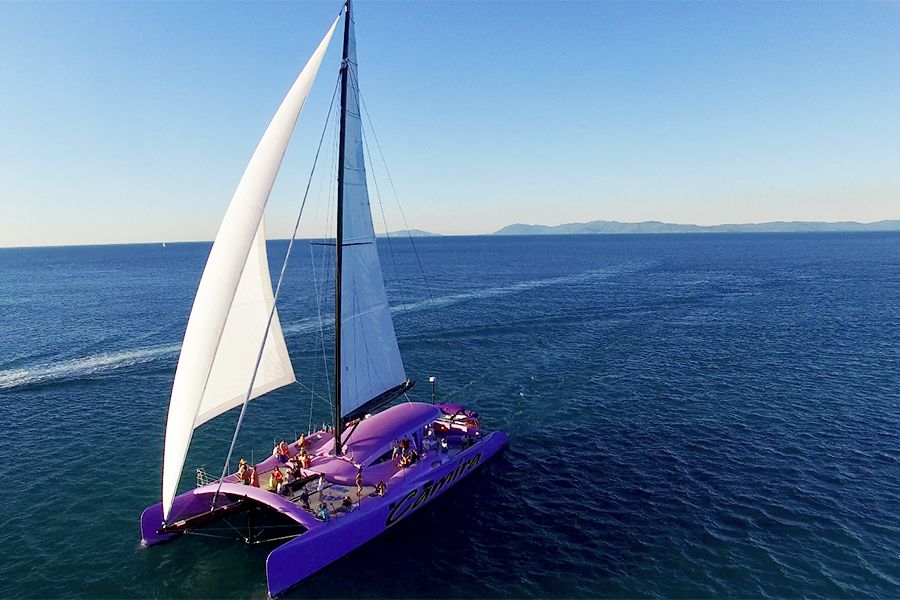 Budget Overnight Trips
New Horizon: New Horizon is the ideal trip for those with a sense of fun and a craving for adventure! Being one of the most popular tours on the East Coast of Australia, backpackers travel from all corners of the globe just to take part in this once-in-a-lifetime Whitsunday adventure that will have you laughing, exploring and making memories to last a lifetime!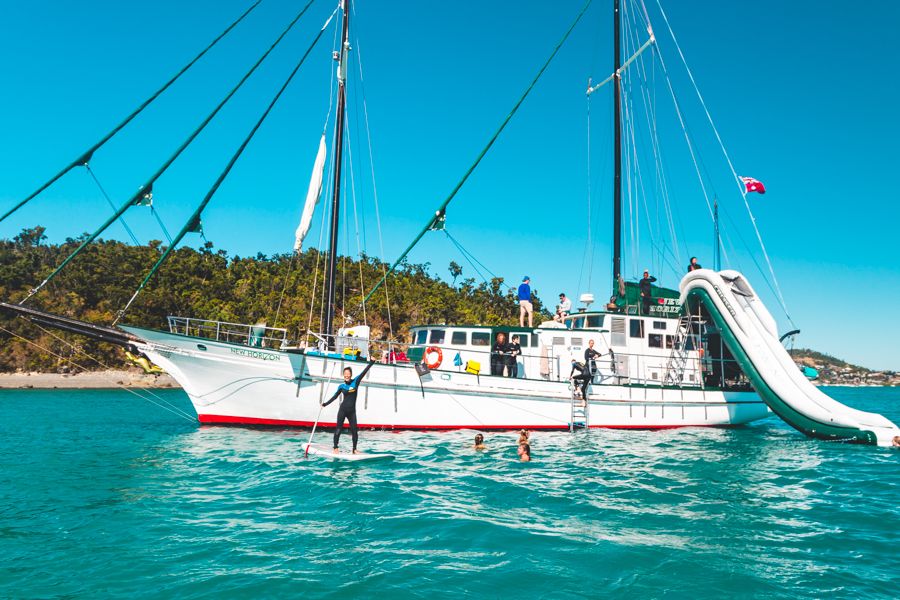 ---
Atlantic Clipper: The Atlantic Clipper is the largest and most social overnight tour in the Whitsundays, giving passengers a sailing experience, a chance to scuba and snorkel the reef, and visits the world famous Whitehaven Beach. Coming in at 111 feet and taking up to 54 passengers per trip, she's the perfect vessel for passengers looking to have the time of their life while exploring the Whitsunday Islands.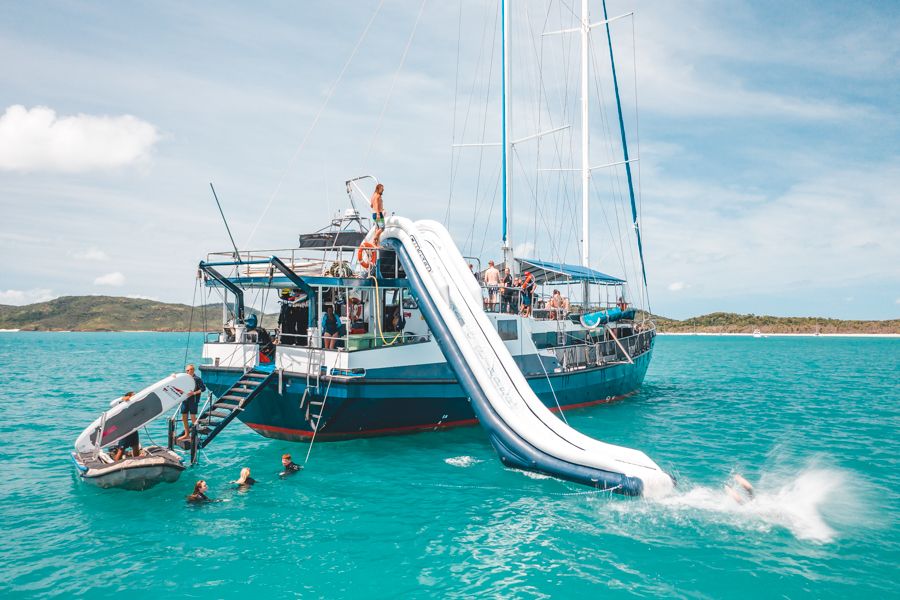 ---
Powerplay: Powerplay is a three-day and three-night fun-filled adventure! Spend some time in the sun, and enjoy exploring the beautiful Whitsunday Islands, as well as spending an afternoon at the world famous Whitehaven Beach and Hill Inlet Lookout for unbeatable views. Get up close and personal with the Great Barrier Reef Marine Park, getting a chance to snorkel and enjoy the beautiful fringing reefs of the Whitsundays!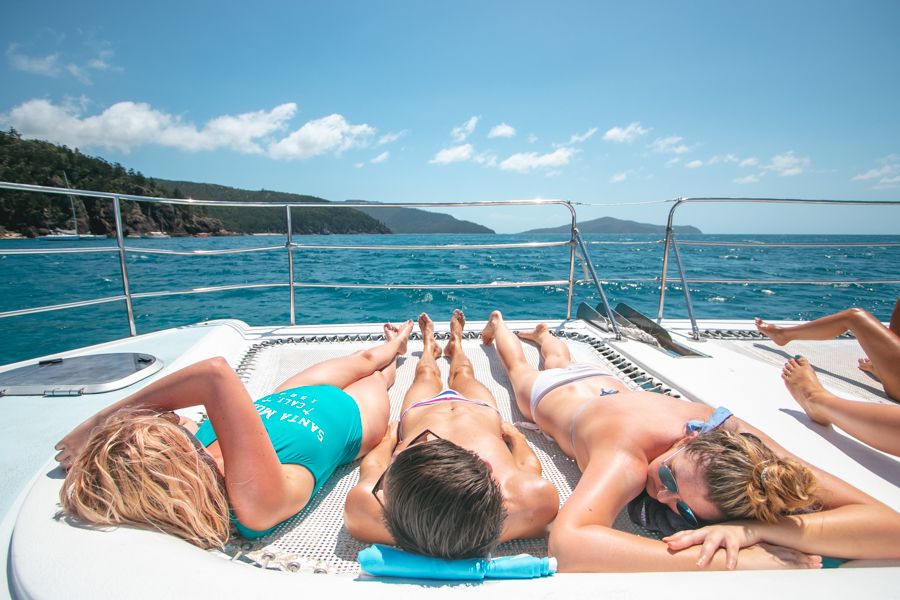 ---
Hammer: Hammer is the ultimate MAXI experience! This two-day, one-night trip takes you to all the best spots of the Whitsunday Islands at true speed. Your exciting itinerary includes a visit to Whitehaven Beach and Hill Inlet Lookout, an incredible snorkel over some of the best reefs in the world and of course, a great party in the evening after your action-packed day to unwind and make new friends.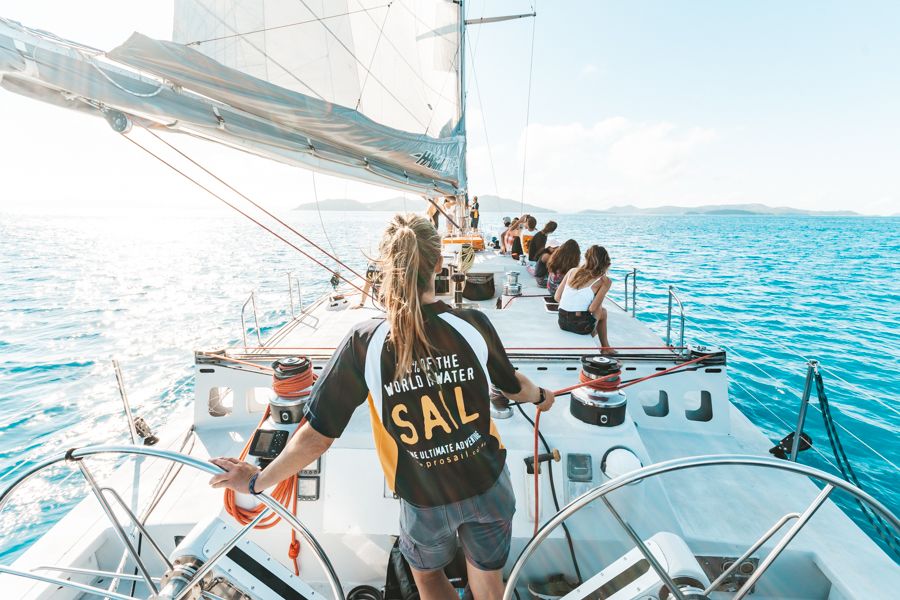 ---
Stay
There are lots of options for cheap hostels, campervan parking and AirBNBs in Airlie Beach. If you are looking for a cheap place to stay before and after your Whitsunday boat trip, check out our suggestions.
Nomads/Base Backpackers: This hostel is as centrally located as you can get and provides guests with a resort style swimming pool, volleyball court, and a very social atmosphere. With many bars and restaurants all around you, and the Airlie Beach Lagoon right across the road, you won't need anything else to keep you entertained!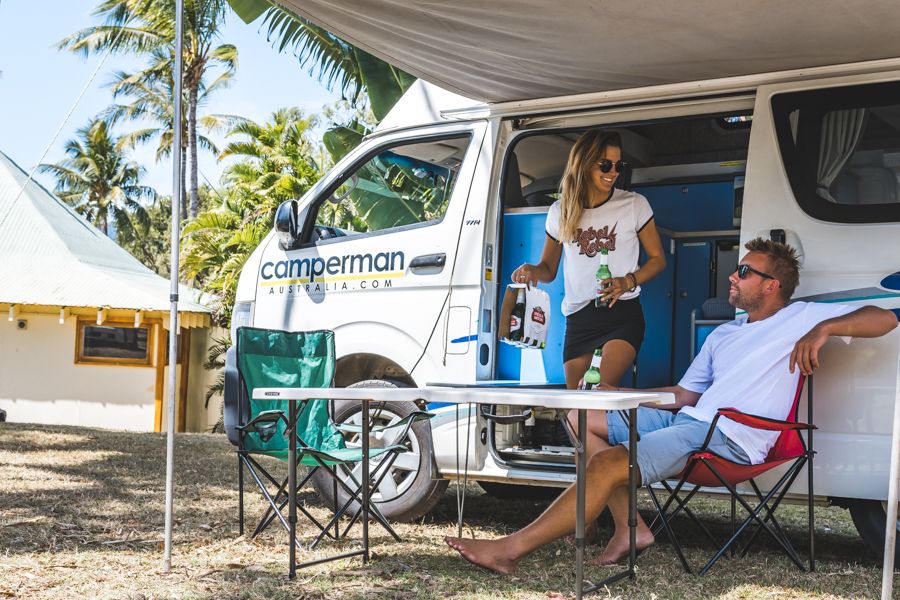 Magnums Backpackers: Magnums has a pub and club with live music, restaurants, and unique cabin accommodation all in the centre of town. It's a great place to meet fellow backers and locals as the pub is one of the local watering holes.
---
Free Things to do in Airlie Beach
Lagoon
The Airlie Beach Lagoon is an ideal spot to spend a relaxing afternoon in central Airlie Beach. The lagoon is located on the beachfront, so you have great views of the Coral Sea, boats and islands. It's completely free and a great place to bring your family, meet up with friends or sunbathe on the surrounding grass. The lagoon has BBQ facilities, picnic tables, washrooms and a kid's play area, making it the go-to spot for locals and visitors alike.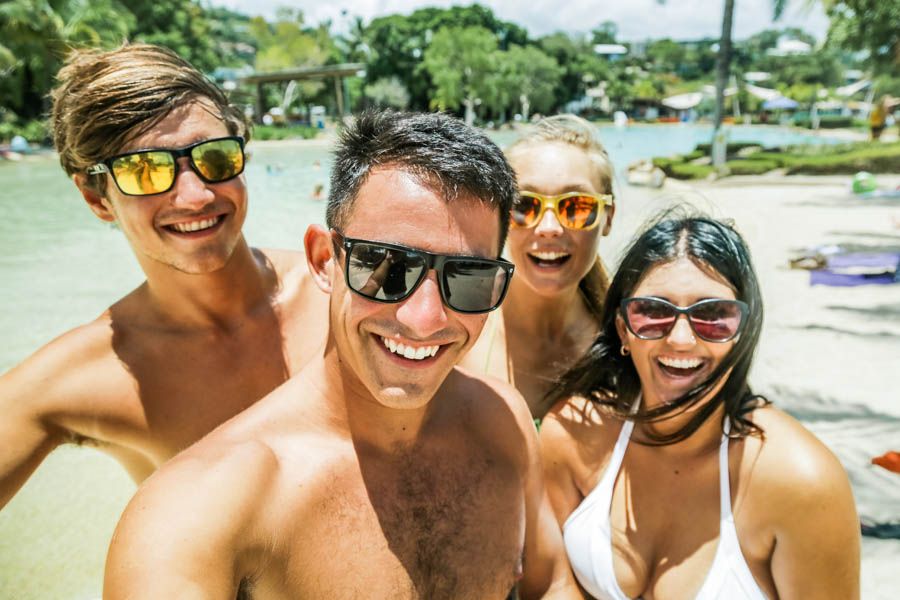 ---
Cedar Creek Falls
Cedar Creek Falls is a beautiful waterfall surrounded by stunning local plants and animals. It is home to wild orchids, playful turtles, cedar trees, and much more! The freshwater flows into a swimming hole below and is enjoyed year-round by everyone. This hidden gem of the Whitsunday region is located a short 20-minute drive from Airlie Beach, and is assessable to all, as the walk from the car park is quite short.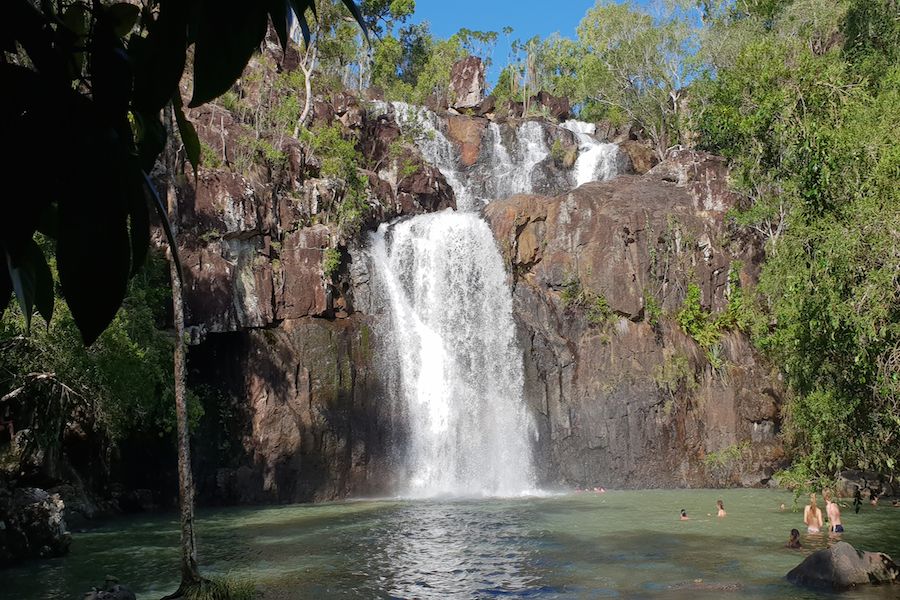 ---
Bushwalk through a National Park
Airlie Beach has remarkable hiking and walking trails! Some of the bushwalks require a car, but many are accessible via the local bus system. They range in length and fitness required so there are options for everyone. Explore all the beauty of the Whitsundays region and check out this page if you want suggestions of great hiking in the area.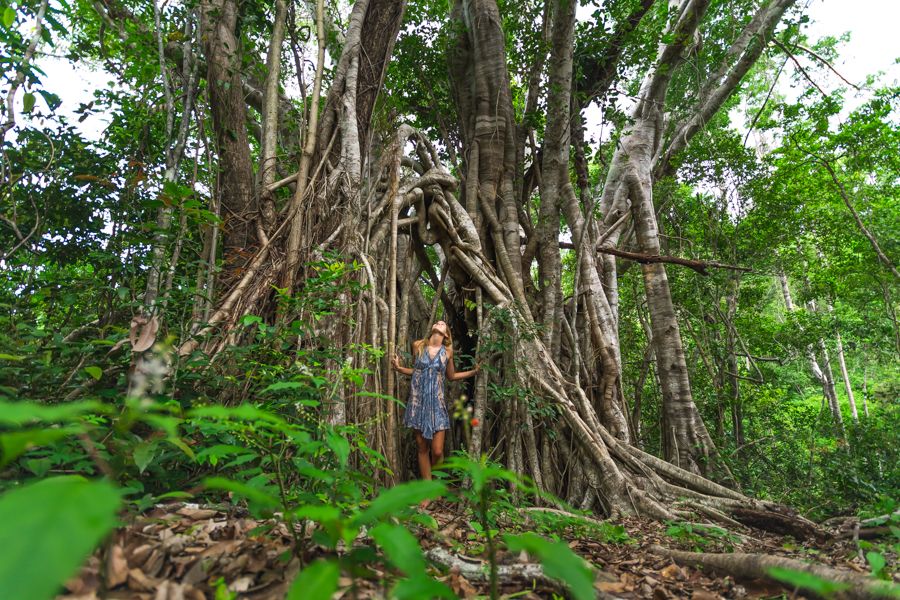 Check out our latest deals for the best price to see the Whitsundays!