New Horizon
CLOSE
View More Thumbnails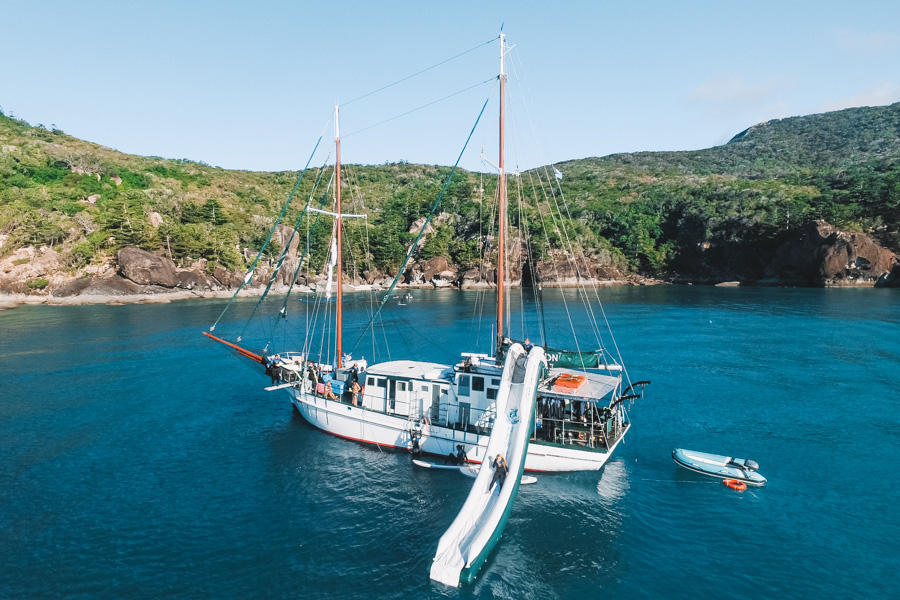 Loading...
Departure Times
Departs: 2:00 pm - Mon, Thu & Sat
Returns: 11:30am - Wed, Sat & Mon
Pricing Options
RRP $509

$459 AUD / Person
- Shared Accom
(Between: 16 Nov 2019 and 01 Feb 2020)
New Horizon is a great way to have fun at a great price! Perfect for backpackers wanting to socialise while on a wild Whitsunday adventure
One of the few overnight boats with scuba diving - an unforgettable experience!
Fun tour on an authentic sailing boat that will offer a unique experience and a party on the water!
Look forward to snorkelling, Whitehaven Beach and a visit to Hill Inlet Lookout
Plenty of fun extra on board like waterslide, paddleboards and jet boat rides!
New Horizon is the ideal trip for those with a sense of fun and a craving for adventure! Being one of the most popular tours on the East Coast of Australia, backpackers travel from all corners of the globe just to take part in this unequalled Whitsunday adventure that will have you laughing, exploring and making memories to last a lifetime!
Highlights & Features:
Dive board so you can 'walk the plank'
Optional evening entertainment and games
Visit all the highlights of the Whitsunday Islands
Ample time at Whitehaven Beach and Hill Inlet Lookout
Snorkel reefs belonging to the Great Barrier Reef Marine Park
Great sailing experience - get involved or simply relax
Snorkelling equipment and flotation devises provided
All meals prepared by a professional and friendly crew
Jet boat rides and banana boat rides now available!
Inflatable water slide and stand-up paddleboards
Comfortable and spacious vessel at 69ft long
Hot showers and fresh linen provided
Movie theatre area with beanbags
Fully air-conditioned for your comfort
BYO Alcohol
Snorkel or dive amazing coral reefs, take an exhilarating ride on a jet boat, 'walk the plank', zip down a mega slide, or paddleboard around secluded bays - New Horizon has it all! This is just the start of the activities you can get your hand on while sailing the Whitsundays on New Horizon!
The best part about this tour is the flexibility to do your trip, your way. While there are plenty of action-packed activities you are also welcome to relax on the deck and soak up the sun, or lounge on beanbags in the air-conditioned movie room.

New Horizon is also available for Private Charter.
Looking for a Fraser Island Package deal including this tour?
Check out the most popular New Horizon combos here: Whitsunday & Fraser Island Packages
Sample Itinerary
Whitehaven Beach
Our stunningly famous beach is often referred to as one of the world's Top Ten Beaches, confirmed by Trip Advisor and Lonely Planet. The stark white sands and cool blue backdrop provide the perfect photo opportunity, making it the ideal place to snap some shots so you can walk away with incredible images to share with the world! Thousands of visitors come to the Whitsundays every year just to see it for themselves and enjoy its unique beauty and soak up its stunning surroundings. Its pure white silica sand is actually said to have come all the way from Antarctica or is even the result of ancient volcanic activity. It's very fine nature means the sand is millions of years old and makes for the perfect place to relax, play beach games or explore. It squeaks between your toes as you walk around and doesn't get hot like normal sand due to its composition and colour, making it some of the most unique sand in the world. Come to experience Whitehaven Beach on board New Horizon and see it for yourself - we know you won't be disappointed!

Hill Inlet Lookout
On every trip, the vessel makes its way to the stunning Hill Inlet Lookout - another one of our favourite destinations! With views that justify its popularity on Instagram, Hill Inlet is the second most photographed place in Australia, only after the Sydney Harbour Bridge! The lookout point gazes down on the shifting sands of Whitehaven Beach and Hill Inlet, where you can see the amazing swirling sands and surrounding islands. Every day is a different masterpiece made by nature, of azure blue seas and stunning vivid white sands. When you take the short walk to the lookout everybody says, 'Wow, what a view!'

Snorkelling and scuba diving
Explore some of the best reefs in the world, where you can snorkel and swim with the fish around the fringing coral reefs of the Whitsunday Islands. Immerse yourself into an underwater world, where you can see tropical fish, green sea turtles, colourful corals and more! Bring your GoPro along and be amazed by the clarity and colour below the surface, getting some footage and photos along the way. Snorkelling is included in the trip with several snorkelling opportunities on the itinerary. It is a must-do activity while sailing around the islands and offers one of the best ways to experience the fringing reefs of the Great Barrier Reef Marine Park. From the surface of the water, you can see the reef fish and corals up close, enjoying it in all its beauty. However, if you would like to dive further beneath the waves, New Horizon also offers passengers the wonderful opportunity to scuba dive! This is available for both certified divers and intro divers - Scuba dives are $65pp (maximum 1 dive per person). The price includes all gear hire and dive instructor. Please note intro divers are subject to age, conditions and medical questions and certified divers need to bring their dive certificate. All diving is subject to availability, MUST be pre-booked, and is paid for on board.

Watersports - Mega slide, stand-up paddleboards, jet boat rides and MORE!
Stand-up paddleboarding is a great way to have some fun on the reef while you're at anchor! This challenging and exhilarating activity is a great excuse to spend some time on the water, making your way around the reefs. Hop on and cruise around the reef seeing it from a new point of view, trying your hand at this popular sport! This is the newest and most unique way to experience the calm waters of the Coral Sea while on board New Horizon. You can also get the adrenaline pumping by zipping down the mega inflatable slide, or test your inner pirate by daring yourself to 'walk the plank' before diving into the warm water below!
New Horizon has recently partnered with Pioneer Jet to offer guests two new water sport activities to try out: jet boat and banana boat rides! These wild rides are available on Day 3 of the tour where you will be able to go for a fast zip around the Whitsunday waters! These activities do not need to be pre-booked and are payable on board the vessel.
Jet boat ride is $35pp
Banana boat ride is $20pp

Layout
Tap the hotspots below to view New Horizon's layout
Loading...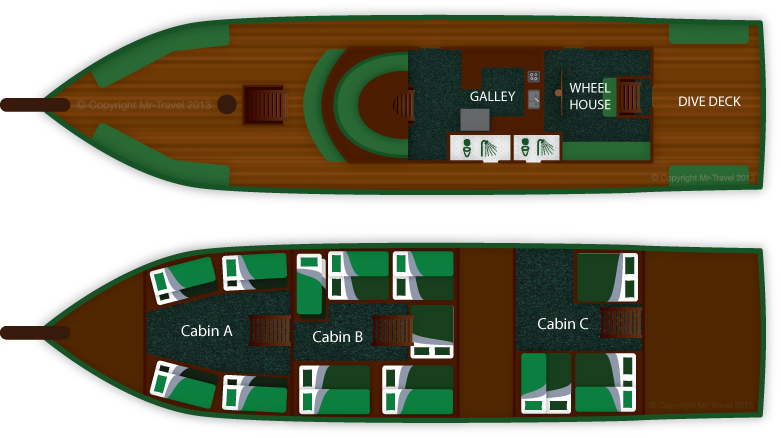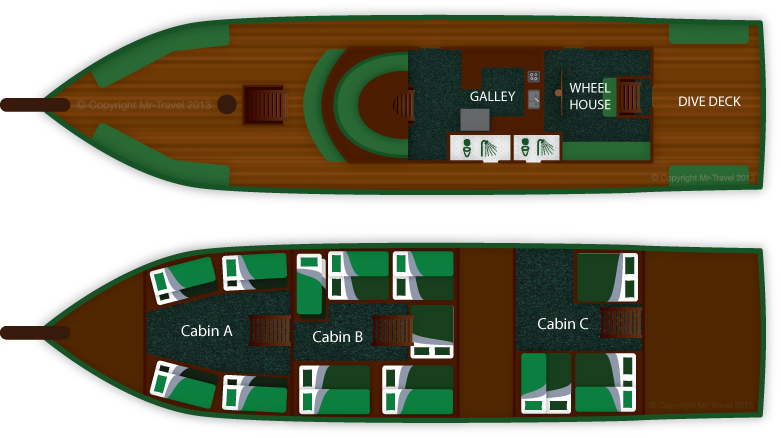 More Information
What To Bring
Please only bring a small soft overnight bag without any zippers (ie. a re-usable shopping). A zipless souvenir bag can be purchased at the boat's check-in office for a few dollars. Ensure you pack clothes, a hat, swim-wear, beach towel, sunscreen 30+, warm pullover for the evenings (seasonal) and cash/card for onboard purchases. Feel free to bring on board a reusable water bottle and/or additional snacks. You will also need to bring your own alcoholic beverages, available for purchase in town. No glass bottles, please.
This is a water-based activity, for safety reasons ALL passengers must be able to swim and speak fluent English. Please advise us before booking if any passengers are under 18 years old to ensure this is the appropriate trip.
Also, please note that you need to allow time prior to the boats' departure to check in, please ask us for more details.
What's Included
Skipper

Crew

Drinking water

Meals

Linen

Wetsuit hire

Snorkelling equipment

Mega slide

Use of SUP boards

All Marine Park fees
What's Extra
BYO alcohol (no glass) and scuba diving. Soft drinks, chips and chocolate available for purchase on board.
New Horizon offers onboard scuba diving for both certified divers and those without experience/qualification. Scuba dives MUST be pre-booked but are paid for on board.
Scuba dive is $65pp - MUST be pre-booked.
Jet boat rides and banana boat rides can also be purchased. These optional extras can be decided on and paid for on board.
Jet boat ride is $35pp
Banana boat ride is $20pp
Your safety in the water is our primary concern. To ensure your comfort and safety divers must be 18 years or over and they will require that you have a Divers Medical Certificate for certain medical conditions.
Please read the following questions carefully:
Do you currently have an ear infection?
Do you have a history of ear disease, hearing loss or problems with balance?
Do you have a history of ear or sinus surgery?
Are you currently suffering from a cold, congestion, sinusitis or bronchitis?
Do you have a history of respiratory problems, severe attack of hayfever or allergies, or lung disease?
Have you had a collapsed lung (pneumothorax) or history of chest surgery?
Do you have active asthma or history of emphysema or tuberculosis?
Are you currently taking medication that carries a warning about any impairment of your physical or mental abilities?
Do you have behavioural health problems or a nervous system disorder?
Are you or could you be pregnant?
Do you have a history of colostomy?
Do you have a history of heart disease or heart attack, heart surgery or blood vessel surgery?
Do you have a history of high blood pressure, angina, or take medication to control blood pressure?
Are you over 45 and have a family history of heart attack or stroke?
Do you have a history of bleeding or other blood disorders?
Do you have a history of diabetes?
Do you have a history of seizures, blackouts or fainting, convulsions or epilepsy or take medications to prevent them?
Do you have a history of back, arm or leg problems following an injury, fracture or surgery?
Do you have a history of fear of closed or open spaces or panic attacks (claustrophobia or agoraphobia)?
If any of these conditions apply to you, you will require a Divers Medical Certificate before you can scuba dive.
A Divers Medical Certificate can be obtained from:
Whitsunday Doctors Service
257 Shute Harbour Rd (Opposite xBase)
Airlie Beach
Ph: 07 4946 6241
Terms and Conditions
*A $40 per person Public Holiday Surcharge is applicable to tours where the vessel is at sea on Christmas Day or New Years Day.
All departures and itineraries are subject to weather. Tours may be changed or cancelled for any reason at the discretion of the Tour Operator. It should be noted that adventure travel involves risk. Whilst we make every effort to safeguard clients, we cannot be responsible for personal injury or loss due to the actions of our clients which are beyond our control. We recommend that all clients have travel insurance covering illness, injury, loss or damage to personal belongings and not being able to travel on the confirmed date of departure.
Please note that in the unlikely event of your trip being cancelled or stood down, all guest communication is required to go through our Online Store via telephone or email. While there is a Sailing Whitsundays retail outlet located Airlie Beach, please be aware that they operate as a separate entity and are unable to access reservations made by the Mr Travel online department.
Please be aware operators pass on credit card merchant fees so there is a non-refundable 1.5% surcharge for VISA and MASTERCARD card purchases.
This is a water-based activity, for safety reasons ALL passengers must be able to swim and speak fluent English. Please advise us before booking if any passengers are under 18 years old to ensure this is the appropriate trip.
Also, please note that you need to allow time prior to the boats' departure to check in, please ask us for more details.
Cancellations
All cancellations will incur a 25% cancellation fee. Cancellations made within 60-30 days of travel will result in a 50% cancellation fee. Cancellations made within 30 days of travel will result in a 100% cancellation fee. A $40 per person transfer fee applies to ALL name or date changes. If the sailing company has to cancel the trip (prior to the boat's departure) and we cannot offer a suitable alternative, then a refund will be given minus card fees. We strongly recommend that you have travel insurance, especially during the wet season if you are delayed or cannot travel.
Please note it is the responsibility of ALL passengers travelling to advise both your travel agent at the time of booking and vessel check-in agent before boarding of ANY medical conditions including food allergies you may suffer from.
Thank you for booking with Mr Travel/Sailing Whitsundays. If you would like any advice or assistance in arranging accommodation, transfers or additional tours, please do not hesitate to contact us.
"I had fantastic time on board New Horizon, loved the crew and the diving board the best. We had an awesome scuba dive with Ellie and even got a visit from a mother and a baby dolphin at night"
Louise
"This trip was everything I asked for and more! My friends and I had the best time on the New Horizon Tour. We were with the most amazing group of people who are now lifelong friends. Special thanks to Ellie for putting up with me on my first ever scuba dive experience. We even found nemo! Thanks again, hope to be back soon!"
Emily
"I had so much fun on New Horizon doing my first ever scuba dive. I was a bit nervous but the crew helped me to relax and were so patient with me. I even got to see and swim with turtles for my first time. It was great to meet other travellers my age as well."
Melissa
"The New Horizon trip was amazing! The beautiful view, the good food, the sweet crew and all the fun water activities made it a wonderful trip! The trip is perfect for young people who wants to socialize and have fun! Would definitely go again!"
Klara
"Had an amazing trip with New Horizon. The crew was very helpful and friendly, the food was great and we saw the most beautiful spots from the Whitsundays."
Julia
"Had an amazing time on new horizon! Food was tasty and there was plenty of it! All staff were fun and informative (conor, Nicko & Eileen) and made sure we had the best time. Definitely recommend this boat for a Whitsundays tour!"
Grace Kelly
"As if the East Coast couldn't get any better, being on the New Horizon was one of the best experiences so far. The Crew (Crossy, Conor and Nick) were fab and made the trip amazing. Everyone was lovely on board #TeamNewHorizon"
Ashley Park
"Great couple days on the boat the crew were amazing Crossy got us everywhere and was smooth sailing, Conor was good fun and full of great information about the islands and nick was great fun always having a laugh and the food was great! (Found my husband #foundMrWright)"
Seonaid McLaren
"Absolutely amazing trip, loved every minute of it from the diving board and the slide to the snorkelling and seeing the beautiful coral and of course the visit to the gorgeous Whitehaven beach. The guys Nick, Conor and Crossy made the trip 100 times Better by keeping us safe, making the best meals and just being great guys !! Thanks for showing us around the Whitsundays and giving us the time of our lives!"
Kerry Nicklin
"This was a-ma-zing! New Horizon is such a beautiful boat and we had a lot of fun! The food was delicious because Nick made it, even tho the skipper #Eileenwasbetter! In the welcome speech Conor and Tommy said they don't do a lot on the boat, but it kind of surprised us how much they actually do! Couldn't have had a better experience!! Thanks guys!"
Min & Kim
"Amazing trip. It's a very nice boat, everything was good organized, the crew (Nick, Eileen, Tommy, Conor) was very cool and entertaining. Storytime was fun :D We visited nice spots, equipment and activities were sweet. Really enjoyed the stand up paddle board!"
Martin M
"Had such a great time on the trip! I have always wanted to go on a sailboat and this was a great way to be introduced to it. The stops at Whitehaven Beach, the reef snorkels, and the last morning of water sports was really great. I had so much fun sitting on the bow riding some of the bigger swells. The food was great too! The crew was very funny and nice too. Definitely recommend this tour! Crew: Ilene, Connor, Tommy, Nick"
Hayley M
"This trip was absolutely great. The staff was wonderful and the atmosphere awesome. It was clean and the food delicious. Whitsunday Islands is paradise!"
Katharina
"I did the two night /day sailing trip with the New horizon Boat. This was one of the best trips I've done to date! The food was fantastic! And on the boat the crew were excellent . Whitsundays has to be one of the most beautiful places I've seen to date, words can't describe it!. I would advise anyone to put this on your bucket list! This two day trip was well planned with more than adequate time for snorkelling at some of the most beautiful spots in Australia. I would highly recommend this trip and would do it again!"
Daisy
"I went on New Horizon it was a great experience!! Definitely a must do in the Whitsundays! The crew are so much fun and there was great company! Loved the food yummy fish! there were even paddle board on the boat which is loved :) Thanks New Horizon!"
Ollie
"This was my favourite trip up the East Coast. Our crew were awesome and made the trip just that much better."
Andrea
"Had an absolute blast. Best thing to do on the east coast by far. The crew are amazing so much fun... They really try to make your trip amazing best time of my life "
Michelle
"Amazing from start to finish. Great food, great crew, would recommend to all! "
Tommy
"Great food, great crew, great activities! Awesome trip especially the diving! Nice laid back attitude for us to enjoy the trip. Loved paddle-boarding in the sunset! Thanks New Horizon!"
Tara Finnegan