Atlantic Clipper
CLOSE
View More Thumbnails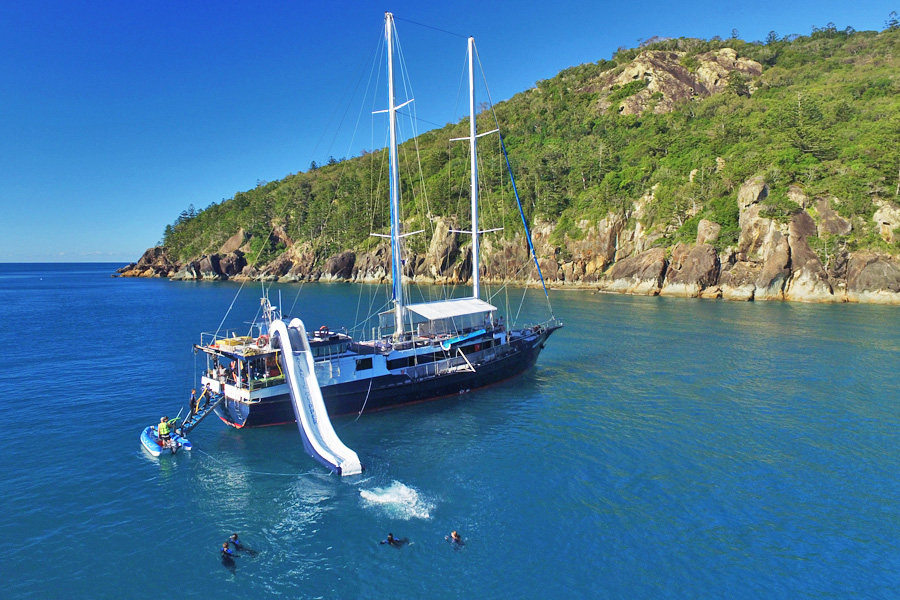 Loading...
Departure Times
Departs: 11:45am - 2:15pm - Tue, Thu & Sat
Returns: 12:00pm - Thu, Sat & Mon
Pricing Options
$512 AUD per Person
- Shared Accom
(Between: 12 Oct 2017 and 27 Mar 2018)
$562 AUD per person
- Private Twin Cabin (requires 2 people) ($1124 Total)
(Between: 20 Aug 2017 and 27 Mar 2018)
$562 AUD per person
- Private Double Cabin (requires 2 people) ($1124 Total)
(Between: 20 Aug 2017 and 27 Mar 2018)
Are you looking for the biggest party boat in the Whitsundays? Jump on board the Clipper!
If you want to spend your days exploring all the hottest areas of the Whitsunday Islands and your nights socialising with a group of fun, like-minded travellers, all on board a large and comfortable boat which boats a huge water slide and air-conditioning, then the Atlantic Clipper is the perfect choice for you!
Atlantic Clipper offers two fun days and two fun nights for an exciting tour of the Whitsundays. Perfect for those for looking for a fun time at sea, Atlantic Clipper is one of the most social tours in the Whitsundays with 53 passengers and at 111ft, it's also one of the biggest! This mega yacht was built in 1983 and combines the awesome adventure and fun of sailing and diving modern facilities and air conditioning throughout.
Check out our video to see what the Atlantic Clipper has to offer!
Atlantic Clipper Features
Young, fun, social group
Brand new three-story high water slide
Huge spa on deck for you to relax and enjoy
Free use of the vessel's stand-up paddleboards
Fully air-conditioned for maximum comfort
53 guests making this a fun and sociable trip
Snorkelling gear and wetsuit hire
All meals are prepared onboard by your friendly crew
$50pp upgrade surcharge for twin double cabins to pay on check-in
Option to purchase scuba dives on board
BYO Alcohol
Boat Layout
Choose from private doubles, triple share and quad share cabins all with the comfort of air-conditioning throughout. The spectacular air-conditioned saloon complete with TV and DVD a large dining area, lounge and cocktail bar offers a gigantic area to socialise and meet new friends. With plenty of room above decks to sunbathe, relax in the shade, have fun on the water slide, or take a splash in the 12 person spa, you'll have the time of your life!
Tap the hotspots on the floor plan below to view the boat.
Loading...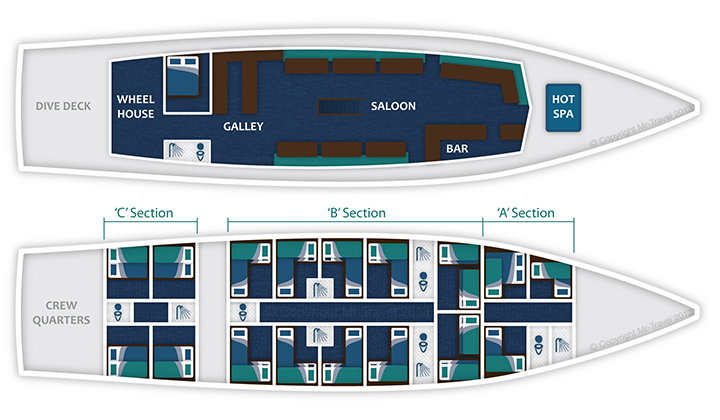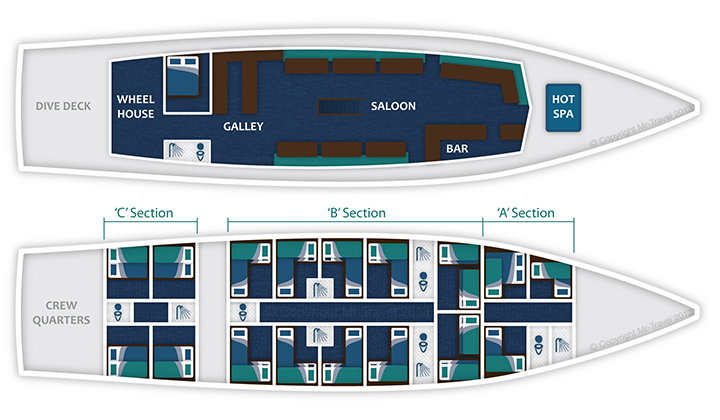 Sample Itinerary
Cruising at a quick 9 knots means you'll have more time to enjoy all the amazing places the Clipper will take you to, including breath-taking fringing reefs, Whitehaven Beach and other unique destinations favoured by the crew. The evenings are full of activity, with games, dancing and great music to make memories to last a lifetime! Atlantic Clipper has a reputation for being one of the funnest and liveliest boats in the Whitsundays and promises a good time.
Diving
The Atlantic Clipper offers passengers the chance to experience the underwater world through onboard scuba diving for both certified divers and introductory divers. Price includes all gear hire and dive instructor. Introductory divers are subject to age, conditions and medical questions and certified divers need to bring dive card please. All diving can be decided on and paid for onboard.

As one of the most sociable boats in the Whitsundays, Atlantic Clipper will give you the ride of your life in the Whitsundays. You can sun bake and relax on the beautiful White sandy beaches of the Whitsunday Islands. Bush walk along the national park tracks to reach the stunning views of the Hill inlet lookout and Whitehaven Beach.
Make friends for life and memories for ever. So many of our passengers say it was the very best thing they did whilst travelling Australia
Sample Menu
Please this is a sample of menu and is subject to change.

Day One
Dinner: Oven baked fish served with herb and lemon dressing on a bed of creamy mashed potatoes, along side homemade crunchy coleslaw and fresh Aussie damper and rolls
Snacks: Aussie hot dogs with cheddar cheese and onions as well as chips, dips and cheeses.
Day Two
Breakfast: Tea and coffee, a selection of breads, spreads such as honey, jam marmalade, Vegemite and peanut butter. Tropical fresh fruit platters as well as toasted muesli and cornflakes
Lunch: Selection of cold meats, salads, homemade pesto pasta salad, tuna and sweet corn salad, a selection of cheeses and crackers and fresh rolls and wraps
Dinner: Papa Steves famous spaghetti bolognaise, cheese and a salad with garlic bread
Snacks: Aussie hot dogs with cheddar cheese and onions as well as chips, dips and cheeses.
Day Three
Breakfast: Tea and coffee, a selection of breads, spreads such as honey, jam marmalade, Vegemite and peanut butter. Tropical fresh fruit platters as well as toasted muesli and cornflakes.
Atlantic clipper is a very popular vessel, you will need to book three to four weeks ahead of your desired departure dates
BOOK WITH US TODAY! CALL 1800 550 751 OR (07) 4914 2425 IF LOCAL
---
$50pp upgrade surcharge for twin/double cabins to pay on check-in. BYO alcohol (no glass) and scuba diving. Soft drinks available for purchase on board.
Your safety in the water is our primary concern. To ensure your comfort and safety divers must be 18 years or over and they will require that you have a Divers Medical Certificate for certain medical conditions. Please note that diving is subject to conditions.
Please note Atlantic Clipper departs between 11:45pm & 2:15pm depending on the tide
---
Clipper purchasers often bought this add on tour :
New HorizonPowerplayTongarraBoomerang
---
What To Bring
Please only bring a small soft overnight bag without any zippers (ie. a re-usable shopping). A zipless souvenir bag can be purchased at the boat's check-in office for a few dollars. Ensure you pack clothes, a hat, swim-wear, towel, sunscreen 30+, warm pullover for the evenings (seasonal) and cash/card for on board purchases. Feel free to bring on board a reusable water bottle and/or additional snacks. You will also need to bring your own alcoholic beverages, available for purchase in town. No glass bottles please.
Excess luggage can be stored at several places in town including most boat check-in offices, a 24 hour locker shop on The Esplanade, most hostels, or at your accommodation. Most charge between $5-10pp for the duration of your trip.
What's Included
Skipper
Crew
Drinking water
Meals
Linen
Wetsuit hire and snorkelling equipment
Marine Park fees
What's Extra
$50pp upgrade surcharge for twin/double cabins to pay on check-in. BYO alcohol (no glass) and scuba diving. Soft drinks available for purchase on board.
The Clipper offers onboard scuba diving for both certified divers and those without experience/qualification. All diving can be decided on and paid for on board.
1st dive is $60
2nd dive is $50
Your safety in the water is our primary concern. To ensure your comfort and safety divers must be 18 years or over and they will require that you have a Divers Medical Certificate for certain medical conditions.
Please read the following questions carefully:
Do you currently have an ear infection?
Do you have a history of ear disease, hearing loss or problems with balance?
Do you have a history of ear or sinus surgery?
Are you currently suffering from a cold, congestion, sinusitis or bronchitis?
Do you have a history of respiratory problems, severe attack of hayfever or allergies, or lung disease?
Have you had a collapsed lung (pneumothorax) or history of chest surgery?
Do you have active asthma or history of asthma, emphysema or tuberculosis?
Are you currently taking medication that carries a warning about any impairment of your physical or mental abilities?
Do you have behavioral health problems or a nervous system disorder?
Are you or could you be pregnant?
Do you have a history of colostomy?
Do you have a history of heart disease or heart attack, heart surgery or blood vessel surgery?
Do you have a history of high blood pressure, angina, or take medication to control blood pressure?
Are you over 45 and have a family history of heart attack or stroke?
Do you have a history of bleeding or other blood disorders?
Do you have a history of diabetes?
Do you have a history of seizures, blackouts or fainting, convulsions or epilepsy or take medications to prevent them?
Do you have a history of back, arm or leg problems following an injury, fracture or surgery?
Do you have a history of fear of closed or open spaces or panic attacks (claustrophobia or agoraphobia)?
If any of these conditions apply to you, you will require a Divers Medical Certificate before you can scuba dive.
A Divers Medical Certificate can be obtained from:
Whitsunday Doctors Service
257 Shute Harbour Rd (Opposite xBase)
Airlie Beach
Ph: 07 4946 6241
Terms and Conditions
All departures and itineraries are subject to weather. Tours may be changed or cancelled for any reason at the discretion of the Tour Operator. It should be noted that adventure travel involves risk. Whilst we make every effort to safeguard clients, we cannot be responsible for personal injury or loss due to actions of our clients which are beyond our control. We recommend that all clients have travel insurance covering illness, injury, loss or damage to personal belongings and not being able to travel on the confirmed date of departure. Please be aware operators pass on credit card merchant fees so there is a non-refundable 2.5% surcharge for VISA and MASTERCARD card purchases.
Please advise us before booking if any passengers are under 18 years old to ensure this is the appropriate trip. Also please note that you need to allow time prior to the boats departure to check in, please ask us for more details.
Cancellations
All cancellations made result in 25% cancellation fee of the recommended retail price (RRP), not discounted or sale prices. Any cancellations made 60-30 days prior to travel will result in a 50% cancellation fee and any cancellations made inside of 30 days to departure will result in forfeit of full trip fees. If the sailing company has to cancel the trip (prior to the boat's departure) and we cannot offer a suitable alternative, then a refund will be given minus card fees. We strongly recommend that you have travel insurance, especially during the wet season.
Please note it is the responsibility of ALL passengers travelling to advise both your travel agent at the time of booking and vessel check-in agent before boarding of ANY medical conditions including food allergies you may suffer from.
Thank you for booking with Mr Travel/Sailing Whitsundays. If you would like any advice or assistance in arranging accommodation, transfers or additional tours, please do not hesitate to contact us.
"Had an amazing trip on the clipper with 3 other friends. We went on this boat fully aware of what this particular one is all about... and that is to have as much fun as possible while exploring the beautiful area. Its known as a party boat so anyone looking for a quiet, peaceful, relaxing trip should go on one of the many other available trips.This really is a fun, entertaining and fantastic boat where the crew go out their way to make it as memorable as they possibly can. Just remember to respect the area of sea and islands youre visiting while getting to party at sun down makes the experience of the Clipper worth it (and remember to take plenty of goon)."
Mark
Mon 18 Sep 2017
"I went on the Atlantic Clipper a couple of weeks ago and totally loved it!The crew was really fun and every night we played drinking games at the top of the boat. We started with just the 4 of us but after a few minutes and laughs, more and more people joined us. Eventually it was half of the boat that joined us and it was amazing! The crew is really fun as well, they are really making the most of the nights with crazy games! Would definitely recommend the Clipper!"
Melissa
Thu 22 Jun 2017
"Loads of fun on the Clipper! Constant entertainment and a nonstop party. Whitehaven beach was gorgeous and the snorkelling was very cool as well. Food was way better than expected."
Dan
Tue 28 Feb 2017
"Great Experience, and the crew made it even better. Good value for your money!"
Molly
Fri 11 Nov 2016
"Had an amazing time on the Atlantic Clipper! One of my highlights of Australia. The crew were fantastic and the food was superb!"
Steve
Mon 24 Oct 2016
"Thanks so much! It was an amazing four days! Ps. Crew you made it so much better!"
Kaylan
Mon 19 Oct 2015
"100% best 2-3 days I have spent during my east coast trip!! All staff were friendly, helpful, gun and professional. The food was amazing , no body went hungry! The evenings activities were hilarious everybody was involved and the staff made sure everybody was having a good time and happy. I cannot say a bad word about the trip and I would without a doubt book again with clipper! My most memorable moment was the snorkelling this was my first time and I was made to feel safe. "
Guests
Wed 19 Mar 2014
"Had the most amazing trip, best trip of our east coast adventurer! The crew were brilliant!! they made the trip! I was absolutely terrified of the water but the crew made me feel safe and I managed to snorkel both days and loved it. They put on a great show in the evenings and got everyone involved. Food was spot on! Loved every meal and there was plenty of it. Best part was the snorkelling, was unreal! Massive thanks to all the crew members. Best trip ever!! "
Charlie
Mon 17 Mar 2014
"Take an awesome crew, a great boat, add two awesome scuba diving lessons, a trip to Whitehaven Beach, a sense of fun and adventure, good food, lots of drink and super fun games and you have the Atlantic Clipper. A cocktail for the luck, that I want to drink everyday."
Luke
Sun 16 Mar 2014
"Ducles you guys Rick! My first time on a boat and it couldn't have been better! Awesome crew and activities. Thank you for looking after us and feeding us! Missing you already! "
Olivia
Wed 12 Mar 2014
"Amazing experience on the clipper. By far the best trip ive been on in Australian! The crew were brilliant, the locations were unreal. Loved the group photos and the evening games, would recommend to everyone! Thanks so much "
Danny B
Tue 11 Mar 2014
"Amazing trip! brilliant crew, excellent food and loved the snorkelling. Definitely one to remember!"
Guest
Tue 04 Mar 2014
"Top food, top crew, top entertainment. Really enjoyed the snorkelling and messing about on the slides! Crew helped us make the most of it! Cheers guys!"
Tom
Sat 01 Mar 2014
"Loved the snorkelling! There was a lot more fish than at the reef in Cairns. The crew made everything a great laugh and very enjoyable. 10/10"
Guest
Tue 25 Feb 2014
"Enjoyed the day on Whitehaven beach taking part in all the fun activities. The guys/crew on the boat made the whole experience fun by being lovely the whole time"
Guest
Mon 24 Feb 2014
"Very memorable sailing trip. very genuine crew and easy going, great sun and full of energy which made the trip highly enjoyable. Loved the snorkelling and finally getting to see Elvis. Everyone seemed to relay genuinely enjoy he trip and get along so well. Food was top of the pops! Would highly recommend to friends,Thanks"
Guest
Sun 23 Feb 2014
"Scuba was awesome, good banter between the boyz. Food was spot on. Good efforts to get every1 envolved. "
Guest
Wed 19 Feb 2014
"Amazing trip! Crew all really friendly and funny! Had a great time cant wait for the after party! Food was good, actually really good! Chef Boy Jiah is pretty sexy! Also he always made me something different because Im a veggie! Awesome!!! "
Guest
Wed 12 Feb 2014
"Awesome trip, glad we were able to snorkel & jump off the boat. Crew were super friendly. Thank you guys for making my birthday extra special!! "
Clipper
Sat 08 Feb 2014
"Absolutely amazing trip. Could not fault it in any way. Stunning locations, great food, banter and crew members. I would recommend it to anyone and would definitely do it again. Thanks!"
Justin
Thu 06 Feb 2014
"Claaaaaaaaaaassssss trip!!! The crew are great craic and got the party going! The activities were so much fun and Gregg was so good taking pictures on whitehaven - above and beyond. My first time diving and they named it great - will recommend to anyone!!! "
Ashling - Ireland
Sun 02 Feb 2014
"Absolutely amazing trip. This was the best trip I have been on during my time on the east coast. The crew were great and friendly and up for a laugh. I would have happily come on the clipper again and again as I had such a good time. I have no criticism as all an I don't think it could have gone any better. The highlights were all the group photos on the beach (Whitehaven) and the second night show which was HILARIOUS. Thanks to everyone for making this such an awesome trip x"
Kate M
Wed 22 Jan 2014
"Really glad we chose the Clipper. The trip, crew, food all of it was amazing! Will never forget it, thank you! "
Sophie
Tue 16 Jul 2013
"Unreal hey! Great trip from start to finish! Unforgettable, The crew made it! "
Sophie
Tue 02 Jul 2013
"Awesome trip, had the best time, met amazing people and felt at home with the best crew I've ever sailed with! "
Mel
Tue 25 Jun 2013
"Had an awesome time on the clipper, the crew were cool and chilled and showed us a good time. Doing my first ever scuba dive was a great experience"
Millie
Fri 07 Jun 2013