Atlantic Clipper
CLOSE
View More Thumbnails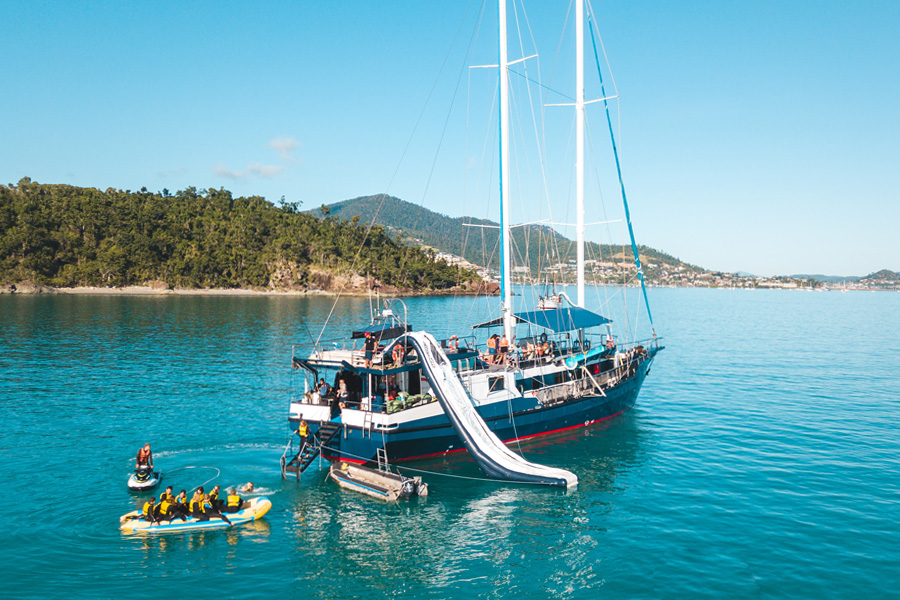 Loading...
Departure Times
Departs: 11:45am - 2:15pm - Please Enquire
Returns:
12:00pm - Please Enquire
Departure Point: Airlie Beach
Pricing Options
RRP $539

$379 AUD / Person
- Shared Accom
(Between: 19 Jan 2021 and 30 Jun 2021)
RRP $599

$459 AUD / Person
- Private Twin Cabin (Requires 2 People) ($918 Total)
(Between: 01 Apr 2021 and 31 Mar 2022)
RRP $599

$459 AUD / Person
- Private Double Cabin (Requires 2 People) ($918 Total)
(Between: 01 Apr 2021 and 31 Mar 2022)
Are you looking for the best social boat in the Whitsundays? Jump on board Atlantic Clipper!
Spend your days exploring the hottest areas of the Whitsundays on one of the liveliest boats around!
The biggest boat in the Whitsundays with up to 54 guests for a fun, social experience
Boasts a huge waterslide, scuba diving, air-con and an action-packed itinerary
On Sale Now - Marked down from $539 to only $379 AUD per person!
---
---
The mighty Atlantic Clipper is the largest and one of the most social and lively overnight tours in the Whitsundays. Coming in at 111 feet and taking up to 54 passengers per trip, she's the perfect vessel for adventurers looking to have the time of their life while exploring the Whitsunday Islands. This mega yacht was built in 1983 and combines the awesome adventure of sailing, snorkelling and scuba diving, with modern facilities and air conditioning throughout.
---
Highlights & Features:
Young, fun, social group
Experienced dive instructors
Brand new three-story high water slide
Huge spa on deck for you to relax and enjoy
Free use of the vessel's stand-up paddleboards
Fully air-conditioned for maximum comfort
Up to 54 guests making this a fun and sociable trip
Snorkelling gear and wetsuit hire included
All meals are prepared on board by your friendly crew
Jet boat rides and banana boat rides available on board (additional cost)*
BYO Alcohol
The Clipper also boasts a fun itinerary that will bring you to some of the most beautiful and iconic destinations in the Whitsundays! Atlantic Clipper is undoubtedly one of the most fun and social tours in the Whitsundays and is perfect for the young, young-at-heart and adventure-driven traveller!

---
Important Information:
Atlantic Clipper is also available for Private Charter.
*Water sports such as scuba diving, jet boat rides and banana boat rides are bonus activities. It is important to note these activities are not guaranteed and are subject to factors including weather, availability and Covid-19 restrictions.
Sample Itinerary
The Atlantic Clipper is the biggest commercial vessel in the Whitsundays and is renowned up the east coast as a must-do tour whilst backpacking around Australia! If you are looking for a fun, lively, and entertaining experience, this action-packed 2 day and 2 night excursion is the package for you. Most popular with 18-35-year-old backpackers, the Clipper will take you on an excursion around the amazing Whitsunday Islands, providing laughs and memories to last a lifetime! By day, the tour goes the famous Whitehaven Beach, Hill Inlet Lookout as well as the best dive and snorkel locations in the Great Barrier Reef Marine Park. In the evening you can crack open a drink and get involved in the activities, games, dancing and great music!
Whitehaven Beach
When you're finished at the lookout point, your tour guide will lead you back down to Whitehaven Beach to explore the pristine sand firsthand. Whilst at Whitehaven Beach you can either soak up the sun or play beach games with your new friends and the Clipper crew! Whitehaven Beach has many times been voted the best in Australia, making it a must-see while in the Whitsundays. It's the best place for relaxing and enjoy the sunshine, with plenty of room for all its visitors! Whitehaven stretches over 7km in length, meaning you can either have some fun with the Clipper group, or enjoy some time on your own walking along the beach.

Hill Inlet Lookout
As Atlantic Clipper arrives in Tongue Bay, your experienced crew will take you up a bush walk to Hill Inlet Lookout which is one of the most photographed and Instagrammed places in Australia! This lookout point provides you with amazing views of Whitehaven Beach as well as the beautiful turquoise waters and pure white silica swirls, which make up the famous Hill Inlet. It's the perfect place to grab a new profile picture or Instagram photo, as the white and blue backdrop are a photographer's dream!

Snorkelling and scuba diving
Snorkelling and scuba diving amongst the diverse range of marine life and coral species found in the Whitsundays provides a spectacular, and for many, a thrilling once-in-a-lifetime opportunity! The Clipper offers both certified and introductory dives at very competitive prices. The price to scuba dive includes all gear hire and an experienced dive instructor, for all comfort levels. All dives are subject to age, conditions and medical questions. If you are a certified diver you will need to bring diving certification card with you. All diving MUST be pre-booked and paid for on board. We follow above PADI standards with only two divers per instructor as your safety is of utmost importance to us and we want you to feel comfortable and safe at all times.

Water sports - Stand-up paddleboards, waterslides, spa, jet boat rides and MORE!
There are many ways to enjoy your time on Atlantic Clipper, whether you would rather relax and soak up some sun or feel the need to get active and seek some thrills. For the thrill seekers, Atlantic Clipper has two waterslides, one which is 8 metres long with a 5 metre drop to the sea, and another which is a massive 9 metres long! Stand-up paddleboarding has become a very popular activity all over the world, and therefore, SUPs have earned their place on the Clipper. Test your yoga skills on the board, or race your friends around the ship and enjoy what paddleboarding is all about! You will find paddleboards provide endless fun and provide fantastic photo opportunities. One of our favourite things to do at the end of the day is to jump into the huge spa located on Atlantic Clipper's deck... There's no better place to unwind and watch the sunset after a big day of exploring the Whitsundays with new friends! Once the sun has set, the Atlantic Clipper turns on its night lights to attract all sorts of sea life that you generally don't see during the day, such as squid, dolphins, reef sharks and nocturnal fish. Not to mention the party animals on board!

Atlantic Clipper has recently partnered with Pioneer Jet to offer guests two new water sport activities to try out: Jet boat and banana boat rides! Available on Day 3 of the tour, these optional activities do not need to be pre-booked and are payable on board the vessel.
Jet boat ride is $35pp
Banana boat ride is $20pp

One of the best times you can have on a holiday
As one of the most sociable boats in the Whitsundays, Atlantic Clipper will give you the ride of your life in the Whitsundays. Sunbake and relax on the beautiful white sandy beaches of the Whitsunday Islands and bushwalk along the national park tracks to reach the stunning views of the Hill Inlet lookout; Snorkel or scuba dive among the colourful reefs, or try your hand at paddleboarding - Atlantic Clipper has something for everyone and promises an itinerary to see all the best parts of the Whitsundays. With the Atlantic Clipper, you will make life-long friends and memories that will last forever. That's why so many passengers come back saying that Atlantic Clipper has been the highlight of their travels in Australia!

Exclusive After-Party at Mama Africa's Nightclub
Just because the trip ends, does not mean the end of the service! Atlantic Clipper offers an exclusive after-party organised at Mama Africa's Nightclub in Airlie Beach. This is your chance to have one final hoorah with your crew and enjoy VIP discounts on drinks.
Layout
Choose from private doubles, triple share and quad share cabins all with the comfort of air-conditioning throughout. The spectacular air-conditioned saloon complete with TV and DVD a large dining area, lounge and cocktail bar offers a gigantic area to socialise and meet new friends. With plenty of room above decks to sunbathe, relax in the shade, have fun on the water slide, or take a splash in the 12 person spa, you will have the time of your life!
Tap the hotspots on the floor plan below to view the boat.
Loading...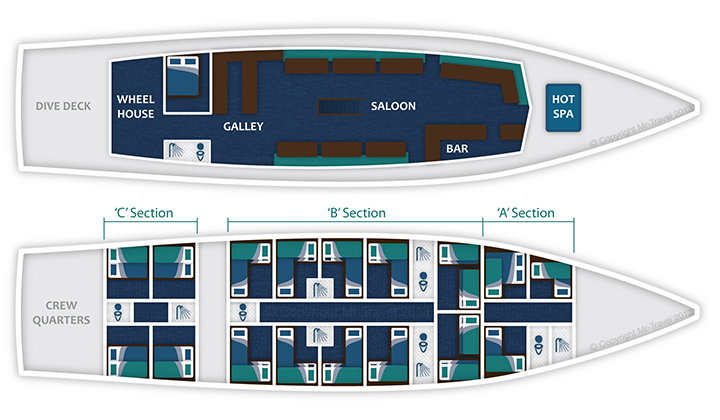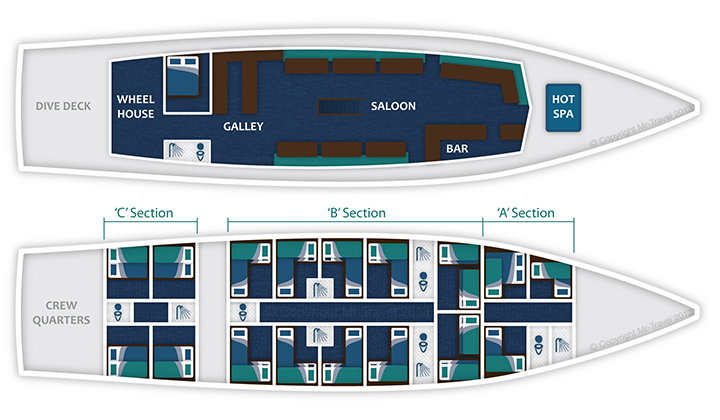 More Information
What To Bring
Please only bring a small soft overnight bag without any zippers (ie. a re-usable shopping). A zipless souvenir bag can be purchased at the boat's check-in office for a few dollars. Ensure you pack clothes, a hat, swim-wear, towel, sunscreen 30+, warm pullover for the evenings (seasonal) and cash/card for onboard purchases. Feel free to bring on board a reusable water bottle and/or additional snacks. You will also need to bring your own alcoholic beverages, available for purchase in town. No glass bottles, please.
Excess luggage can be stored at several places in town including most boat check-in offices, most hostels, or at your accommodation. Most charge between $5-10pp for the duration of your trip.
What's Included
Skipper
Crew
Drinking water
Meals
Linen
Wetsuit hire and snorkelling equipment
Marine Park fees
What's Extra
BYO alcohol (no glass or red wine)
Soft drinks
Jet boat rides*
Banana boat rides*
Scuba diving*
*Water sports such as scuba diving, jet boat rides and banana boat rides are bonus activities. It is important to note these optional activities are not guaranteed and are subject to factors including weather, availability and Covid-19 restrictions.
---
Jet & Banana Boat Rides:
Jet boat rides and banana boat rides can be purchased. These optional extras can be decided on and paid for on board.
Jet boat ride is $35pp
Banana boat ride is $20pp
Pricing is subject to change, the above is to be used as a guideline only.
---
Scuba Diving:
Atlantic Clipper offers onboard scuba diving for both certified divers and those without experience/qualification. Scuba dives MUST be pre-booked, but are paid for on board.
Scuba dive is $75pp - MUST be pre-booked.
Pricing is subject to change, the above is to be used as a guideline only. Your safety in the water is our primary concern. To ensure your comfort and safety divers must be 18 years or over and they will require that you have a Divers Medical Certificate for certain medical conditions.
---
Dive Medical Certificate:
Your safety in the water is our primary concern. Please read through the following information carefully to determine whether you require a Dive Medical Certificate (at own cost).
If you are aged 45 and over and you would like to participate in an Introductory Scuba Dive you will be required to present a Dive Medical Certificate onboard. This does not apply for certified divers.
Please read the following questions carefully:
Do you currently have an ear infection?
Do you have a history of ear disease, hearing loss or problems with balance?
Do you have a history of ear or sinus surgery?
Are you currently suffering from a cold, congestion, sinusitis or bronchitis?
Do you have a history of respiratory problems, severe attack of hayfever or allergies, or lung disease?
Have you had a collapsed lung (pneumothorax) or history of chest surgery?
Do you have active asthma or history of asthma, emphysema or tuberculosis?
Are you currently taking medication that carries a warning about any impairment of your physical or mental abilities?
Do you have behavioural health problems or a nervous system disorder?
Are you or could you be pregnant?
Do you have a history of colostomy?
Do you have a history of heart disease or heart attack, heart surgery or blood vessel surgery?
Do you have a history of high blood pressure, angina, or take medication to control blood pressure?
Are you over 45 and have a family history of heart attack or stroke?
Do you have a history of bleeding or other blood disorders?
Do you have a history of diabetes?
Do you have a history of seizures, blackouts or fainting, convulsions or epilepsy or take medications to prevent them?
Do you have a history of back, arm or leg problems following an injury, fracture or surgery?
Do you have a history of fear of closed or open spaces or panic attacks (claustrophobia or agoraphobia)?
If you answered YES to any of the above questions, you are required to obtain and present a current (issued within the past 12 months) Divers Medical Certificate before you can scuba dive.
Please click here for a list of doctors who can provide this service.
Terms and Conditions
---
Important Information:
Atlantic Clipper departs between 11:45pm & 2:15pm depending on the tide.
Water sports such as scuba diving, jet boat rides and banana boat rides are bonus activities. It is important to note these activities are not guaranteed and are subject to factors including weather, availability and Covid-19 restrictions.
---
Your Responsibilities:
Please advise us before booking if any passengers are under 18 years old to ensure this is the appropriate trip.
You must reconfirm all booked tours prior to travel as specified on your voucher. If applicable, notes such as dietary requirements, pick-up locations and additional fees should also be confirmed at this time. Reconfirmations cannot be actioned through Sailing Whitsundays/Mr Travel, and must be done so directly through the Service Operator as specified on each ticket.
It is your responsibility to notify us of ticket discrepancies. Please read through the details on your voucher thoroughly to ensure all details such as passenger names, ages and dates of travel on vouchers are correct.
It is the responsibility of all passengers travelling to advise both your travel agent at the time of booking and vessel check-in agent before boarding of any medical conditions including food allergies you may suffer from.
You need to allow adequate time to check-in prior to the specified departure time.
---
Prices/Extra Costs:
All prices are stated in Australian dollars and include GST. The Service Operator reserves the right to alter prices and extra costs. Extra costs may include EMC fees, Stingersuit/Wetsuit Hire, Luggage Storage, Insurance, Linen Hire, National Park Fees, Fuel Levies, Dietary Fees, etc. Bonds may also apply.
A $40 per person Public Holiday Surcharge is applicable to tours where the vessel is at sea on Christmas Day or New Years Day.
We will also endeavour to communicate these extra costs with you at the time of booking, and on your ticket. However, it is your responsibility to confirm which (if any) additional costs apply with each Service Operator upon reconfirming your trip.
---
Travel Risk/Insurance:
It should be noted that adventure travel involves risk. Whilst we make every effort to safeguard clients, we cannot be responsible for personal injury or loss due to the actions of our clients which are beyond our control. We highly recommend that all clients have travel insurance covering illness, injury, loss or damage to personal belongings and not being able to travel on the confirmed date of departure. You should also ensure your travel insurance will cover special circumstances including weather events preventing guests from travelling to their tour departure destination and cancelled flights due to unforeseen circumstances.
---
Merchant Fees:
Please be aware operators pass on credit card merchant fees so there is a non-refundable 1% surcharge for VISA and MASTERCARD card purchases.
---
Other:
Terms and Conditions (including the Cancellation Policy) are subject to change. The most recent versions can be found online on the relevant product pages.
All ticket/voucher reissues attract a $20 administration fee.
---
Cancellations
---
Client Cancellations:
All cancellations forfeit 25% of the recommended retail price (RRP) - not the discounted/sale price. Cancellations made 60-30 days prior to travel date forfeit 50% of the RRP. No shows or client cancellations made within 30 days of departure forfeit 100% of the total ticket price.
Transfers between tours can be made at the suppliers discretion, however, it should be noted that supplier fees may apply. Tour transfers also incur a $20 administration fee. A $40 per person transfer fee applies to all name or date changes.
It is compulsory that all cancellation requests are in writing and sent via email to admin@mr-travel.com. Cancellations attempted via online chat or phone will not be actioned.
---
Supplier Cancellations:
The Service Operator reserves the right to alter prices, alter itineraries, apply a fuel surcharge, cancel departures, arrange alternative transport and vary itineraries and services if necessary.
All departures and itineraries are subject to weather. Tours may be changed or cancelled for any reason at the discretion of the Service Operator. If the Service Operator has to cancel the trip or activity (prior to departure) and we cannot offer a suitable alternative, then a refund will be given minus a 20% administration fee and any associated card fees. We strongly recommend that you have travel insurance, especially during the wet season.
In the unlikely event of your trip being cancelled or stood down, all guest communication is required to go through our Online Store via telephone or email. While there is a Sailing Whitsundays retail outlet located Airlie Beach, please be aware that they operate as a separate entity and are unable to access reservations made by the Mr Travel online department.
---
Refunds:
All refunds are in Australian Dollars and must be made to the card of payment. Sailing Whitsundays/Mr Travel is not liable for exchange rate fluctuations or fees, or any other merchant/bank fees associated with domestic and/or international transactions.
Where a full refund is applicable, there is the option to transfer the whole cost of the tour to another tour or "Credit" to avoid the administration fee. A transfer fee of $20 will apply.
You will be emailed confirmation once the refund has been processed. Once the refund has been processed, it may still take time for the banks to clear the amount. Please allow 7-10 business days for the funds to clear into Australian accounts and up to 21 business days for international accounts.
---
Accountability/Misconduct:
All Service Operators have the right to provide client feedback and to cancel bookings based off of feedback from other Service Operators.
Please enjoy your travel experience in a kind and responsible manner.
Sailing Whitsundays/Mr Travel will treat this as any normal client cancellation and therefore the cancellation fees stated in the Client Cancellation Policy will apply.
---
Thank you for booking with our East-Coast travel experts here at Mr Travel/Sailing Whitsundays. If you would like any further advice, assistance in arranging accommodation, transfers or additional tours please get in touch.
---
"Sailing around the Whitsundays with the Atlantic Clipper is the biggest adventure! 2 slides, a trampoline, stand-up paddleboards, a jacuzzi, snorkeling, diving, so much to do and so much fun :) They also do some games in the evenings and the atmosphere on the boat is just awesome. On top of that we also saw the main spots of the Whitsundays, Whitehaven Beach was definitely my favorite."
Isabel
"Best time since long sailing with the Atlantic Clipper around the Whitsundays! The people were so much fun and the crew was amazing as well. My personal highlight was the huge slide, that was so much fun. But Whitehaven Beach and diving were great as well. 2 days packed with action and good vibes, can only recommend!"
Andre
"Beautiful weekend with beautiful people and beautiful islands. Perfect!"
Dylan
"Lovely crew, good food, and I had a wonderful time :) <3"
Luala
"Good food, nice morning jingle! Noice ambiance and cool crew"
Nathan
"Great trip! Very well run + organised and a fun dress up party! Very good, very nice, I like it I like it."
Grace
"Very good quality for money, exceptional food with generous servings. Safety awareness throughout the trip without impacting the fun spirit.. Amazing trip made even greater by the amazing crew."
"The king"
"Thanks for the amazing couple of days. The crew were lovely, very energetic & welcoming. Captain John is the best! The food was amazing, thanks Ellie. Loved going to Whitehaven & snorkelling! :) :P"
Sophie
"The crew made the trip awesome! 10/10 treatment from the crew! Cracking time"
Kristy
"Fulfilled all promises on adventures and good times! A chill + polite crew made it even better. 10/10"
Luisa
"Atlantic Clipper was amazing!! From even before we got onto the boat it was an adventure meeting new people and having laughs! The whole crew were amazing and worked so hard to make sure we had a great time! The food was soooo much better then I thought it was going to be, yummy food the whole time! I recommended it to all of my friends and would recommend it to anyone who's sad they cant travel overseas and they are looking for some fun and adventure!!!"
Ginger
"Amazing trip guys! Thanks so so so much, food & fun was unreal "
Big Dan
"Thanks so much for an amazing 2 days! Crew was such fun! Food was delish! Cant fault anything whatsoever. Cheers!"
Emma
"Thankyou all for your patience, kindness and hospitality. I had a great time."
Eddie
"To all the team, thankyou so much for looking after us and having the crack we had the best time. You are all legends; couldn't ask for a better boat."
Emer + Darren
"Had 2 nights of awesome fun on the Clipper! We had asked for a party boat and had so much fun partying "
Mary
"Clipper was so much fun! The Spa is the one :)"
Billy
"Best 2 night tour I've ever done! the crew and boat were amazing and the food as delicious! So many activities like going on the slides or scuba diving but also plenty of time to relax in the hot tub or on deck. Can't wait to come back!"
Abbie
"Thanks so much for looking after us and having such a ball! Great trip with an AWESOME crew"
EK
"Epic 2 days on the Clipper, sailing around the Whitsundays. We got to spend time on Whitehaven Beach, snorkel, Scuba dive, paddleboard and go on the 2 slides. Best way to enjoy the islands! Inc hot tub!"
Dave from UK
"One word accurately describes this trip, EPIC! Could not have asked for a better crew and bunch of people. Food 10/10 Crew 10/10 Diving 10/10"
Hannah Hill
"Atlantic Clipper was absolutely amazing! The tours to Whitehaven was a bucket list dream come true! The staff on the boat were so accommodating, fun, confident and extremely friendly! The activities and slides that were added on the boat were so much fun and made the trip so much more exciting! I would without a doubt be going again in the future."
Bronte
"Best party in the Whitsundays! Perfect mix of sailing the Whitsundays on a big boat with slides, a trampoline, and a jacuzzi and discovering Whitehaven beach. Will be back!"
Sofia
"My trip on The Clipper was AMAZING! Everything from the crew, the boat, the food, the activities were even better than I expected! If you're looking for a good time, meeting fun people and enjoying a few bevies, this is the trip for you! My favourite trip along the East Coast!!!"
Jamie
"We had an epic time on the Clipper, the crew were amazing, great food, snorkelling was sick and the waterslides were heaps of fun!"
Jenna
"Recently went out on Atlantic Clipper and had a fantastic time. The crew are great at keeping everyone happy and the food was better than expected. Would highly recommend this tour to anyone thinking about travelling in the Whitsundays. "
Rachel L
"Myself and 3 friends sailed on the famous Atlantic Clipper to celebrate a birthday and if you aren't scared of a good time I highly recommend! It was so nice having nice small groups in each cabin and the crew were legends making everything fun! It was jam-packed with activities, we went diving, paddleboarding, bushwalking, snorkelling and of course made great use of the spa and waterslides - the night time entertainment was also a lot of fun!"
Emily
"I just spent the best two nights of my trip so far on board Atlantic Clipper. The trip was so much fun and had awesome activities onboard such as diving, waterslides, snorkelling and a hot tub. The games at night were so much fun, and everyone got involved. The rooms were great, and it was so lovely to have air-con!! The crew were terrific, always so happy, helpful, and making sure everyone was having fun. I would recommend this tour!!!"
Emily Plummer
"Simply amazing experience!! Had the most magical experience, owed mainly to the superb staff aboard the clipper. They did everything in their power and beyond to make sure that every single person aboard was rich in laughter and joy! From the moment we boarded, we were stunned with breathtaking scenery, but better yet we were constantly given the opportunity to experience it firsthand via snorkeling, paddleboarding, and more. Extremely grateful, and will cherish the memories made for the rest of my life. Endless thanks to the crew!"
Tess
"What an amazing action packed three days boozing and cruising through the Whitsunday islands! The staff were great, the food was great, the lols were great!"
Fiona Kenny
"11/10 would recommend. We got mashed on the Atlantic Clipper (and I'm just talking about the amazing potato.. thanks Frodo). The crew are awesome at getting everyone hyped with party games and fancy dress costumes on the last night. But don't worry about the goon hangovers, they're soon cured after a dip in beautiful Whitehaven beach and snorkling with fish- just watch out for the sting-rays and yellow sharks. The last morning was super chill with paddle boarding, banana boats and jet skiing. Thanks so much to the awesome crew.. hey DJ spin that sh*t!!!!"
Ellie Howarth
"'Which boat are you doing for whitsundays?' Most common conversation between east coast back packers... make sure your answer is the CLIPPER every single time... Combine the best scenery of whitsundays, with activities such as snorkeling, view points, water slides, paddle boarding, jet boat/banana boat, and after the days done get your bag of goon and get in the hot tub, dance on the deck or flake out on the bean bags. It's the perfect mix of party and scenery, good sound system on the deck to play your own music and plenty of laughs with drink fueled games on the night. What happens when you mix a giant bag of miniskirts and crop tops with a fridge full of booze and loads of back packers wanting a good time...? The best cross dressing party you'll ever go to! The chef is an absolute legend, his bright white smile is as impressive as his fish, and he feeds you loads. Whitsundays boat trip? Completed it mate. Choose wisely, vote CLIPPER!"
Josh Burns
"Absolutely amazing tour. The guides are awesome and very knowledgeable and friendly. They really do care about their customers and ensuring they have an awesome time."
Lamees EJ
"Great trip anyone looking for a unique experience wanting to make friend or travel in a group this is the boat for you. Lots of space and stable for those with wobbly sea legs. Fully ac, waterslide and so much more value for your $$$. Scuba diving is a must absolutely loved the crew they made our trip."
Lisa
"Had an amazing trip on the clipper with 3 other friends. We went on this boat fully aware of what this particular one is all about... and that is to have as much fun as possible while exploring the beautiful area. Its known as a party boat so anyone looking for a quiet, peaceful, relaxing trip should go on one of the many other available trips.This really is a fun, entertaining and fantastic boat where the crew go out their way to make it as memorable as they possibly can. Just remember to respect the area of sea and islands youre visiting while getting to party at sun down makes the experience of the Clipper worth it (and remember to take plenty of goon)."
Mark
"I went on the Atlantic Clipper a couple of weeks ago and totally loved it!The crew was really fun and every night we played drinking games at the top of the boat. We started with just the 4 of us but after a few minutes and laughs, more and more people joined us. Eventually it was half of the boat that joined us and it was amazing! The crew is really fun as well, they are really making the most of the nights with crazy games! Would definitely recommend the Clipper!"
Melissa
"Loads of fun on the Clipper! Constant entertainment and a nonstop party. Whitehaven beach was gorgeous and the snorkelling was very cool as well. Food was way better than expected."
Dan
"Great Experience, and the crew made it even better. Good value for your money!"
Molly
"Had an amazing time on the Atlantic Clipper! One of my highlights of Australia. The crew were fantastic and the food was superb!"
Steve
"Thanks so much! It was an amazing four days! Ps. Crew you made it so much better!"
Kaylan
"100% best 2-3 days I have spent during my east coast trip!! All staff were friendly, helpful, gun and professional. The food was amazing , no body went hungry! The evenings activities were hilarious everybody was involved and the staff made sure everybody was having a good time and happy. I cannot say a bad word about the trip and I would without a doubt book again with clipper! My most memorable moment was the snorkelling this was my first time and I was made to feel safe. "
Guests
"Had the most amazing trip, best trip of our east coast adventurer! The crew were brilliant!! they made the trip! I was absolutely terrified of the water but the crew made me feel safe and I managed to snorkel both days and loved it. They put on a great show in the evenings and got everyone involved. Food was spot on! Loved every meal and there was plenty of it. Best part was the snorkelling, was unreal! Massive thanks to all the crew members. Best trip ever!! "
Charlie
"Take an awesome crew, a great boat, add two awesome scuba diving lessons, a trip to Whitehaven Beach, a sense of fun and adventure, good food, lots of drink and super fun games and you have the Atlantic Clipper. A cocktail for the luck, that I want to drink everyday."
Luke
"Ducles you guys Rick! My first time on a boat and it couldn't have been better! Awesome crew and activities. Thank you for looking after us and feeding us! Missing you already! "
Olivia
"Amazing experience on the clipper. By far the best trip ive been on in Australian! The crew were brilliant, the locations were unreal. Loved the group photos and the evening games, would recommend to everyone! Thanks so much "
Danny B
"Amazing trip! brilliant crew, excellent food and loved the snorkelling. Definitely one to remember!"
Guest
"Top food, top crew, top entertainment. Really enjoyed the snorkelling and messing about on the slides! Crew helped us make the most of it! Cheers guys!"
Tom
"Loved the snorkelling! There was a lot more fish than at the reef in Cairns. The crew made everything a great laugh and very enjoyable. 10/10"
Guest
"Enjoyed the day on Whitehaven beach taking part in all the fun activities. The guys/crew on the boat made the whole experience fun by being lovely the whole time"
Guest
"Very memorable sailing trip. very genuine crew and easy going, great sun and full of energy which made the trip highly enjoyable. Loved the snorkelling and finally getting to see Elvis. Everyone seemed to relay genuinely enjoy he trip and get along so well. Food was top of the pops! Would highly recommend to friends,Thanks"
Guest
"Scuba was awesome, good banter between the boyz. Food was spot on. Good efforts to get every1 envolved. "
Guest
"Amazing trip! Crew all really friendly and funny! Had a great time cant wait for the after party! Food was good, actually really good! Chef Boy Jiah is pretty sexy! Also he always made me something different because Im a veggie! Awesome!!! "
Guest
"Awesome trip, glad we were able to snorkel & jump off the boat. Crew were super friendly. Thank you guys for making my birthday extra special!! "
Clipper
"Absolutely amazing trip. Could not fault it in any way. Stunning locations, great food, banter and crew members. I would recommend it to anyone and would definitely do it again. Thanks!"
Justin
"Claaaaaaaaaaassssss trip!!! The crew are great craic and got the party going! The activities were so much fun and Gregg was so good taking pictures on whitehaven - above and beyond. My first time diving and they named it great - will recommend to anyone!!! "
Ashling - Ireland
"Absolutely amazing trip. This was the best trip I have been on during my time on the east coast. The crew were great and friendly and up for a laugh. I would have happily come on the clipper again and again as I had such a good time. I have no criticism as all an I don't think it could have gone any better. The highlights were all the group photos on the beach (Whitehaven) and the second night show which was HILARIOUS. Thanks to everyone for making this such an awesome trip x"
Kate M
"Really glad we chose the Clipper. The trip, crew, food all of it was amazing! Will never forget it, thank you! "
Sophie
"Unreal hey! Great trip from start to finish! Unforgettable, The crew made it! "
Sophie
"Awesome trip, had the best time, met amazing people and felt at home with the best crew I've ever sailed with! "
Mel
"Had an awesome time on the clipper, the crew were cool and chilled and showed us a good time. Doing my first ever scuba dive was a great experience"
Millie